Bacon Wrapped Chicken Stuffed W/ Mushroom Ricotta
Check out some of my other favorite low carb chicken recipes:
Chili Lime Rubbed Chicken with Avocado Feta Salsa

Sign up for updates to receive one week FREE of my low carb and gluten free meal plans:
[mc4wp_form id="9184"]
1 ½ lb. Boneless Skinless Chicken Breasts - 4 pieces
8 Slices Thick Cut Bacon
¼ Cup Parmesan Cheese - Shredded
½ Cup Whole Milk Ricotta Cheese
8 Cremini Mushrooms
2 Tbs. Butter - Divided
2 Tbs. Olive Oil - Divided
2 Tbs. Garlic - Minced
1 tsp. Thyme
Few Sprigs of Fresh Parsley - Chopped
Salt & Pepper
(2 Tbs. Peace and Love)
DIRECTIONS
Preheat oven to 350° Place a cooling rack on a baking sheet.
Sprinkle a little S&P on each side of the chicken breasts. Over Medium-High, heat pan-sear the chicken in 1 Tbs. olive oil and 1 Tbs. butter. Brown on both sides - About 5-7 minutes on each side. Remove the chicken from the pan and set aside (Chicken will not be fully cooked at this stage)
Finely chop the mushrooms and saute over medium heat with garlic, and remaining butter and olive oil. About 10 minutes
In a large mixing bowl combine the cooked mushrooms, ricotta, parmesan, thyme, and chopped parsley.
Cut slits in the chicken lengthwise down one side and ¾ of the way through the chicken. This will create a pocket to stuff the chicken breasts.
Stuff each breast with ¼ of the mushroom ricotta mixture.
Wrap each breast with 2 slices of bacon
Bake the Chicken on the cooling rack for 15-20 minutes.
Serve and Enjoy!
Makes 4 servings - 4.5 net carbs per serving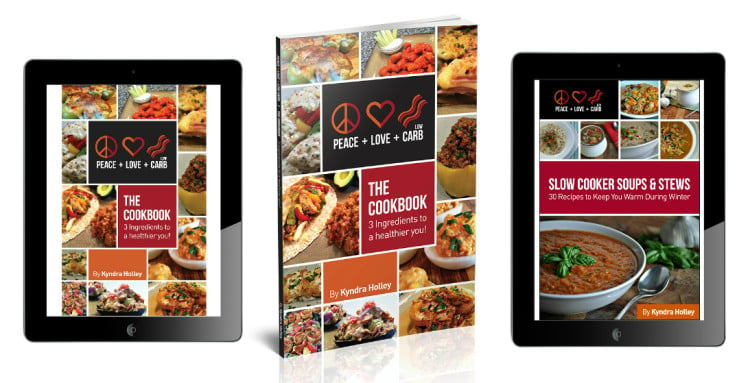 ***Please note that nutritional information listed on this page is an estimation based on the products I used. Ingredients and nutritional information can vary greatly between brands. Always be sure to read labels***
***Some links contained on this page are affiliate links and I may receive monetary compensation or other types of remunerations for any products purchased through these links***