Hands down, the best low carb bread you will ever eat! Just like the real thing, but without all the carbs.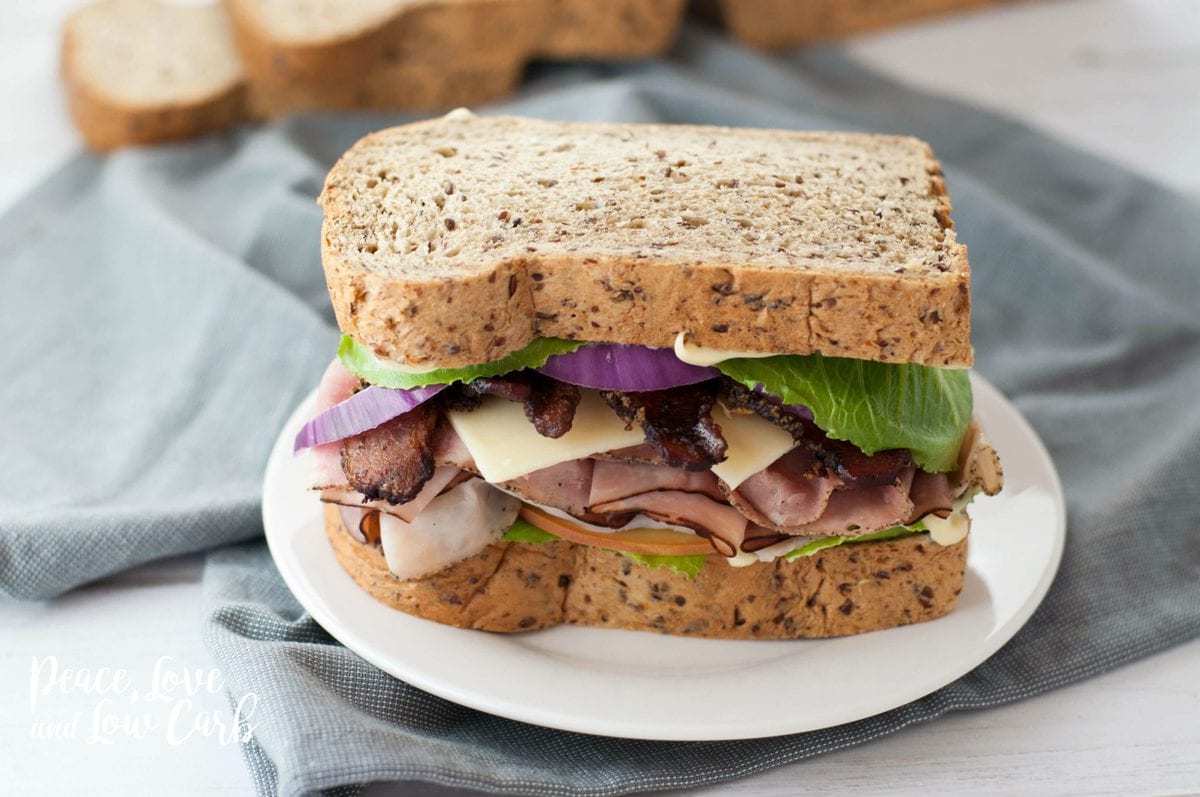 The best low carb bread ever.
That bread! Doesn't it look too good to be true? It almost tastes too good to be true also. So, so good. Jon and I have been going a little sandwich crazy around here. Grilled cheese, ham and egg, meatball, the works! This Low Carb Fresh Baked Multi-Grain Bread is only 1 net carb per slice. YES, you read that right.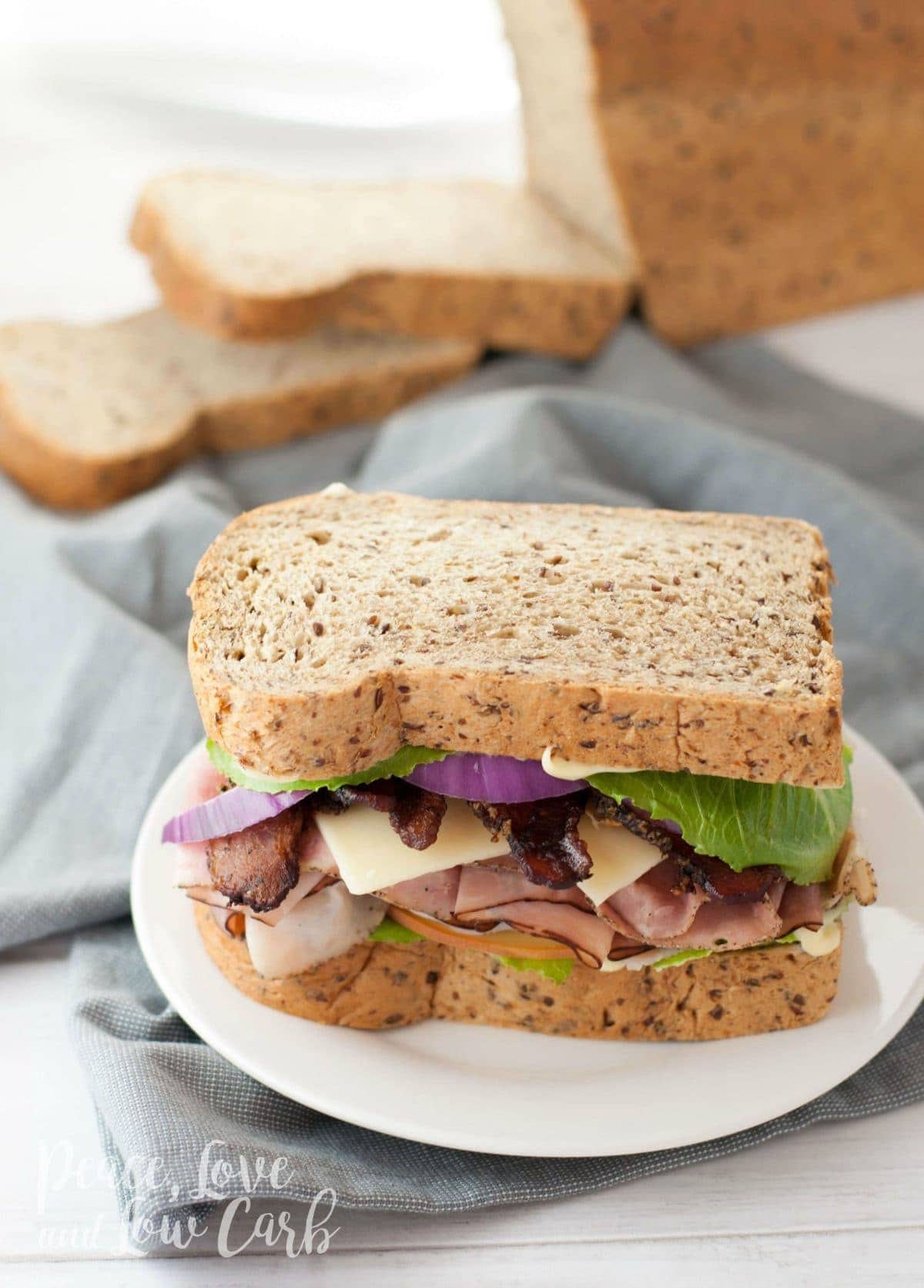 Not only is this low carb bread delicious, but it's seriously low in net carbs
Not only that, but the loaves are really big and you can get 25 generous slices out of it. It is fresh baked and comes to you unsliced. Each slice has a total carb count of 9.5 grams, with 8.5 grams of fiber (thus the net carb count of just 1 gram). It has a fairly short and easily recognizable ingredient list. This was really important to me. I've tried some low carb breads that required a lengthy google search just to know what they were truly made of. Not the case with LC Foods breads.
Ingredients in the Fresh baked Multi-Grain Loaf: Wheat protein isolates, resistant wheat starches, brown flax seed, vital wheat gluten, butter, coconut oil, Inulin chicory root fiber, salt, instant dry yeast, calcium propionate (as a preservative), organic stevia rebaudiana leaf natural herbal extracts, natural luo han guo monk fruit, natural caramel color and natural enzymes.
Grab a loaf of this low carb bread -
here
No funky fillers or crazy unrecognizable ingredients and the taste is incredible. In fact, I like it more than most of the "healthier" store bought breads that I used to buy. It truly is that good! If I could change only one thing about it, it would be to make it gluten free as I live a primarily gluten free lifestyle. It does not bother me as much as it used to but I do try to keep my gluten intake to a minimum and as a general rule, I always cook gluten free. However, I will say that this is a great change from the norm. We usually have a loaf of Udis gluten free bread in the freezer for the occasional sandwich, but one slice is 11 net carbs, making it hard to work into my day and still keep my carbs low. Unfortunately gluten free is not synonymous with low carb. But, I digress. Back to the delicious bread...
When LC Foods Company reached out to me to review their products, I was skeptical. But now I am a fan! I have tried a lot of the low carb products in the marketplace. They usually fall into one of two categories: "Frankenfood" or "Just Plain Gross" So you can see where my skepticism may have crept in. But alas, I was willing to try it out. Boy, am I glad that I did! But before I dig too much farther into the products, why don't I tell you a little bit about the company.
WHO IS LC FOODS AND WHAT ARE THEY ALL ABOUT?
The thing that I like most about LC Foods Company, is that they do a great job putting those foods back on the table that we thought we would never be able to eat again.
And they do it with quality ingredients in mind. Their products are free from any simple sugars, corn syrups, wheat, and high carbohydrate flour products. Plus they're low in net carbohydrates, and high in fiber and protein. These products are also dedicated to weight management and designed to be diabetic friendly, which means they won't easily spike blood sugar levels, releasing insulin to create fat storage in the body.
Subscribe to their newsletter updates to learn more about their delicious low carb products.
It is refreshing to see a company that has individuals living with diabetes in mind when creating their products. Diabetics typically count total carbs and not just net carbs. So while many products may be really low in net carbs, they are still pretty darn high in total carbs, making them off the table for a lot of people. The thing that impressed me the most about their product line, aside from their quality ingredients was the fact that the total carb count was relatively low compared to most of the competing products out there.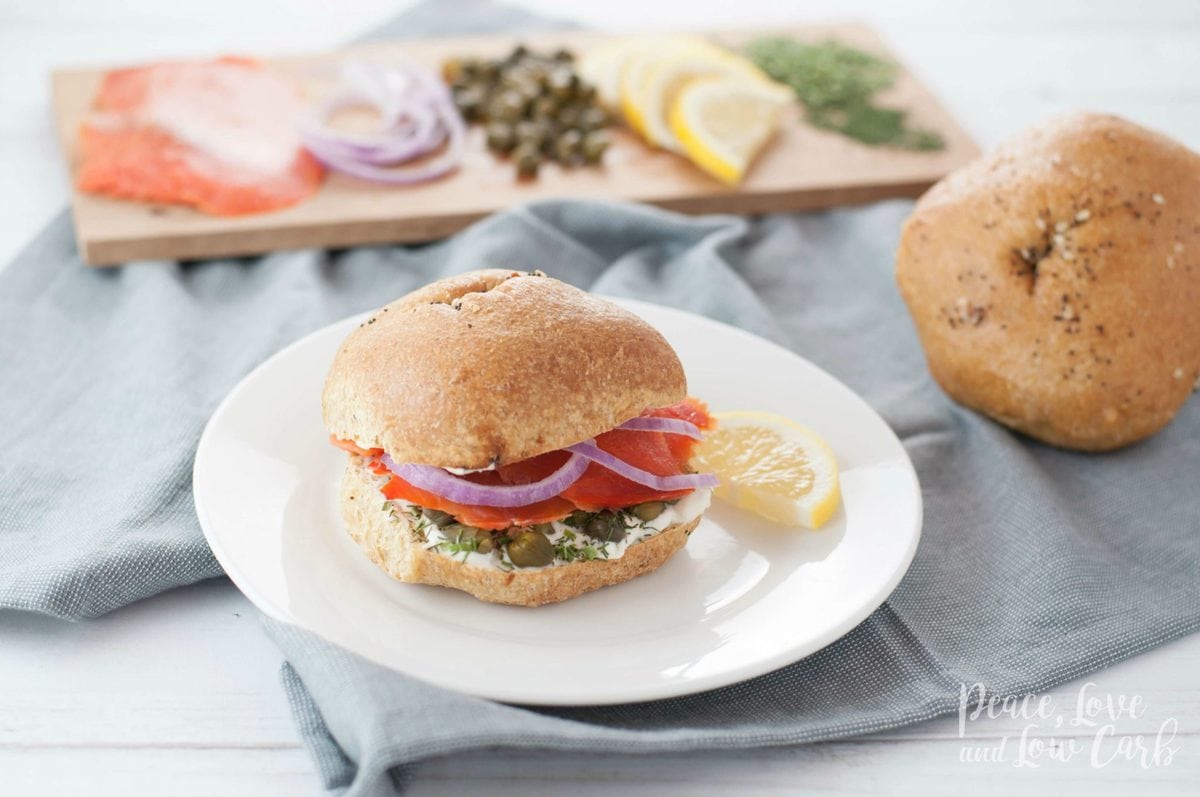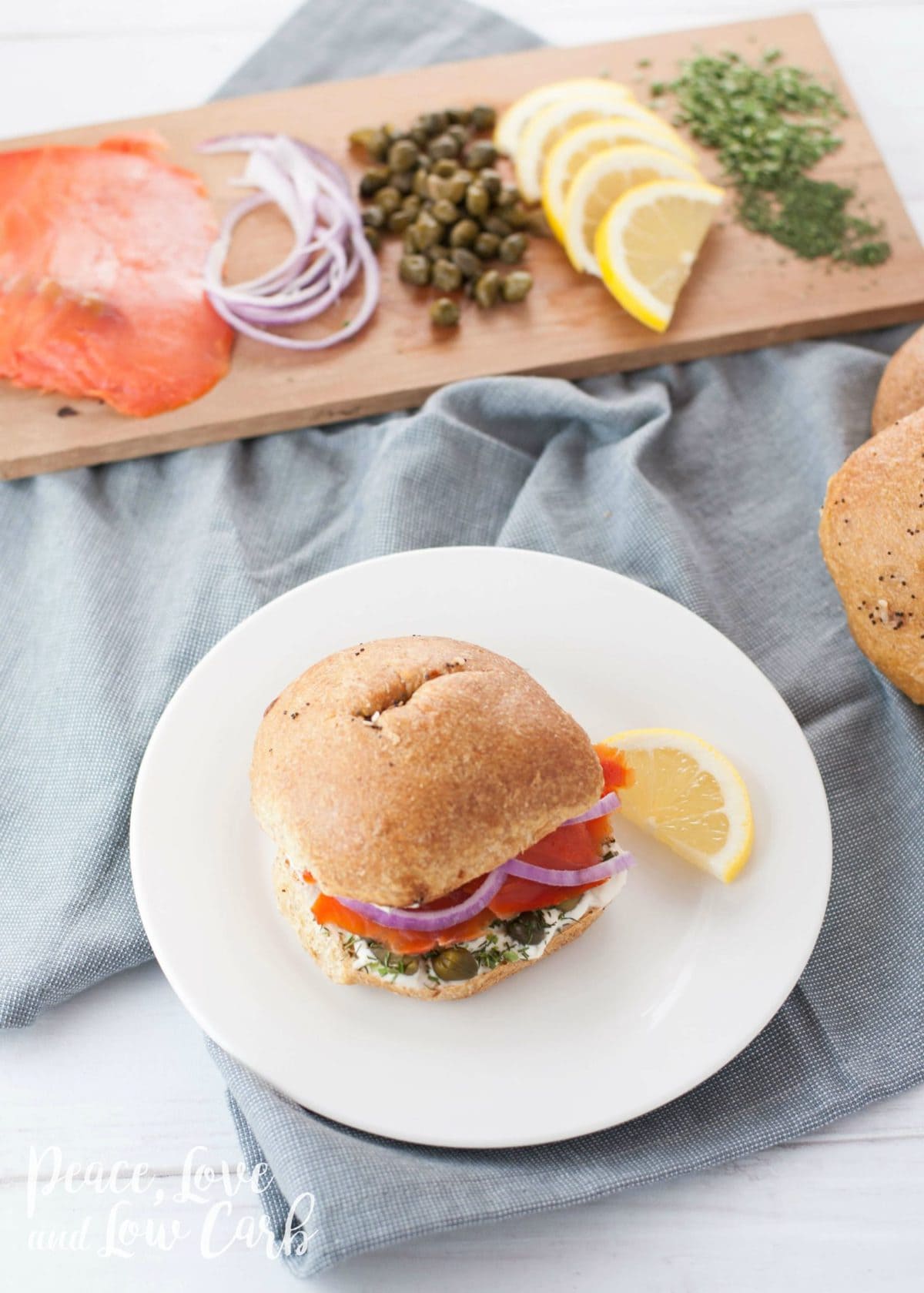 In addition to low carb bread, check out these low carb bagels!
Look at those bagels!! First low carb bread, and now low carb bagels?? YES! Would you believe me if I told you that they were low carb bagels and come in at an impressively low 1.6 net carbs and only 7.6 total carbs, for those counting. With a carb count like that, you can easily work them into your day and not feel guilt about it. Yeah, but how do they taste, you might be wondering?? AH-MAZING! If you put one in front of me, I would never know it was low carb. They have that unmatchable perfect bagel texture. You know the one I am talking about. It is a texture and bite than only a bagel can have. I've tried low carb bagel recipes from various blogs and although they always looked like bagels, they never, ever tasted like them. These Low Carb Everything Bagels are the REAL DEAL! I couldn't wait to slap some smoked salmon, cream cheese and capers on them. It has been far too long!
Ingredients in the Fresh baked Everything Bagels: Wheat protein isolates, resistant wheat starche, flax seed meal, olive oil, vital wheat gluten, instant dry yeast, Inulin (chicory root) fiber, salt, calcium propionate (as a preservative), poppy seeds, sesame seeds, minced garlic, minced onion, vinegar, egg, organic stevia, natural luo han guo monk fruit. Grab a bag here.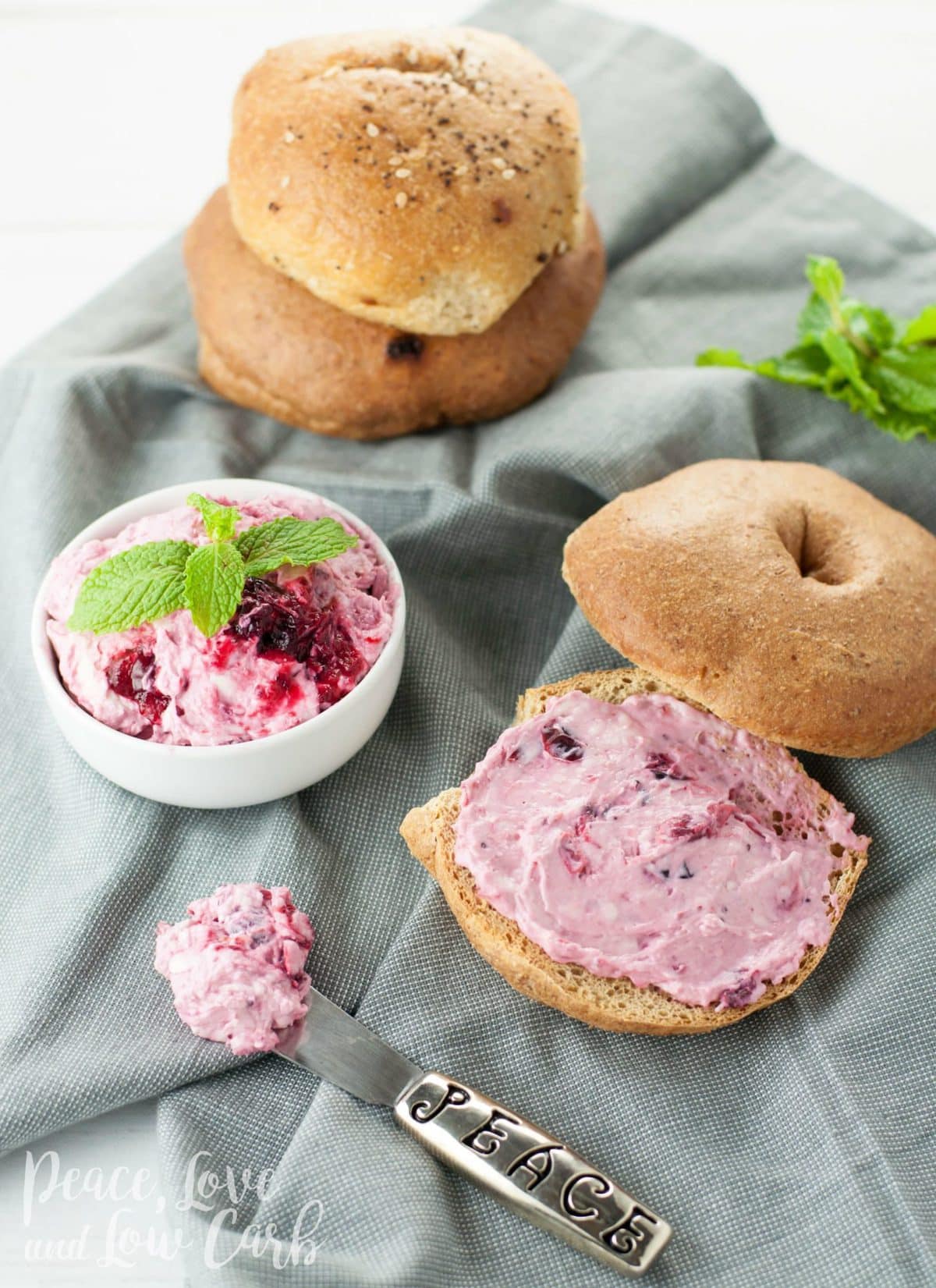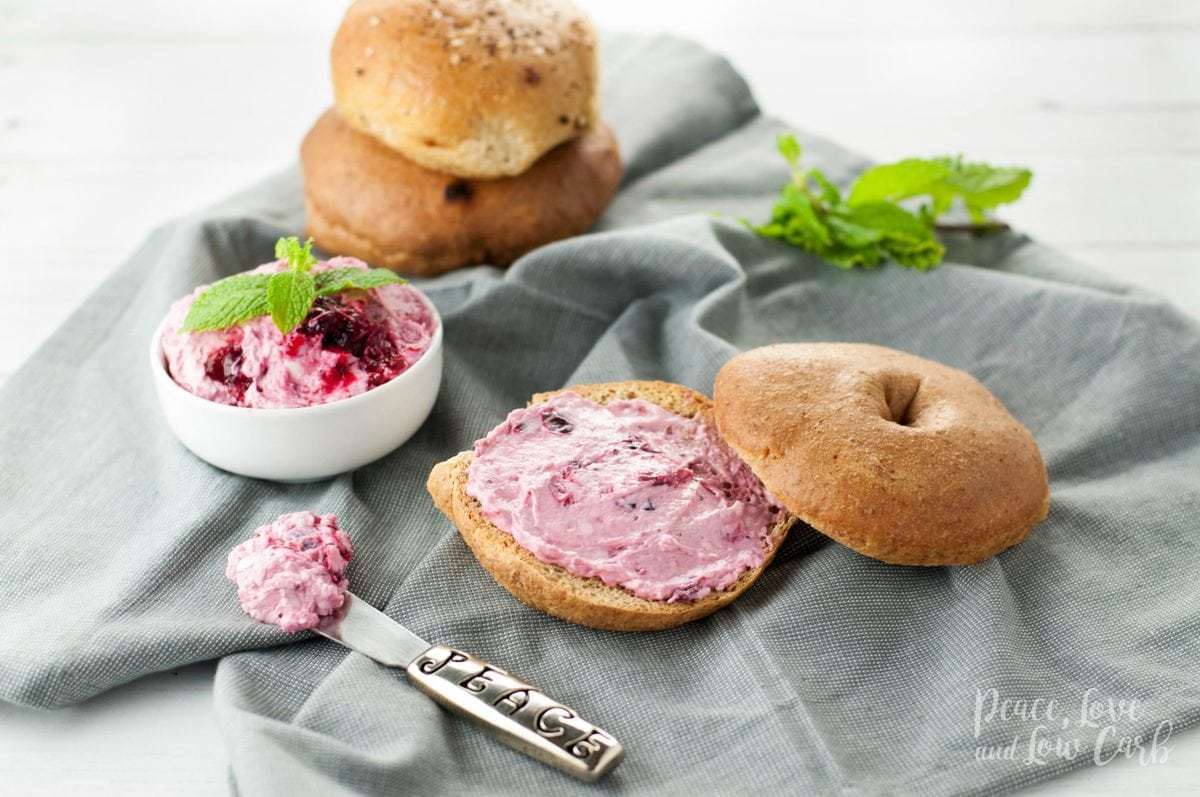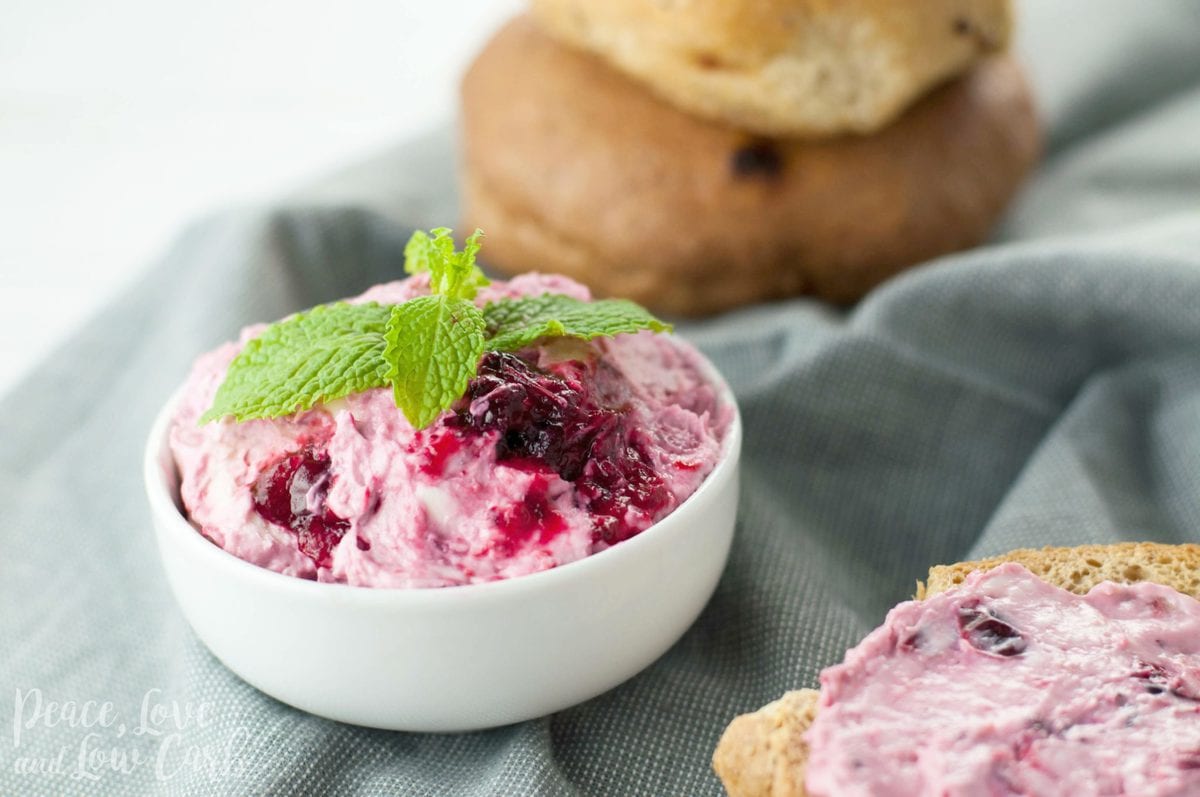 The grand finale: low carb bagels with a low carb cranberry sauce cream cheese
As if I haven't tempted you enough already, I've got one more low carb option to share. These beauties are their Fresh Baked Plain New York Style Bagels. I just knew that I needed to top them with something sweet and creamy, so I whipped up this Low Carb Cranberry Sauce Cream Cheese Spread. It is sweet and delicious and the perfect compliment to a toasted low carb bagel. How can you go wrong?
Would you believe me if I told you that this was the first recipe on my blog with fresh cranberries? It isn't an ingredient that I use very often. In fact, I think I was well into adulthood before I ever even had a fresh cranberry. Prior to that my cranberry experience was pretty limited to the crimson colored jiggly goop that slides out of a can around the holidays. Blech! Fresh is best! I hope you love this recipe as much as we do.
Don't Forget to Check out some of their other low carb products:
Oatmeal
Double Chocolate Brownie Mix
Print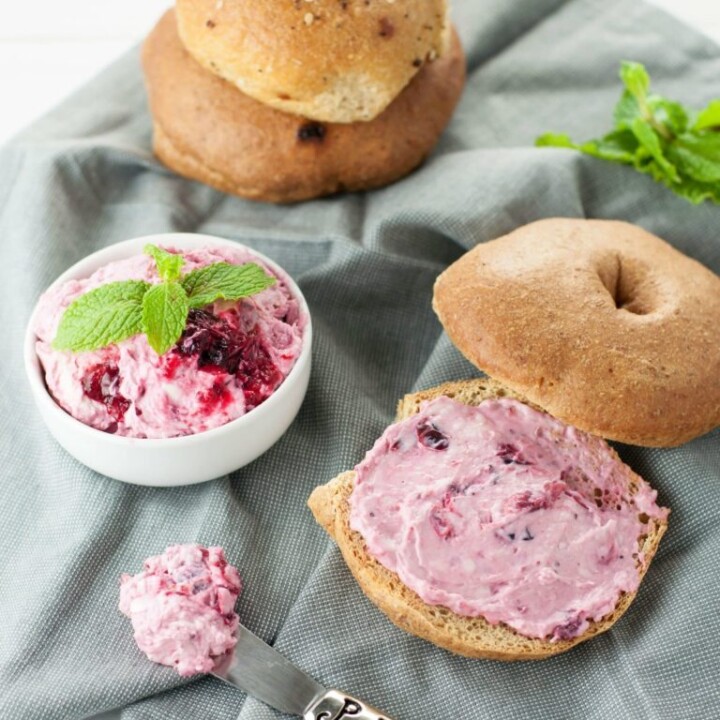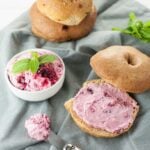 Low Carb Cranberry Sauce Cream Cheese Spread
---
8 oz

cream cheese, softened

1 cup

fresh cranberries

¼ cup

granulated Swerve, more to taste (get it here)

2 tbsp

fresh squeezed orange juice

1 tbsp

orange zest
a few springs of fresh mint, optional
---
Instructions
Put the cream cheese in a medium mixing bowl and allow to soften. Use a hand mixer to whip. If the cream cheese has had enough time to soften, you can also just whip it with a fork.
In a small sauce pan over medium heat, combine cranberries, Swerve, orange juice, and orange zest.
Allow the berries to simmer until they begin to pop and the sauce starts to thicken. About 20 minutes.
Once most of the berries have popped, reduce the heat to low and let the sauce continue to thicken for 5-10 minutes.
Fold the cranberry sauce into the whipped cream cheese.
Top with fresh mint.
Notes
0.9g net carbs per 2 tablespoon serving
Prep Time:

5 minutes

Cook Time:

30 minutes
Nutrition
Serving Size:

2 tbsp

Calories:

53

Fat:

5g

Carbohydrates:

1.1g

Fiber:

0.2g

Protein:

1g