Crispy Baked Garlic Parmesan Wings – So good, you will wish you made a second batch.
Repeat after me… Crispy Baked Garlic Parmesan Wings
Yes… crispy and baked in the same sentence. It is in fact possible to have deliciously crispy wings without frying them. These are the real deal! I love, love, love a good crispy chicken wing. Even better when it is a low carb, keto chicken wing recipe.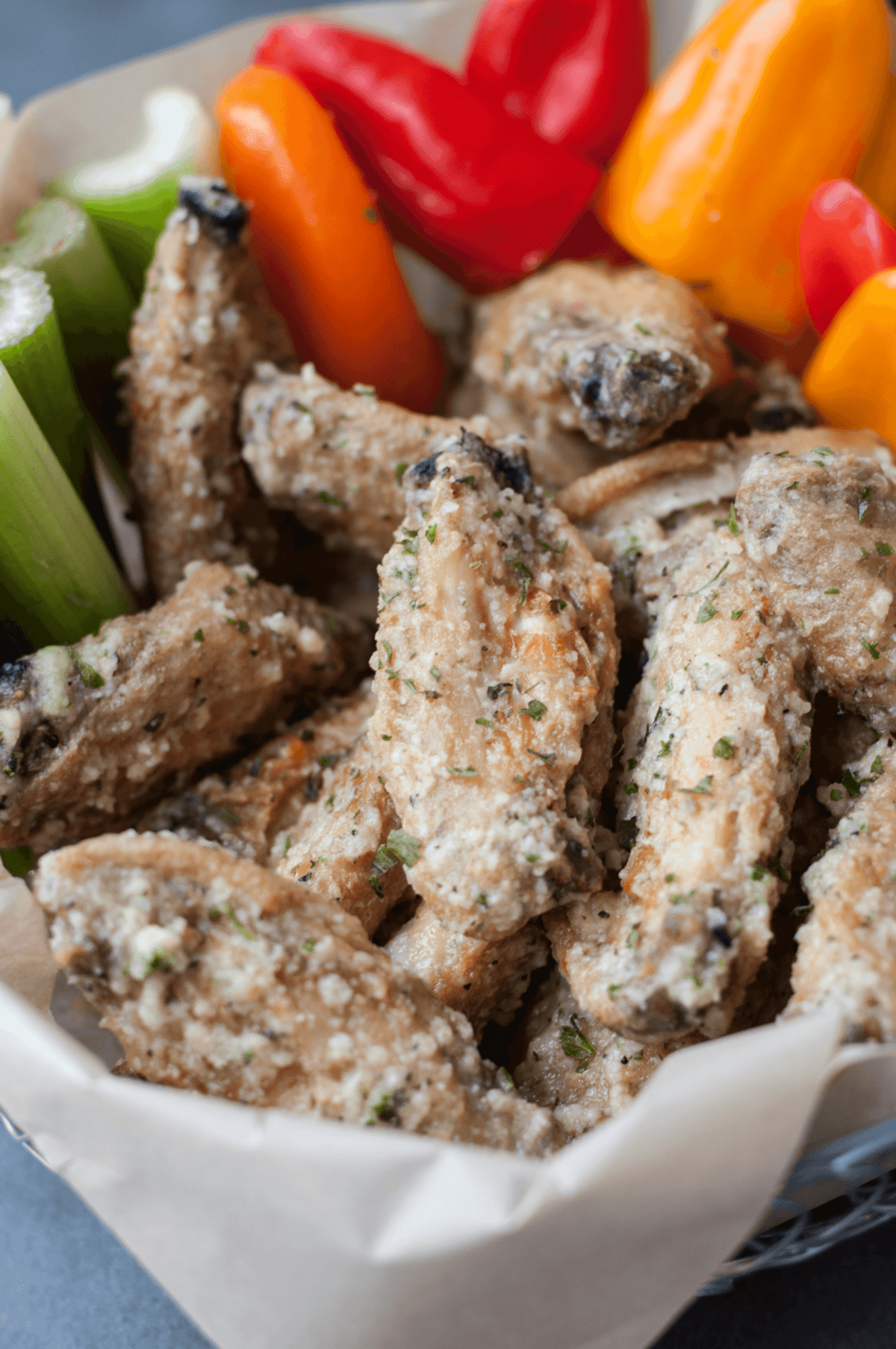 How to make crispy low carb wings
I am an extra crispy, all flats type of wing girl! How do you like your wings?
Contrary to popular belief, not all wing recipes are low carb. In fact, many of the wing recipes in restaurants are not low carb or gluten free. They are typically dredged in some sort of flour before being fried in order to make them retain their crispiness under all the sauce. I felt it was worth mentioning since a lot of people seem to view this as a free food. When you are dining out, ask your server if the wings are gluten free, and this is usually a good indicator that they are also low in carbs, depending on the sauce of course. I mean this more in reference to classic buffalo wings.
Variations of this keto chicken wing recipe
Once I figured out how to make a truly crispy chicken wing recipe, I went nuts trying other flavor combination. Check out my Low Carb Teriyaki Chicken Wings.
And if you are not a fan of bone-in wings, try my Keto Boneless Buffalo Wing Recipe.
Still not satisfied? No worries! I've got you covered! Here is a complete round up of low carb chicken wing recipes.
In addition to these Keto Crispy Baked Garlic Parmesan Wings, check out some of my favorite low carb appetizer recipes:
Print
Crispy Baked Garlic Parmesan Wings
Author:
Prep Time:

10 minutes, plus 20 minutes rest time

Cook Time:

1 hour 15 minutes

Total Time:

1 hour 45 minutes

Yield:

6

servings

1

x
Scale
Ingredients
2

pounds chicken wings, thawed if frozen

1 teaspoon

sea salt

2 tablespoons

baking powder

1/2 cup

salted butter, melted

1/2 cup

grated Parmesan cheese

1

clove garlic, minced

1 tablespoon

chopped fresh flat-leaf parsley

1 1/2 teaspoons

garlic powder

1/2 teaspoon

onion powder

1/4 teaspoon

ground black pepper
Instructions
Spread the wings in a single layer across some paper towels and sprinkle with the salt. Cover with another layer of paper towels and let rest for 20 minutes.
Place an oven rack in the middle-lower position and another rack in the middle-upper position. Preheat the oven to 250°F. Set a cooling rack on a rimmed baking sheet.
Combine the wings and baking powder in a resealable plastic bag. Shake to coat the wings evenly.
Spread the wings in a single layer across the cooling rack. Bake on the middle-lower oven rack for 30 minutes.
Increase the oven temperature to 425°F and move the baking sheet to the middle-upper rack. Bake the wings for an additional 45 minutes, or until the skin is nice and crispy.
While the wings are baking, make the sauce: Combine the melted butter, Parmesan cheese, minced garlic, parsley, garlic powder, onion powder, and pepper in a medium bowl.
Remove the wings from the oven and let rest for 5 minutes. Toss in the sauce before serving.
Nutrition
Serving Size:

1/6th

Calories:

468

Fat:

38g

Carbohydrates:

2g

Fiber:

0g

Protein:

30g
Looking for the perfect adult beverage to serve with these keto chicken wings?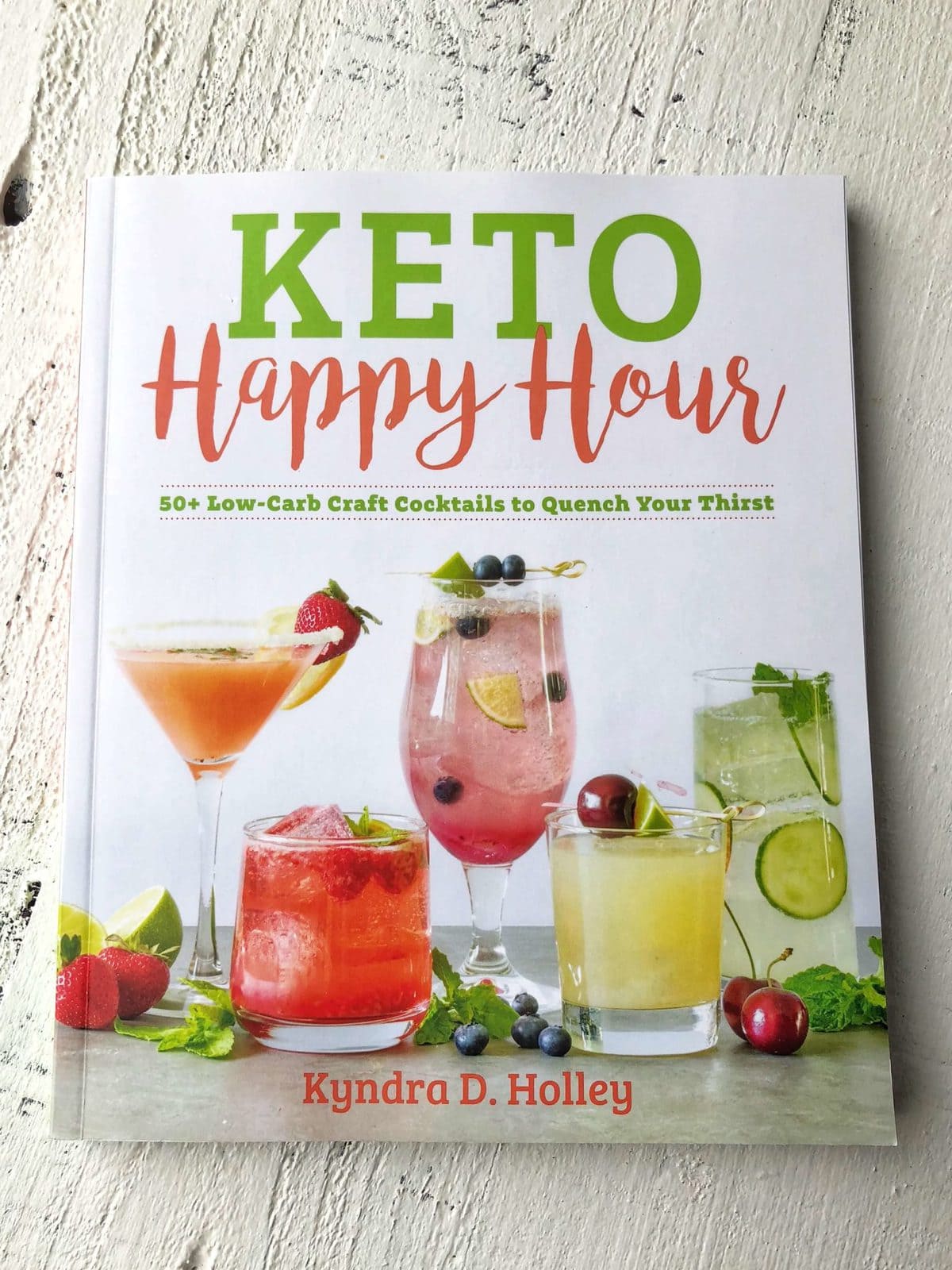 KETO HAPPY HOUR: 50 Low Carb Craft Cocktails to Quench Your Thirst.
Check out my other books –
HERE
So it's Friday night and you're feeling alright. You're ready to dance the night away with a cocktail in your hand. OR, if you are more like me, you want to have a cocktail at home with friends. But how do you know what to drink? What is the best alcohol for a low carb diet. Or what alcohol is lowest in carbs?
First, I'm going to break down the carbs in alcohol for you. Check out my Complete Guide to Carbs in Alcohol. If you're wondering… Can you have alcohol on a low carb diet? Is alcohol keto? You might be saying to yourself "But wait? I can't! I'm low carb." Well, you are NOT low carb. You're are a person following a low carb lifestyle. Do not be defined by your dietary decisions. Doing so will lead to a life of restriction and feeling restricted often causes us to stray from our intended path. Besides, who wants to pass up low carb gummy worms. Especially when they are boozy low carb gummy worms.
 YOU CAN GRAB A COPY –
HERE
I know that it can be tricky to navigate alcohol on a low carb diet, so I'm taking all the guess work out of it for you. I'll show you how to indulge, while still sticking to your healthy living, ketogenic lifestyle. If you think you can no longer have those delicious Moscow Mules at happy hour with your friends, or that you have to skip those margaritas on Taco Tuesday, think again! I'm putting your favorite drinks back on the menu, the low carb menu, that is.
Whether you are craving a cocktail after a long day of work, or looking to do some healthy entertaining, this book has you covered. From mixers, to drinks and even some pub grub. It's all in there! Mixing up cocktails should be fun and it shouldn't come at the cost of your health and weight loss goals. Keto Happy Hour bridges the gap between feeling deprived and feeling mighty fine.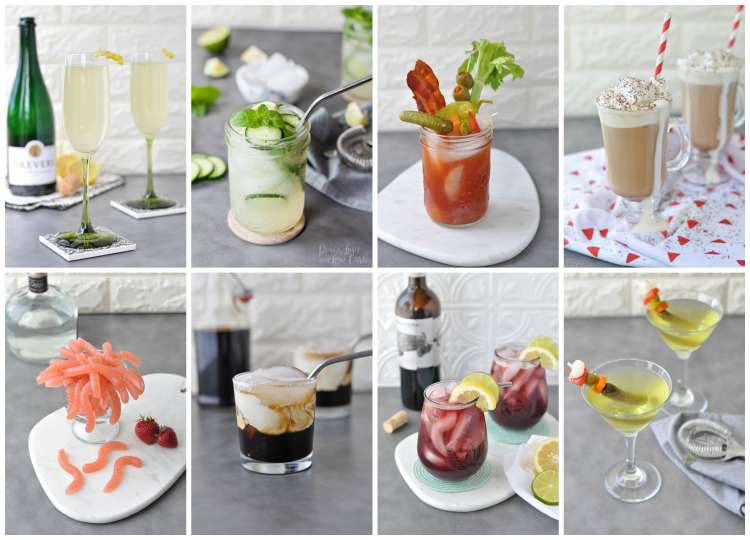 WITH RECIPES LIKE:
Strawberry Basil Lemon Drops
Boozy Hot Cocoa
Dill Pickle Martinis
Moscow Mules
Irish Coffee
Bloody Marys
Scratch made Low Carb Bloody Mary Mix
Homemade low carb coffee liqueur and Low Carb Irish cream
Low Carb Whiskey Sour
Hot Toddy
Cucumber Jalapeno Margaritas
And even…
Low Carb Strawberry Margarita Gummy Worms
AND EVEN SOME FOOD RECIPES LIKE:
Halloumi Bruschetta
Cheesy Nachos
Barbecue Smoked Sausages
Pizza Bagels
Teriyaki Steak Bites
Avocado Keto Hummus
Keto Buffalo Chicken Jalapeno Poppers
Crispy Baked Garlic Parmesan Wings
Bloody Mary Roasted Nuts
Red Wine Fudgesicles
and more…
YOU CAN GRAB A COPY –
HERE