Low Carb Caramelized Onion and Prosciutto Mac and Cheese. Say that a few times fast. It is a mouthful. A delicious, low carb, comfort food mouthful!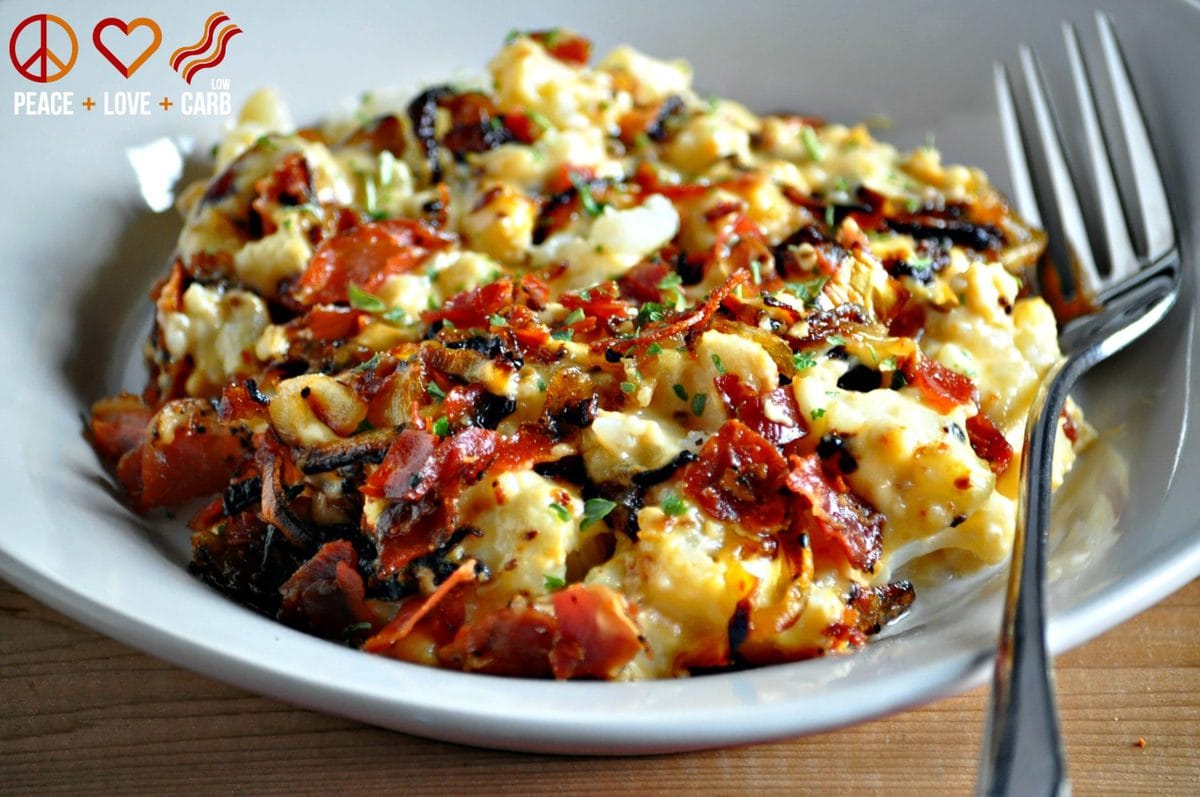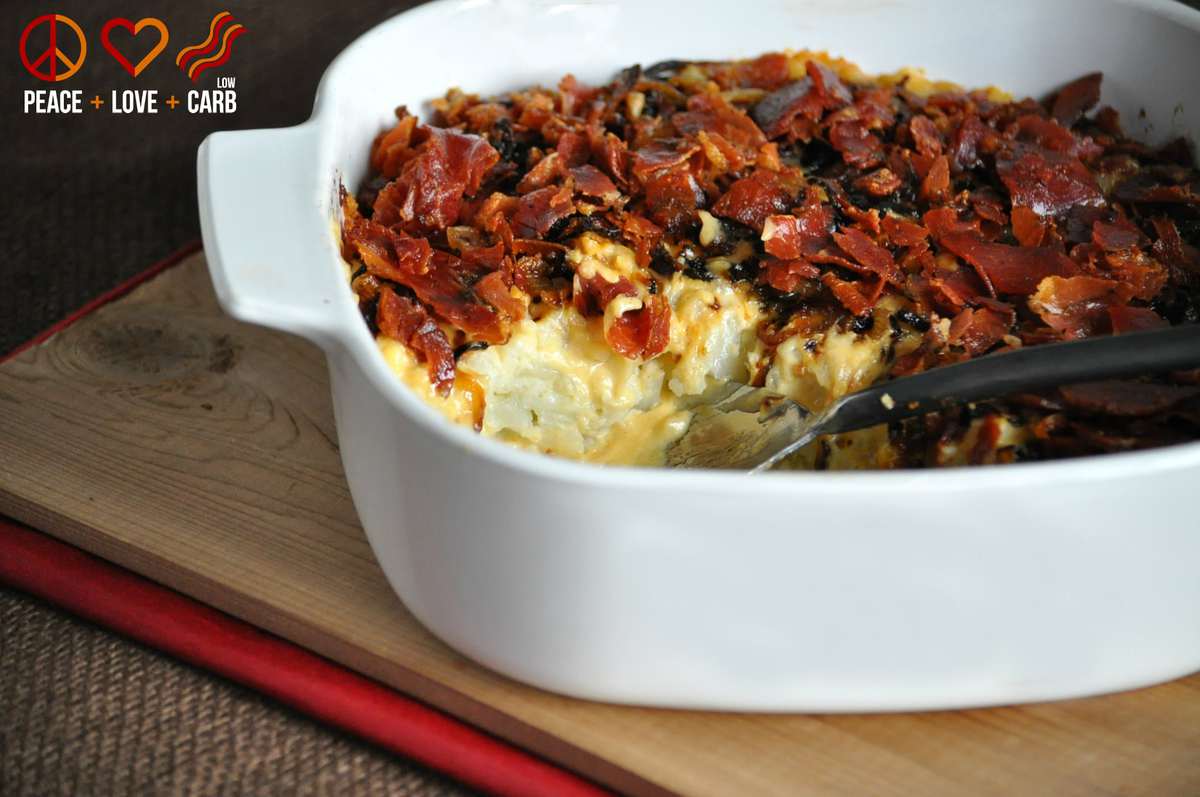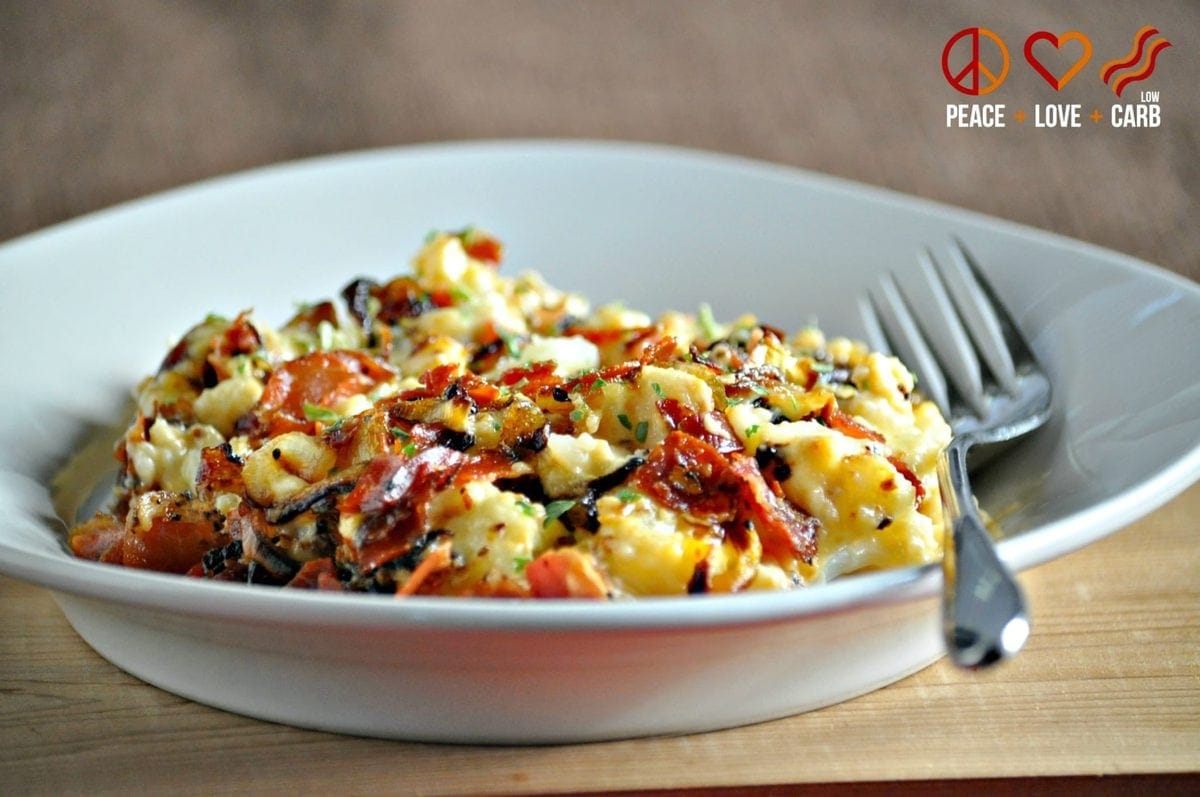 Low Carb Caramelized Onion and Prosciutto Mac and Cheese- Keto, Gluten Free
I have never met a mac and cheese that I didn't like. I simply love it! Naturally, that very same love made it one of the hardest things to give up when I decided to switch to a low carb and gluten free way of eating. I set out on a mission to recreate my favorite comfort food into a gourmet, low carb version. The end result was something that even the non-low carbers in your life will be asking you to make time and time again. Even when I make a double batch, there still isn't any left over. This low carb caramelized onion and prosciutto mac and cheese will become an instant classic in your home. It comes kid and husband approved.
Cauliflower has an amazing way of substituting it's carb laden counterparts - like rice, potatoes, pasta etc. Don't believe me? I bet I can convince even the biggest cauliflower despising skeptics. Why do I think this? Because I used to be one. Check out my Buttery Cauliflower Rice recipe. Or how about this Cauliflower Mushroom Risotto recipe? Still not convinced? Maybe these Fried Radish and Cauliflower Hash Browns will convince you.
Print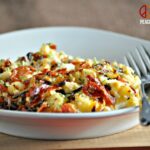 Caramelized Onion and Prosciutto Mac and Cheese
---
1

large head cauliflower, cleaned and trimmed (but left whole)

1 tablespoon

olive oil

4 tablespoons

butter, divided

1

medium onion, diced

3

cloves garlic, minced

1 cup

heavy cream

½ cup

grated Parmesan cheese, extra for garnish

1 cup

shredded sharp cheddar cheese, extra for garnish

¼ cup

goat cheese

¼ teaspoon

black pepper

6 ounces

prosciutto, diced and cooked crisp
fresh chopped parsley, for garnish
---
Instructions
Preheat oven to 350°F.
In a large covered pot with 1 inch of water, steam the cauliflower on high heat until fork tender. About 15 minutes.
Remove from heat, drain water and allow cauliflower to remain in the hot pot to draw out excess moisture. (This is important… Otherwise you might end up with mac and cheese soup)
Place head of cauliflower in an 8 x 8 casserole dish. Using a fork, slightly mash the cauliflower to break it all apart.
In a large sauté pan over medium heat, heat the olive oil and 2 tablespoons of the butter. Once the butter is melted, add the onions to the pan and sauté until they have a nice caramel color. Remove the onions from pan and set aside.
To the same pan add remaining butter and garlic. Sauté until the garlic is fragrant. Add the heavy cream and Parmesan cheese. Stir continuously until the Parmesan is melted and the sauce begins to come to a boil. Mix in cheddar cheese, goat cheese and black pepper. Stir until cheeses are melted and well incorporated into the sauce. Reduce heat to low and allow the sauce to thicken as it simmers, about 5 minutes.
Pour cheese sauce evenly over top of the cauliflower. Layer caramelized onions on top of sauce. Lastly, layer crispy prosciutto on top of the caramelized onions. Sprinkle with remaining cheese and bake for 15 minutes.
Garnish with parsley before serving.
Notes
net carbs per serving: 7g
Nutrition
Calories:

456

Fat:

38.1g

Carbohydrates:

10.2g

Fiber:

3.2g

Protein:

19.2g