A super easy ribeye roast recipe that you can prep quickly any day of the week. This smoked ribeye roast is seasoned perfectly: juicy and tender on the inside with a smoky caramelized crust on the outside.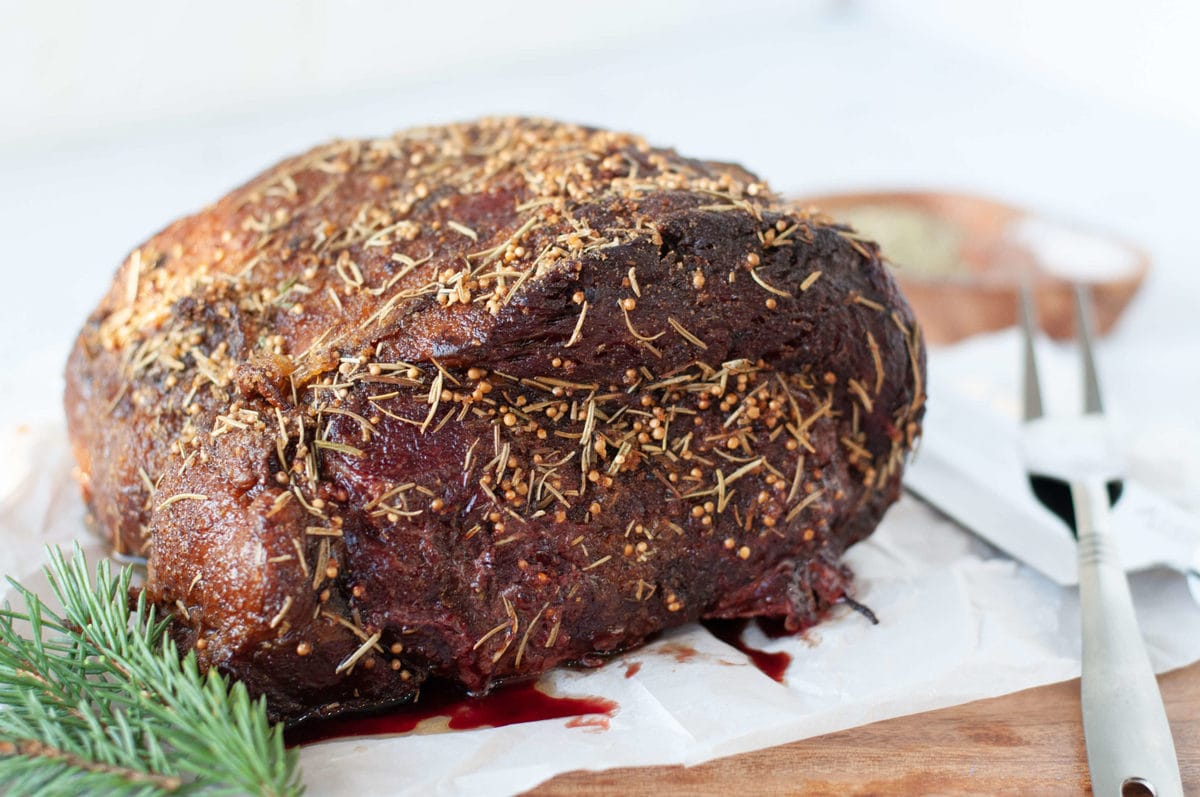 This Smoked Ribeye Roast is the best because it's got a little of everything: smoky goodness, a flavorful mix of rosemary, mustard seed, onion and garlic powder, celery salt, and sea salt, and a caramelized crust with the most tender, juicy center. These layers of flavor can only be achieved by slow cooking in a smoker. Prepping this recipe couldn't be easier -- the hardest part is waiting for the roast to cook, but believe me when I say: the end result is worth the wait.
Is Ribeye roast and prime rib the same cut of meat?
A ribeye is cut from a rib roast, which is a huge section made up of 7 rib bones. The rib roast can weigh up to 30 pounds, and individual ribeye steaks are cut from this section. This section of meat is known for its tender, marbled muscle -- the marbling adds a nice amount of fat and flavor to the meat for a deliciously juicy steak.
When it comes to the difference between ribeye roast and prime rib, prime rib is just a big roast cut that includes the ribeye. Ribeye is just a steak cut from the roast, with the bone removed. Both options result in a perfectly marbled, incredibly tender and full of flavor cut.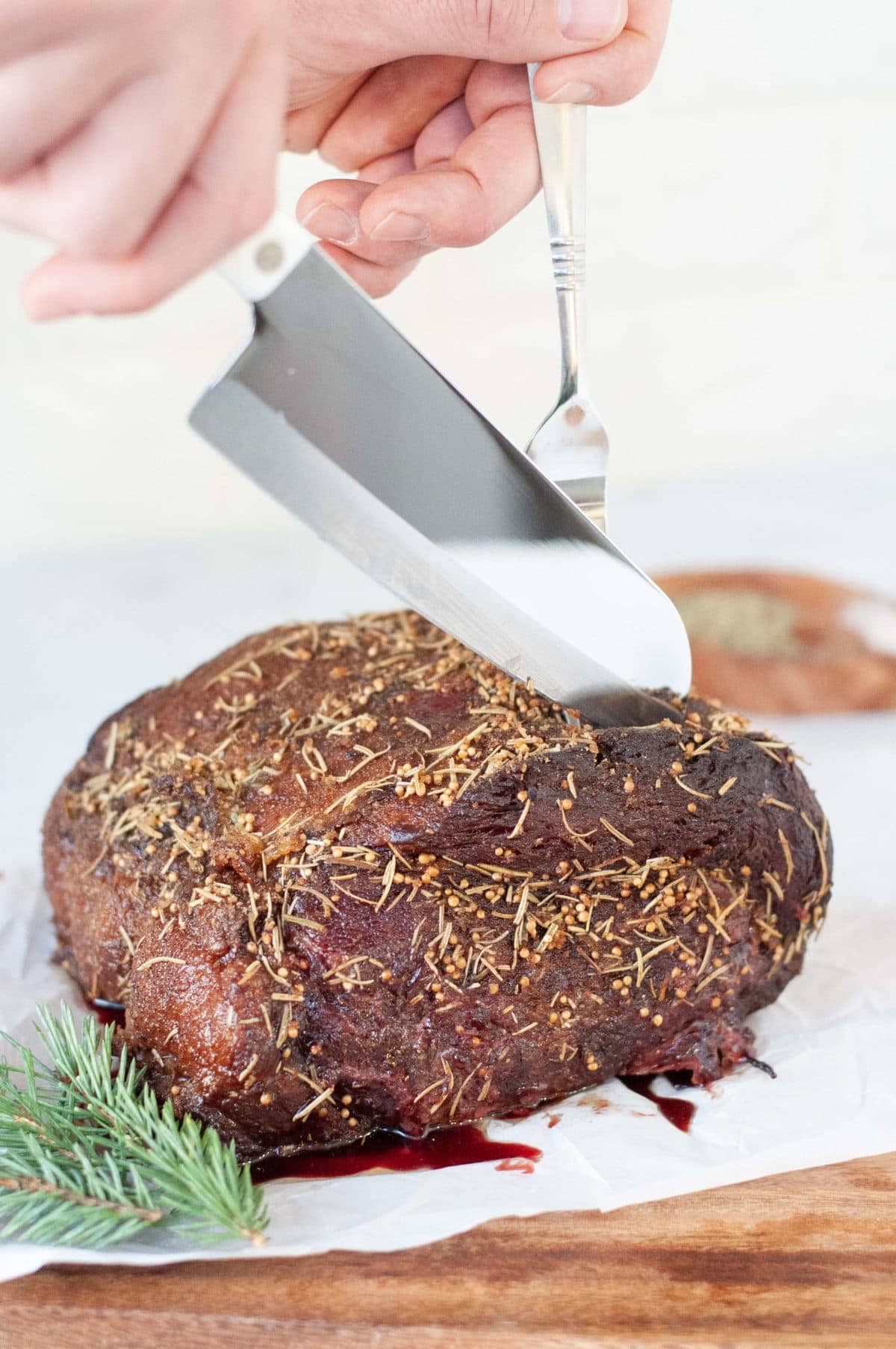 How to smoke a beef roast
If you're wondering how to cook a ribeye roast, my preferred method is smoking, but let's back up a little bit. First, I highly recommend curing the ribeye roast by letting it sit in the fridge, salted, for 24 hours. This isn't required, but it will give you the best result. Next, you'll want to sear your ribeye roast in a skillet with a bit of avocado oil to develop a crust and lock in all the juices. After a nice crust has formed, you'll let the roast cool while you put together a spice rub and then coat the ribeye liberally on all sides with the rub. Finally, you'll smoke the ribeye low and slow until it reaches an internal temperature of 140°F (for medium rare).
Once you hit that desired internal temperature, tent the roast roast and let it rest for 30 minutes. This may feel impossible because the roast will look absolutely beautiful and smell amazing, but it's essential: resting will allow all the juices to distribute evenly throughout the roast, so that when you slice up the roast, every bite will be just as juicy and tender as the last.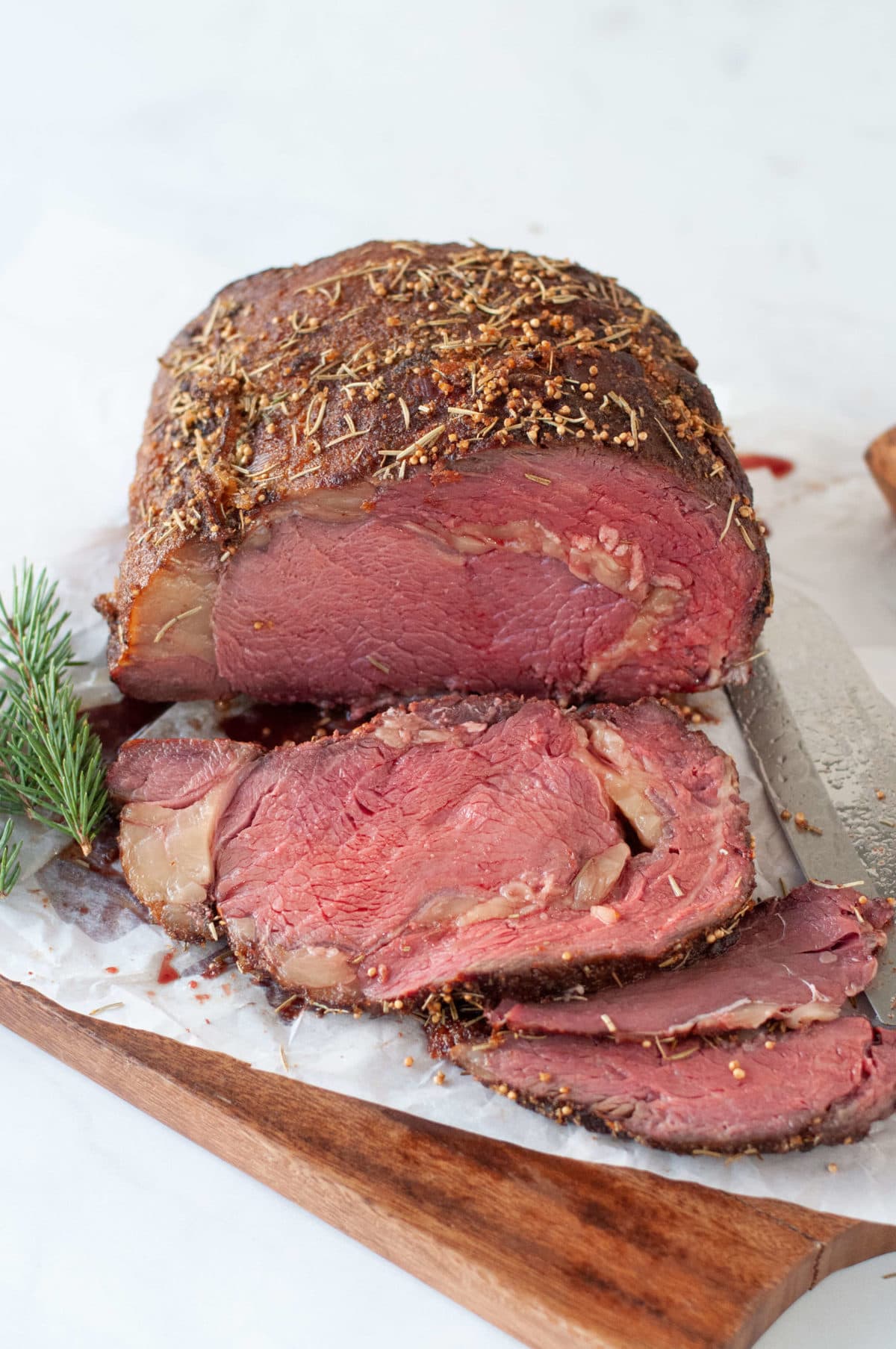 How to carve a ribeye roast
I recommend using a long carving knife so that you can avoid sawing and instead make a long, clean cut against the grain. Yes, this is a gluten free, grain free recipe, but all steaks have a "grain" -- it's just the direction in which the muscle fiber runs.
Cutting against the grain makes the cut more tender. If you cut meat in the same direction as the grain, it'll be a lot chewier, which is not a good thing. If you're going to spend hours waiting for this keto roast recipe to smoke, taking a few extra minutes to properly carve the roast is absolutely worth it.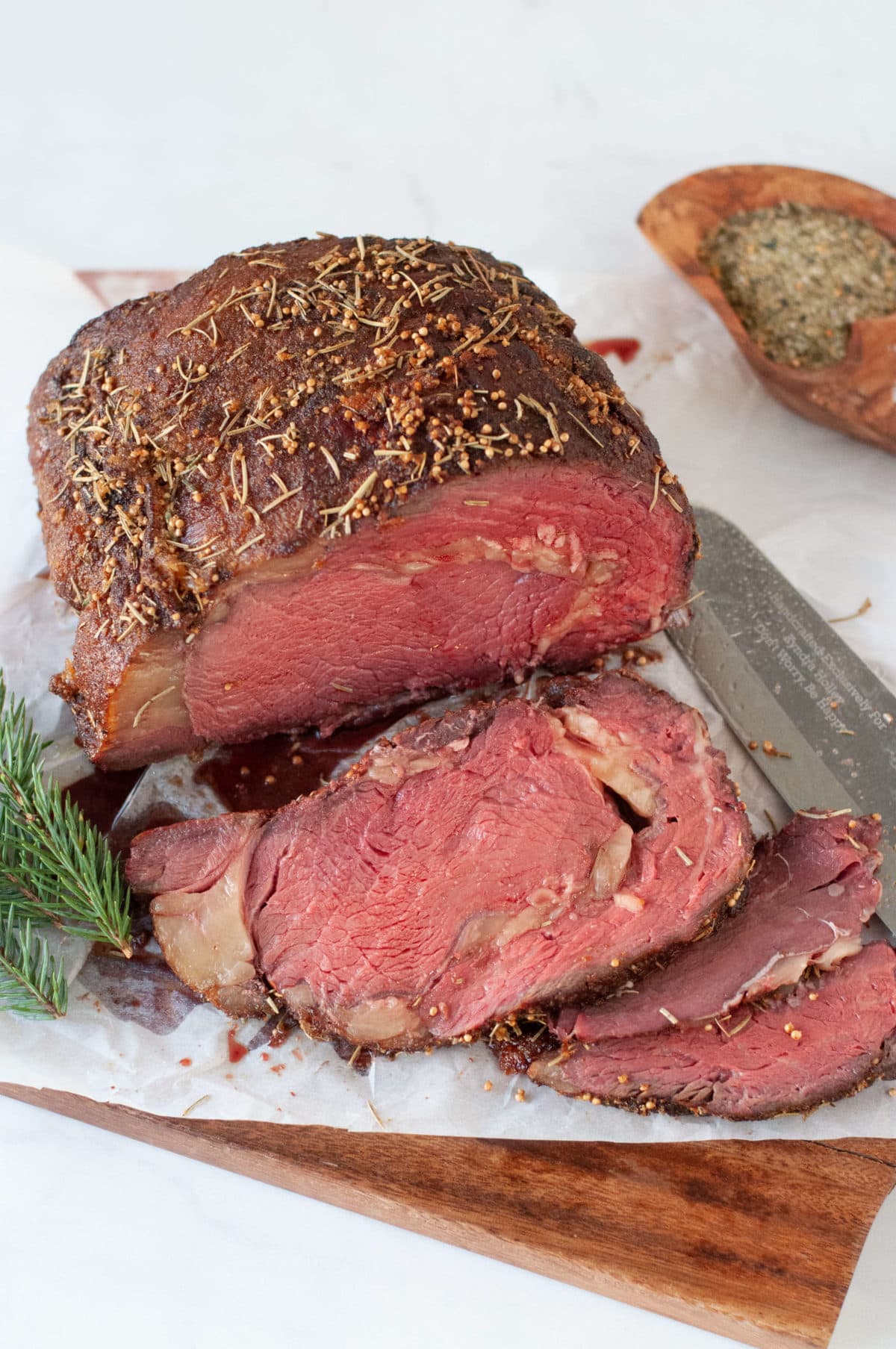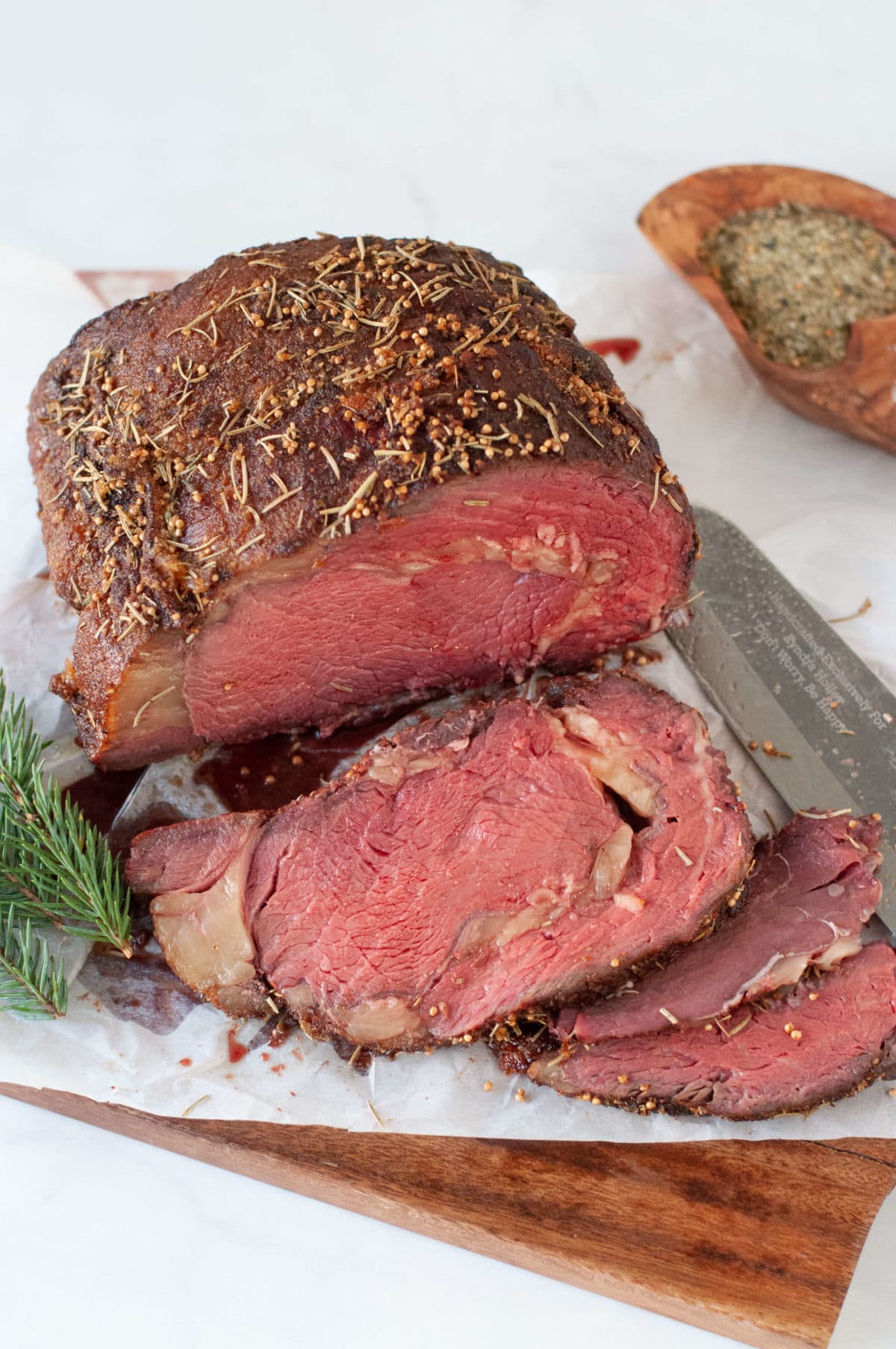 Kitchen tools and accessories to cook the best roast
In addition to a long carving knife, I have a few other recommendations for the tools and accessories that will yield the best experience for smoker recipes.
Other recipes you might enjoy:
Print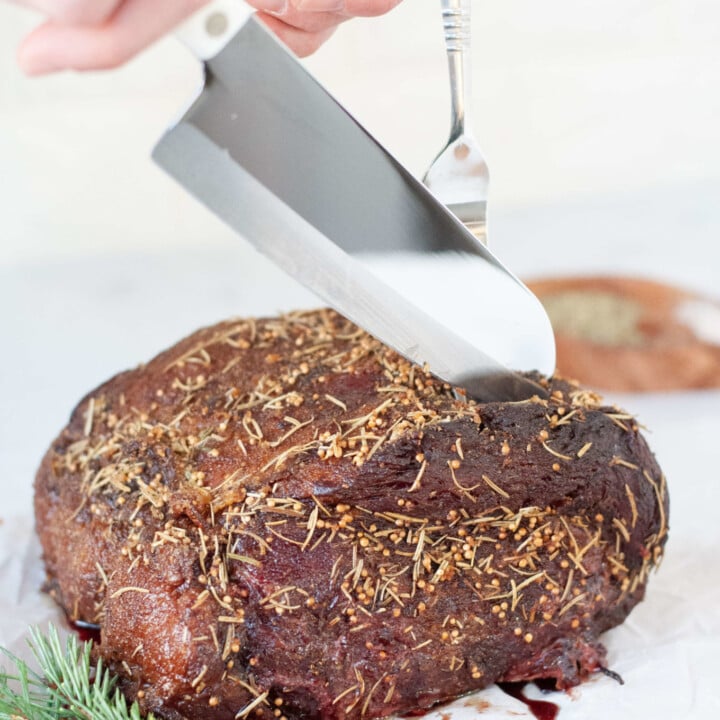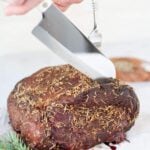 Smoked Ribeye Roast
---
Author:

Kyndra Holley

Prep Time:

15 minutes

Cook Time:

5 to 6 hours

Total Time:

6 hours

Yield:

9

servings

1

x
For the roast:
For the rub:
---
Instructions
Trim the excess fat off the top of your roast (optional) and season generously all over with sea salt. If you have time to prepare the meat in advance, I recommend letting it sit in the fridge, salted, for 24 hours. If not, no worries. It will still be delicious.
Preheat the smoker on the low setting (180°F) If you are using a Rec Tec RT700, we used the Xtreme Smoke setting.
While your smoker is coming to temperature, heat the avocado oil in a large skillet over medium-high heat. Once your pan is hot, sear the roast on all sides, until it is caramelized and a nice crust has formed.
Transfer it to a plate or a cutting board to cool.
While the meat is cooling, mix up the spice rub.
Coat the meat liberally on all sides in the spice rub.
Transfer the roast to the smoker, placing it directly on the grill grates.
Smoke until the meat reaches an internal temperature of 140°F (for medium rare)
Once it reaches the desired internal temperature, remove it from the smoker, tent it with foil, and let it rest for 30 minutes before slicing into it.
Notes
net carbs per serving: 0.8g
Nutrition
Serving Size:

8 ounces

Calories:

300

Fat:

10.5g

Carbohydrates:

1.1g

Fiber:

0.3g

Protein:

50.2g
Keywords: smoker recipes, how to cook ribeye roast, rec tec rt700, low carb roast recipe, keto beef recipes