If you are planning a trip and looking for things to do in Temecula Valley, then this is the post for you. You are in for a treat. We definitely left little pieces of our hearts in Temecula.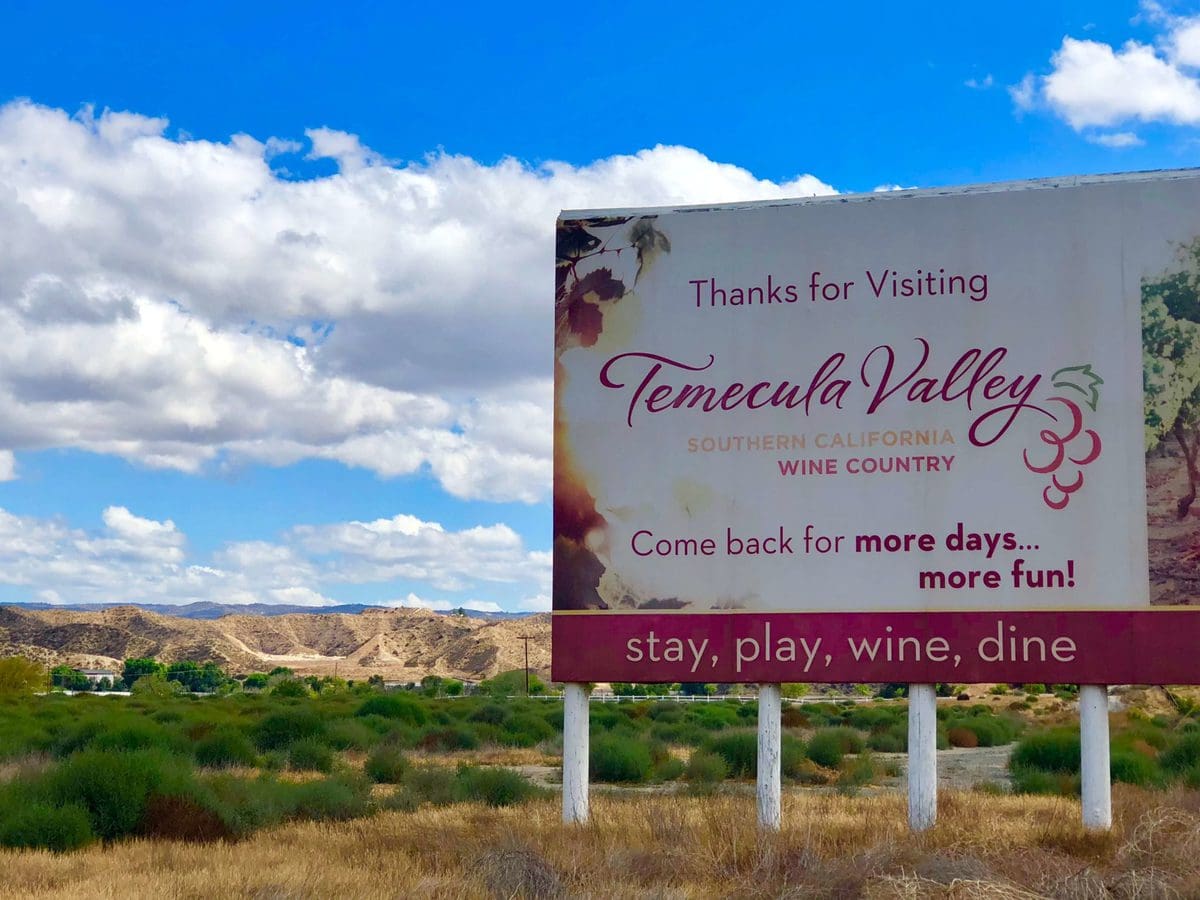 Things to do in Temecula valley:
Jon and I had an incredible time in Temecula Valley. We didn't want to leave. In fact, just a couple days into the trip we were both convinced that we needed to move there. It's the kind of place that just leaves an imprint on your heart. The kind of place where people go to live out their dreams and pursue their life's passion. It's a vibe I can definitely get behind. I've already started a list of all the things I want to do next time we visit.
We took a very early morning flight from Seattle into San Diego, and with nothing on the itinerary until dinner, we had some free time to play around. We went to Mission Beach and soaked up some sunshine as we walked the boardwalk. Then we grabbed a delicious breakfast at World Famous, and did a little shopping before heading to Temecula to check into our room at Embassy Suites.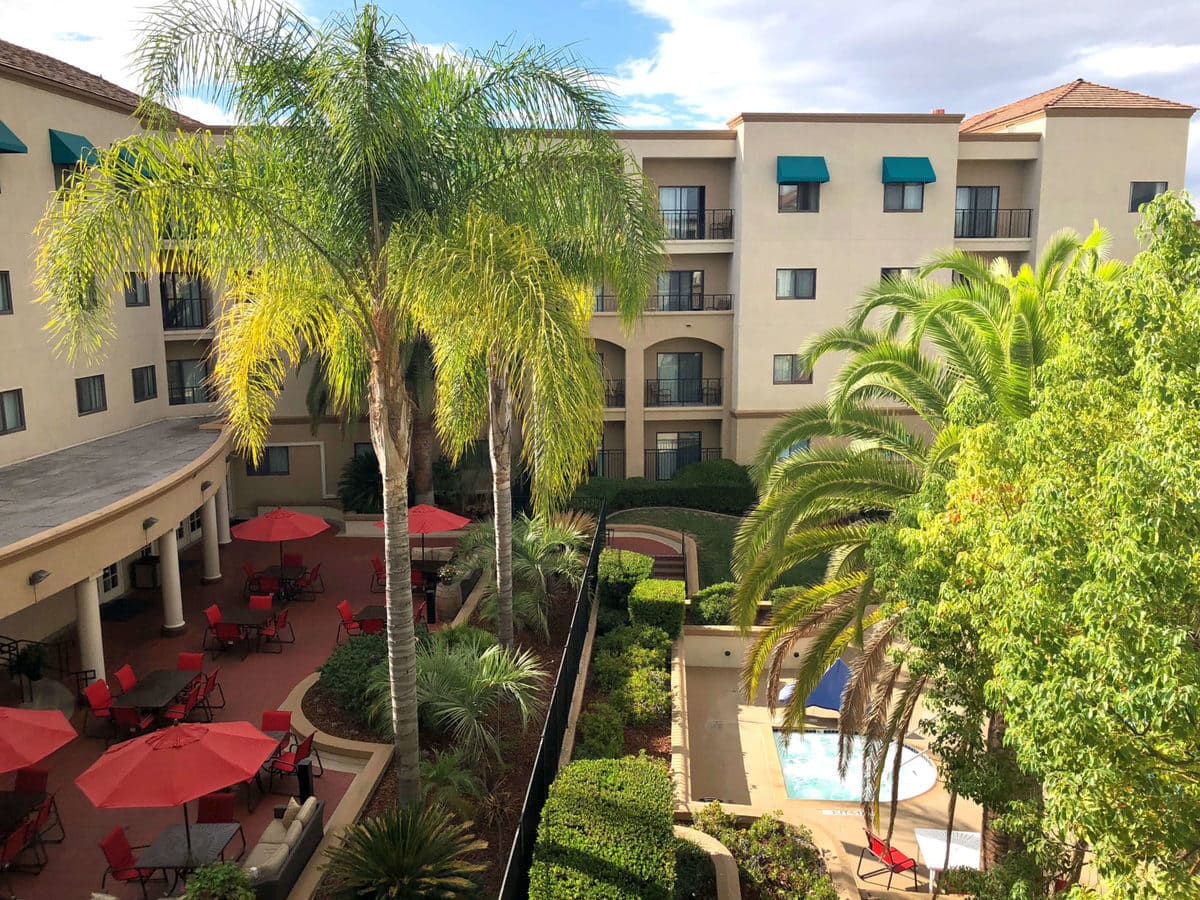 We checked into our room and were met with a lovely welcome package from Visit Temecula, as well as wine and a cheese plate from the hotel. It was quite the greeting. Our room overlooked the courtyard and pool area. The bag from Visit Temecula had some goodies from Temecula Olive Oil Company, two SIP passports for wine touring, as well as two souvenir stainless wine tumblers. They even had lids - grown up sippy cups. I like it!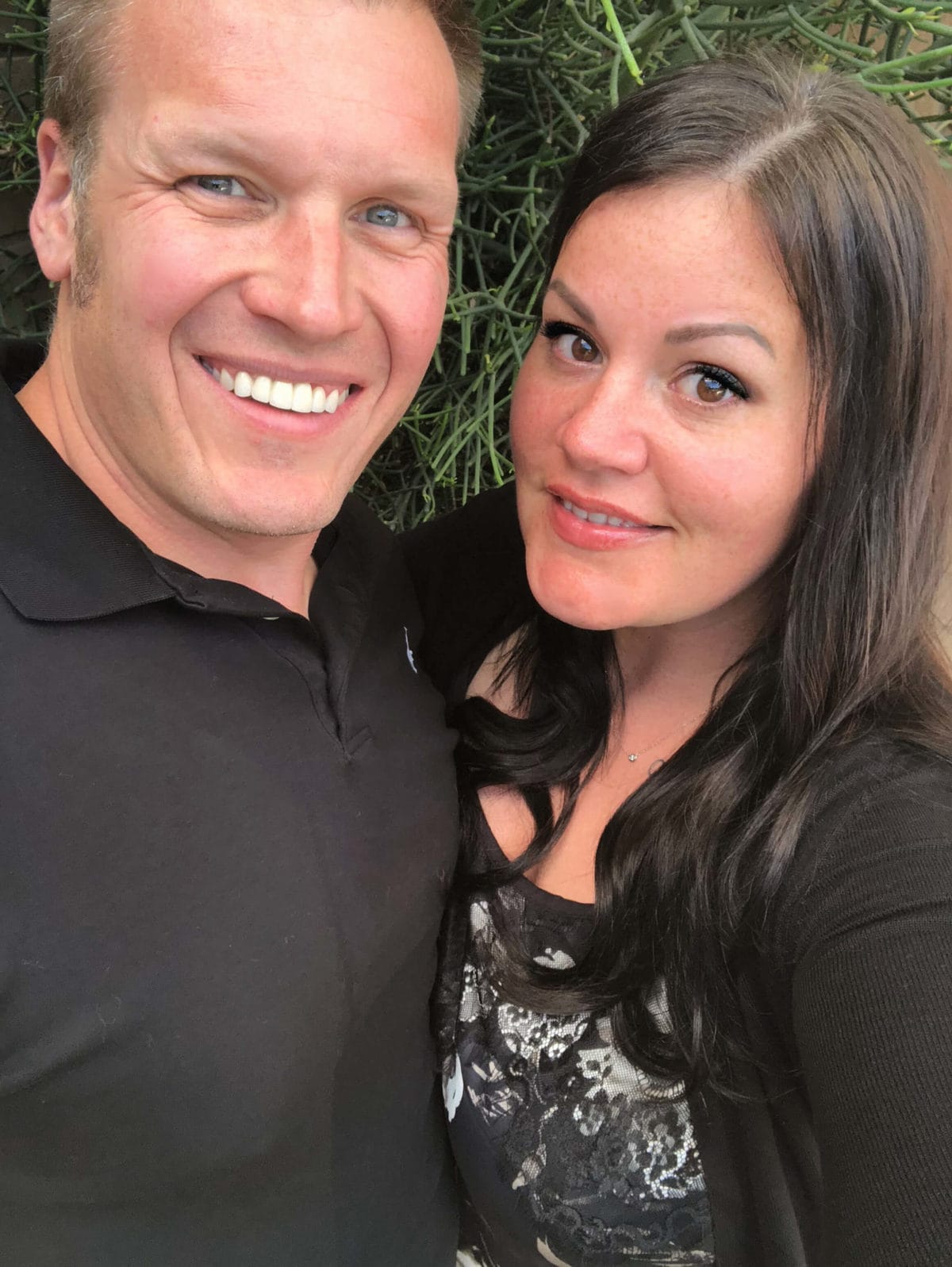 After settling in to our room and unpacking, we got cleaned up and headed to Blue Water Grill for dinner. Our server Melody was so knowledgeable and engaging and she really made our experience a memorable one. We started off with oysters on the half shell and some pan-seared scallops with a roasted jalapeño aioli. I pretty much want to live inside a jar of that sauce. It was SO good. I'll definitely be making a copycat version for the site. One of the questions I get asked the most is about staying low carb / keto on vacation. It is definitely possible. You just have to ask the right questions and not be afraid to ask for the substitutions you want. They were super accommodating to our low carb substitutions and even gave us some suggestions for wine touring later in the week. After dinner we called it a night and just went back to our hotel. The bar in the Embassy Suites has a free nightly happy hour, so we had a glass of wine out in the courtyard and just enjoyed some quiet time together.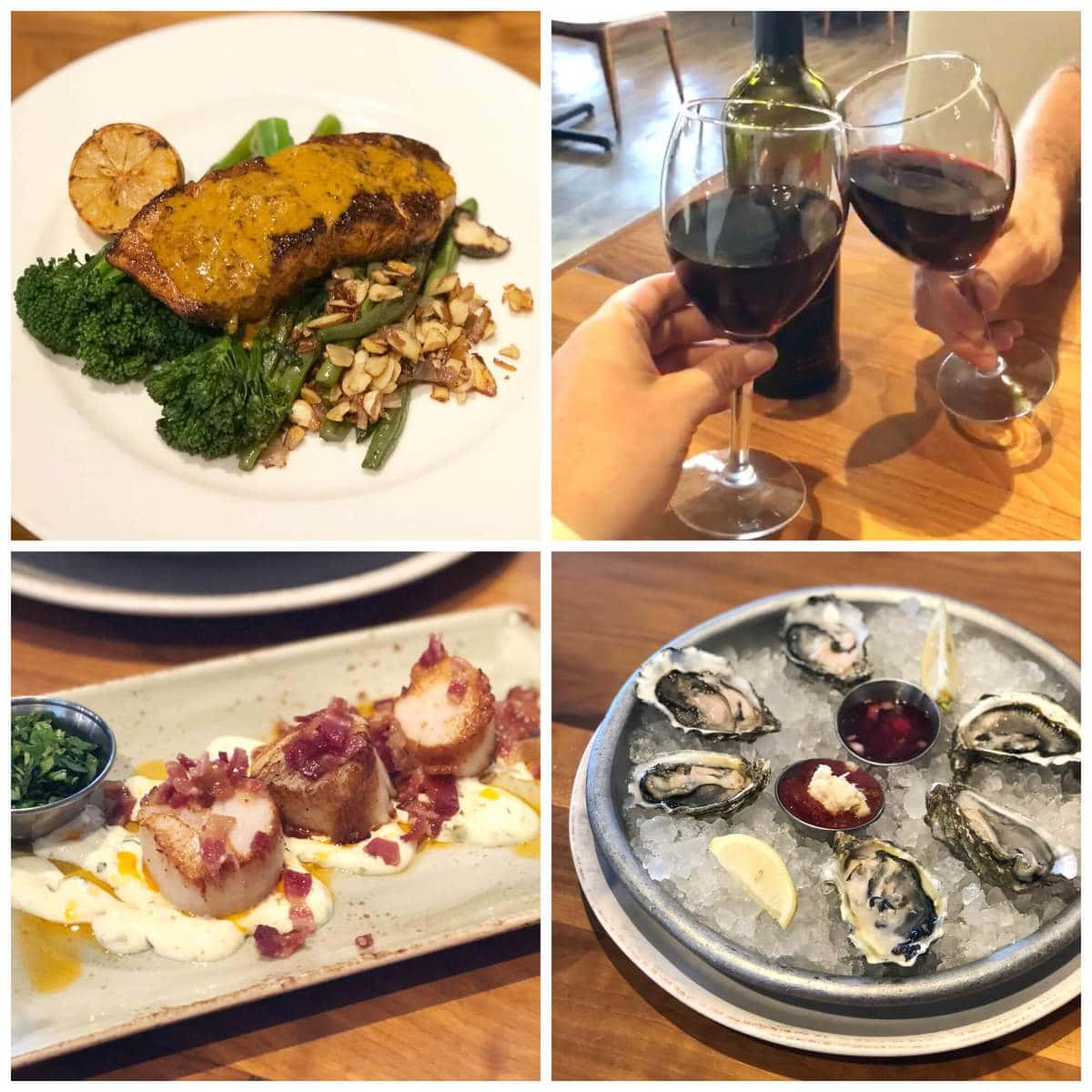 On our second day we had the great pleasure of visiting the Temecula Olive Oil Company and touring the olive ranch. There are so many things to do in Temecula, but this was by far one of our favorites. We were excited because we had never been to an olive ranch, but had no idea the true treat we were in for. Tom and Nancy, the owners, took us on a tour of the property, and taught us so much about growing olives, and the process of making pure olive oil. I had no idea what magnificent trees olive trees are. They are true champions and require very little to thrive. In fact, when they initially bought this property, it was quite literally a spot that people were using to dump garbage they didn't want to pay to dispose of. In the midst of all the waste and growing right out of it, were healthy and thriving olive trees. It took more than two years of cleaning to make it the beautiful oasis that it is now. They even upcycled some of the garbage left behind, using tires to build retaining walls, and to plant in. They built arbors out of rebar and used it to grow wine grapes for their vinegars. They broke the beer bottles up in a cement mixer, and used it to decoratively line the sides of the walkways. They have a truly sustainable property with no waste whatsoever. They even use the second pressing of their olive oil to fuel their tractors whenever possible. Talk about being green. They would humbly tell you that they do what they do in terms of sustainability because they are cheap, but we could feel that it ran much deeper than that.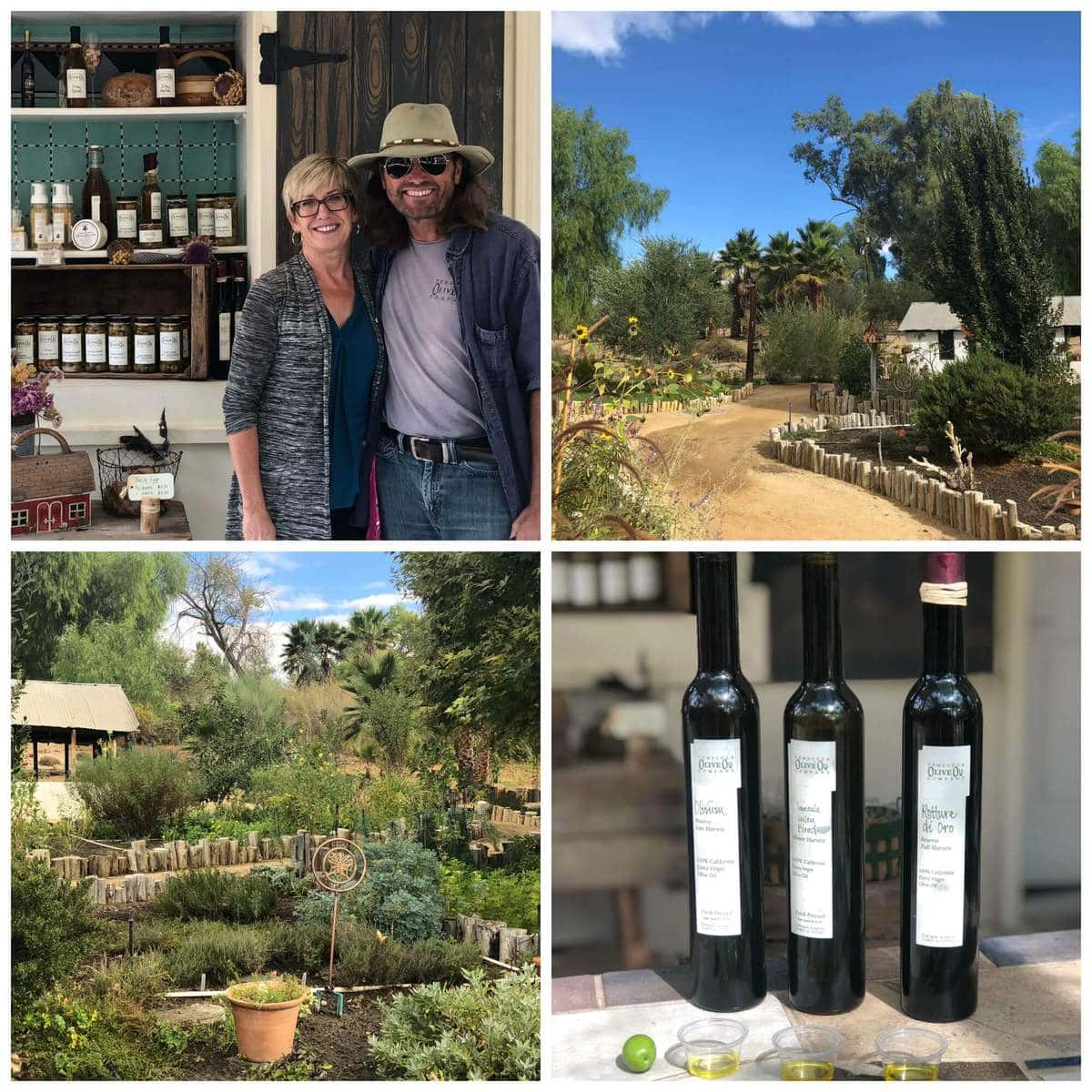 Now back to these magnificent trees... they really only need two inputs to thrive - water and sunlight. Not only that, but they actually create a carbon deficit through their lifespan, so they are actually helping to clean the air. They can survive and produce fruit for 1-2000 years. Their wood is strong and hard and can be used to build many things. Their leaves contain natural anti-bacterial and anti-fungal properties, which is just another reason you don't need toxic chemicals if you are growing and harvesting them correctly. In the distilling process, the water that is separated from the oil is rich in potassium and they use it to water the trees to help replenish the nutrients in the soil.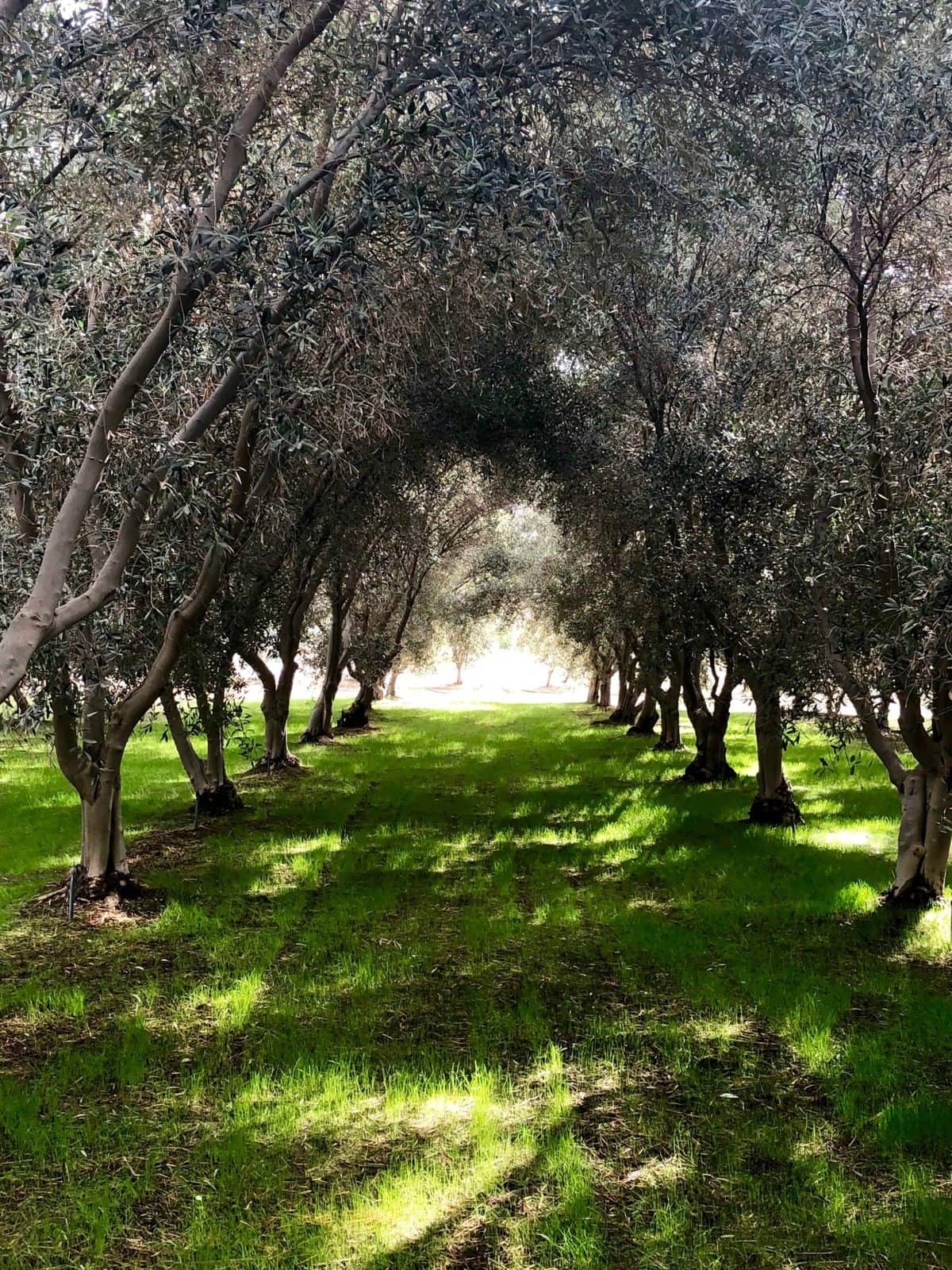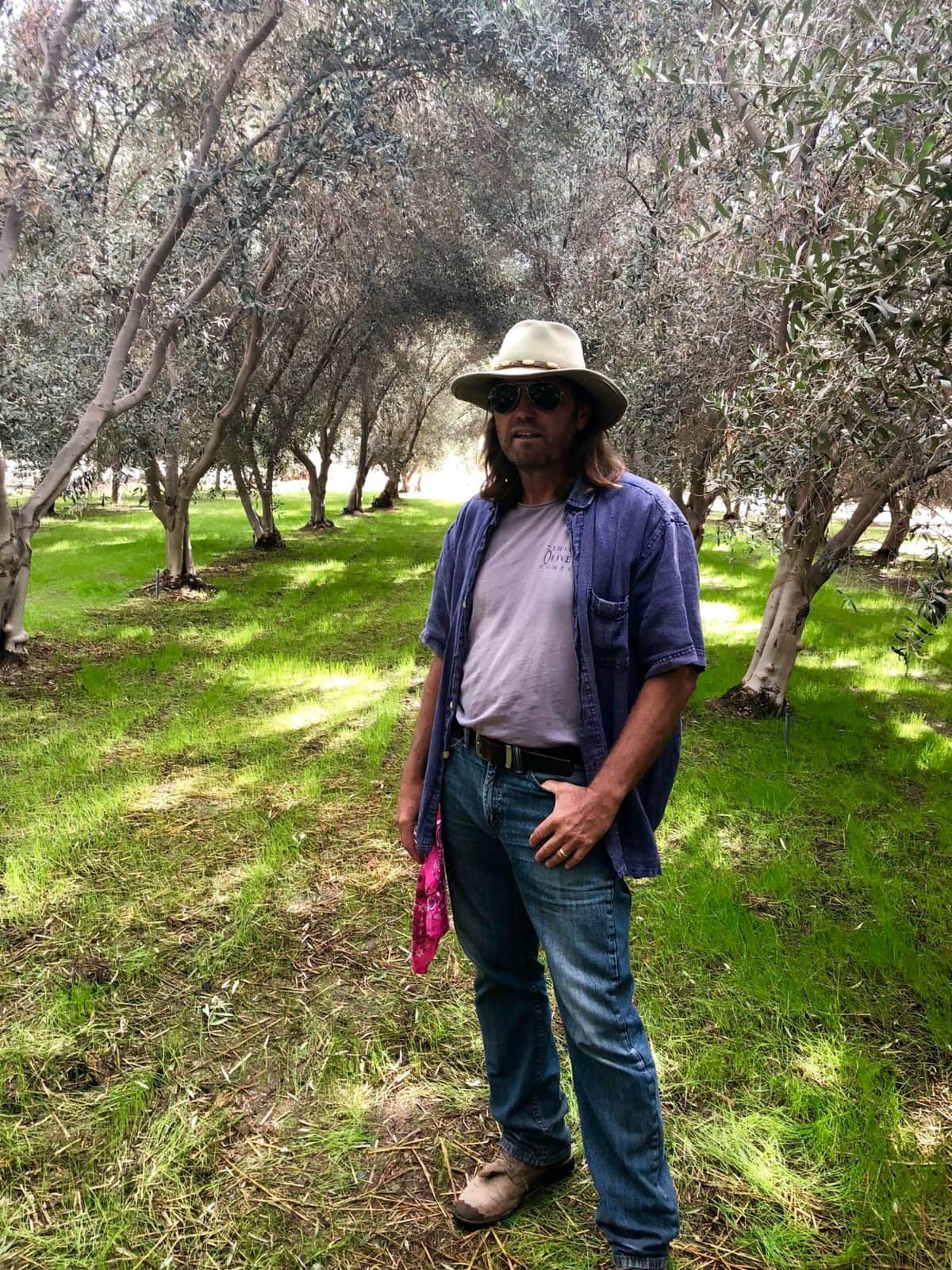 We also got to sit and taste all of their olive oils and vinegars. No bread needed. Just pure, unadulterated olive oil. I can honestly tell you that it was the best olive oil I have ever tasted and that everything I have ever bought in the store was junk by comparison. I told them that they had officially ruined me on other olive oils forever. If you ever have a chance to visit the ranch or to visit Temecula, I can't recommend it enough. We could have listened to Tom talk for hours. Knowledge and passion just ooze out of him. He truly gets the connection between real food and the human body. We are already planning to go back for one of their dinner events. This was absolutely the highlight of our trip.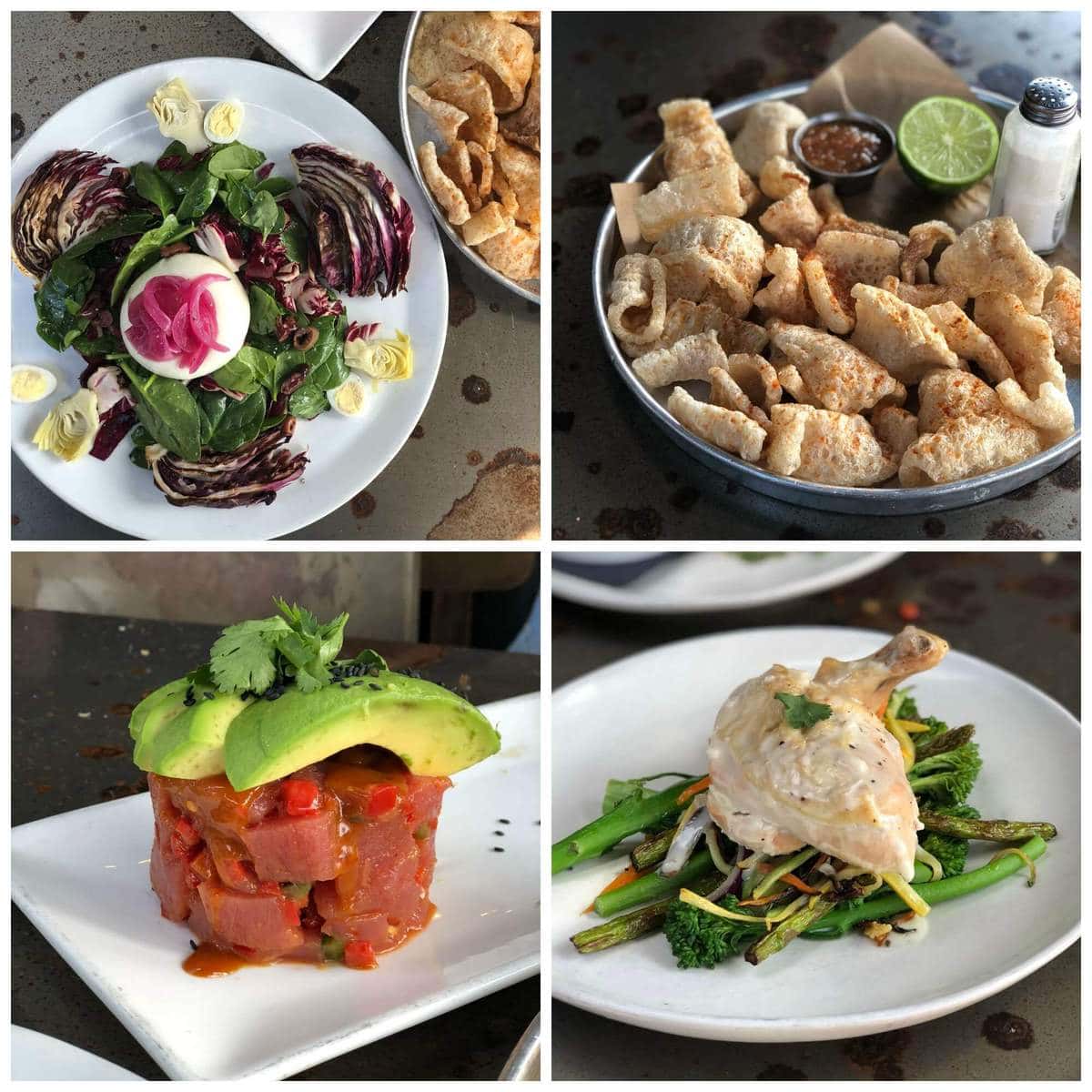 Of the many things to do in Temecula, eating is probably my favorite. But then again, it is no secret how much I love dining out and trying new foods. After touring the olive ranch, we headed back into Old Town and had an amazing lunch at 1909. This was hands down one of our favorite meals while we were visiting Temecula. They were more than happy to accommodate our low carb requests, and since they knew that I was a low carb / keto blogger, they even made sure that we had a server who was knowledgeable about the keto lifestyle. Michael was able to make some great suggestions for us. Their house made pork rinds were out of this world good, and I am not typically even a fan of pork rinds. They came to the table still crackling and with fresh salsa and lime. We used them instead of wonton chips for our Ahi Tuna Tartare. We also got a beautiful burrata salad. If you have never had burrata, then you are not truly living. I got the pan-seared free range chicken with cream sauce. It typically comes with garlic mashed potatoes, but I asked for extra vegetables instead. Jon got the 1909 burger (bunless), and with a salad instead of fried. Start to finish, this was an excellent meal. If you eat there, be sure to order one of their avocado margaritas. Jon liked it so much that he even had a second one. I of course, stuck with my bubbles.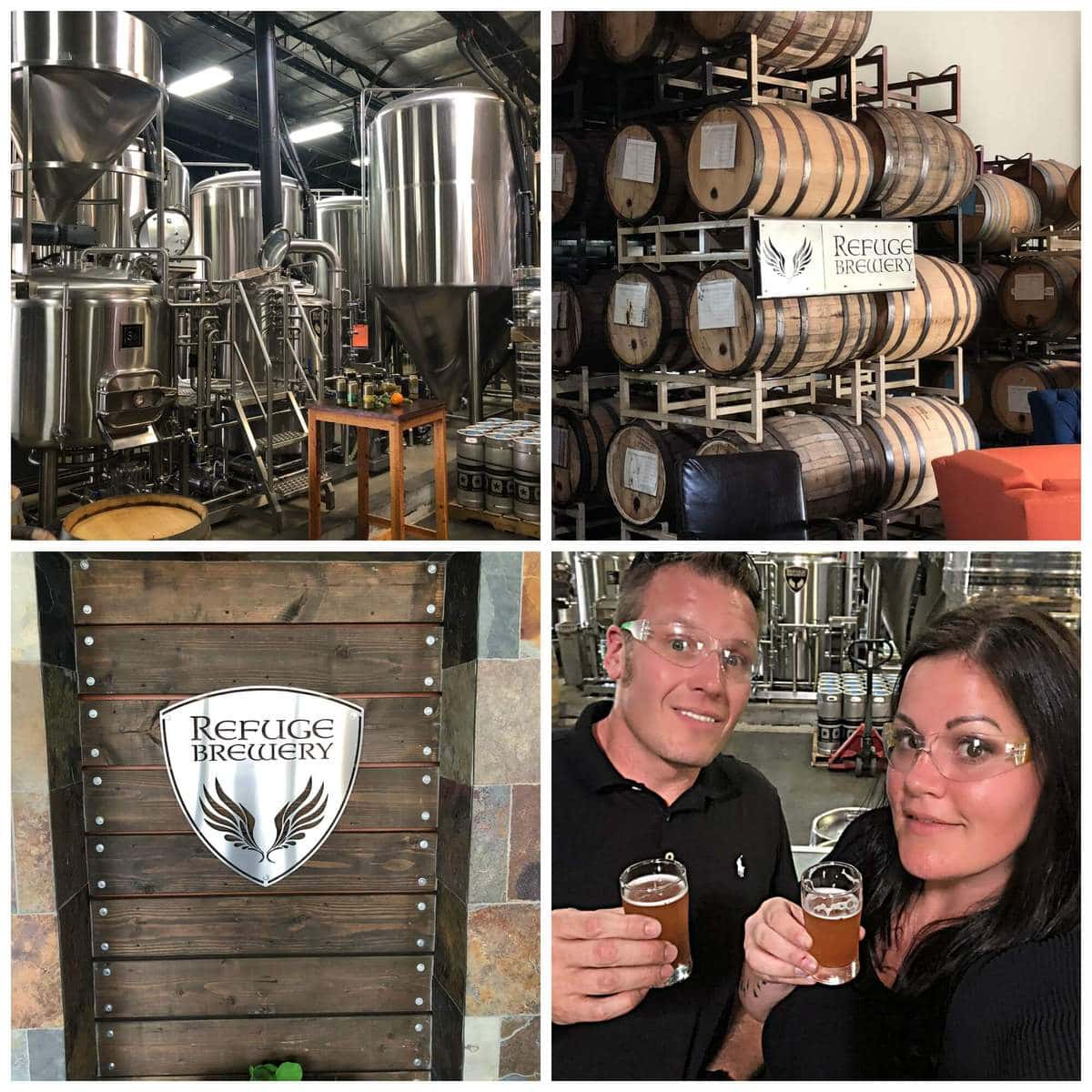 For the most part Jon and I kept everything keto on vacation... with the exception of a few indulgences. One of those indulgences was some seriously delicious crafts brews at Refuge Brewery. Our favorite was definitely their Blood Orange Wit. It is their most popular beer and their biggest seller, and we could definitely see why. We got to take a tour of their facilities and learn about their processes and all the hard work that goes into brewing truly great beer. Chatting with the owner Diane, and her son Chad, we felt that same Temecula passion that we were coming to realize was at the heart of every business we visited. Refuge started simply as a hobby. The founder, Curt, was home brewing in his garage and once he had the idea of starting a brewery, it quickly took on a life of it's own. It has since become one of the fastest growing breweries in all of California. If you get a chance to pop in, be sure to try the Blood Orange Wit, Grapefruit IPA, and Pumpkin Saison (if you are there during the right season).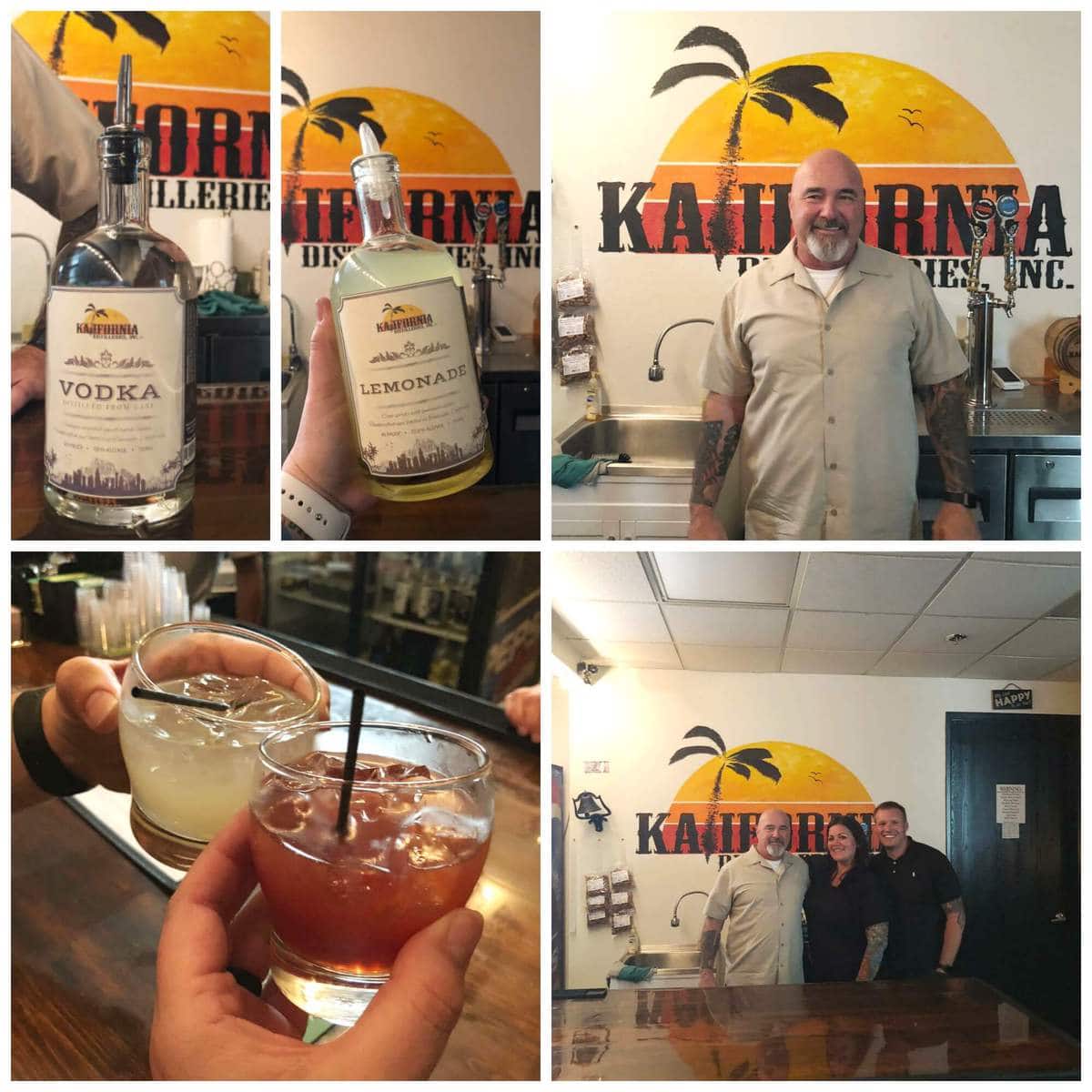 The next stop on our adventures was to Kalifornia Distilleries. It is hidden gem, tucked away from the action. Blink and you will miss it. If you miss it, you will be sad that you did because the owner Bill is putting out some pretty fierce spirits. It might be because he knows a thing or two. His family has been distilling for generations, dating back to the 18th century. Bill is the kind of guy that instantly feels like family. He is easy to talk too, perfectly unpolished, and makes you feel right at home. He isn't in it for the business aspect or for the money, he just truly loves making damn good liquor. They were down to their last bottle of their bourbon whiskey, but he set some aside just for us. We were glad he did because it was incredibly smooth. Speaking of smooth, never in all my years of imbibing had I ever tasted a vodka that was so smooth that you could drink it on the rocks. I think Bill is working some sort of wizardry over there. We also got to taste their signature Lemonade Moonshine. Still coming in at 45 proof, Bill would tell you that it is a mixer. I like his style! I liked it so much in fact that we brought home a bottle of vodka and a bottle of the lemonade moonshine.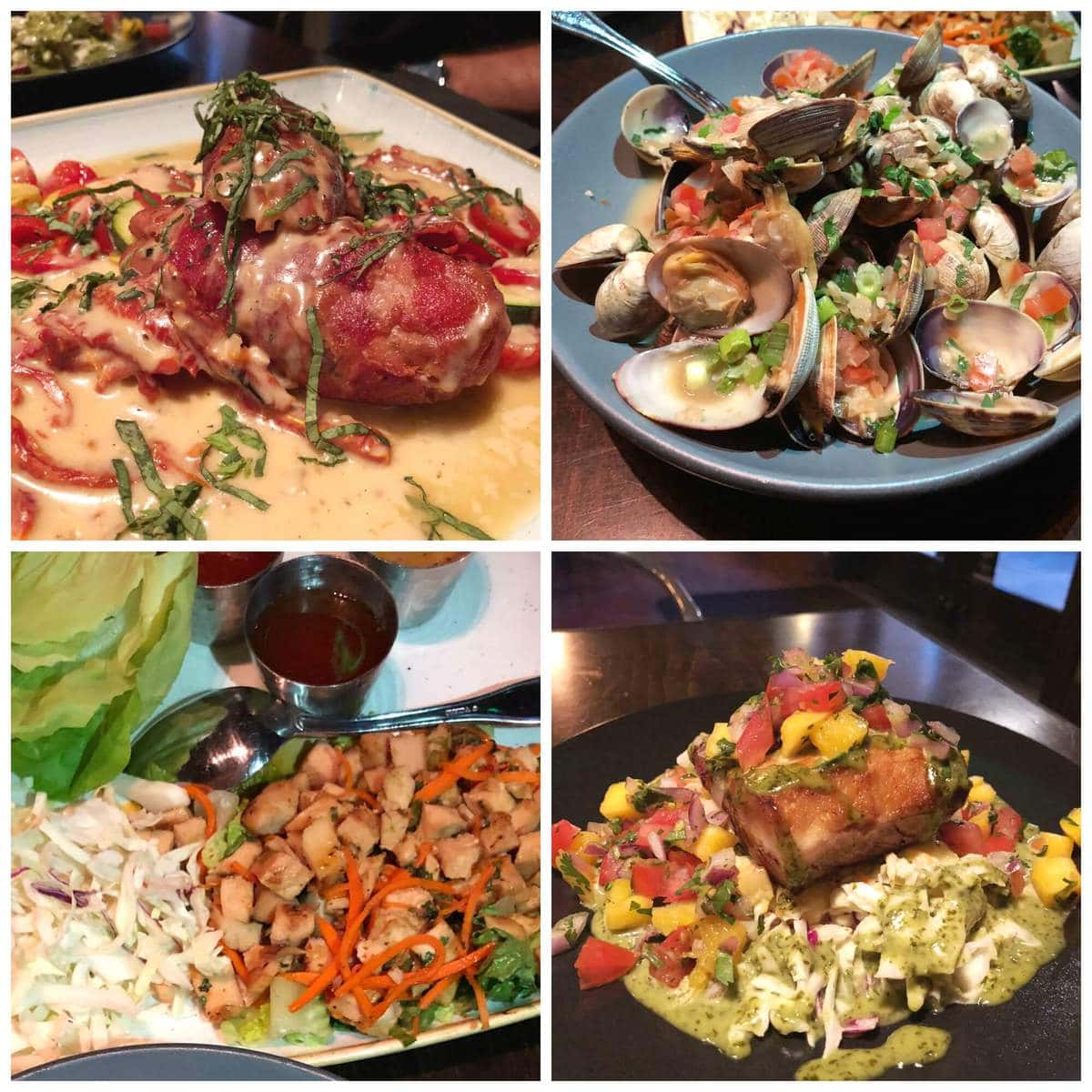 By the time dinner rolled around, we were famished. We had dinner at Crush & Brew. This restaurant came really highly recommended. So many people messaged me on Instagram suggesting that we eat here. We ordered the steamed clams, and lettuce wraps as starters. The clams were some of the best I have ever had. It was the broth that totally made them. It almost tasted like ramen broth. I wanted to drink it. Okay, I might have... but I used a spoon so I wouldn't completely embarrass myself. For dinner I got the prosciutto wrapped chicken. To keep it low carb, I asked them to leave off the polenta and throw in some extra veggies instead. They were happy to oblige. It's always such a great feeling when restaurants will accommodate your dietary requests. Jon ordered the pan-seared mahi mahi with miso slaw. After dinner we found our way through the secret passage way into the adjoining speakeasy, Thompson & Twain. It was like being transported back in time. So cool!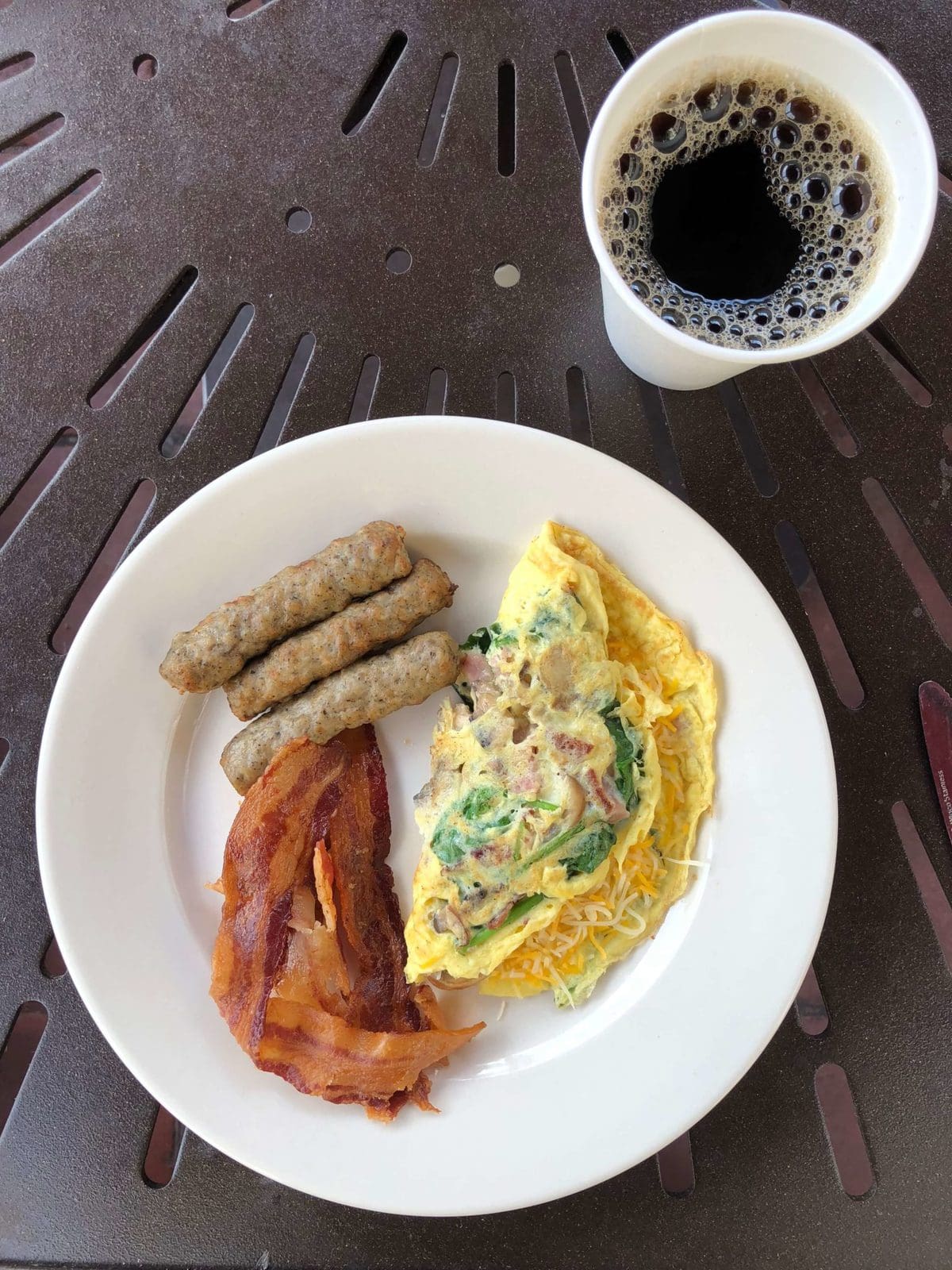 Our third day started off at a more leisurely pace. We had breakfast at the hotel and ate out in the courtyard. The Embassy Suites Temecula offers free breakfast every morning. Such a nice touch considering that most hotels only offer continental breakfast. If you have ever seen the offerings of a continental breakfast, then you already know that they are never keto friendly - bananas, granola, bagels, cereal, juice etc. So it was really nice just to be able to get up each morning and grab a healthy low carb breakfast while on vacation.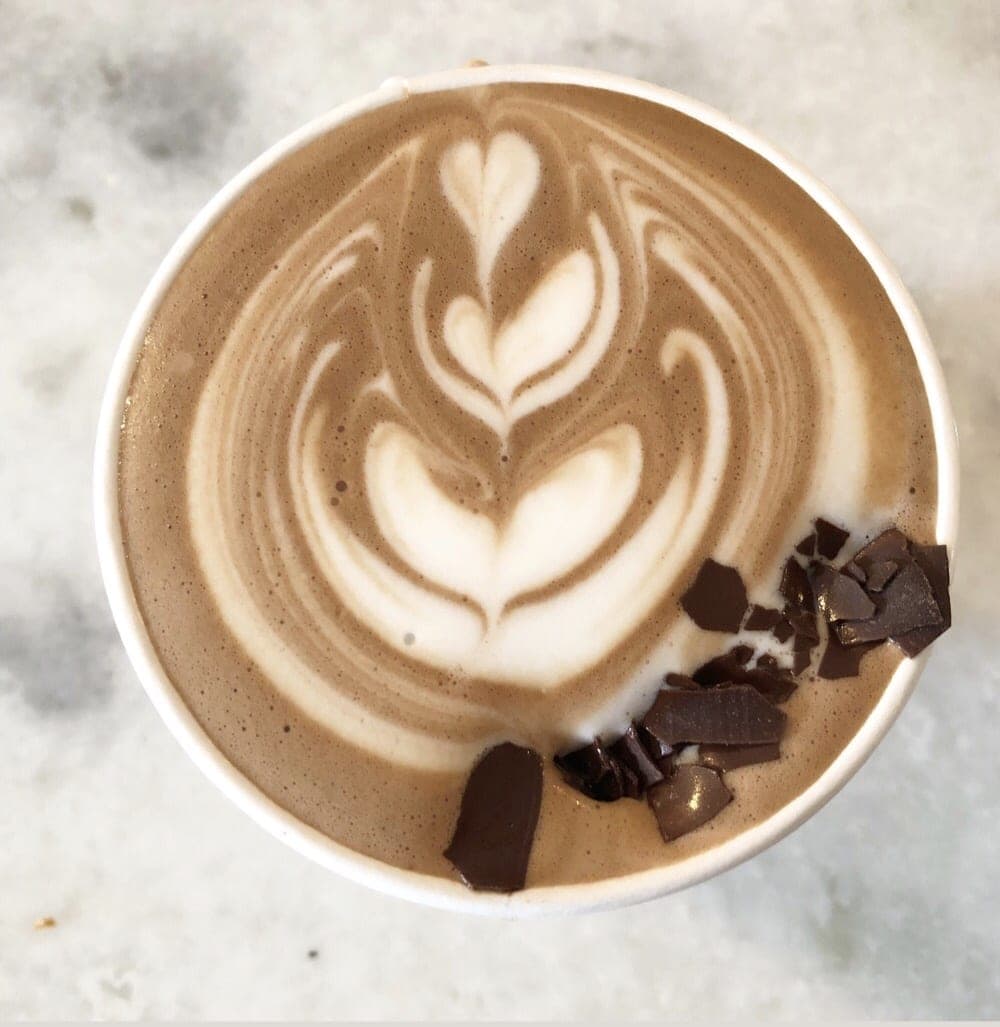 Once we got into Old Town, we immediately set out to find a coffee shop that serves a delicious cup of bean juice. We landed at The Press Espresso. When I saw their menu, I instantly knew that it was worth the indulgence. I ordered their Belgian Mocha and it was by far one of the best mochas I have ever had... not to mention one of the prettiest.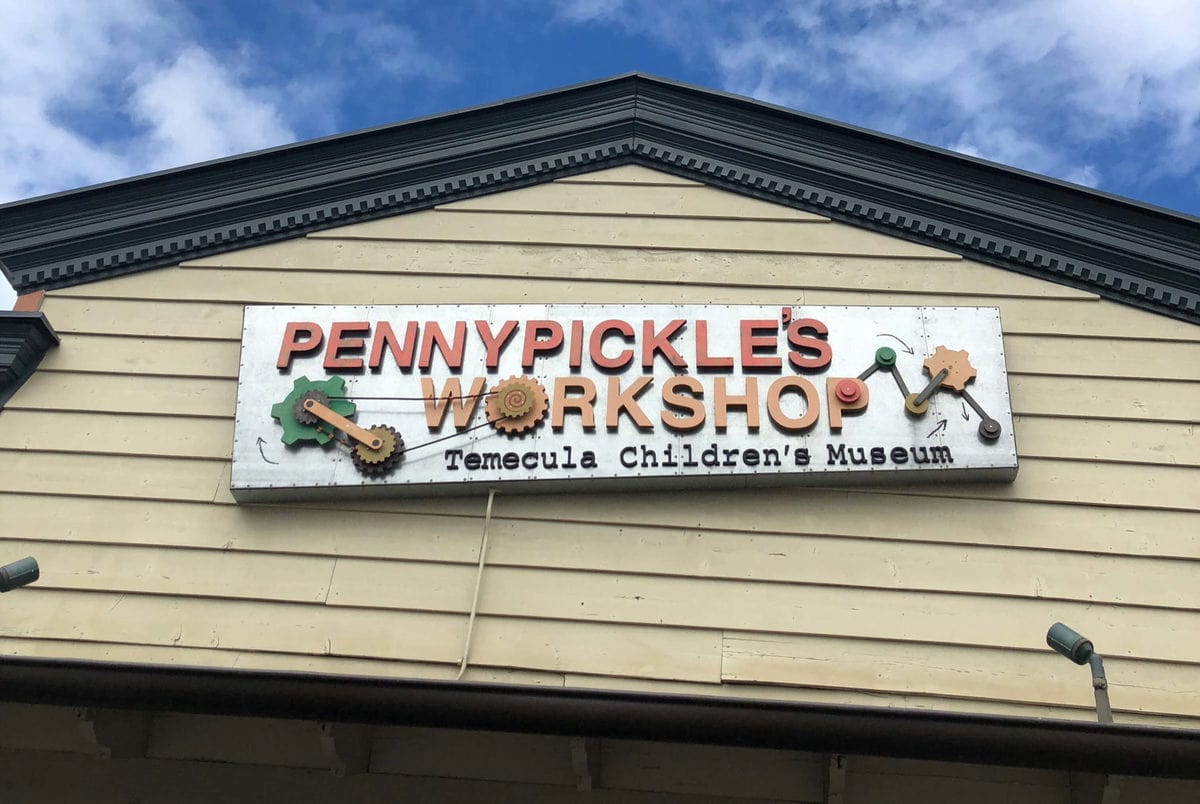 Annette, our host with Visit Temecula, quickly realized after meeting Jon and I that we are basically just giant children trapped in adult bodies. She took us to visit Pennypickle's Workshop - Temecula Children's Museum and we had so much fun. If you are looking for things to do in Temecula, this is a must-see for all ages! It is an experience like no other. I wish every child in the world could visit Pennypickle's. It is like stepping into a completely different world. A world where imagination and possibility are limitless. It is a completely interactive environment, where touching and experiencing everything is highly encouraged. It gives kids the chance to learn about science, while also being able to play. Or in our case - adults! I wish I had more pictures of the inside so that I could show you just how great it really is, but Jon and I were busy tapping into our inner children. Seriously though, if you could only pick 5 things to do in Temecula, let this be one of them.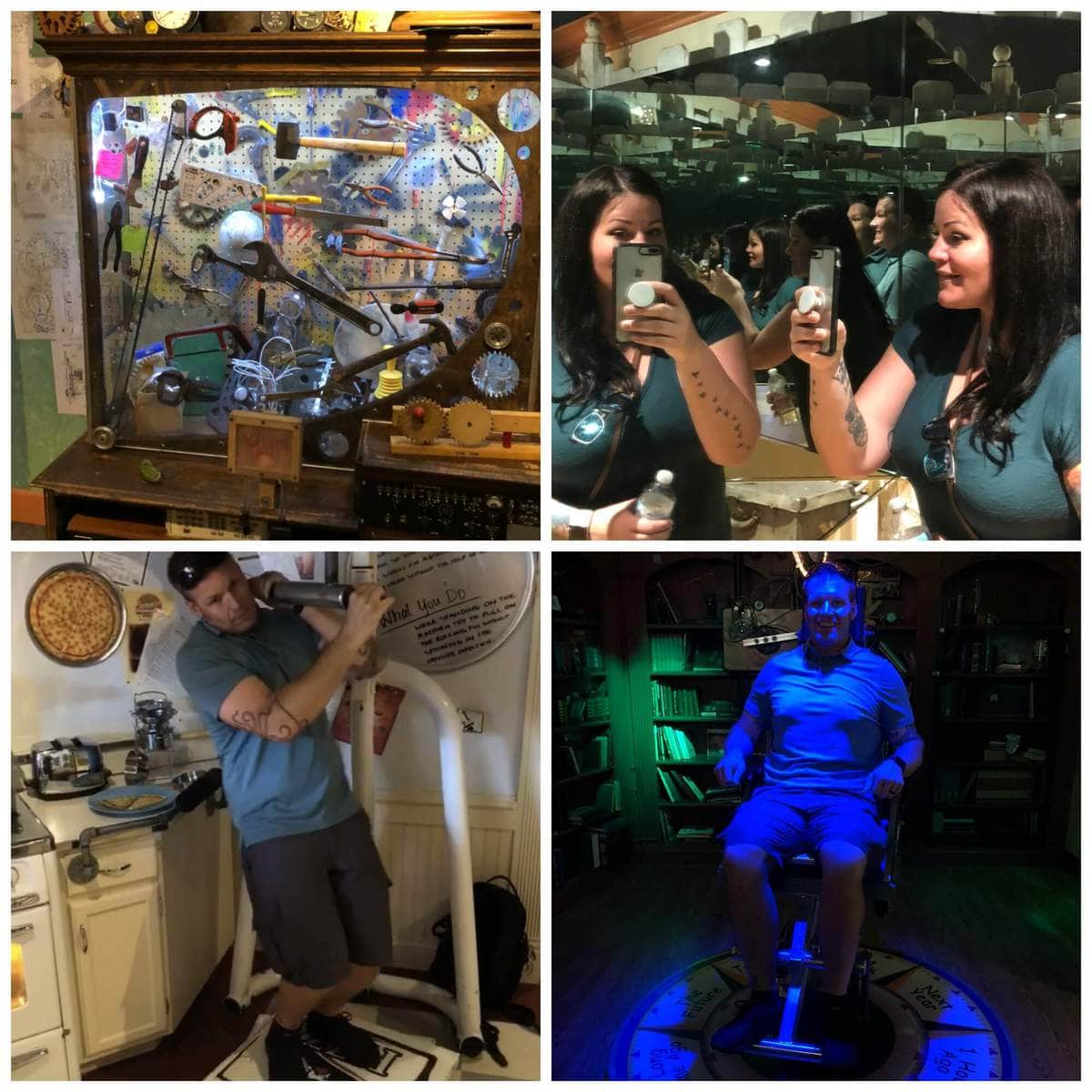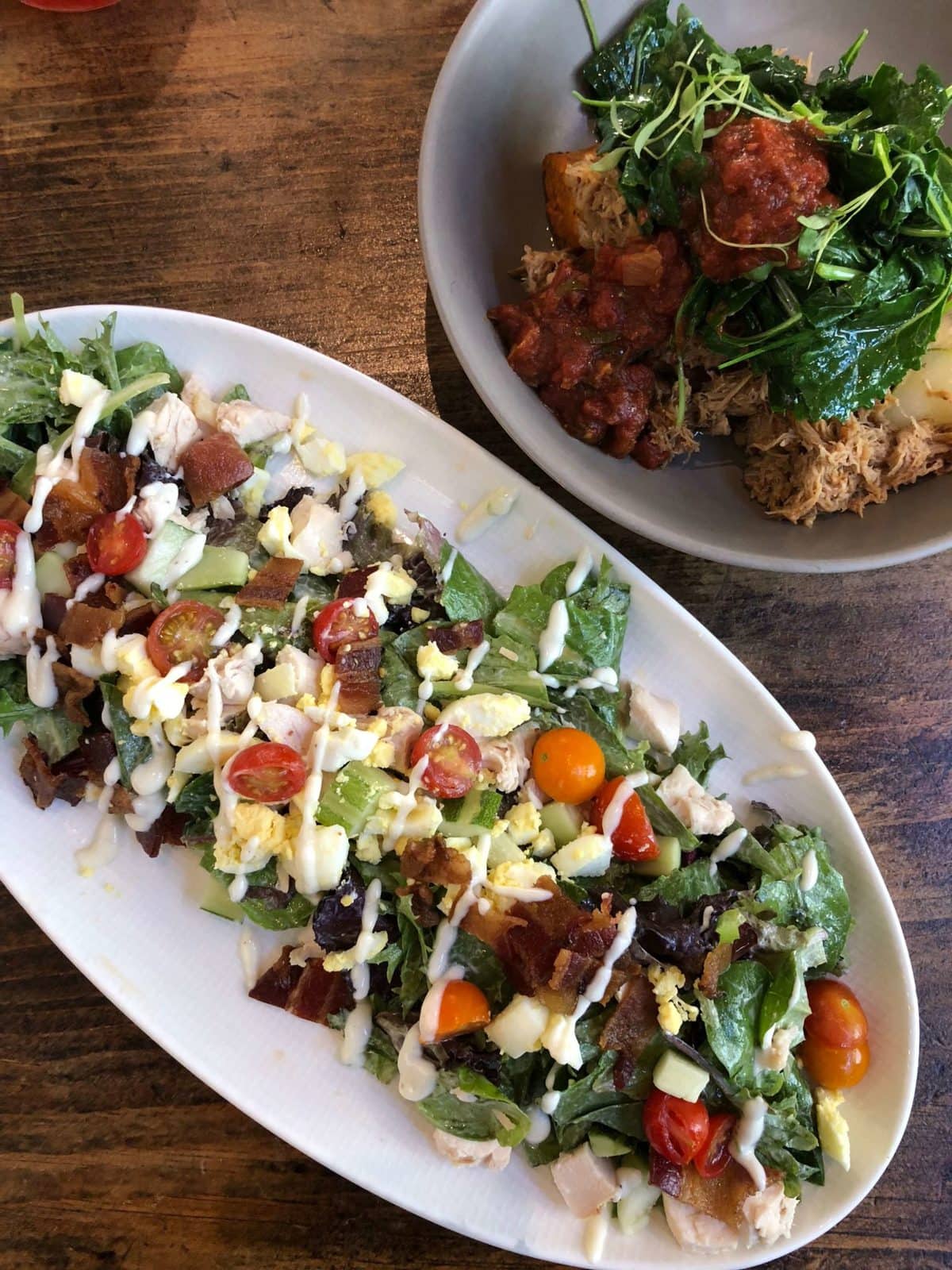 After the museum we popped into the Temecula Valley Museum and Old Town Spice and Tea Merchants before heading over to E.A.T Marketplace for lunch. Can I just brag on the founder and Chef - Leah Di Bernardo? I'm fairly certain she is my spirit animal. This woman's passion and drive runs DEEP! She tells it like it is, liberally uses the swears, makes damn tasty food, and is a champion for total health and wellness. You walk in the door and you instantly feel like family. She has real food, and food as medicine at the heart of her mission. And even though she likes her personal space, I want to invade it to give her a million more hugs because she is that magnetic. She is also serving up some mighty tasty, and visually stunning food. I got the chopped salad and Jon got the farmhouse chop and Jon got the braised pork bowl. Super delicious. Also, any kind of place that has kombucha on tap, is my kind of place. We even went back to E.A.T later in the evening so I could give a talk and do a book signing. This is definitely a place that will be on our list every time we visit.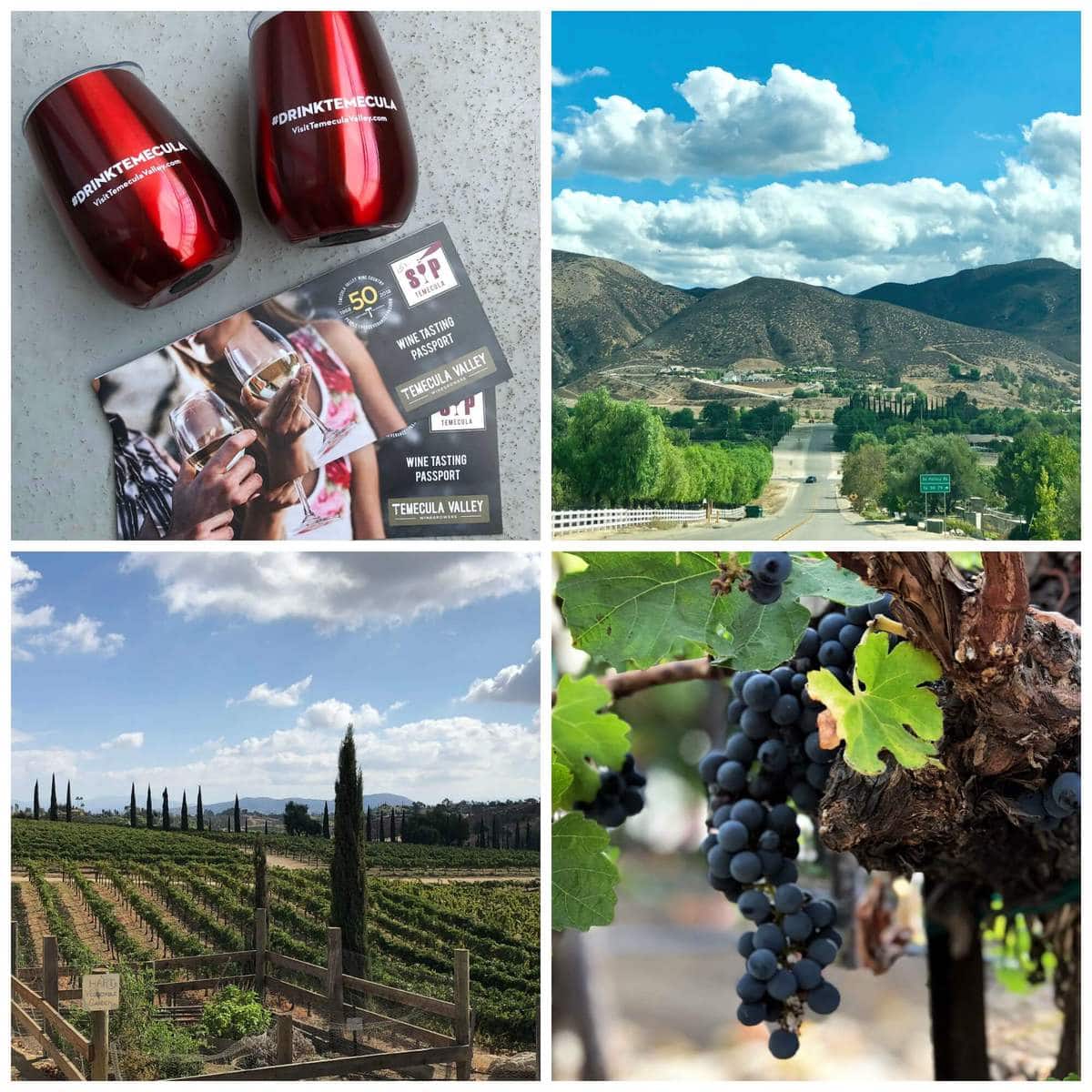 After lunch we were off for some wine tasting adventures. We set off with our SIP passports and a list of winery suggestions from just about everyone we talked to. This was our first time wine tasting in Temecula Valley and we were excited to see how the wines varied from Washington and Oregon wines. Earlier this year we visited Sonoma and after being used to the experience of Washington and Oregon wineries, we just weren't that impressed. But we had very high hopes for Temecula wine country based on everything that we had heard and read about it. We definitely weren't disappointed. Honestly, there wasn't a bad wine to be had and the sweeping views are incredible.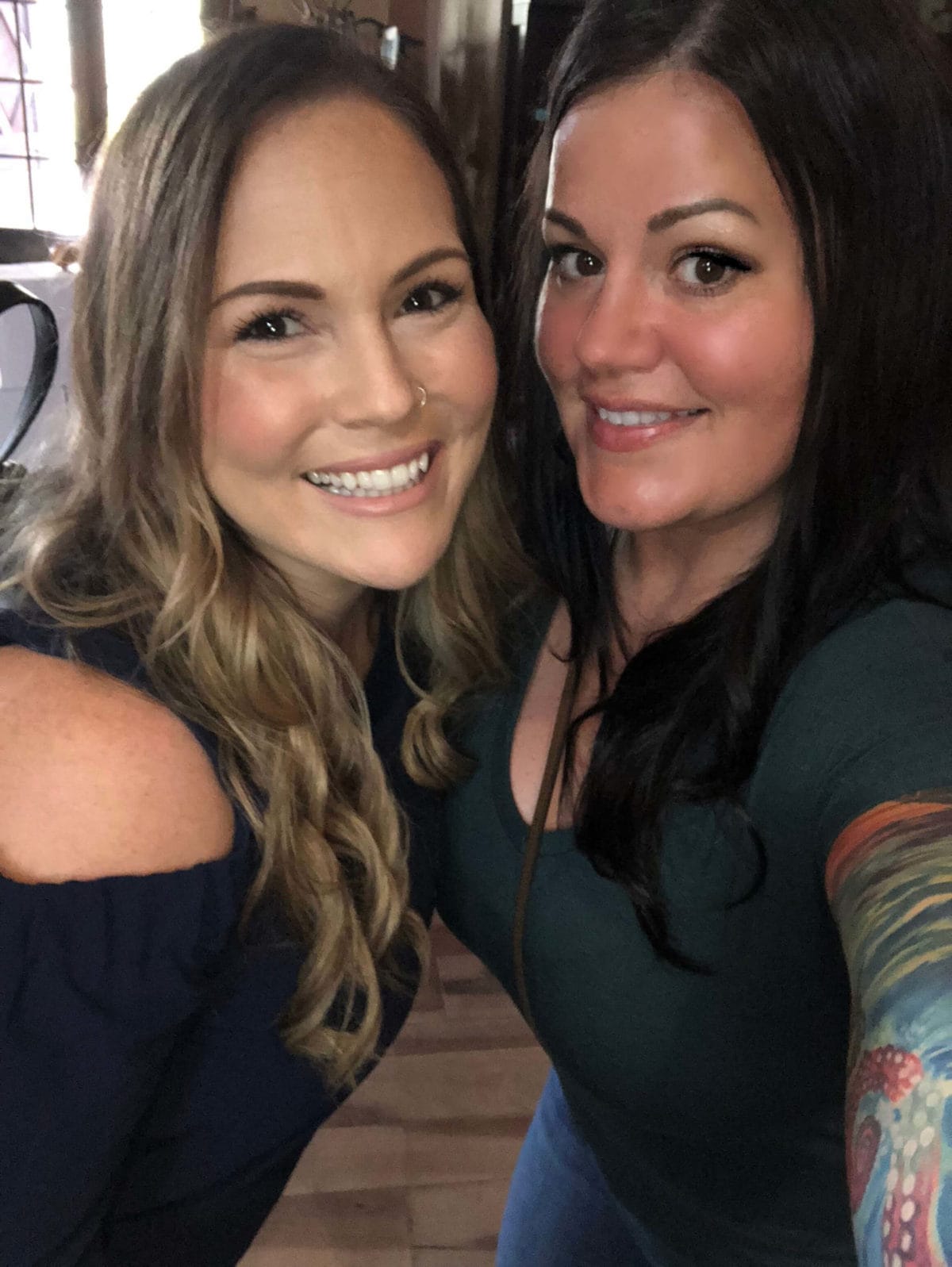 Another one of the highlights of this trip was getting to meet one of my online friends in real life. Working and pretty much living online can be challenging, but it also brings with it some great rewards. My friend Jen is the face behind the blog Beauty and the Benchpress. She has a pretty amazing weight loss story, but more than that, she is just a really great person. Her and her husband George met up with us for wine tasting and it was as if we had all know each other forever. We started our tour at Robert Renzoni. From there we visited Palumbo, Doffo, and Cougar. Doffo was definitely the shining star out out the 4. We bought a couple bottles of their wine to take home with us.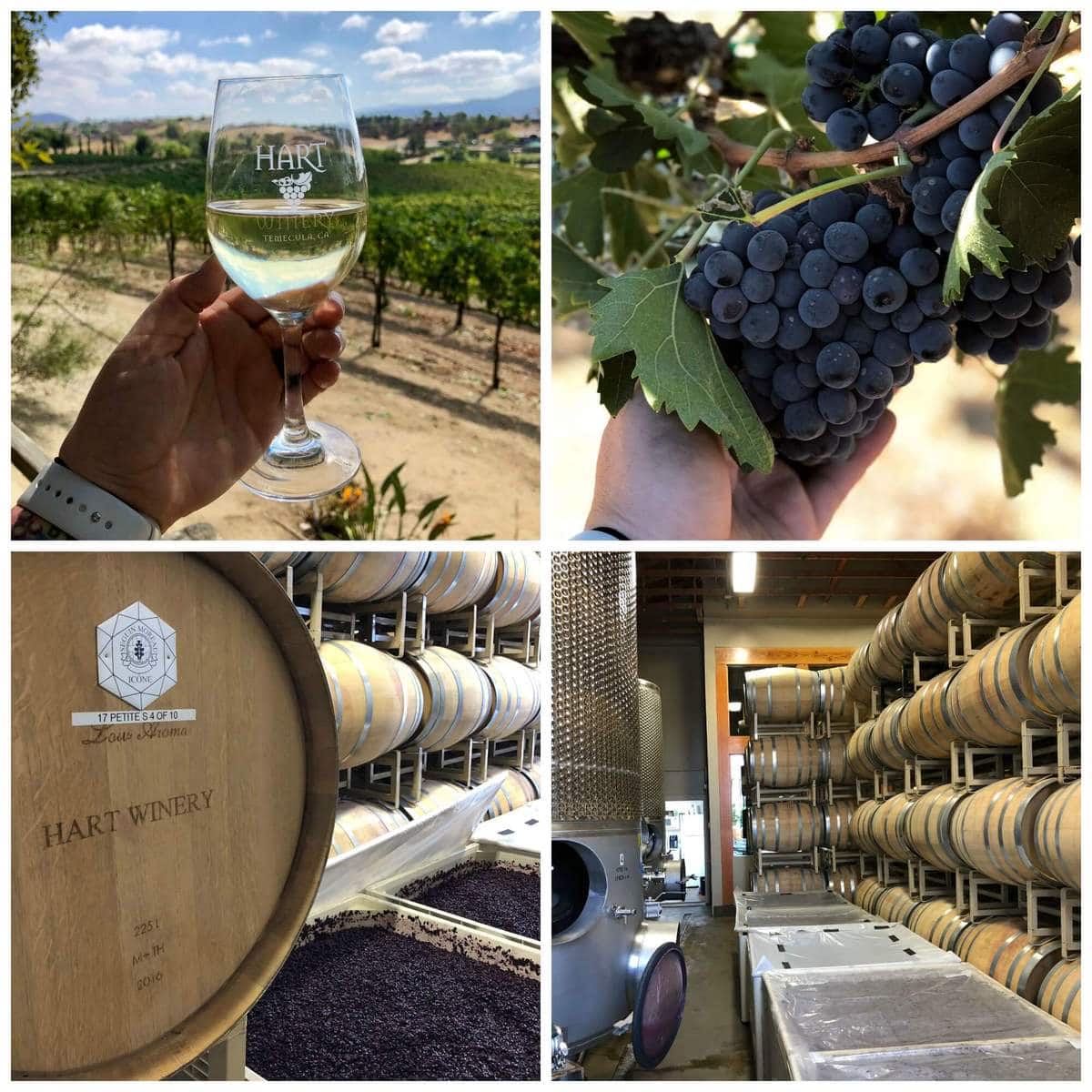 For Jon and I the best winery we visited during our trip to Temecula was Hart Winery. They really won us over with their hospitality and the warm, inviting feel of their tasting room. We got to chatting with Breann, the tasting host and she ended up taking us into the back to see where all the magic happens. She explained the whole process to us, from harvest to bottling. They weren't very busy so she really spent a lot of time with us. She was incredibly knowledgable about wine and all details - large and small involved in the wine making process. We even got to spend some time with Joe, the founder. We bought a few bottles and had them shipped home. We each got a glass as well so that we could sit outside in the sunshine and enjoy some wine while taking in the views. Next time we are in Temecula wine country, this will be our first stop. Cheers to a job well done, Hart!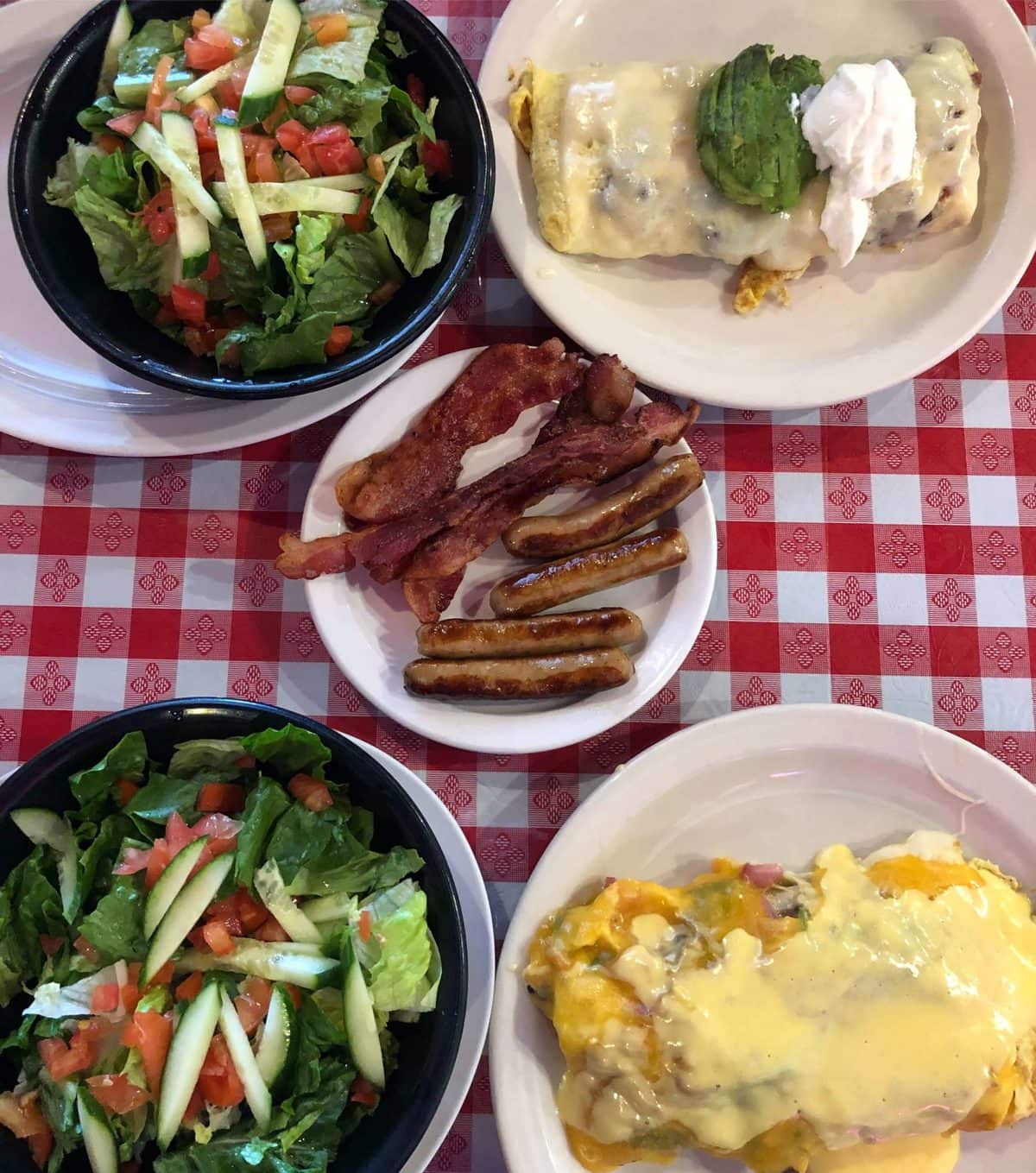 Our final day started with breakfast at Mo's Egg House. We didn't feel like hitting up the hotel buffet and wanted to try something different. We simply googled "Best Breakfast in Temecula" and the overwhelming response was to go to Mo's. It totally had that divey, late-night diner feel and we just knew the food was going to be good. Yet again, they were more than happy to accommodate our low carb substitutions. If this trip recap does nothing else for you, let it stand as a reminder to not be afraid to ask for what you want when you dine out. We both got omelettes and asked for a side salad in place of the hash browns and toast. We also got an extra side of meat because... well.. MEAT! The menu said they were three egg omelettes, but they definitely felt more like six egg beasts. Needless to say, we didn't finish them, but we did leave really satisfied.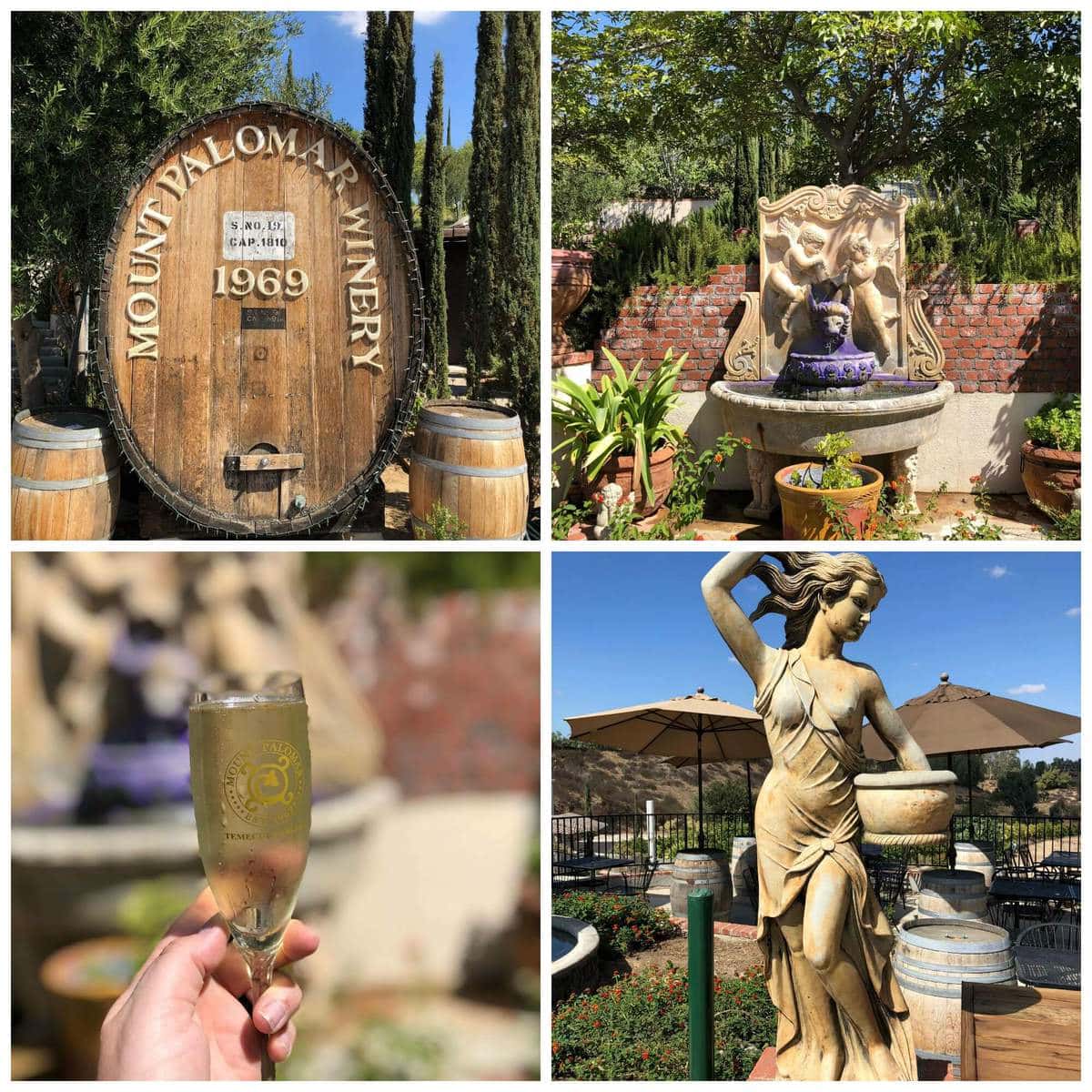 Later in the day we visited Mount Palomar Winery. The ground are seriously breathtaking. It would be an amazing place to get married. The weather was also beautiful that day, so it certainly didn't hurt. We had lunch at Annata Bistro and ate outside on their patio area so that we could take in the views. Have you ever been served food that was ALMOST too pretty to eat? That's how every single thing we ate at Annata was. They were super accommodating to our low substitutions. The Parmesan Artichoke and Crab Fondue normally comes with crackers and they loaded up the plate with a rainbow of fresh vegetables for us instead. We also got their charcuterie board, which was loaded up with delicious meats and cheeses. For the main course I got a perfectly seared piece of salmon\ on their house salad, which wasn't even on the menu. Jon got the Lamb and he substituted grilled vegetables in place of the fingerling potatoes. They may be known for their wine, but I'd return time and time again for the food alone. Can you tell that we REALLY like food?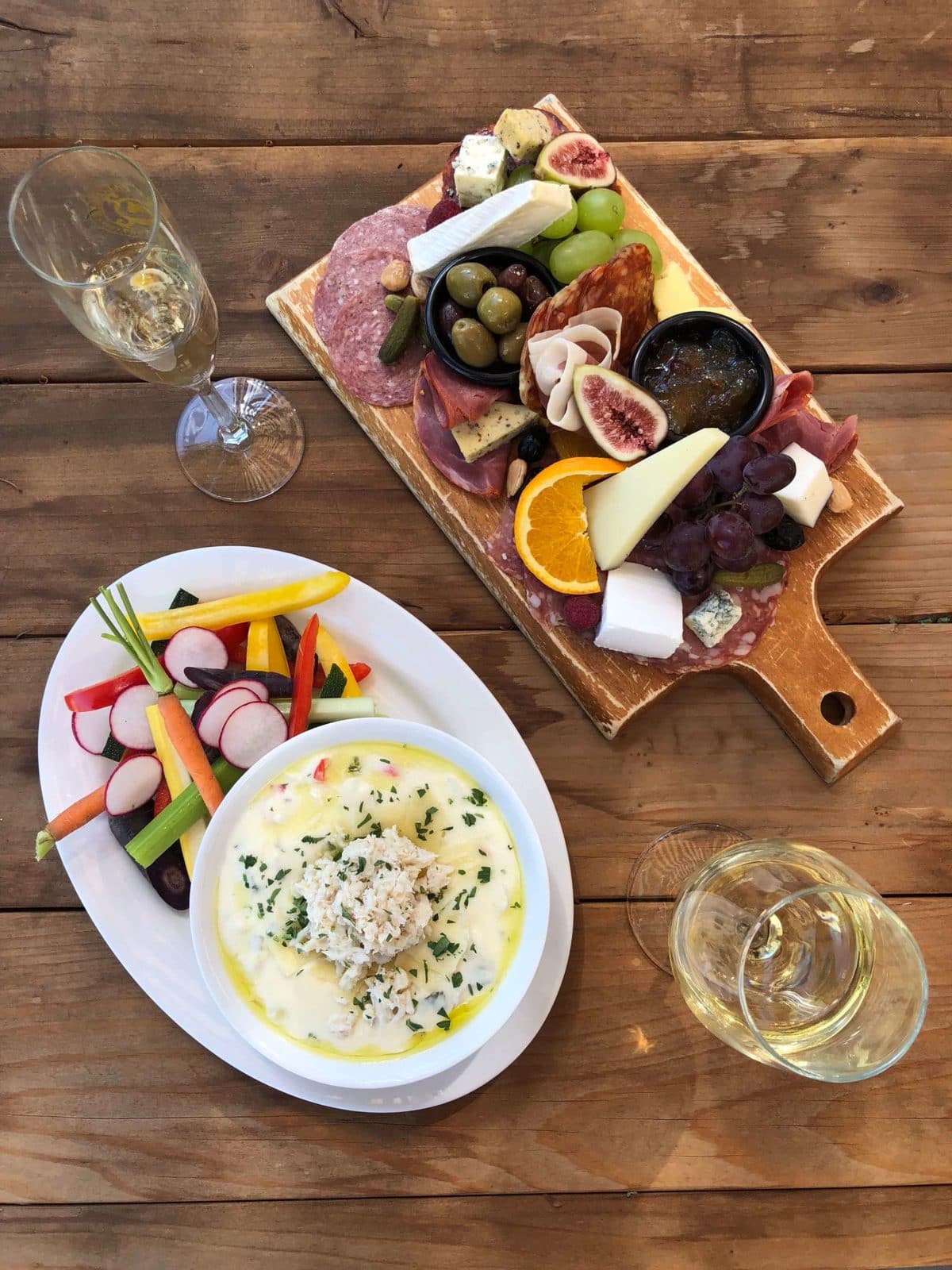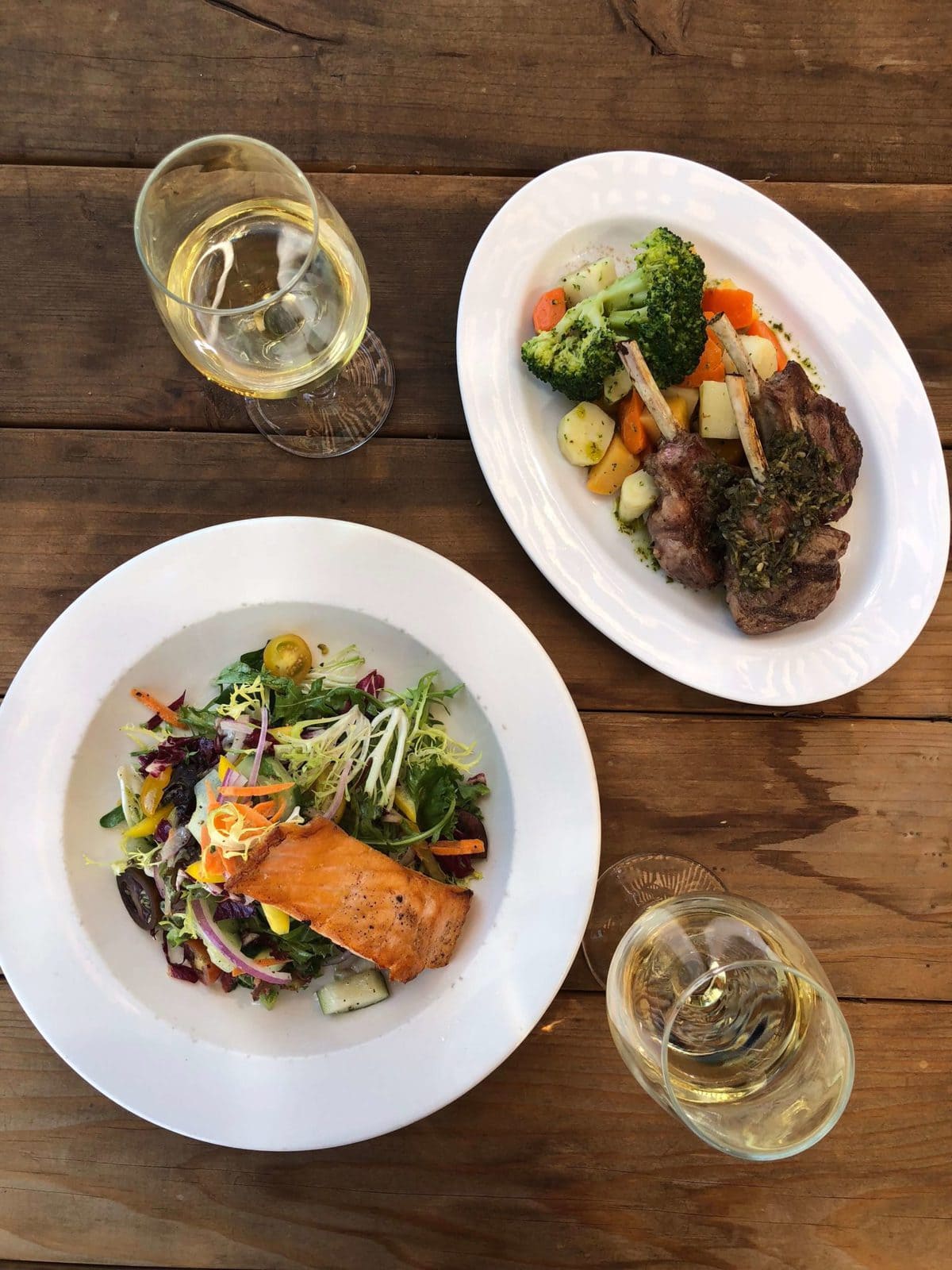 Our final stop of the trip was to Pechanga Resort and Casino. It is seriously massive! We live in Washington, where there are a lot of tribal owned and operated casinos and you could fit them all inside Pechanga. It is also bigger than any Las Vegas resort casino. In fact, it is the largest resort casino this side of the Mississippi. It has everything you could possibly need. They have truly thought of everything so that you don't even need to leave the resort. We only had a couple hours here though and I would love to go back to be able to fully experience it. Next time we visit Temecula, we will likely stay at Pechanga.
We had a cabana rental next to the pool. It is the perfect place to change, grab refreshments, or just plain cool off if it gets too hot outside. It was all stocked up with water and towels, and they even provided us with sunblock. From your cabana you can also order food and beverages. We decided to order a bottle of bubbles to celebrate an amazing vacation. (Not that we ever need a reason to celebrate. Or a reason to drink bubbles for that matter).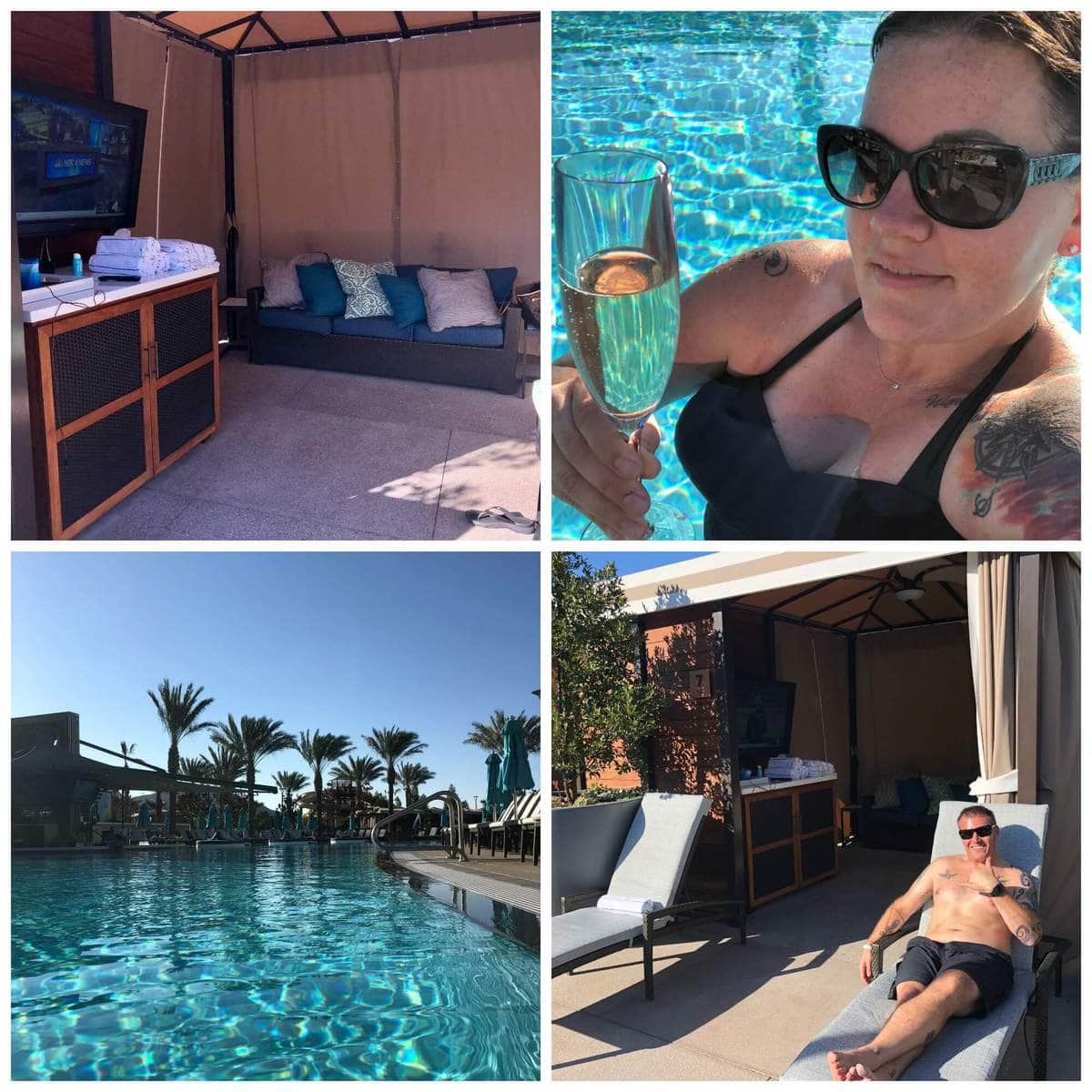 The pool was expansive and felt like a tropical getaway. Because it was the end of peak tourism season there, we pretty much had the pool all to ourselves. But also for that same reason, the pool closed at 5pm, which felt really early. It we had been guests at the hotel and were asked to leave the pool at 5pm on a beautiful sunny day, that would have been pretty disappointing. My only complaint about the this beautiful resort was our server. She brought us the wrong bottle of wine after a very clear discussion about it, and then told us we ordered the wrong thing. She also let us know that she didn't feel the cabana rentals were worth the price. When we asked her if she liked working there, she said "No, not really". I worked in the service industry for 20 years before becoming a full-time blogger and cookbook author, so I was pretty appalled by this. However, I did not take it as a reflection of the resort, but merely as a reflection of a person who is not in the correct industry. I really cannot wait to go back there and get a chance to fully explore everything that Pechanga has to offer.
After our time at the pool, I will give you one guess what we did next? YES! We ate again! But this time, we were eating our favorite thing in the whole world. SUSHI!!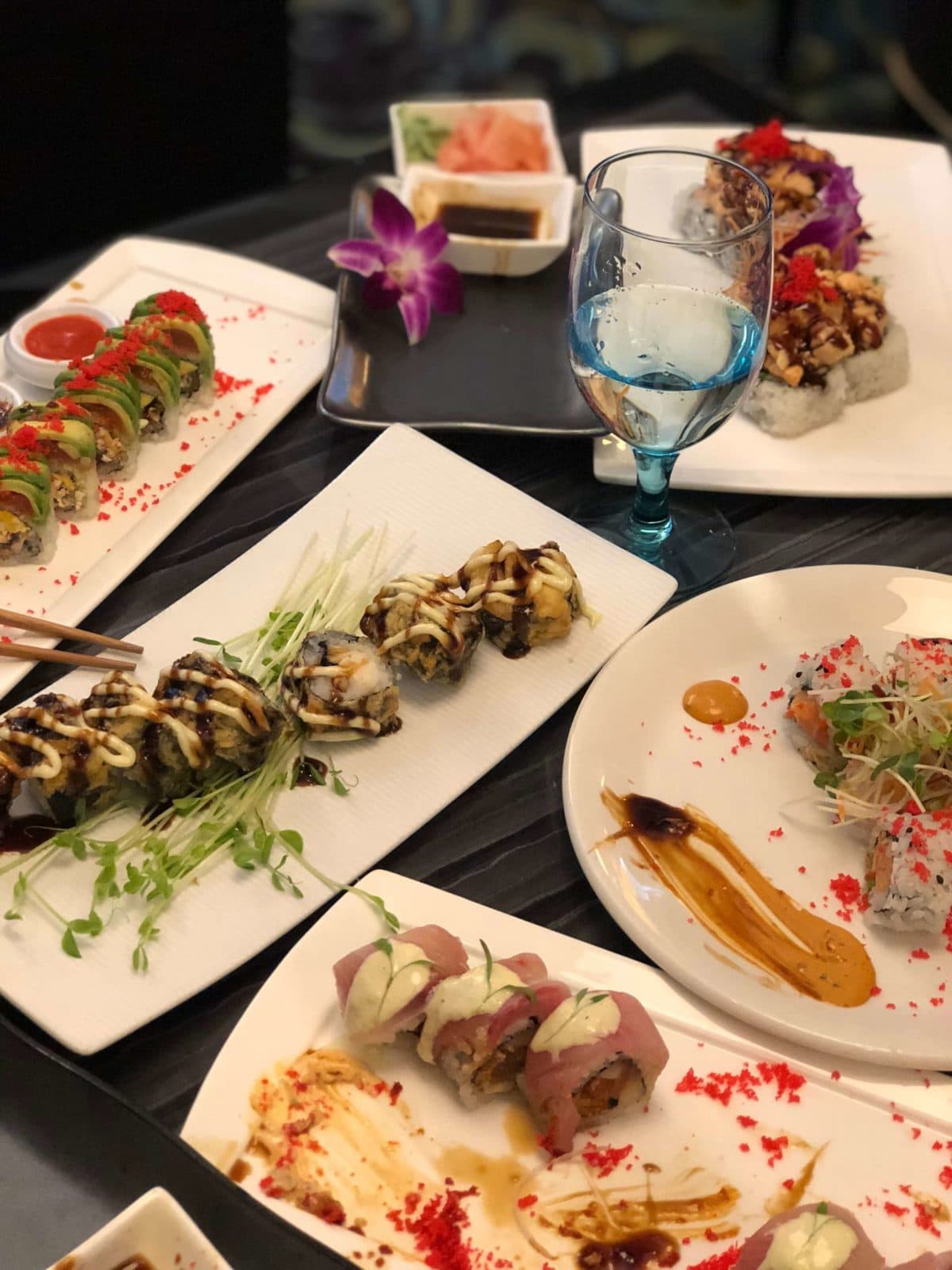 Like I said, we kept it keto on vacation, except for a few indulgences. Beer, coffee, and sushi! 100% of the time sushi sounds good to me. I would eat it for every meal if I could. I guess you could say that I am somewhat of a sushi connoisseur. Not really, but I like to tell myself that I am. In all seriousness though, I have eaten sushi in just about every country I have visited. Needless to say, we were really excited to eat at Umi Sushi and Oyster Bar inside Pechanga Resort and Casino.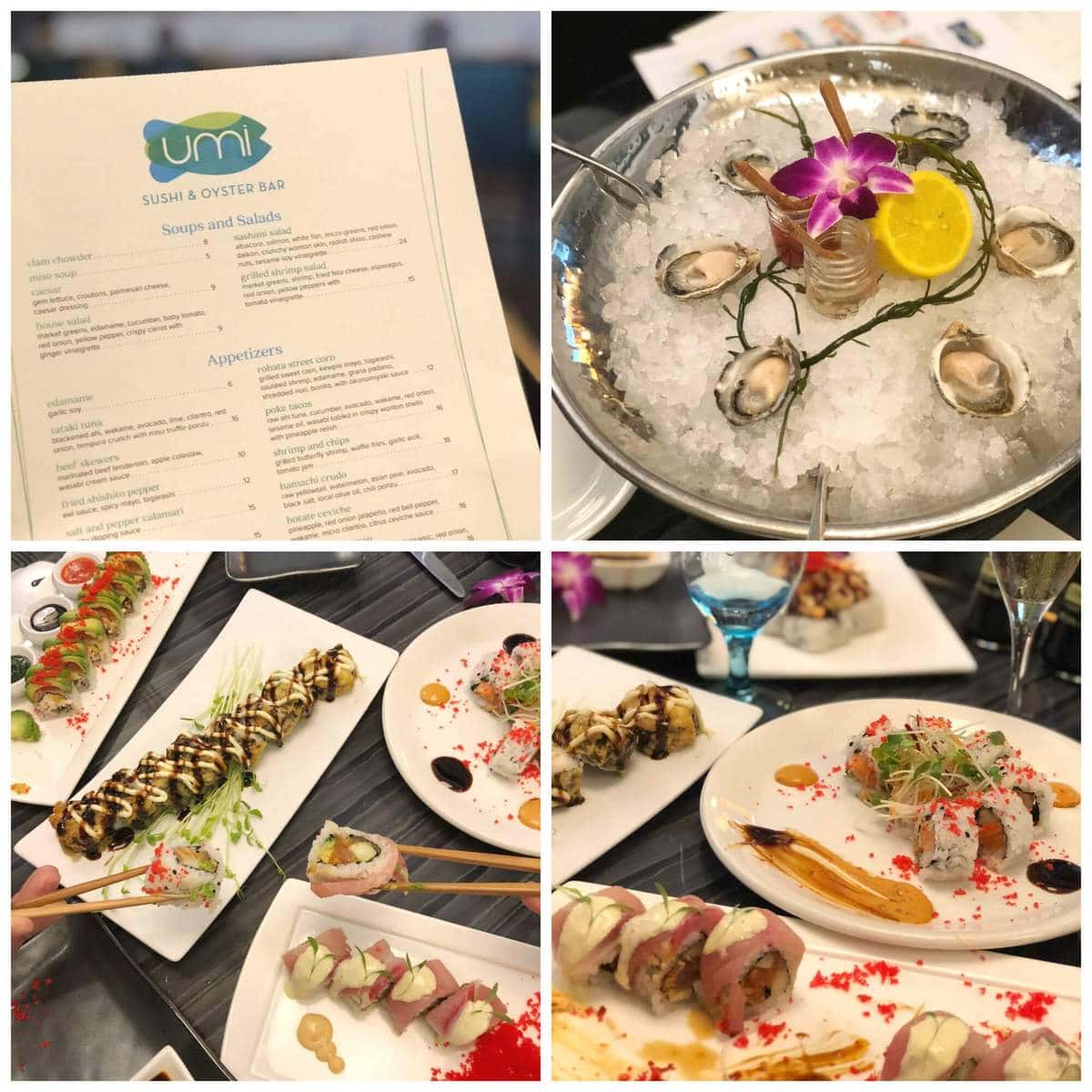 Chef Kiyokuni Ikeda came out to the table to greet us and introduce himself. We felt that was a really nice touch. Our server was very friendly and the food was AH-MAZING! In fact, I wish I was eating it right this very moment. The rolls were artfully plated and the oysters were some of the freshest tasting we've had. We may be a little biased due to our insane love of sushi, but we both agreed that this was the best meal we had during out visit. I can't wait to eat there again.
I started this long-winded post by saying that I left a piece of my heart in Temecula Valley, and I truly did. It is a magical place with endless things to explore. I wish I was back there right now! Since this post was SO long, I will recap what we did for you below. If you ever get the chance to visit Temecula Valley, I highly encourage you to do so. You won't be disappointed! Check out more of our travel adventures here.
Best Wineries in Temecula Valley
Hart Winery
Doffo Winery
Chapin Winery
Mt. Palomar
Robert Renzoni
Best Restaurants in Temecula Valley
E.A.T Marketplace
1909
Crush & Brew
Thompson & Twain
Press Espresso
Mo's Egg House
Bluewater Grill
Annata Bistro Bar at Mt. Palomar Winery
Umi Sushi at Pechanga Casino
Fun Things to do in Temecula Valley
Visit Pennypickle's Workshop
Take a walking tour through Old Town
Tour the Temecula Olive Oil Company Olive Ranch
Tour Refuge Brewery
Tour Kalifornia Distilleries
Visit Old Town Spice and Tea Merchants
Visit the Temecula Valley Museum
Get a SIP Temecula Passport and do some wine tasting
Eat at one of the many delicious restaurants
Take a hot air balloon ride over wine country
Play the day away at Pechanga Resort and Casino
Get a spa treatment or a cabana by the luxurious pool at Pechanga
Where to Stay in Temecula Valley
Embassy Suites
Pechanga Casino
Vacation Rentals - Here is an AirBnB I stayed in while on my book tour. Amazing hosts and an incredible pool.
This trip was hosted by Visit Temecula Valley, but all thoughts and opinions are my own.