This Keto Chicken Fried Steak with keto gravy is the ultimate in low carb comfort food. Perfect for breakfast, lunch, or dinner.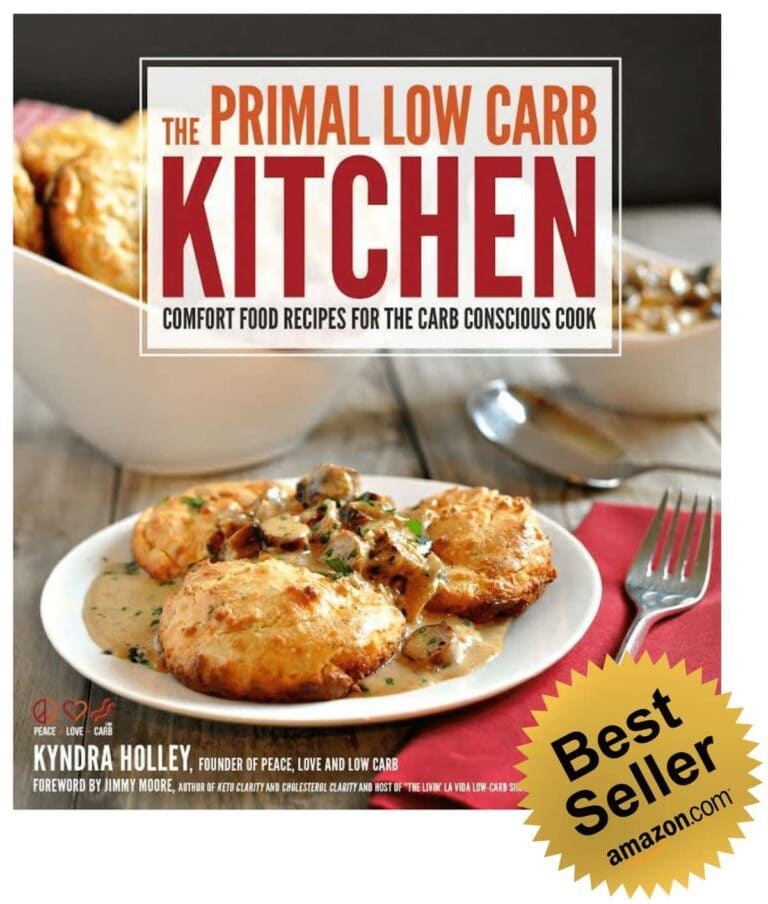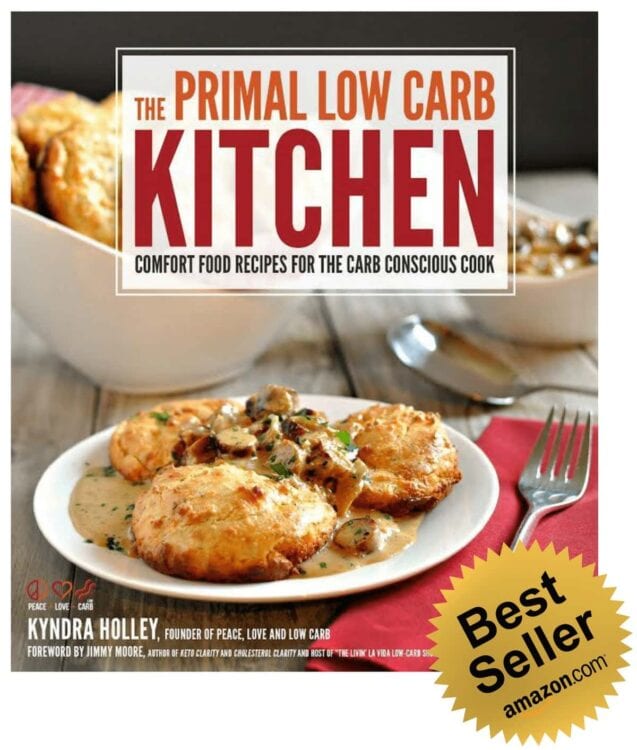 I am happy to share a recipe from my first cookbook - Primal Low Carb Kitchen. I put it to a vote among readers and this is the recipe that you all chose to see first! I don't blame you. Chicken Fried Steak just screams comfort food. Especially when it is a keto chicken fried steak. I simply cannot wait for you to see the rest of the recipes in this book! The Primal Low Carb Kitchen Cookbook is available wherever books are sold. Read more about the book and order it - Here. It has been receiving some amazing praise.
What can you expect from The Primal Low Carb Kitchen?
85+ Low Carb, Primal and Gluten Free Recipes
All easy to find, whole food ingredients
Full page color photo for every recipe
Nutritional analysis for each recipe
Simple swaps for your favorite snacks
Creative ways to maximize your grocery budget
My kitchen must haves
Seasoning and spice blends
and much more…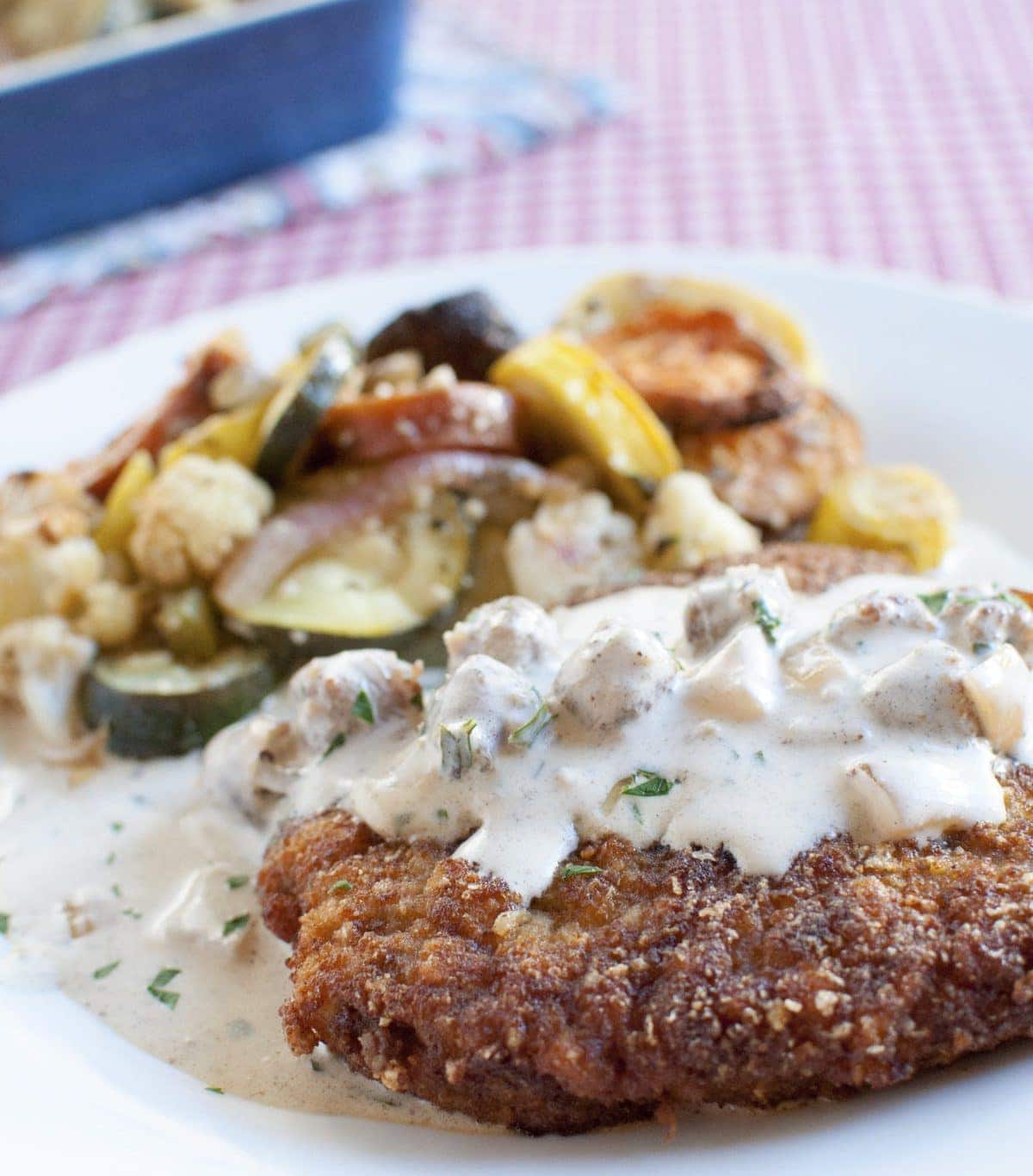 Country fried steak / chicken fried steak is my husband's absolute favorite breakfast. He orders it nearly every time we go out to eat. I was always confused by it. As he was eating it, I would ask him questions like, "Why is it called chicken when it is actually beef?" and "Why do some places call it country fried steak and some call it chicken fried steak?" "Are they just trying to confuse people?" There were some deep conversation had over breakfast. It all boils down to one answer: "Who cares? It's delicious!" Indeed, it is. Not only is chicken-fried steak delicious, it is a classic comfort food. I knew that I had to create a low-carb version of it. This keto chicken fried steak recipe, or low carb country fried steak (whatever you want to call it), is sure to impress and is easily as good as any carb laden diner version. One bite, and you will be in love!
Check out some of my other favorite low carb steak recipes:
Print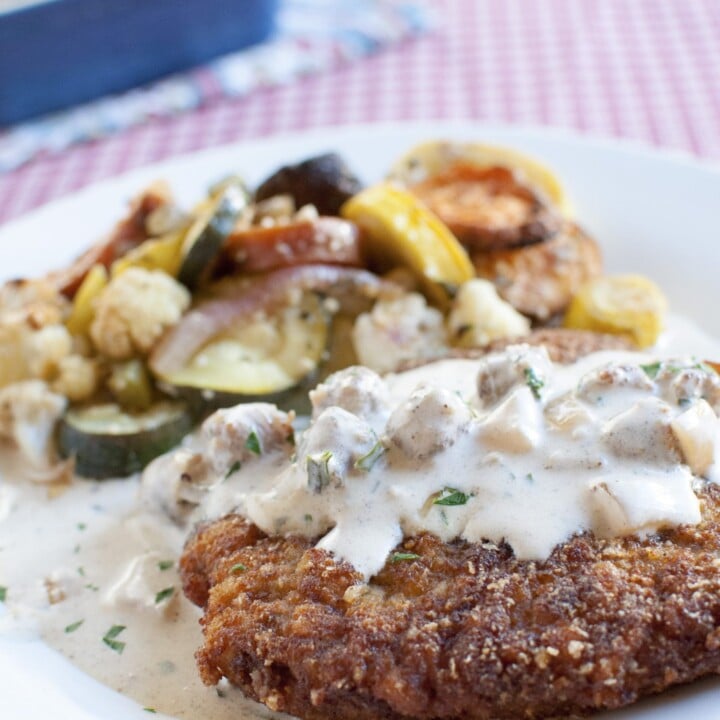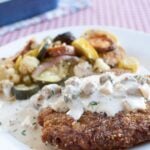 Keto Chicken Fried Steak with Creamy Sausage Gravy
---
Description
PER SERVING:
Calories: 676
Fat: 51g
Protein: 47g
Net Carbohydrate: 5g
---
For the Chicken Fried Steak
1

lb cube steak, 4 pieces pounded ¼ inch thick
Sea salt and black pepper

¼ cup

heavy cream

2

large eggs

1 ½ cups

crushed pork rinds

½ cup

Parmesan cheese, grated

1 ½ teaspoon

onion powder

1 ½ teaspoon

garlic powder

1 teaspoon

paprika
Pinch of cayenne pepper
Cooking oil
For the Creamy Sausage Gravy
2 tablespoon

butter

12 oz

pork breakfast sausage links (I like to use maple sausage links)

⅔ cup

onion, diced

3

cloves garlic, minced

11/2 cups

heavy cream

1 tablespoon

fresh parsley, chopped

½ teaspoon

sea salt
---
Instructions
For the Chicken Fried Steak
Sprinkle the cube steaks with sea salt and black pepper on both sides.
In a shallow bowl, combine the heavy cream and eggs. Fork whisk.
Combine the pork rinds, Parmesan cheese, onion powder, garlic powder, paprika and cayenne pepper. Pour the mixture into a thin layer on a large plate. This will be your breading.
In a large cast-iron skillet over medium-high heat, heat ¼ to ½ inch of oil.
Dip the cube steak into the egg wash and then dredge in the "breading," coating thoroughly on both sides.
Drop the breaded cube steak into the oil. Fry until crispy and golden brown, about 3 minutes for each side.
Top with the Creamy Sausage Gravy.
For the Creamy Sausage Gravy
Heat the butter in a large skillet over medium heat. Once the butter is melted, add
the sausage (crumbled if ground, sliced if using link sausage). Cook until the sausage is browned. Using a slotted spoon, remove the sausage from the pan, retaining the drippings. Set the sausage aside.
To the drippings in the pan, add the onion and garlic. Lower the heat to medium-low and cook until the onion is translucent and soft. Stir often to avoid burning the garlic.
To the pan, add the heavy cream, parsley and sea salt. Increase the heat to medium and bring to a boil. Once the gravy begins to boil, lower the heat to low and simmer. Once the gravy begins to thicken, add the sausage back to the pan.
Pour the gravy over top of the Chicken Fried Steak and ENJOY!