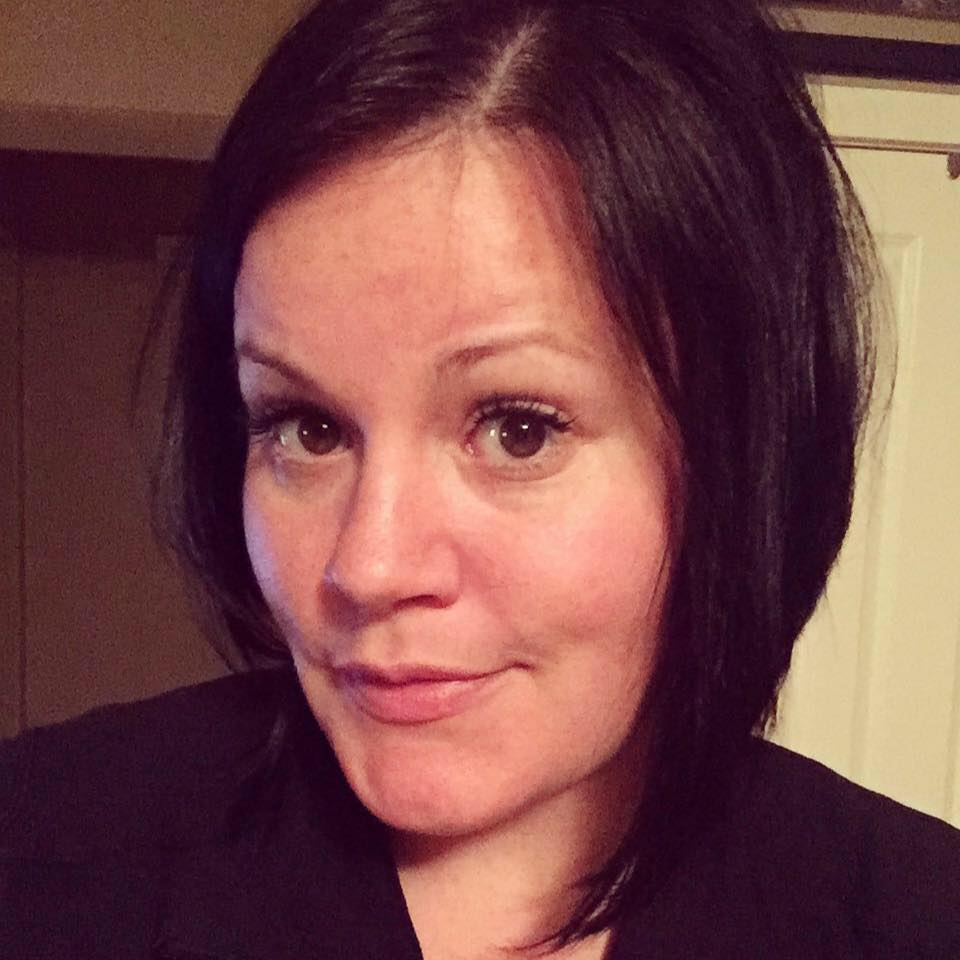 Ego says, "Once everything falls into place, I'll feel peace." Spirit says, "Find your peace, and then everything will fall into place." – Marianne Williamson
If you are just joining me for the first time , you probably never knew I was gone! Check out my previous journey posts here – "Coming Clean"     Week 1     Week 2     Week 3     Week 4     Week 5     Week 7     Week 8     Weeks 9-12     Week 13     Week 14     Week 16     Week 17     Also, follow me on Instagram for more updates.
I'M BACK!! Did you miss me? To tell you the truth, I missed myself. I lost my way for a while. Although it might not have seemed like it online as I was still going through the motions, actively posting in the group and sharing my food and workouts, my heart and head were not in it. The walls I spent so much time tearing down seemed to be rebuilding themselves at an alarming rate. My "me tank" was beyond empty and if I were a vehicle, I was stuck on the side of a road rarely traveled. Here's the thing with me… I can work like a machine. Sun up to sun down. If you were following along in my first 17 weeks of my journey, you will remember that I talked A LOT about the importance of the mental side of this transformation and the importance of making yourself a priority. As I sat here week after week teaching others how to do exactly that, I somehow stopped following my own advice. I gave too much of myself away. At the end of each day, I had nothing left for myself. That is not me placing blame. Nor is it me making excuses. It is just the truth. Truth is truth and life is life. I am a chronic list maker. I make daily to-do lists, lists of my goals, dreams for my future, lists of recipes I want to create etc. You know the one item on those lists that constantly gets pushed over to the next days list? ME!
As self-aware as I am, I am apparently bad at seeing the signs of a burnout crash before the burnout is upon me. It goes something like this… Work, Work, Work, Work like a dog, Work – CRASH! The problem is that I absolutely LOVE what I do. But too much of a good thing is still too much. What happens when I crash? I retreat. I start letting things slip. I don't manage my time well. I close myself off. I gain weight.
Week 17  brought about me saying I was taking the holidays off. Taking the holidays off led me to nearly an 8 week hiatus. During which time, my weight crept back up AGAIN, I went back into hiding and filled my heart with shame. Thousands of people shared and praised my "coming clean" post. How could I admit to everyone that life intervened and I went backwards AGAIN. I am so good at helping others. I am pretty terrible at saving time for myself in the process. If I am honest in my reflections, I think the decline actually began in Week 14.
I started to feel so down. Do people really see me? Am I just a faceless name? Do I only exist on the internet? Does society only take, take, take without ever thinking of giving back? Is my name really that hard to spell, that is should be misspelled 1000 times a day from the very people that are asking things of me?
I got posts on my blog, mostly supportive, but two that stand out… One simply said. "Did you fail?" Not "Where have you been?" or "Are you still hanging in there?" but simply "Did you fail?" almost as if they secretly hoped that I did. Like they were silently rejoicing through keystrokes. Comments like that really don't fuel that deep desire within me to continue sharing. I also got one that said "Did you quit?" not "Haven't heard from you. Hope you are well." or "Miss seeing your posts." But "Did you quit?" It is just so rude and unnecessary. Neither of those people would walk up to me on the street and say that. Hiding behind the anonymity of a computer screen is just cowardly.
My heart is pure and my desire to share is almost overwhelming. However, I am a person that literally gets 100's of emails, comments, messages etc. per day. It is a mixed bag of polite, demanding, rude, mean, ugly, uplifting and so forth, and so on. It is enough to wear down even the toughest of warriors. So, NO… I did not fail. I did not quit. But thank you internet trolls for hoping that I did. You will be pleased to know that I did face a setback and that I am merely human – not a superhuman, positivity robot. Somedays, even my silver linings are merely just grey days.
The negativity and naysayers wore me down to the point where I just wanted to stop documenting my journey and take a break from blogging it and just DO IT. I was so tired of photographing my food or staging a camera and tripod to capture my workouts. I would look at Jon and say "I just want to eat my dinner" I just wanted to go through my journey for a few weeks without being on stage. It worked for the first few weeks… The meals were on plan, the workouts were plentiful and the scale was moving… UNTIL… it wasn't. One sushi lunch turned into beers, turned into a bottle of wine, turned into mcdonalds. Before I knew it I was in hiding again, going through the motions, helping thousands of others and ignoring myself. How did I get back here? It happens so fast, you know. In the blink of an eye, I am here typing out a disastrous and tragic story of this rollercoaster of a life, all over again. I shouldn't  call it disastrous, but it definitely doesn't feel awesome. Life in itself is most certainly a beautiful gift that we should not take for granted. I thought I was fixed during those 17 weeks I was blogging my journey. Didn't you? I seemed to have it all together. I believed that I did. Until I didn't.
These feelings turned into me resenting my journey, my blog, and my essential oils business. That resentment lead to burnout. That burnout led to complacency. Complacency led to weight gain, that quickly turned into more closely resembling my "before" picture.
The one thing that this tells me is not to let my guard down. Not to get complacent or too comfortable. I am the type of person that needs checks and balances… sort of a checklist for daily life. Even if it is just a mental list that I run through. Otherwise, things start to slip… slowly at first. A missed workout here, a bad lunch there. An extra glass of wine here and a Sunday completely off plan there. Before I know it, I am making more bad choices than good. It is just so easy to rationalize your decisions when you are telling yourself that it is an isolated event and not being honest about how bad you are slipping up. I'll start on Monday. I'll get back on track on the 1st… All the things those of us with weight issues consistently tell ourselves. It is such a sick mental game, isn't it? What if instead we just supported one another and took things one day at a time. Made more good choices than bad and celebrated in even the smallest of victories. Doesn't that sound way more manageable? It sure does to me. What if we all spent more time spreading around kindness and gratitude? Imagine the ripple effect that could have.
Well, I still believe that WE CAN DO IT! I think we just need to flip the script a bit. I am excited to be back and I have some exciting things in store to help keep us all on track and traveling down the path to success. Stay tuned for more out of me tomorrow!
Peace and Love,
Kyndra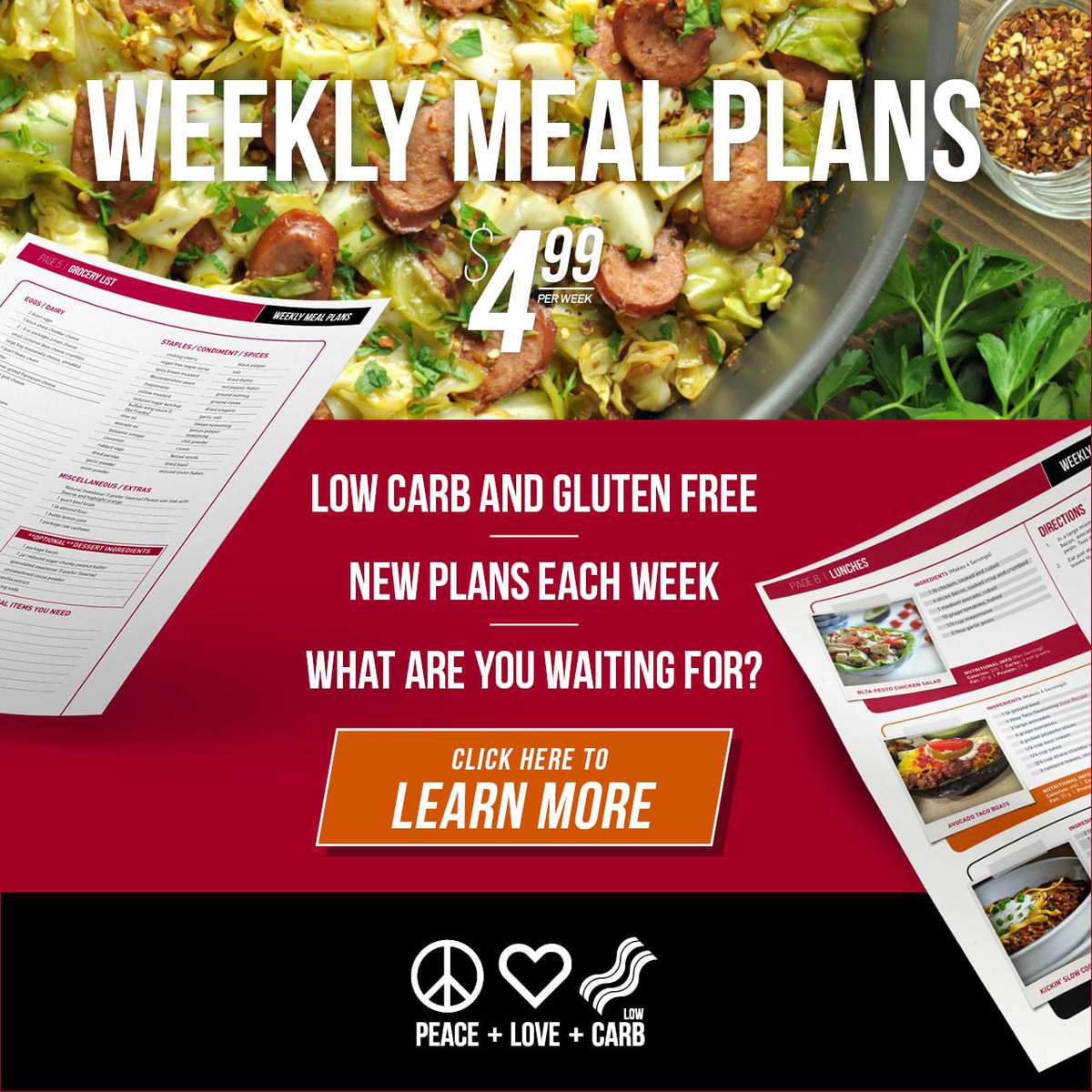 ---
Week 25, Day 1 – Monday
Starting Date: 8/12/15
Starting Weight: 274 lbs
Current Weight: 267.4 lbs
Pounds Lost: 6.6
Pounds to Goal: 93.4
Goal Weight: 174
Goal Date: 8/27/16
Height: 5′ 9″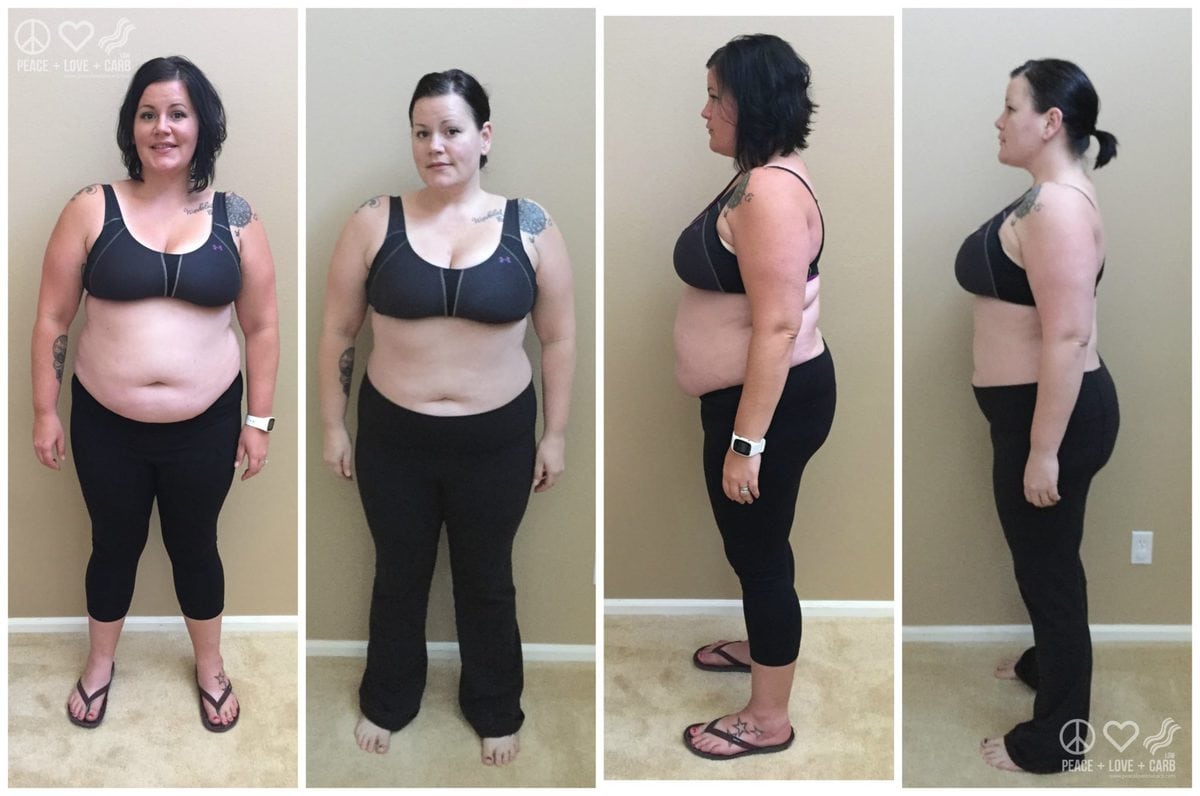 Facing the scale and the camera for the first time in weeks. Overall, it could be a lot worse. I am up more than 20 pounds but I do not feel like it is reflected in the pictures. I'm just happy to be back. Thank you all so much for the wave of supportive comments that came in yesterday after I posted about being back and all the reasons that I fell off the radar. To the negative comments that came in – kick rocks… and do it somewhere else.
Living your life under a microscope is hard. The pressure to be perfect is insane. However, I have always, always gone for progress over perfection. I don't even believe that perfection exists. Unless to say that we are all imperfectly perfect… which I believe we are. Societal pressure, tv and movies and the expectations we put on ourselves give us false expectations of how life should work.

This is how life works… That beautiful mess on the right is ME. It is all of you. Let's embrace the mess and all the knots and forge ahead with realistic expectations shall we?
SO, as I move forward, what is new? A lot actually. My mindset. My game plan. My boundaries. All of it. I am redefining my space. Redefining my business. Redefining my goals.
I have talked in previous journey posts about how I truly believe that physical clutter leads to mental and emotional clutter. How can you thrive personally or professionally in a completely chaotic environment? The answer? YOU CAN'T. So part of my comeback is redefining my spaces by creating an environment I can thrive in. It started with our home gym. It was awesome before, but I turned it into a place of constant inspiration. It isn't in this picture, but the whole back wall is covered with positive affirmations and quotes. Just walking into the gym gets me inspired and motivated.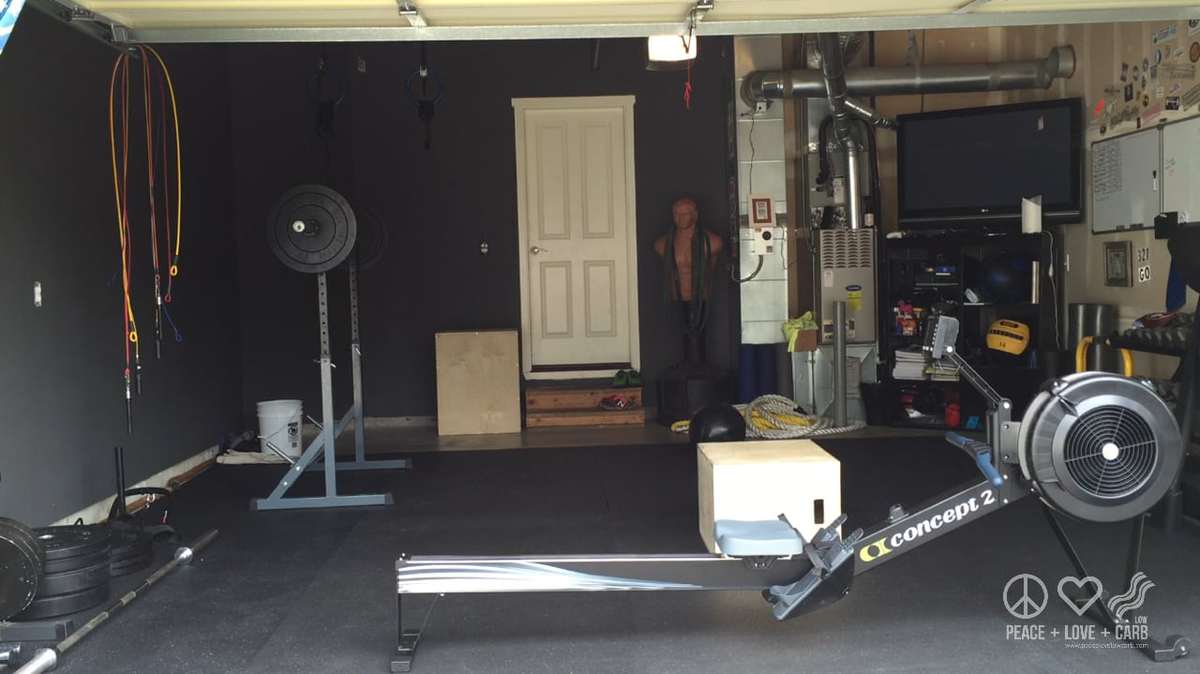 After that came my home office transformation. Over time my home office became sort of a catch-all for everything. I was working downstairs in my living room. I just got out of the habit of working in my office. Then I just didn't want to work in there again until I changed the space and made it something that better represented me, my vision and my goals. I decided that it was time I take control of my space back and transform it into a zen-like place that I loved being in. Now I have two happy places to divide my time. Doing the makeover myself was also a fun process. Picking out each new thing I wanted in there, sanding the furniture and repainting it. It was a fun and therapeutic experience.
Home Office Before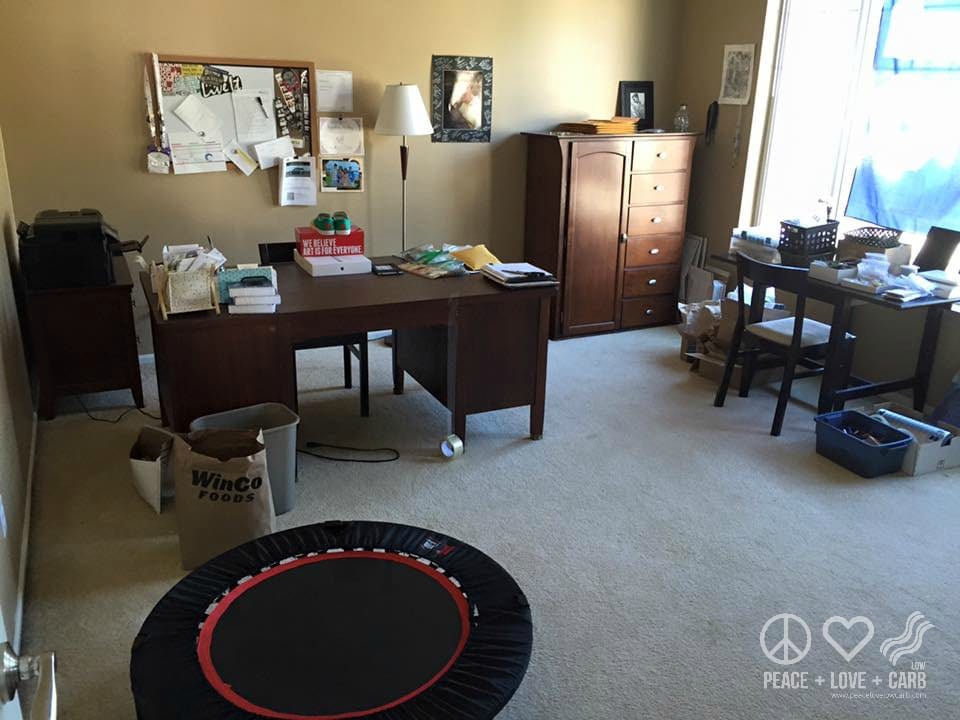 Home Office After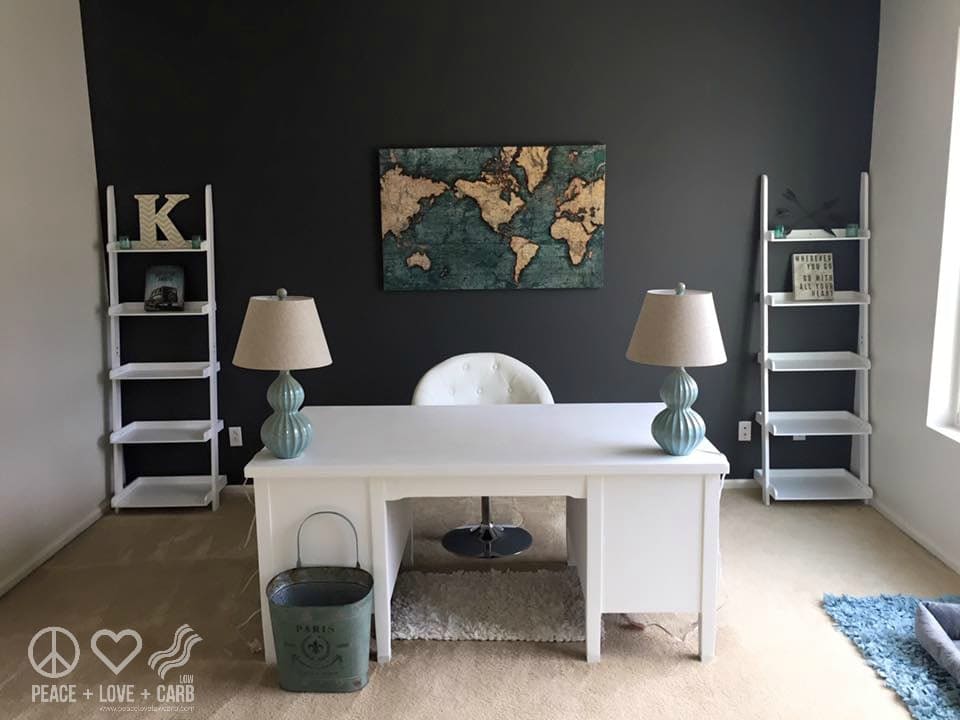 What else is new? Well, I am going to change the way I do things a bit. I am going to do my weekly weigh-ins on Mondays instead of Wednesdays. Knowing I have to face the scale on Monday will help keep me more accountable over the weekend. I have also started working with a trainer. He is helping me with the physical and the emotional side of this journey. He is like having a therapist and a trainer all in one. I will still be sharing my workouts but you probably won't see as much of them. I need to be able to get through them without worrying about documenting it. I will share photos of my workouts as the mood strikes, but not every day. That is a change I need to make in order to make documenting this journey sustainable. I'll still show you just as much of my food and the day to day stuff as in my previous posts. There will likely also be no shortage of pictures of my pups. 🙂 I also probably won't post a progress picture every week. BUT, I will commit to at least updating progress pictures at the start of every month. I also may not check in every single day, but that doesn't mean I am not staying the course. It just means that I am setting boundaries and taking time for myself.
Other updates:
What I ate:
For breakfast I gobbled down a few of these Hot Ham and Cheese Roll-Ups with Dijon Butter Glaze and a couple of eggs. I could eat these all day, every day and never get tired of them. Seriously! Only 2 net carbs. Doesn't that just sound too good to be true?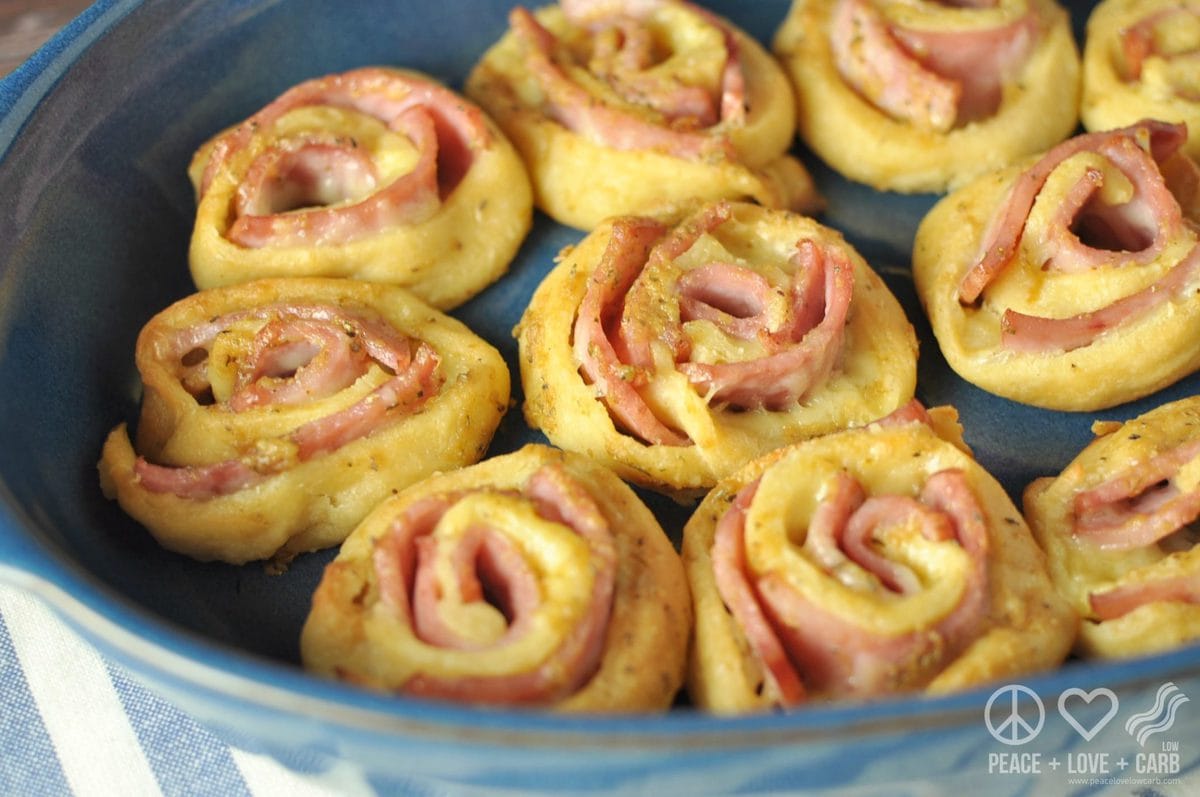 That's all for Monday. Until tomorrow, sweet friends!
---
Week 25, Day 2 – Tuesday
Today was a good day. I started my morning with a hot cup of coffee, followed by a session with my trainer. I was feeling extra thankful for technology today as I have found the trainer that is a perfect fit for me, however, he does not live in the same state as me. Today was the start of Week 5 of working with him. Last week and this week, we have really started to dive into some of the emotional stuff. It is amazing to have an outside perspective on things. He is somehow able to put a new perspective on things I already know to be true deep in the recesses of my brain and piece them together for me into actionable steps. Today I talked with him about the fact that through all of the years I was overweight, I was never really an emotional eater. I have definitely been a stress/emotional cleaner and obsessive worker, but I never really turned to food for comfort. If anything I was more likely to drink more than normal and eat less. This last hiatus was no different. It wasn't that I was turning to food for comfort, it was that I just threw caution to the wind. I ate with reckless abandon. Instead of skipping the bread or fries, and subbing them for vegetables when we went out to eat, I just ate the food as it came – gluten, carbs and all. If I was hungry and it sounded good, I ate it. I didn't eat more than normal. I didn't eat more often than normal. I didn't eat because I was happy/sad/mad/stressed. I just ate when I was hungry, but I ate whatever I wanted. To me, that was almost scarier than emotional binge eating because it showed me just how closely I need to watch everything that I put in my mouth. It showed me how important every single meal is. Every last single bite of food. It showed me how badly my body needs to be a low carb and gluten free plan to reach my goals and to live a healthy, vibrant life. Eating the same amount of food but switching the quality and macros of my food, completely derailed me. Complacency simply cannot exist in my world. Add that to more than a few missed workouts and it equaled an expanding waistline yet again.  I have no doubt that those bad foods only lead to more burn out, more fatigue and more blue moods. I am mentally the strongest when I am eating on plan, limiting alcohol intake and consistently working out. Well, I was doing the opposite of all 3 of those things. I've owned up to it. I've moved on from it. Now the real work begins… If I am not emotional eating, what else is going on emotionally that keeps me entrenched in this shield of body fat? Is it worthiness issues? Is is daddy issues? Is it a lack of self-respect? Honestly, I think it is all three of those things. I don't think I am holding onto this weight because I am lazy or unproductive. In fact, if anything I think I have excelled in showing just the opposite. Is there a subconscious reason I always put myself last?? I think the answer to that is obvious. I've said it a million times, and I'll say it again… it is crucial to conquer the mental side of transformation or you will never truly be transformed. I thought I made it to the other side when I conquered my anxiety issues.  I believed that was the thing that was holding me back. In actuality, it was just one thing to check off the list. I have more demons to face and I am ready to look them in the eye and let them know that I will prevail. When I picture the very best version of myself, I don't have to look too far to see her, because I know she is already there inside me, waiting to come out. I imagine this process unfolding like a butterfly leaving a chrysalis. Or I picture myself standing there and reaching for the top of my head only to find a zipper that spans the length of my body. I unzip this body and step out of it in my brand new, healthy body. Imagery like this makes me smile and paints a picture of total transformation in my mind. I guess I should picture my brain unzipping itself and a new brain stepping out of it as that is where the bulk of the work will take place. 🙂  At any rate, I have started rambling. Let's talk about some food and fitness, shall we?
What I ate:
I hate to be a tease, BUT, I worked on some new recipes today for the meal plans and they were delicious. Recipe creation days always equal good meal days. I have really found my passion for cooking again. I have always loved it and it has always been cathartic for me. However, there was a while there where it just felt like one more task on my to-do list. Not any more. The passion is back. After my workout (and after a shower, of course), I cranked the tunes and got crazy in the kitchen. I made Beef and Broccoli Stir Fry, Cauliflower Rice Pilaf and Chicken Pot Pie Egg Muffins. These will all be in the meal plan this week and they will be up on the blog soon. It was an awesome day of creating and having "me time" all at the same time.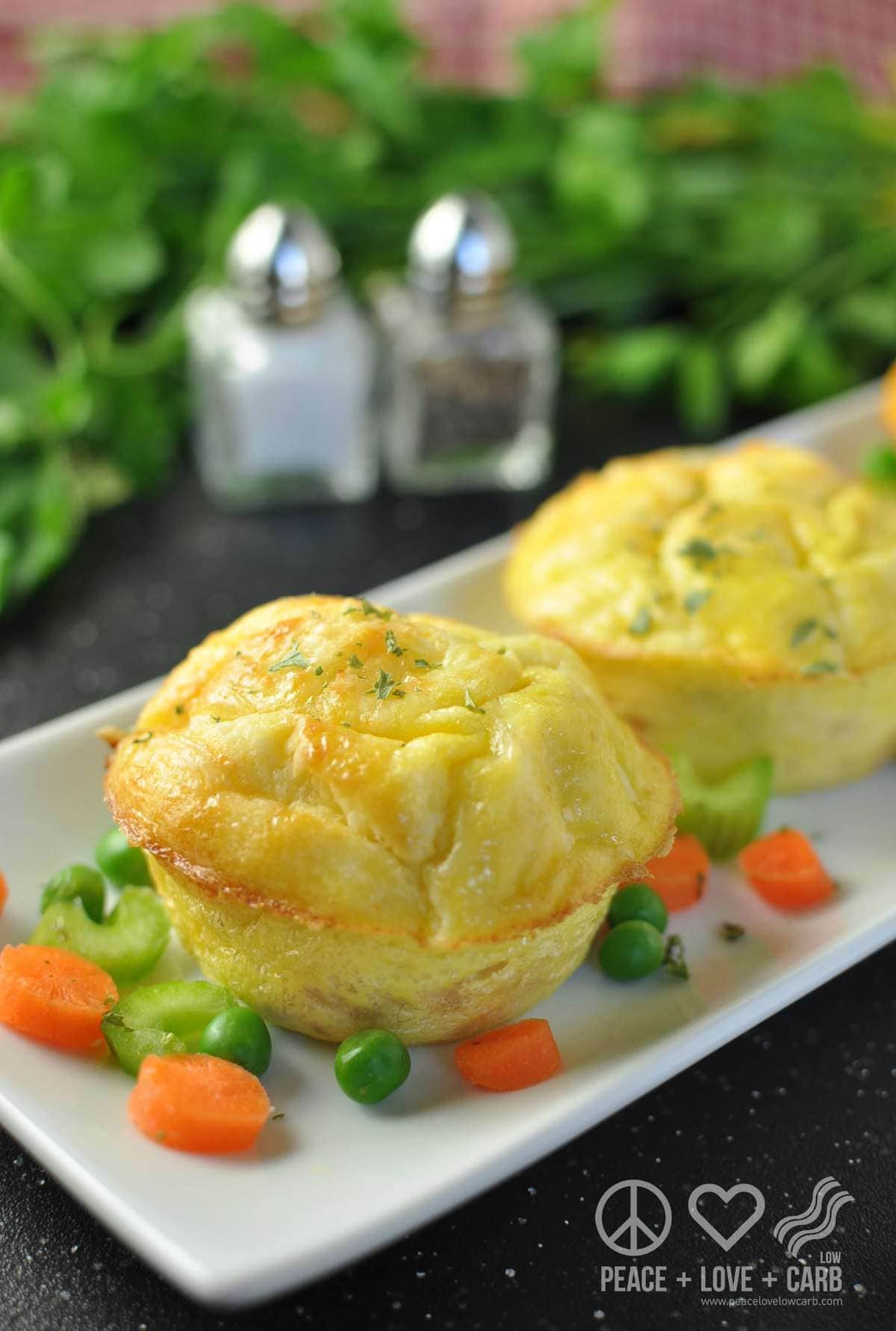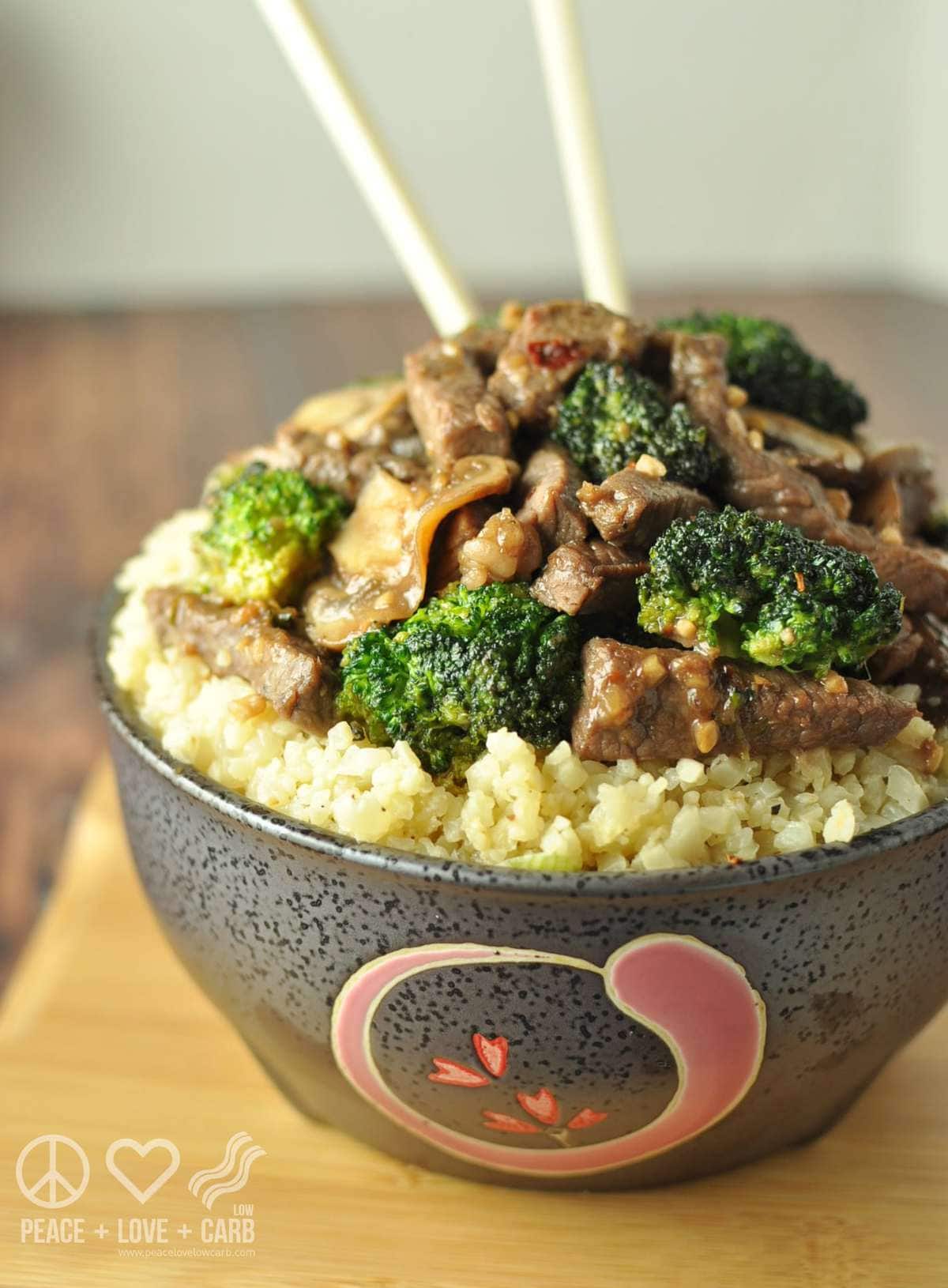 Todays workout:
These are the movements we worked on today:
Back Squats
Hollow Body Planks
Palloff Press
Hollow Body Push Ups
10 Minute Row
I did three sets with varied reps of each movement and they were superset with another movement. We had a couple more movements to get through but with the therapy and the fitness, we ran out of time. 🙂 I felt amazing afterwards. I felt physically strong and mentally clear. I have been missing both of those feelings for a while. That is pretty much a wrap on my day. I hope you had an awesome Tuesday!
---
Week 25, Day 4 – Thursday
Today was busy, busy, busy! But it was a productive, mostly stress-free day. I had a chiropractor appointment this morning, a haircut this afternoon and work layered in between. I didn't get a chance to workout today. However, I really could and should have set an alarm to get up a little bit earlier and get it done. I was just exhausted. Plain and simple. I worked 14 hours straight yesterday and by the time I powered down, I was pretty much cross-eyed. I would have loved to stay in bed longer than I did this morning. A workout is my number one priority for tomorrow.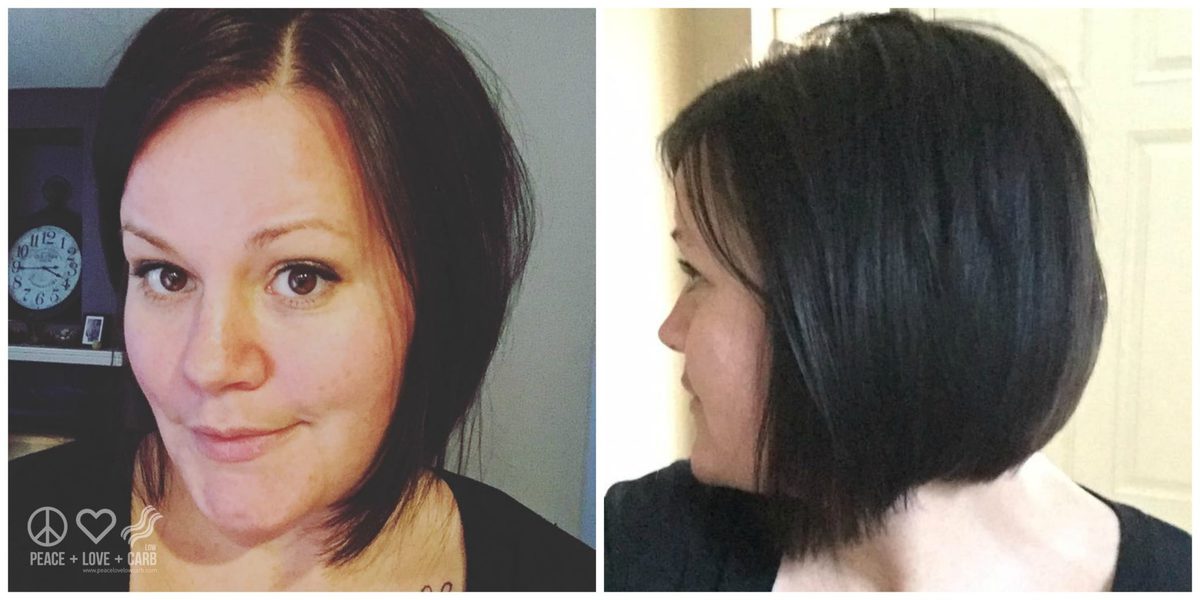 For the first 36 years of my life, I had long hair. This past summer I decided that for the first time ever, I wanted to try short hair. Someone should have warned me how addictive and freeing short hair was. I keep going shorter and shorter each time I go in. In less than a year, I have cut a foot of length off my hair. I LOVE it!
What I ate:
This morning (technically around noon) I whipped up a breakfast fried "rice" – I used cauliflower rice, roasted peppers and onions, garlic, butter, sausage and egg. Easy and crazy flavorful! Chewy agreed. He was patiently hoping that some would drop.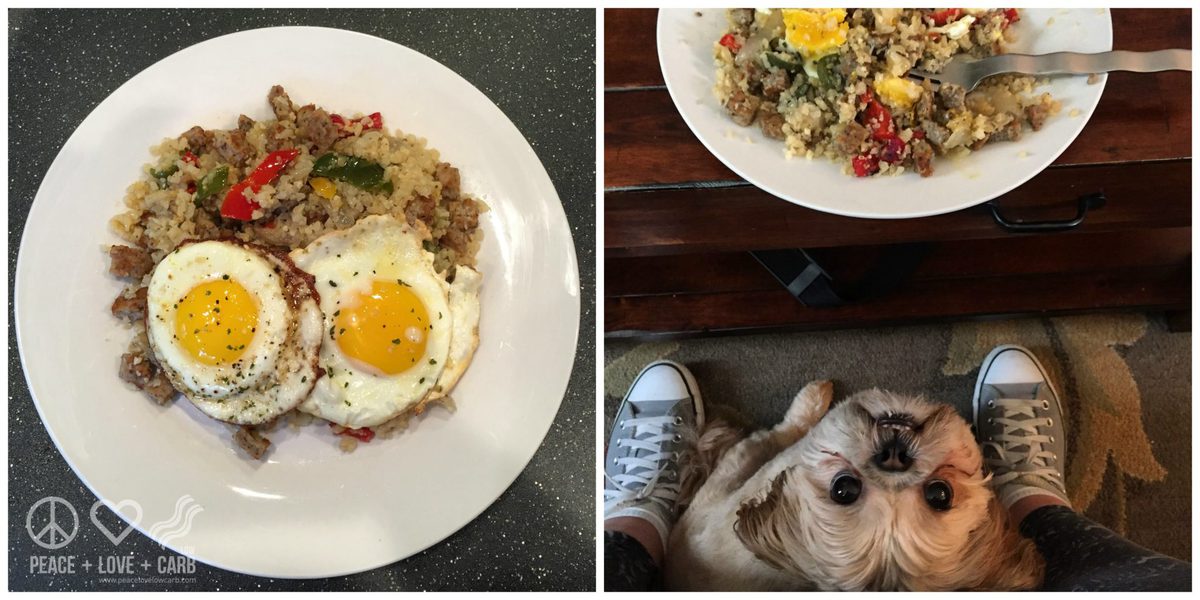 It was actually a little silly that I even cooked anything at all today. My fridge is FULL of cooked food right now. I made so many new recipes over the last few days, that there is no shortage of healthy choices when I open the fridge. However, cauliflower fried rice was the only thing that sounded good. Go figure! I'm just happy that it was healthy food that my body was craving.
Here is a sneak peek at some of the recipes to come. For now, you can find them in the Weekly Meal Plans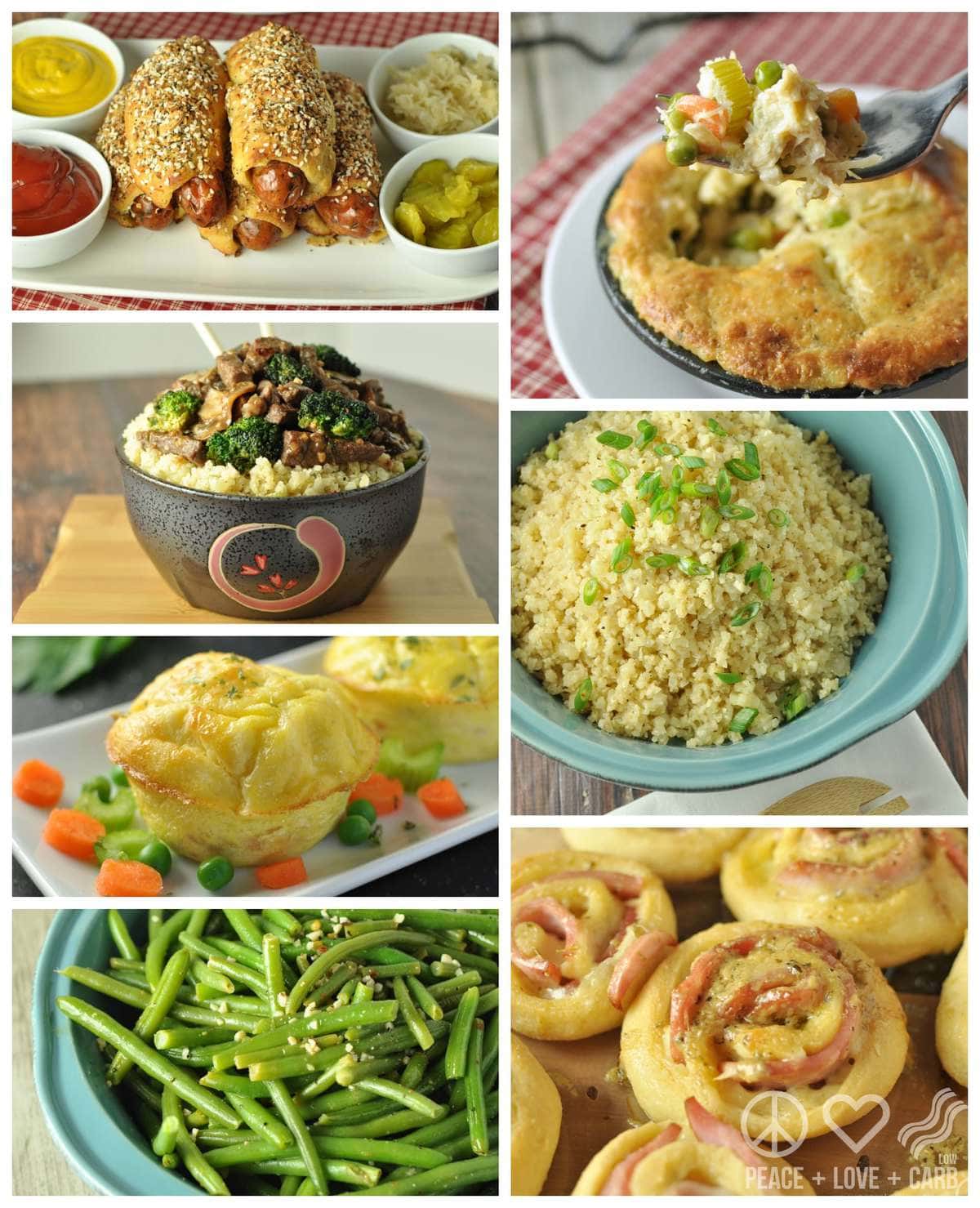 ---
HEY ALL…  Did I grab your attention?
After some careful consideration, I have decided that blogging this journey is just not something I want to continue doing right now. I just want to share organically and take some time for myself. That doesn't mean I won't still be undergoing a transformation, it just means that I won't be posting every little shred of it. You can still check out the day to day stuff on my Instagram account OR in the Peace Love and Low Carb Friends Group. Love to you all!!