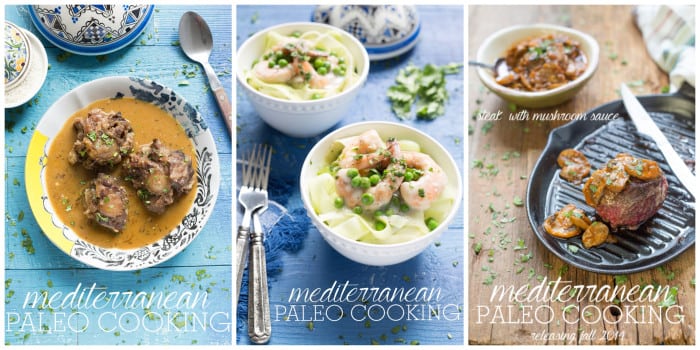 Today's recipe is a special sneak peek inside Mediterranean Paleo Cooking, the new cookbook from Caitlin Weeks, NC, Chef Nabil Boumar, and Diane Sanfilippo.  Mediterranean Paleo Cooking features over 150 fresh coastal recipes for a relaxed, gluten-free lifestyle.  This Top Sirloin with Mushroom Reduction is an easy weeknight meal, that surely does not skimp on flavor. It is sure to become an instant favorite! Want your own copy of this incredible cookbook?  You're in luck… I just so happen to be giving one away.  Enter the giveaway below the recipe and pass it on.  Click here to order your own copy.  Did you know that I have a new book coming out as well?  Click here to order a copy of my new book The Primal Low Carb Kitchen – Comfort Food Recipes for the Carb Conscious Cook
Print
Top Sirloin with Mushroom Reduction Sauce
---
Prep Time:

15 minutes

Cook Time:

45 minutes

Total Time:

1 hour

Yield:

4 Servings
Description
This is similar to a French dish called tournedos vert-pre. "Tournedos" refers to small pieces of beef cut from a tenderloin. We used a cheaper cut of meat to make this recipe more affordable, but it's just as tasty.
---
Ingredients
FOR THE SAUCE
2 tbsp unsalted butter, ghee, or coconut oil
2 tbsp minced shallot (1 medium shallot)
2 tsp minced garlic
1 lb mushrooms, sliced
1 tbsp tomato paste
1 tsp ground cumin
3 cups Beef Broth
FOR THE STEAKS
4 (6-ounce) top sirloin steaks
fine sea salt and ground black pepper
1 tbsp unsalted butter, ghee, or coconut oil
1/4 cup chopped fresh parsley, for garnish
---
Instructions
MAKE THE SAUCE:
Melt the fat in a saucepan over medium heat. Add the shallot and garlic to the saucepan and sauté for 3 minutes, stirring continuously. Add the mushrooms and keep stirring until they are soft, about 3 minutes.
Add the tomato paste, cumin, and beef broth. Turn the heat to medium-low and let it simmer, uncovered, for 30 minutes, until it coats the back of a spoon when stirred. Remove the saucepan from the heat and cover to keep warm.
When the sauce is nearly done, preheat the oven to 350°F.
PREPARE THE STEAKS:
Season the steaks liberally with salt and pepper and preheat a large cast-iron skillet or oven-safe grill pan over medium-high heat until it is very hot, about 2 minutes. Drop in the cooking fat and briefly tilt the pan to make sure it is covered in grease. Add the steaks to the pan and sear the meat on one side for 30 seconds, then flip and sear the other side.
Transfer the pan to the oven for 3 to 5 minutes for medium doneness, or until the steak is cooked to your preferred temperature. Let the steaks rest on a plate for 5 minutes before serving.
Top the steaks with the mushroom sauce and enjoy.
Notes
CHEF'S TIP:
For a perfectly seared steak, always make sure the pan is very hot before adding the meat. Use an oven-safe pan that can go from the stovetop to the oven, such as a cast-iron skillet, and be sure to preheat the oven so it is hot when you are ready to transfer the steak. For the best flavor, let the steak rest for a few minutes before slicing.
NUTRITIONIST TIP:
Mushrooms are one of the few vegetables with vitamin D, but they have to be eaten with fat to be absorbed. Many mushroom growers expose the mushrooms to sunlight during growth, which increases the vitamin D content.