The best tips and tricks for getting started on a Low Carb Keto Diet, plus my favorite resources and more.
Follow me around the web!
Instagram | Facebook | Twitter | Pinterest | Essential Oils
How to Get Started with Low Carb / Keto:
I want to start by emphasizing one thing in particular. GET RID OF THE FRANKENFOODS!! and by that, I do not mean eat them. I mean throw them in the garbage. If you are still eating all the so called "low carb" products on the market, you are not really doing yourself any favors. Many of these prepackaged foods are a chemical shit storm of ingredients. Have you actually read the ingredient list on an Atkins bar? This is NOT real food.
To make lasting and sustainable change in your health, especially as it pertains to weight loss, it is critical that you are eating real food. Once you start eating clean, you will crave clean foods. Here are some of my best tips for getting started!
Commit to starting: I know that might sound overly simplified, but it really is that simple. You have to mentally commit to the process of lasting mental and physical change.
KEEP IT SIMPLE! Don't overcomplicate or overthink things. It is easy to end up in analysis paralysis. Just commit to making small changes over time. You are not perfect and no one is expecting you to be. Do what you can, when you can, with what you have.
Set yourself up for success: Before starting this journey, I wanted to make sure that I was set up for success. And that starts at the grocery store. Clear your fridge and pantry of any bad foods. If you are like me and hate wasting food, donate it to a local shelter or to a family in need. But trust me when I tell you that it is imperative to start fresh. If there is bad food in your home, eventually you will give in and eat in. Why put yourself in situations of temptation right from the start?
Tell your friends, family and co-workers what you are doing and ask for their support: People won't know that you are trying to make profound changes in your life unless you tell them. Avoid those office donut situations by letting people in on your healthy lifestyle change. The more people you tell, the bigger support system you have.
Get your spouse on board with your new lifestyle: If you find that they are resistant to the dietary change, it might just take a little creativity. You may need to show them that they don't have to give up all their favorite comfort foods, they just need to rethink them. Recipes like my Big Mac Casserole, Caramelized Onion and Prosciutto Mac and Cheese, and White Cheddar and Sausage Breakfast Biscuits usually help. If you need help getting started with a plan that will be spouse and kid approved, check out my low carb and gluten free weekly meal plans.
Spend a little time each week meal planning and meal prepping: Don't let it become an overwhelming chore. Start with an hour and then work your way up. Research recipes you would like to try, make your grocery list and then spend a day making all of your meals for the week. Wouldn't it be worth spending half of your Sunday in the kitchen to not have to worry about healthy meals throughout the week? Better yet, let me take the guesswork and thinking out of it for you and check out my low carb and gluten free weekly meal plans.
Water, water, water: Make sure you are staying hydrated! I can't stress this enough.
Prepare! Failing to prepare is preparing to fail. Have a plan. Have a plan for social situations. Have a plan for dining out. I keep snacks in my purse, in the center console of my car and in my gym bag. I don't want to end up hungry and without a healthy option. If you need some help with low carb snack ideas, check out my Complete Guide to Low Carb and Gluten Free Snacks.
Get moving! I'm not saying that you have to jump in with both feet, join a gym and make working out your life. Simply try to move each day, a little more than the day before. It really adds up!
Track what you eat: If you are not keeping track of what you are eating, it makes it almost impossible to identify what foods might be giving you problems and causing your weight loss to stall. Below there is a great list of tracking sites and apps.
Ditch the scale: Don't be a slave to the scale. It can only show you a number. There are so many other amazing ways to measure progress. Take your measurements. How do your clothes feel? Don't let the scale define you.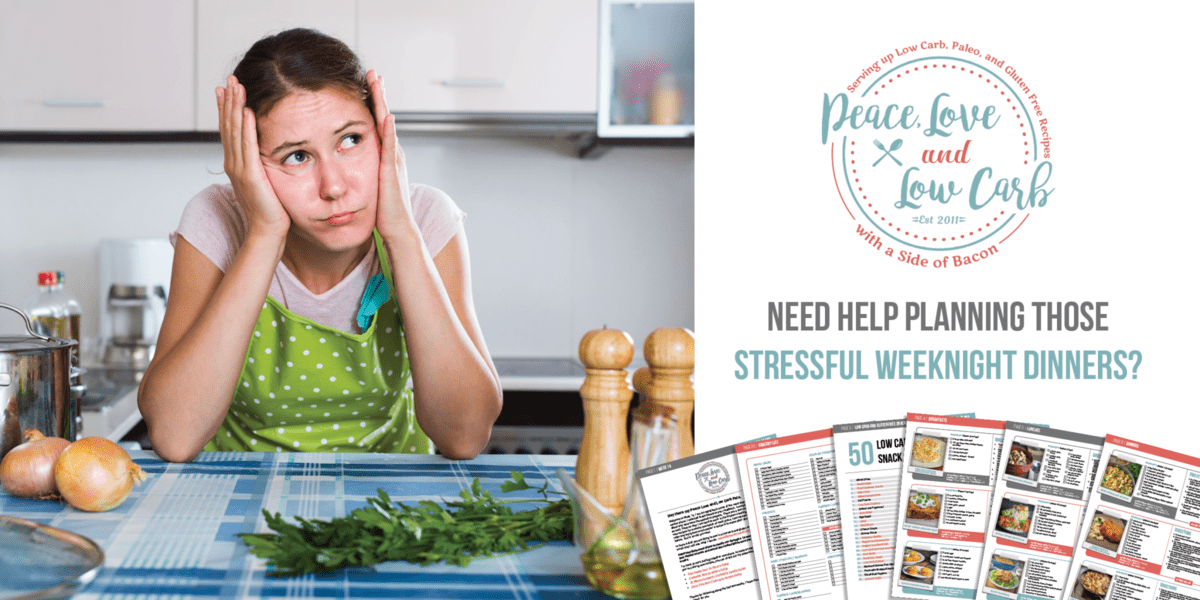 WEEKLY MEAL PLANS - Get one FREE week -
Here
Meal plans include:
All low carb and gluten free meals with full color photos
No funky, hard to find ingredients. Only normal foods you can find at your local grocer
No processed foods. Only real food ingredients
Suggestions for substitutions based on common food likes/dislikes and allergies
Nutritional analysis per recipe (you can mix/match the recipes throughout the week to keep within the daily carb limit you choose)
Printable grocery list for the week that will take advantage of groceries, using items across multiple recipes
Complete resource list to help you succeed
Weekly food/feelings/fitness journal
Enough meals and recipes for 5 days of Breakfast, Lunch, Dinner and Side Dishes. There are 3 meals in each category as well as an extensive snack list. It is written this way so that there are enough servings between the 3 meals for 2 days of leftovers (enough meals and servings to feed 2-4) 5 meals in each category would mean cooking 20 meals a week. That is not a practical plan for the average person. Hardly anyone would stick to that. They would burn out fast. The idea is to save money, reduce waste and have extra time for family and friends by prepping meals in advance and in the right portions so that you aren't cooking every day, 3 times a day. I see where it can be confusing. 20 meals a week would lead to a ton of leftovers and wasted food. If you are cooking a new meal every day, when would you even have time to eat the leftovers?
Days are not assigned to meals so that you can fit these recipes into your life and schedule without feeling like food is ruling your life
AND MORE... Each week features new resources. Get yours - Here
How to Order Low Carb / Keto at Starbucks
So the big question on every low carber's mind is "Do I have to give up my daily Starbucks to maintain my low carb, ketogenic lifestyle?" The answer is NO!! Well then how do you order low carb / keto at Starbucks? You just have to get creative with your ordering. Don't be too shy to ask for exactly what you want. You are handing over your hard earned money and paying a premium to go to Starbucks, versus other coffee chains. Therefore, You should get exactly what you want, even if it is an off-menu or custom made drink. Never once have I been met with anything but friendliness when requesting a special order. They may not always get it right, but they will certainly try and are always willing to remake it. I am here to help you get creative with your low carb ordering. Starbucks is back on your low carb menu!! So, what can you order? I have created an entire list of low carb, keto and sugar free drinks that you can order at Starbucks. Check it out here.
LOW CARB KETO RESOURCES
COOKBOOKS:
INFORMATIONAL BOOKS:
LOW CARB RECIPE SITES:
LOW CARB INFOMATIONAL SITES:
REAL FOOD PANTRY & FRIDGE STAPLES:
REAL FOOD LOW CARB SNACKS:
KITCHEN ACCESSORIES:
MACRO TRACKING SITES:
HELPFUL ARTICLES: