Irena Macri is an internationally acclaimed cookbook author and food blogger who has an insatiable desire to play with food. She draws on her love of world cuisines and all-natural ingredients to produce delicious recipes that promote wellness and longevity. She's the force behind Eat Drink Paleo, where she shares her mouth-watering paleo and gluten-free recipes.
Roasted Pork Tenderloin With Salsa Verde
From Irena:  Pork tenderloin/fillet is one of my favorite pieces of meat to cook with. It's a ffordable, lean yet tender and has a delicious flavor. I personally like roasting the whole fillet, which I often use for dinner and lunch left overs, but you can easily slice it in smaller pieces and pan-fry it or grill it.
If you can't find pork tenderloin or fillet, feel free to use pork cutlets or steaks and simply season them with the spice rub before pan-frying or throwing them on the barbecue grill. Chicken or red meat go just as well with this spice rub and the salsa verde.
My salsa verde has both cilantro and parsley, but feel free to use other fresh herbs on hand such as oregano or basil. It's such a lovely condiment and will last for 2-3 weeks in the refrigerator. It goes with anything savoury!
Print
Roasted Pork Tenderloin With Salsa Verde & Balsamic Carrots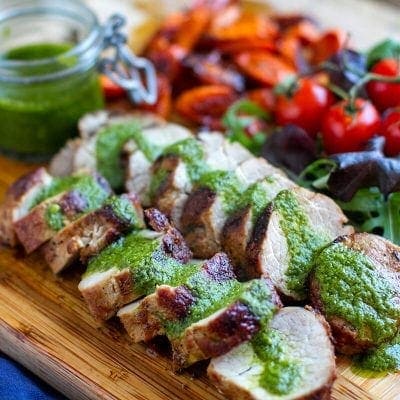 Scale
Ingredients
1 1/2

pounds pork tenderloin

1 teaspoon

coconut oil
Spice rub
1 teaspoon

salt

½ teaspoon

chili powder

1 teaspoon

garlic powder

1/2 teaspoon

ground cumin

1 teaspoon

paprika

1/2 teaspoon

ground coriander seed
Carrots
2

large carrots, sliced

2 tablespoons

olive oil

½ teaspoon

sea salt

1 ½ tablespoons

aged balsamic vinegar (alternatively, regular balsamic mixed with a little honey or maple syrup)
Salsa Verde
Handful of fresh cilantro leaves
Handful of fresh parsley leaves

2

cloves of garlic
Juice of

½

lemon

1 tablespoon

of capers

1/2 cup

olive oil
Generous pinch of salt
Instructions
Preheat the oven to 350°
Cut the pork loin into two halves. Place the pork on a cutting board and cover evenly with the spice rub. Use your fingers to press it in on all sides. Set aside.
Coat the carrots in olive oil and scatter on a flat oven tray. Place in the oven, middle tray, for 12 minutes.
Heat coconut oil in a large skillet over medium-high heat. Once hot, add the pork halves and cook for 3 minutes on each side, turning over 4 times
(back, front and two sides) – a total of 12 minutes.
Then transfer the pre-cooked pork to an oven tray with the carrots. Place them in the middle and move the carrots to the side. This is the time to turn over the carrots, if needed. Cook together for 10 more minutes at 400°
While the pork and carrots are cooking, prepare the salsa verde.
Place all ingredients in a food processor or a small blender and process into smooth, pesto like consistency. You can also chop all ingredients finely with a knife and combine in a small bowl. Set aside
Remove the pork from the oven and transfer to a cutting board. Cover loosely with foil and rest for 5 minutes.
Push the carrots close together on the tray. Sprinkle evenly with salt and drizzle with the balsamic. Place back in the oven for 2-3 minutes to caramelize slightly.
Slice the pork and drizzle with a few tablespoons of salsa verde. Serve with a side salad, roasted carrots and extra salsa.
Salsa verde will keep for 2-3 weeks in an airtight, clean jar. You can use as a marinade for chicken or shrimp, in salad dressings, as a condiment with meat and fish, or drizzled over scrambled eggs.