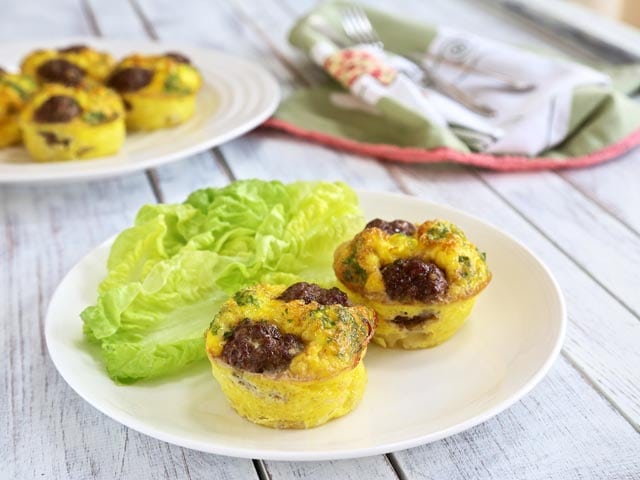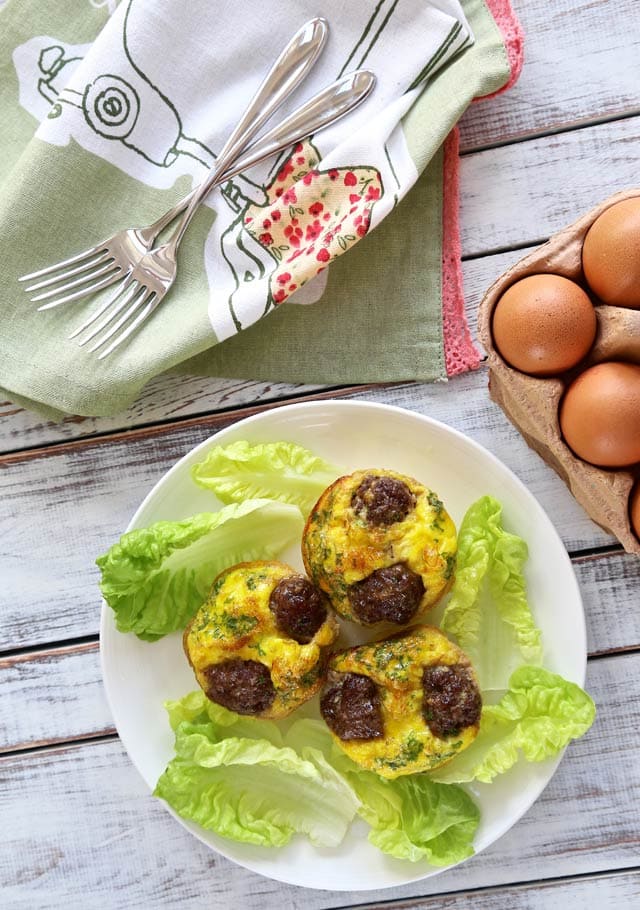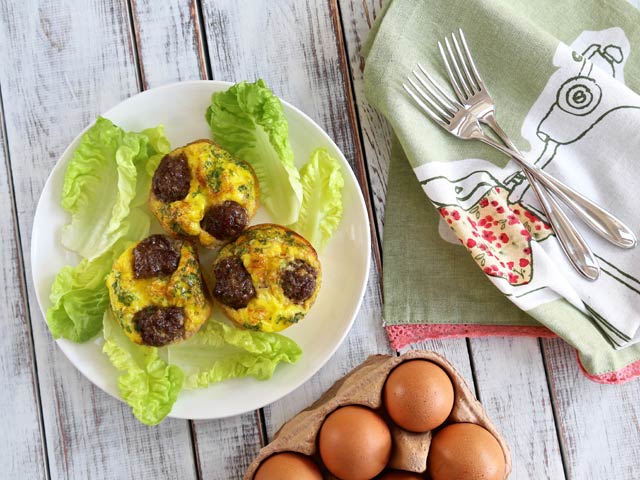 It is that wonderful time of the month again, when we are treated to a delicious guest post from Martina of KetoDietApp.  This month she is jazzing up breakfast with Reuben Egg Muffins.  I can already tell you that my husband will want me to make these over and over again.  He just loves all things Reuben.  I can't wait to give it a try!
This recipe was inspired by a meal I created by accident using some leftover meatballs. Initially I thought I'd just braise some vegetables or make "zoodles" with tomato sauce and serve it with the meatballs. I wanted to try something new and instead I added the meatballs into a frittata. People following me on Instagram thought it was a great idea. I also used sauerkraut which is a delicious condiment often underestimated for its health benefits. I love using it in soups, meat stews and even just by itself. These egg muffins are great for portion control and an easy work snack you can make ahead. My original recipe also included cheese, so if you can tolerate dairy, try adding some grated cheddar cheese!
Print
Reuben Egg Muffins – Low Carb, Gluten Free
Per Serving:
Total carbs: 3.3 g
Fiber: 1.3 g
Net carbs: 2 g
Protein: 24.7 g
Fat: 23.1 g
Calories: 326 kcal
Prep Time:

10 minutes

Cook Time:

25 minutes

Total Time:

35 minutes

Yield:

6

Muffins

1

x
Scale
Ingredients
6

large eggs, free-range or organic

¾ cup

sauerkraut, drained – (105 g /

3.8 oz

)

7.1 oz

ground beef, grass-fed if possible (200g)

2

cloves garlic, mashed

1 tsp

Dijon mustard

¼ tsp

caraway seeds

2 tbsp

parsley or chives, chopped (or less if dried)

½ tsp

salt
Instructions
Preheat the oven to 350 F / 175 C.
In a bowl, mix the beef, Dijon mustard, mashed garlic, caraway seeds and half of the salt. Create 12 small meatballs (two for each muffin).
Place the drained sauerkraut at the bottom of the muffin pan (about 2 tbsp per muffin).
Top each with two meatballs.
In a bowl, mix the eggs, salt and herbs. Pour the egg mixture on top of the sauerkraut and meatballs.
Place in the oven and cook for about 25 minutes. Once done, remove from the oven and set aside to cool down. Eat immediately or store in the fridge.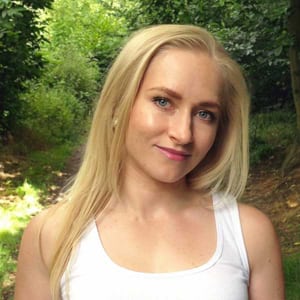 About Me
Hi everybody! My name is Martina and I live in the UK. I love food, science, photography and creating new recipes. I am a firm believer of low-carb living and regular exercise. As a science geek, I base my views on valid research and I have first-hand experience of what it is to be on a low-carb diet. Both are reflected on my blog, in my apps and book.
I started eating low-carb in 2011, shortly after I was diagnosed with Hashimoto's hypothyroidism.  Since then, I've been trying to figure out what works best for me and discovered some of the great benefits of low-carb eating. Following a low-carb, paleo-friendly diet plan helps me maintain a healthy weight while eating real food. I believe that true paleo is great, however if your goal is to lose weight, paleo is often not enough.
My mission is to help you reach your goals, whether it's your dream weight or simply eating healthy food. Come and say hi on my blog!