Perfect Keto Boosted Coffee with MCT Oil Powder. Get a boost of natural energy in your morning coffee.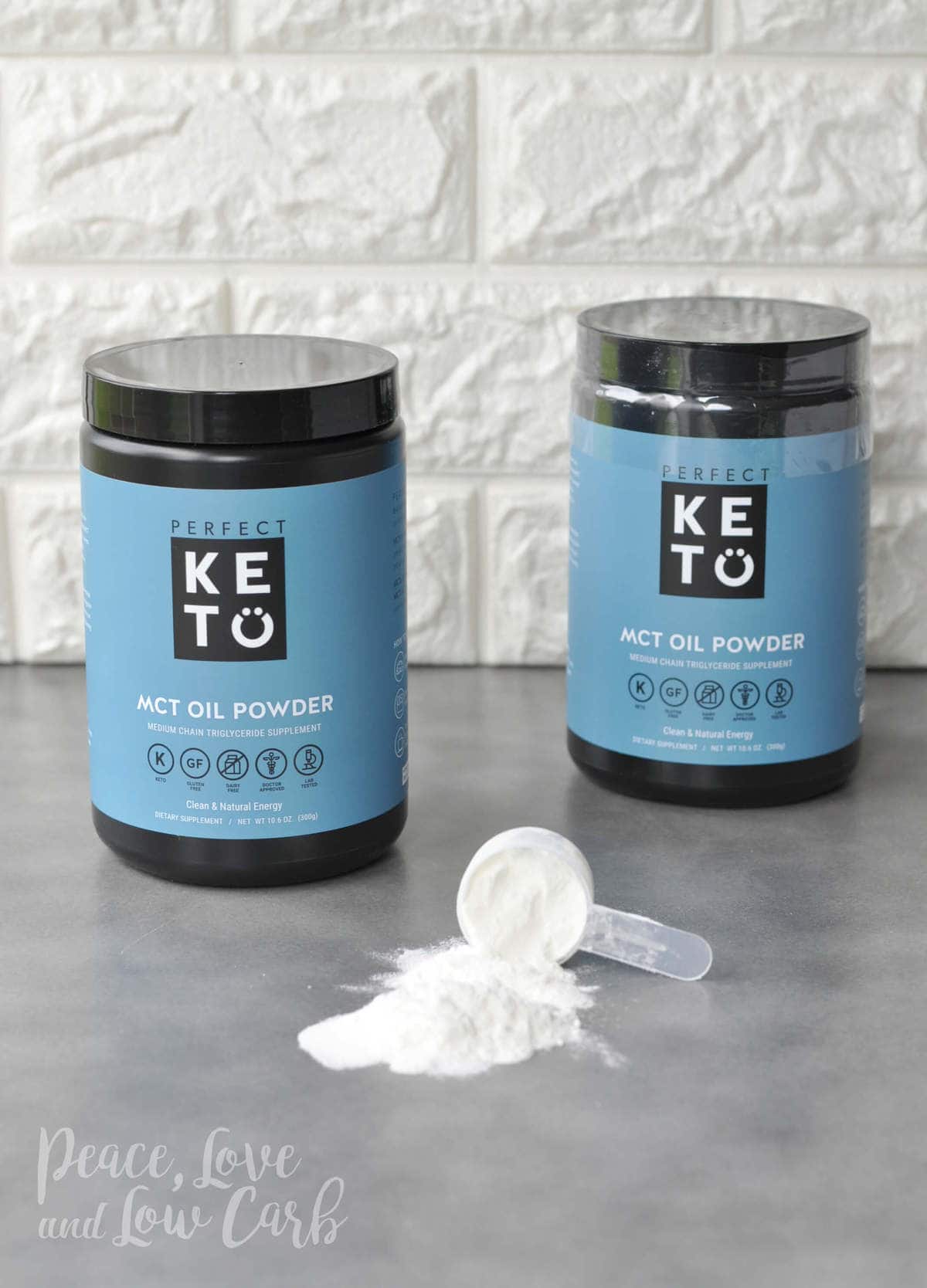 My new favorite way to have coffee: Perfect Keto Boosted Coffee with MCT Oil Powder
I've been changing up up my morning coffee routine these days. One of the things I haven't loved about my boosted coffee variations in the past is that awful oil slick on the top of my cup once the ingredients settle. You know, on the rare occasion that I don't drink my coffee like the world is actually ending any second. Even after I use my milk frother to get it nice and creamy, it still settles and separates again if you don't drink it fast enough.
One of the ways I have been able to counteract the oil slick is by switching over to an MCT Oil Powder instead of the oil. I found an awesome company called Perfect Keto that makes it in a powder form. Not only is it zero net carbs per serving, but it is gluten free, keto, and dairy free too. Before I get too far into what MCTs actually are, let me tell you a little bit more about the convenience of MCT Oil Powder versus MCT oil.
Check out the MCT Oil Powder HERE
WHY MCT OIL POWDER OVER OIL?
Easier on the digestive system than oil
More effective at raising blood ketone levels (up to 1.0 mmol)
Easier to mix into any recipe or beverage than oil
Flavorless, odorless, no oily residues
Powder travels much better than oils
So now you might actually be wondering what is MCT? MCT stands for Medium Chain Triglycerides. Since I am not a doctor and I don't want to steer you wrong, I will let Dr. Mercola explain it.
What is MCT?
"Medium-chain triglycerides (MCTs) have become increasingly popular as people are learning more about the health benefits of nutritional ketosis, which is achieved by replacing net carbohydrates (total carbs minus fiber) with high amounts of healthy fats and moderate amounts of high quality protein.
Some of the health benefits of coconut oil relate to the MCTs in the oil. But  MCT oil is a more concentrated source, so it tends to be more appropriate for clinical uses, which include:1
Improved cognitive and neurological function with possible implications in neurodegerative diseases
Increased energy levels and improved athletic performance
Improved mitochondrial function and subsequent reduced risk for diseases such as atherosclerosis, diabetes, cancer, cardiovascular disease, autoimmune diseases and epilepsy4
As part of a specialized dietary therapy for the treatment of epilepsy
Prevention of non-alcoholic fatty liver disease (NAFLD)5
Short-, Medium- and Long-Chain Triglycerides
The disastrous "low-fat diet" dogma of the last half century has led to a devastating drop in most people's intake of healthy saturated fats, including MCTs, as most people have bought into the erroneous assumption that saturated fats are unhealthy and will raise their risk of heart disease.
Besides coconuts, coconut oil and palm kernel oil, small amounts of MCT can be found in butter and other high-fat dairy products from grass-fed cows and goats.
Be sure not to confuse the extremely unhealthy industrial versions of coconut and palm oils (which are historically used as hydrogenated oils in industrial baked goods) with organic, virgin and unrefined oils available as "health foods."
MCTs get their name from their chemical structure. Fats consist of chains of carbon molecules connected to hydrogen atoms. Short-chain fats have six carbons or less.
Medium-chain fats contain between six and 12 carbons, while long-chained fats, such as the omega-3 fats docosahexaenoic acid (DHA) and eicosapentaenoic acid (EPA), have 13 to 21 carbons.
The shorter-chained MCTs, on the other hand, are more readily converted into ketones, which are an excellent mitochondrial fuel. Ketones also help suppress ghrelin (AKA the hunger hormone) and enhance another hormone that signals your brain when you're full." Continue reading...
Republished with permission from: Mercola, J. "The Many Health Benefits of MCT Oil" Retrieved August 22, 2016,  (Source here)
I shared part of the article from Dr. Mercolas site not to confuse you, but to show you that MCT Oil isn't just some new fad going around. It is nutrition based in science. Now that you know a little more about what MCTs are, let me tell you a little bit more about what they do.
Benefits of MCTs (Medium Chain Triglycerides):
Improved cognitive function
Helps to maintain a healthy body weight
Increase feelings of satiety
Supports healthy immune function
Reduced appetite
Increases energy levels
Helps support hormonal balance
Improves athletic performance
Antiviral and antibacterial properties
Supports healthy gut bacteria
Aids in weight loss on a ketogenic diet
Improves mood
Supports healthy cardiovascular function
Now let's get to the good stuff... COFFEE!!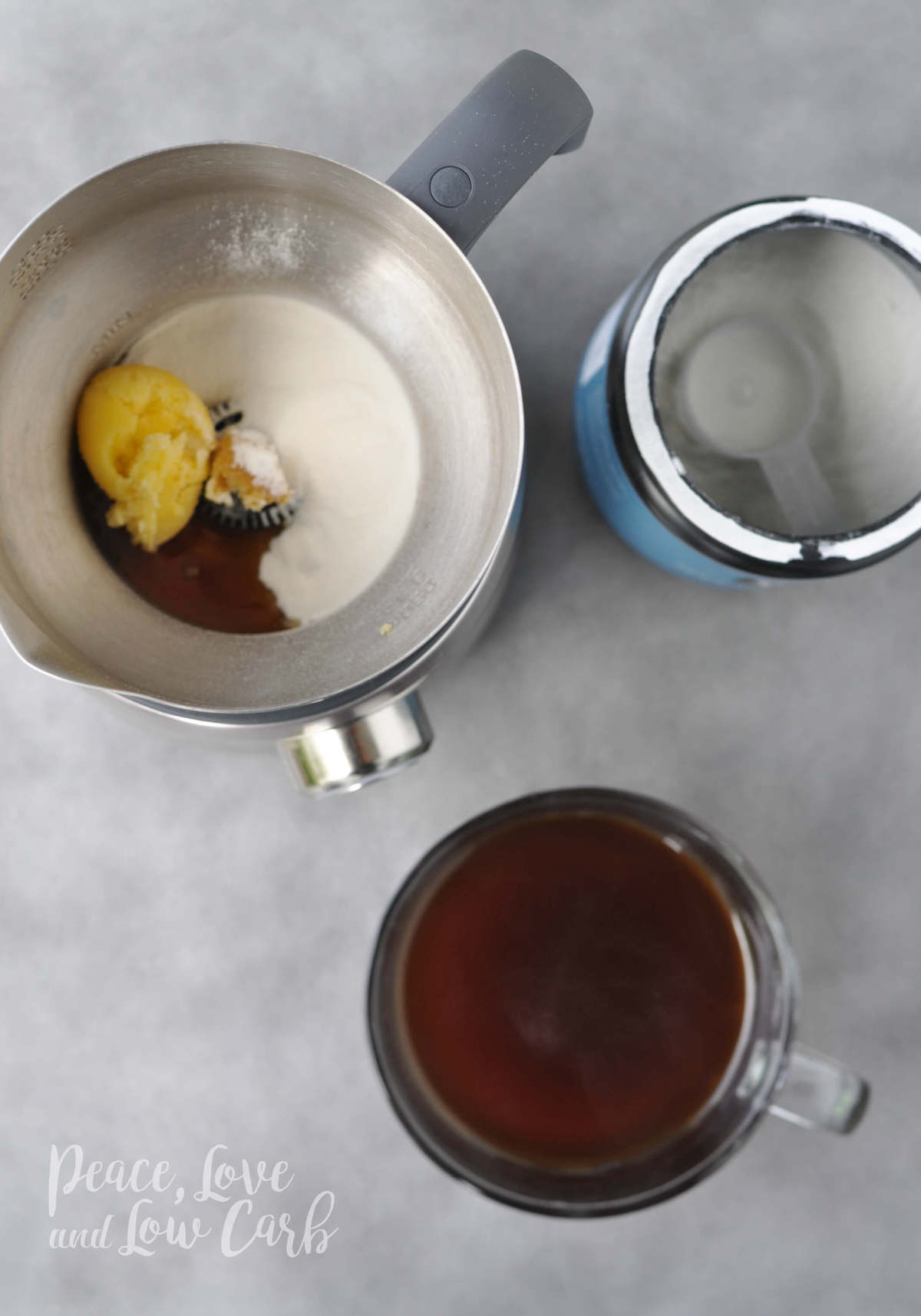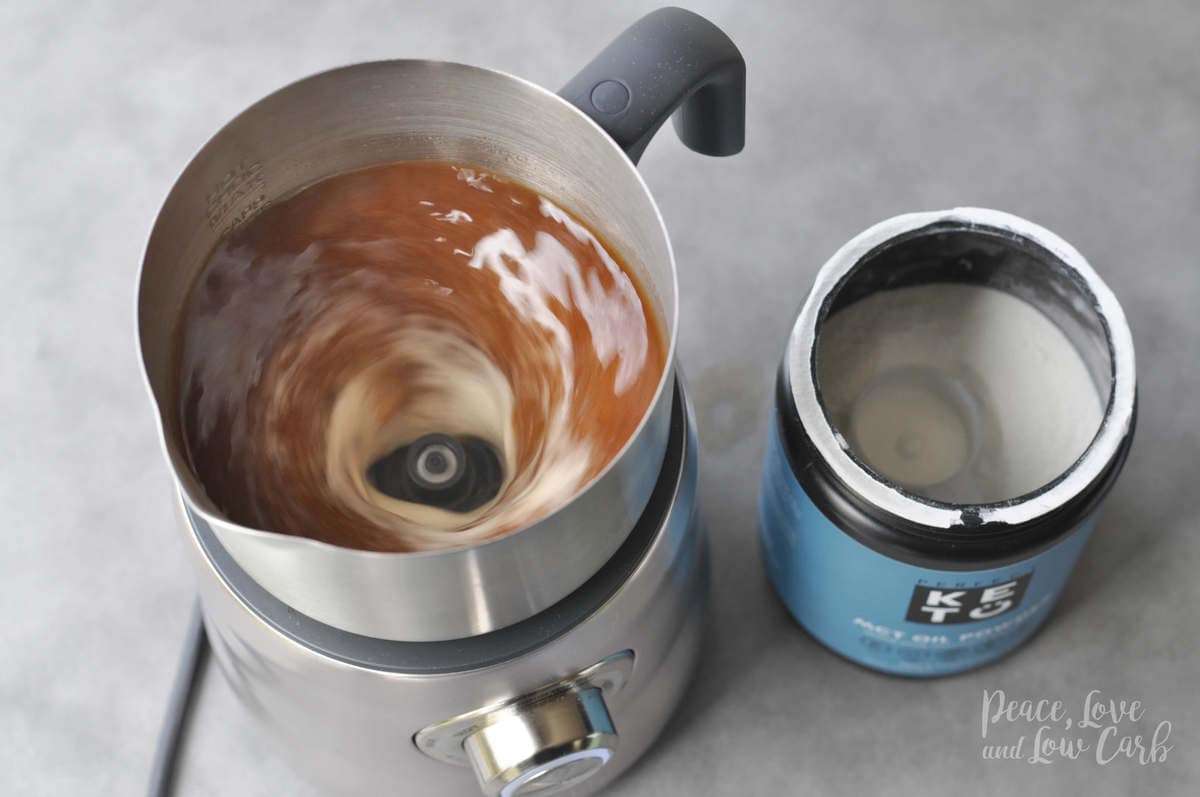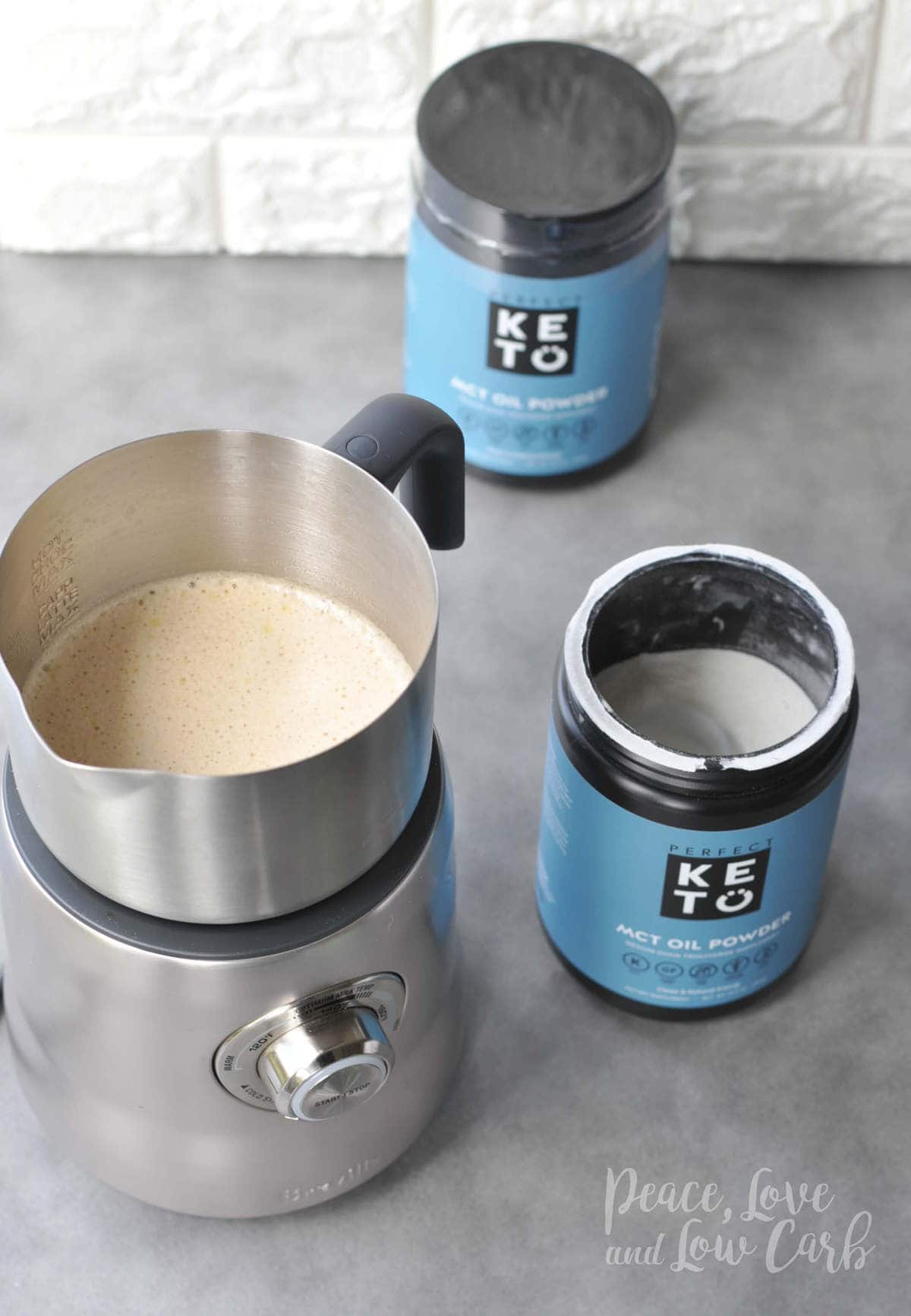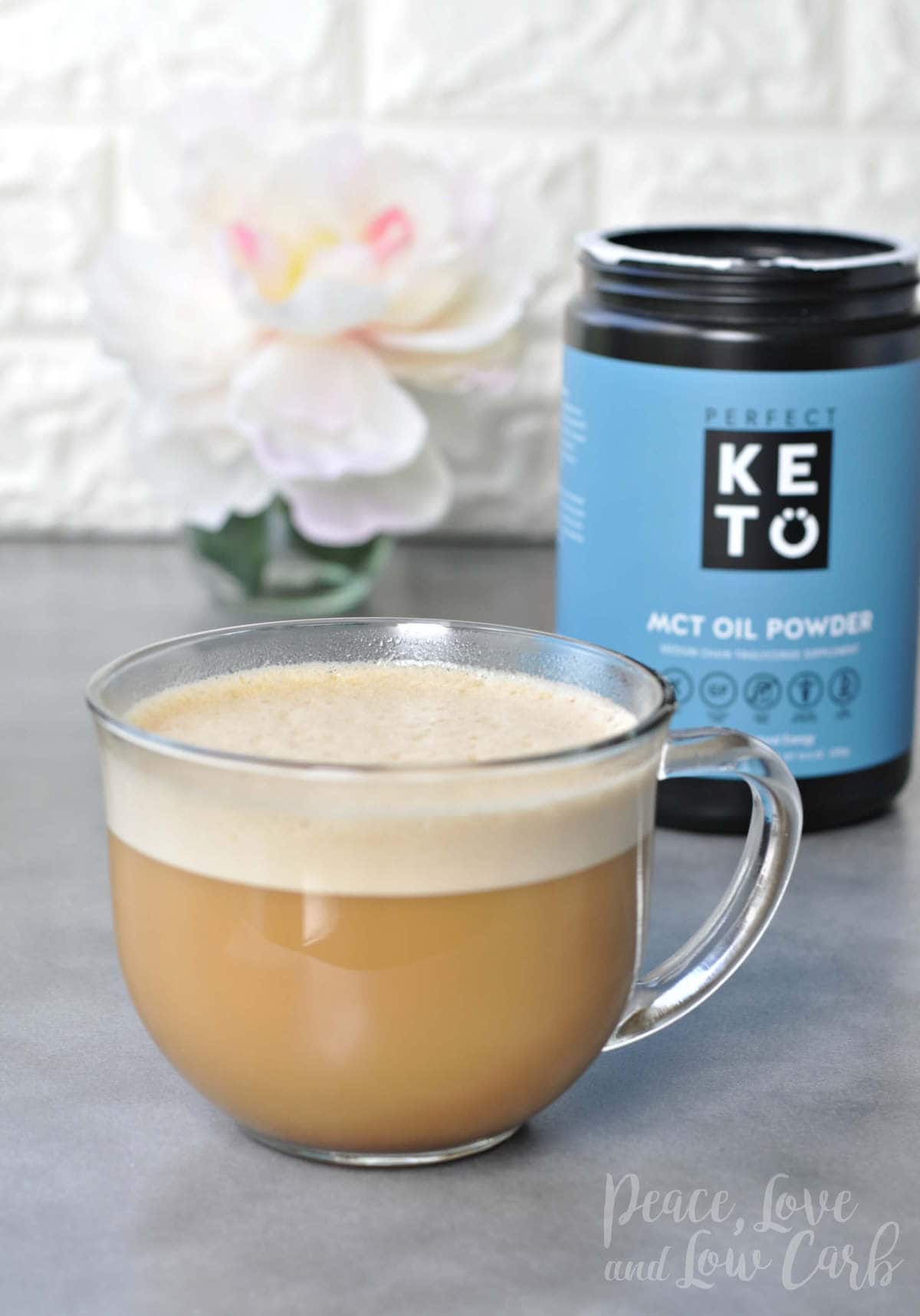 Perfect Keto Boosted Coffee with MCT Oil Powder
If you google terms like "Is Bulletproof Coffee Good For You?", "Benefits of Butter Coffee", "Should I drink Keto Coffee" or "What is BPC?", you will likely get a mixed bag of reviews. Some sites will tell you to drink it everyday and that it is a game changer when it comes to weight loss. Other sites will tell you that ingesting that much fat will make you fat. You will even find the middle of the road reviews that will tell you that it tastes good but really isn't necessary.
I find that it is a matter of personal preference. What works for some may not work for others; every body is different. For me personally, I don't like to eat first thing in the morning because I'm just not hungry. Without intentionally setting out to do it, I began intermittent fasting as part of my ketogenic lifestyle. I just started listening to my body and only eating when I'm hungry.
My intermittent fasting schedule
Most of my eating happens in an 8 hour window. I typically work on a 16/8 IF schedule, which means that for 16 hours, (typically about 8pm until about noon) I don't eat anything. Then my meals take place been 12pm and 8pm. If I am hungry outside of that window, then I eat. I listen to my body... and YOU should too! Well, you should listen to your body. I'll keep listening to mine 🙂
Typically, my first meal of the day is a butter coffee or boosted coffee as I like to call it. It keeps me fueled for my morning workout and leaves me feeling sated until lunch time. My routine tends to change by what sounds good, but my coffee almost always contains a big, fat serving of grass-fed butter ... pun intended.
From there I will either add coconut oil or MCT oil powder, some sort of flavoring, grass-fed collagen peptides (Read about the benefits) and usually a splash of heavy cream.
I mix it all up in my frother and enjoy the creamy goodness along with the boost of energy it brings with it. But lately I have been using this Perfect Keto MCT Oil Powder and I am loving it. It's not oily, it is portable and it is flavorless and odorless, so really I could get all it's vast benefits by adding it to just about anything. However, my favorite way to use it is in my coffee.
You can grab your Perfect Keto MCT Oil Powder here.
In addition to this Perfect Keto Boosted Coffee with MCT Oil Powder, check out some of my other favorite keto coffee recipes:
Print
Perfect Keto Boosted Coffee with MCT Oil Powder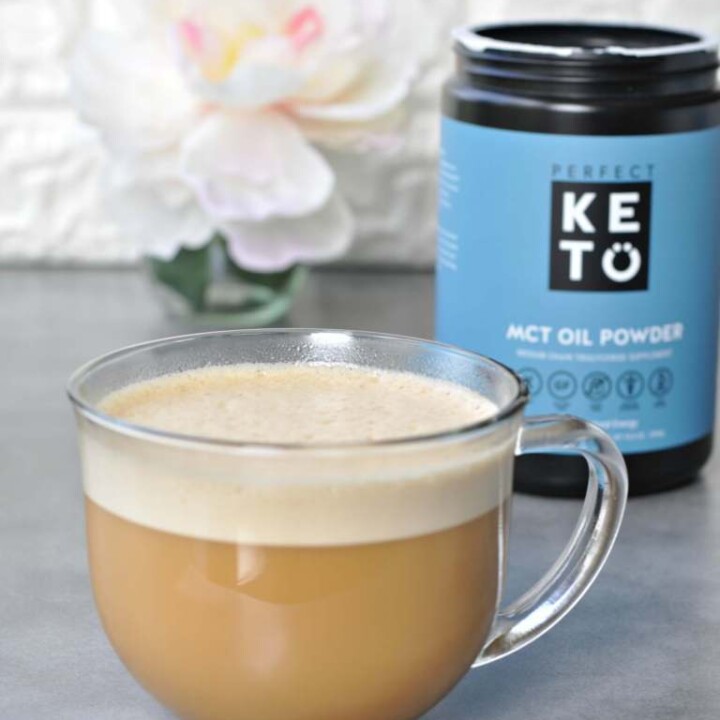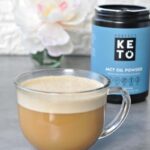 Instructions
Combine all ingredients in a blender or milk frother. Blend until smooth and creamy and ENJOY!!
Notes
0.2g net carbs per serving
Nutrition
Serving Size:

1 drink

Calories:

211

Sugar:

0.1g

Sodium:

10mg

Fat:

21.1g

Saturated Fat:

16.1g

Carbohydrates:

1.3g

Fiber:

1.1g

Protein:

1.2g