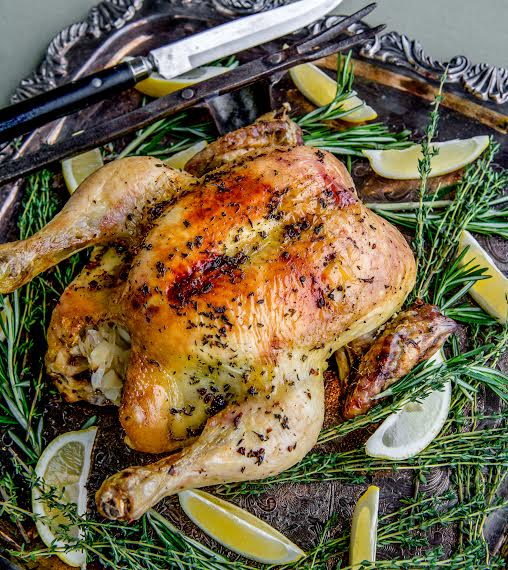 Today I am excited to preview a recipe from one of my fellow Page Street Publishing authors, Cindy Sexton.  She is the author of the upcoming cookbook Paleo Takes 5 or Fewer.  Her new book is the perfect fix for those of you that are looking for simple but incredibly flavorful paleo recipes.  Her new cookbook is full of recipes comprised of only 3, 4, or 5 ingredients.  Cooking doesn't get much easier than that!  Below is a sneak peek at one of the recipes from the book… Herb Buttered Whole Chicken Stuffed with Sauerkraut.  Without further ado…Here is Cindy!
Honestly, this is the best chicken I have ever tasted. Sometimes when you think of roasted chicken, the notion of dry or overcooked can come to mind. Not with this one! The addition of stuffing the bird with sauerkraut (thanks to my good friend, Susie), and the butter herbed mixture works like a charm. Crispy on the outside and juicy on the inside, this roaster will wow your dinner guests into wondering how you achieved such amazingness.
Print
Herb Buttered Whole Chicken Stuffed with Sauerkraut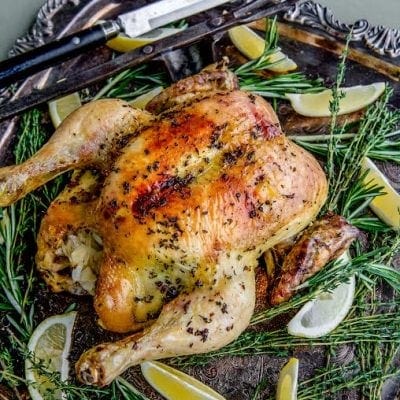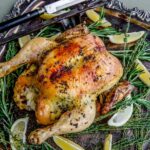 Scale
Ingredients
1

4 lb whole chicken

1/4 cup

cooking fat (we used butter)

1 tsp

chopped fresh rosemary

1 tsp

chopped fresh thyme

1

clove fresh garlic, minced

1 cup

raw sauerkraut
lots of sea salt and ground pepper
a squeeze of fresh lemon for garnish
Instructions
Preheat oven to 400°F
Take chicken out of fridge and rinse under cold water. Pat dry with paper towel. Let it sit and come to room temperature.
In a small saucepan, melt the butter over low heat. In the meantime, prepare your chopped herbs. Once butter is melted, pour it into a small glass bowl and add in your herbs and garlic. Whisk together.
Place chicken on wire rack in a roasting pan. Stuff the inside cavity of the chicken with raw sauerkraut. Using a silicone brush, coat the outside of the chicken skin thoroughly with herbed butter. Make sure to get all the little crevices and add the salt and pepper. You can also brush some butter underneath the layer of skin as well if you wish.
Place in oven and roast at 400°F (204°C) for first 20 minutes. Then turn down the tem- perature to 350°F (176°C) and continue to cook for an additional 60 minutes. The total cooking time is 20 minutes per pound. For accuracy, check internal temperature using a meat thermometer. Once 165°F (73°C) is reached, remove and let sit for 10 minutes before serving. Garnish with freshly squeezed lemon. Carve chicken and plate!
Notes
Nutrient Density Fact: Although typically consumed in smaller quantities, fresh rosemary is an excellent source of iron. It is also a good source of calcium, copper, manganese, vitamin C and vitamins B6 and B9.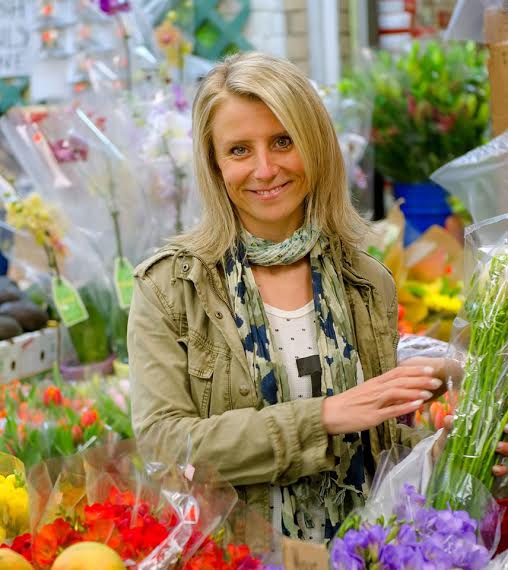 Save Time and Money with Healthy Paleo Dishes Using Fewer Ingredients
Sticking to the Paleo diet can be hard, especially when the recipes call for a lot of ingredients. Luckily, Cindy Sexton, creator of PALEOdISH.com, has numerous creative and delicious recipes that use very few so shopping and cooking are a snap.
You won't believe the incredible dishes you can make with five or fewer ingredients, including: Gingered Balsamic Date Glazed Chicken Legs, Pork Belly With Creamy Garlic Mashed Potatoes, Bacon-Crusted Chicken Strips, Mushroom and Sausage Beef Roll and Buttery Lamb Chops Infused with Mint and Lemon. Cindy gives you ingredients that have the most nutrient density so each recipe packs a healthy punch. Sticking to the Paleo diet has never been so easy.
Check out her new book – Paleo Takes 5 or Fewer – Now available for pre-order HERE