Todays Paleo Turkey Pot Pie Recipe is a guest post comes from Cristina Curp, the face behind the popular paleo blog The Castaway Kitchen. This girl knows her food. She takes beautifully drool worthy food pictures and creates delicious and healthy low carb and paleo recipes with easy to source ingredients. Not to mention, she lives in my happy place - Hawaii. Given that Hawaii and food are 2 of the things in my top 5 all-time favorite things ever, having her guest post was a no-brainer. Her extreme talent was just icing on the low carb cake. Be sure to also check out a couple of her other recipes that I really love - Italian Breakfast Burger and Mustard Sauce Chicken Thighs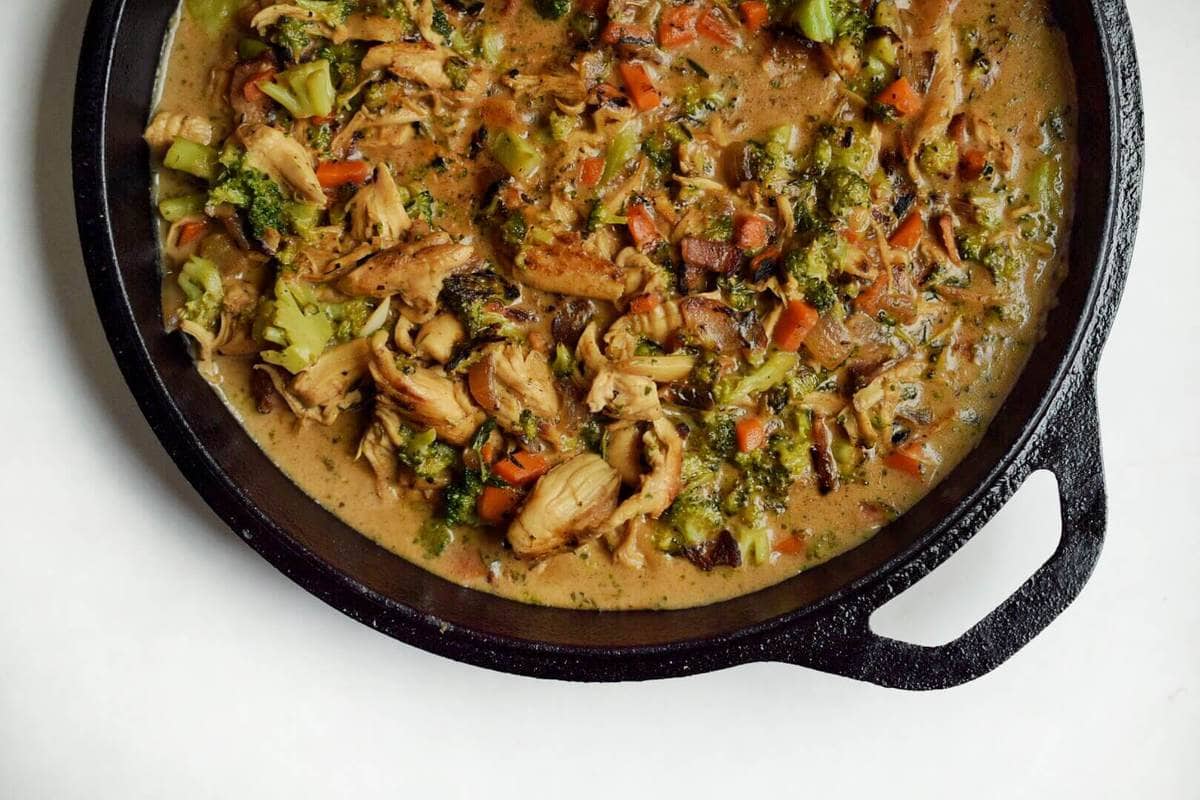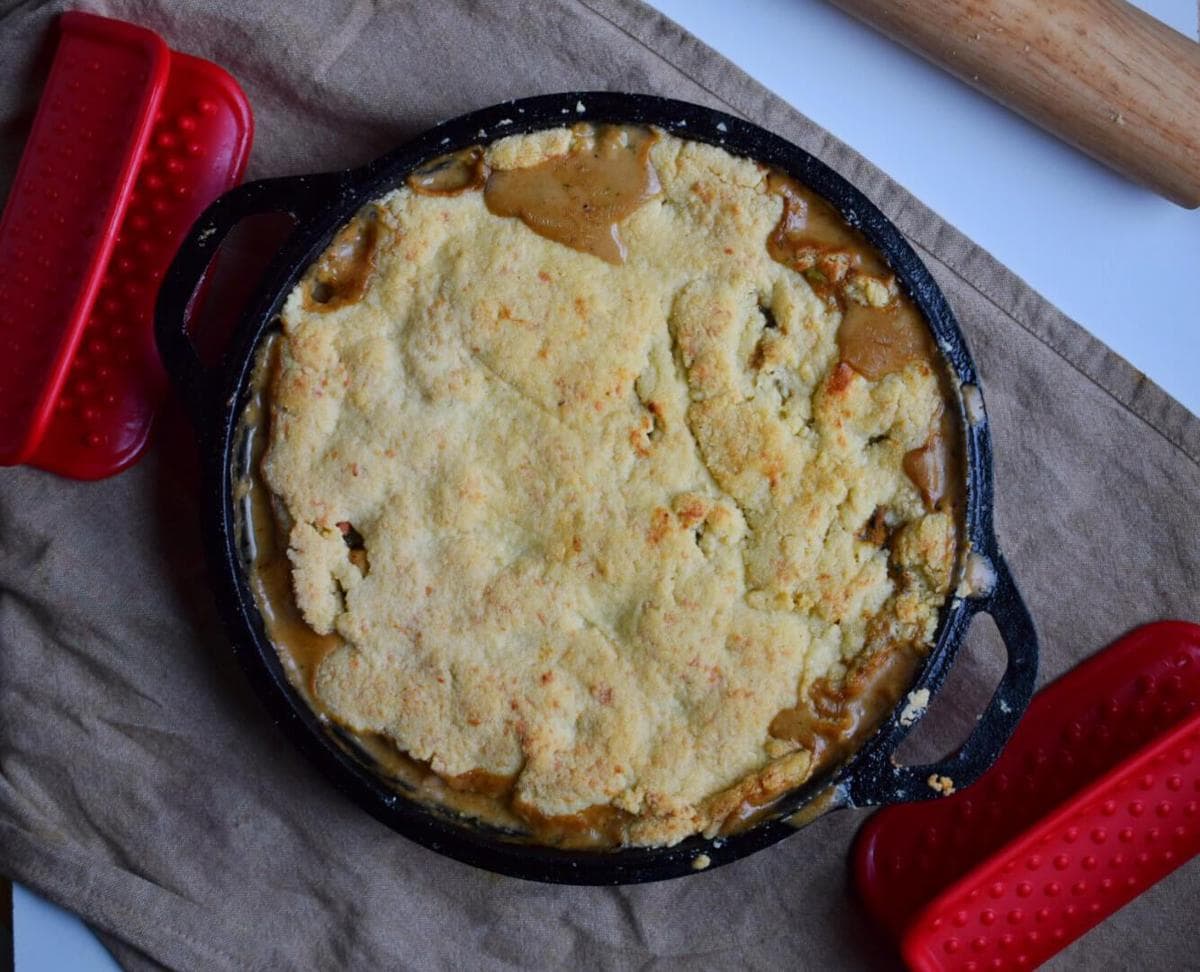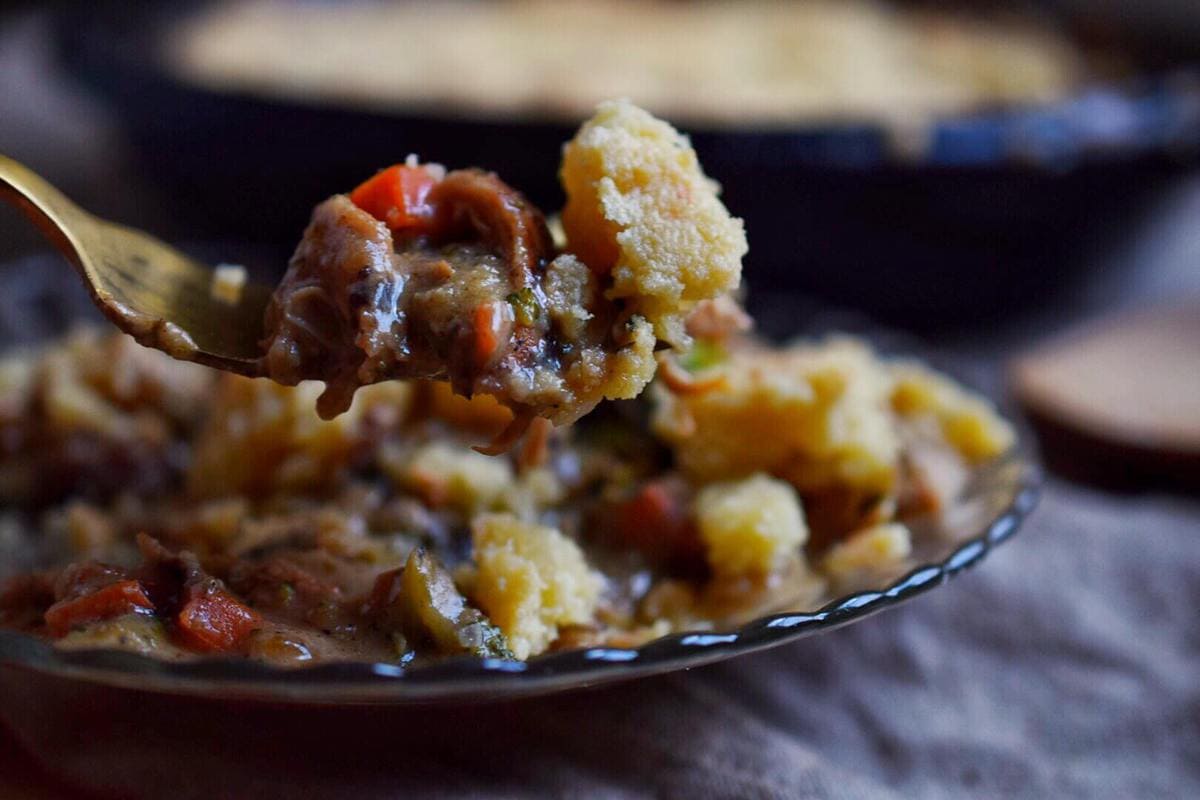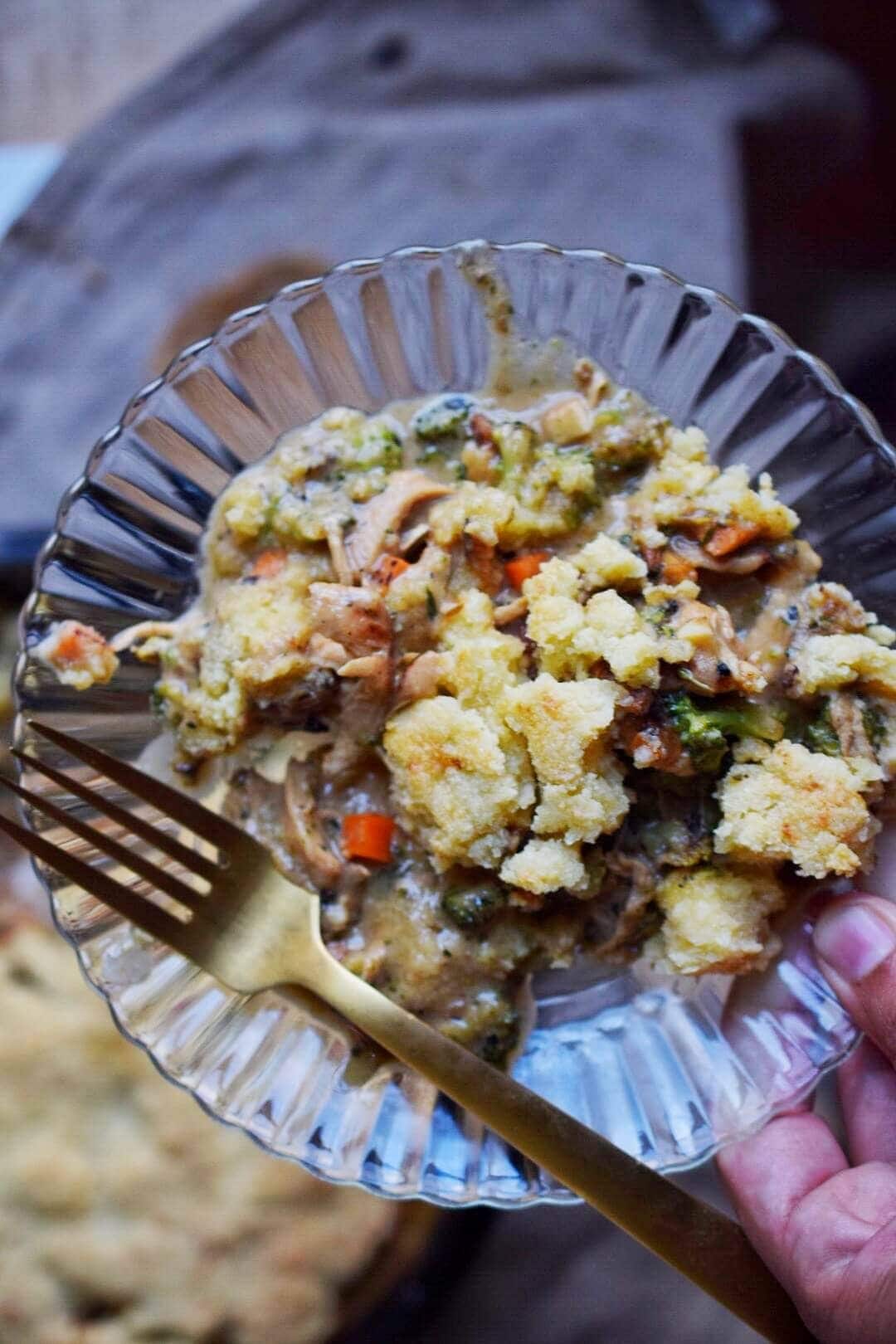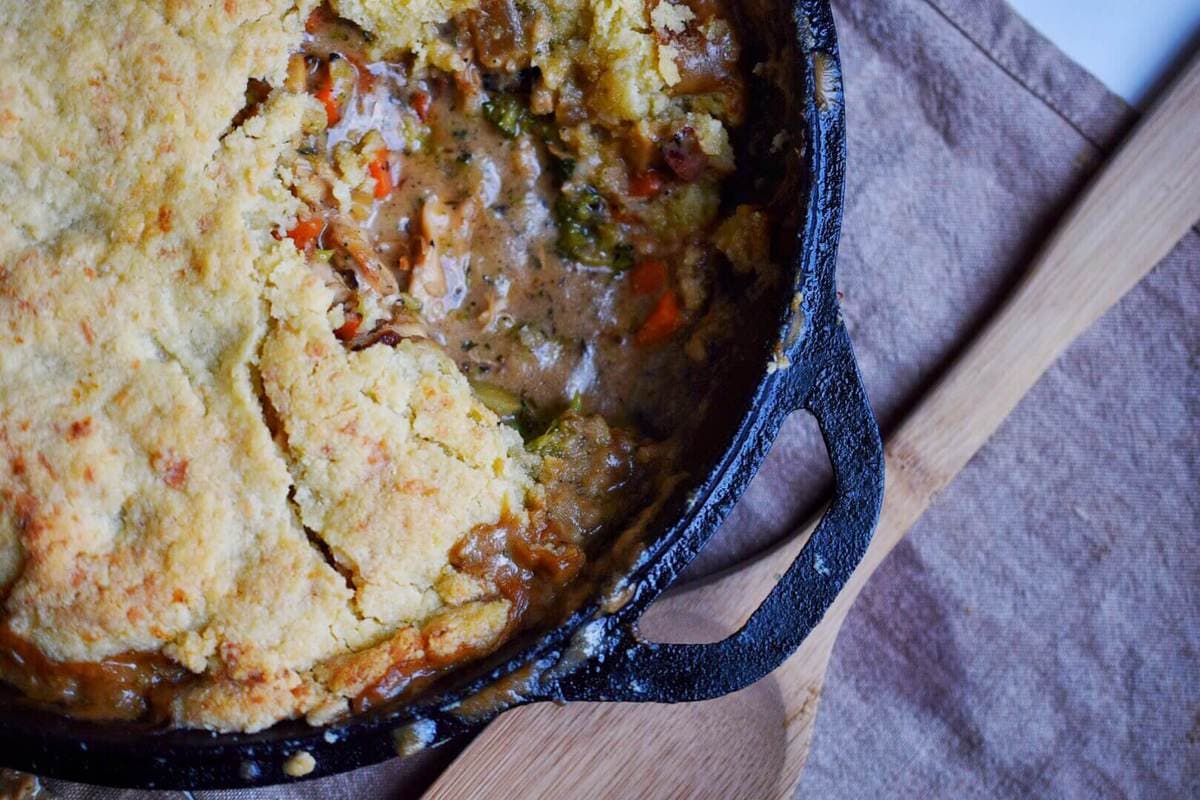 About: Chef, Wife, Mama, Eater & Dreamer. Cristina has found health, happiness and vitality through a low carb paleo diet. Suffering from a painful autoimmune disease most of her life, and learning the connection between diet, gut health and her skin condition was life changing, now she spends her days cooking and spreading the healing goodness. Find more delicious recipes on her site: Castaway Kitchen, Follow along with her cooking adventures on Facebook. For drool worthy food porn, follow her on Instagram: @thecastawaykitchen.
From Cristina: This warm and flaky comfort food classic is the perfect vessel for your leftover turkey! With a no fuss, low carb crust and a creamy filling, it's a dish the whole family will enjoy!
A couple notes on substitutions for the Paleo Turkey Pot Pie:
In place of the Primal Palate Super Gyro seasoning, you can also substitute ½ tbsp Italian seasoning or ½ tbsp herbs de Provence + ½ tsp salt)
In place of the turkey, you can use shredded chicken
In place of the cashew milk, you can use any thick, store bought nut milk
In place of the bone broth, if you don't have any fresh on hand, you can use any organic store-bought stock in a box.
Print
Paleo Turkey Pot Pie – Low Carb, Keto
Prep Time:

20 minutes

Cook Time:

20 minutes

Total Time:

40 minutes

Yield:

6

Servings

1

x
Scale
Ingredients
Filling
4

slices bacon

½

large onion

1

large carrot

2 cups

broccoli florets

2 cups

shredded turkey

2

garlic cloves

5

sprigs thyme

½ tsp

ground sage

1 tsp

salt

1 cup

cashew milk

1 ½ cup

bone broth
Rue
Crust
1

heaping cup almond meal

⅓ cup

unsweetened shredded coconut (get it here)

¼ cup

ghee or softened grass-fed butter
Instructions
Heat a large skillet or pot on the stove. This doesn't have to be where you will bake the pie.
Dice the onion, carrots, broccoli and garlic into small pieces.
Measure out seasonings, broth and milk.
Cut bacon and heat in a large pot on high until par cooked.
Add in the onions and carrots, sauté for five minutes then add in the garlic and broccoli.
Sauté, stirring for another five minutes. Add in the turkey and seasoning.
Stir, and cook until the vegetables begin to brown.
Add in the cashew milk and 12 oz broth broth, lower the heat to medium, cover and let it simmer.
In a separate small pot or skillet, heat your tbsp of ghee, whisk in the arrow root starch and then the broth to make a rue (a thick base for your sauce), quickly add that in to your simmering turkey and vegetable pot. Whisk it in until it's fully incorporated. The sauce will quickly thicken.
Cover and let it simmer for 5-10 minutes.
Transfer turkey mix to your baking skillet or pie dish.
In the meantime pre-heat oven to 400°.
Combine all the crust ingredients in a bowl and mix with your fingers until a dough forms. Roll the dough into a large ball. Using a rolling pin, flatten between parchment paper to the diameter of the pot or skillet where you will make the pie
Laying the the crust between parchment paper on the counter, lift one side of the parchment paper off carefully then put it back down. Flip over and do the same thing. This ensures your crust won't stick to the paper when you flip it on the pie.
Now, remove one sheet of the paper from the flattened crust, flip it over onto the pie.
Carefully remove the second sheet. It will probably crack, that's ok, use your fingers to repair the cracks as best you can!
This is not your average crust dough, it will be very soft as it's held together by ghee, but it will bake up beautifully!
Bake at 400° for 20 minutes or until crusts is golden brown.
Notes
Per Serving - Calories: 239 | Fat: 18.4g | Protein: 10.6g | Total Carbs: 10.2g | Fiber: 3.9g | Net Carbs: 6.3g