[sg_popup id="7″][/sg_popup]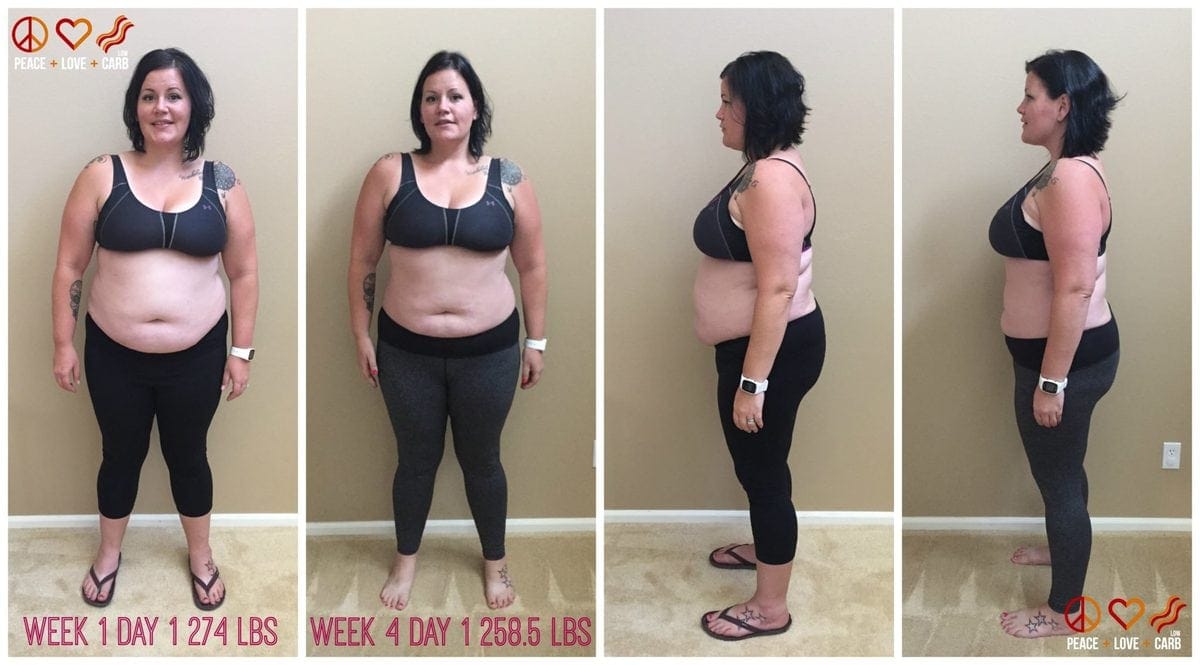 If you are just starting to follow along on my weight loss journey, I recommend starting with these posts first – Coming Clean Post     Week 1     Week 2     Week 3. Also, make sure you are following along on Instagram.
Weigh in day!! I find myself getting really excited for weigh in day. Call me crazy! I lost 4.5 lbs over the last week. This brings me to a total of 15.5 pounds in 3 weeks. I am noticing the changes in my body already and it feels amazing. Last week I talked about the importance of words and ignoring the trolls. This week, the trolls were out again. I was accused of photoshopping my body. I didn't hang on those words for even a second. I laughed and thought to myself "I have arrived! Only 3 weeks into my journey and I am being accused of photoshopping myself." I took it as a great compliment… the fact that my results were so impressive in just three weeks time, that someone would think it wasn't real. WINNING!
That being said, I also wanted to talk about having realistic expectations as it pertains to weight loss. When I posted this weeks update photo, someone commented on it and said "I have only lost 10 pounds in 3 weeks. What am I doing wrong?" I quickly responded with "10 pounds in 3 weeks is amazing. It doesn't sound like you are doing anything wrong to me." 3 pounds a week is spectacular! 3 pounds a week would equal 60 pounds lost in just 5 months time. 5 MONTHS! I can't even count how many times 5 whole months have passed in the blink of an eye. Wasn't it just April?
Shows like The Biggest Loser and Extreme Weight Loss have given people false expectations of what losing weight should be like. The contestants on these shows are training for hours on end. It is their only job for the time they are there. Their calories are restricted, and their bodies tested. Many of them come back home, only to gain all of their weight back when they sink back into "real life".  If you are comparing your numbers to the numbers you see on these shows each week, you are setting yourself up for failure. Their results are not typical. Even 3 pounds a week is still above average. 3 pounds a week is completely reasonable and will likely lead to lasting change. It gives you time to changes your habits, make a routine, and seamlessly blend into your new life and your new body. Be proud of your 1, 2, or 3 pounds per week. Be proud of any movement or action that takes you in the right direction. Don't be so hard on yourself. Most importantly, stop comparing yourself to others. You should all know by now that I love quotes. There are two very powerful quotes that come to mind for this topic
"Comparison is the thief of Joy" – Theodore Roosevelt.
"The reason we struggle with insecurity is because we compare our behind-the-scenes with everyone else's highlight reel." – Steven Furtick
Last week I also talked about not being a slave to the scale and letting it define you. There are so many other amazing benchmarks of progress besides just a silly number on a scale. The scale will never be able to tell you how capable, beautiful and strong you are. Do me a favor? Wrap your arms around yourself and squeeze tight. Sending you all hugs!
Wednesday 9/2 – Day 22 – Week 4 Day 1 Weigh In
Starting Date: 8/12/15
Starting Weight: 274 lbs
Current Weight: 258.5 lbs
Pounds Lost: 15.5
Pounds to Goal: 84.5
Goal Weight: 174
Goal Date: 8/27/16
Height: 5′ 9″
Todays workout:
Today was a rest day. We ran some errands and I still got about 6000 steps in for the day. Not bad for a rest day.
What I ate:
For dinner, we were going for something quick and easy. I made crab stuffed flounder (from Trader Joes) and a simple salad with romaine, yellow and orange bell peppers, sun-dried tomatoes, kalamata olives, bacon and raw cashews. I topped it with the Lemon Garlic Vinaigrette from The Primal Low Carb Kitchen Cookbook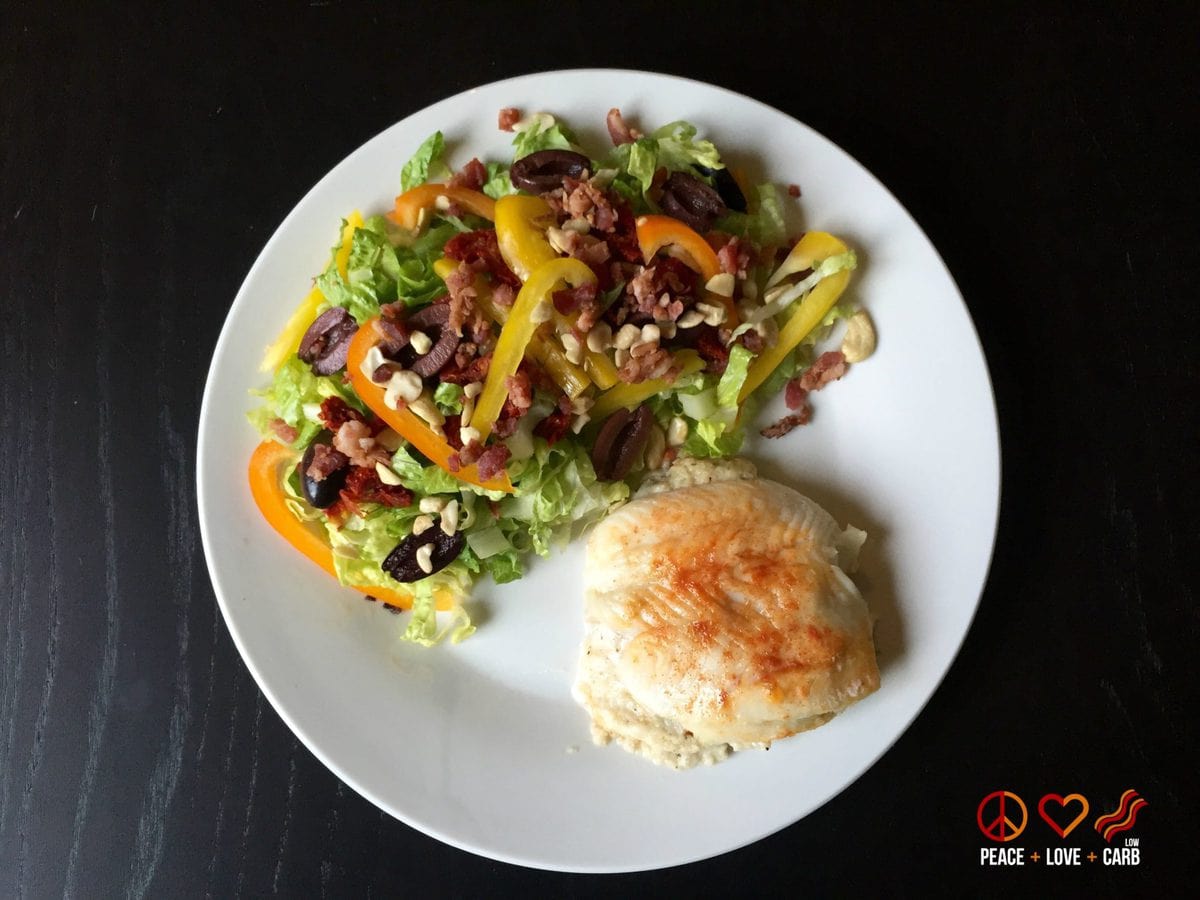 ---
Thursday 9/3 – Day 23
Todays workout:

After an abnormally hot, record breaking summer here in the Seattle area, we have finally hit with a cooler patch over the last week and even got a decent amount of rain. The rain has kept me from riding the new bike I got for my birthday last week. It has also kept most of workouts indoors. I love getting out for nice, long walks. I crave them. It is my "me time"… a little time to decompress, be alone with my thoughts and get caught up with my favorite podcasts. Today I saw a small window of opportunity to get outside and put my feet to the pavement, so I took it. The clouds looked ominous and the sky couldn't seem to decide it it wanted to open up and unleash a downpour, or clear up and let the sun work its magic.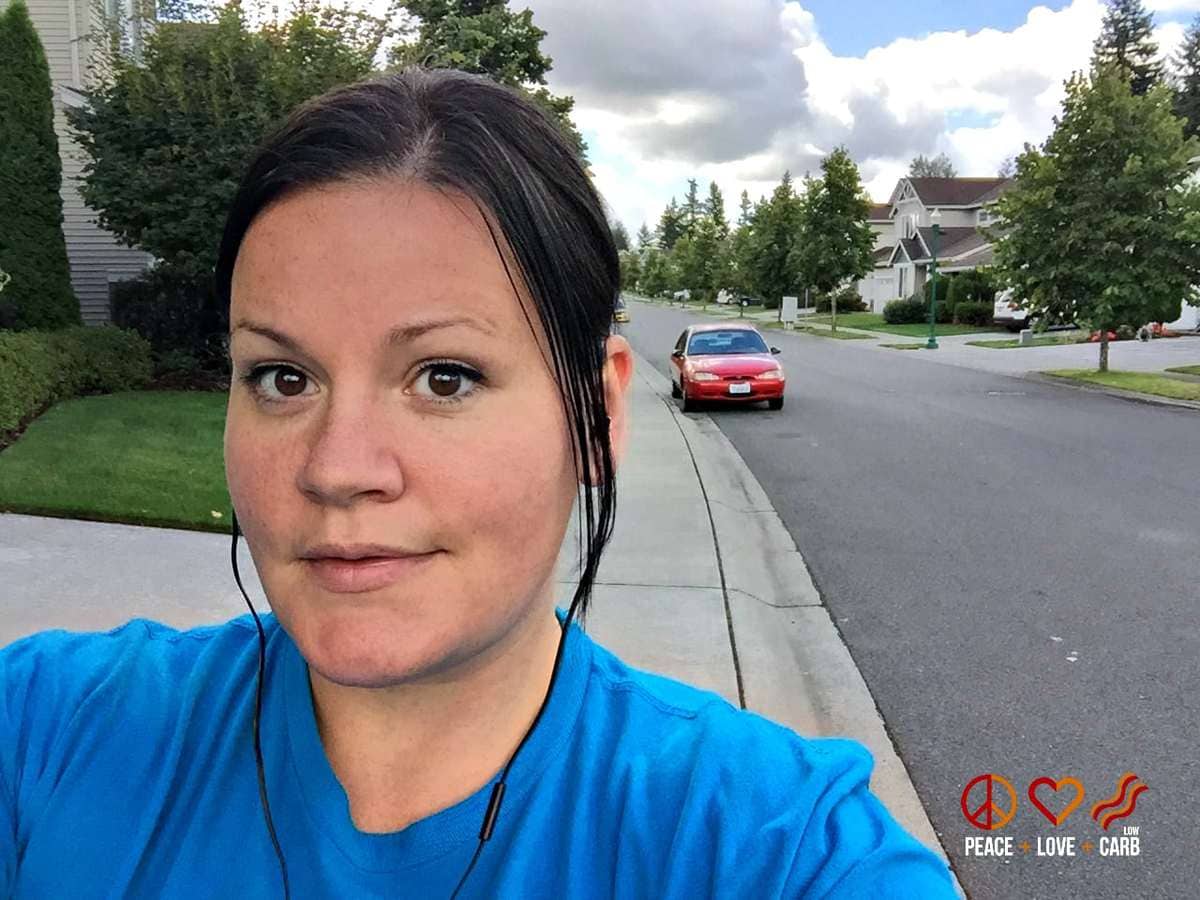 Would you believe me if I told you that the picture below is completely unfiltered? How gorgeous is that? I looked up at the sky and was instantly reminded that there is always a silver lining to everything. I stood there for a moment in absolute awe of the beautiful sky and the way the clouds were illuminated.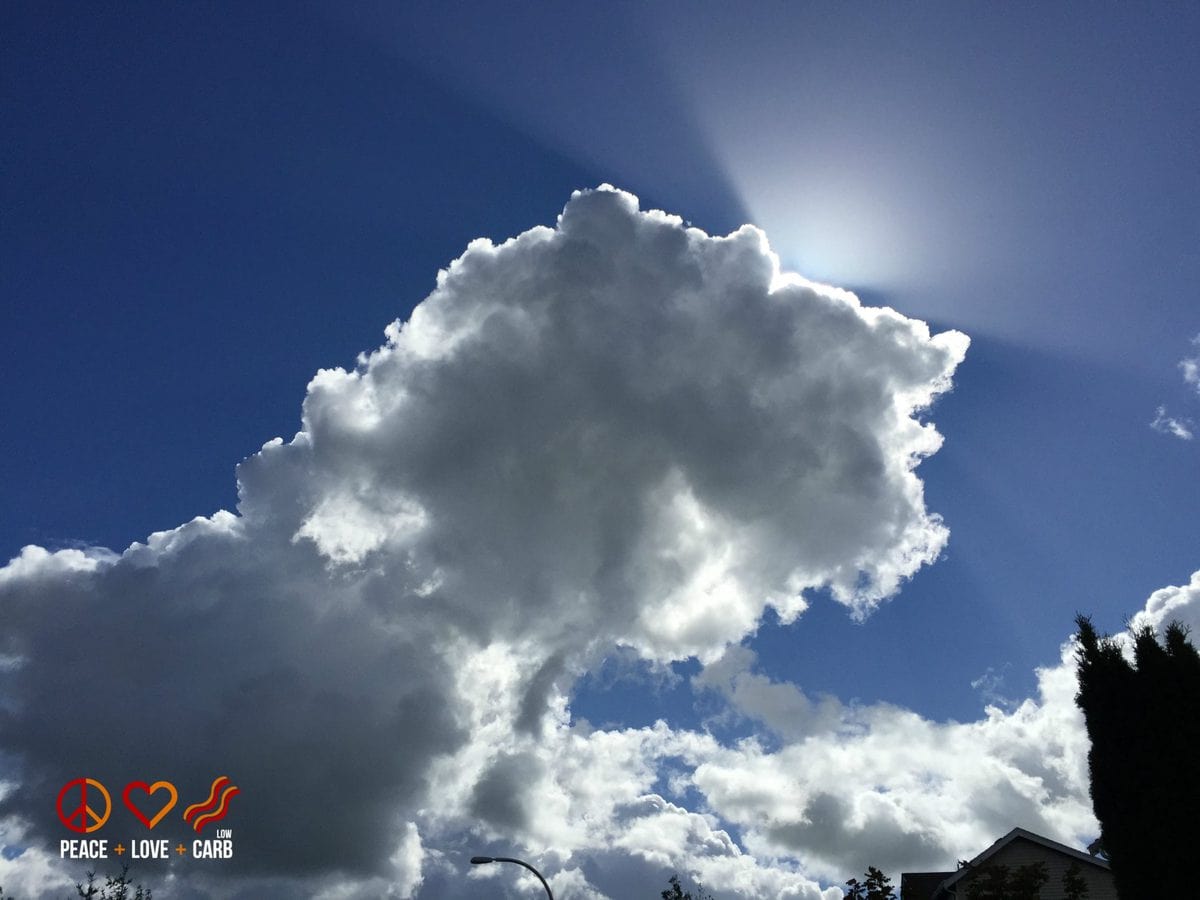 Workout –
4.39 Mile Walk
10 Minutes Rebounding
What I ate:
I have been talking about essential oils a lot in prior weeks posts. They are a huge part of my everyday health and wellness and are playing a big role in my weight loss journey. Just when I think I couldn't possibly find another use for them, a little gem like this lands in my virtual lap. Yesterday in the Peace Love and Low Carb Friends Group someone posted a graphic for Pumpkin Spice Creamer. It just so happened to be low carb and contain essential oils… my two favorite things! I knew I had to put my own spin on it and give it a try. The end result was something that I will probably drink every day through fall and summer. It made my coffee nice and creamy like a latte.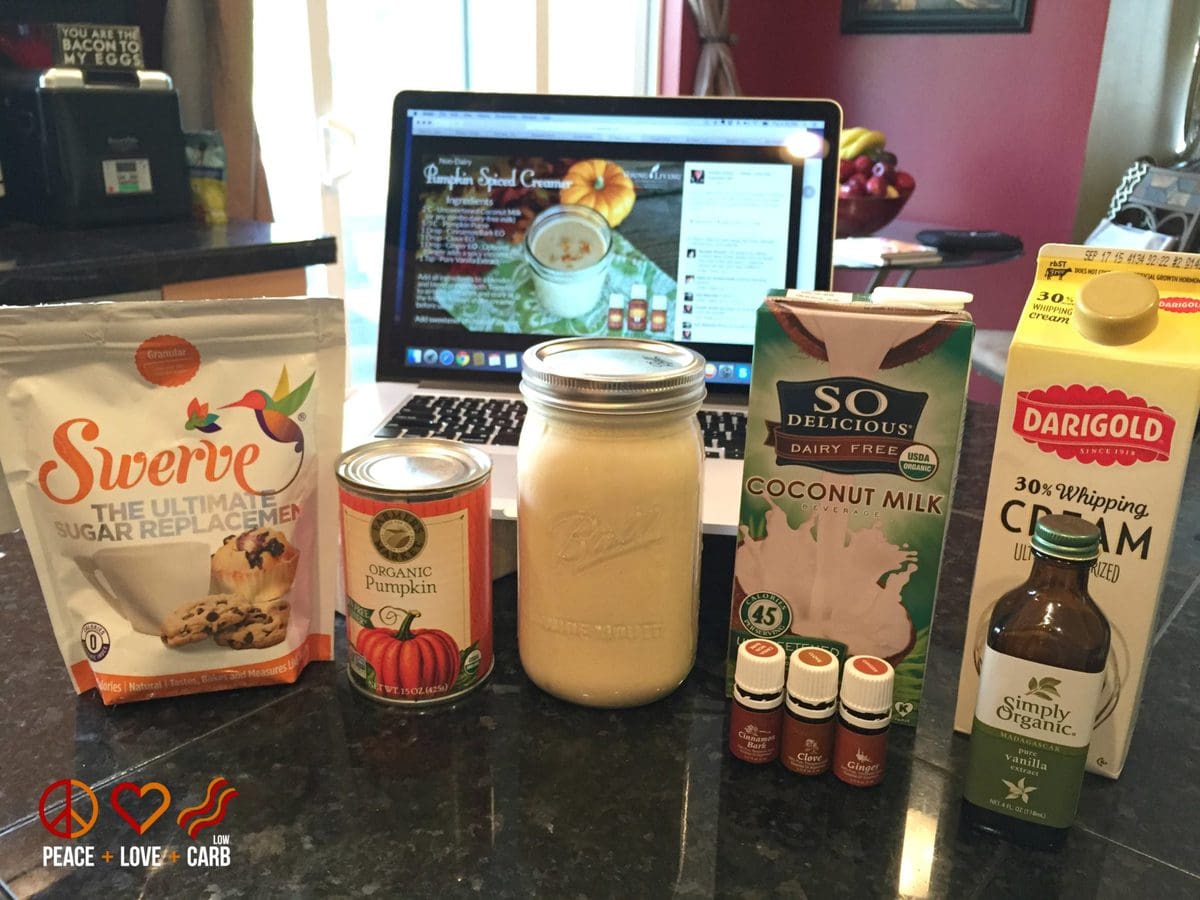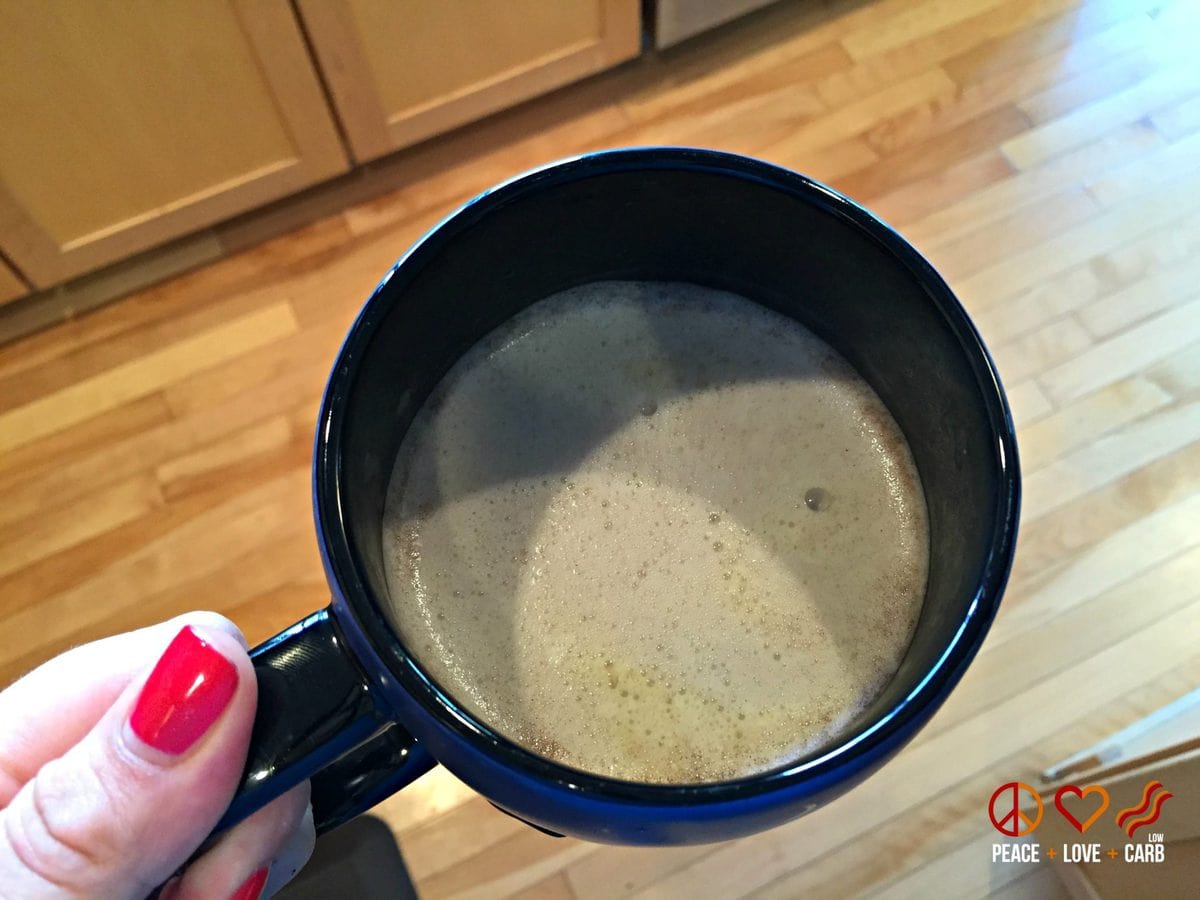 All day today I was craving a chopped salad from one of our favorite restaurants. I couldn't get it out of my head. What do you do when you want your favorite chopped salad, but you are committed to eating healthy, saving money, and eating at home? You get in the kitchen and make one, of course. I threw one together with items we already had on hand. I used romaine lettuce, salami, chicken, sharp white cheddar cheese, sun-dried tomatoes, red and yellow bell peppers, kalamata olives, chives and pepperoncinis. For the dressing I mixed together a little caesar and balsamic vinegar. Delish!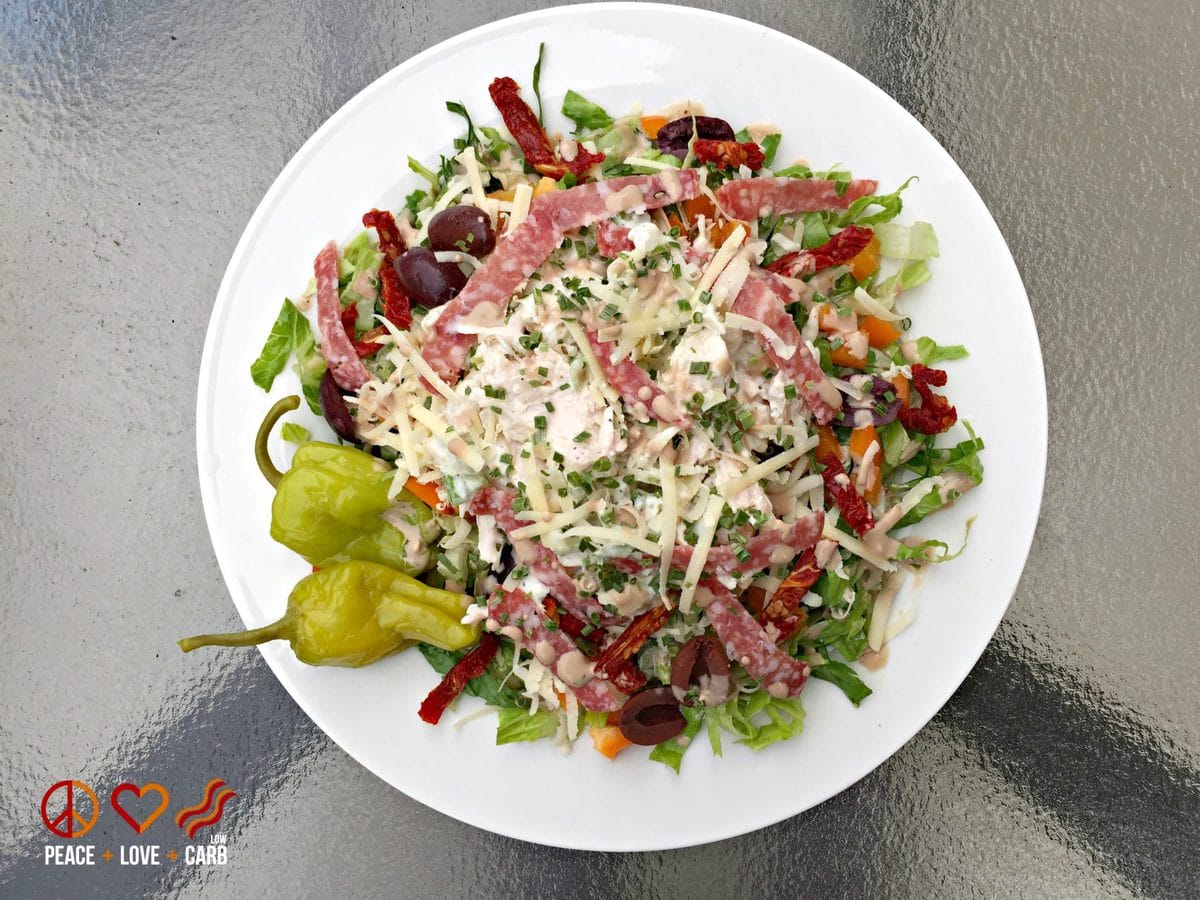 ---
Friday 9/4 – Day 24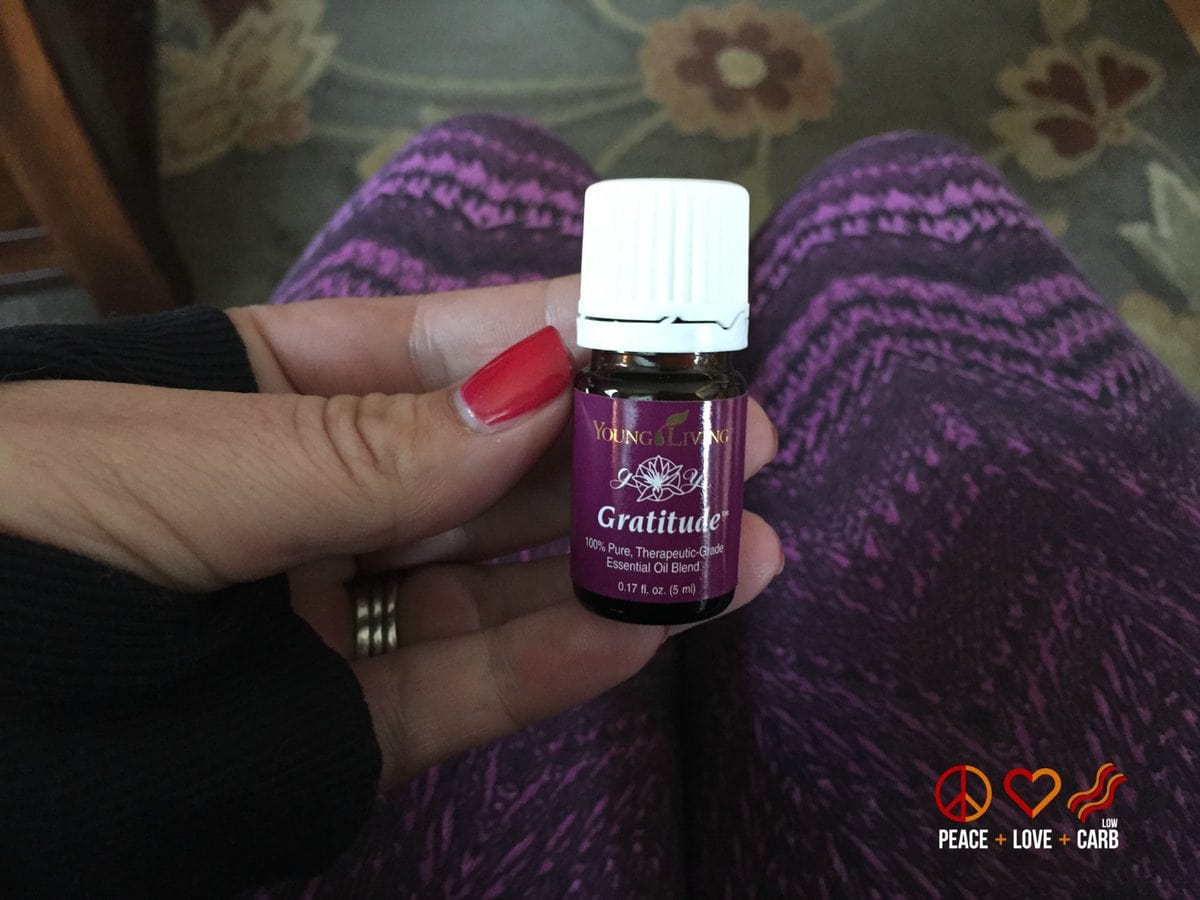 An "Attitude of Gratitude" is something I try to wear as often as a friendly smile. Gratitude will take you far in this life. I am going to start adding some daily gratitude into all of my posts.  Tonight I am grateful for all the amazingly supportive people in my life.
Gratitude Essential Oil – (a blend of Idaho Balsam Fir, Frankincense, Myrrh, Galbanum, Ylang Ylang, and Rosewood) is designed to elevate, soothe, and bring relief to the body while helping to foster a grateful attitude. It is also nourishing and supportive to the skin. Learn more – here
Acknowledging the good that you already have in your life is the foundation for all abundance –  Eckhart Tolle"

Todays workout:
Today I got a good sweat on. It is amazing how intense a 17 minute workout can be. I am finally feeling like working out has become habit again. It is just another part of my day that is non-negotiable. Just like putting my contacts in first thing in the morning. I also feel my strength and endurance coming back. It makes me even more excited for the future.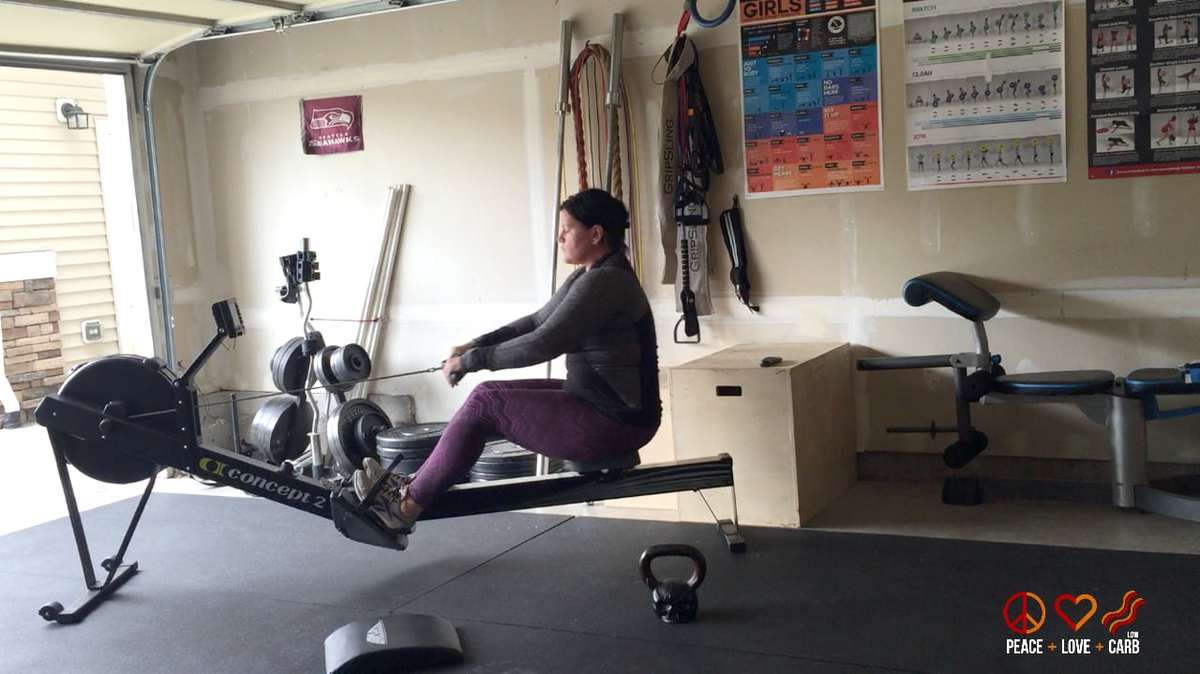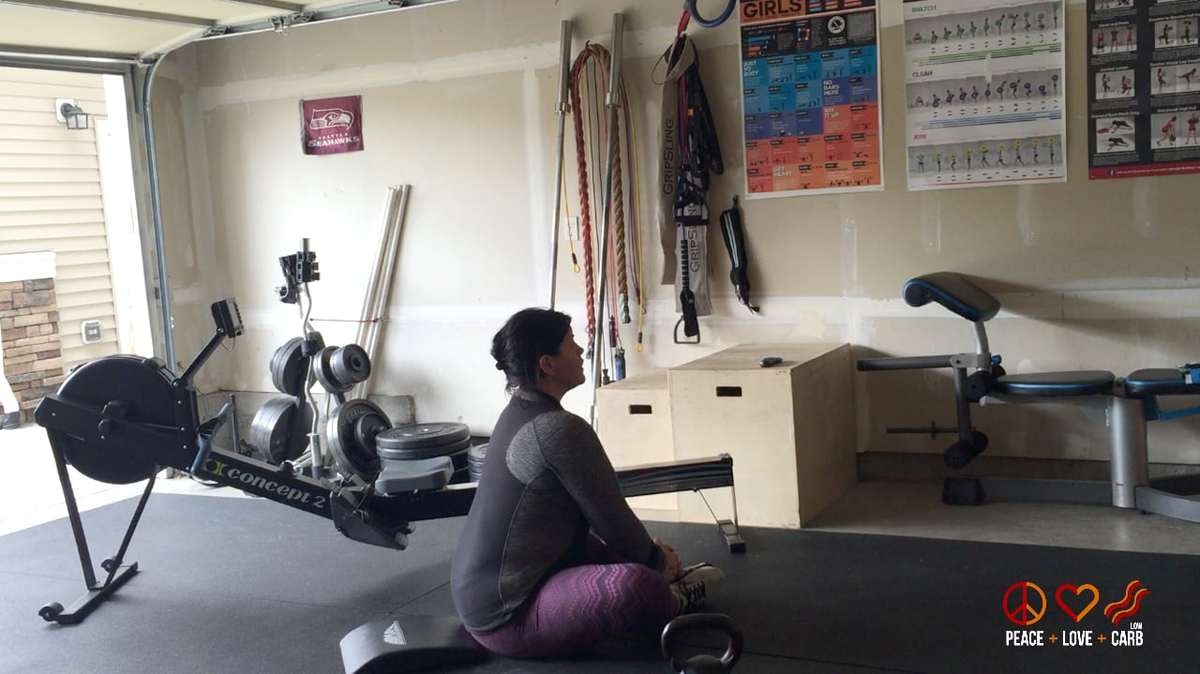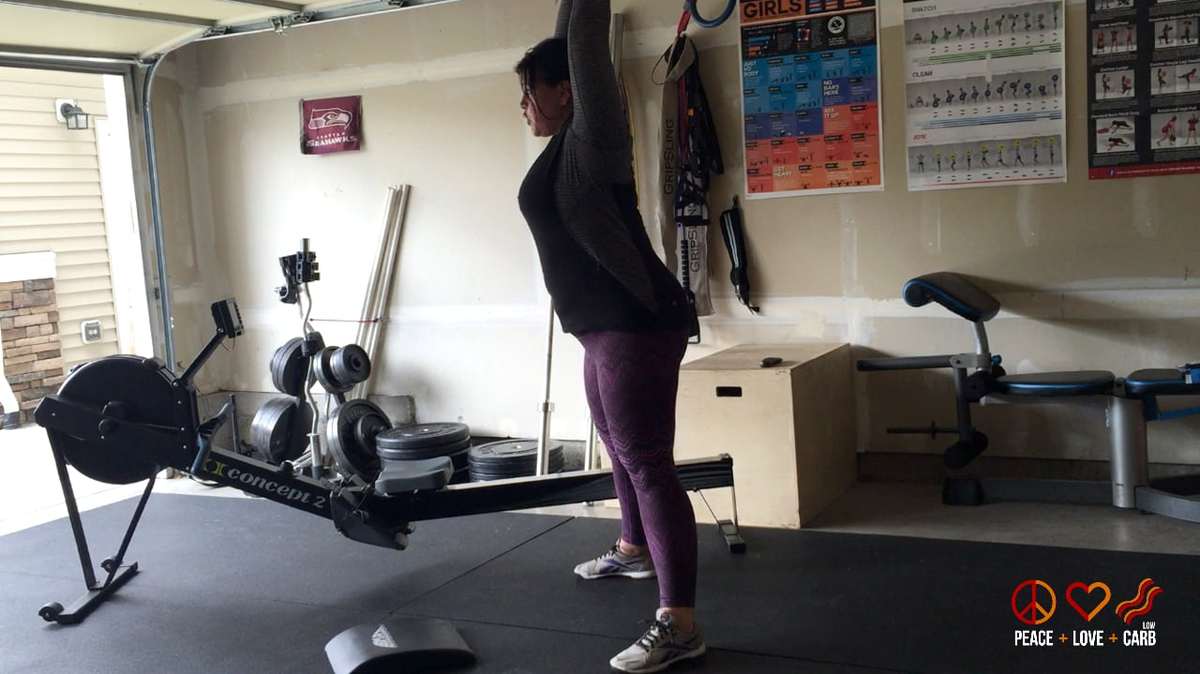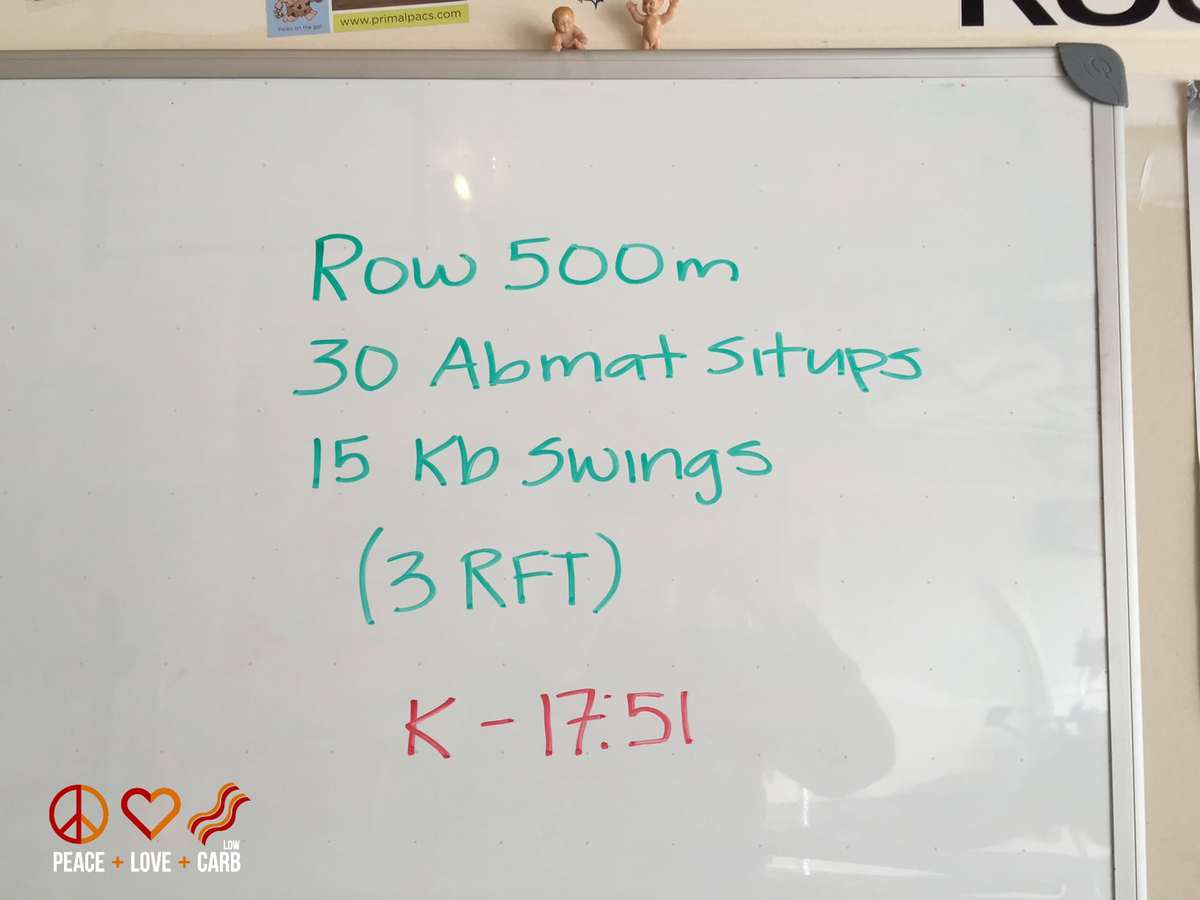 Workout –
Row 500m
30 Abmat Sit-ups
15 Kettlebell Swings
( 3 Rounds for Time) – Finished in 17:51
10 Minutes Rebounding

What I ate:
Seared scallops with bacon… need I say more? The family ate pork chops and I had a delicious love affair with my favorite shellfish. I could seriously eat them all day. For lunch I had a Reuben Chopped Salad. There is even leftovers for tomorrow.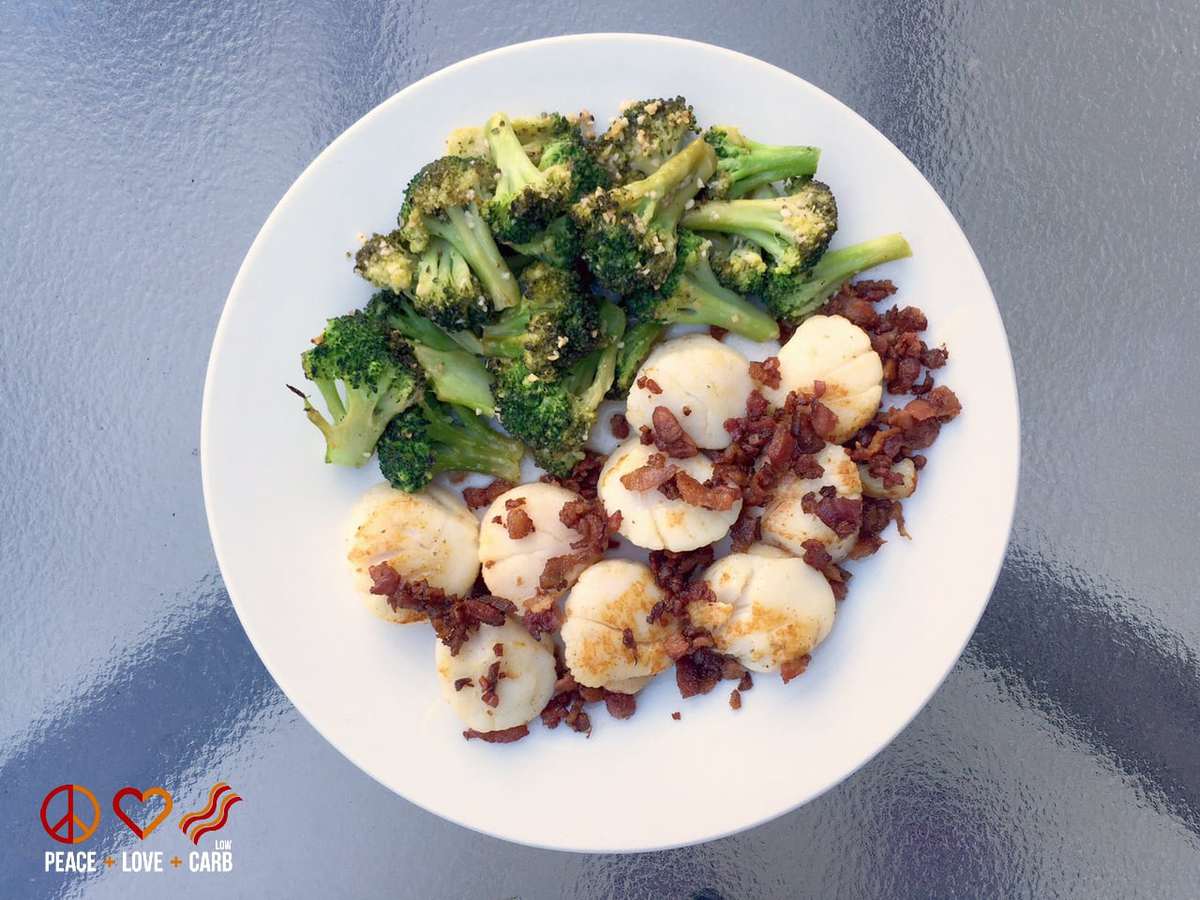 ---
Saturday 9/5 – Day 25
Daily Gratitude:
Today I am grateful for my 4 crazy pups. They bring so much joy to every single day. What are you grateful for today?
Todays workout:
Today we had a lazy day around the house as a family. We went on a walk and took one of the pups. We went to round up some last minute school supplies. 2 mile walk with a purpose and family time all in one. We came home, ate a healthy lunch and had a "Person of Interest" Netflix marathon. It was a beautiful Saturday. In week 3 I talked a lot about finding balance in this journey. I am an imperfect human being and most days are not balanced for me, but today was and it felt great.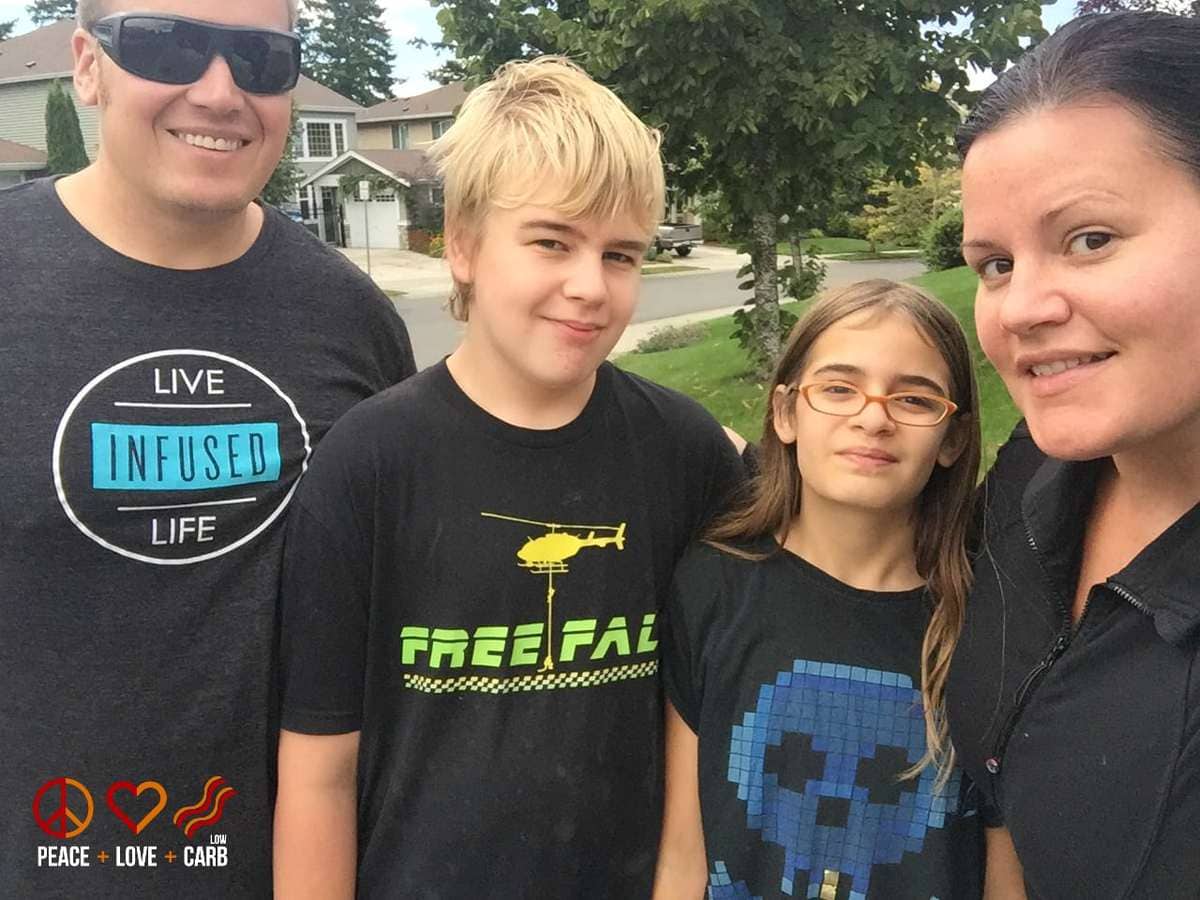 Workout –
2 mile walk
10 Minutes Rebounding
What I ate:
I have been diligent about getting my daily Ningxia Red in. I feel so, so much better when I drink it everyday. The serving size is only 2 oz and that is really all you need. Depending on my activity level, I will drink two servings per day, one in the morning and one in the evening. The 2 0z serving is just 3 net carbs. I give it to my entire family and our pups.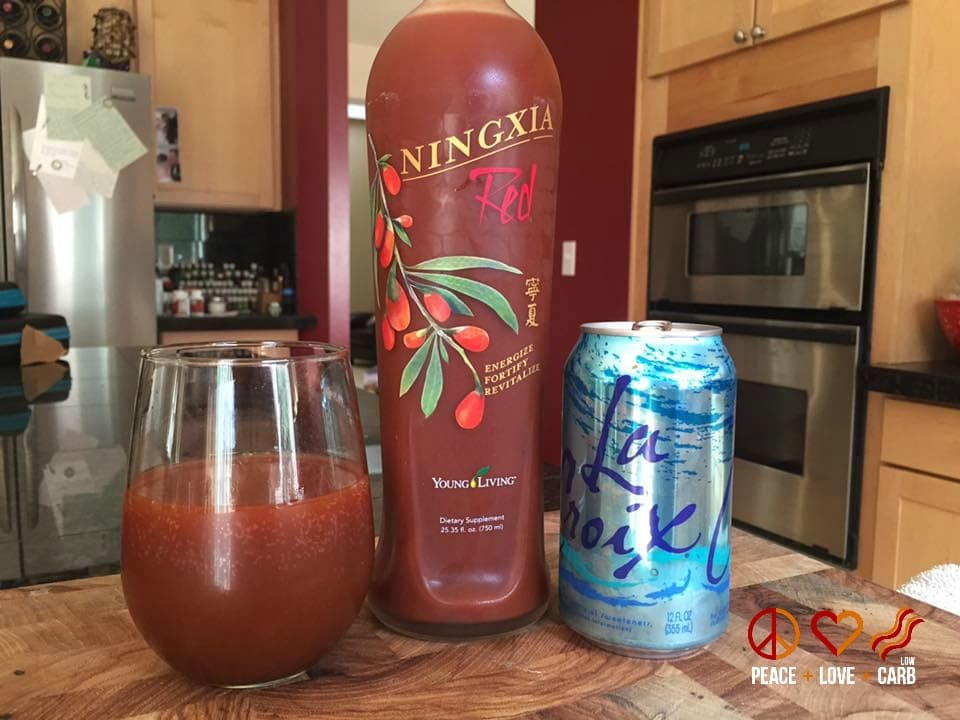 Today I was craving biscuits in a major way. I wanted some good ole' fashioned comfort food. No surprise there huh? Considering that I wrote an entire cookbook of lowcarb comfort food recipes? I whipped out my muffin top pan and went to work. You can find the recipe for these White Cheddar Sausage Breakfast Biscuits – Here. I just love it when a family breakfast turns into a new recipe for my blog.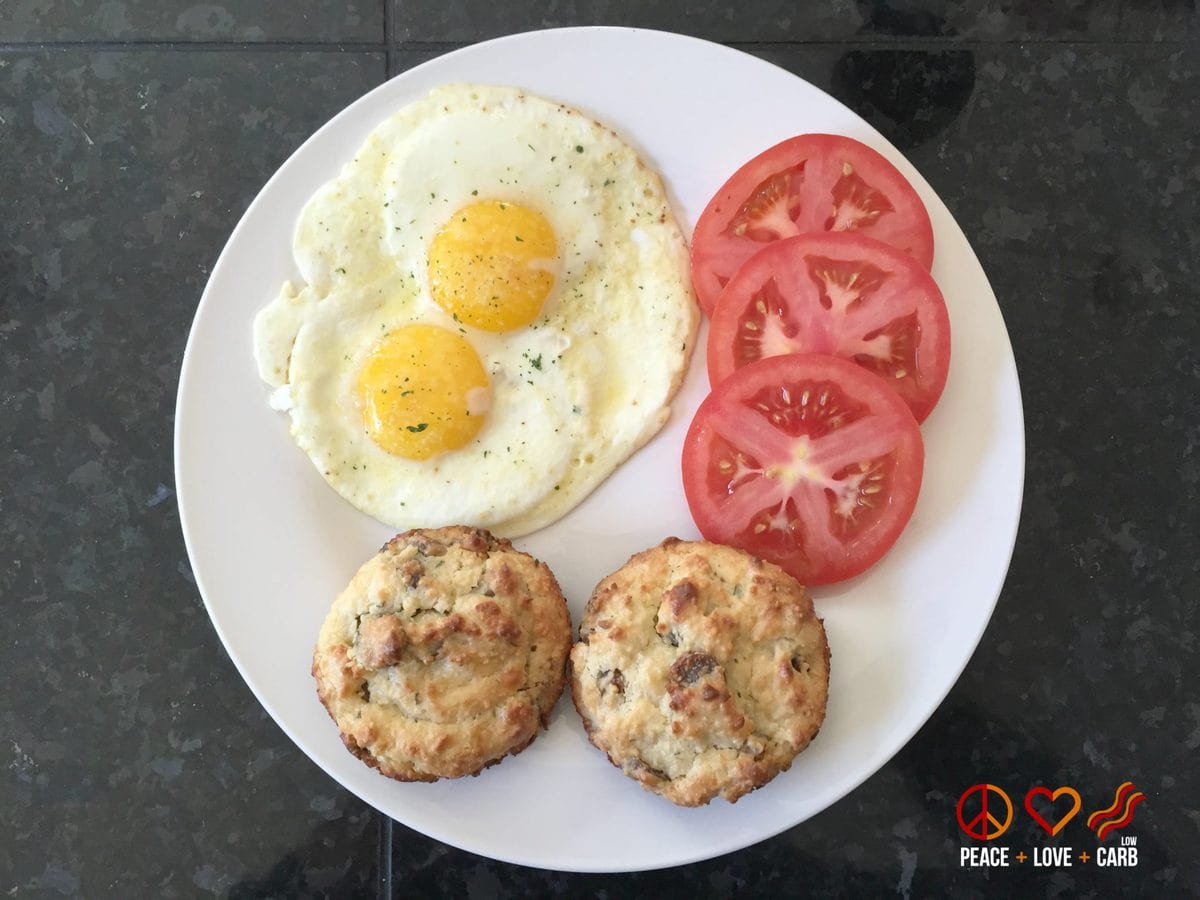 At first I planned to make the Cheddar Dill Biscuits from my book and then I decided to get creative with things and make a new recipe entirely. Aubrey wanted me to be sure and tell you that these biscuits were "kid approved". In fact, this batch makes 8 biscuits, which was 2 for each of us. Towards the end of the meal, Jon was bribing Aubrey for her second biscuit. That's a WIN in my book. Think that biscuits are off the table in your low carb, primal lifestyle? Think again. Here is a low carb and gluten free biscuit recipe that will leave your whole family asking for more… I know mine was!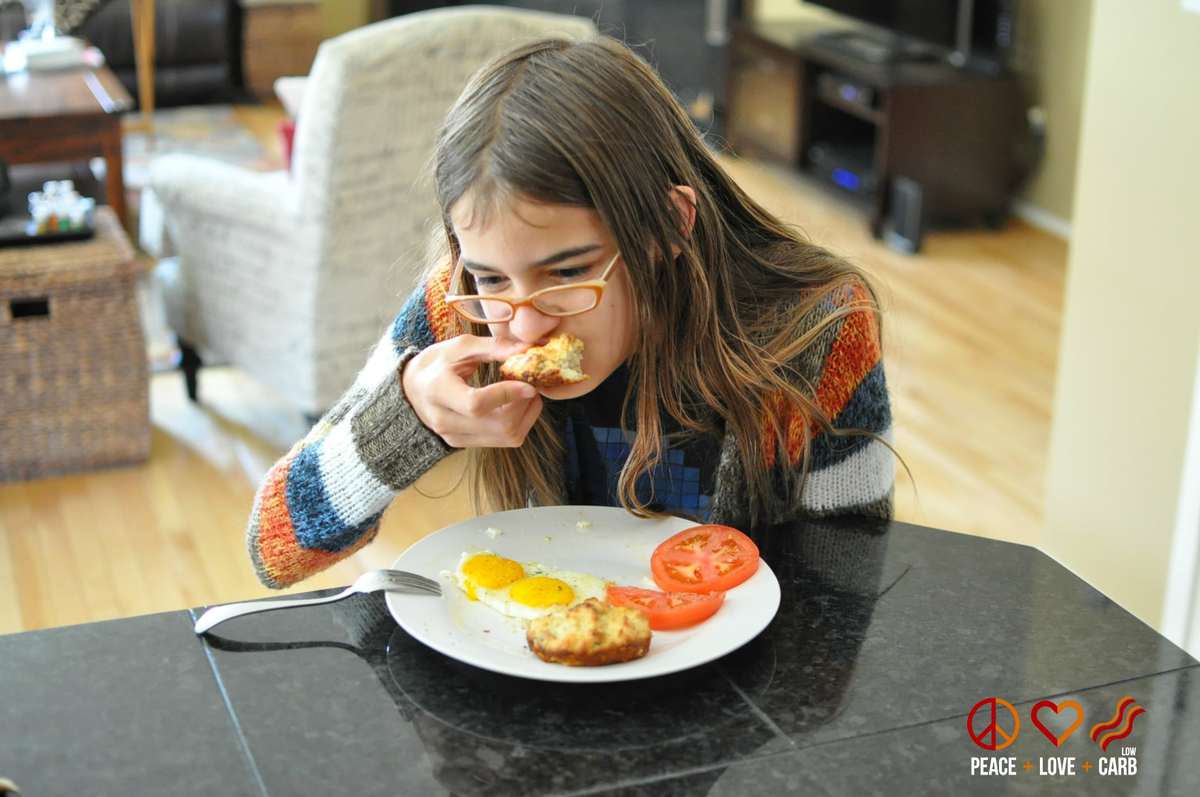 ---
Sunday 9/6 – Day 26
Daily Gratitude:
Today I am grateful for my body. A body that has never failed me or let me down, even when I have treated it unkindly. A body that is able and capable. A body that helps me reach my goals. A body that is a work in progress. A body that teaches me to be thankful for what I have each day.
Todays workout:
Today I took video of my workout. That way I could grab stills for this post but also so that I could critique my form. One of one downsides to working out by yourself, is that there is no one there to give you cues on your form. At my old gym, it wasn't ever really the "coach" that was doing the coaching, but the other amazing athletes around me. It was nice to have that camaraderie and sense of togetherness. I keep toying with the idea of joining another crossfit gym, but then I remind myself that I have an amazing garage gym and don't need the extra expense of a crossfit membership. I also don't know that I have it in me to go through all of that again. The ending was devastating last time. I want to keep this journey a positive one and surround myself with people that truly love and support me.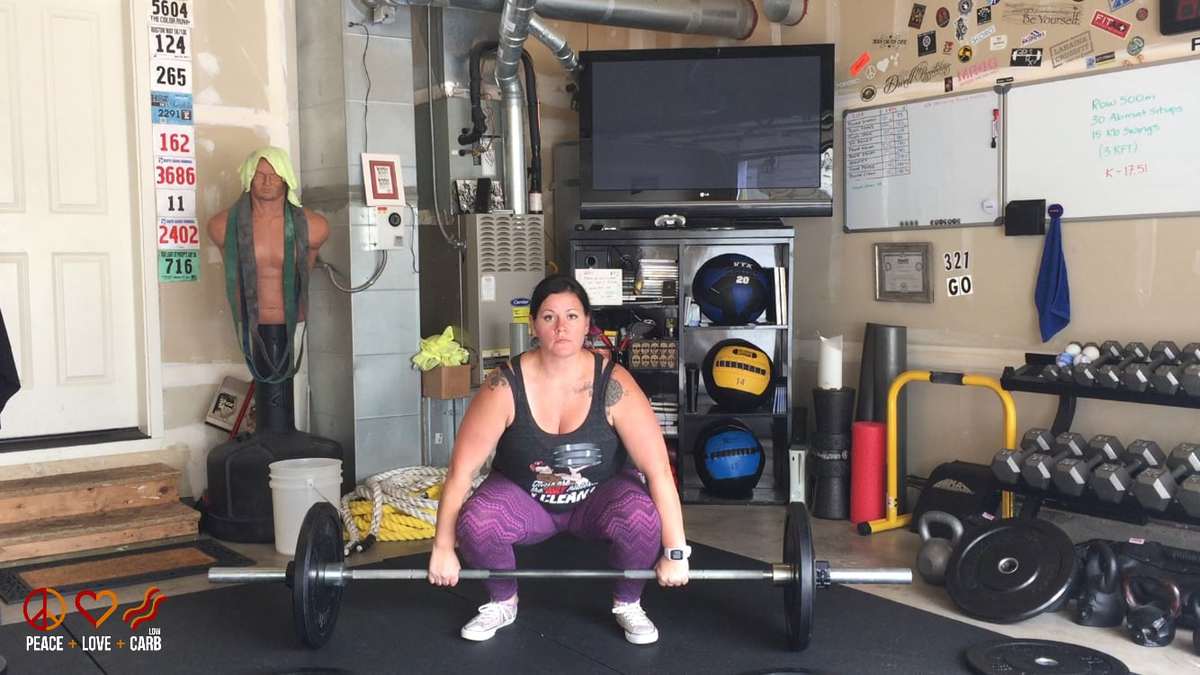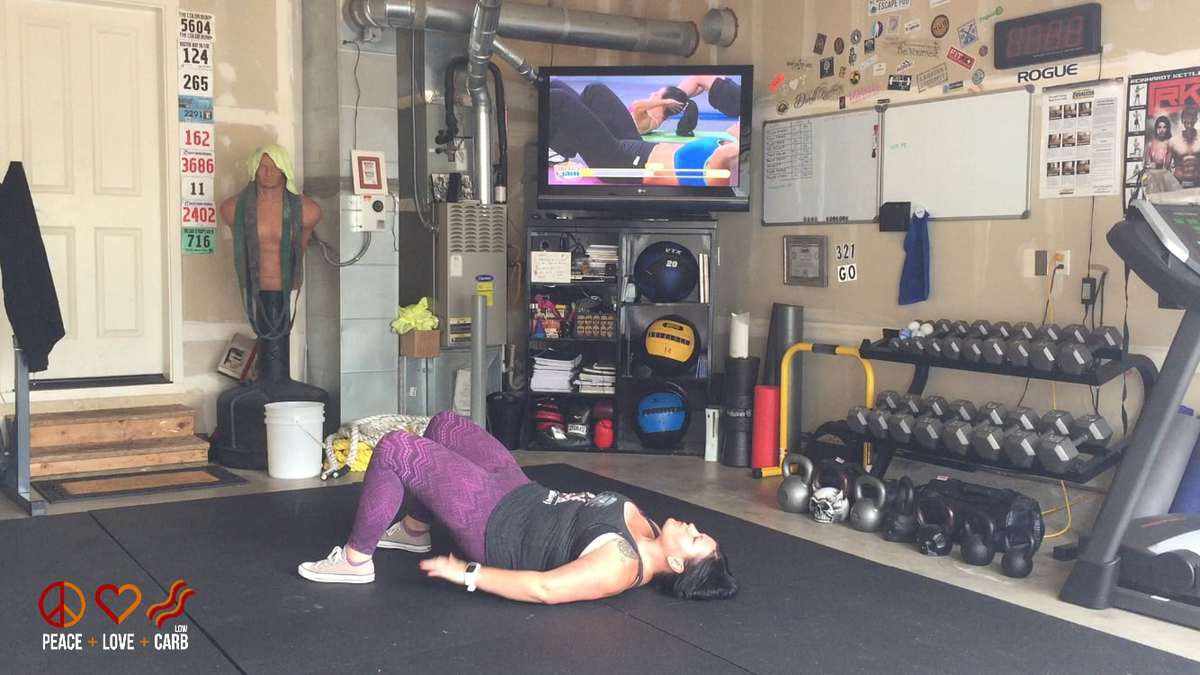 Workout –

Power Cleans
5 x 75 lbs
3 x 85 lbs
3 x 95 bs
2 x 105 lbs
2o Minutes Turbo Jam AbJam
What I ate:
Breakfast was a simple, but classic one… Bacon and eggs. Always easy and always delicious. For lunch we ate Avocado Tuna Salad. Fresh and light. In planning ahead for the week, we made a double batch of Beef Stroganoff Burgers for dinner.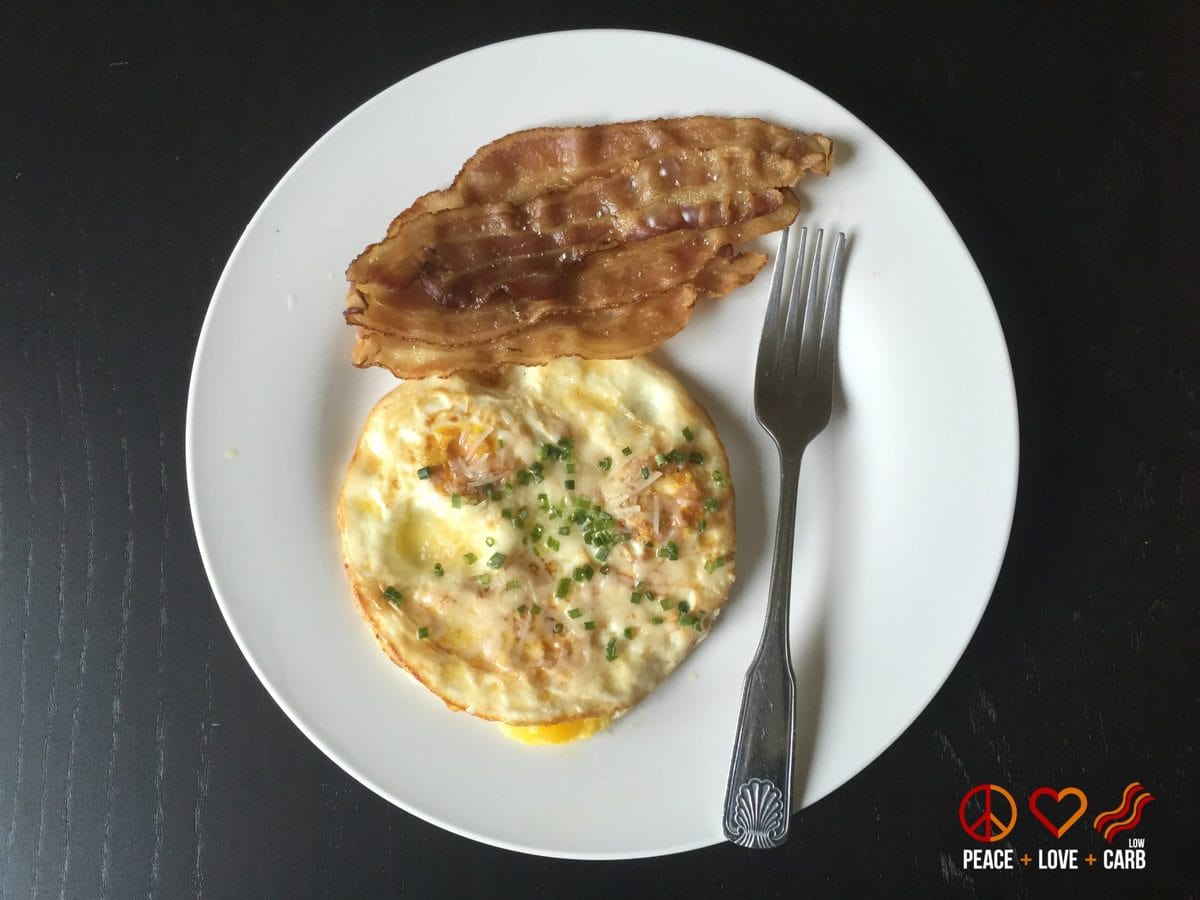 A 5 oz glass of Pinot Noir is 3.4 grams of carbs. So naturally I opted for a 6.8 gram glass. I believe that part of living a balanced lifestyle is not cutting yourself off completely from the things you love. However, lessening the frequency of these things goes a long way towards success in this journey. I am nearing the end of week 4 and in that time, this is the second time I have had alcohol. (The first was 2 vodka sodas on my birthday) Alcohol is known to cause stalls in weight loss and I suggest drinking it in moderation if at all.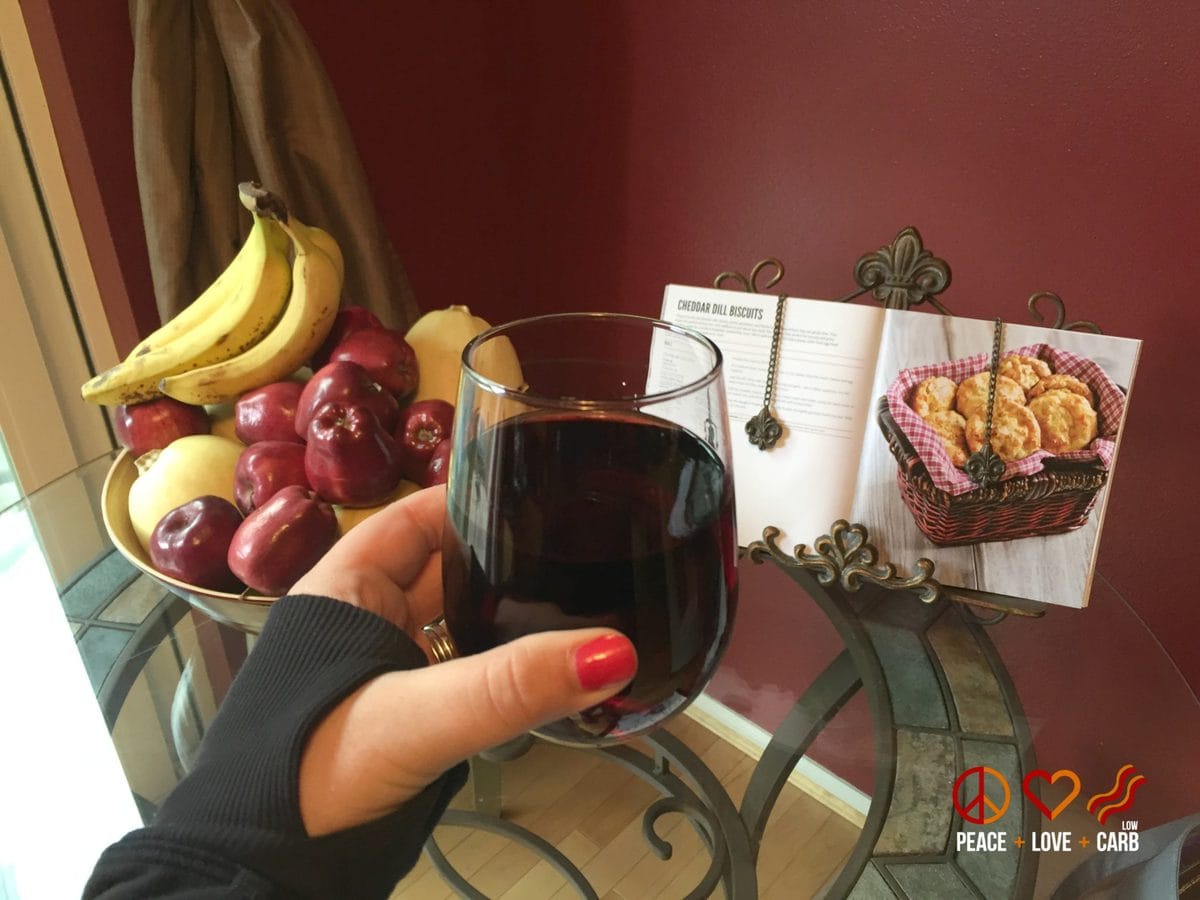 ---
Monday 9/7 – Day 27
Daily Gratitude:
Today I am grateful that I get to work from home. I feel blessed that I have been able to use my talents and strengths to make a career doing something that I love. Each day that I get the opportunity to do this, is one day closer to my dreams.

Todays workout:
The last couple of days I have been really crabby. I haven't been able to narrow it down to just one thing. I just feel tired, grumpy and kind of blah. I think I have just been working too much and not taking enough time to myself. It truly is a double-edged sword. The one thing that I mentioned in todays gratitude statement is the same thing that burns me out from time to time. When I started this journey, I told you that you were going to get a glimpse into everything… Well this is part of it. I am an imperfect person who has bad days just like everyone else. It is so easy to watch someone elses life and think that they have it all together and never have bad days. Not true! Most people just don't show you their bad days. I am here to show you the good, the bad and the ugly… quite literally. I'll refer back to the quote I posted earlier in the week. "The reason we struggle with insecurity is because we compare our behind-the-scenes with everyone else's highlight reel." – Steven Furtick  Well this is a look into my behind the scenes. Some days I am a crabby sour puss and have bad days for no real reason.
Part of the problem is that I definitely haven't been using my essential oils enough this week. The silly part is that most of the time, they are sitting right next to me. You want to know the amazing part of all this crabiness? It will pass. Probably by the end of the day. There was a time, not so long ago when a funk like this would have lasted indefinitely. I would have spun out, made mountains out of molehills, perpetuated my own misery, made bad food choices, skipped workouts and spent my time complaining versus counting my blessings.
You know what else is amazing for a bad mood? A nice long sweat session. Today I did exactly that. I told myself I was going to go in the garage, workout out and not come back in until my mood had improved. I got the diffuser going in the garage and got a butt kicking workout in. I felt a lot better by the time I came back inside.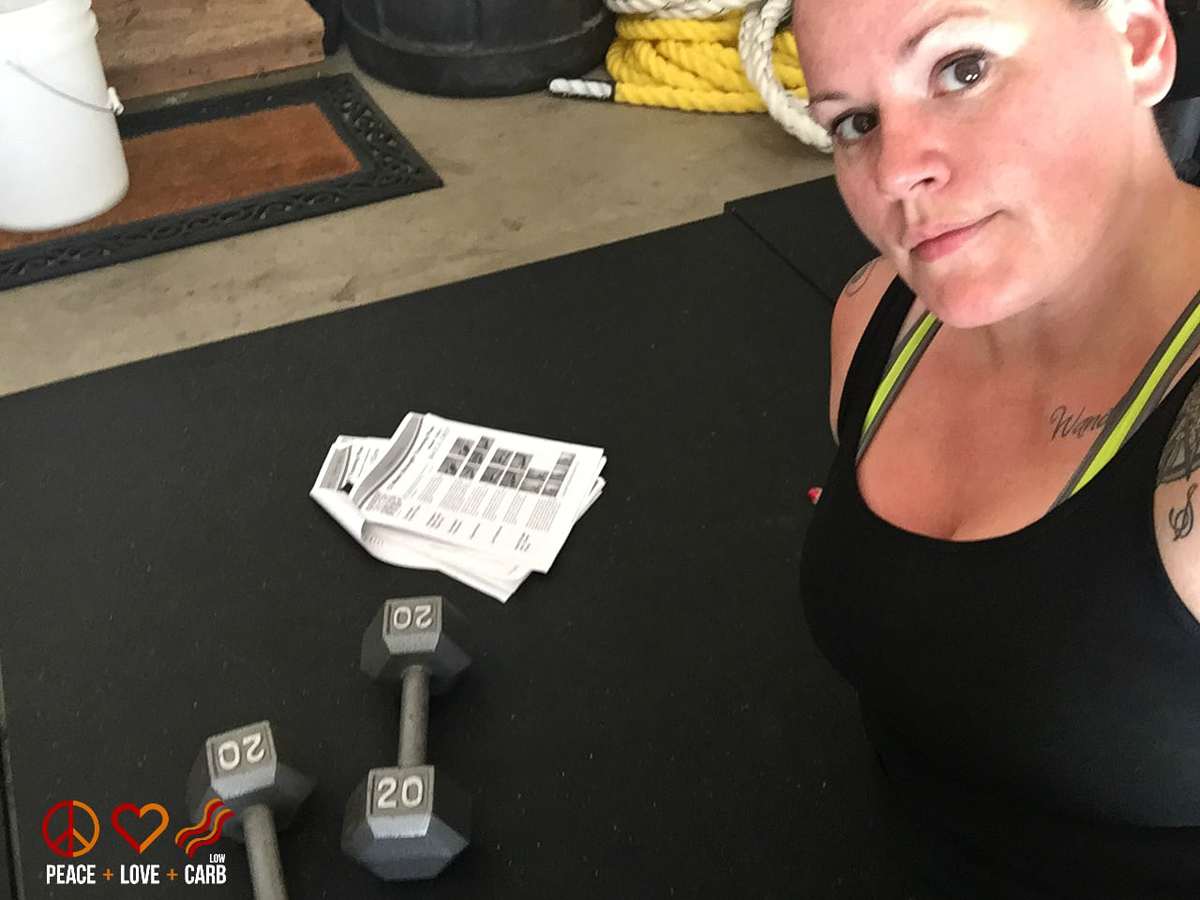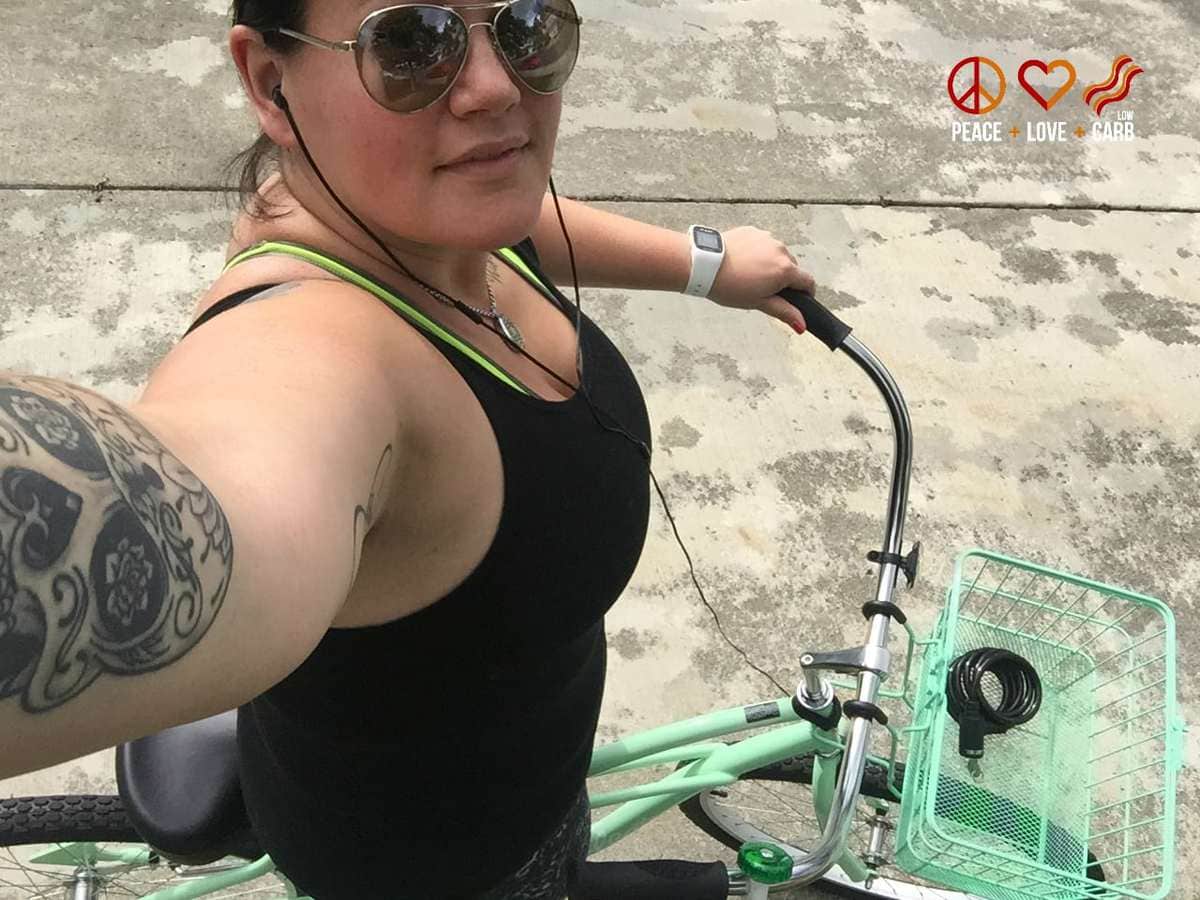 Workout:
4.38 Mile Bike Ride
20 Minutes Rope Slams
– 1 minute on and one minute off. (I got my groove on and danced in the off minutes to keep my heart rate up)
12 reps Dumbbell Chest Press (20 lbs each hand)
12 reps Renegade Rows (15 lbs each hand)
12 reps Dumbell Pull Overs (20 lbs) 
(Repeat those 3 movements, 3 times through)
What I ate:
Tonight for dinner we broke out a recipe from the archives and had Sloppy Joe Stuffed Peppers. Another kid approved recipe. Actually, it was Aubrey that requested them. We were happy to oblige.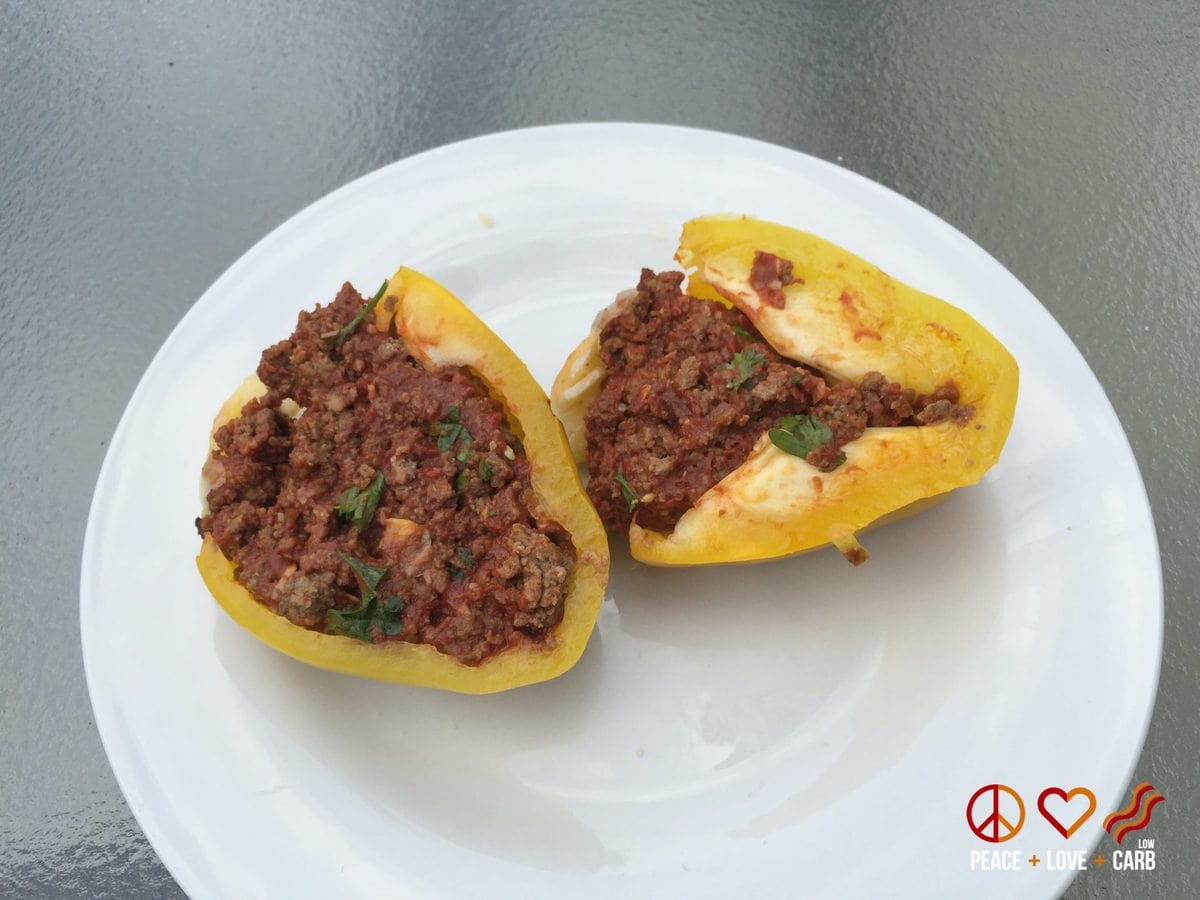 Not every meal in our house is glamorous. For lunch, we just had some ground beef sautéed with garlic and onions. We put it on top of romaine lettuce and topped it with a little ketchup, homemade Bacon Ranch Dressing, and white cheddar cheese.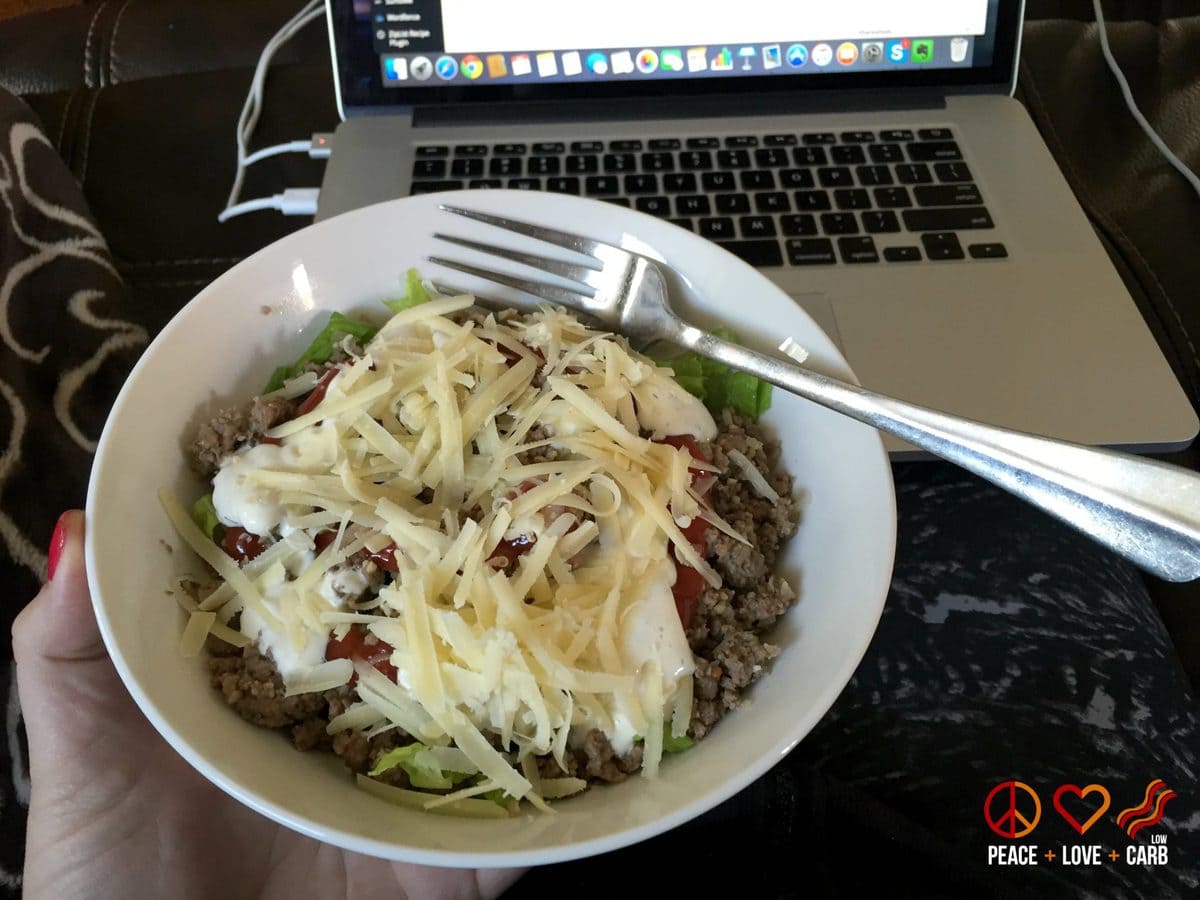 ---
Tuesday 9/8 – Day 28
Daily Gratitude:
Today I am grateful for ability to travel and all the beautiful places in this world… the ones I have seen and the ones I have yet to see.
Todays workout:
It is amazing how fast 5 miles flies by when you are walking and talking with a friend. I love walking. It is like therapy to me. Most of the time I walk alone. It gives me some much needed "me time", allows me to catch up on podcasts and just be alone with my thoughts. Long solo walks are how I work through problems and find time to recharge.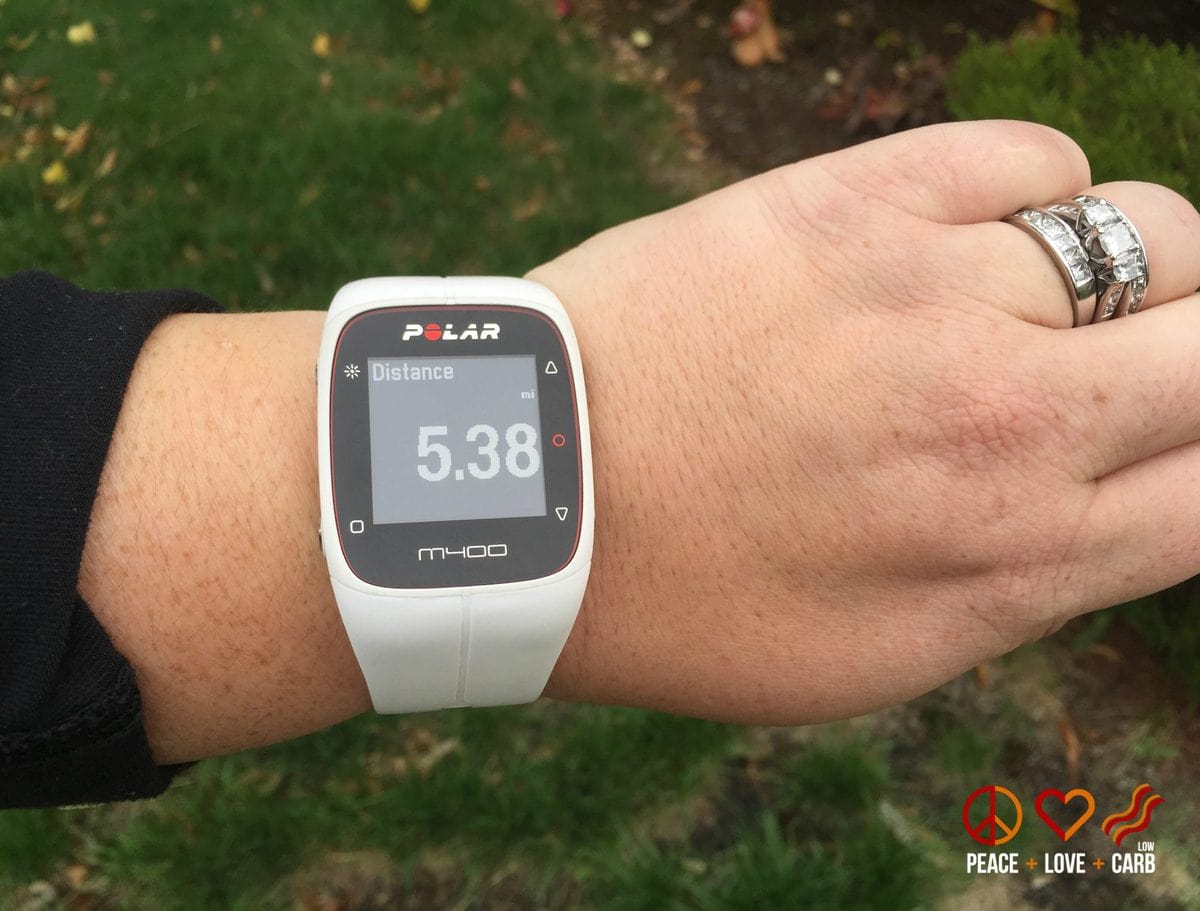 Workout:
5.38 mile walk
 What I ate:
Tonight I made a nice big batch of my Eggplant Lasagna with Meat Sauce. You can find this recipe on my site – here and also in my cookbook – here. We ate some of it and froze half of it for later. Many of you requested to see more food. You know I am happy to oblige.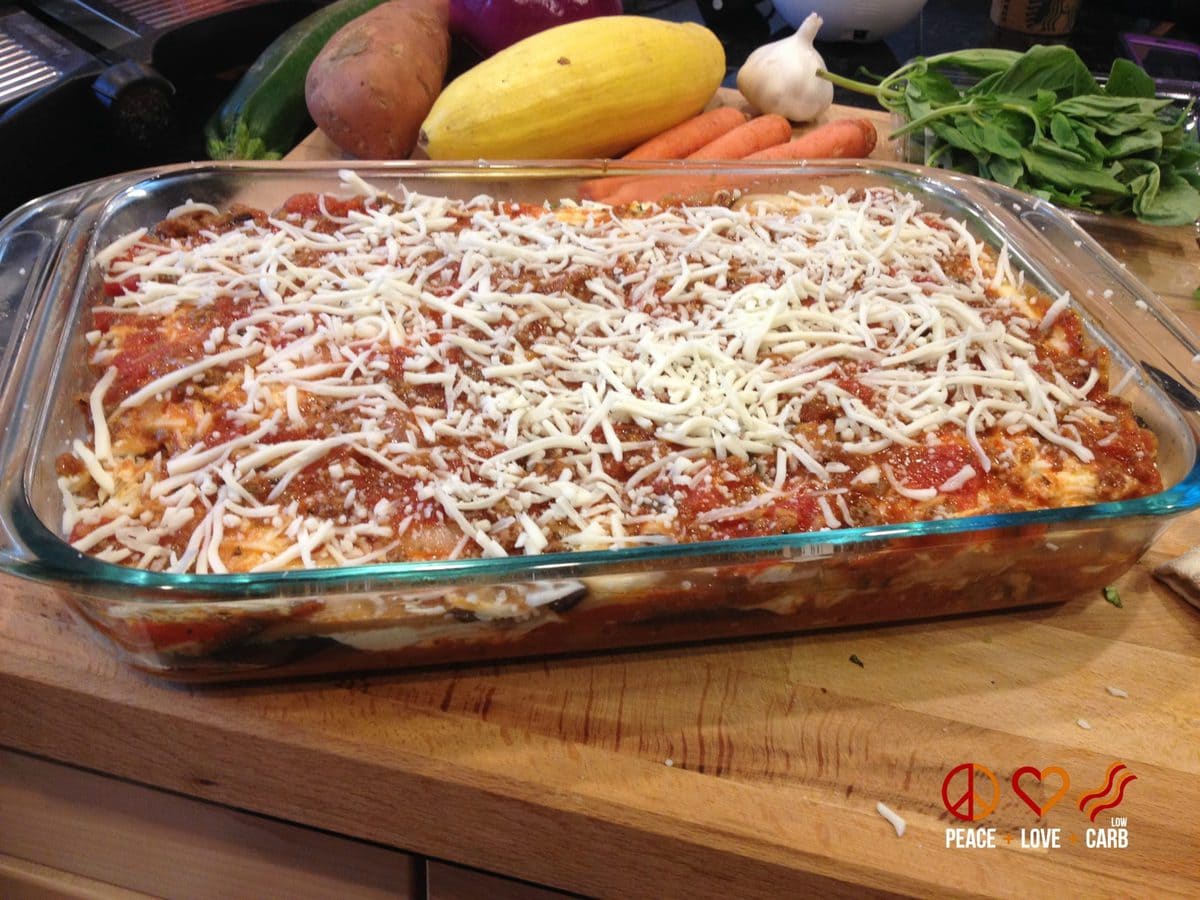 I also made some of my Rainbow Vegetable Noodles. I love to get these nice and crispy and eat them as a breakfast hash. I also really like them topped with the Garlic Parmesan Cream Sauce that I normally pair with my Brussels Sprouts recipe.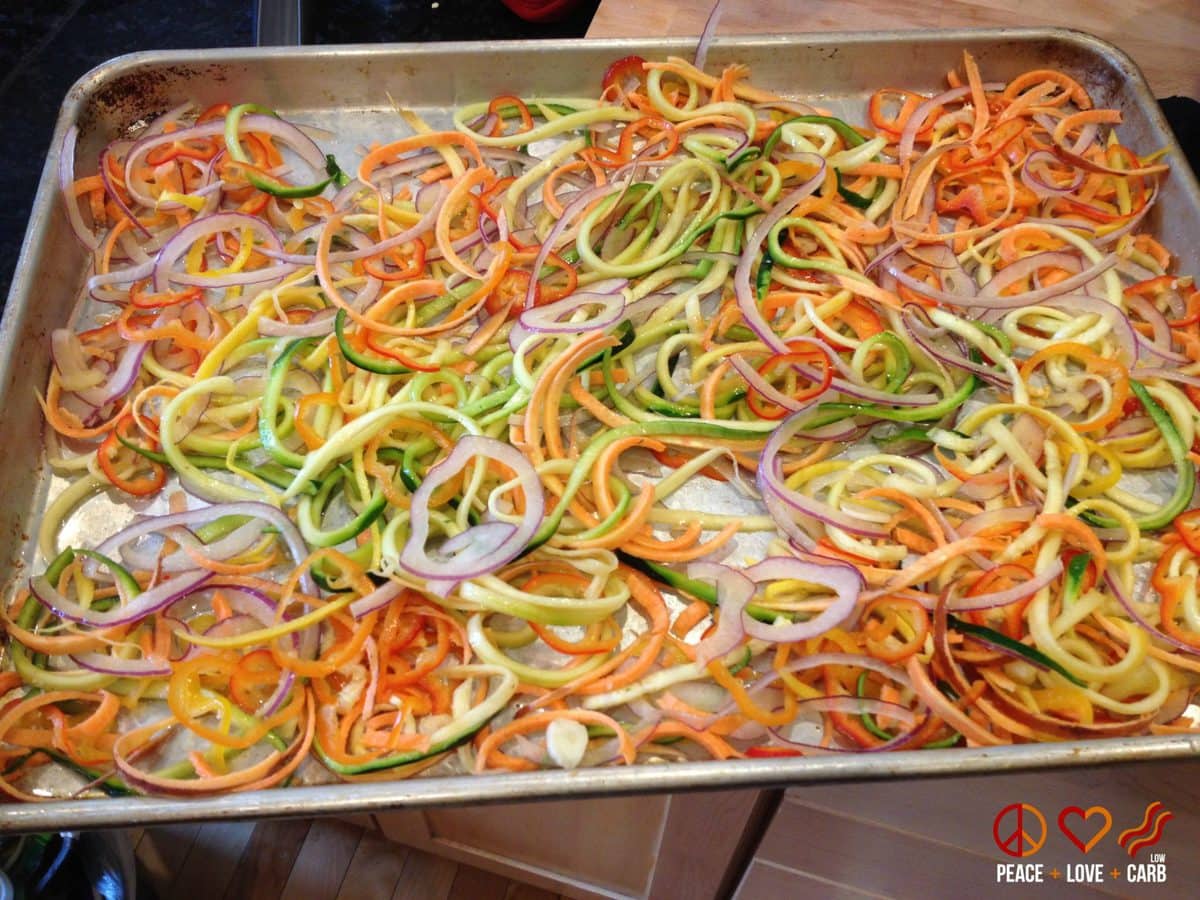 Check out my whole journey. Follow along week by week, below! Also, be sure to follow me on Instagram for more of my day to day adventures. Follow me – here