[sg_popup id="9″][/sg_popup]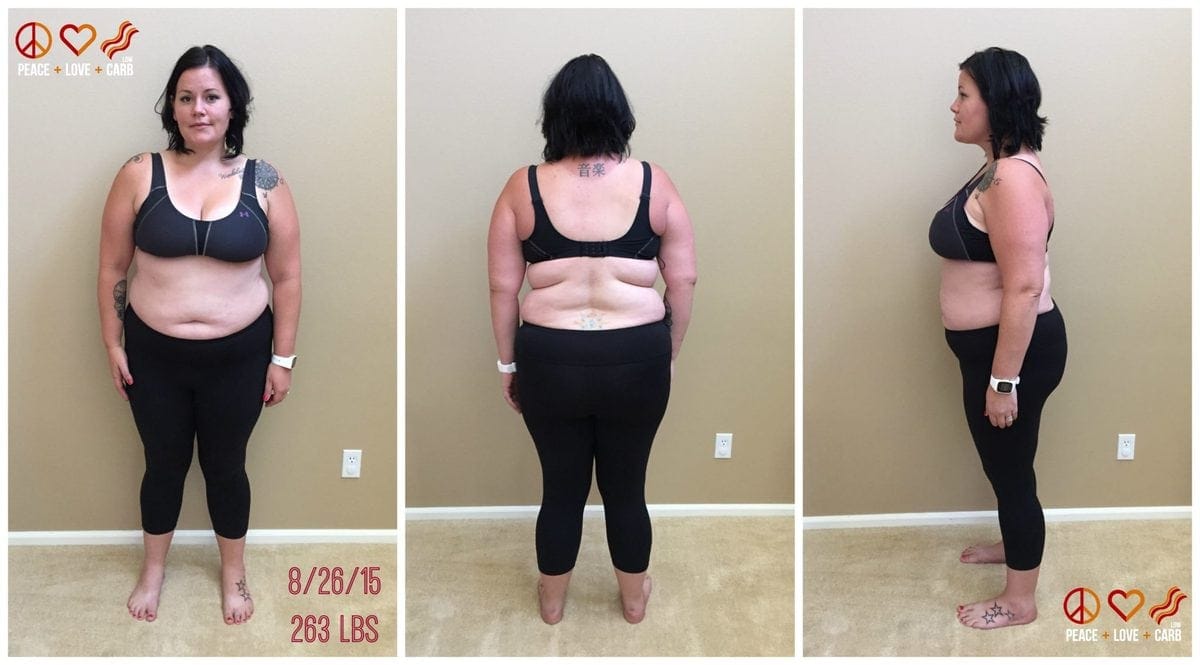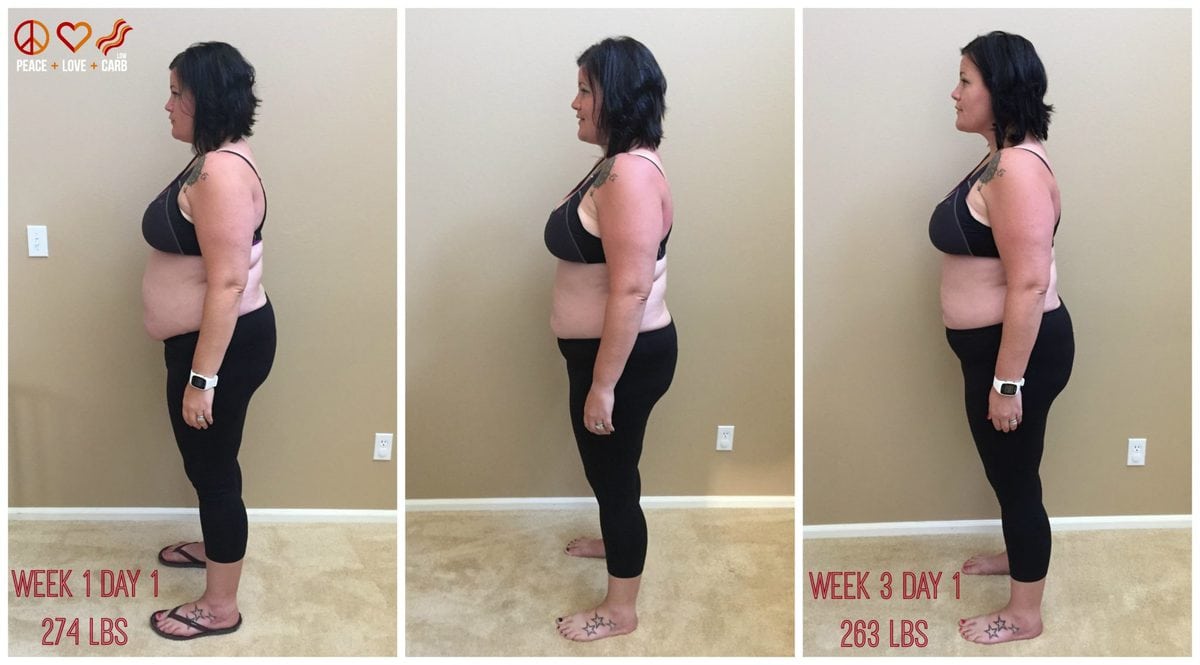 If you are just starting to follow along on my weight loss journey, I recommend starting with these posts first – I am a Healthy Living Blogger with a Secret… I got Fat Again!, Week 1 of 52 – My 100 Pound Journey and Week 2 of 52 – My 100 Pound Journey. Follow along on Instagram for more updates throughout the week. Also, feel free to join our Peace Love and Low Carb Friends Group
I lost 2.3 pounds this week. I am really happy with that number considering that this week was my dreaded time of the month. I was feeling bloated and gross all last week. Despite that, I got all my workouts in and ate on plan. I've gained as much as 10 pounds of bloat in one week before during my time of the month. So the fact that I lost any weight on the scale is a big deal. The biggest difference I notice outside of my stomach, is my chin line. Just in these past two weeks, it has gone from sloping downward towards my neck, to sloping upward toward my ears as it should. YAY!!
Before we dive into the week. I wanted to address something that has been on my mind a lot lately and that is "The Importance of our Words" Negativity breeds negativity. The same is true with positivity. With just a couple of words you can lift someone up or tear them down. Making people feel bad about themselves serves no positive purpose in this world. What is the point? We spend so much time being hyper critical of others and even harsher on ourselves. What if we all practiced the act of intentional kindness? What would happen if you made it a point to smile at every person you came into contact with on any given day? That one small and simple gesture could quite possibly change the course of someones day. A little kindness goes a long way. I say we all make a pact to congratulate one another. Shower complete strangers with random compliments. What could it hurt? Don't you feel amazing when someone you don't even know tells you that they love your hair style or tells you how cute your top is on you? It makes you smile, right? Maybe you even walk a little taller. Send love and light out into the world and let love and light come back into your heart. Once you start doing that, amazing things will begin to happen. I promise.
Wednesday 8/26 – Day 15 – Week 3 Weigh In
Starting Date: 8/12/15
Starting Weight: 274 lbs
Current Weight: 263.0 lbs
Pounds Lost: 11
Pounds to Goal: 89
Goal Weight: 174
Goal Date: 8/27/16
Height: 5′ 9″
Todays workout:

After "Feeding the Trolls" today, I decided to channel my frustration and negative emotions into something positive… a workout! By now you have seen a lot of pictures of our home gym. You may have noticed Bob hanging out in the corner of a lot of the photos. Bob stands for Body Opponent Bag. I like to call him my dirty, armless friend. I set the clock to 20 minutes and used every last second of it to punch and kick Bob with all my might. It was one hell of a workout. I think even my sweat was sweating. This workout was brought to you by internet trolls and Skrillex Radio on Pandora. After my session with Bob, I did a 200om row. By the time I was done, I was completely happy again and unscathed by the derailment of the morning. Exercise is free medicine. Truly! Also, it is so true that you are only ever one workout away from a good mood. I also applied White Angelica, Harmony, Joy and Release. Between those oils and my workout, nothing could touch my good mood. In last weeks post, I talked a lot about how important the emotional side of this journey is. Every day I strive to "Win" at the mental game. As a result, every day I am stronger and stronger. Mentally I am stronger than I have ever been. The physical side is catching up every day! I hope you are enjoying hearing about all facets of this journey.
White Angelica – Increases and stengthens the aura around the body to bring a renewed sense of strength and protection, creating a feeling of wholeness in the realm of one's own spirituality. Its frequency neutralizes negative energy and gives a feeling of security. It is calming and helps to balance emotions and get rid of negative feelings and emotion. It also provides a feeling of comfort and safety and helps individuals who have been abused to recover and move forward. It has also helped a lot of women with postpartum blues. (Source)
Joy – This blend is a terrific emotional oil. It helps to lift the spirits and is great for a mood boost. It produces an uplifting magnetic energy and brings joy to the heart
Release – This is a helpful blend to release anger and memory trauma from the liver in order to create emotional well being. It helps open the sub-conscious mind through pineal stimulation to release deep-seated trauma. It is one of the most powerful of the emotionally supporting essential oil blends.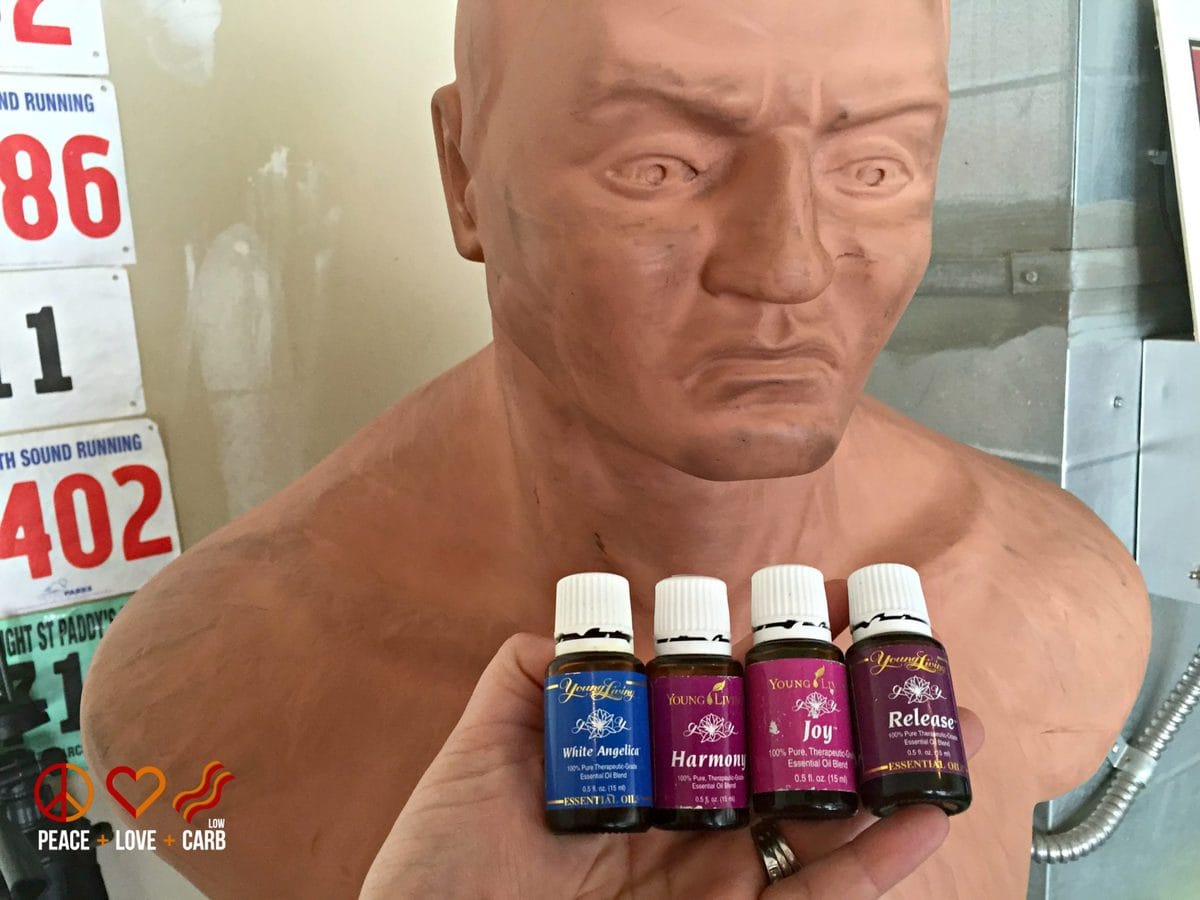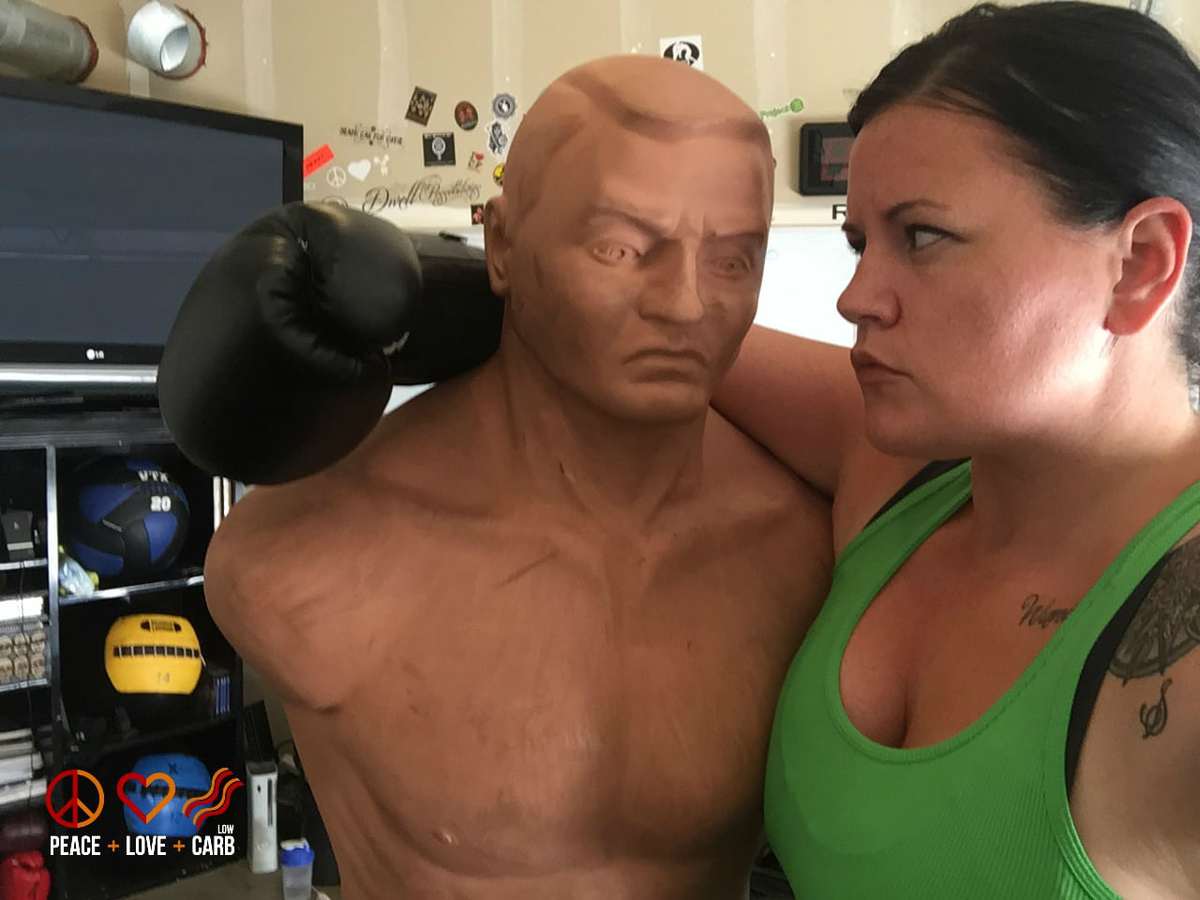 This was my UFC style pre-fight stare down. I'm pretty sure Bob was terrified. He couldn't even look me in the eyes.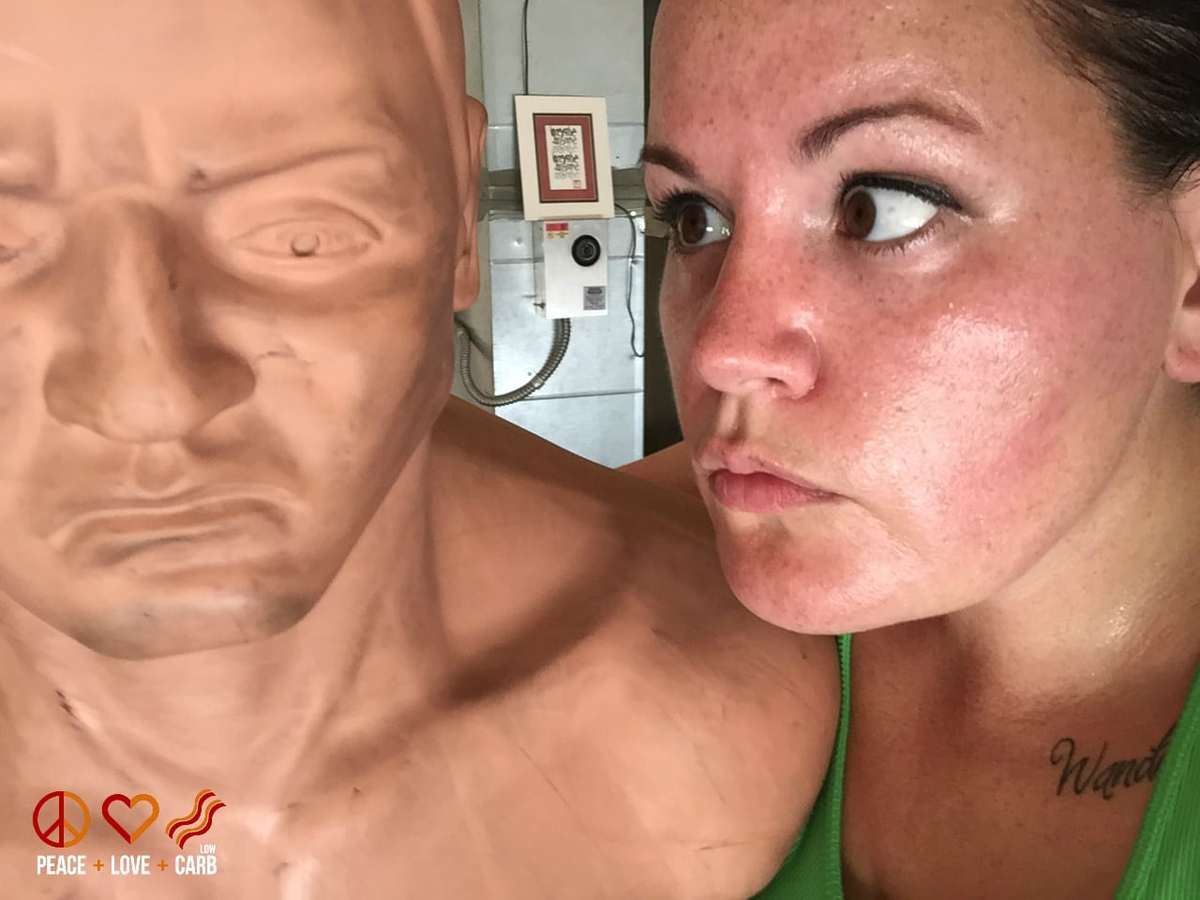 This was post match. I had to rub it in his face that I won. Doesn't he look so ashamed that he got beat up by a girl? 🙂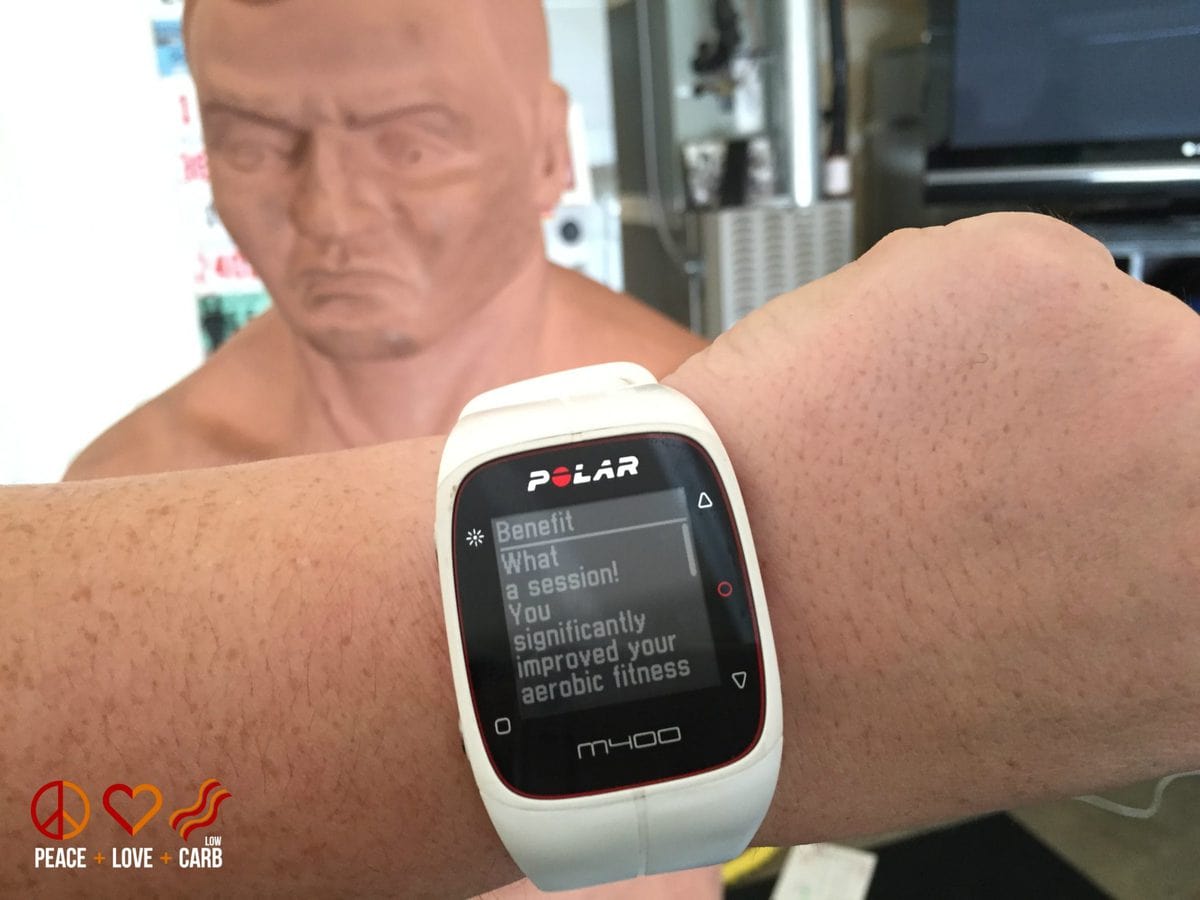 If was such a good session in fact, that my Polar let me know that I have significantly improved my aerobic fitness. WOOT!!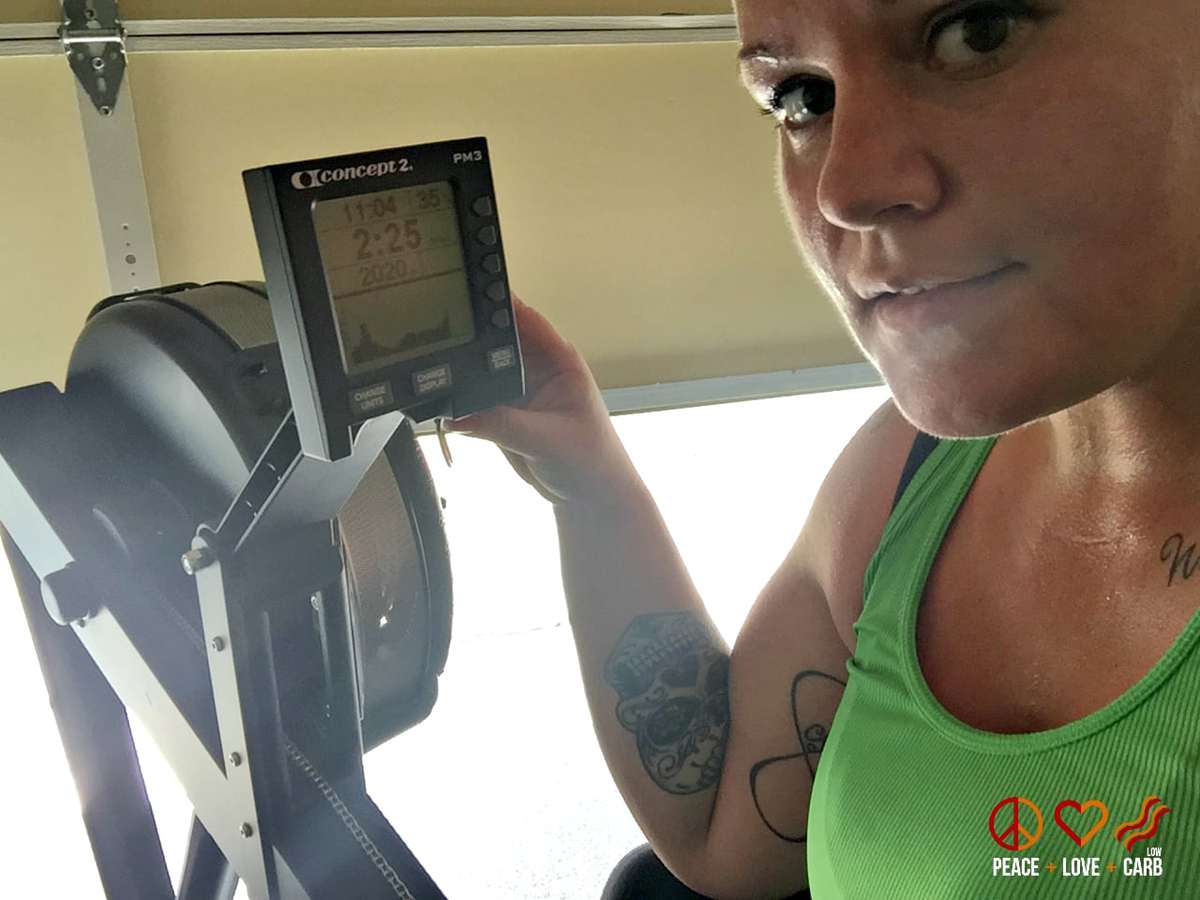 After I was done with Bob, I decided to do a 2000m row. If felt great!!
Workout:
20 Minutes with Bob
2000m Row
What I ate:
Today was all about leftovers. For breakfast I ate the rest of the leftover frittata from a few days ago. I topped it with some goat cheese and green dragon sauce. YUM! For lunch I ate the rest of the leftover Bacon Cheeseburger soup.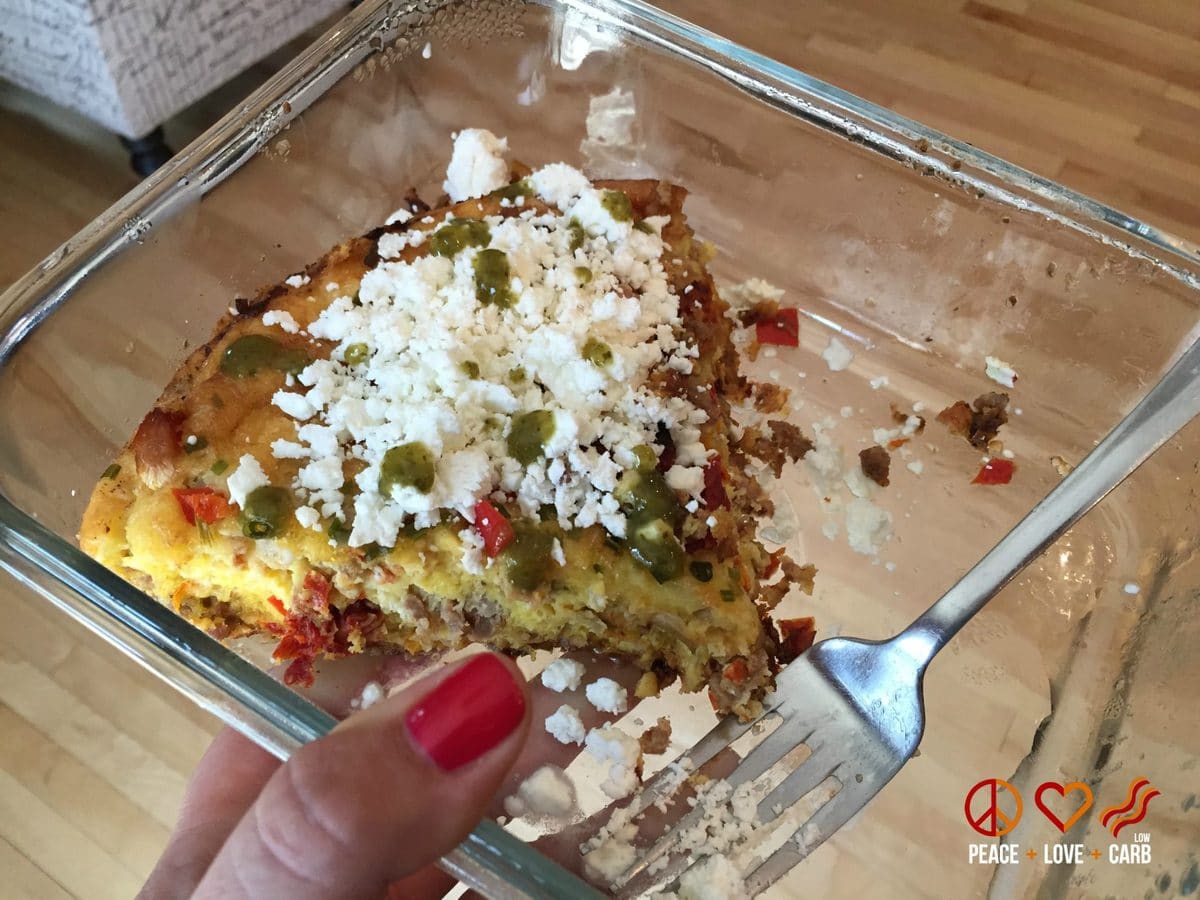 I wasn't really very hungry today. It is probably because I was sipping on Slique in my sparkling water all throughout the day. Refreshing and effective.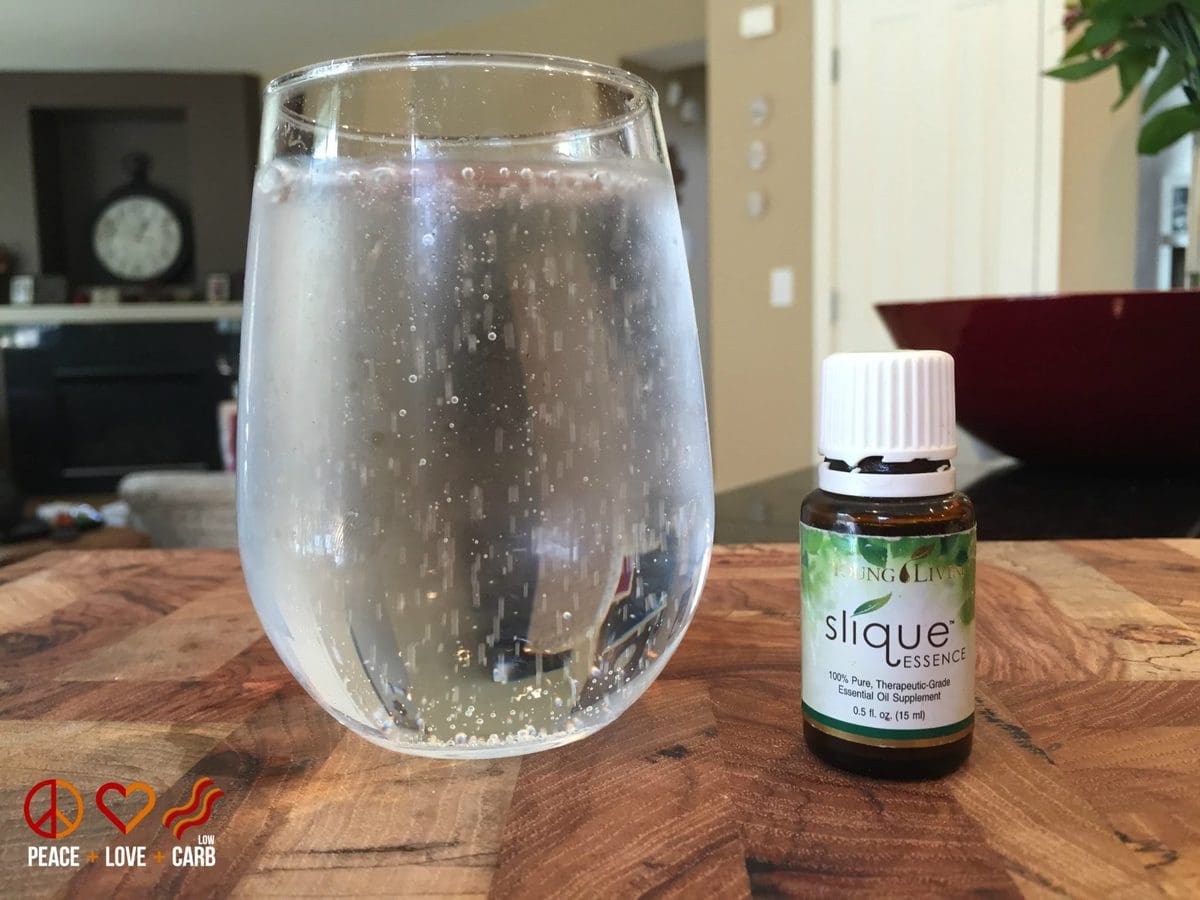 Keeping the mindless snacking at bay! 2 drops of Slique in my sparkling water throughout the day.
It is a combination of grapefruit, tangerine, lemon, spearmint, and ocotea plus stevia extract into a unique blend that naturally supports healthy weight-management goals when combined with diet and physical activity.
These ingredients work together to activate olfactory receptors and may help suppress appetite and hunger between or during meals.
---
Thursday 8/27 – Day 16 – My 37th Birthday!
Today is my 37th birthday! Knowing that celebrations like birthdays normally bring a lot of temptations with them, I purposely did not plan anything for today. I wanted to stick close to home, make good choices and enter this new year of life with a strong plan and conviction. I did exactly that. If felt so great at the end of the day to know that celebrating does not have to equal a binge. I ended my day with a full heart and a happy tummy.
Todays workout:
I didn't get much of a workout in today. Jon got me a cruiser for my birthday. I have wanted one for years. So, so exciting and just one more way to fit in fitness. I took Bella along with me on the maiden voyage. She may have loved it even more than I did. We just did a quick 1 mile ride around the neighborhood. We both need to get helmets. 🙂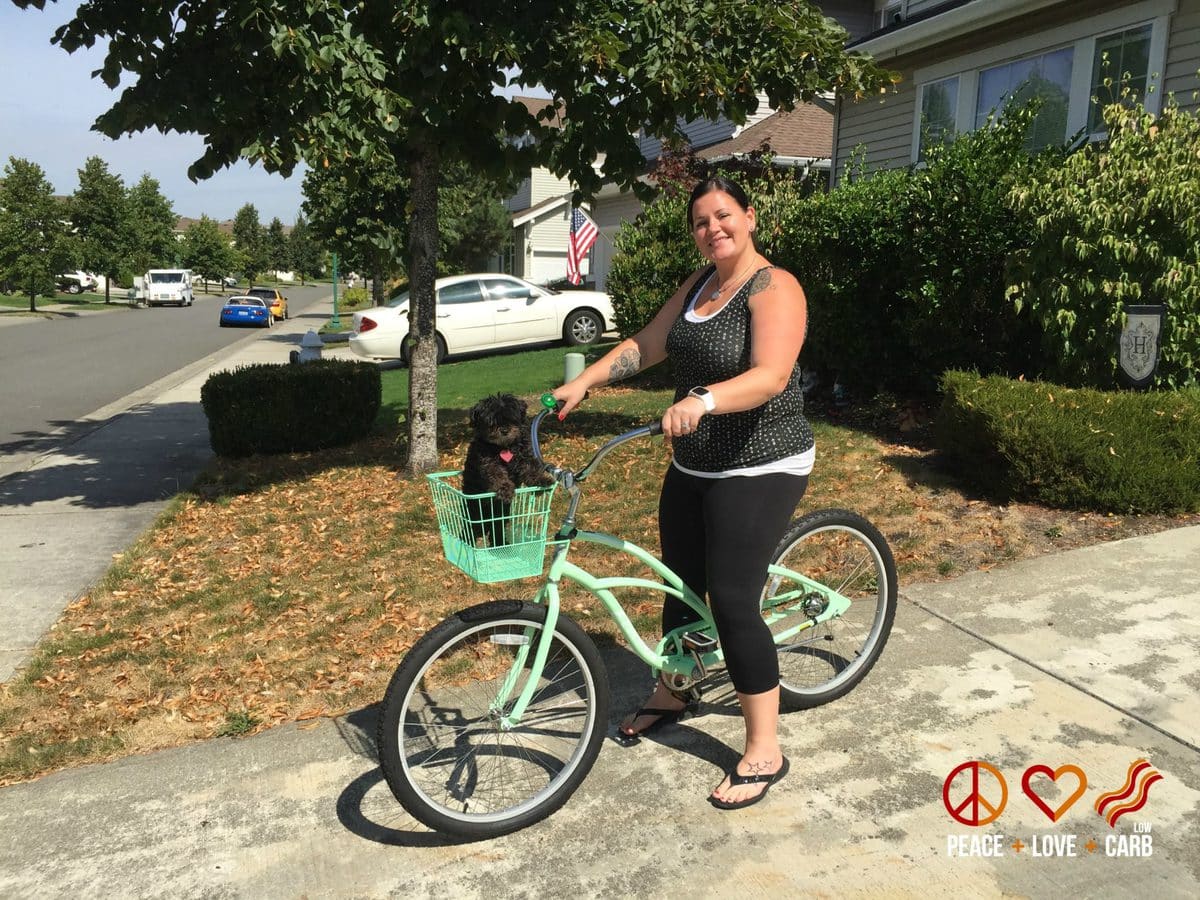 In the middle of the day, I checked out a local MMA gym. I might try it out for a month or so and see how it goes. I like the idea of throwing a different fitness modality into the mix. I've had a lot of fun with Bob in the garage and think it would be fun to actually train in boxing, martial arts, grappling, take downs… the works. I'll keep you posted.
After checking out the gym, I had an appointment for a birthday float. Have you even been in a float tank? If not, you are missing out. If you are local to me in WA, check out U-Float in Auburn. Beautiful facility and the owner Phil is one of the nicest human beings you will even have the pleasure of meeting.
Complete sensory deprivation. Pitch black, soundproof tank and the water temperature is matched exactly to the temperature of your skin. 1000 pounds of pharmaceutical grade Epsom salt in 12 inches of water. Amazing detox for your body, while making you buoyant enough to float and feel weightless. It feels as though you are floating through space. It is also great for stress, anxiety, depression and pain issues. It was a wonderfully relaxing way to spend my afternoon and clear my mind.. I did a 60 minute session this time. I have a 90 minutes session scheduled for next week.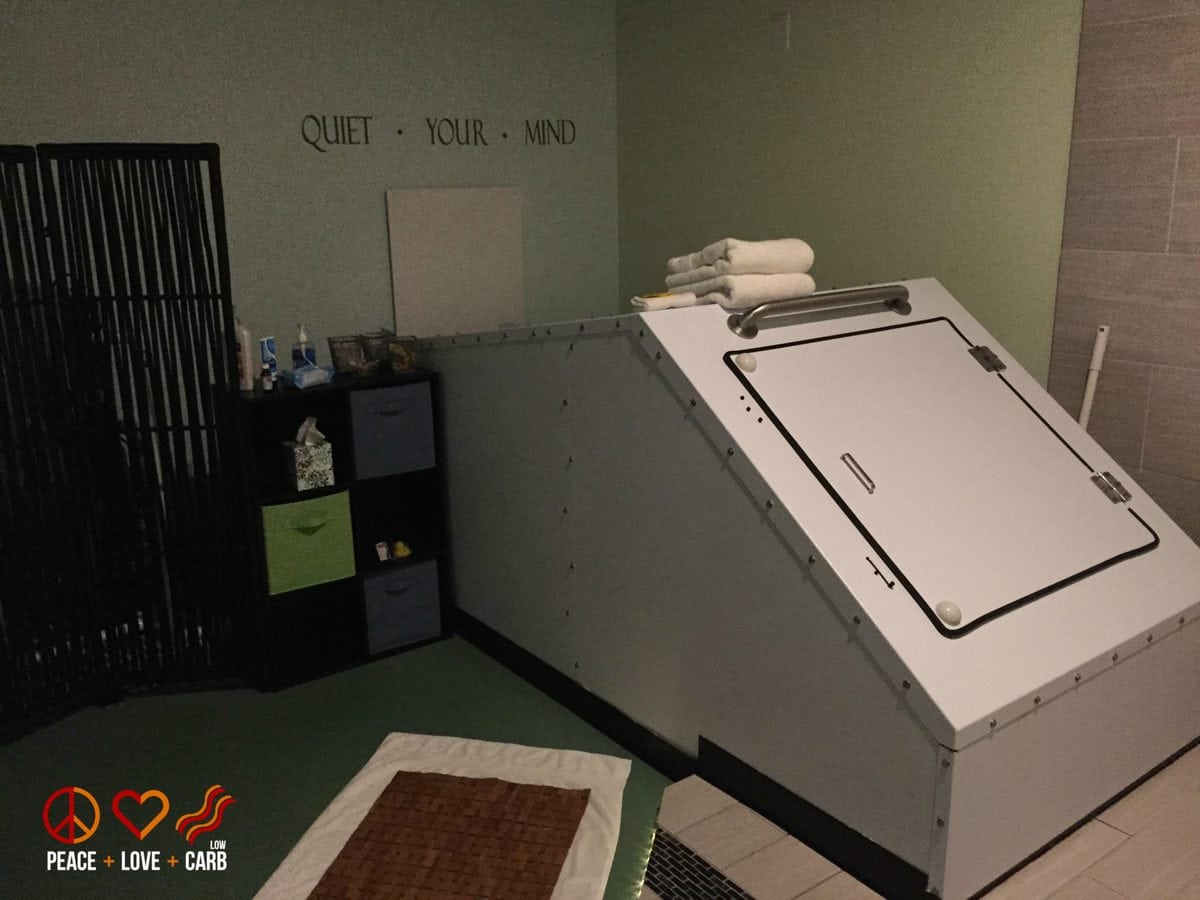 What I ate:
I Initially wanted to go out to dinner somewhere for a nice steak, but we decided to stay in, save money and have a nice meal together. Jon spoiled me with a wonderful dinner. We had sirloin topped with hollandaise, langostinos is a butter, caper sauce and roasted cauliflower with parmesan. It was fan-freaking-tastic and I ate every bite!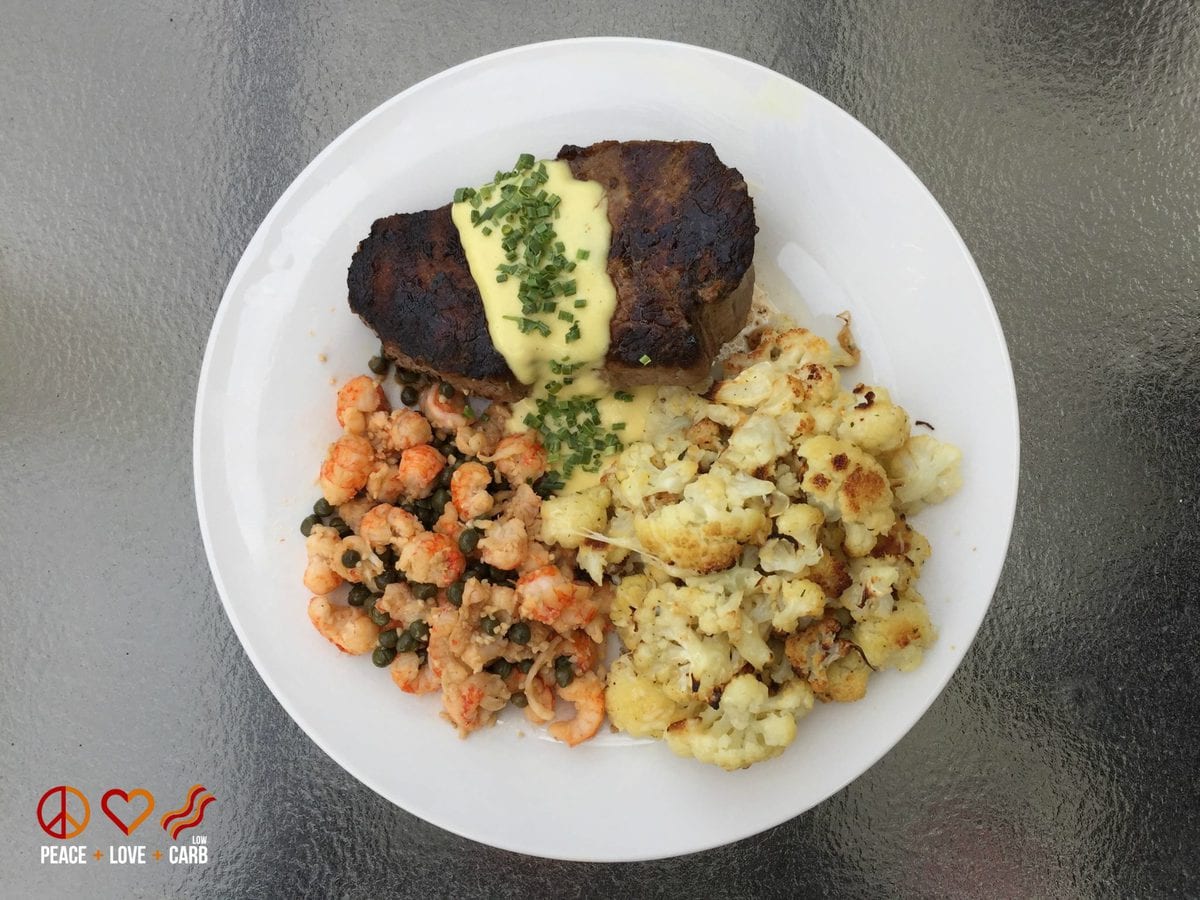 We even enjoyed a couple of low carb cocktails. So far, since recommitting myself to this journey, I haven't drank any alcohol. I wanted to splurge a little bit for my birthday while still keeping my carbs in check. We mixed coconut vodka, pineapple vodka, sparkling water, and lime essential oil. Delicious! Did you know that most flavored vodkas are still zero carbs? Well, now you do! Cocktails with therapeutic benefits? Here is another random fact… Lime essential oil is great for supporting and strengthening the respiratory and immune systems. It is very invigorating and refreshing.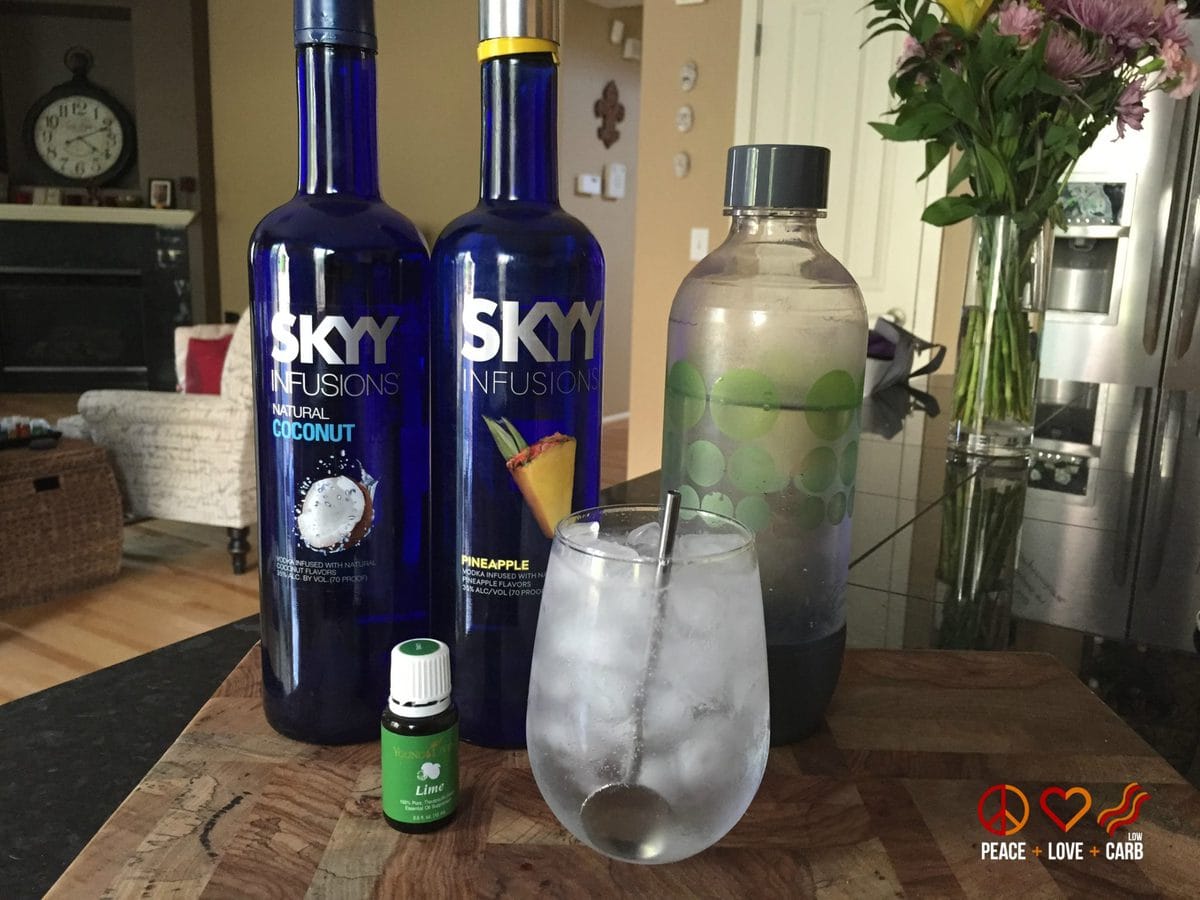 What birthday celebration would be complete without a sweet treat? We made these Chocolate Mocha Cupcakes (sans frosting) and we each had one. Just under 5 net carbs for one. So satisfying! I had an amazing meal, complete with cocktails and dessert without deviating from my goals. I kept it low carb and gluten free all the way through. I ended my day feeling satisfied and overjoyed. Successful low carb celebration in the bag. YES, it is possible to have a satisfying low carb celebration. You just have to plan ahead.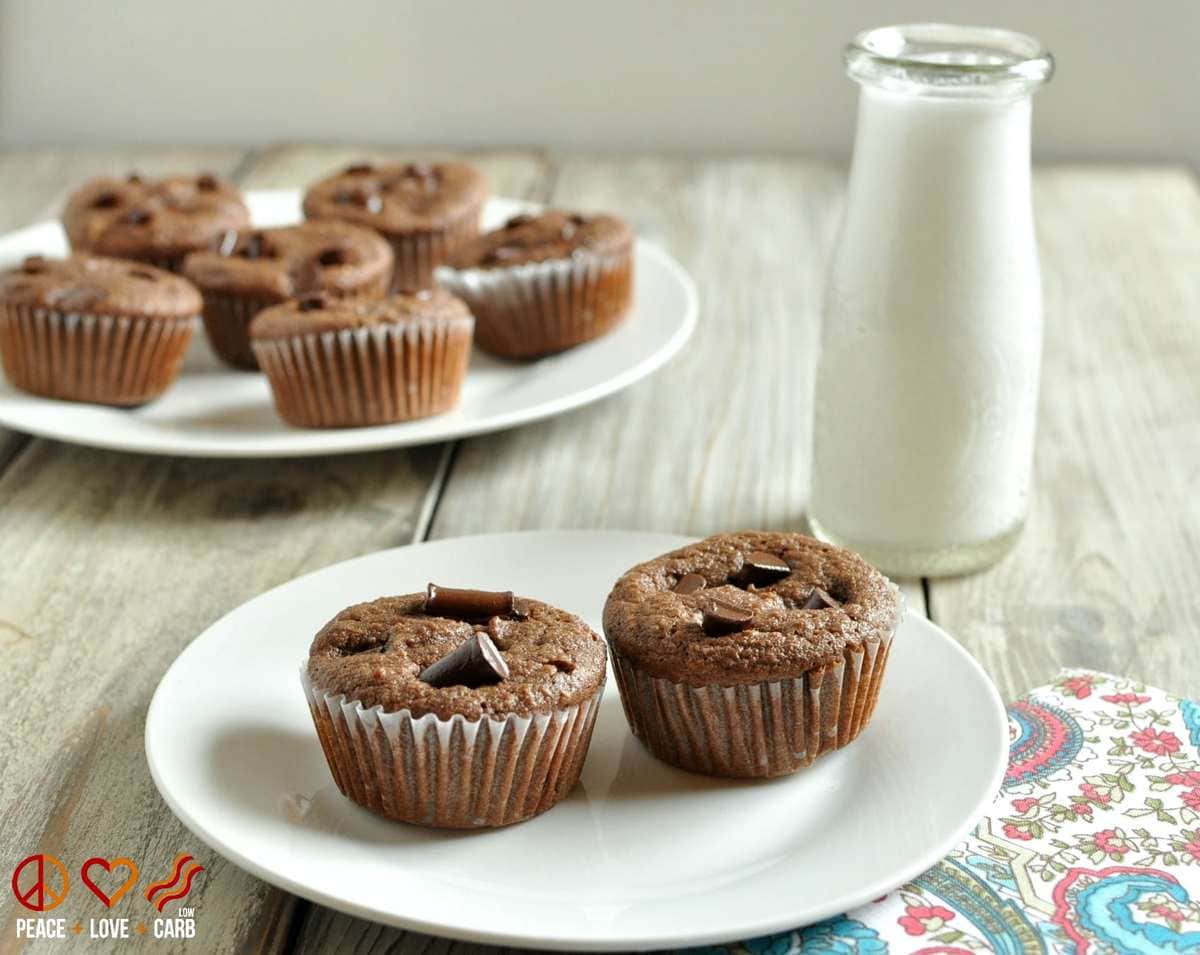 ---
Friday 8/28 – Day 17
Todays workout:
Today I wanted to mix it up with some heavy lifting and  a workout after. I set a new goal for myself. I don't have a definite date yet, but I want to compete in a powerlifting meet this year. What an amazing milestone that will be as I make my way through this journey. Time to start working on my back squat, bench and deadlift. I'm excited to challenge myself and step outside of my comfort zone.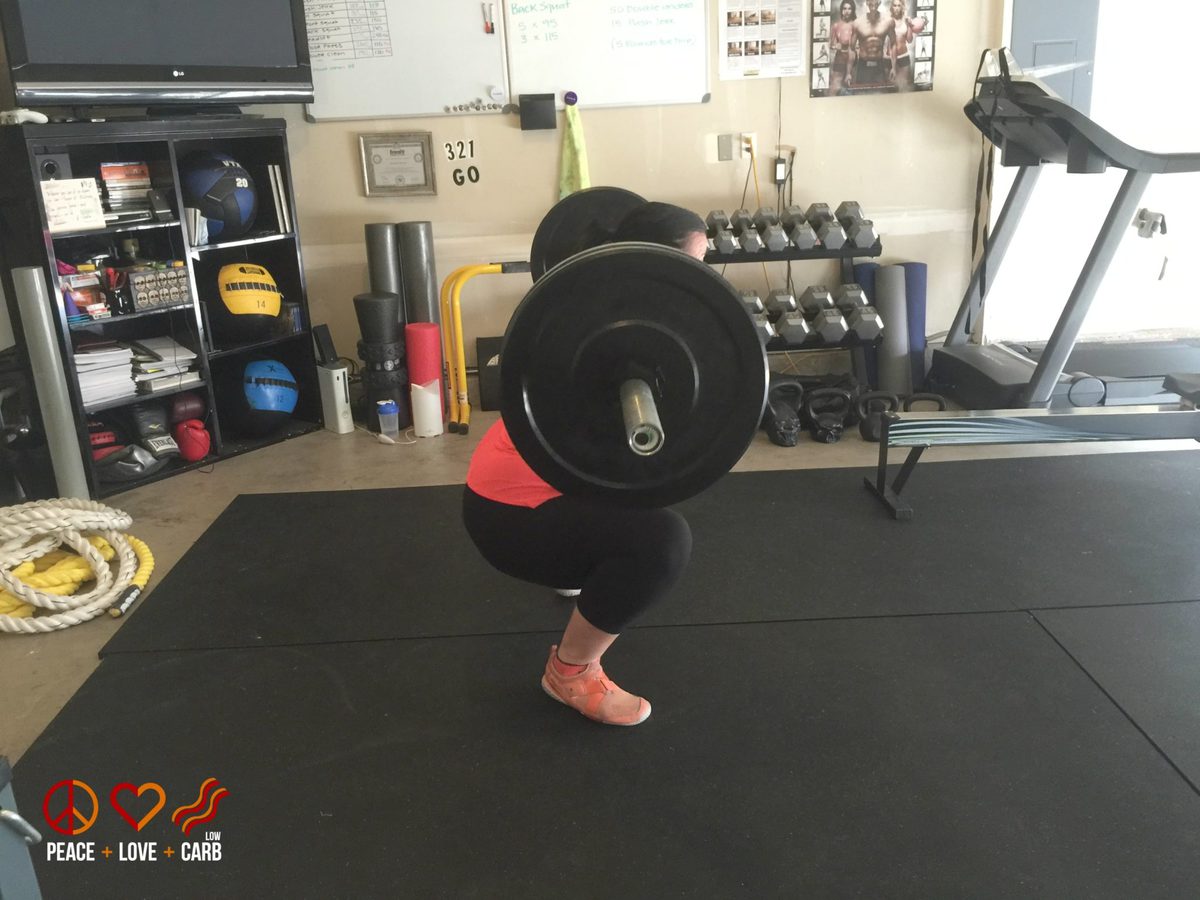 I was working up to a 1RM (one rep max) on my back squat. My old PR was 165. Today I got 155. I bailed out on my 165 attempt. I couldn't get back up with it. This is a lift I need to work more often… especially with my new goal in mind.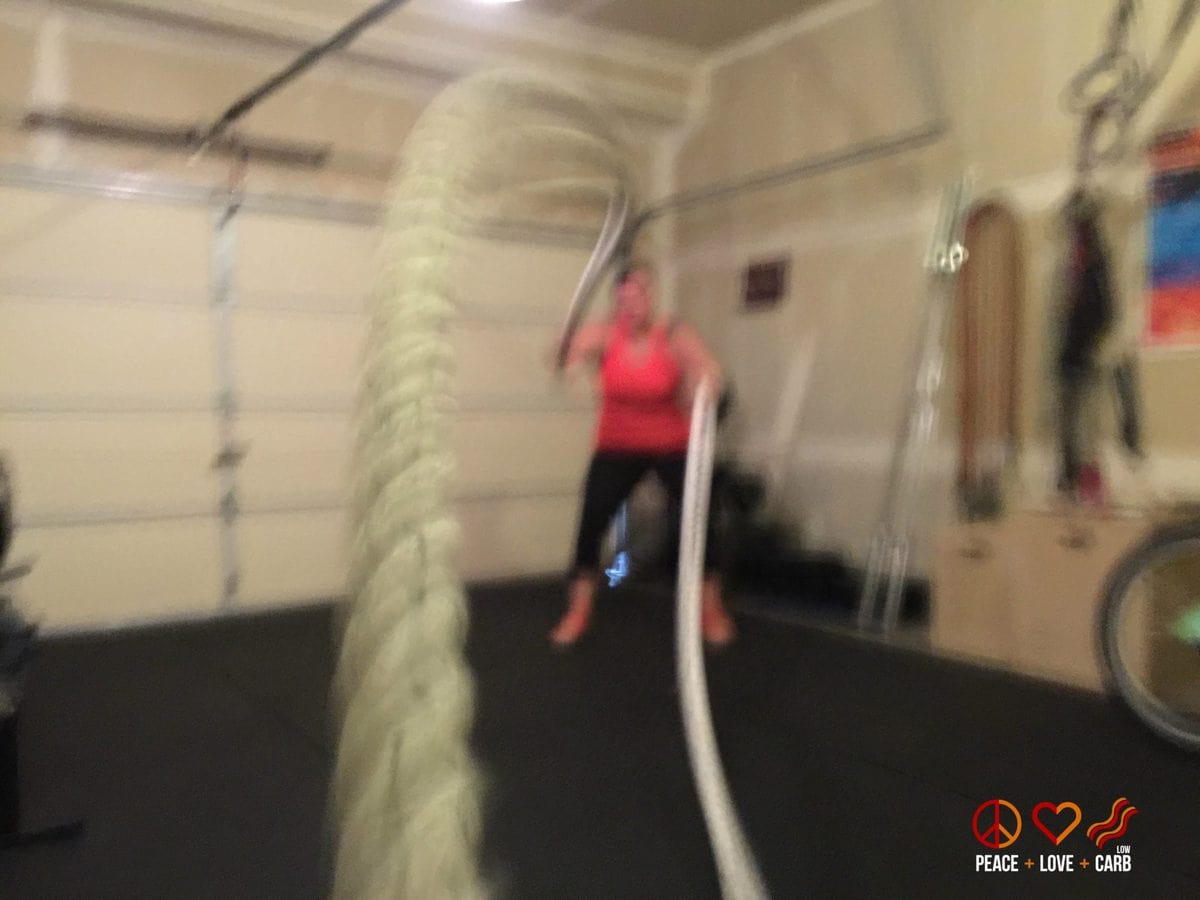 I know this picture is a little hard on the eyes, but I thought it looked kind of artsy. Rope slams are an intense arm workout. INTENSE!!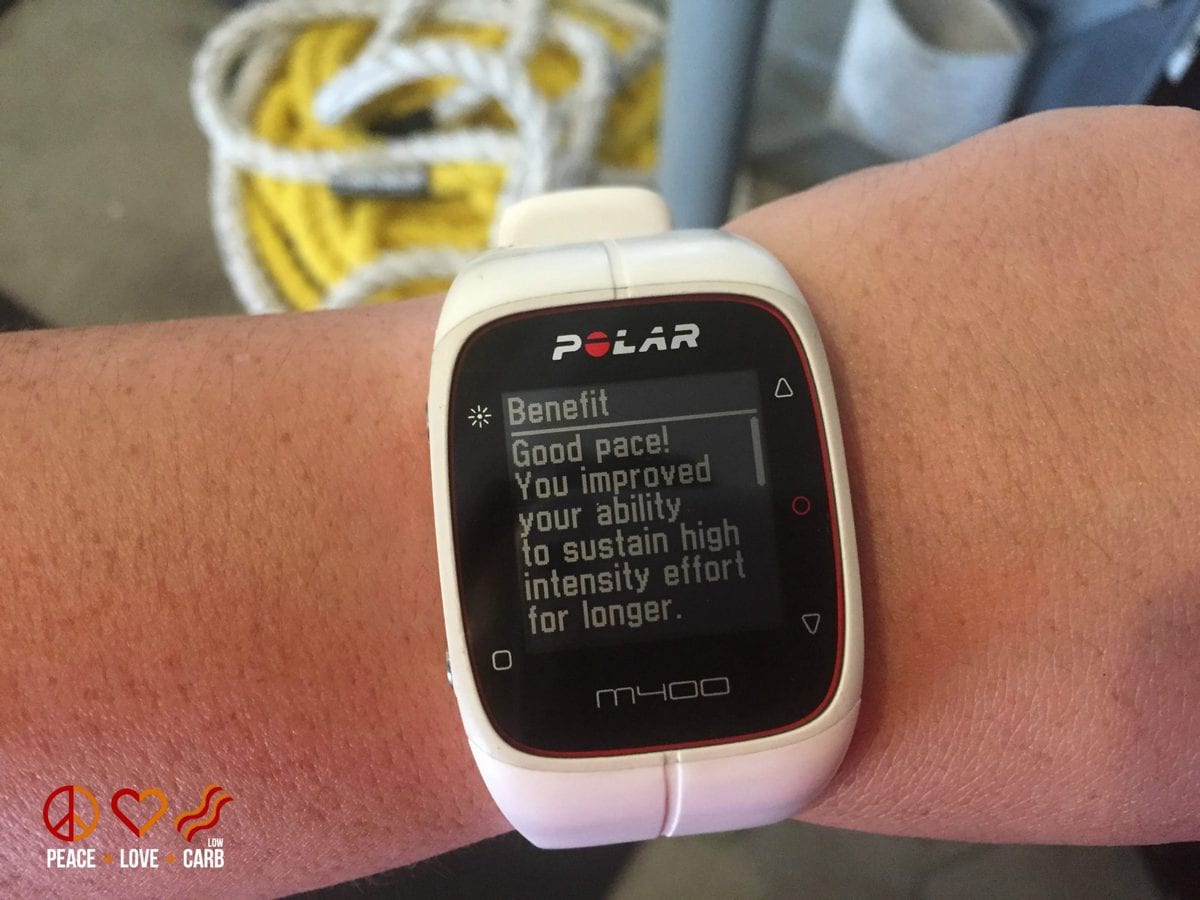 I love seeing the progress I am making at the end of my workouts. After todays workout, my Polar let me know that I have improved my ability to sustain high intensity effort for longer. WOOT! I keep moving in the right direction and it feels damn good! My fire is lit!

Workout:
Back Squats
5 x 95 lbs
3 x 115 lbs
2 x 125 lbs
1 x 145 lbs
1 x 155 lbs
Then:
30 Air Squats
50 Rope Slams
15 Push Jerks
(5 Rounds for time)
What I ate:
Breakfast this morning was simple but delicious. Eggs with goat cheese and chives, and maple chicken sausage. If you can find these sausages at your local Costco, buy them all! Seriously so good. Only 1 carb per 3 links.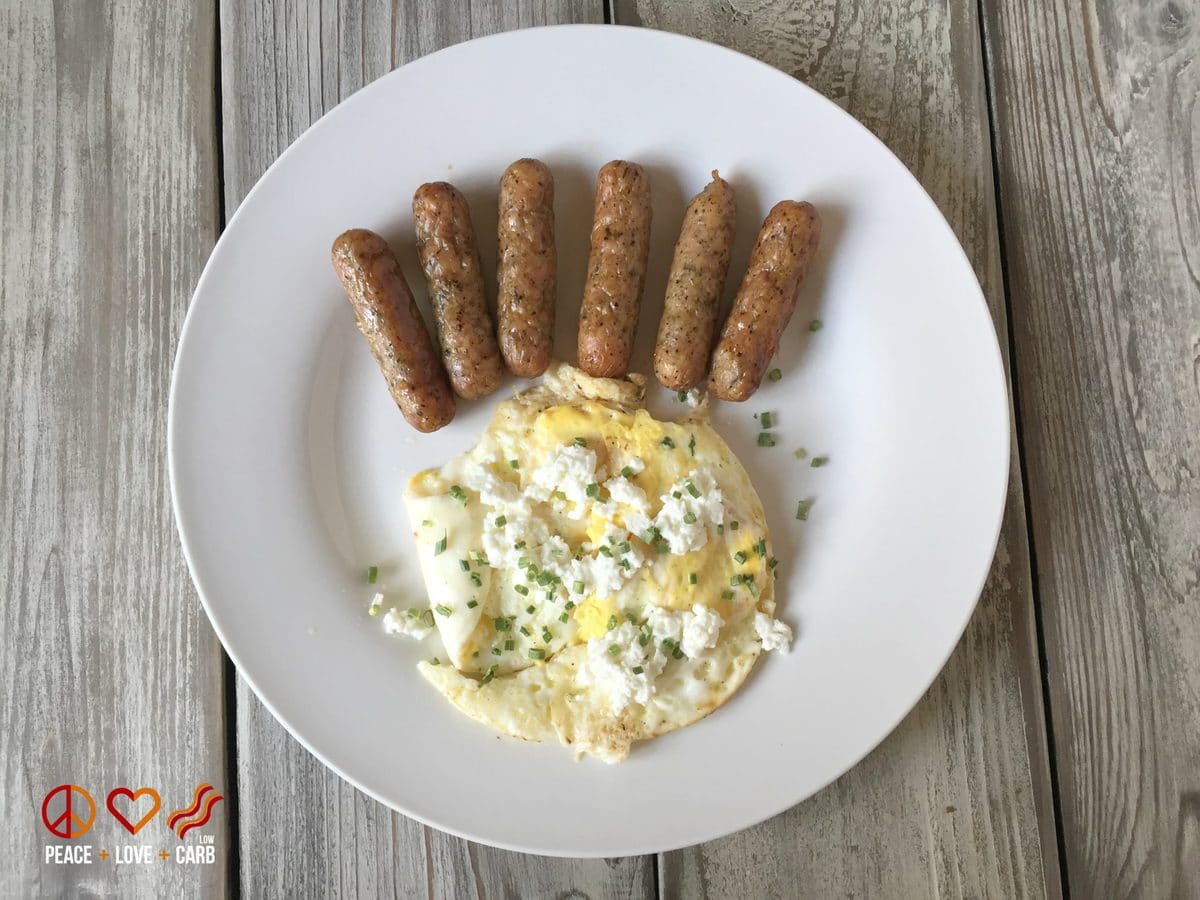 ---
Saturday 8/29 – Day 18
As I go through this journey again, it is important for me to work on a good work/life balance. This is something I struggle with daily. Some days I achieve it, but if I am honest, most days I do not. I am a very motivated and driven person. I love what I do and therefore I could easily work all day long. I am a workaholic. Well, working all day long and not taking the necessary time for self love and personal care is part of what landed me in this "starting over" position. Often times I sit down at my computer and before I know it, hours have flown by. It would be easy to just keep working and skip my workout or skimp on family time, but that is not the person I want to be. In all of my posts, I keep talking about how important the mental side of transformation is and striving for balance is a big part of that. There will always be things that are outside of your control, but if you diligently work to control the things you can, you will be a happier and healthier person. That being said, I was deep into my workaholic ways the last two days. The difference was that at some point I did stop, but only for my workouts and then I went right back to work. Tonight I have been bathing in Oola Balance and reminding myself  to slow down. It's a Saturday and I need to remember what it feels like to take a weekend off. Tomorrow is a new day.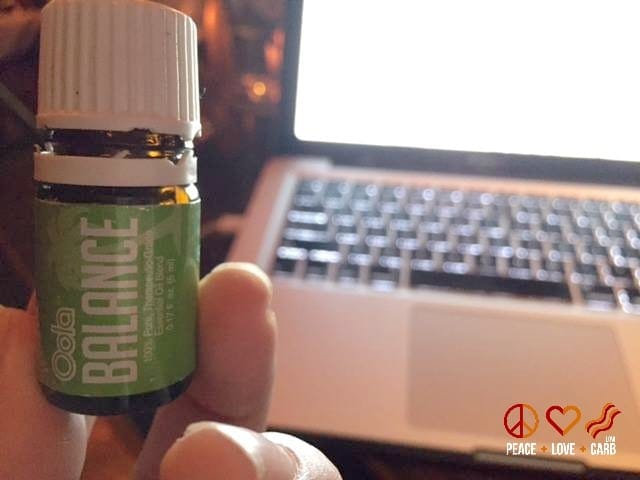 Todays workout:
For todays workout I wanted to switch things up, get silly with it and have a little fun. I did an intense 45 minute Turbo Fire workout. I am so uncoordinated and have no rhythm. I can't even imagine how ridiculous I probably look when I do workouts like these. But you know what? I LOVE IT! I was dripping sweat, laughing at myself and having fun while working out. I kept thinking about when I used to go to Zumba and I would literally be stepping on my own feet. But 2 things happened every single time I went… I had a great time and I got a butt kicking workout in. This time around I am recapturing the fun that I used to have while working out. I'm going back to a time when it wasn't all so serious. Crossfit is serious business. There is no room for goofing off when you are picking up that much weight.
A lot of you commented on this post stating that you would like more information about where to start with working out. There are a lot of things you can do without a gym membership and without equipment. The most obvious ones are to get out for a walk, take a hike, ride a bike, swim etc. There is also a lot you can do with just body weight alone. Take a deck of cards and assign a movement to each suit. For example – Hearts = Jumping Jacks, Spades = Air Squats, Diamonds = Sit Ups, Clubs = Burpees. Then as you flip through each card, you do the number or reps on the card. So if you flip over a 3 of clubs, you would do 3 burpees. Do this with all 52 cards and see how you feel afterwards. 🙂 The possibilities are endless. There is also a lot you can do with workout videos. When looking for a new workout video, it is important that you like the instructor in the video… the cadence of their speech, their methodology, their workouts. If you don't like the video or the instructor, how can you expect to stick with it.? I want to feel a connection to the things I am spending my time on, don't you? Some of the instructors or trainers with videos that I like are: Chalene Johnson for high intensity cardio and beginner weight training, Jillian Michaels for overall body shredding and Suzanne Deason for Yoga, Pilates and work on the balance ball. I have several videos by all 3 of them and they never steer me wrong.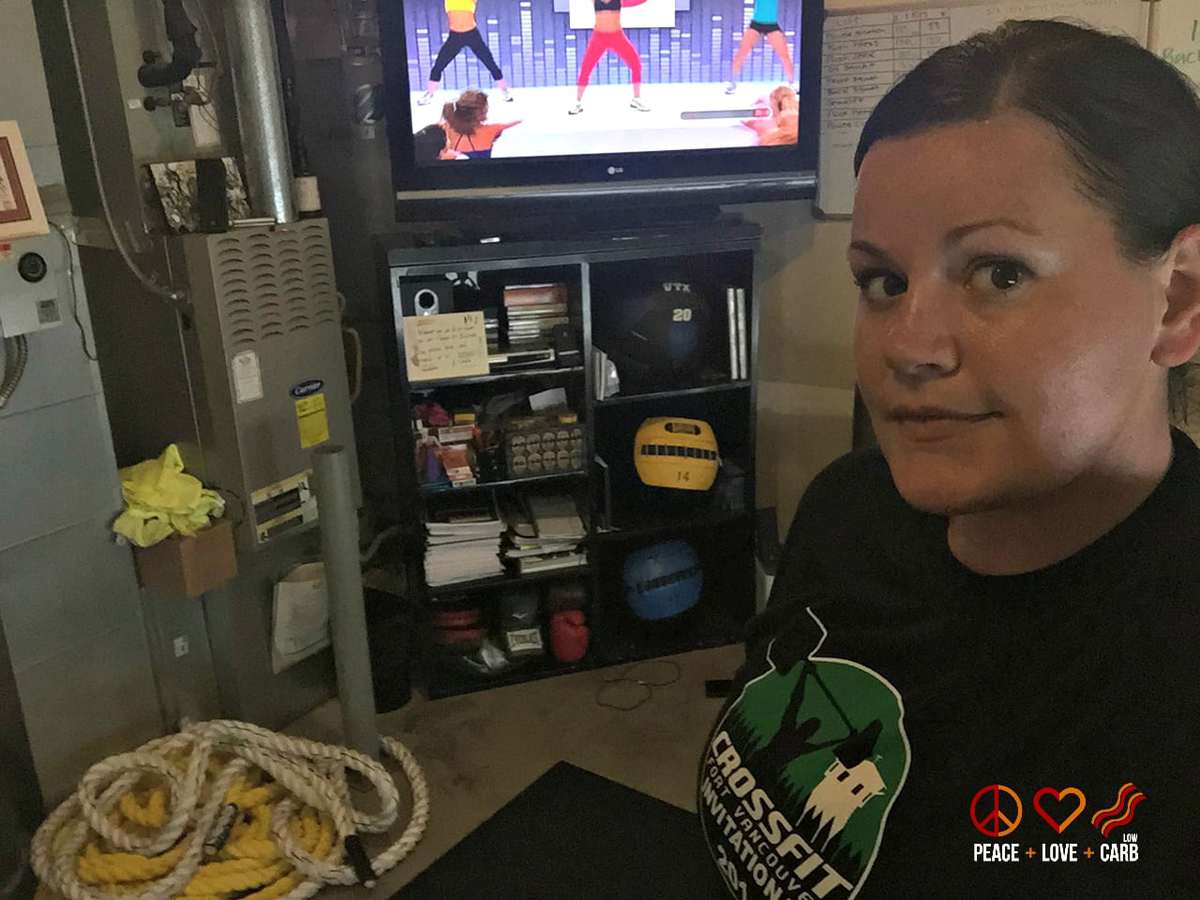 45 Minutes of Turbo Fire later and I was a sweaty mess. A happy, but sweaty mess… as evidenced by the picture below. Jon was kind enough to photobomb me. Isn't he so handsome? It really is amazing to have  him by my side. He is so incredibly supportive of everything I do and I am incredibly grateful for him. I came in from my workout to him cooking dinner for us. What a keeper!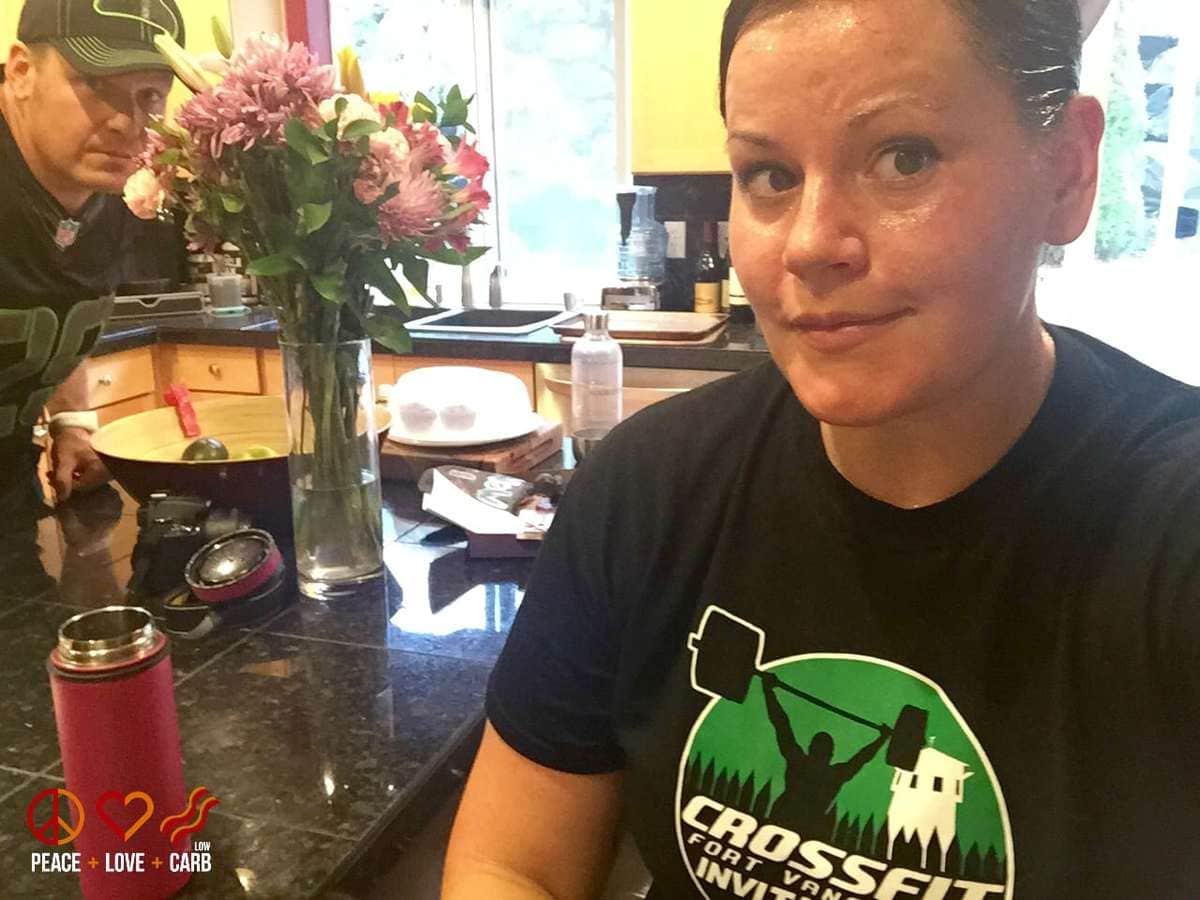 My neck and my shoulders were sore and tight from all of those rope slams on Friday so I applied PanAway and Deep Relief. I just rolled them over my shoulders and across the back of my neck. Almost instant relief. They give a nice hot/cold sensation that is really soothing as well.
PanAway – reduces pain and inflammation, increases circulation, accelerates healing and relieves swelling. It also relieves discomfort from arthritis, sprains, muscle spasms, cramps, bumps, and bruises.
Deep Relief –  is great for muscle aches, tension, pain, inflammation, joint pain, and more.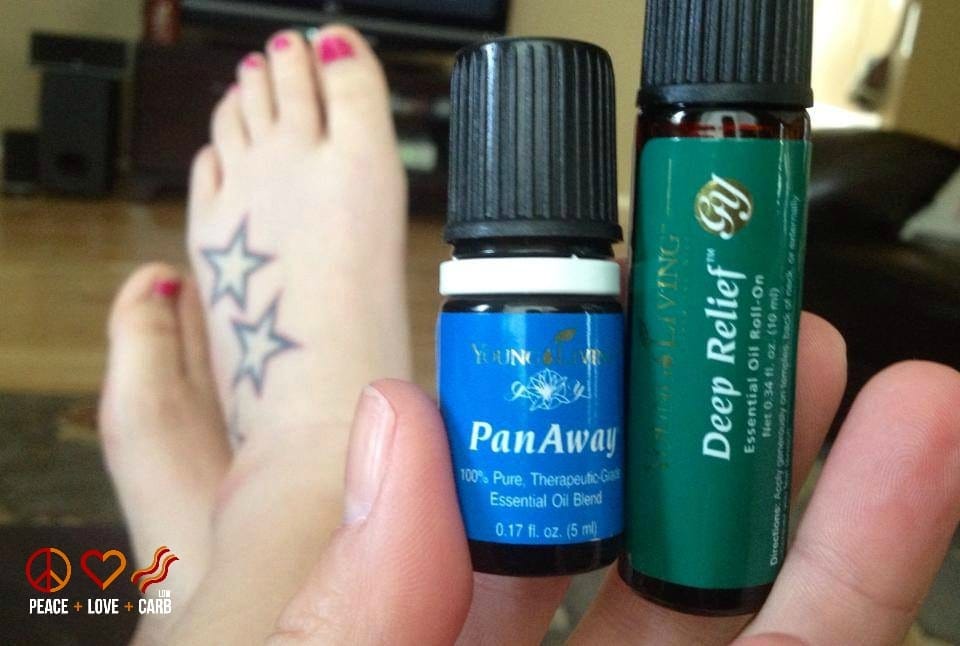 What I ate:

For lunch today I made a lettuce wrap sandwich. Between two slices of romaine, I had sharp white cheddar cheese, turkey, bacon, mayo and spicy brown mustard. Delish! I had some crunchy, garlic dills on the side. I didn't miss the bread one bit.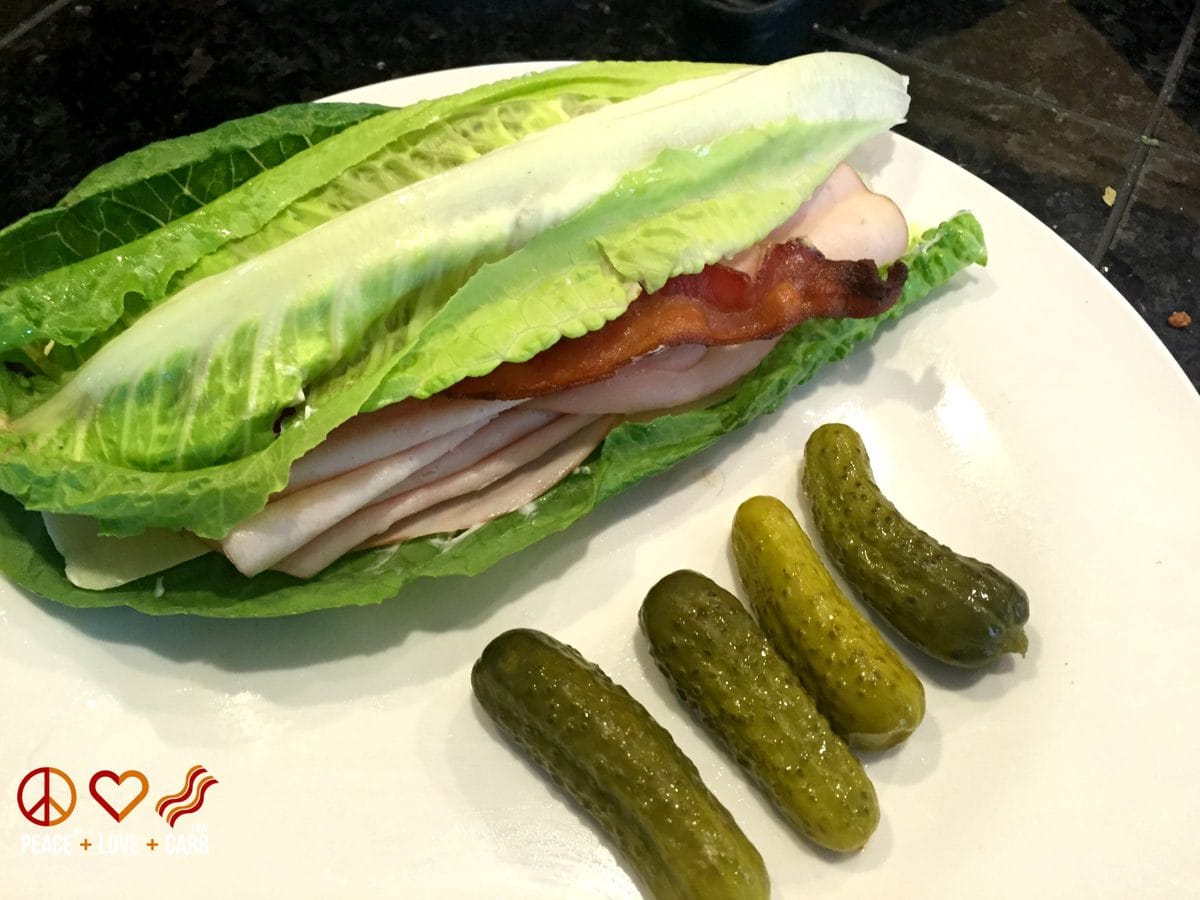 This was the amazing dinner that Jon cooked for us. Wild Steelhead cooked with garlic, herb butter and onions and sautéed green beans with bacon. It was one of those plates that I wished I could eat all over again once it was done.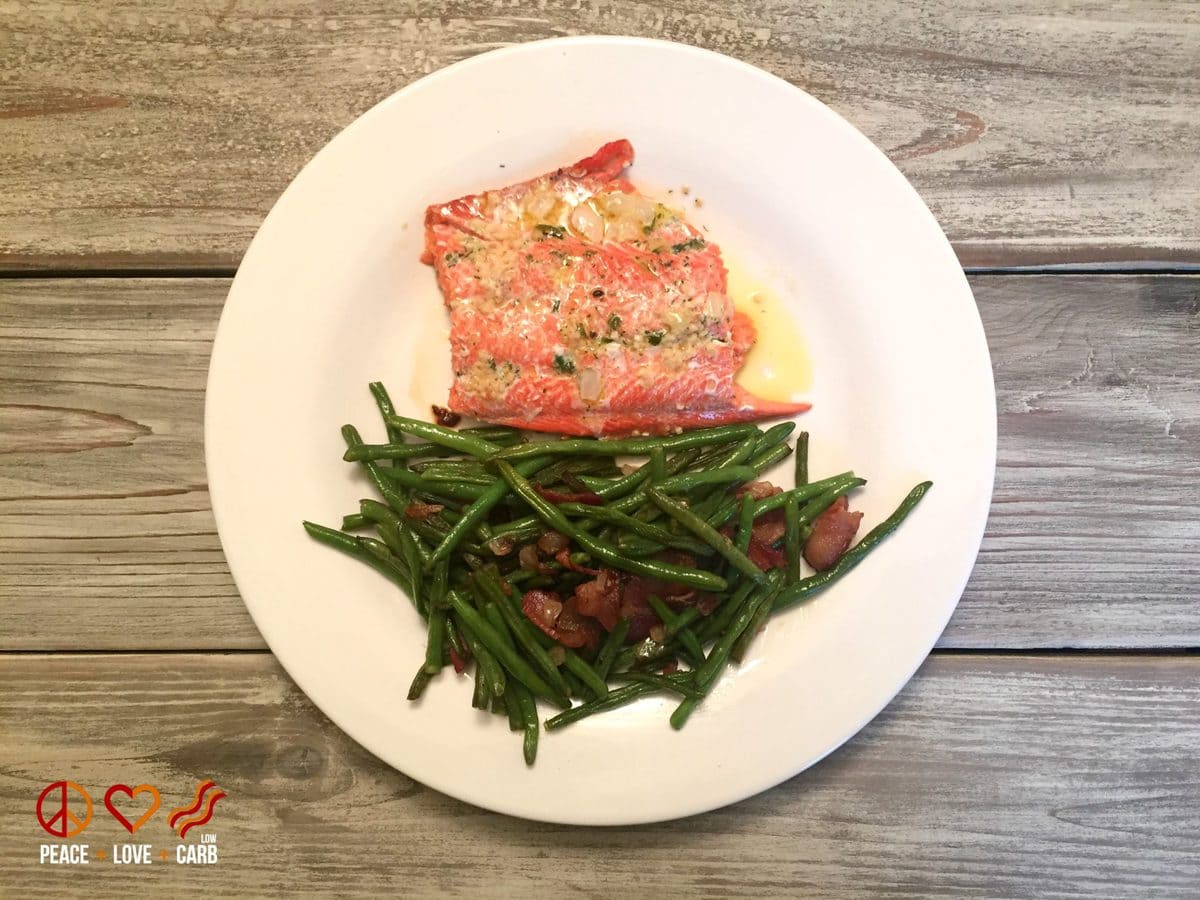 ---
Sunday 8/30 – Day 19
Today was a great day with friends. It is easier to feel balance in life when you are spending time around amazing, and uplifting people. Think about the people closest to you. Do they lift you up or tear you down? Are they supportive of your choices and your goals? Are they your cheerleaders or hecklers? I am working up a post for next week all about the importance of our circle of influence and how it impacts your journey down the road to total health and wellness. Stay tuned…
Todays workout:
I'll admit it… I was feeling a little lazy today. It was hard to get my body moving. It was a drizzly, cozy day and I just wanted to stay curled up with my pups. Despite that, I still got in a good yoga session at the end of the evening.
Commitment is what transforms a promise into reality. It is the words that speak boldly of your intentions. And the actions which speak louder than the words. It is making the time when there is none. Coming through time after time after time, year after year after year. Commitment is the stuff character is made of; the power to change the face of things. It is the daily triumph of integrity over skepticism.  – Anonymous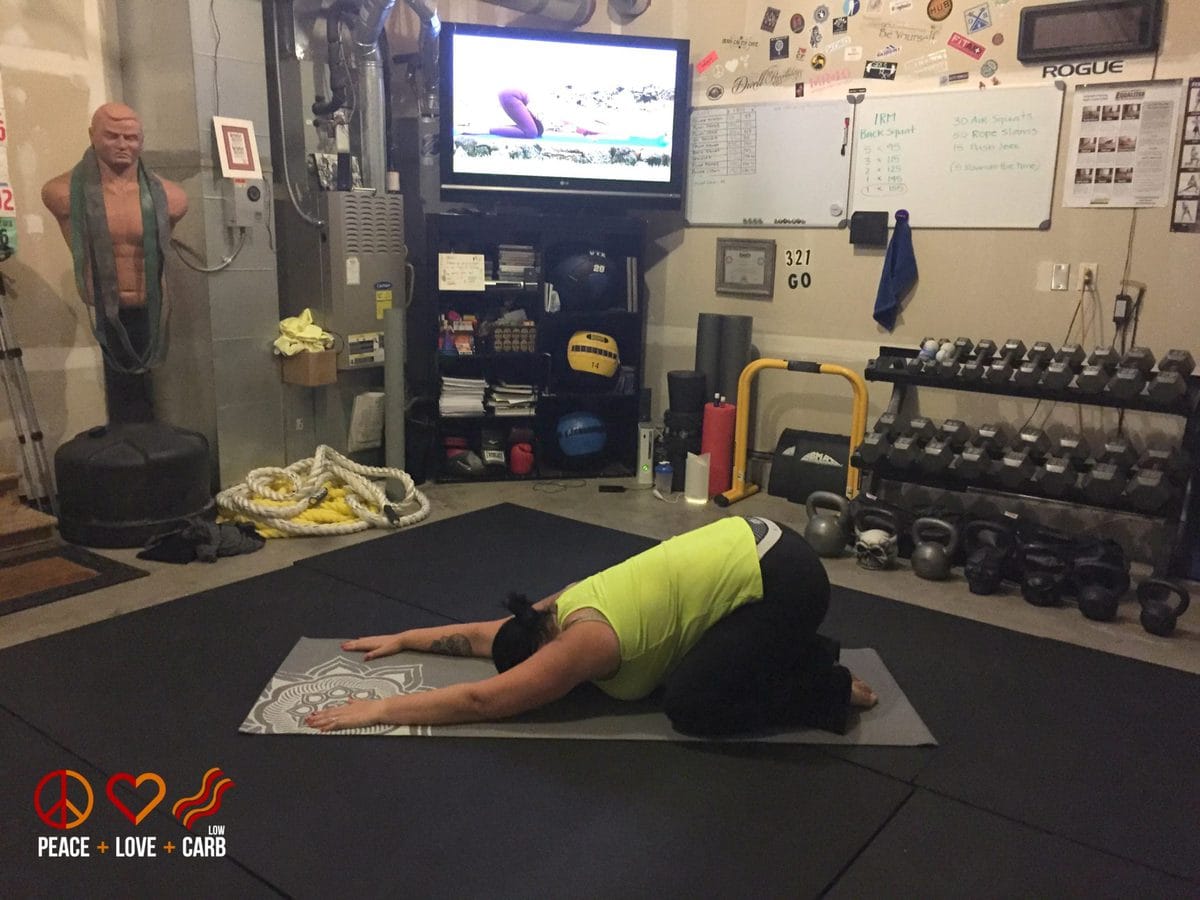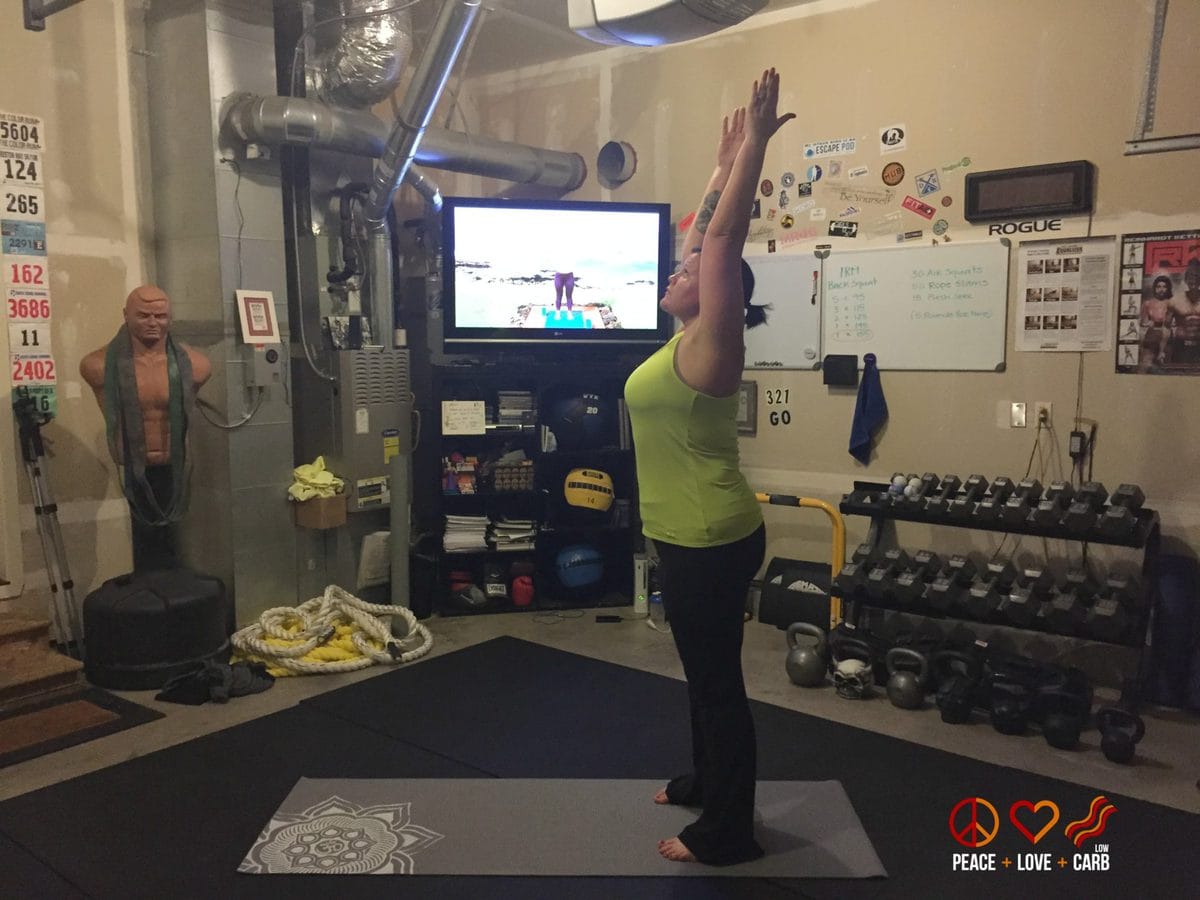 During my yoga session I diffused 4 drops each of Believe and Frankincense. I felt amazing afterwards… grounded and positive. I should definitely do more yoga.
Frankincense is great for meditation and calming the mind. It is known to deepen your spiritual awareness. It is considered the "holy anointing oil" in the Middle East and has been used in religious ceremonies for thousands of years. "Used to treat every conceivable ill known to man,"
Believe– (A blend of Idaho Balsam Fir, Coriander, Bergamot, Frankincense, Idaho Blue Spruce, Ylang ylang and Geranium). Restores feeling of hope and helps to release the unlimited potential inside us. It also helps to encourage feelings of courage, faith and strength. It promotes relaxation and calming, while bringing about a sense of clarity and focus.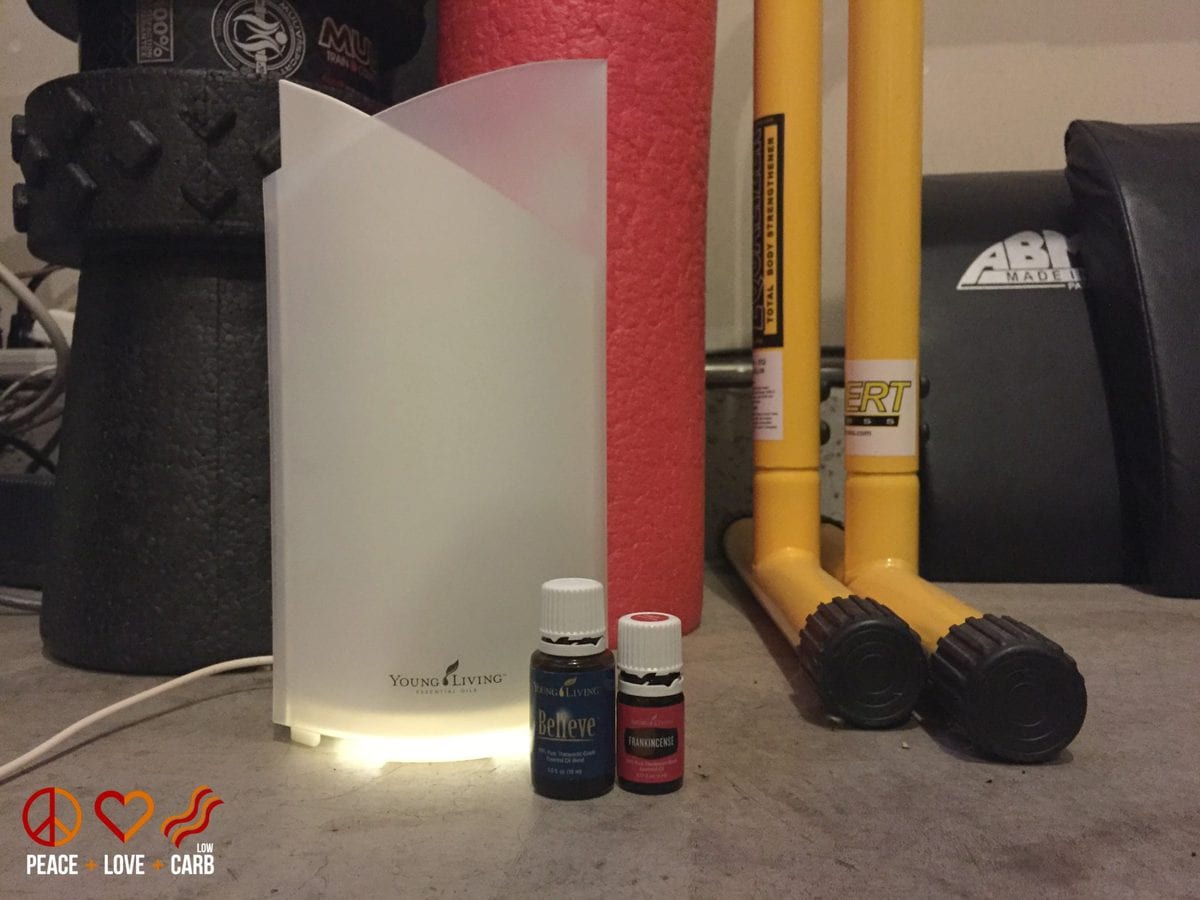 Workout: 
30 Minutes Yoga for Weight Loss
What I ate:
Today was a little bit of a test… In a good way. We have not eaten out at all since restarting this journey. That is HUGE. We were eating out a lot before this. A LOT! I love eating out. I worked in the restaurant industry for over 15 years. Then I wrote a series of cookbooks. Most days I just feel like going to a restaurant, being waited on, having great food and not having to worry about the clean up. Put part of changing habits, it to change habits, right?
We ate dinner at a friends house this evening. They just got a new smoker and made a huge pile of ribs. The ribs were coated in brown sugar, honey and applesauce and then covered in barbecue sauce. They served pasta salad on the side. Knowing that I needed to keep it low carb and gluten free, the ribs and the pasta salad were not an option. We brought the green beans, so I knew there would be at least one thing I could eat. I also managed to snag a chicken leg that had no sauce on it. WIN! A great night with friends that included a meal I could eat.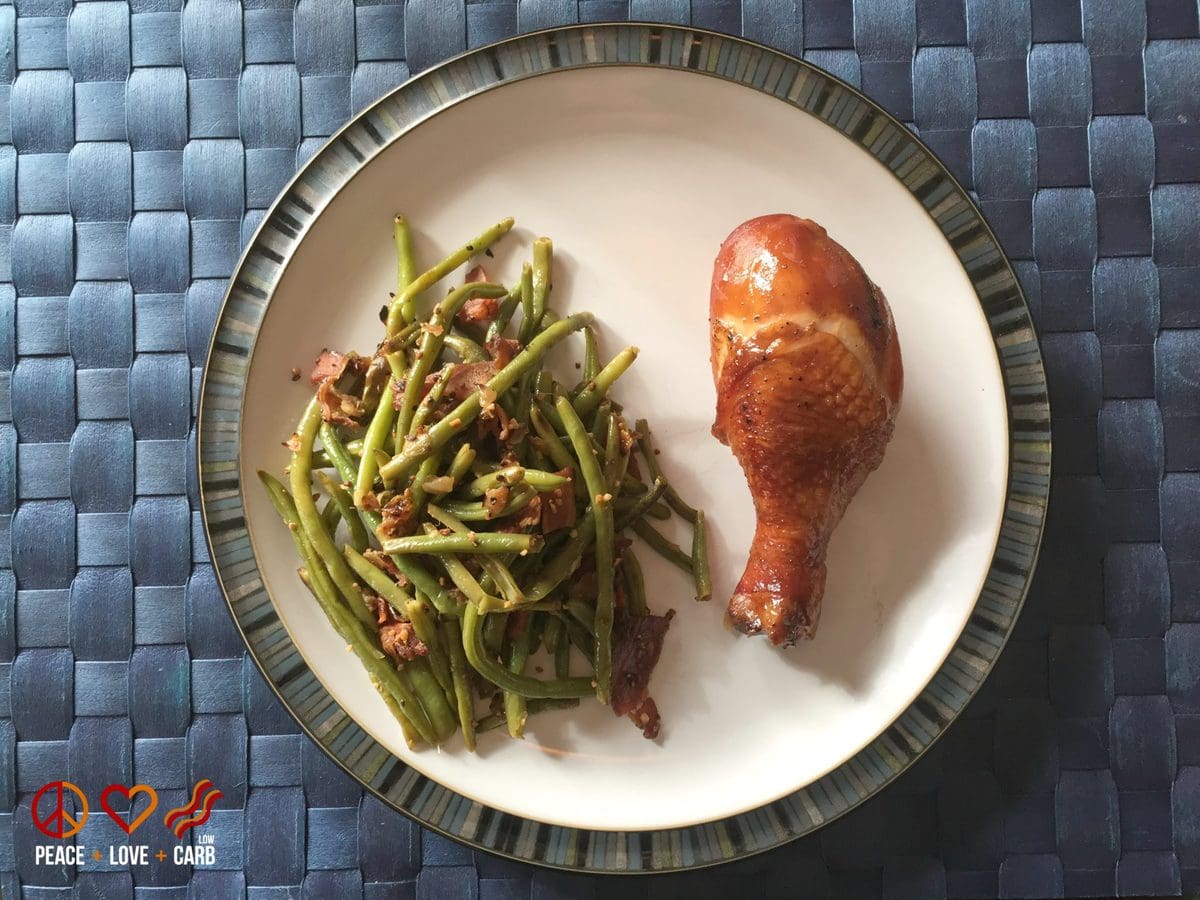 When I got home, I was craving something sweet. I immediately reached for a Quest Bar. When Jon surprised me with my new bike for my birthday earlier in the week, the basket was full of all my favorite flavors. He sure knows the way to my heart.
Quest Chocolate Brownie : Allergens: Egg Free, Fish Free, Gluten Free, Peanut Free, Shellfish Free, Soy Free, Starch Free, Wheat Free, Yeast Free . They are Gluten Free, Low Carb, Paleo Friendly. No sugar or sugar alcohols used. Gluten Free. Doesn't contain, simple carbs.

Ingredients: Protein Blend (Whey Protein Isolate, Milk Protein Isolate), Isomalto-Oligosaccharides (100% Natural Prebiotic Fiber), Almonds, Cocoa, Water, Natural Flavors, Sea Salt, Lo Han Guo, Sucralose.

MUCH better than a chemical shit storm Atkins bar. You can get them online here. You can also get them directly through Quest, at Whole Foods, health food stores and a lot of gyms carry them. I have found the best deal to be on Amazon Prime.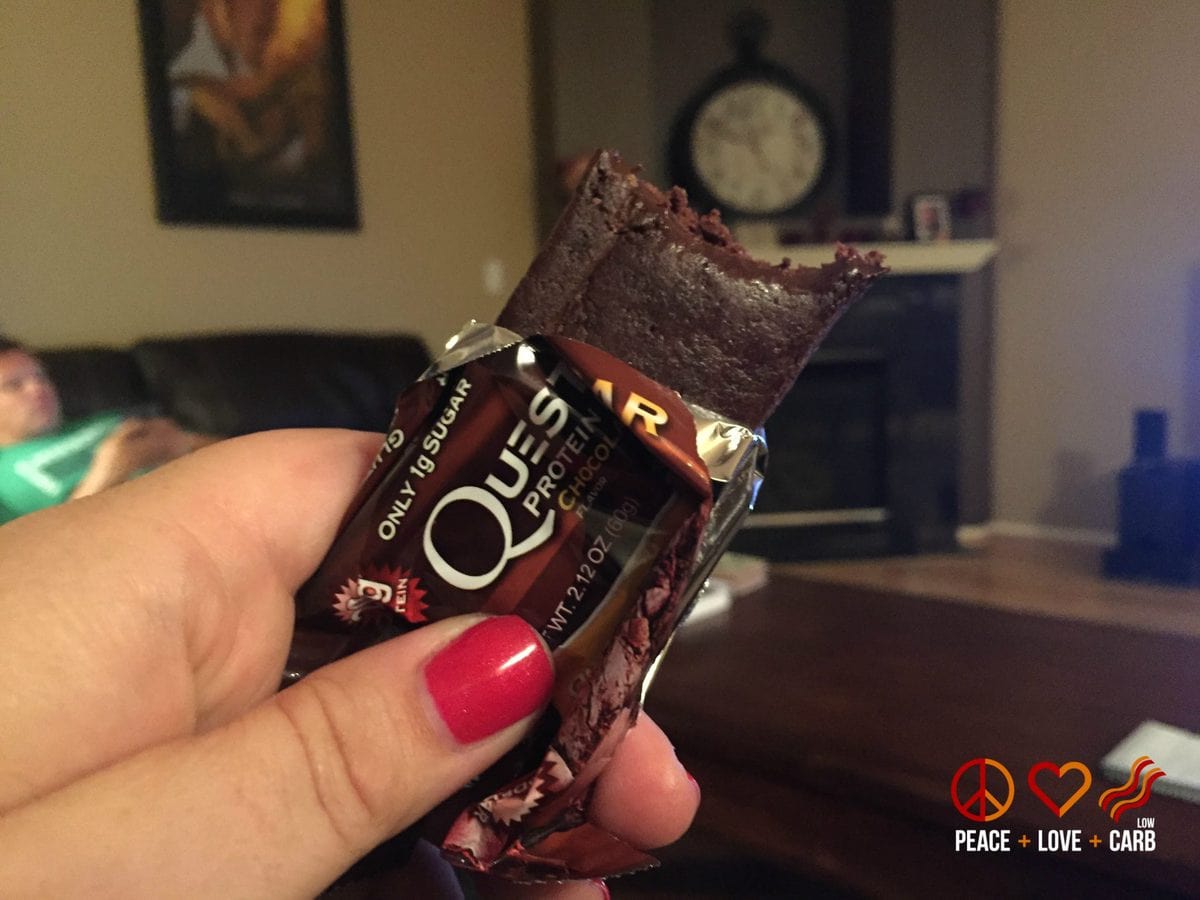 ---
Monday 8/31 – Day 20
I honestly don't have much to report for today. It was a pretty laid back day. No workout. Today was a rest day. It was a day full of too much work (still working on that balance  
 ) and a lot of puppy snuggles. I was pretty much glued to the couch with my laptop on my lap all day! Besides, with pups this cute, how could I resist?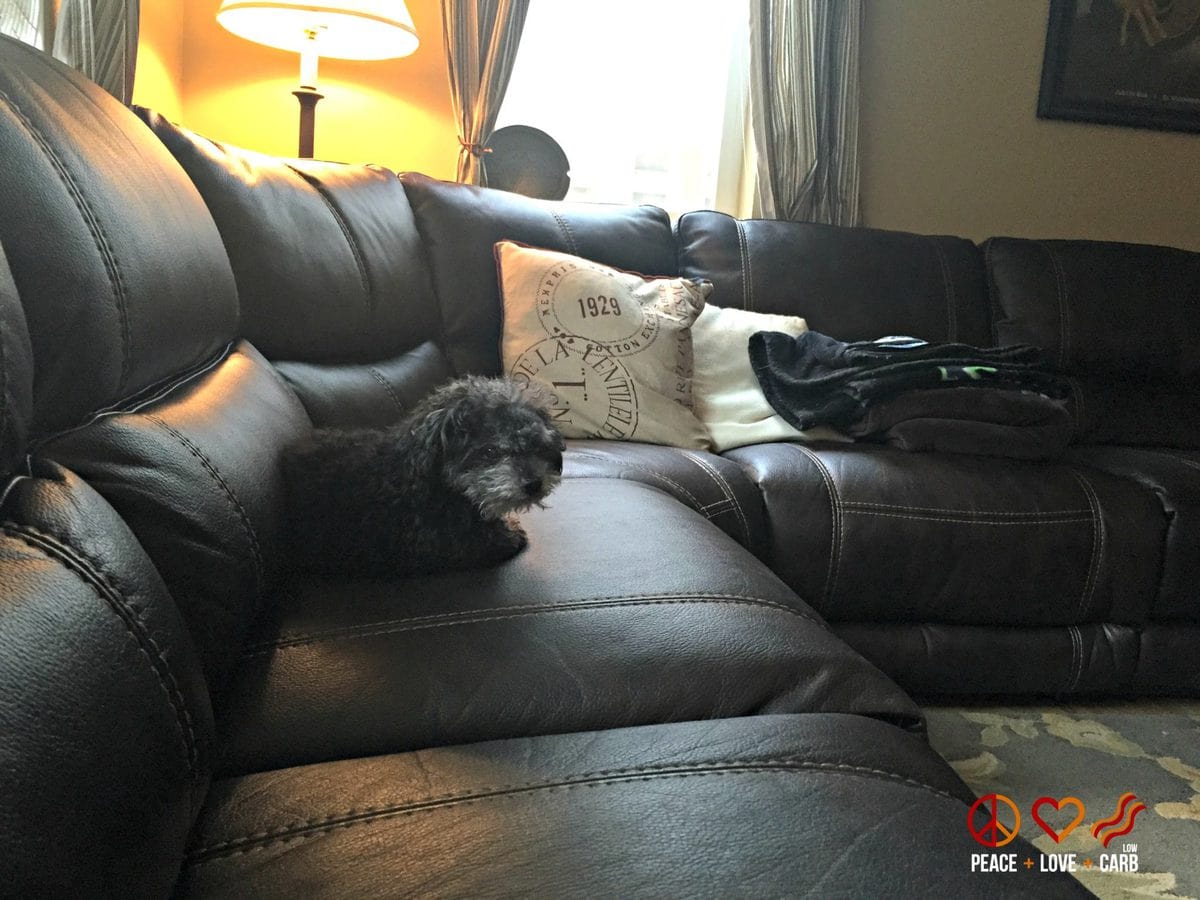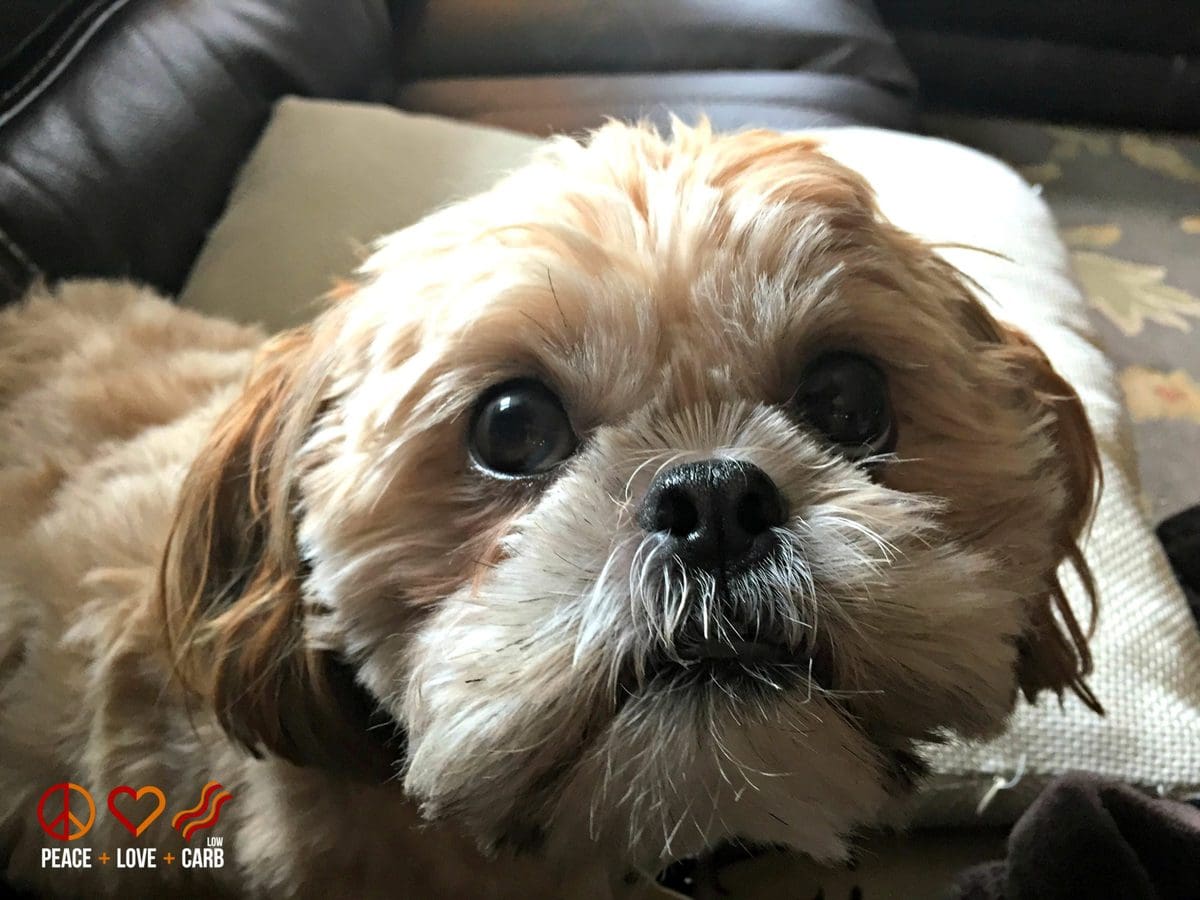 What I ate:
Lately I am obsessed with goat cheese. Love, love, love it! For breakfast I had sausage and fried eggs, topped with goat cheese and chives. So, so good. I could eat it every day. For lunch I had my BLTA Pesto Chicken Salad. For dinner we had chicken, and a simple salad.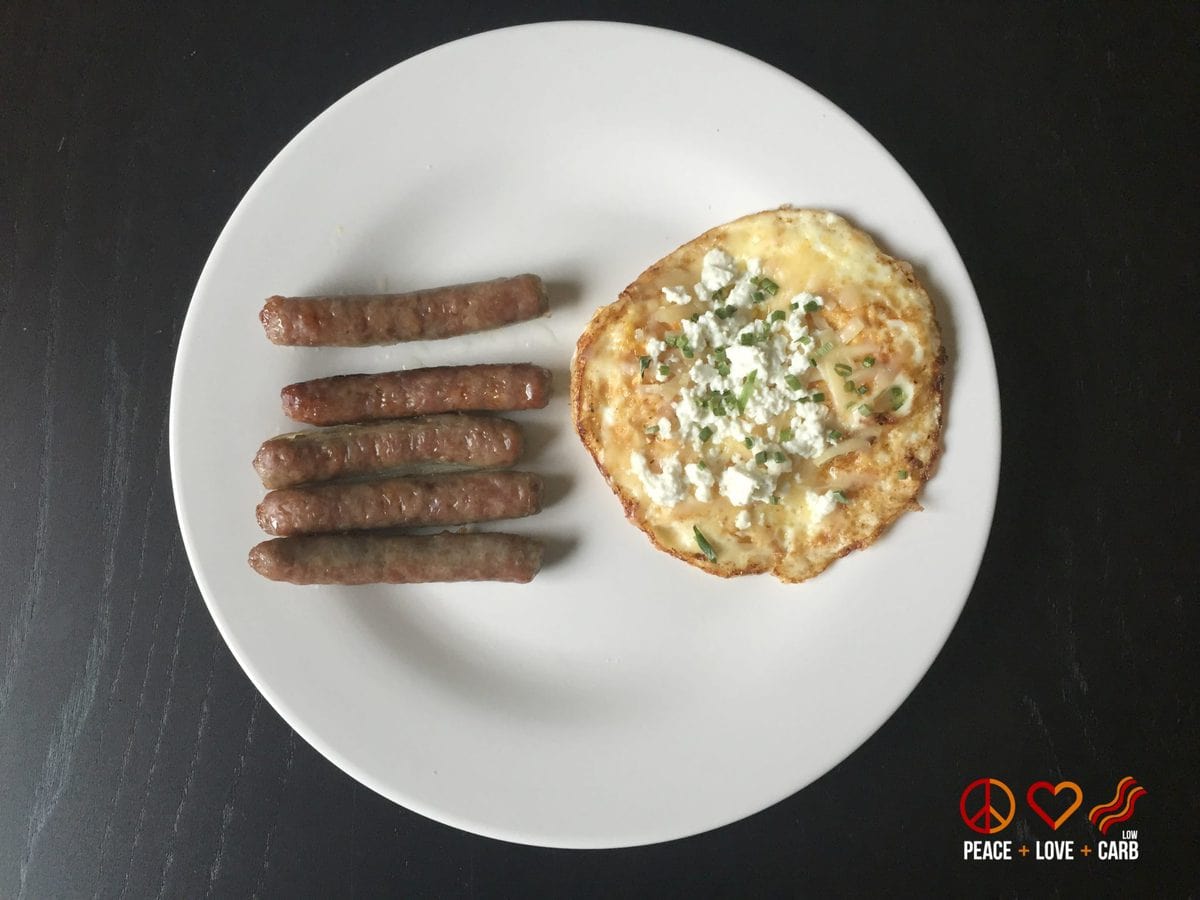 ---
Tuesday 9/1 – Day 21
Wow, I can't believe this is the end of week 3 already. I feel like I was just getting started. Tomorrow is weigh in day and I can't wait to see what the scale has in store for me. Regardless of the number, I feel great and I am really starting to see the changes in my body. I refuse to let a number define me. You should too. There are so many other amazing benchmarks of transformation than just the number on the scale. How do your clothes fit? Is your face looking thinner? How do you feel? Are people starting to notice? Is that bloated wheat belly going away? These things are far more important that any information the scale can give you. Please, please, please do not be a slave to the scale. It doesn't define you and it cannot tell you how beautiful and amazing you are!
Todays Workout:
In light of the new goal I set earlier in the week, I decided I wanted to work on Deadlifts again today. If you are following along with the weekly posts, then you already know that I just PR'd my deadlift last week at 245 lbs. Well, I am excited to announce that I PR'd it again today at 255 lbs. Inching closer towards that 300 mark on my deadlift and farther away from it on the scale. VICTORY!!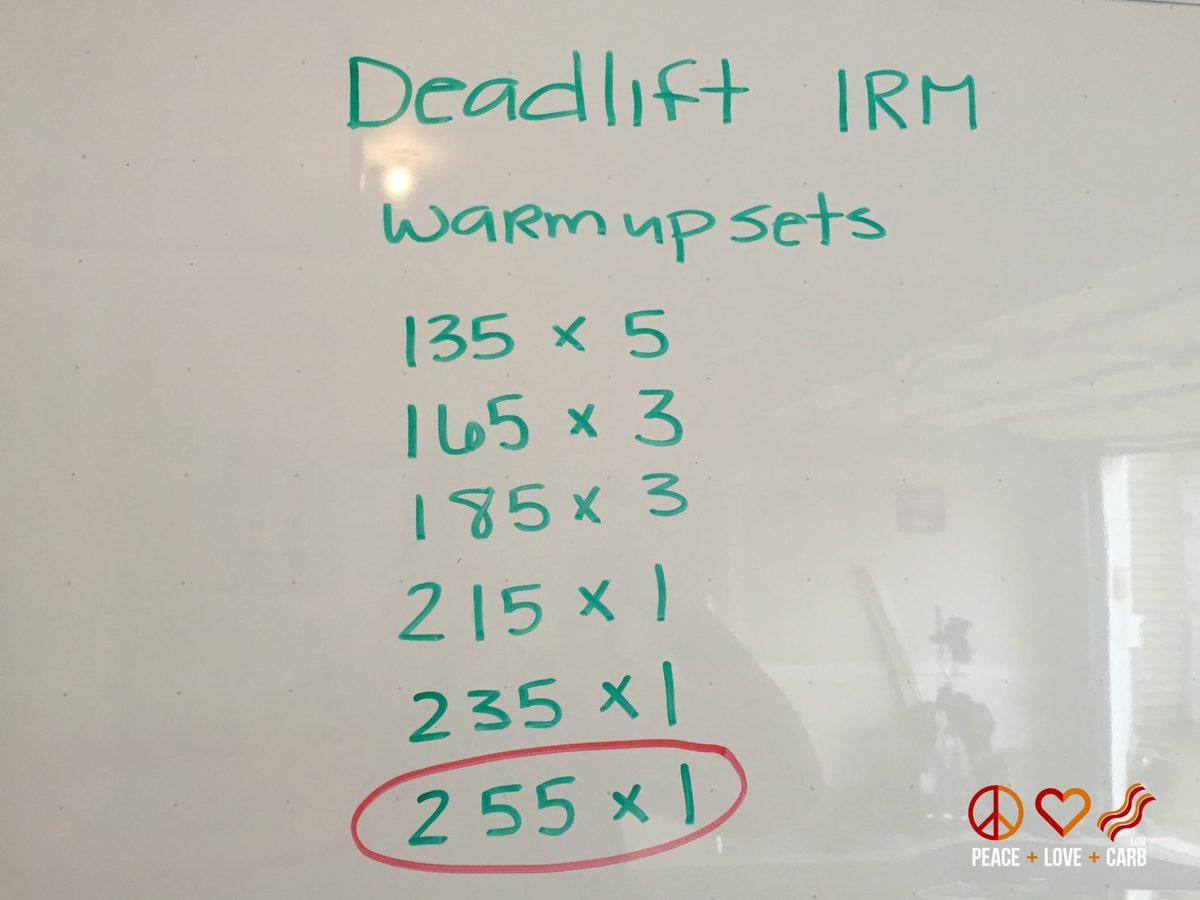 Workout:
Deadlife 1RM (one rep max)
Warm up sets
135 lbs x 5
165 lbs x 3
185 lbs x 3
215 lbs x 1
235 lbs x 1
255 lbs x 1 – PR!!
What I ate:
This morning I ate one of my all time favorite breakfasts. Even though I make recipes for a living, I eat pretty simply most days and can eat the same thing days in a row without getting bored. 2 Sausage patties, sharp white cheddar cheese, 2 yolky eggs and half of an avocado. There has been a severe shortage of avocado in my life over the last few weeks. They just haven't looked great at the store. This avocado made it worth the wait. Delicious buttery flavor and texture. It was perfection. Check out some of the creative avocado recipes on my site – Here