If you are just starting to follow along on my weight loss journey, I recommend starting with these two posts first – I am a Healthy Living Blogger with a Secret… I got Fat Again! and Week 1 of 52 – My 100 Pound Journey. Follow along on Instagram for more updates throughout the week. Also, feel free to join our Peace Love and Low Carb Friends Group
I lost 8.7 pounds last week. 8.7!! I feel like I lost it all from my stomach and my face. It feels so damn good to be back on track and to already be able to see changes after just one week. I feel happy, proud, and empowered. How was your week 1?
Wednesday 8/19 – Day 8 – Week 2 Weigh In
Starting Date: 8/12/15
Starting Weight: 274 lbs
Current Weight: 265.3 lbs
Pounds Lost: 8.7
Pounds to Goal: 91.3
Goal Weight: 174
Goal Date: 8/27/16
Height: 5′ 9″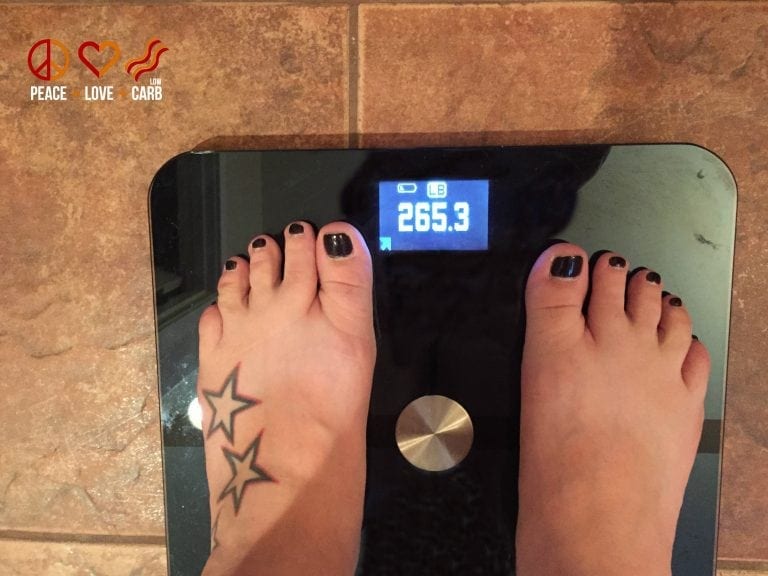 Todays workout:
When I decide to make a comeback, I do it in a big way! I've avoided deadlifts like the plague because they are my least favorite lift. I hurt myself the first time I did them and was leery of them after that. Well, this past week has been all about tackling demons and it was time to tackle this one too. I haven't gone for a 1RM (1 rep max) on my deadlift in well over a year. Well today I did and I PR'd (hit a person record) it by 10 lbs – 245lbs. I also planned to get a nice long walk in today but with the 90+ degree weather, that just didn't happen.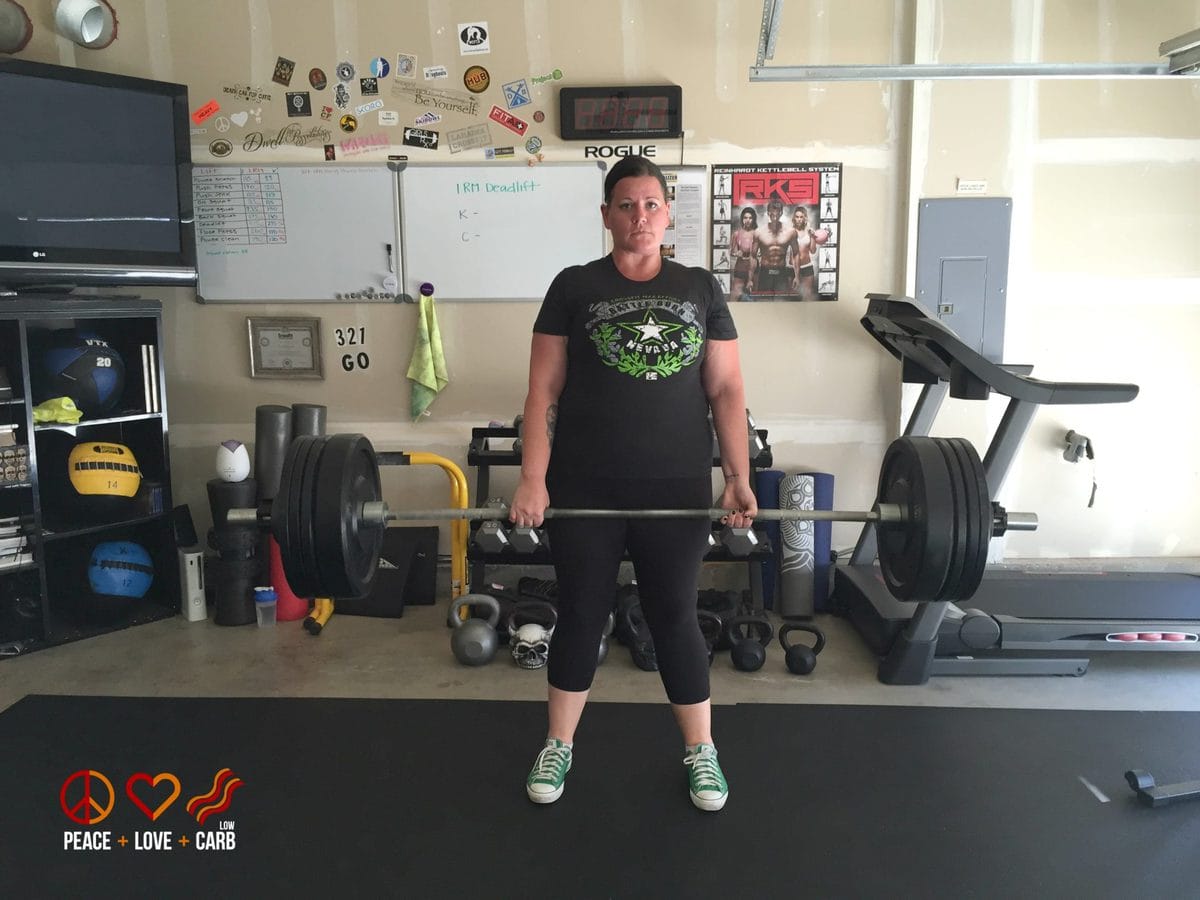 Workout-
Warm-Up – 20 Deadlifts at 135 lbs.
Work up to a 1 Rep Max Deadlift – 245 lbs.
What I ate:
We kept it simple with all of our meals today. Breakfast was maple chicken sausages and eggs, for lunch we snacked on an antipasto plate, and for dinner we had some amazing juicy lucy burgers. They were stuffed with goat cheese and sharp white cheddar. We also had steamed artichokes and caesar salad. Easy and delicious.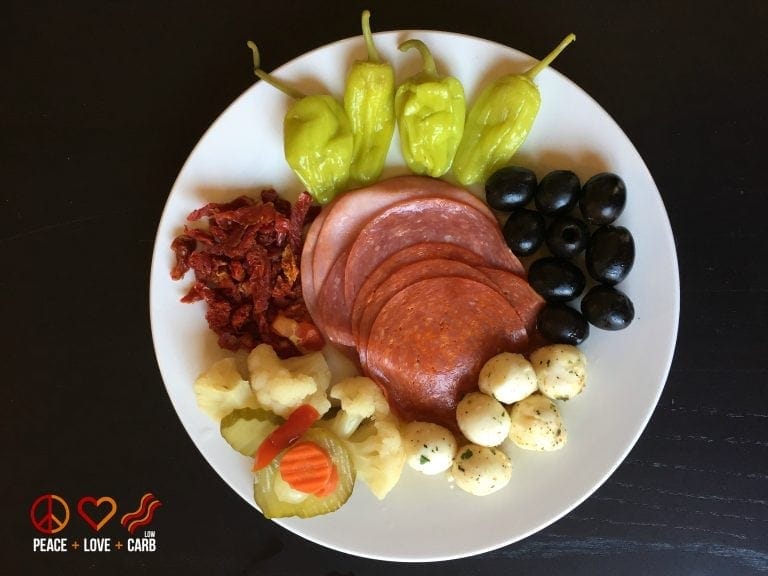 ---
Thursday 8/20 – Day 9
Todays workout:
Today was a stressful day and I was in the mood for a relaxing workout. Something that would help me clear my mind and free myself from the stressors of the day. My workouts and my oils were able to do exactly that and then I slept like a baby.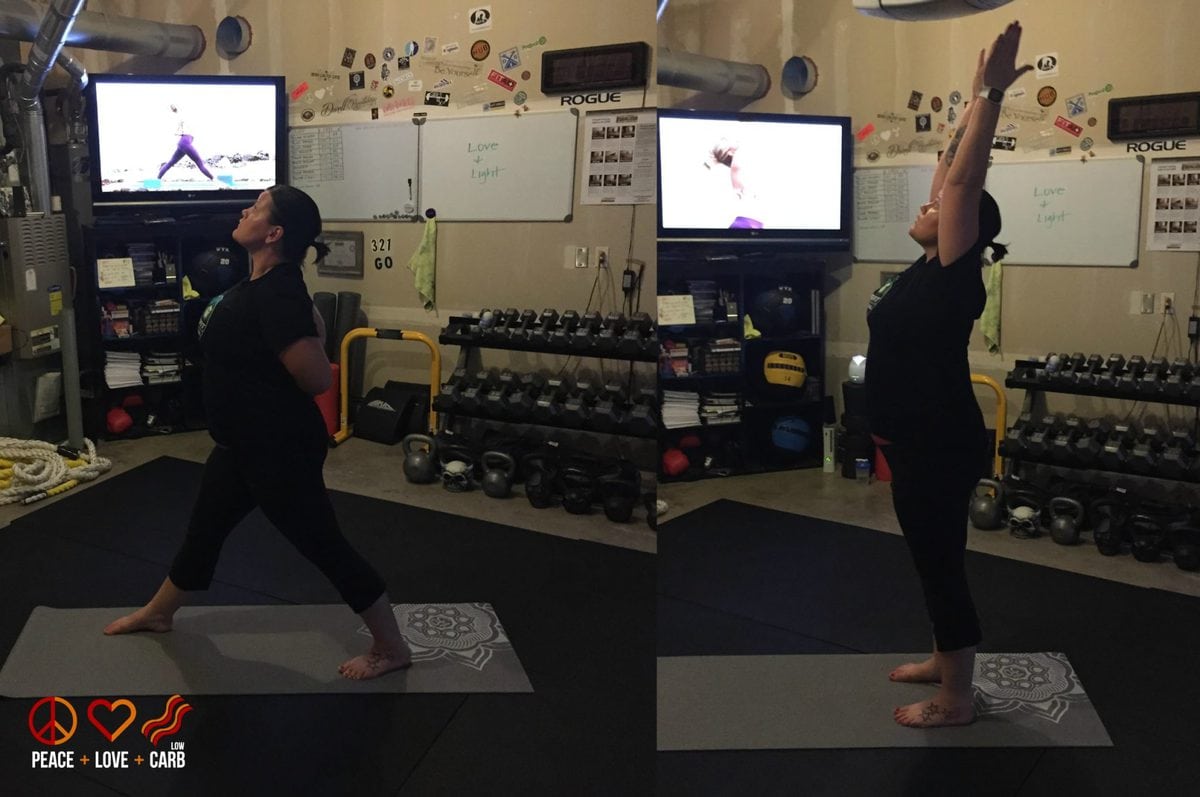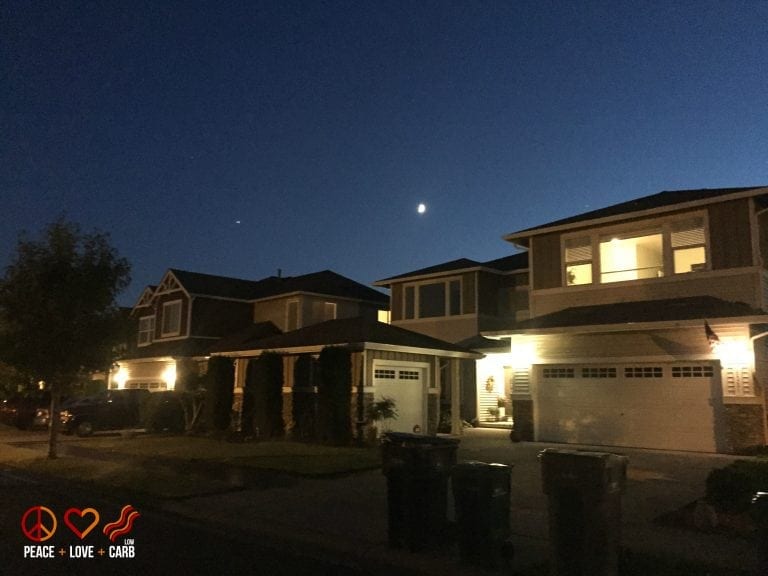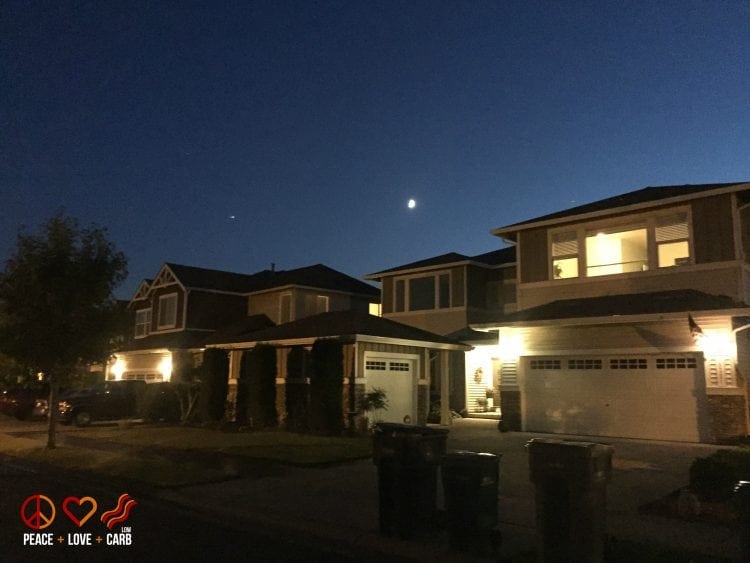 Workout-
30 Minutes Yoga for Weight Loss
2 Mile Walk through our neighborhood at dusk
Between the yoga, the walk, and bathing in Stress Away all day, I ended up feeling calm and grounded, going to bed to bed early and sleeping like a baby.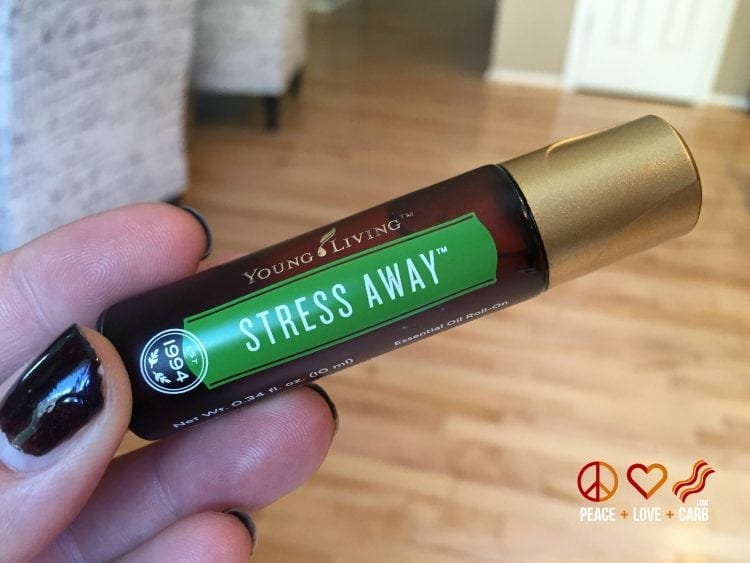 Stress Away is a blend of Copaiba, Lavender, Cedarwood, Ocotea, Lime, Vanilla. Stress Away can help induce relaxation and reduce occasional nervous tension. Vanilla contains eugenol which may combat nervous tension, while cedrol found in Cedarwood essential oil helps to induce relaxation.
Stress and conquering the mental game – I wanted to bring up stress in todays post, not only because I had a really stressful day today, but because stress is the reason so many people give as the biggest contributing factor to their weight gain. It is easy to get stressed out and skip a workout or reach for bad food. For me, conquering the physical game, has been all about first conquering the mental game. I talked a little bit about this in my "coming clean" post. I would not have been able to embark on this new journey with such determination and laser focus had I not first done all the hard work of getting my head in the right place. It wasn't easy, but damn was it worth it. While my body may not yet be where I want it, I can say without a doubt that I am mentally stronger than I have ever been before. Anxiety… a thing of the past. Stress… still happens to the best of us, but now I know my triggers, work through them and then move on. Outside of living in a body that I don't belong in, I finally feel happy, and mentally fit. THIS is the reason I am finally ready to make such profound change in other areas of my life. I wish you all the best in conquering the mental game!
What I ate:
Dinner tonight was fan-freaking-tastic. We had juicy lucys again. The patties were half ground bison and half ground beef with some onion and garlic mixed in. The burgers were stuffed with goat cheese and sharp white cheddar cheese and topped with bacon and guacamole. I served it with a simple salad of romaine, black olives, sun-dried tomatoes and fresh mozzarella. I topped it with the Lemon Garlic Vinaigrette recipe from The Primal Low Carb Kitchen.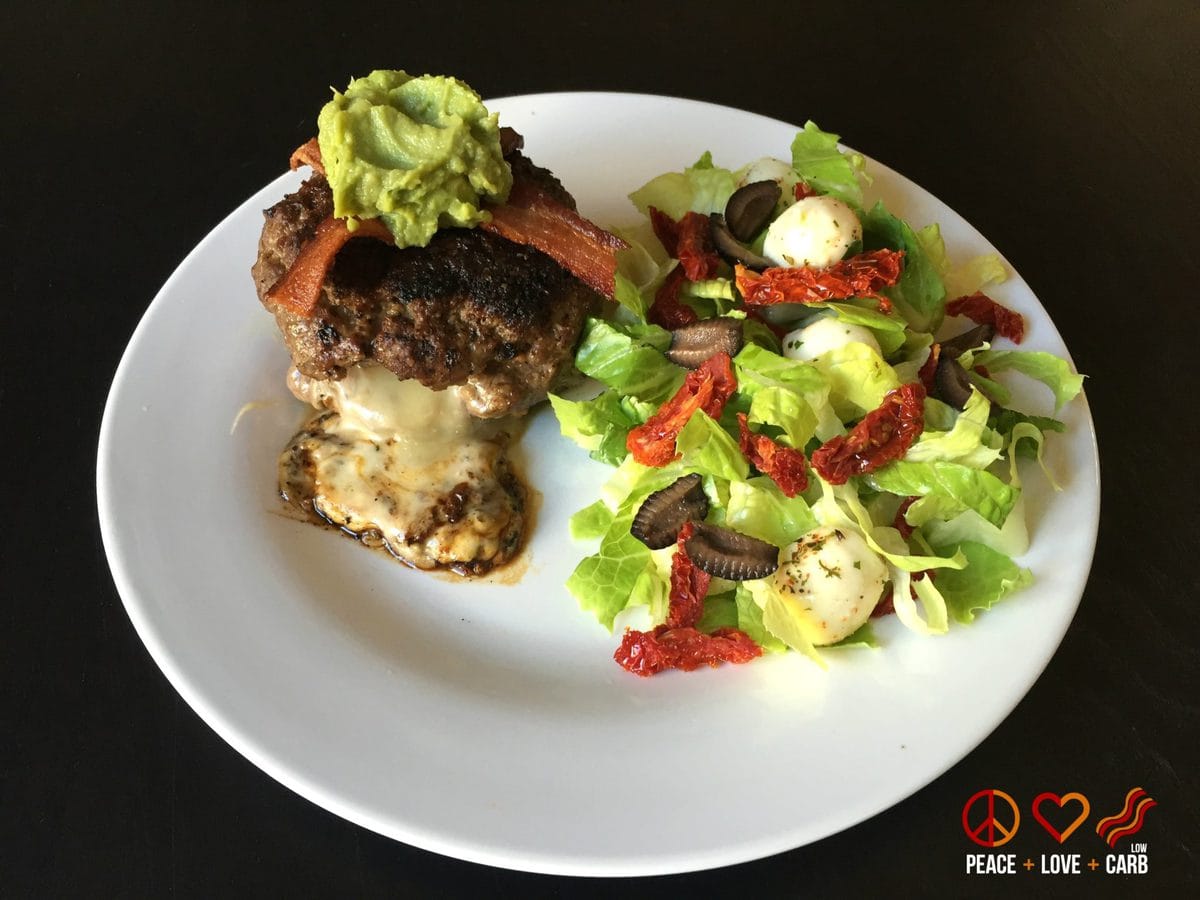 ---
Friday 8/21 – Day 10
Todays workout and a little more about tackling the mental game:
Today was a great workout day. I had more done before 10:30 am fitness and work wise than I normally have done by mid afternoon. It felt amazing to start the day with such a bang. You are only ever one workout away from a good mood. Let's just say that I was in a great mood after my workout. I have heard so many people in the Peace Love and Low Carb Friends group talking about the mental struggles they are having. Just like you can't out train a bad diet, you can't trick your brain into believing you are mentally happy and healthy when you are not. Mental health plays a vital role in your physical health. If you have not conquered the mental game and are trying to undergo a physical transformation, it is like putting a bandaid on something that clearly needs stitches. Then what happens? Often times the wound gets deeper and even infected and then never heals properly. It is worse than it was to begin with because it was never properly cared for. Part of the reason that I got so lost on this journey and ended up gaining all this weight and starting over, is that I was not winning the mental game. In fact, I was losing it big time. I was stressed out of my mind from sun up, till sun down. I was riddled with anxiety and excessive worry. I was even taking Xanax. (Not something that I have ever really admitted to the people in my life. I am admitting it here in this blog post so that you know that you are not alone.) It took me a while to realize that it was actually making my problems worse and not better. Again… bandaid vs. stitches. The doctors didn't want to get to the root of the problems that I was having. They wanted to write me a script and send me on my way. They weren't listening. They were slapping a bandaid on the problem and trying to treat the symptoms and not the cause. I can't tell you how many times they tried to put me on antidepressants when I told them that I was undergoing a lot of stress and anxiety. I even told them that outside of those issues, I led a pretty happy and joyful life. I needed coping mechanisms and not pills. But I guess there is no money in pushing coping mechanisms. I refused to go on antidepressants. My experience with Xanax was bad enough. The road to mental recovery was tough and it took me a long time to pull myself out of it and get mentally fit and strong. I can honestly tell you that I am now stronger mentally than I think I ever have been in my entire life. This is the reason that I am finally able to tackle the physical part of transformation with so much determination and tenacity. You know what pulled me out it? A strong will to be better.  Before you dismiss this entire paragraph, think to yourself "What else have I got to lose?"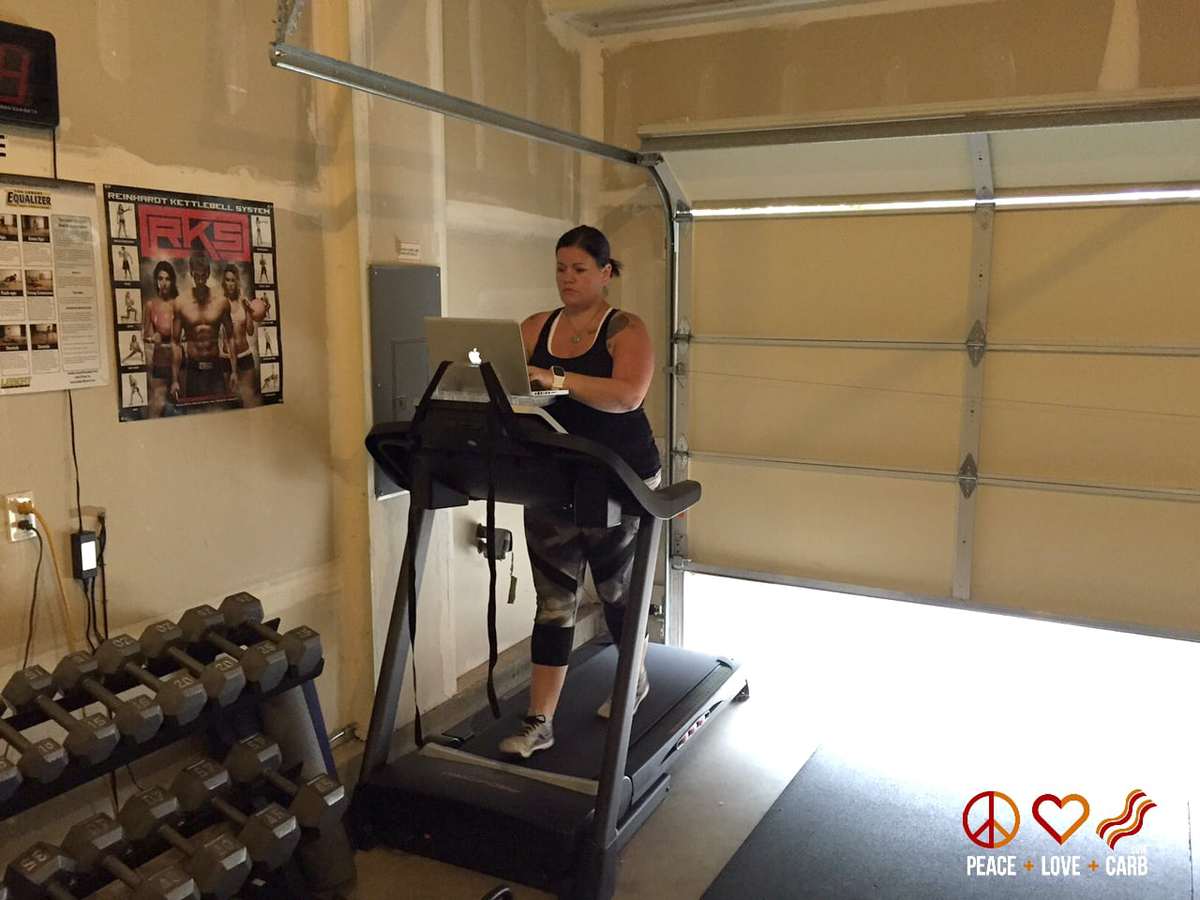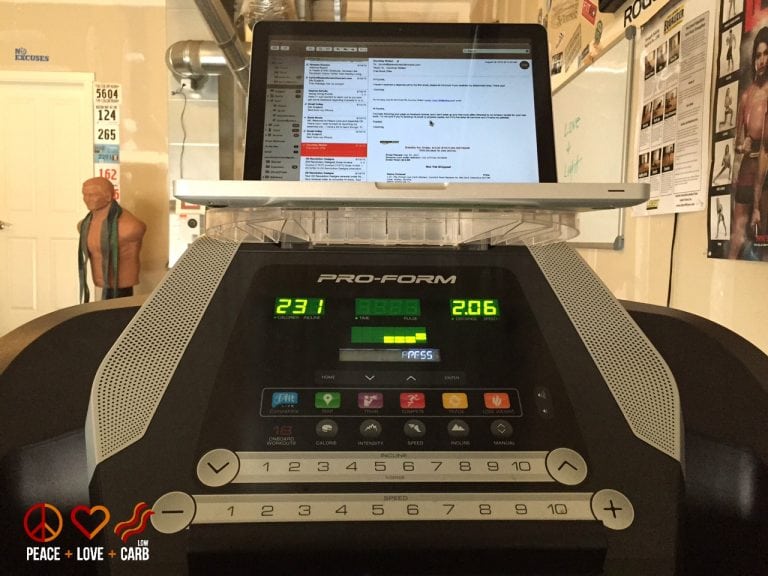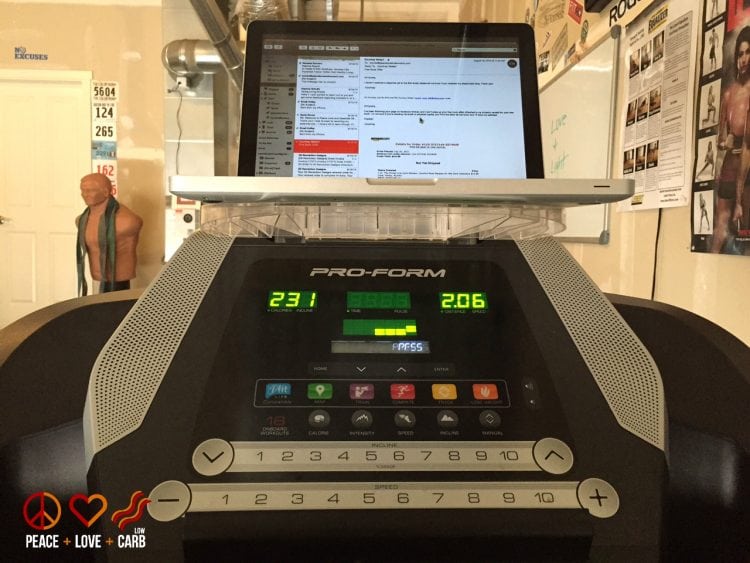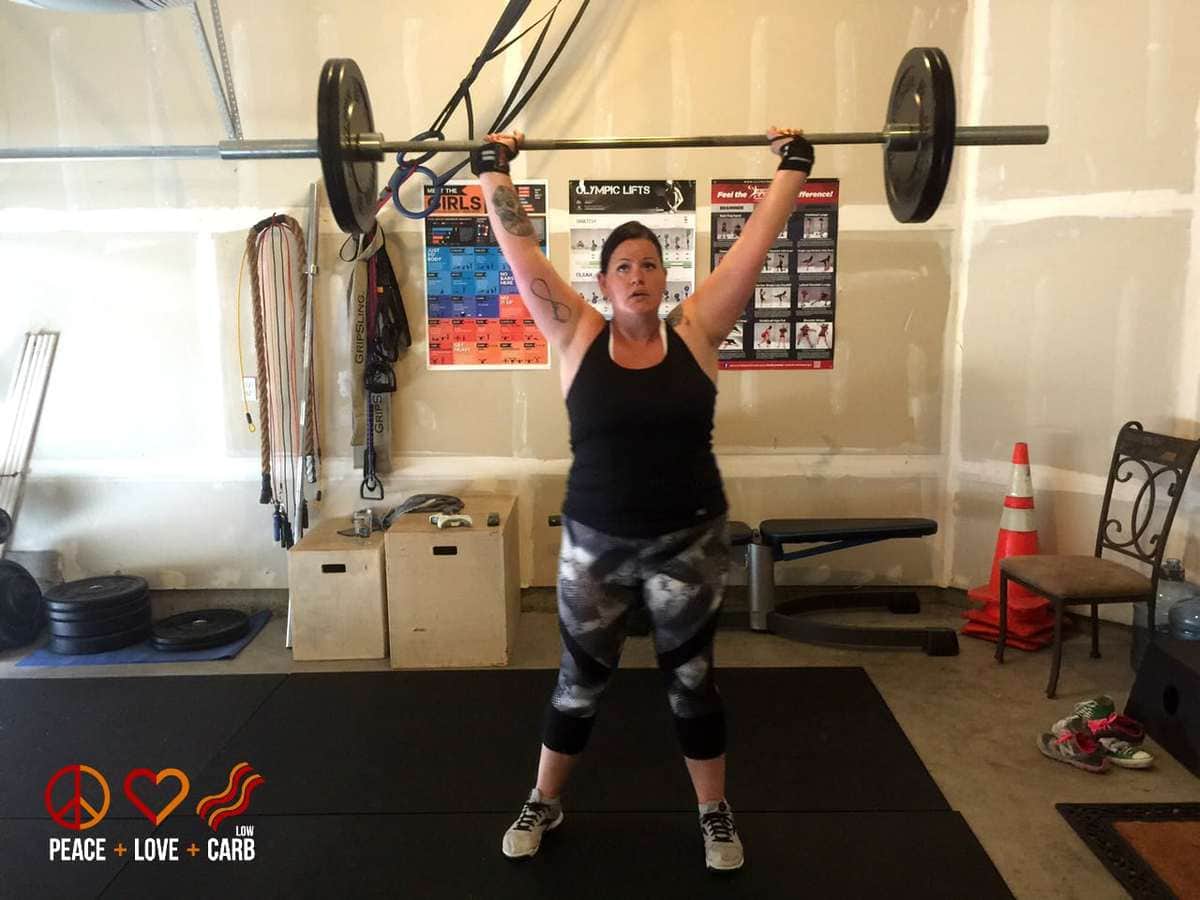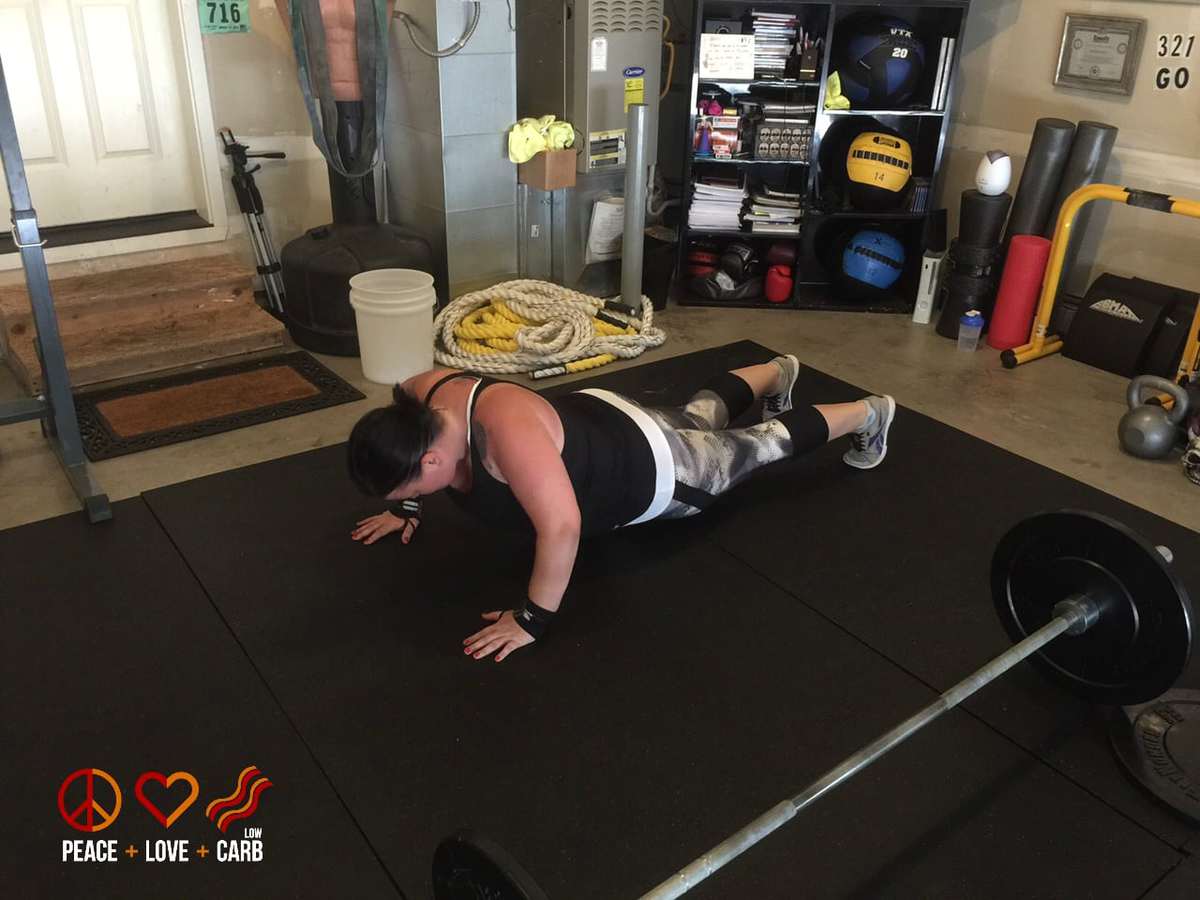 Warm-up –
2 mile walk on the treadmill while answering emails and messages. I have a Surf Shelf attached to my treadmill, which inexpensively transforms it into a treadmill desk. It was a great way to warm up, while also getting some of my morning work done. Sometimes fitness is all about doing what you can, when you can.
Work up to a 1 Rep Max Overhead Squat
3 x 65 lbs.
3 x 85 lbs.
1 x 95 lbs.
1 x 105 lbs.
Max 105 lbs. I was really happy with this considering that my old PR in my prime was only 115. After all this time, I was able to come within 10 lbs. of my prior max.
Workout: 
21, 15, 9
Floor Press – 65 lbs.
Push Ups
For Time
This workout is 21 floor press, 21 push ups, then 15 of each, then 9 of each – for total time. I finished this workout in 9:39. After the first handful of push ups, I had to drop to my knees. This workout was a tricep burner. It should be called "Bye Bye Bat Wings"
What I ate:
I actually forgot to snap pictures of any of my meals today. Maybe I was just too hungry. 🙂 For breakfast we had Sausage, White Cheddar and Heirloom Tomato Frittata, Lunch was a Chicken Caesar Lettuce Wraps with Bacon. Dinner was Shepherds Pie topped with Sour Cream and Chive Cauliflower mash from my cookbook The Primal Low Carb Kitchen
I did snap a picture of my post workout protein shake:
1 scoop Vanilla Protein Powder
2 oz. Ningxia Red
8 oz. Coconut Milk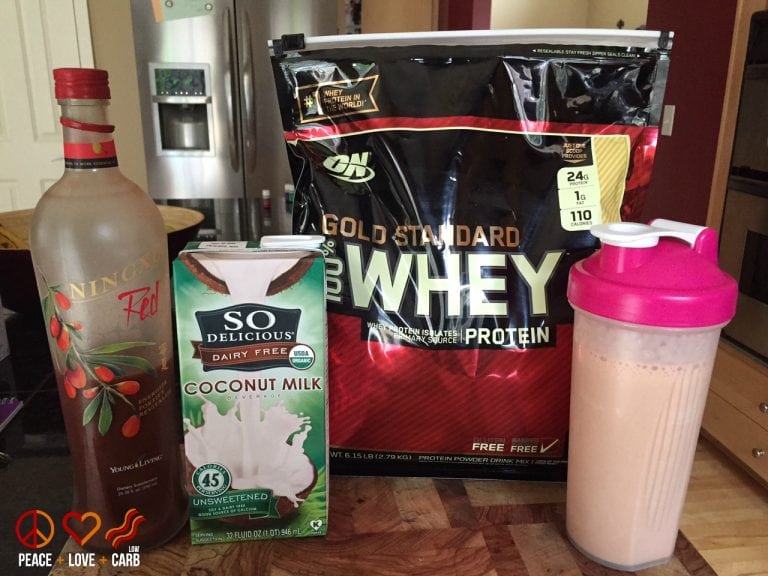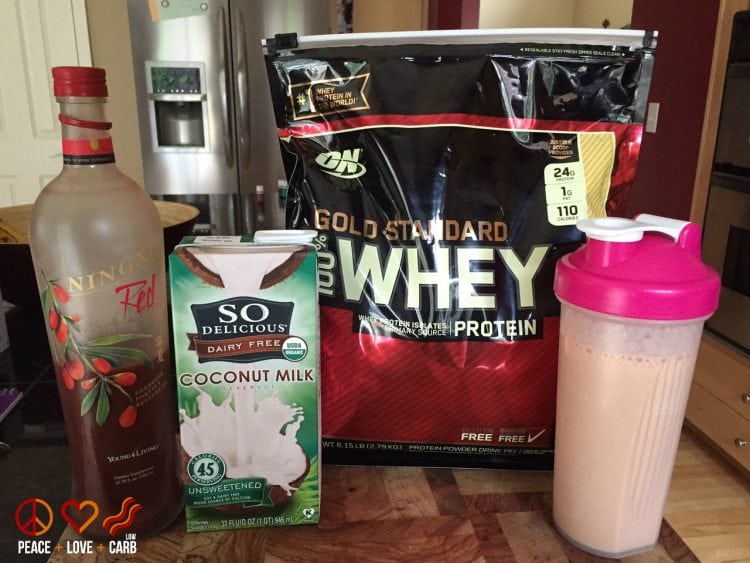 ---
Saturday 8/22 – Day 11
Todays workout:
Today was a total rest day. It was overall pretty uneventful and in the best way possible. It felt amazing to just rest, recover and get in some much needed puppy snuggles. Chewy made me watch Grey's Anatomy all day. With a face that cute, how could I not oblige? Puppy snuggles are pretty much free mental therapy. If you need some free therapy, I am happy to loan you one of our 4 pups for an hour or two. They are excellent listeners. 🙂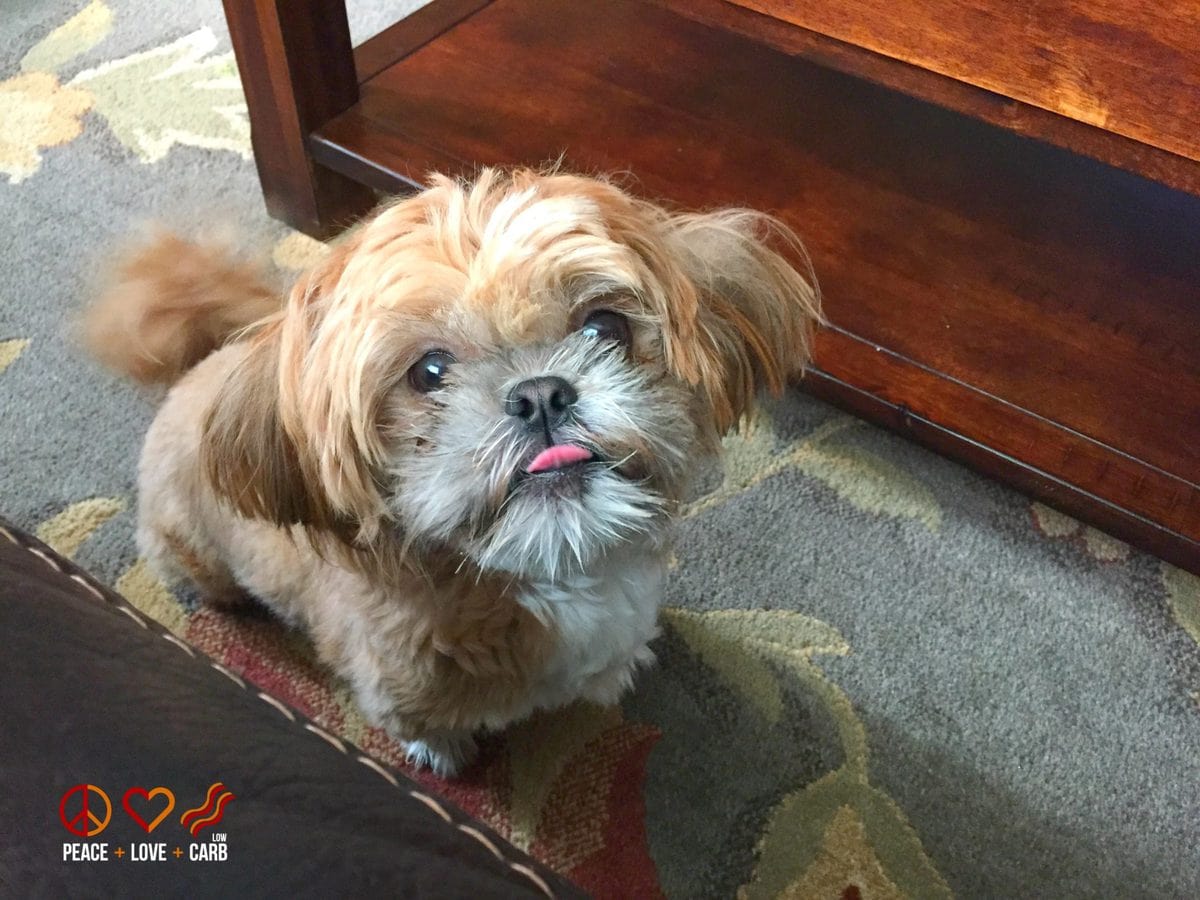 What I ate:
Tonights dinner was so amazing! I could eat it 100 times and never get tired of it. Seared pork loin chops with oven roasted vegetables. I love, love, love vegetables. I always have.  I guess in some ways that made the transition to a low carb lifestyle easier for me as I have never really been too keen on fruit. If I was at a party and there was a fruit tray and a vegetable tray, I would reach for the veggie tray 100% of the time.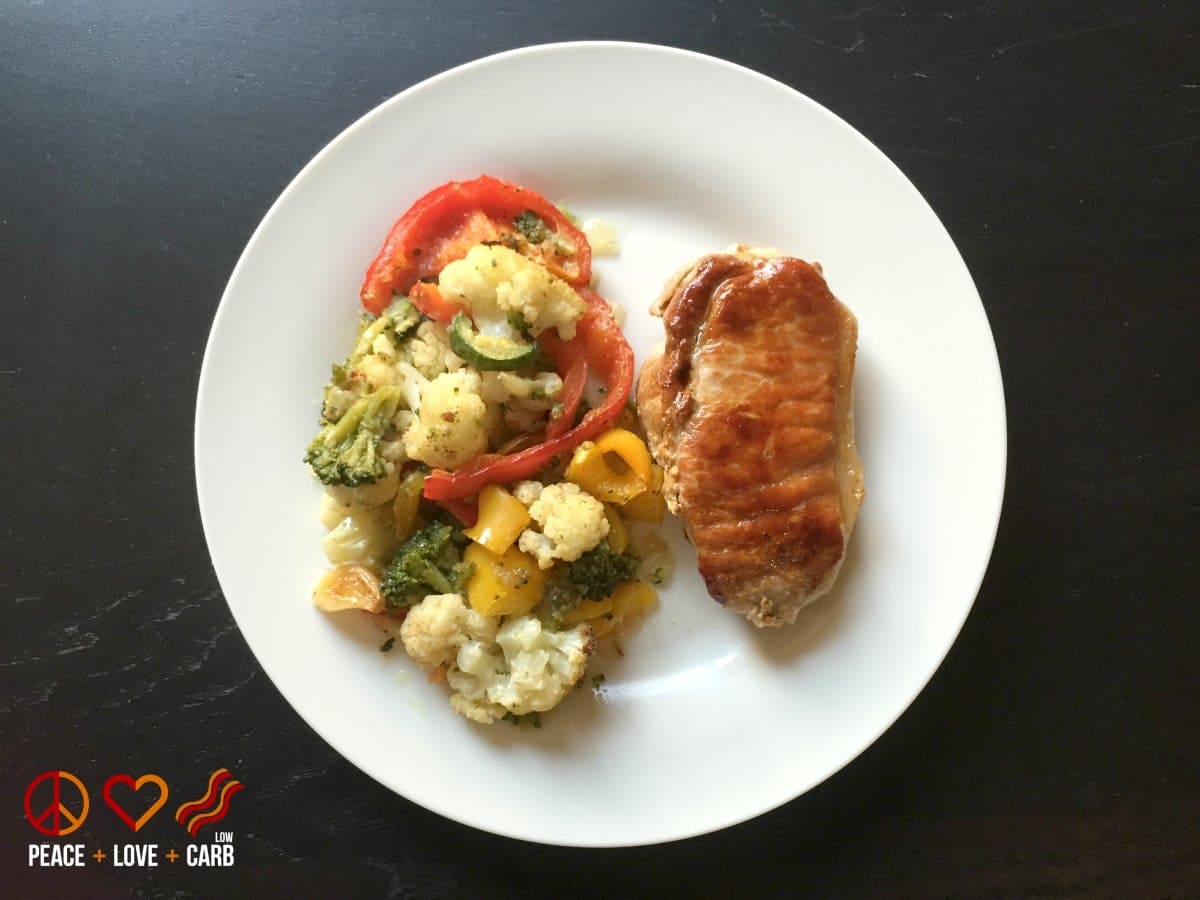 ---

Sunday 8/23 – Day 12
Todays workout:
Holy moly, today my shoulders and triceps feel like someone was trying to rip them off my body. You know what? It feels GREAT! It is the kind of muscle soreness that reminds you of the effort you put in. The kind of soreness you want to wear like a badge of honor. Today I set out on a nice long "me time" walk. I woke up kind of crabby and decided to walk it off… literally. I used it as time for some personal reflection and to catch up on my favorite podcast. I have some thoughts brewing in my head about having a strong support system and how that related to your success and also reassessing your circle of influence. Post for another time though. Then I decided to take it old school and do a little Turbo Jam. I have seriously had this DVD for close to 10 years. Are DVD's even still cool? At any rate, I always have fun when I do it and it has been a long time. You've gotta love any workout that makes you sweat that hard and feel silly at the same time.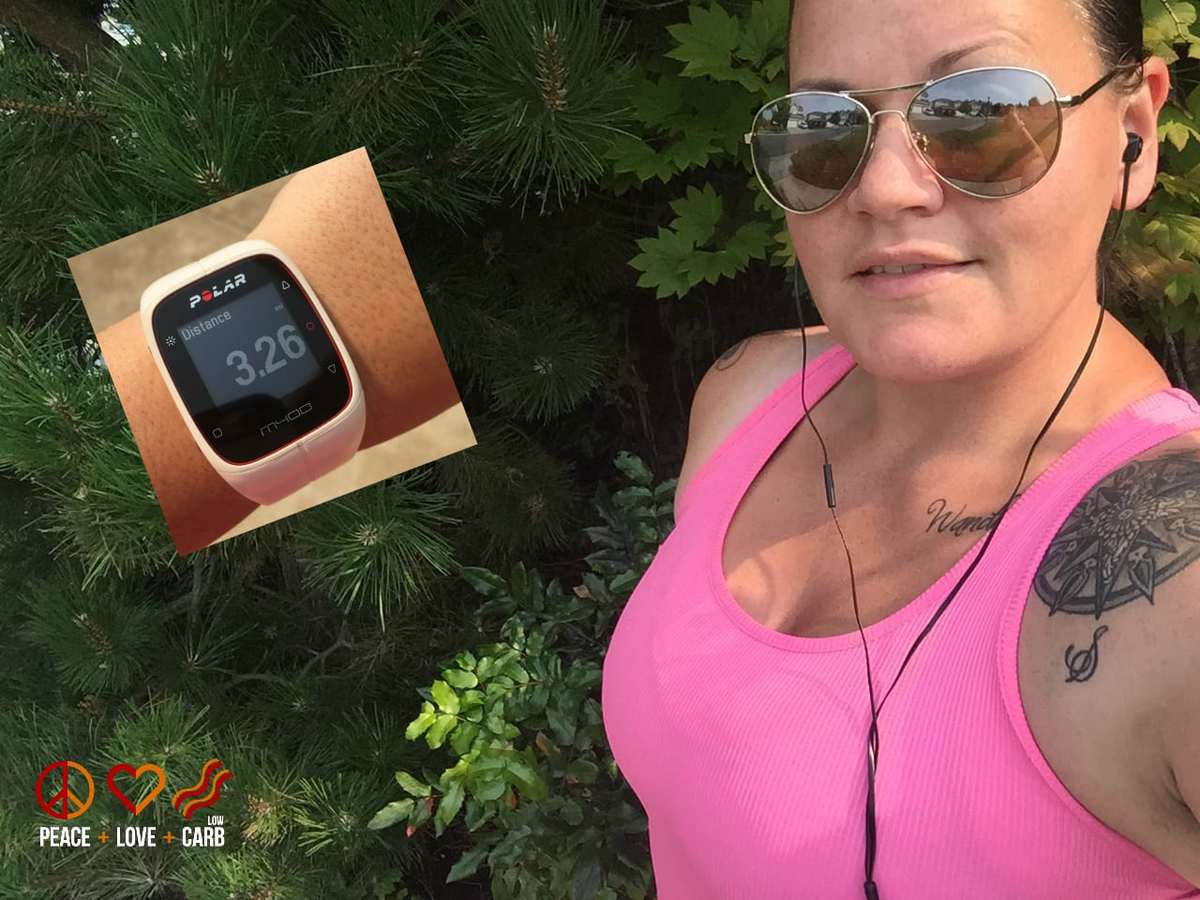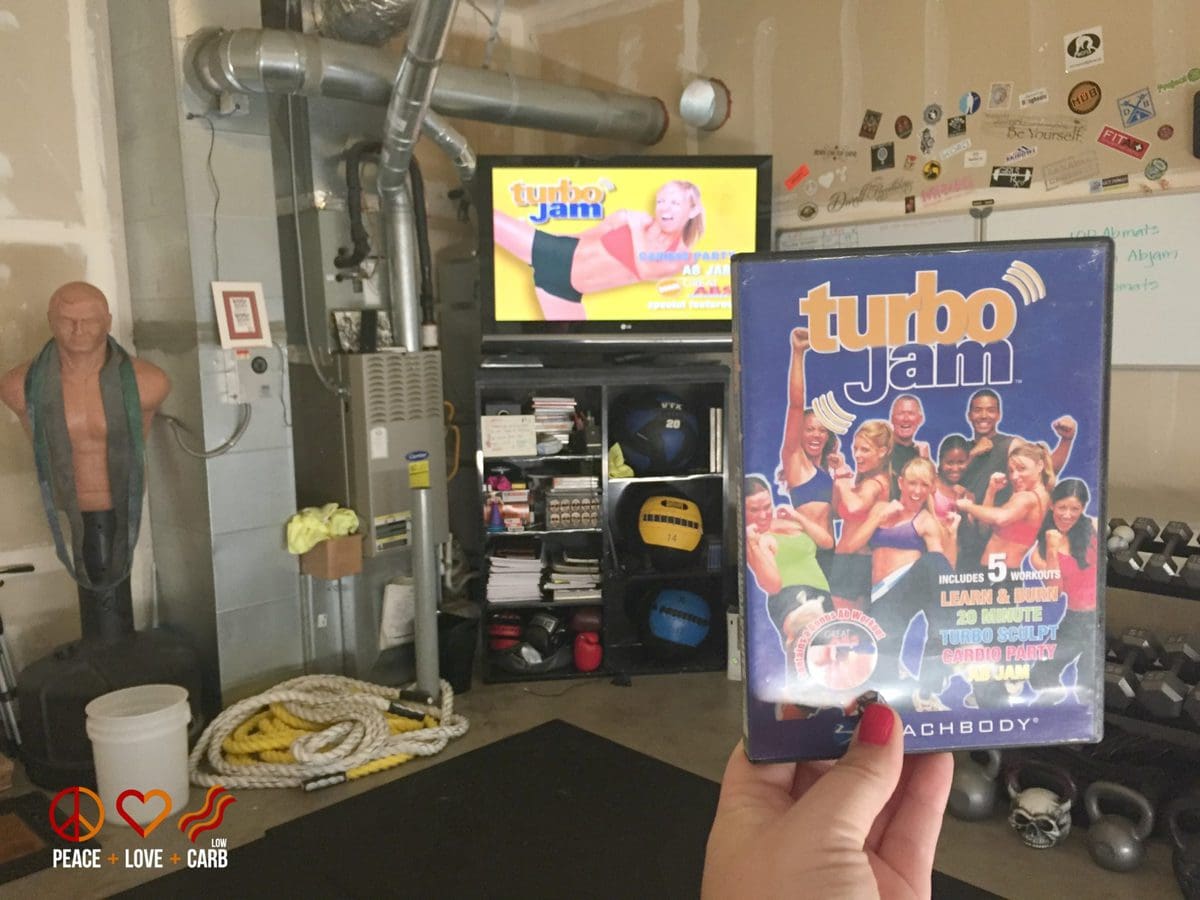 Warm-up –
Walked 3 miles
Workout:
50 AbMat Sit-Ups
20 Minutes AbJam
50 AbMat Sit-Ups
What I ate:
Today for breakfast we had the Lemon Chia Pancakes from my cookbook The Primal Low Carb Kitchen and some thick sliced bacon. It was DELISH!!  For the rest of the day, we didn't really have any organized meals. For lunch I had a bowl of meatballs and two string cheese. It wasn't glamorous, but it sounded good and it did the trick. For dinner we all ate at separate times and we just kind of foraged through leftovers in the fridge.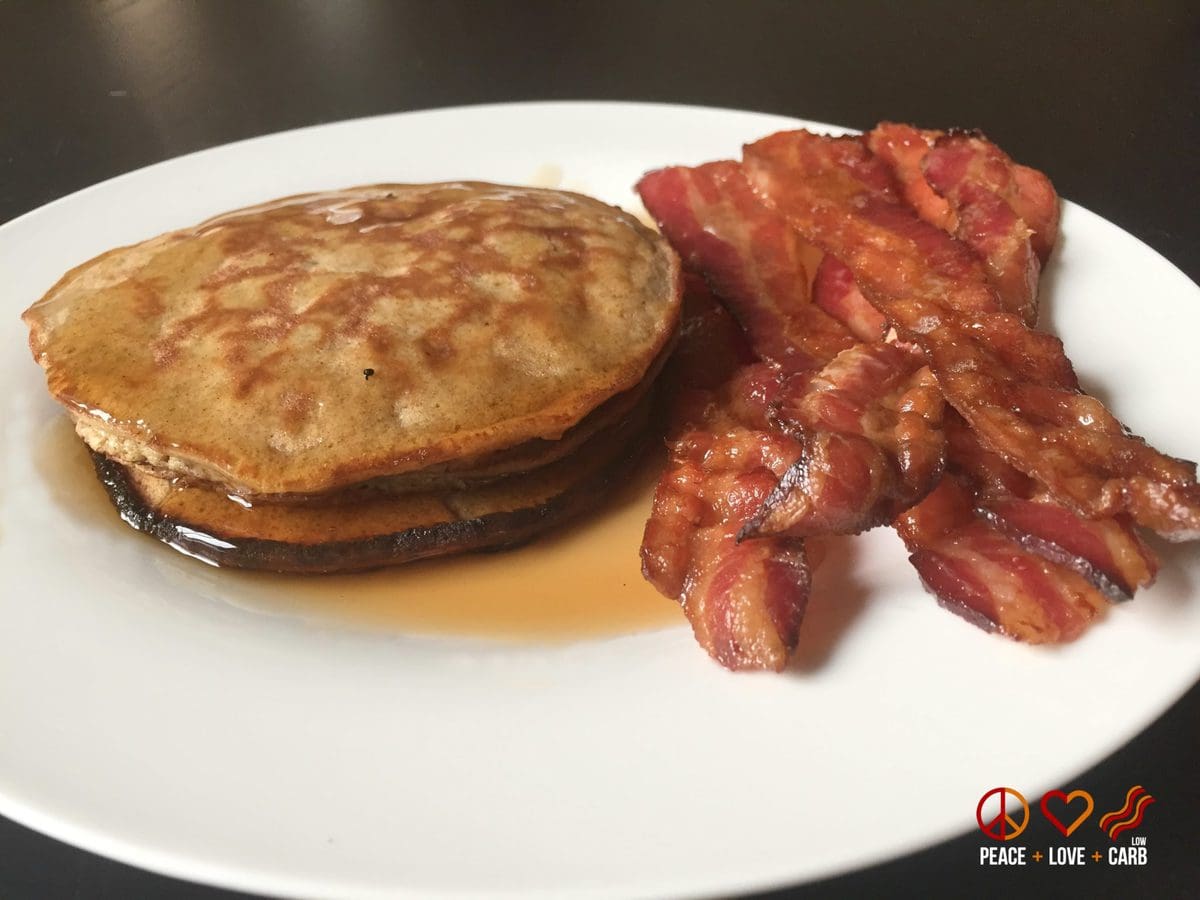 ---
Monday 8/24 – Day 13
Todays workout:
I had every intention of getting in the garage and banging out a good sweat session. However, the day just did not go as planned and really got away from me. Work kept me busy busy, busy. Before I knew it, it was well into the evening. Despite being chained to my computer for most of the day, I still managed to get 10, 223 steps in for the day without leaving the house, except for our evening walk. Lots of running around the house in between work tasks. Today was definitely one of those "what you can, when you can" type of days.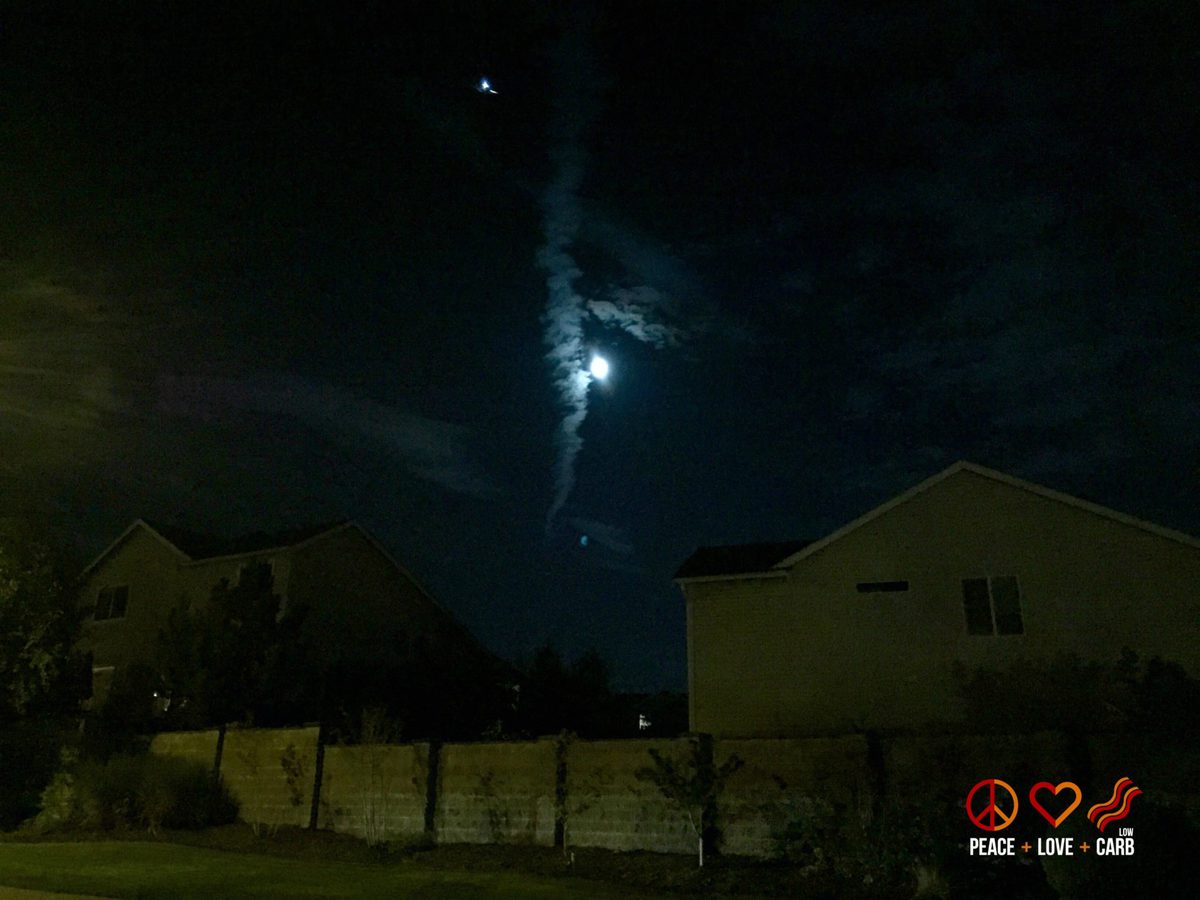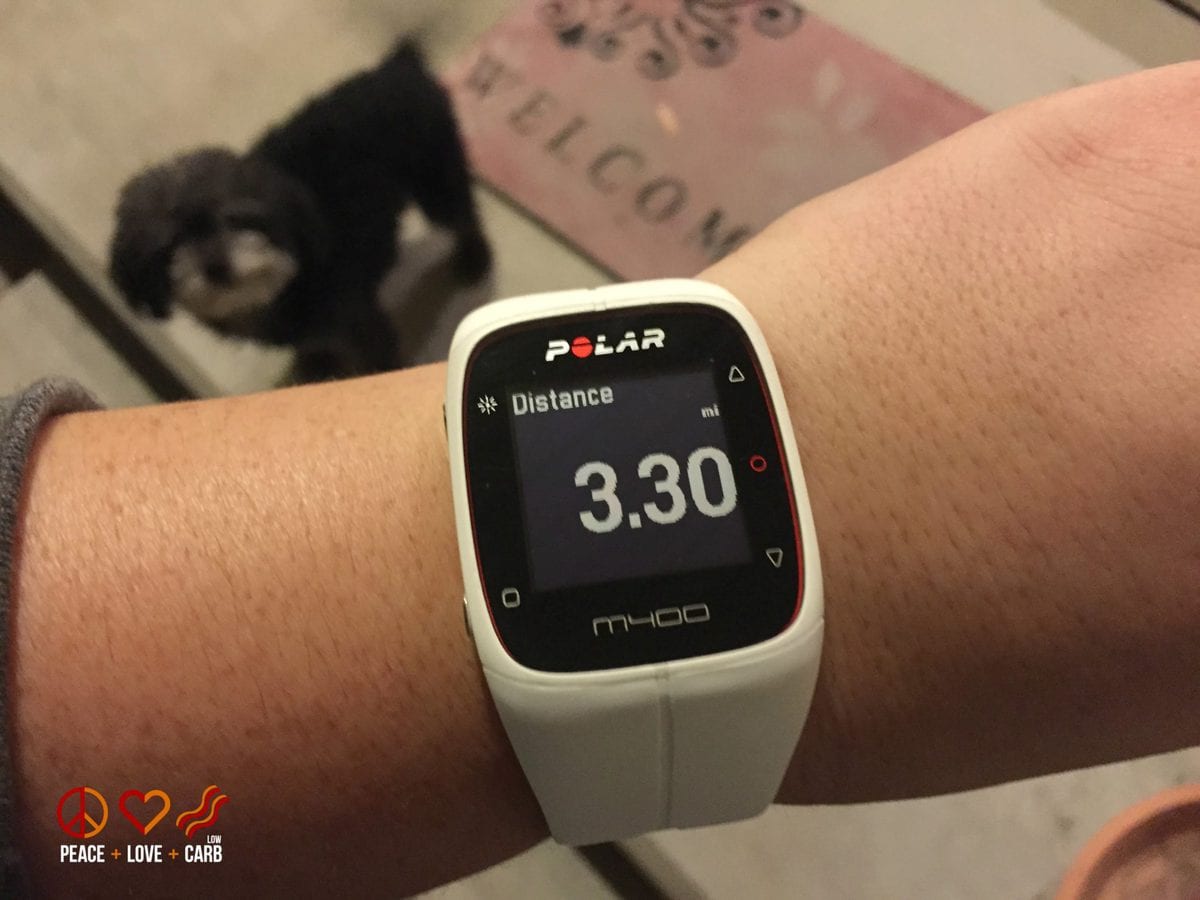 Workout:
3.3 Mile Walk
What I ate:
This morning I whipped up a frittata for breakfast. Breakfast has a way of coming around lunch time in our house. The morning hours slip away fast once I start working. My favorite thing about frittatas is that you can open up the fridge, dump everything in there into a skillet with some eggs and the end result is always delicious. Plus, it makes for great leftovers. Here are a couple of frittata recipes from my site: Supreme Pizza Frittata and Sausage, White Cheddar and Heirloom Tomato Frittata.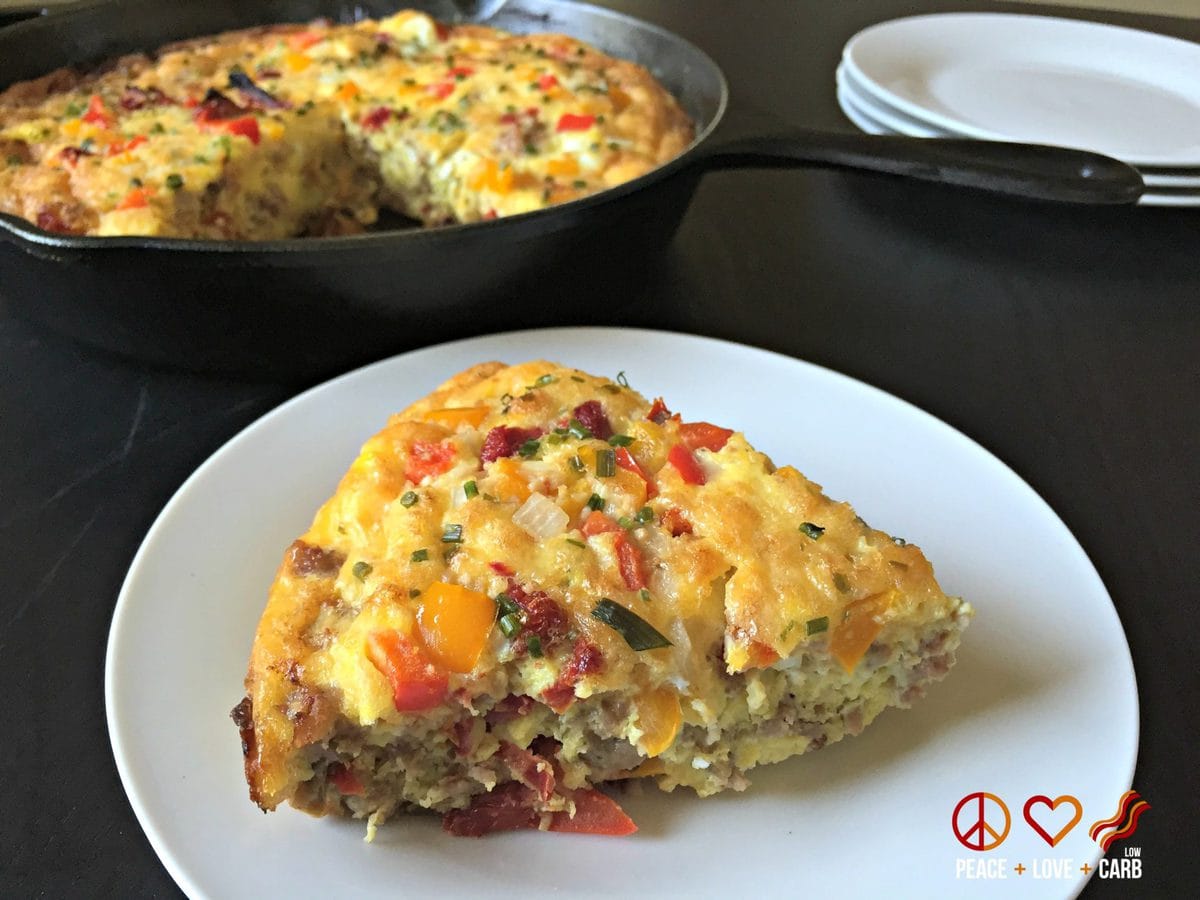 Somewhere in the middle of my workday, someone in the Peace Love and Low Carb Friends Group posted a picture of my Bacon Cheeseburger Soup and after that it was all I could think about. I had to have it for dinner. We were only missing a couple of the ingredients to make it. So, off to the store Jon went. I made a double batch and ate a big bowl of it for dinner. Yay for leftovers! This soup is even better the next day. I swear it tastes just like biting into a juicy cheeseburger. It's like you can actually taste each individual condiment. This recipe can be found in The Primal Low Carb Kitchen Cookbook.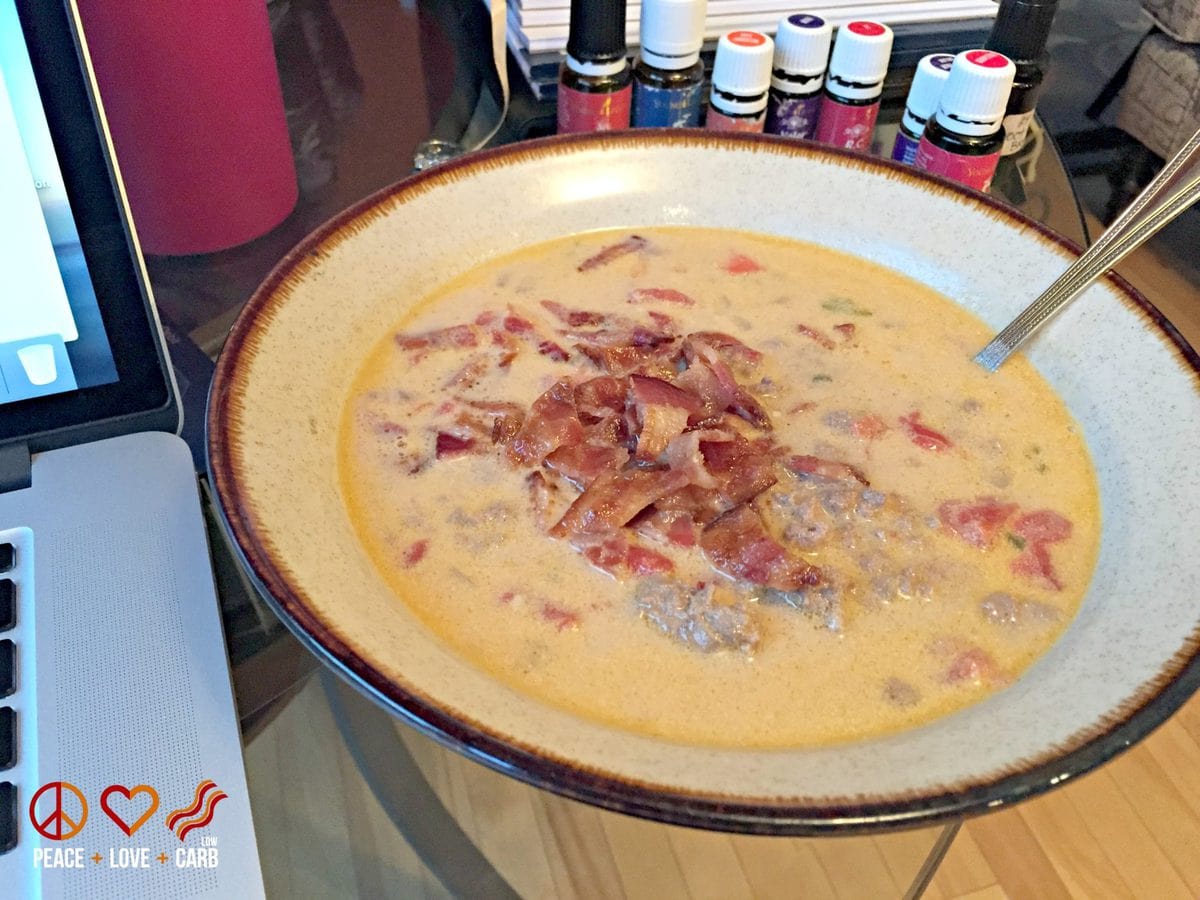 ---
Tuesday 8/25 – Day 14
Today marks the end of week 2 and It has been a busy, busy week. I can honestly say that I stayed on plan all week and felt great. A little bit of stress and drama crept in in the middle of the week, but it wasn't anything that some relaxing yoga and essential oils couldn't fix. A year ago, that would have been a completely different ball game. The stress would have likely led to drinking or eating bad food. Not anymore!
Todays workout:
Today I never got a proper workout in. I was slammed with work again. However, I made sure to get up at least once an hour, do a couple laps around the house. I also did 10 squats and 10 counter push-ups every time I got up. So, I still got some movement in all throughout the day.
What I ate:
Today was mostly a day of leftovers. But in the middle of the day, I had a strong craving for a some deviled eggs. I never, ever get tired of deviled eggs. Even better when there is bacon involved. You can find the recipe here.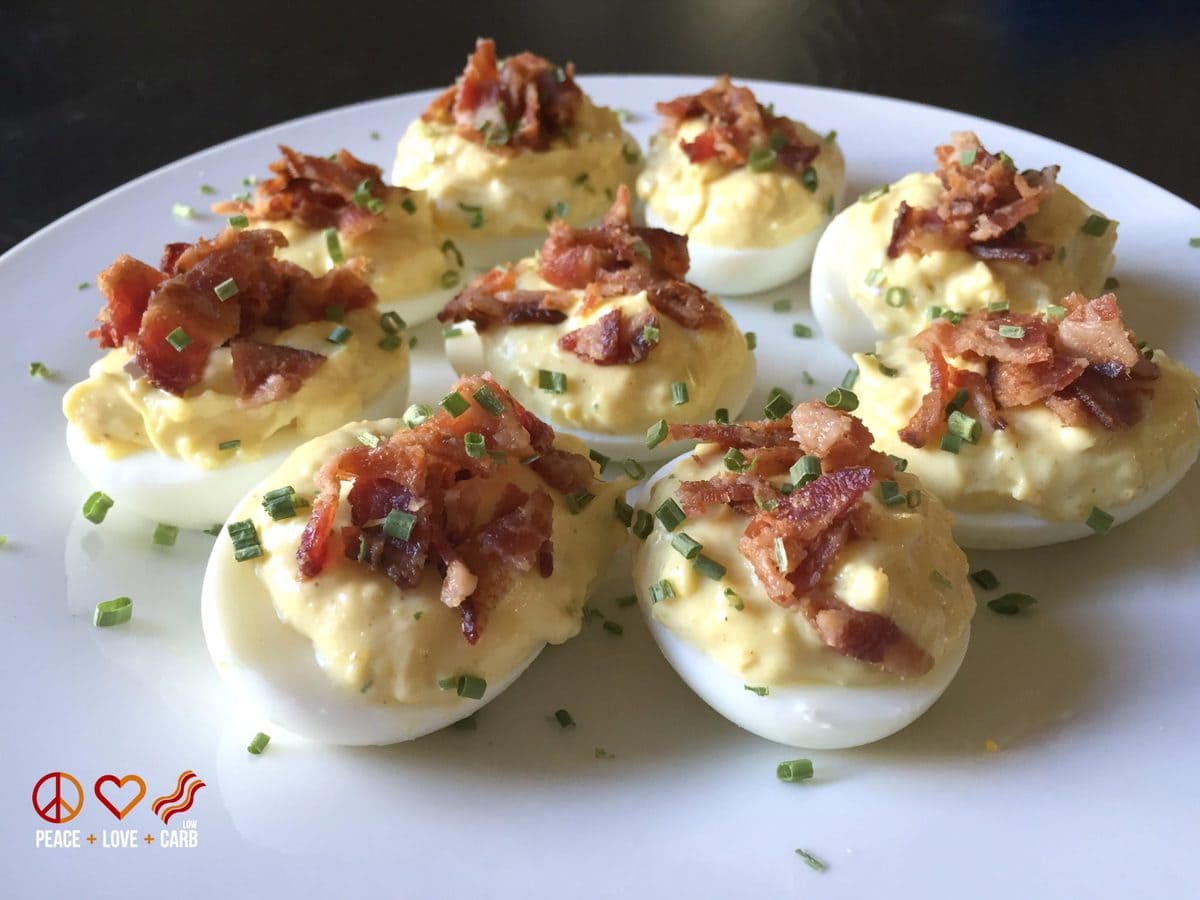 Week 2 is officially in the bag! 2 down, 50 to go. Tomorrow is weigh in day and I am so excited to see the results of my hard work. Stay tuned. Follow me on Instagram for updates outside of just my blog posts.
Follow along during this entire journey. Check out my weekly posts below: