[sg_popup id="9″][/sg_popup]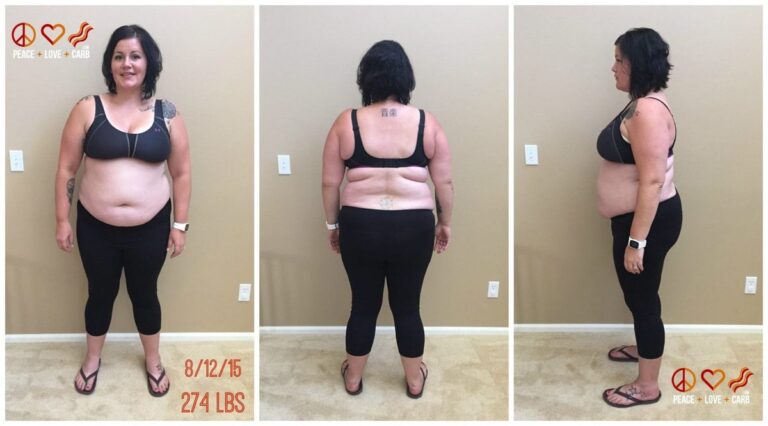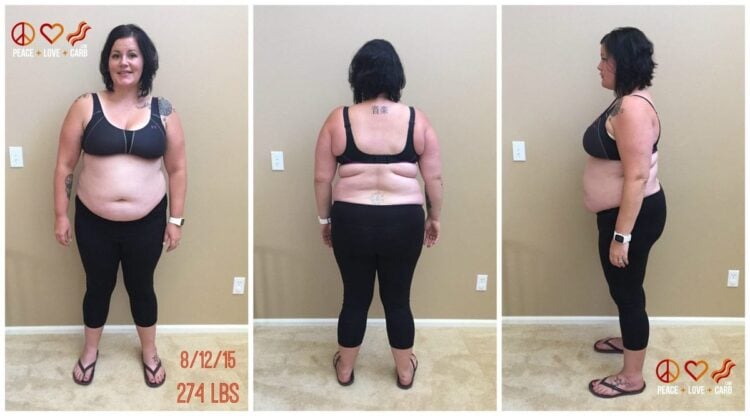 This is Week 1 of my 52 week journey to lose 100 lbs. Did you read my "coming clean" post?  I'm a Healthy Living Blogger with a Secret… I got Fat Again.  After writing that post, the spirit of togetherness that I felt, was something I thought no longer existed in present day society. I was deeply touched by the flood of messages, comments, emails, phone calls and texts. It sort of blew my mind actually. It made me incredibly happy that I was able to touch so many people with my story. But, it also made me sad knowing how many people felt defeated and utterly alone. Well, I am here to tell you that we are all in this together. In my post, I promised to stay accountable. I am committed to sharing this journey with all of you… every day for the next 52 weeks – 365 days. I will show you what I am eating, my workouts and my weigh ins. Who is ready to do this with me? If you are looking for some accountability, feel free to join my Peace Love and Low Carb Friends Group and we can all do this together. This is week 1. Check back daily for updates!  Follow me on Instagram for updates outside of just my blog posts.
Wednesday 8/12 – Day 1
Starting Date: 8/12/15
Starting Weight: 274 lbs
Current Weight: 274 lbs
Pounds Lost: 0
Goal Weight: 174
Goal Date: 8/27/16
Height: 5′ 9″
Todays workout:
Todays workout was a toughie. I jumped right back in and did a brutal workout that I did a few months back with my friend Karla. It felt so incredibly good to push my body. I can feel the strength I used to have, still inside me. In my "coming clean" post I talked a lot about how much I missed CrossFit, and I do. That being said, I do not believe it is the only fitness modality that works. You will see a lot of variety in these posts. For those of you reading this that feel intimidated and lost as to where to even begin, simply start by moving a little bit more than you did yesterday. Would you believe me if I told you that I burned 350 calories by dance cleaning (yes, that is a thing) the other day. I was cleaning our house and had music playing and I got the dancing bug. Just movin' and groovin' around the house as I cleaned, turned into one heck of a workout. Don't set yourself up for failure with the mindset that every workout has to be crazy intense and rigidly structured. Just get moving! You can do! I can do it! We can do it!
Warm up-
400m Row
5 sets of 3 Push-ups
5 sets of 2 V-ups
(alternating)
5 Inchworms
10 PVC Pass-throughs
10 PVC Windmills
10 PVC Overhead Squats
Workout-
Bear Complex (5 sets of 5) 
Round 1 – PVC
Round 2 – 45 lbs
Round 3 – 53 lbs
Round 4 – 58 lbs
Round 5 – 58 lbs
2 – 30 Second Wall Sits
Jon and I also walked a couple miles around our neighborhood at sunset. It was nice to get away from the computer and talk about our day and our hopes and dreams, heading into the future. We see big things in store.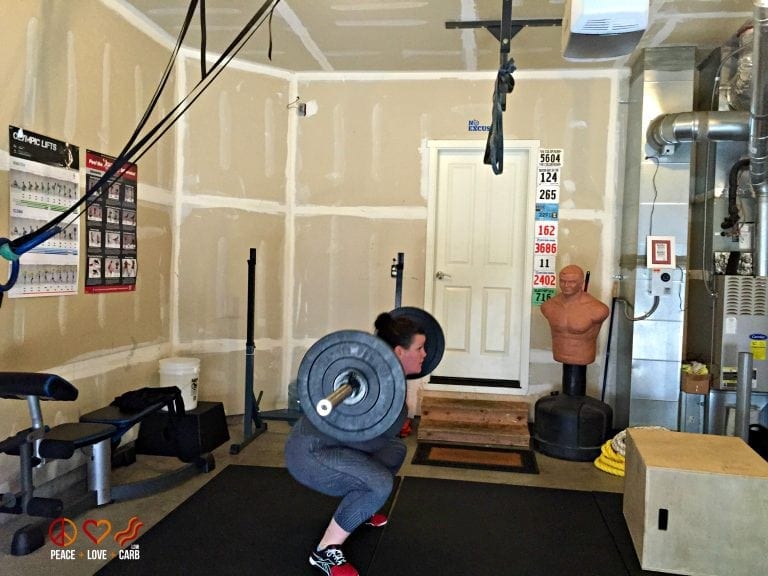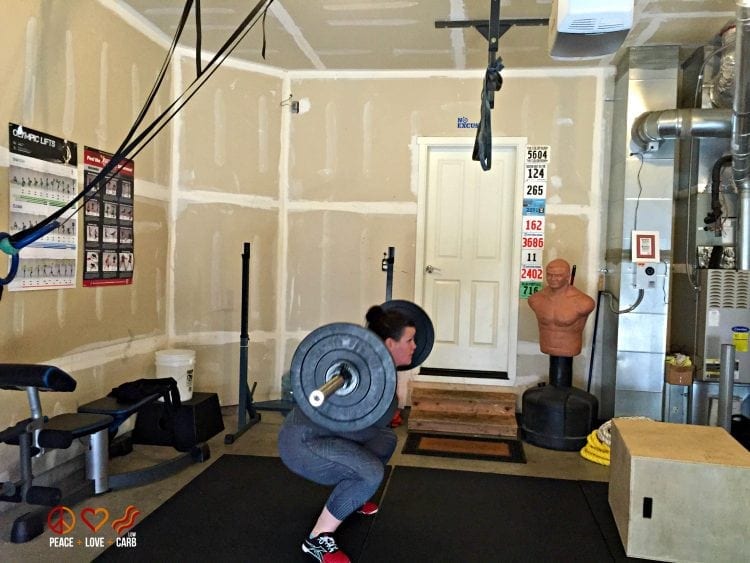 What I ate: (Note… I am only posting 1-2 of my meals or snacks per day)
Post workout shake. This combination is my favorite. It seriously tastes like captain crunch cereal and is surprisingly low carb. This was also my breakfast:
1 scoop Vanilla Protein Powder
2 oz. Ningxia Red
8 oz. Coconut Milk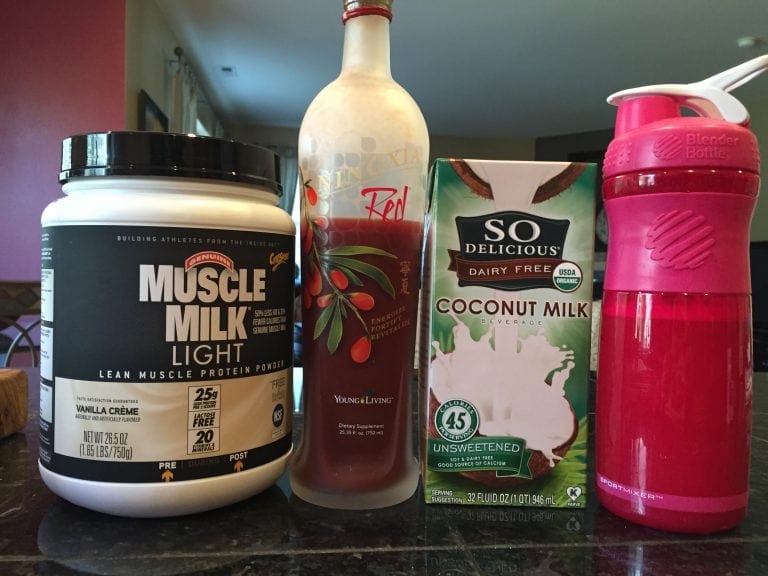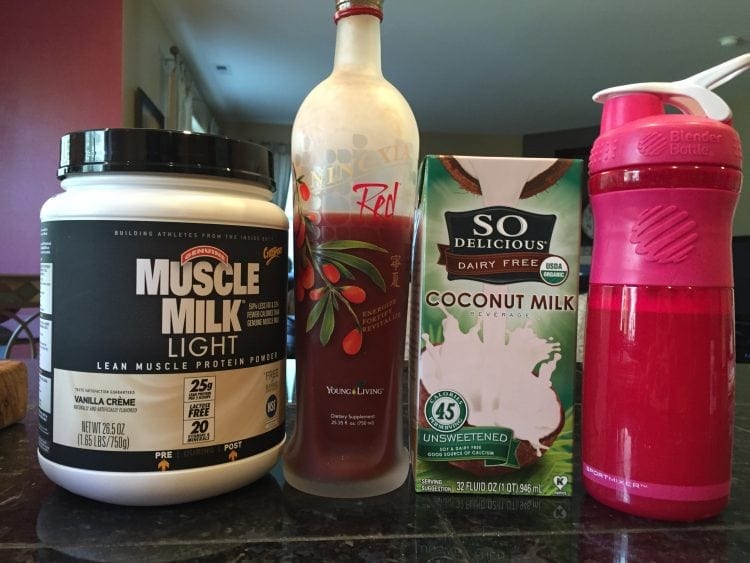 Dinner tonight was simple, quick and easy. We realllly need to go grocery shopping. We have been traveling so much lately and our fridge and cupboards would likely even shock Old Mother Hubbard. I had chicken, roasted broccoli and a salad with the Lemon Garlic Vinaigrette from The Primal Low Carb Kitchen.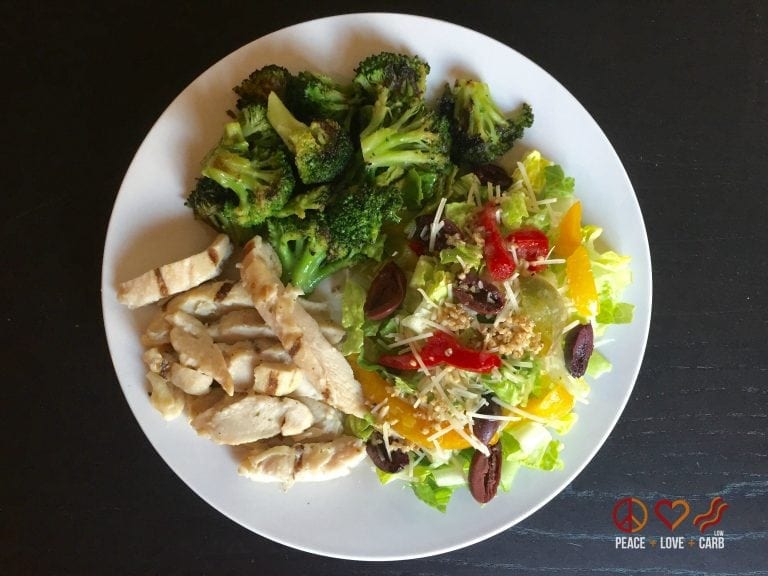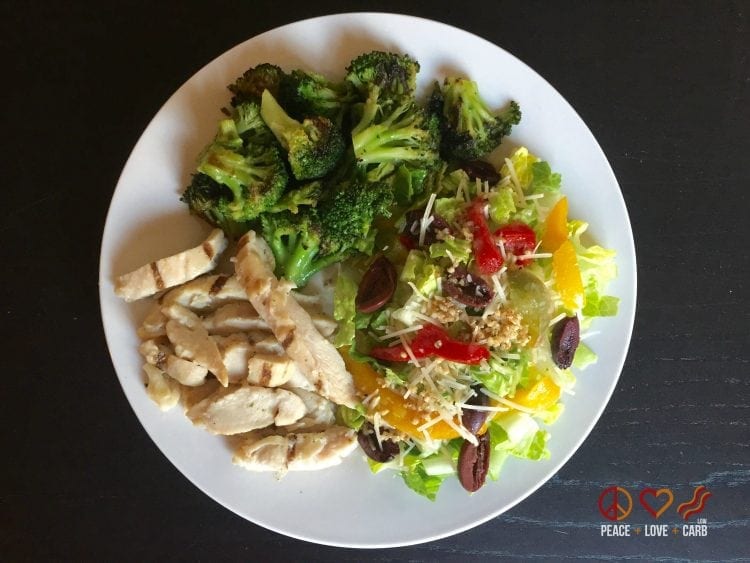 ---
Thursday 8/13 – Day 2
Todays workout:
I was a hot, sweaty mess today. I know I said it yesterday, but it feels so good to get my body moving again. I was able to regulate my breathing which helped to keep me moving through the workout. For those that felt like you were reading a foreign language when you saw my workout, I will break it down for you. I started by rowing 500 meters. From there I did 21 reps of kettlebell snatches, 21 abmat sit-ups, and 21 power cleans. Then I did 15 reps of each of those movements, and then 9 reps of each movement. Then I finished with another 500 meter row.
Warm Up-
Walk 1 Mile
Workout-
Row 500m
21, 15, 9
Kettlebell Snatches 26 lbs
AbMat Sit-Ups
Power Cleans 55 lbs
Row 500m
Time – 15:32
Jon and I took another 2 mile walk this evening around our neighborhood. It was the perfect night for it.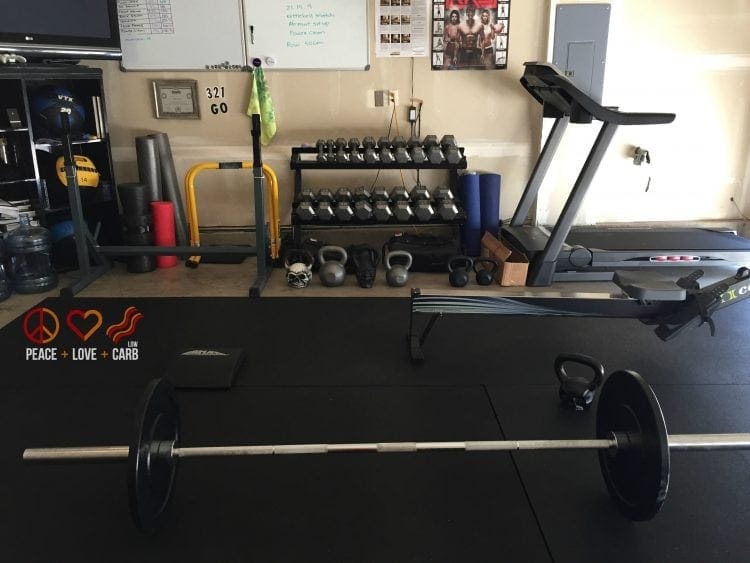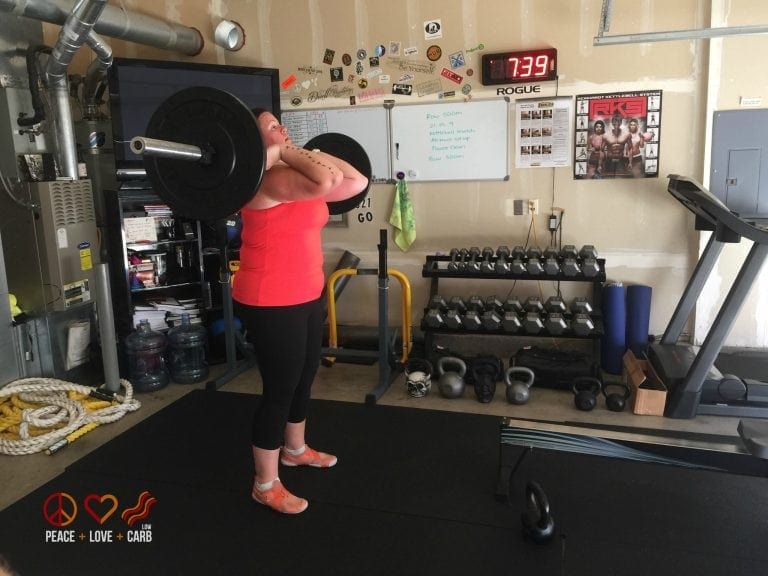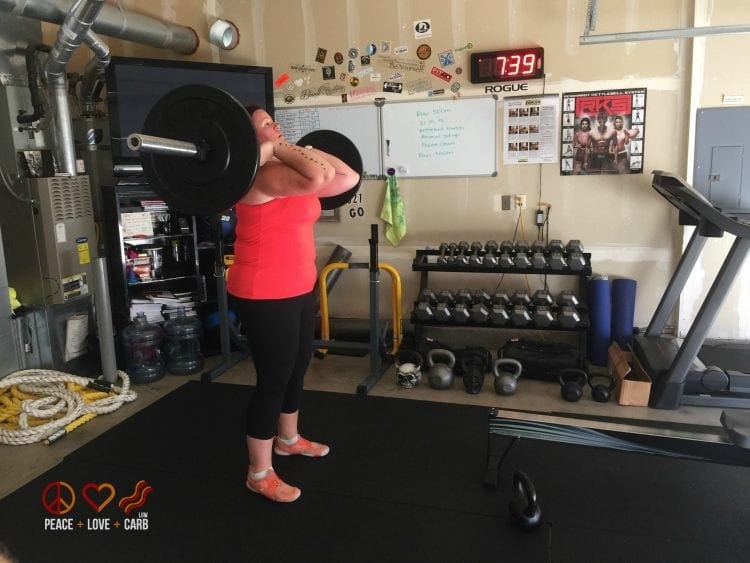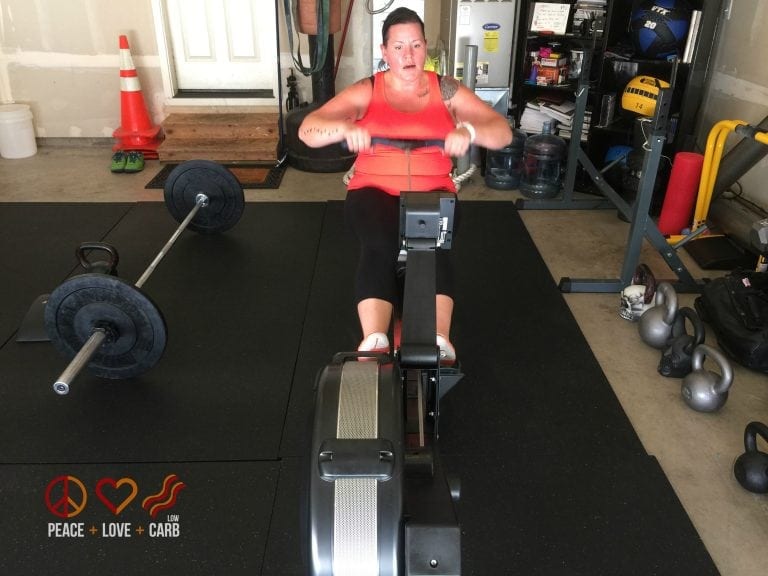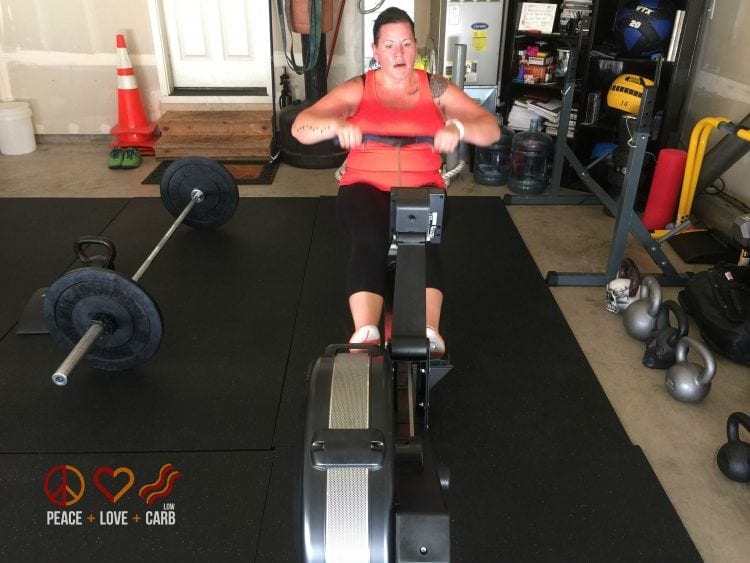 What I ate:
Today we did some major grocery shopping. Between Costco and Trader Joes, we got everything on our list. We have been traveling so much over the last few months and have been eating out quite excessively. We have had 12 trips in 10 months. It can be hard to stick to your normal way of eating when you are constantly on the go. We do our best to pack healthy snacks, but sometimes our food is out of our control while we are traveling, especially when we are at catered events. We are officially home until the first week of October and we will definitely be eating at home. Our cupboards and fridge were bare and now they are all stocked up with healthy foods. I may even knock out a couple of new recipes… Who knows?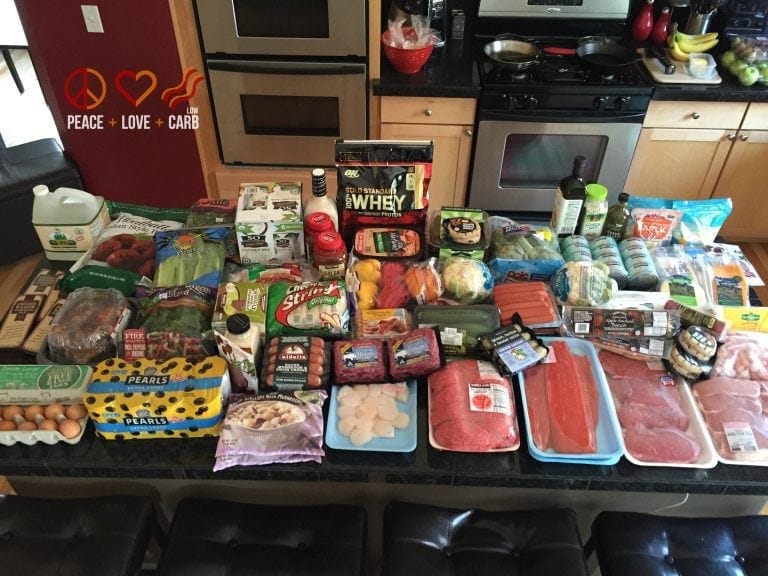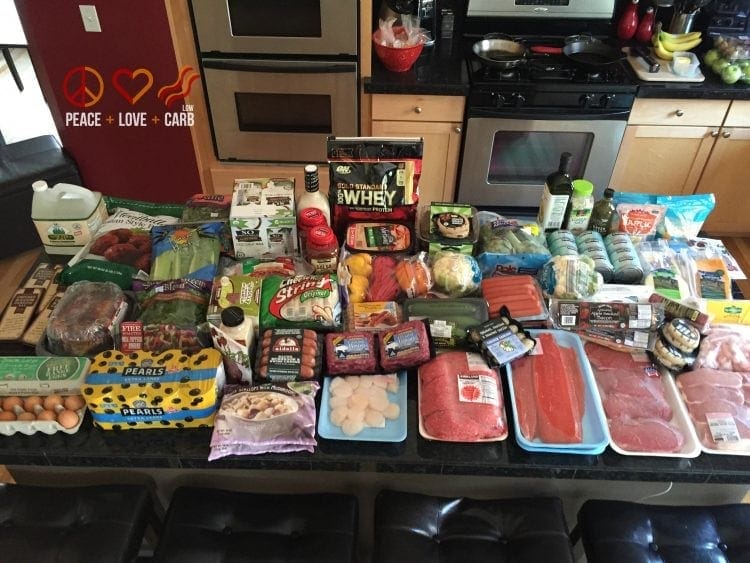 Dinner tonight was rotisserie chicken, roasted broccoli and sautéed mushrooms topped with a little Parmesan Asiago cheese. Simple but delicious! This is only day 2 of this journey and I am already craving nutritious food again. However, I will say that I truly believe it has just as much to do with mindset as it does with physiology.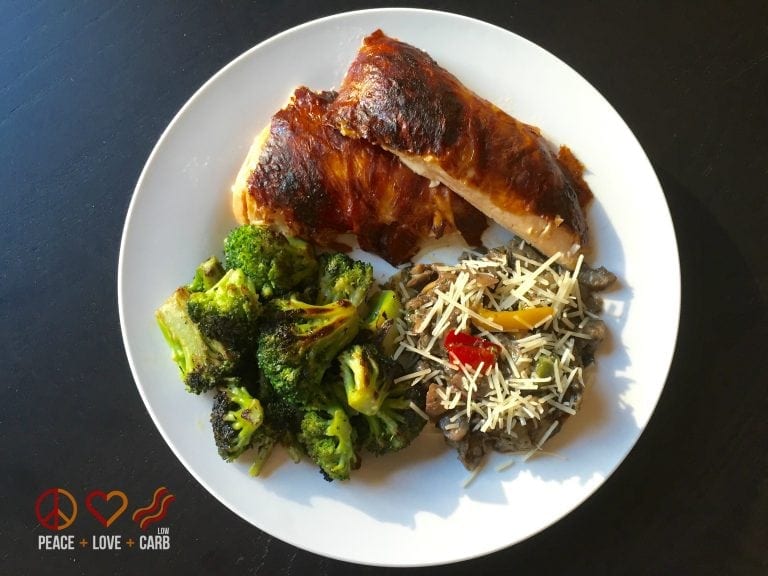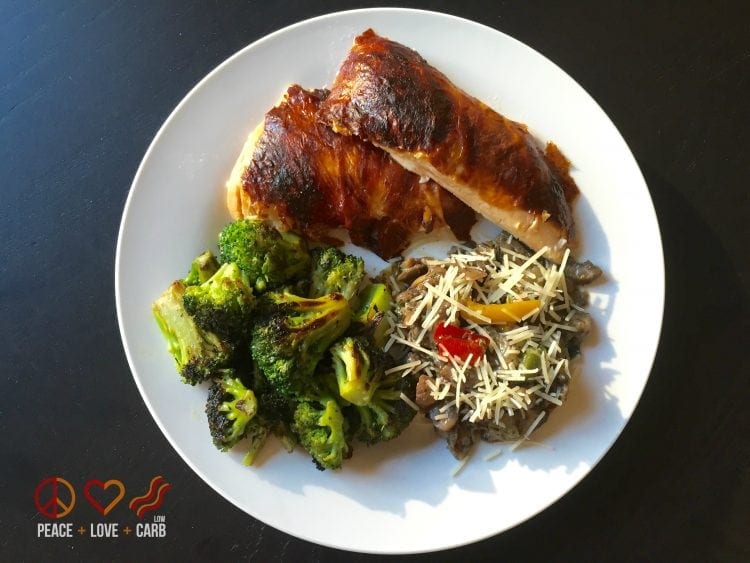 ---
Friday 8/14 – Day 3
Todays workout:
Today was a lower intensity day. I wanted to get out for a nice long walk, but we actually got a nice dose of rain today. It has been in the 90's for quite a while here in Seattle (that rain nonsense is something we make up so that people won't move here 🙂 ), so it was nice to have a cool, drizzly day. I'm enjoying easing back into my workouts and working toward making it a habit again.
Warm Up-
Stretching and foam rolling
Workout-
100 Ring Rows
45 Minutes of Yoga for Weight Loss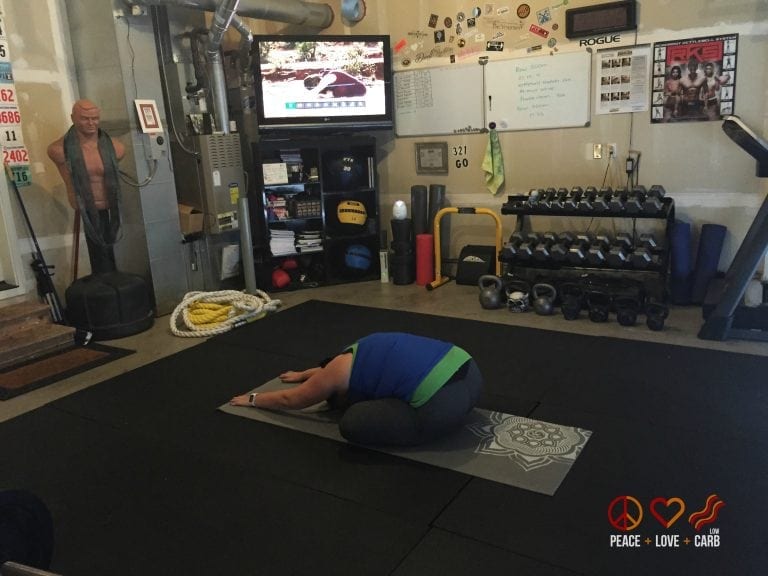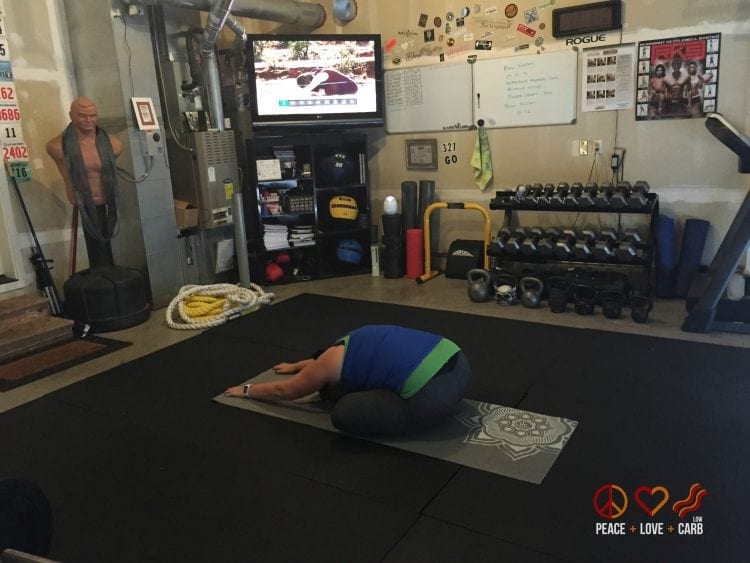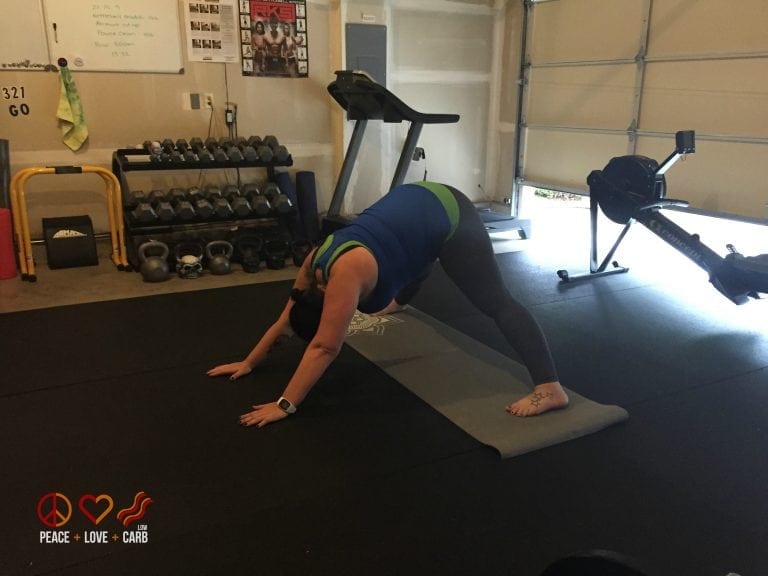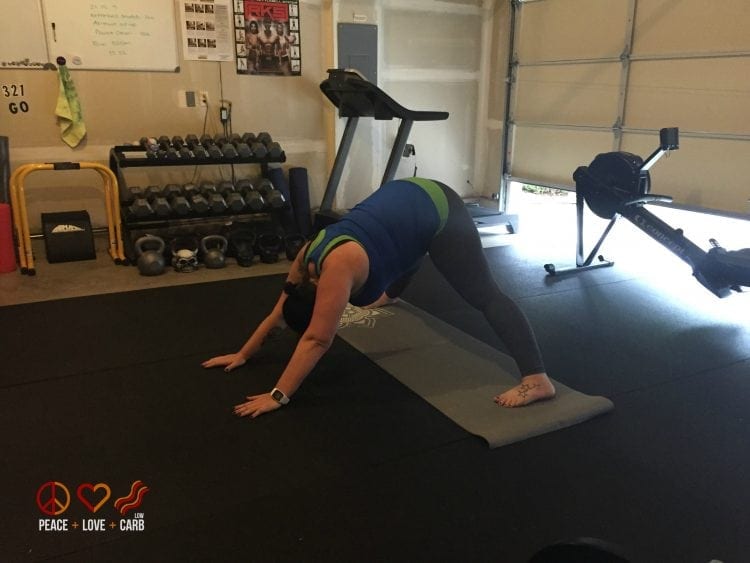 What I ate:
This morning for breakfast I ate some thick sliced, applewood smoked bacon from Trader Joes, with two pastured eggs and fresh guacamole. I could eat this all day, every day. Seriously, it never gets old. It felt so great to open my fridge this morning and have it be overflowing with healthy foods.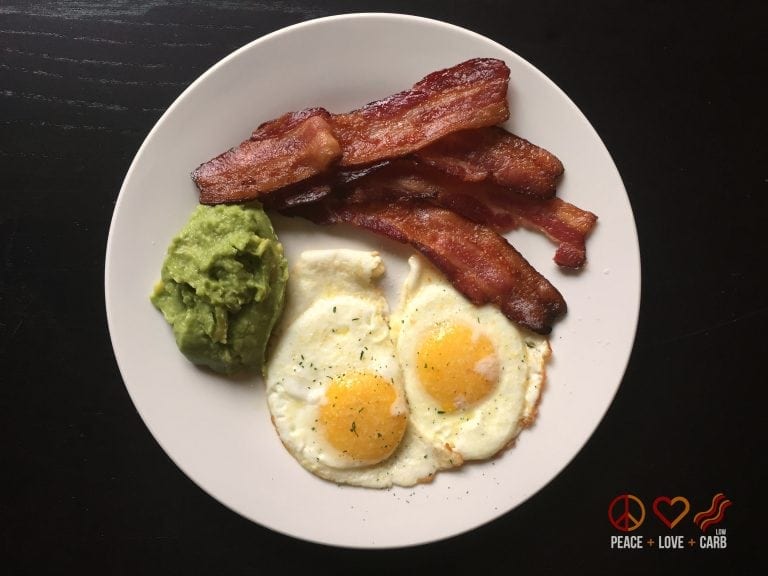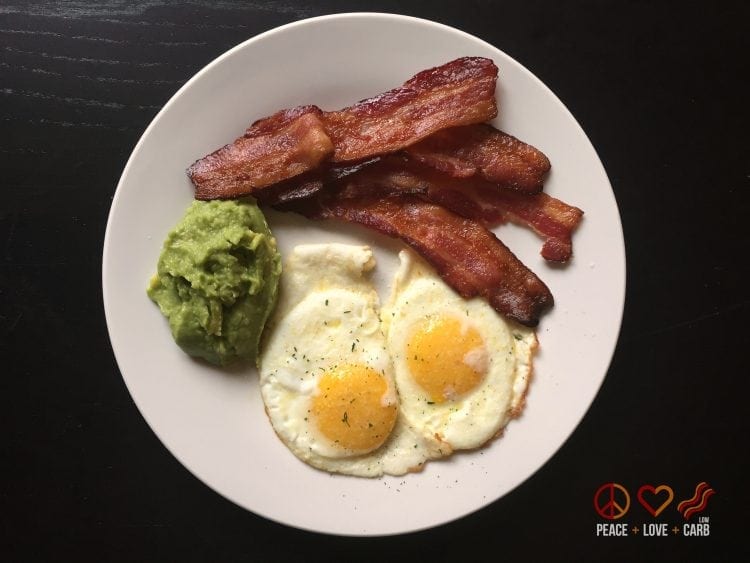 For an afternoon snack, I had some sliced salami, sharp cheddar cheese and pepperoncinis. The only things that would have made this snack better would have been some black olives and almonds. For dinner we ate my Beef Stroganoff Burgers. We kicked things up a bit and did a mixture of half ground beef and half ground bison. It has been a long time since I cooked one of my own recipes. Funny right? Had I just stuck to my own recipes, I likely would not be in this predicament.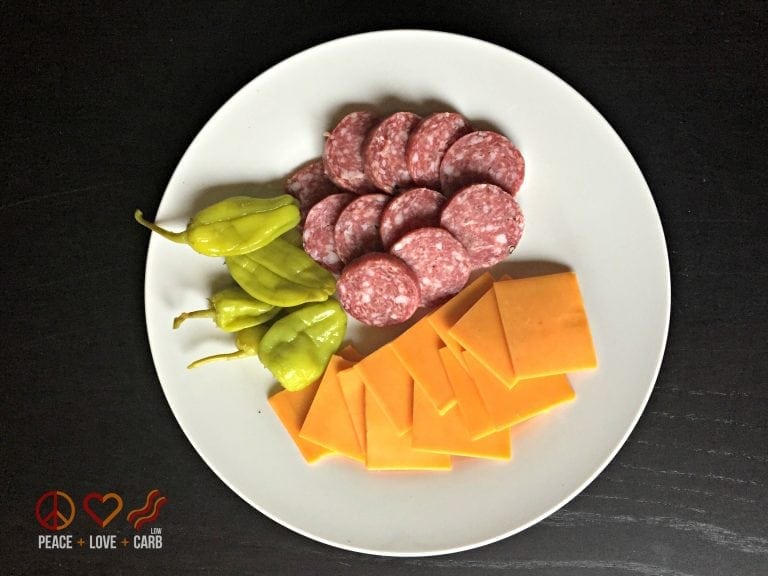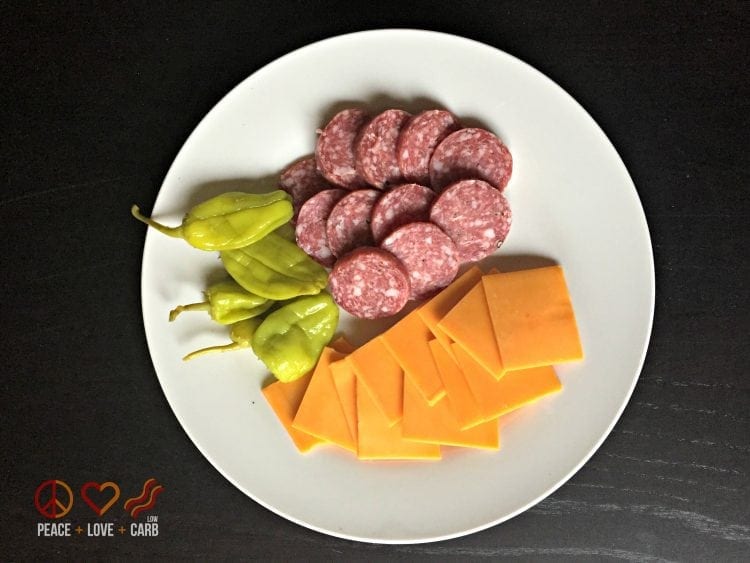 ---
Saturday 8/15 – Day 4
I was so tired today. I woke up that way and it pretty much lasted all day. I couldn't seem to shake it. My morning cups of dark roast did nothing for me. This morning was pretty rushed as we had meetings set up back to back. The excitement and business of the morning only made me more tired. When we got home and were trying to plan out the rest of the day, Jon caught me in the act, huffing Peppermint oil from the bottle for an energizing pick-me-up. It was just what I need to get me moving and motivated to get my workout in.
Todays workout:
I managed to muster up the energy to keep my commitment and get my fitness in today. I didn't want to, but I've got my eye on the prize and this transformation won't take place from the couch. I also had some emotional stuff going on today that I needed to sweat out. My ex-tribe was all gathered together for an annual fitness event, and I was working out solo in my garage. I decided to work on a move that I have never loved – THRUSTERS. But I took a different approach to it. I did the 3 movements that will help me the most in gaining strength and power in my thrusters. The 3 components that when put together and done seamlessly and with good form, strength and power equal a Thruster – Power Cleans, Front Squats and Push Presses. I also chose to work on thrusters today because during the entire time I was doing Crossfit, the only workout that I finished dead last on was a thruster/burpee workout. Everyone was gathered around me, cheering me on, but it made me feel like the walls were closing in on me. It gave me the worst anxiety and instead of empowering it made me feel like a failure. Here is an excerpt from my Whole30 journal from that day.
Then came the workout at the end of the day…  Ugh.  My performance was horrible.  I'm pretty sure my very first Crossfit workout was better than that.  It felt worse than day 1. I barely finished in the time cap and I felt like I might die by the end of it.  I don't know what happened.  I'm not saying that I am normally some badass athlete who does all of the workouts as prescribed and in record time, because that couldn't be farther from the truth.  But, I usually finish middle of the pack and steadily hit PR's and increase my speed.  I feel as though in most areas, I am progressing quickly for only having been at it 9 months.  I felt a little bit like crying and begging my coach to tell everyone in the room that I was normally a much better athlete than that. In that moment I did not feel like I deserved to be there.  In that moment I felt like I might be an embarrassment to him.  I had to talk myself off the ledge and remind myself that it was only one bad day and that as long as I know what I am capable, that is all that matters.  I'm no Samantha Briggs or Rich Froning, but I am Kyndra Holley and I give it my all in everything I do.  I am also my own worst enemy.
Needless to say, I felt like it was an appropriate time to tackle all of the things that scared me, held me back or made me feel bad. This new journey is one of true transformation from the inside out. Telling my story to the world was the first step.
Warm Up-
Stretching and Foam Rolling 
Workout-
Skill work on all 3 movements – Power Clean, Front Squat and Push Press
10 reps of all 3 movements, put together with a slight pause in between movements – at 95lbs
Then:
10 Power Cleans
10 Front Squats
10 Push Press
(3 Rounds for time) at 65lbs.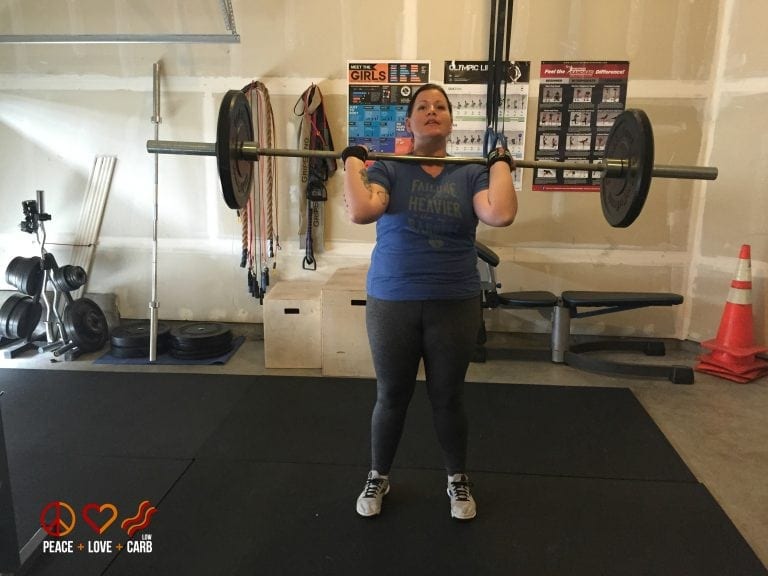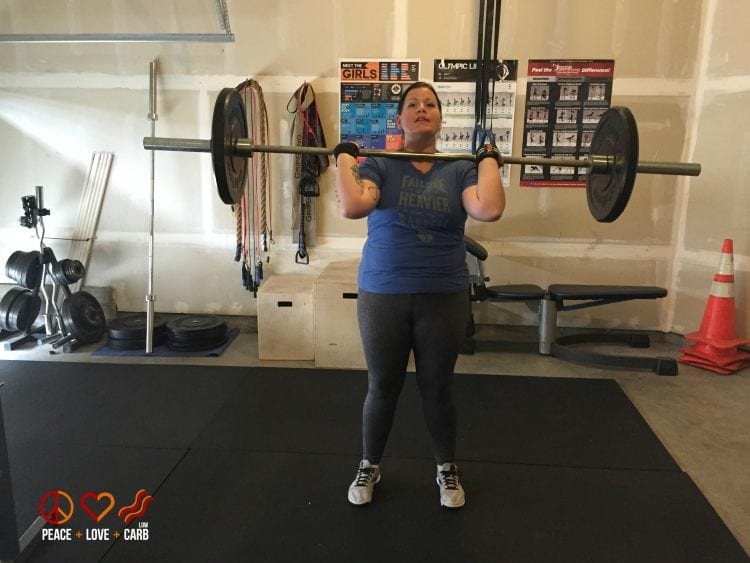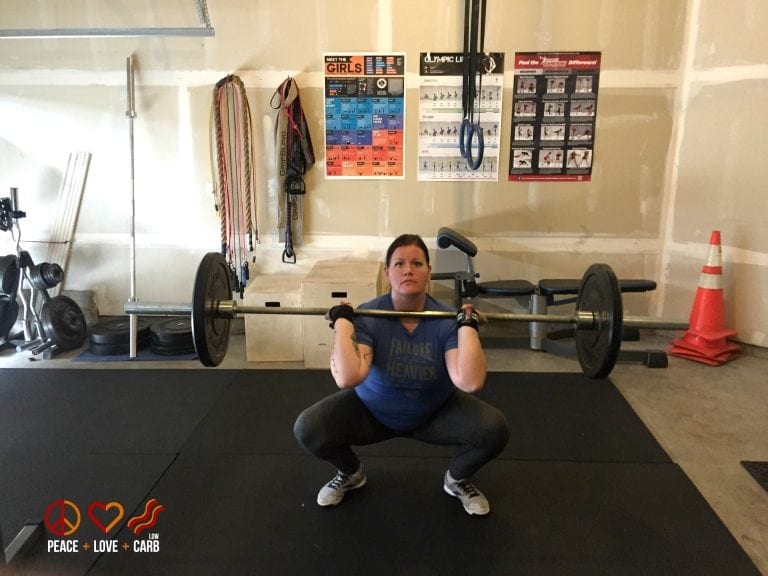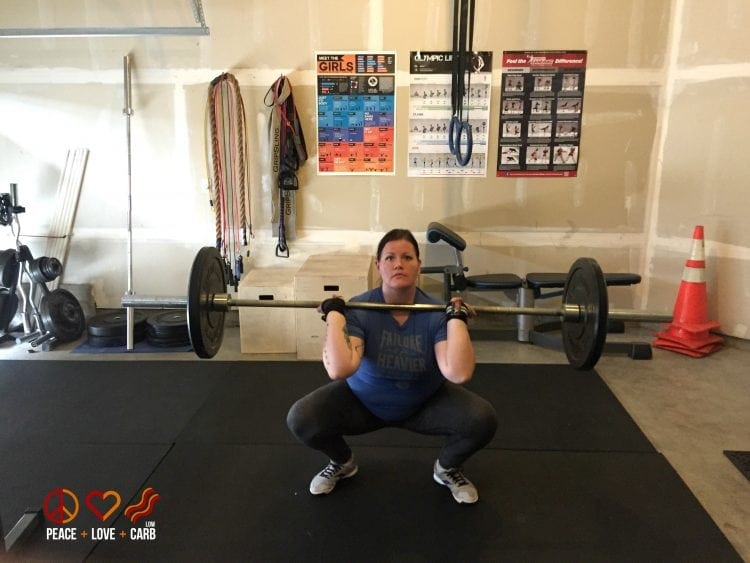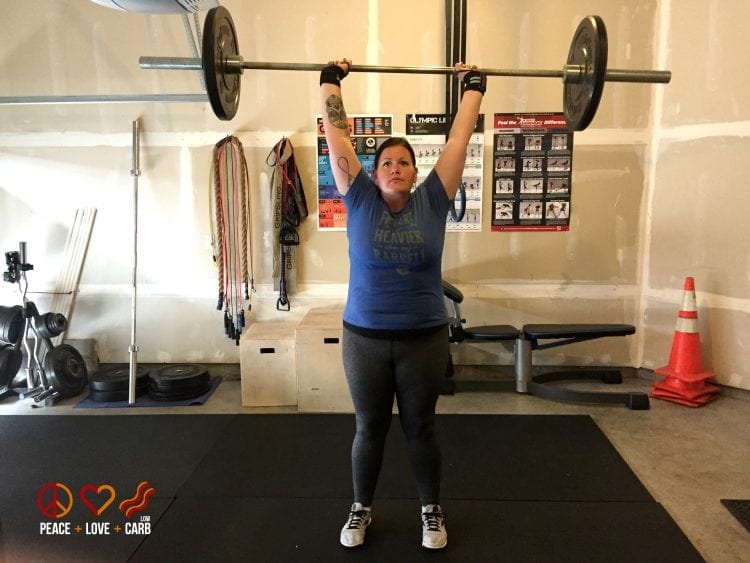 What I ate:
Today we had a goal to actually sit down and eat one entire meal as a family. Often times in our house, we get the kids fed and then we eat later. Sitting around the table together as a family is a lost tradition that needs to be revived. In our case, it was sitting and standing around our kitchen island. BUT, we did eat a meal as a family. Our morning was so busy and hectic that breakfast quickly turned into a late brunch. We ate low carb, paleo waffles and sausage patties . It has been so long since I had waffles. DELISH.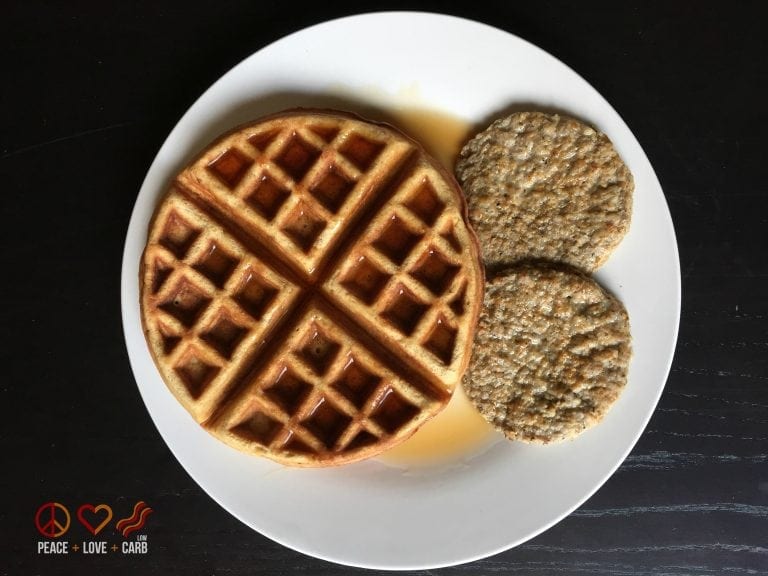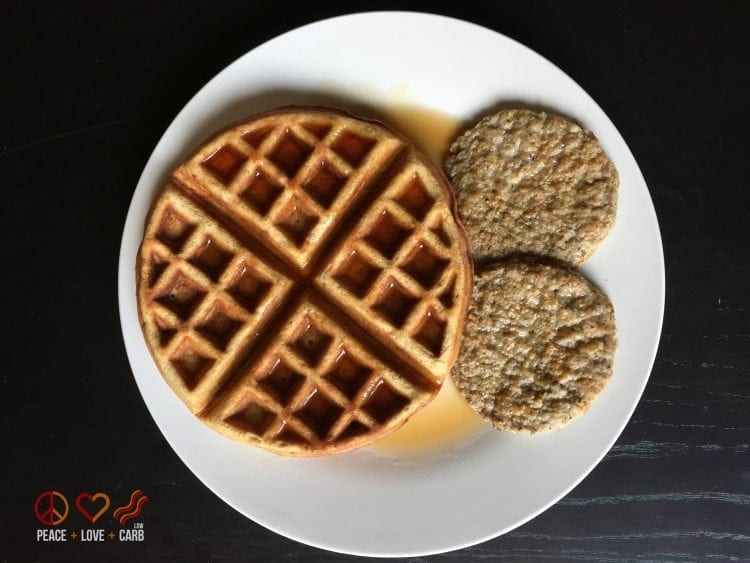 ---
Sunday 8/16 – Day 5

Todays workout:
I started my morning with a nice long walk – 4 miles in the morning sunshine, getting caught up on my Jillian Michaels podcasts. I LOVE her. That was all I initially had planned for the day, but my eating didn't necessarily go as planned, so I threw in a 20 minute yoga session and another 2 mile walk at sunset.
Workout-
4 Mile Walk
20 Minute Energy Balancing Yoga
2 Mile Walk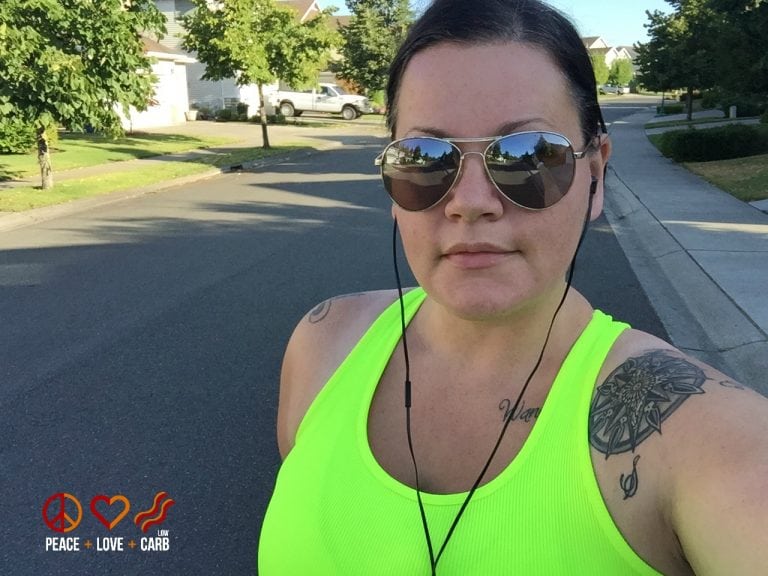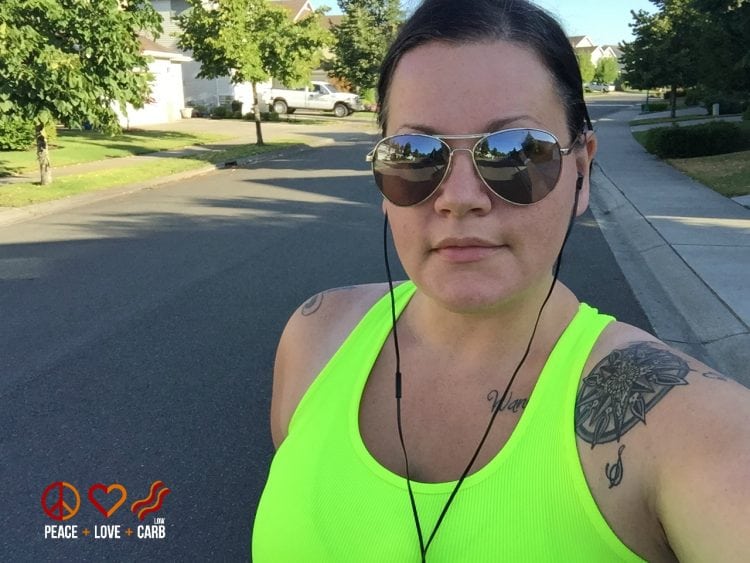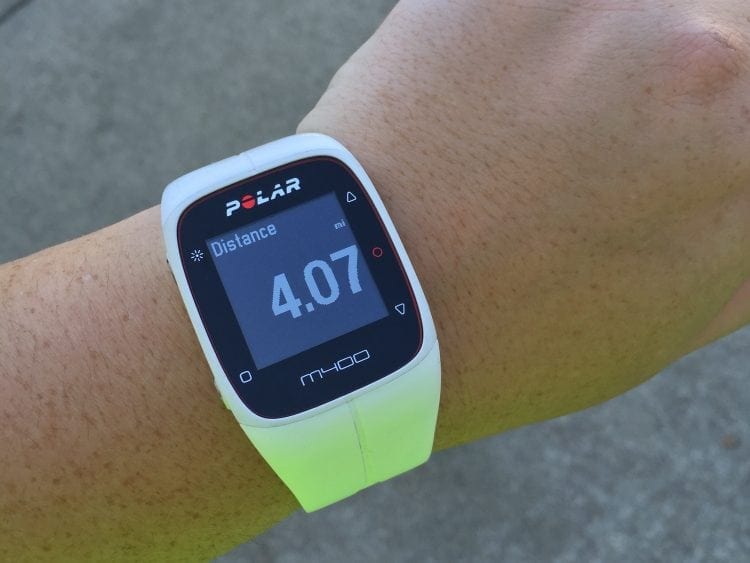 What I ate:
Today I got my first workout out of the way before breakfast and by the time I got back, I was starving. So, I whipped up an easy, high protein breakfast. One of my favorites… Maple chicken breakfast sausage, eggs with garlic salt and chives, sharp cheddar cheese and guacamole.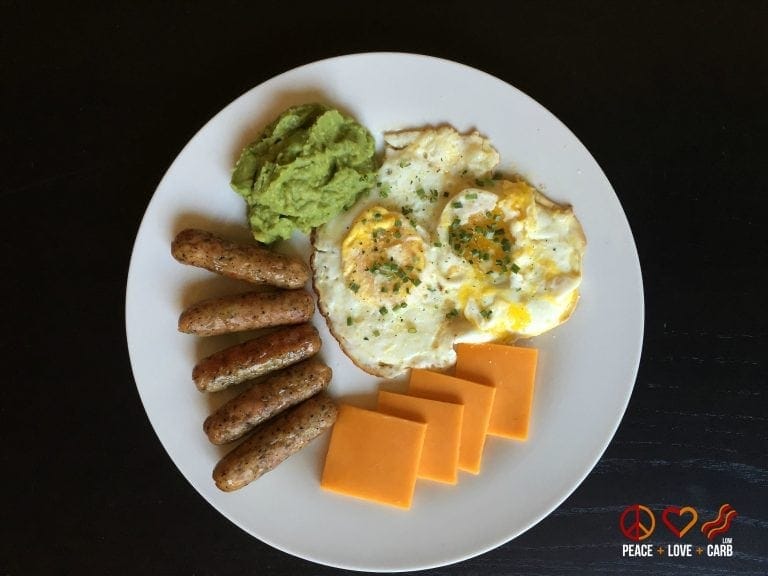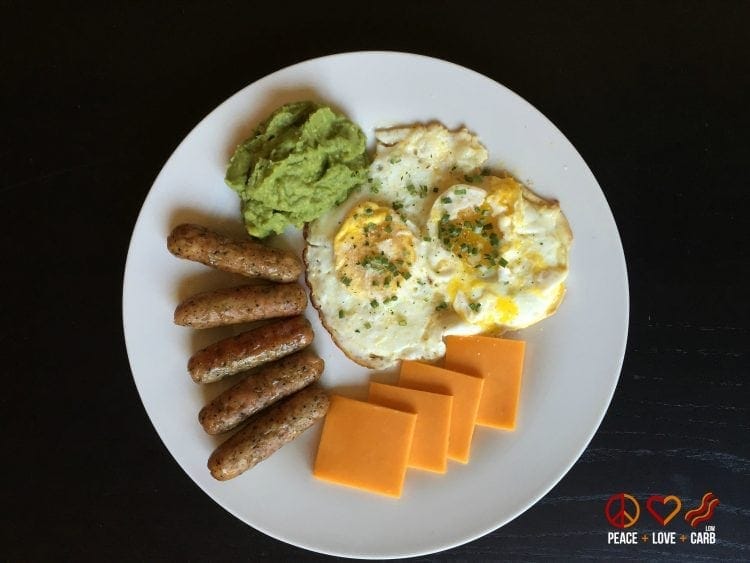 When I mentioned earlier in this post that my eating did not exactly go as planned, it was my snacking that got the best of me, or rather my portioning of said snack. While we were shopping at Trader Joes, I saw a new snack that caught my eye and I just had to try it. I have been OBSESSED with pickles lately. The little mini, crisp, garlic dill pickles, and pickle flavored sunflower seeds. Then I saw the Popcorn in a Pickle – With a 2 cup serving size, I figured I could have one cup at a time, keep my carbs low and still try a new snack. WRONG!! Didn't I just say I was obsessed with pickles? I ended up eating almost half a bag (the whole bag is 5 servings) It certainly could have been a lot worse. But, nonetheless, I got some extra movement in today because of it. Thus my yoga and second walk of the day. Tomorrow is a new day!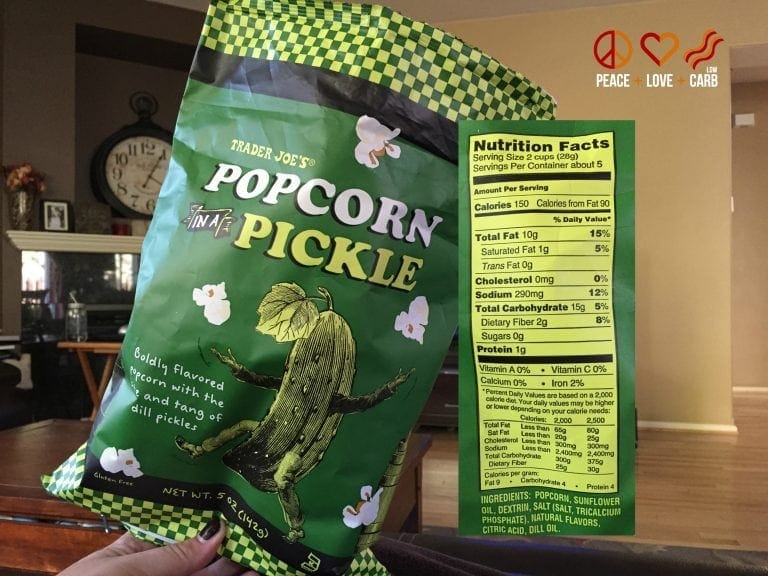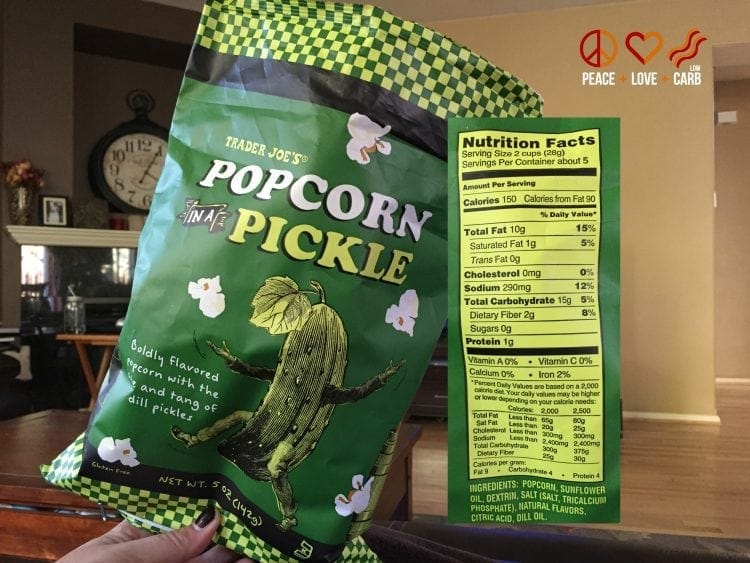 ---
Monday 8/17 – Day 6

Todays workout:
Today was my planned rest day and I did exactly that. The empowered and determined part of me was screaming "WORK OUT" The rational part of me was shouting "6 DAYS A WEEK IS PLENTY! REST, YOU CRAZY PERSON!  The rational side won and I rested. I snuggled this guy a lot today.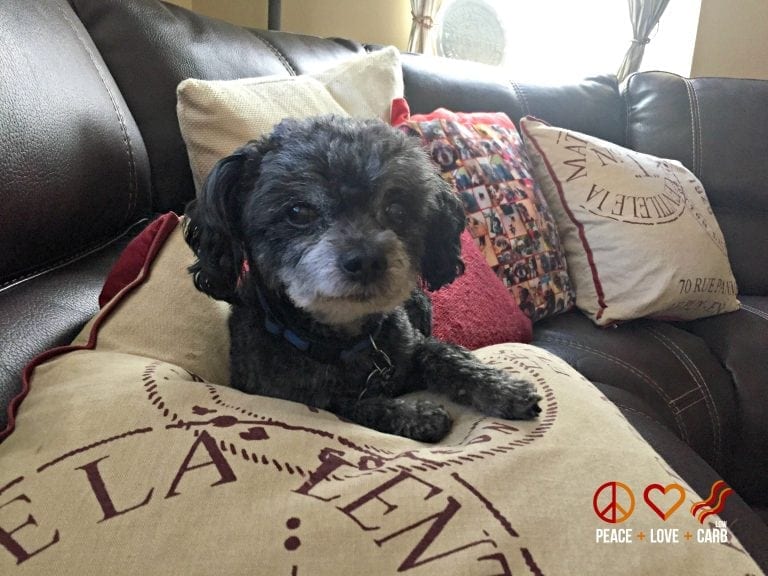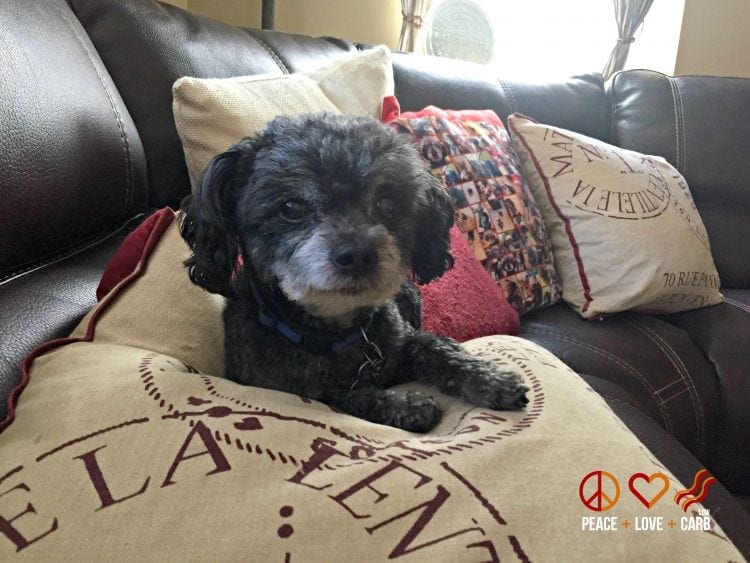 What I ate:
Today my mind was filled with thoughts of sushi, poutine, beer, doritos, chocolate cake and about 100 other foods my body doesn't need. I stayed the course and ate completely on plan. YAY for small victories. For lunch we ate my Avocado Taco Boats. Delish! Perfect for leftovers too! For dinner we had fresh sockeye salmon. We kept it simple and baked it in the oven with just a little bit of butter and garlic salt. We also had pan-seared scallops and roasted green beans with bacon. Meals like this make eating healthy feel easy. It was so, so good.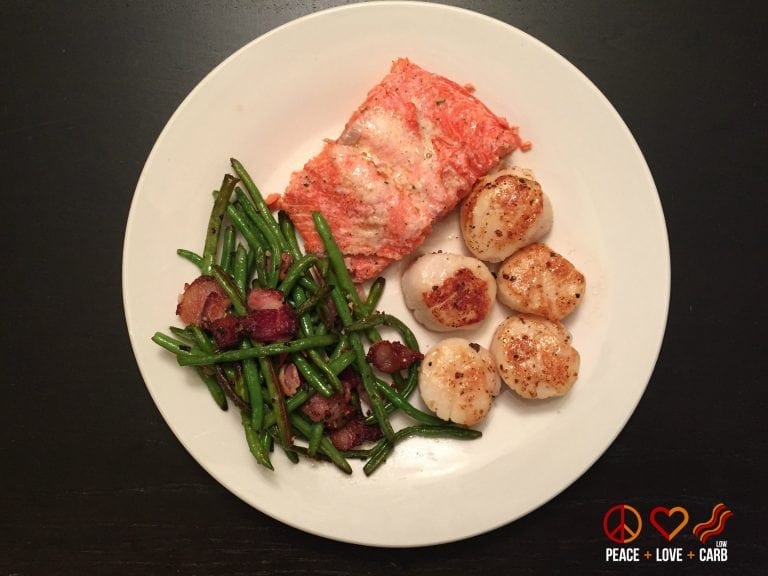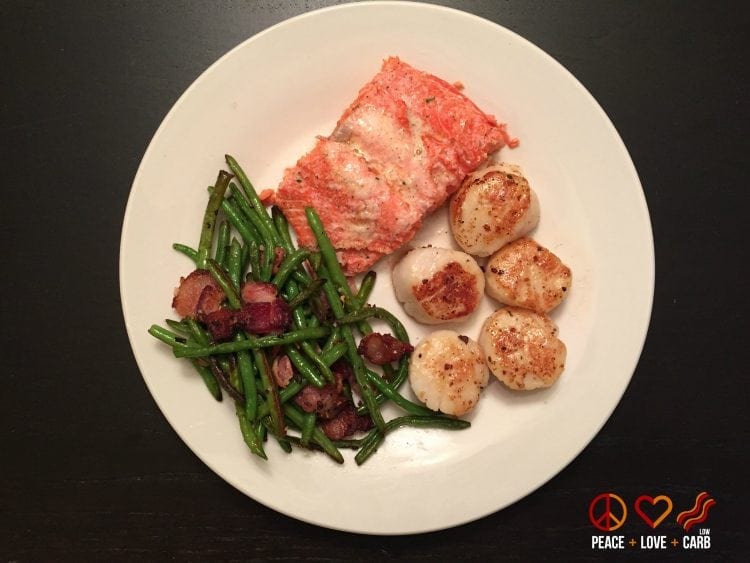 ---
Tuesday 8/18 – Day 7

Todays workout:
Today I got outside and spent some time doing one of my favorite things ever… HIKING! 6 miles round trip. We hiked at one of my favorite places – Mt Rainier. Here are some pics from our day. Not only was it beautiful, but I definitely got my fitness in and shredded some major calories. Tomorrow is weigh in day and I am excited to see what the scale says. Who is weighing in with me tomorrow?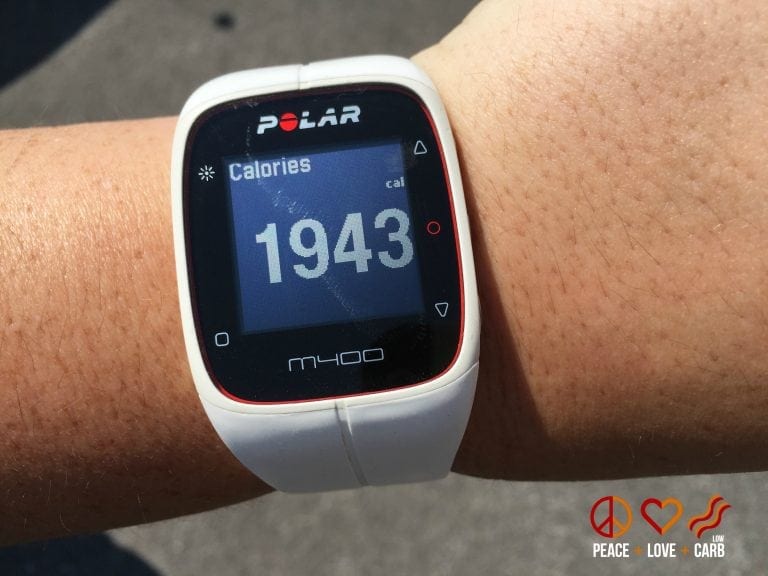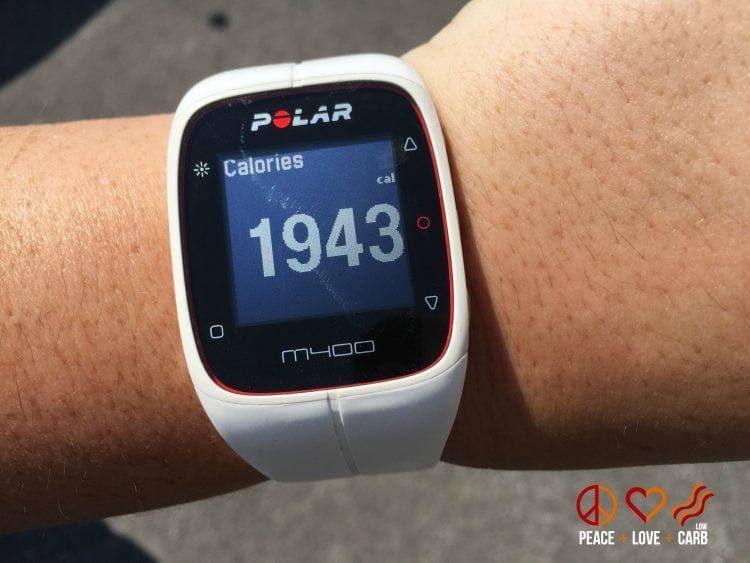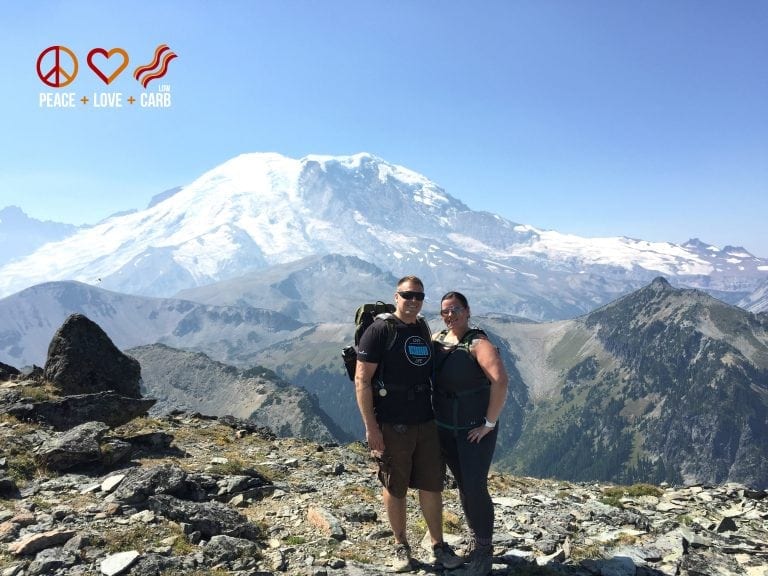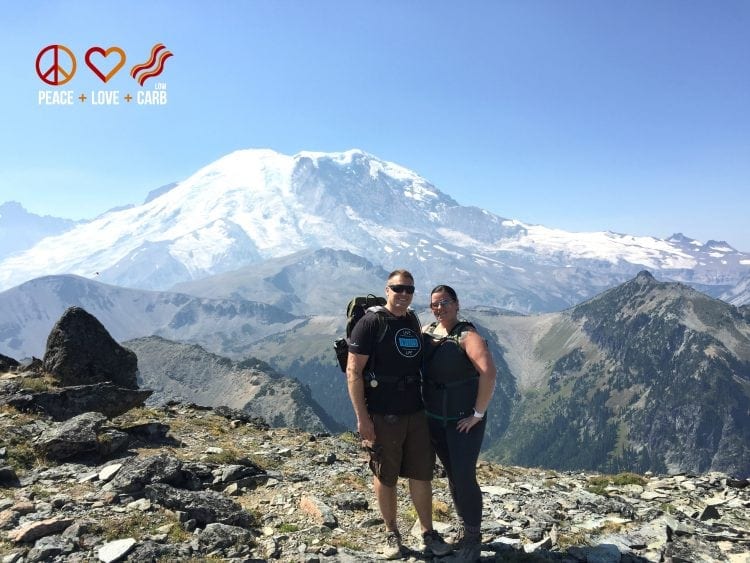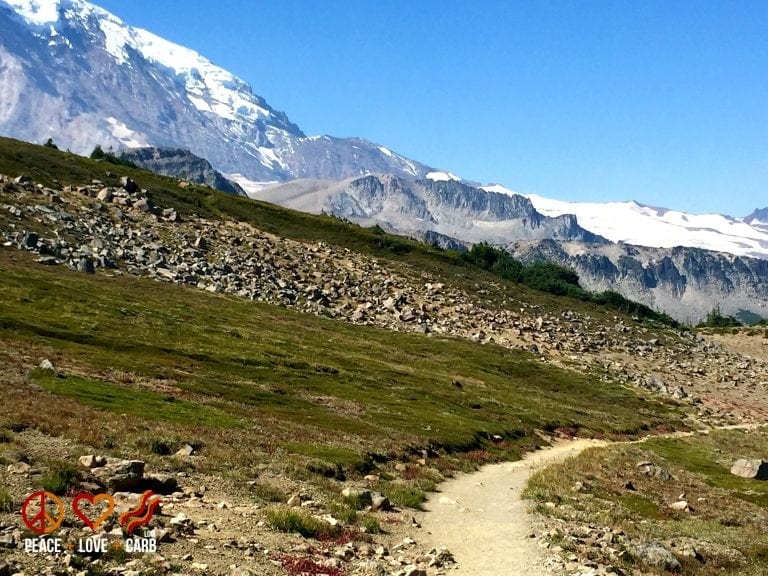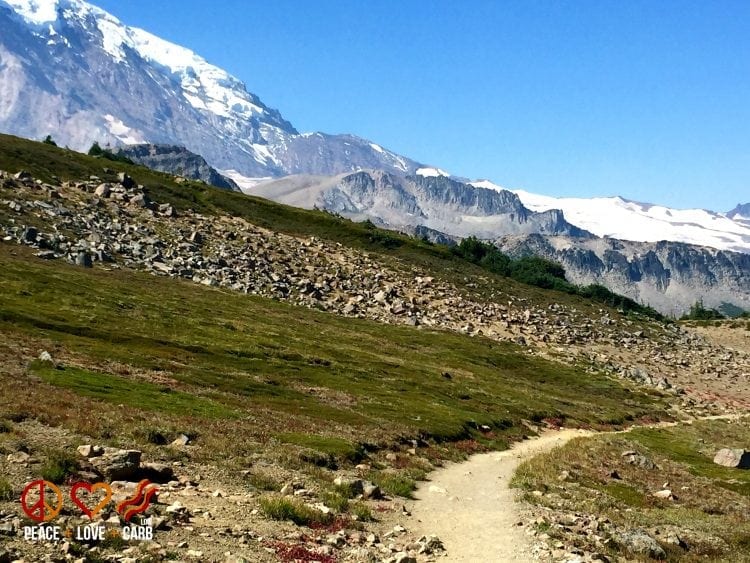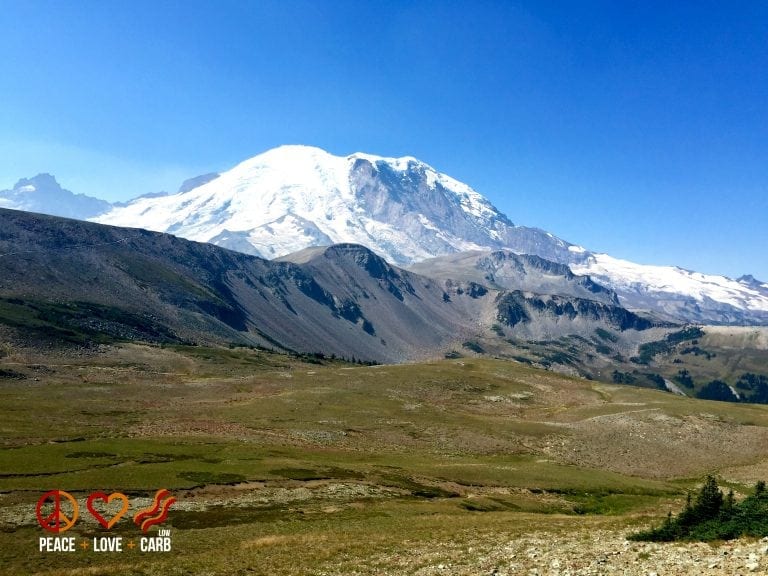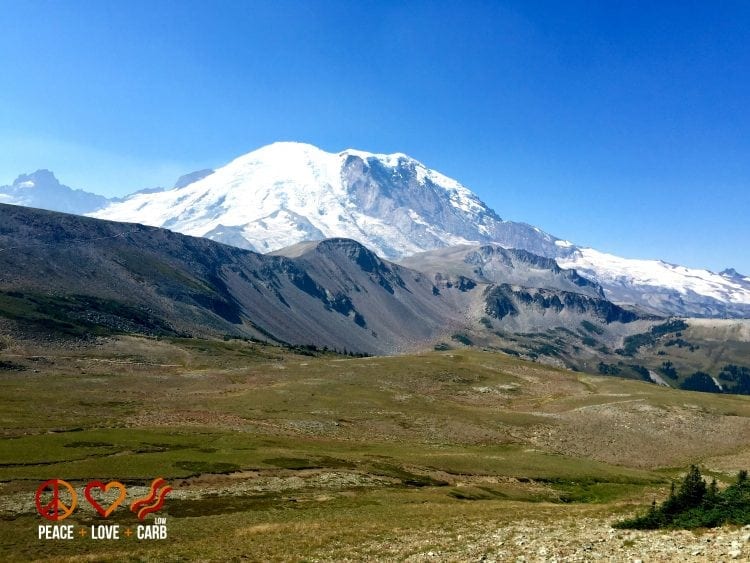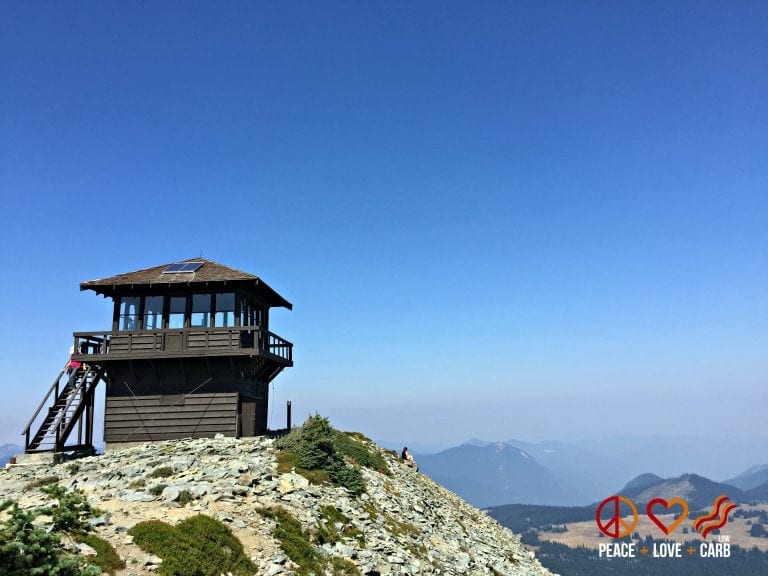 What I ate:
We made sure that we were prepared with healthy snacks. I cannot stress enough the importance of eating real, whole, nutrient dense foods if you want to maintain health and permanent weight loss. Trust me, I know… I didn't gain all my weight back from eating real food! Epic bars are a great source of protein and contain only real food ingredients. Before you say it, yes, they are a little more expensive than the chemical filled Atkins bars, but the trade off is worth it. My favorite flavor is Bison, Bacon, Cranberry. (In full disclosure, this turkey one tasted a little dry today)
Keep it real as a person and keep it real with your food! ✌?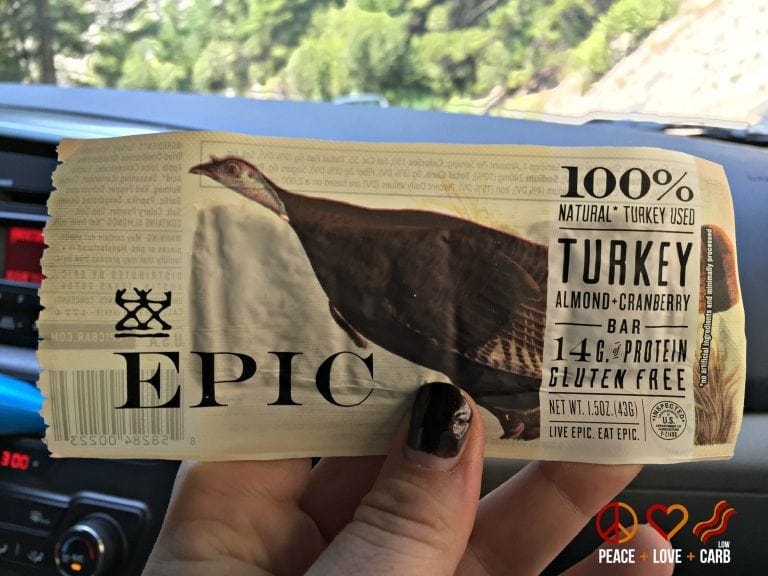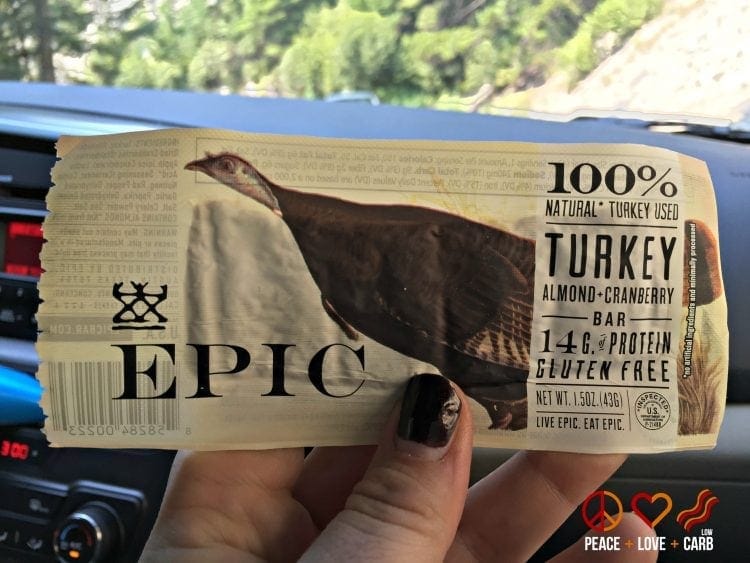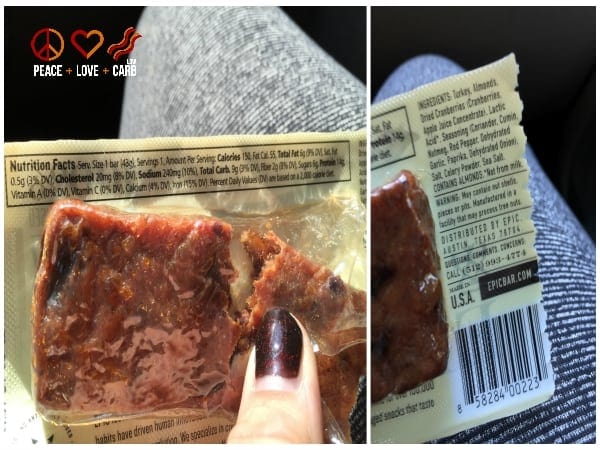 We were really hungry after the drive home from hiking. We couldn't think about anything else but food. We were on a mission to keep it easy, fast and healthy. We settled on bacon, mushroom chicken sausages, topped with grilled onions and peppers, served with roasted cauliflower. I pretty much inhaled it. It was so, so good and just what my body needed.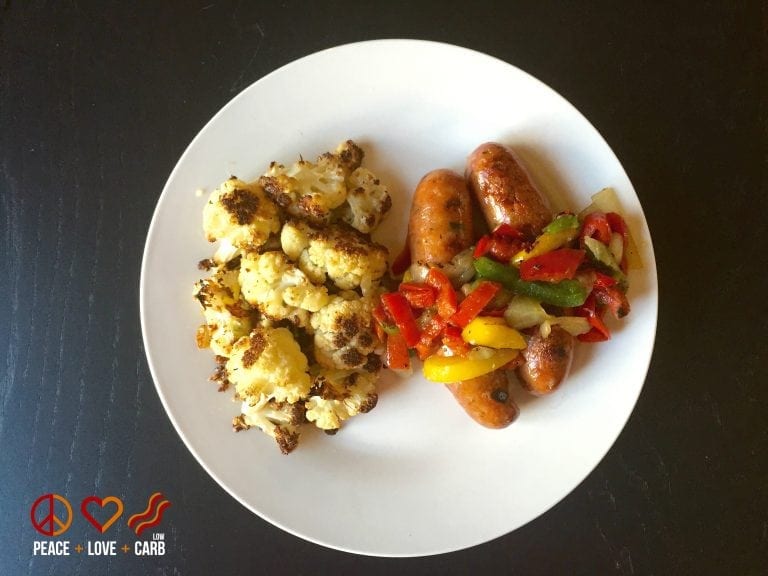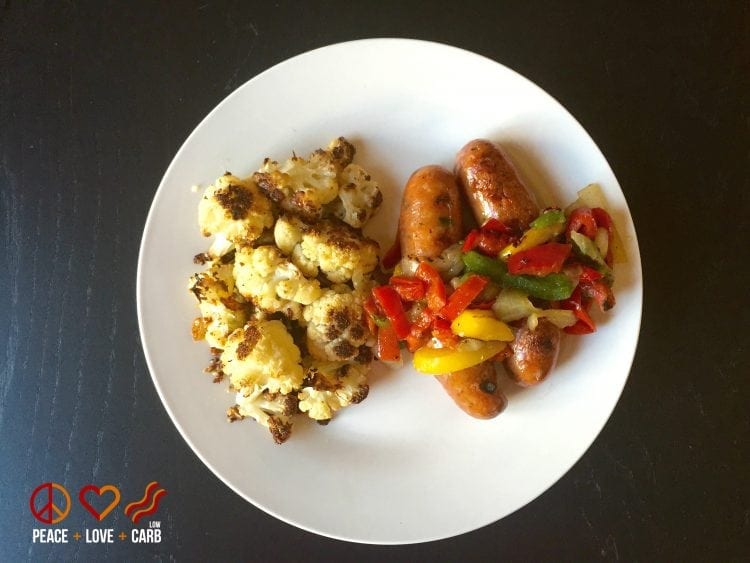 Week 1 is officially in the bag! 1 down, 51 to go. Tomorrow is weigh in day and I am so excited to see the results of my hard work. Stay tuned. Follow me on Instagram for updates outside of just my blog posts.