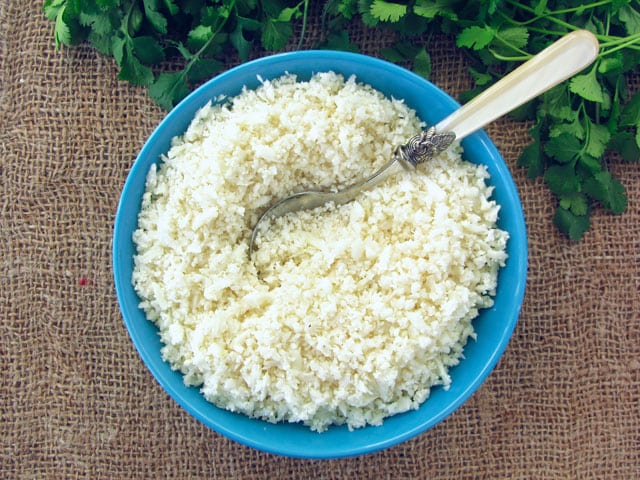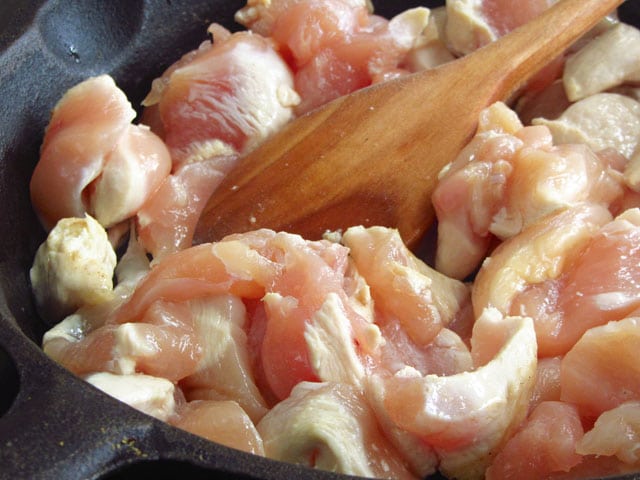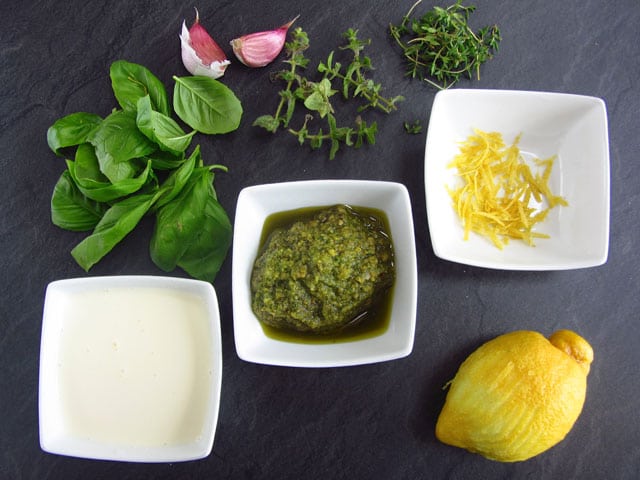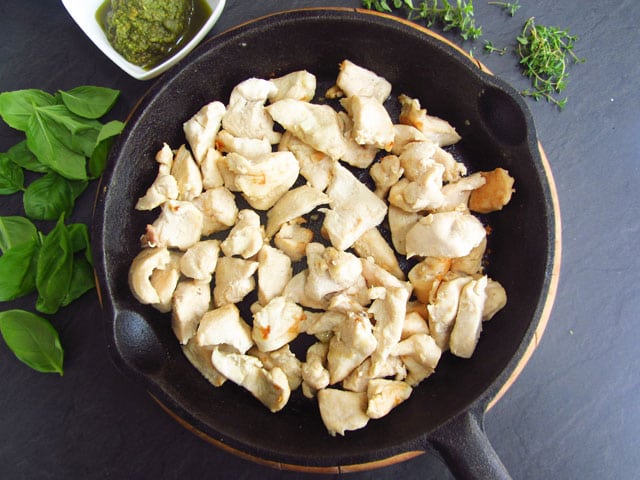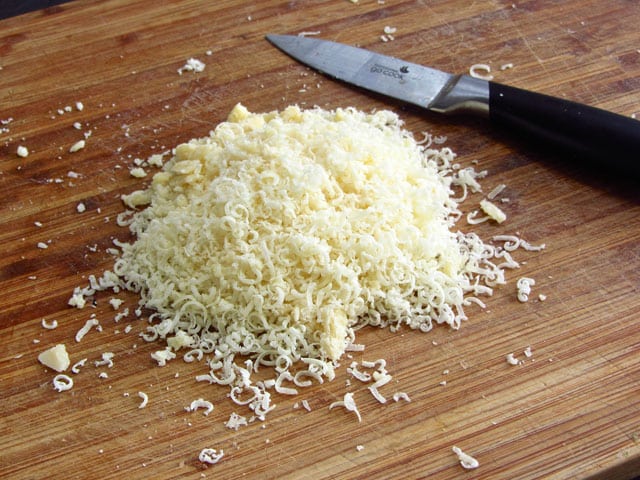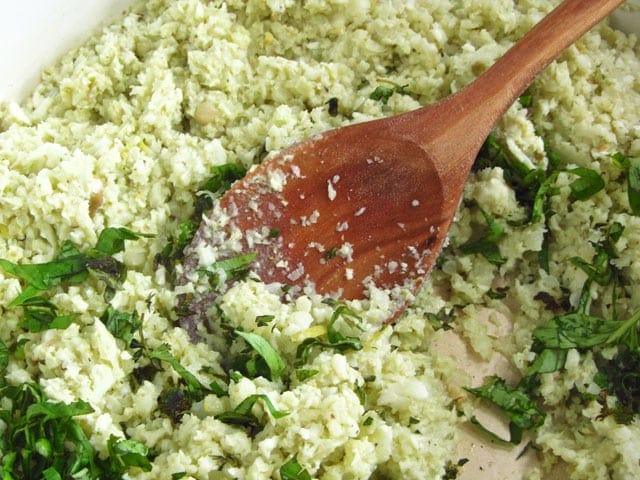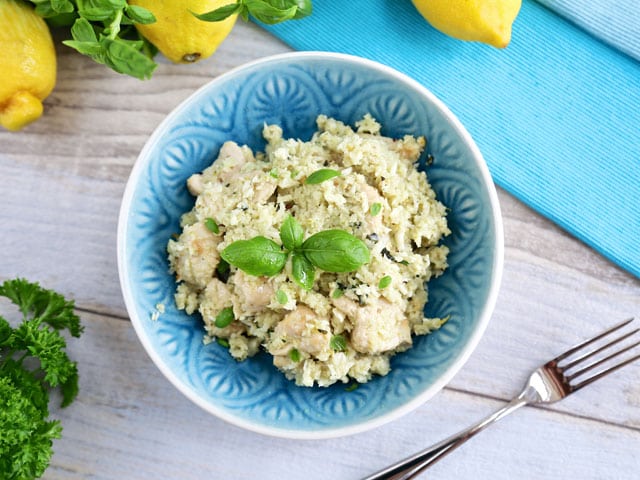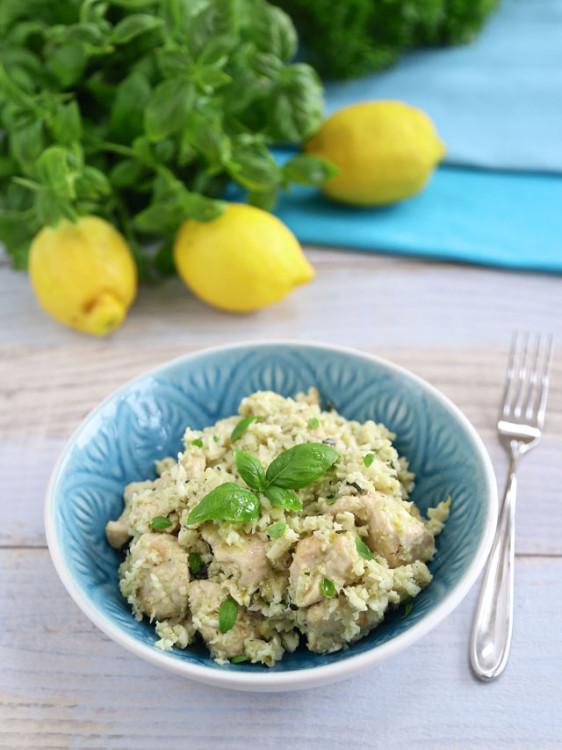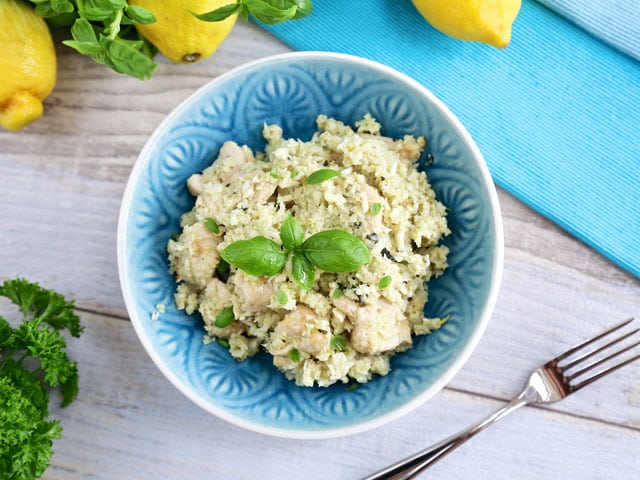 As many of you already know, I have been busy in the kitchen working on a new cookbook.  I promise you will be seeing some of my best, most creative work yet.  I'm excited to show you what I have been up to.  In the meantime, I have been lining up some very talented guest bloggers for you.  Today I have a winning recipe from the lovely and talented Martina of KetoDietApp. Take it away, Martina!…
When Kyndra asked me to start guest posting for her blog, I was really excited! I have been a big fan of her amazing work ever since I found her Avocado Taco Boats on one of Facebook's popular low-carb pages.  Both Kyndra and I follow a low-carb, paleo / primal diet, so it was easy for me to choose a recipe well suited for her blog.  For those who avoid dairy, I included a dairy-free option.
Rice is one of the most common ingredients people miss on a low-carb diet. Using cauliflower instead is a great way to replace this carbohydrate-rich food and keep the scales down.
One of the most common mistakes people make when making cauli-rice is overcooking it. My favorite way of cooking "cauli-rice' is to briefly stir-fry it on a pan greased with ghee or butter. This keeps it crispy and neutralizes most of the typical cauliflower taste. I use the same technique for making "zoodles" (spiralized zucchini) which I only cook for 2-3 minutes. Both cauli-rice and zoodles taste best al dente!
Print
Mediterranean Low-carb "Risotto"
Nutrition facts (per serving):
Calories: 504
Total carbs: 10.2 g
Fiber: 4 g
Net carbs: 6.2 g
Protein: 41 g
Fat: 33.4 g
Total Time:

20 minutes

Yield:

4

Servings

1

x
Scale
Ingredients
1

medium head cauliflower to make ~ 4 cups cauliflower "rice" (480 g / 1.1 lb /

16.9 oz

)

4

medium chicken breasts, skinless and boneless (600 g / 1.3 lb /

21.2 oz

)

¼ cup

heavy whipping cream or coconut milk – I like Aroy-D (

60

ml /

2

fl oz)

½ cup

pesto sauce – you can try my Paleo Avocado Pesto (dairy-free) or Red Pesto (includes dairy) (125g /

4.4 oz

)

2

cloves garlic, mashed
zest from

¼

lemon, organic (~

½ tbsp

)

2 tbsp

freshly chopped – basil, oregano and thyme (use

1

–

2

tsp if dried)

2 tbsp

ghee, butter or coconut oil
pinch freshly ground black pepper
optional but highly recommended: 1 cup grated parmesan cheese (60 g / 2.1 oz)
Instructions
Prepare the cauliflower "rice" (you can follow the instructions here). Remove the leaves and the hard center core of the cauliflower and cut into florets. Wash the cauliflower and drain well. Once dry, grate with a hand grater or in a food processor with a grating (or regular) blade. Pulse until it looks like rice. A grating blade will make it look closer to real rice.
Dice the chicken into medium pieces and place on a pan greased with a tablespoon of ghee, butter or coconut oil.
Cook for about 15 minutes. When done, set aside.
Meanwhile, peel and mash the garlic and zest the lemon. Make sure you use organic, unwaxed lemons.
Grease another pan with the remaining ghee, butter or coconut oil and add the mashed garlic and lemon zest. Cook briefly over medium heat until light golden.
Add the "cauli-rice", increase the temperature to medium-high and cook for about 5 minutes stirring frequently. The time depends on how soft you prefer the "cauli-rice" to be. Add the pesto, chopped herbs and cream (or coconut milk). Cook for another 1-2 minutes and set aside. Season with freshly ground black pepper and salt.
If you eat dairy products, add the Parmesan cheese and mix well.
Enjoy!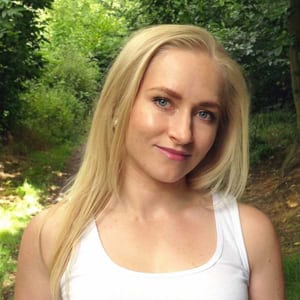 About Martina
Hi everybody! My name is Martina and I live in the UK. I love food, science, photography and creating new recipes. I am a firm believer of low-carb living and regular exercise. As a science geek, I base my views on valid research and I have first-hand experience of what it is to be on a low-carb diet. Both are reflected on my blog, in my apps and book.
I started eating low-carb in 2011, shortly after I was diagnosed with Hashimoto's hypothyroidism.  Since then, I've been trying to figure out what works best for me and discovered some of the great benefits of low-carb eating. Following a ketogenic, paleo-friendly diet plan helps me maintain a healthy weight while eating real food. I believe that true paleo is great, however if your goal is to lose weight, paleo is often not enough.
My mission is to help you reach your goals, whether it's your dream weight or simply eating healthy food. Come and say hi on my blog!