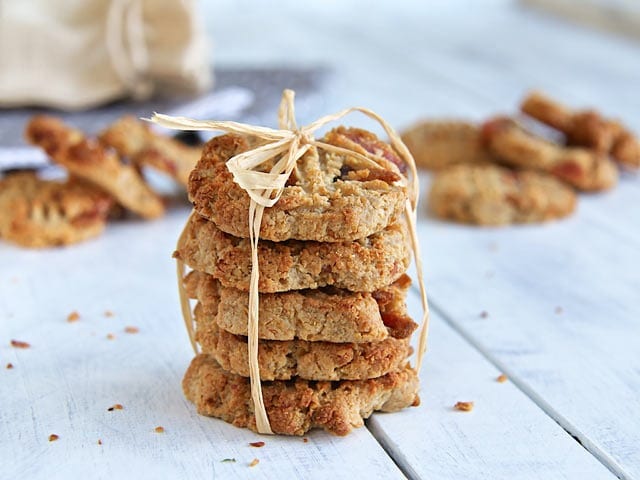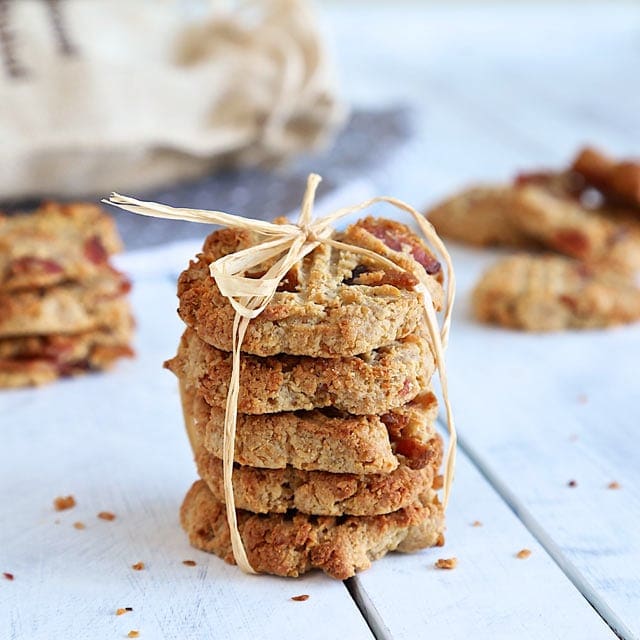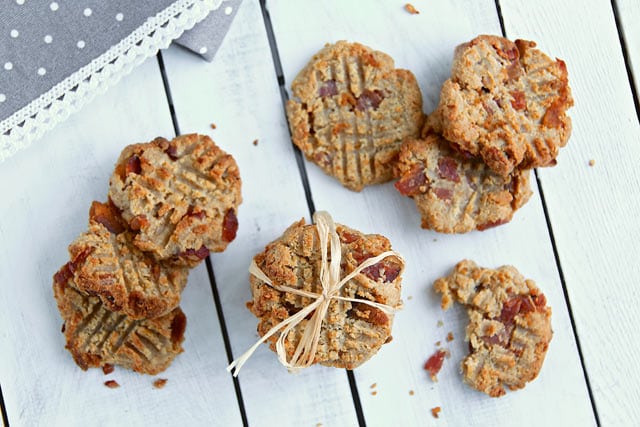 Bacon cookies?  Yes, please!  It is that lovely time of the month again where Martina of Keto Diet App Blog brings us another one of her delicious, low carb creations.  This month is it a sweet and savory fusion – Bacon Onion Cookies!  Bacon and onion are two of my absolute favorite ingredients, especially when the onions are caramelized.  What is your favorite recipe that contains both bacon and onions?
Without further ado, here is Martina – While working on my upcoming cookbook, I have been experimenting with many different cookie recipes – both sweet and savoury. These bacon cookies are one of my favourite keto comfort foods. They are very easy to prepare, as no dough rolling or cutting shapes is needed.  Bacon and onion go amazingly well together and I use both in many of my recipes (like this Bacon & onion soufflé).
If you don't have onion powder, use garlic powder – both work great. Almond flour is the base of the dough while flax adds a bit more savoury taste taking some of the sweetness of almond flour away. I also used psyllium husk powder which I use frequently when making low-carb baked meals. It makes the cookies soft on the inside and also takes some of the moisture out, making it easier to form the cookies.
Print
Bacon Onion Cookies
Hands-on time: 15 minutes
Overall time: 25-30 minutes
Servings: 12
Prep Time:

15 minutes

Cook Time:

12 minutes

Total Time:

27 minutes

Yield:

12

Cookies

1

x
Instructions
If you need to crisp up the bacon, preheat the oven to 375 F / 190 C. Line a baking tray with parchment paper. Lay the bacon slices on top of it and place in the oven. Cook for 10-15 minutes until crispy brown. When done, remove from the oven and set aside. Reduce the temperature to 350 F / 175 C.
Meanwhile, place all the dry ingredients into a bowl (almond flour, flax meal, psyllium husk powder, onion powder, salt and pepper) and mix until well combined.
If you don't have onion powder, you can use dried onion flakes and blend them until powdered. Also, make sure you don't use whole psyllium husks – blend the psyllium husks until powdered if needed.
Add the egg…
… and process well using your hands.
Crumble or slice the bacon and add to the dough. Process well using your hands. Reserve the bacon fat and use for other recipes.
Using your hand, create 12 equal balls and place them on a baking sheet lined with parchment paper or silicone cookie sheet.
Use a fork to press and flatten the dough.
Transfer into the oven and bake for 10-12 minutes. Keep an eye on the cookies. Almond flour gets burnt easily and the cookies would taste bitter. When done, the cookies should be golden brown. Store at room temperature covered with a kitchen towel or in a container. Enjoy!
Notes
Per cookie:
Total carbs: 4.3 g
Fiber: 2.7 g
Net carbs: 1.6 g
Protein: 4.8 g
Fat: 9 g
Calories: 109 kcal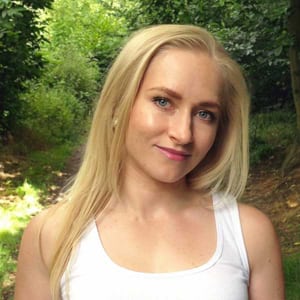 About Me
Hi everybody! My name is Martina and I live in the UK. I love food, science, photography and creating new recipes. I am a firm believer of low-carb living and regular exercise. As a science geek, I base my views on valid research and I have first-hand experience of what it is to be on a low-carb diet. Both are reflected on my blog, in my apps and book.
I started eating low-carb in 2011, shortly after I was diagnosed with Hashimoto's hypothyroidism.  Since then, I've been trying to figure out what works best for me and discovered some of the great benefits of low-carb eating. Following a low-carb, paleo-friendly diet plan helps me maintain a healthy weight while eating real food. I believe that true paleo is great, however if your goal is to lose weight, paleo is often not enough.
My mission is to help you reach your goals, whether it's your dream weight or simply eating healthy food. Come and say hi on my blog!