Sausage and Vegetable Quiche, Low Carb Angel Biscuits, and keto condiments, excellent options for the next time you're craving keto comfort food.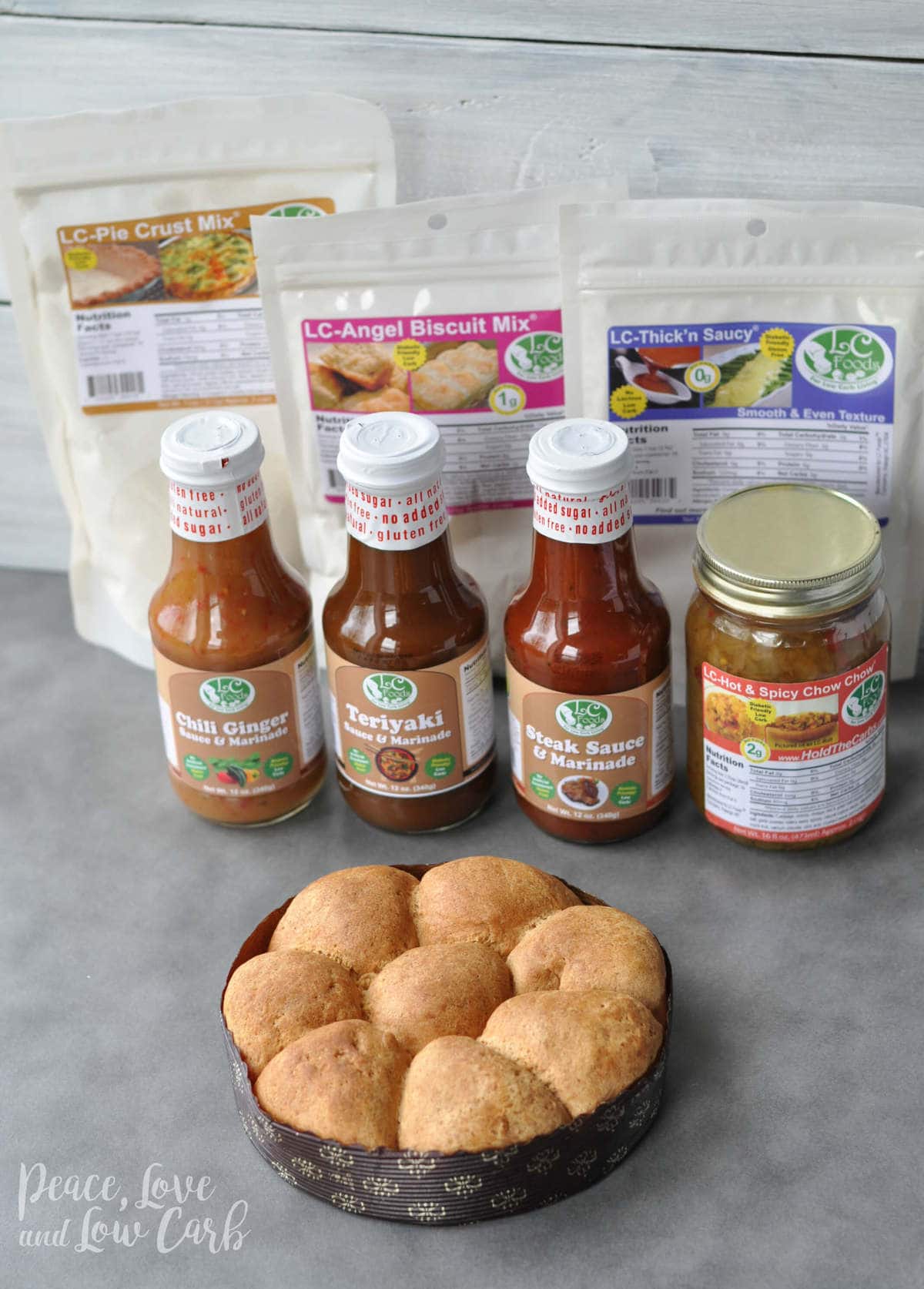 Some of my new favorite low carb products from LC Foods Company
I'm super excited to share this months products from LC Foods Company with all of you. This time, they've sent me an awesome mixture of sauces, marinades, biscuits and pie crust. Yes, LOW CARB PIE CRUST!! I used it to make a quiche, but we will get back to that in just a second.
This post has a little something for everyone: my gluten free friends, my keto friends, and all of my Peace Love and Low Carb Friends. The thing that I like most about LC Foods Company, is that they do a great job putting those foods back on the table that we thought we would never be able to eat again. Low Carb and Gluten Free Pancake Mix, Low Carb Gluten Free Bread Mix, Low Carb and Gluten Free Brownie Mix, just to name a few!
And they do it with quality ingredients in mind. Their products are free from any simple sugars, corn syrups, wheat, and high carbohydrate flour products. Plus they're low in net carbohydrates, and high in fiber and protein. These products are also dedicated to weight management and designed to be diabetic friendly, which means they won't easily spike blood sugar levels, releasing insulin to create fat storage in the body.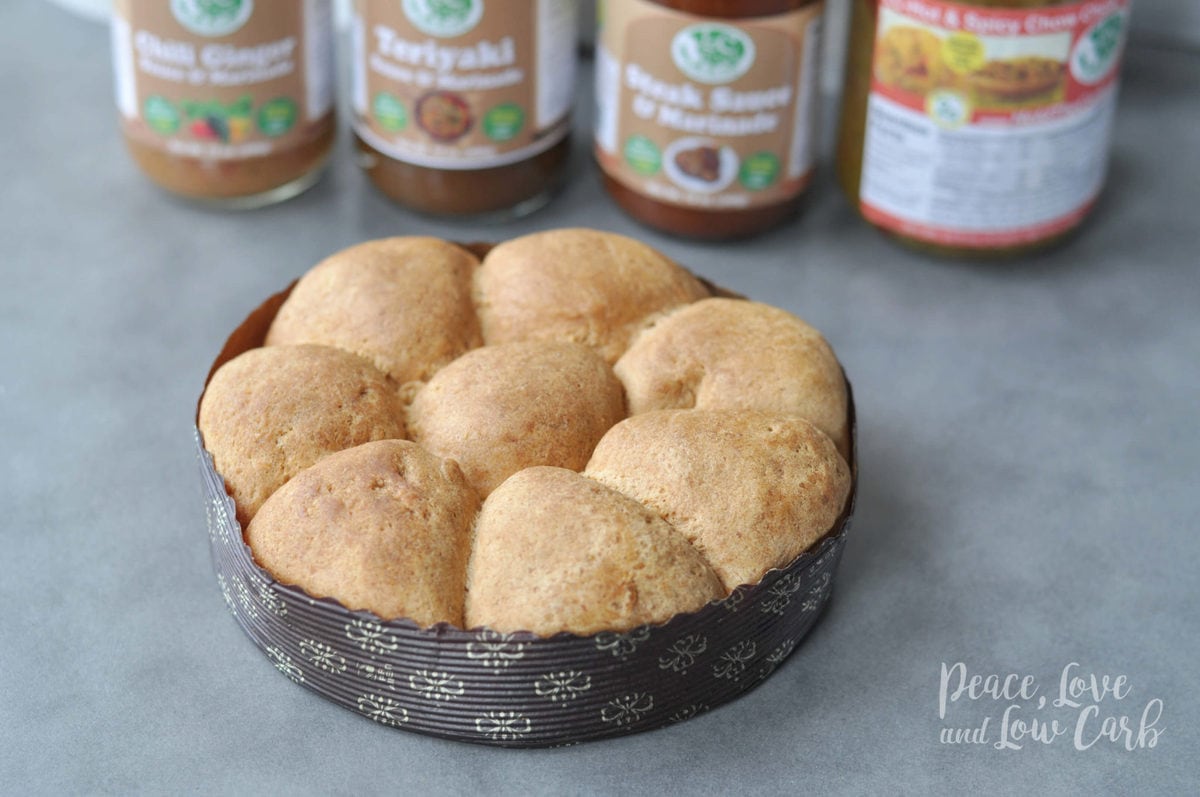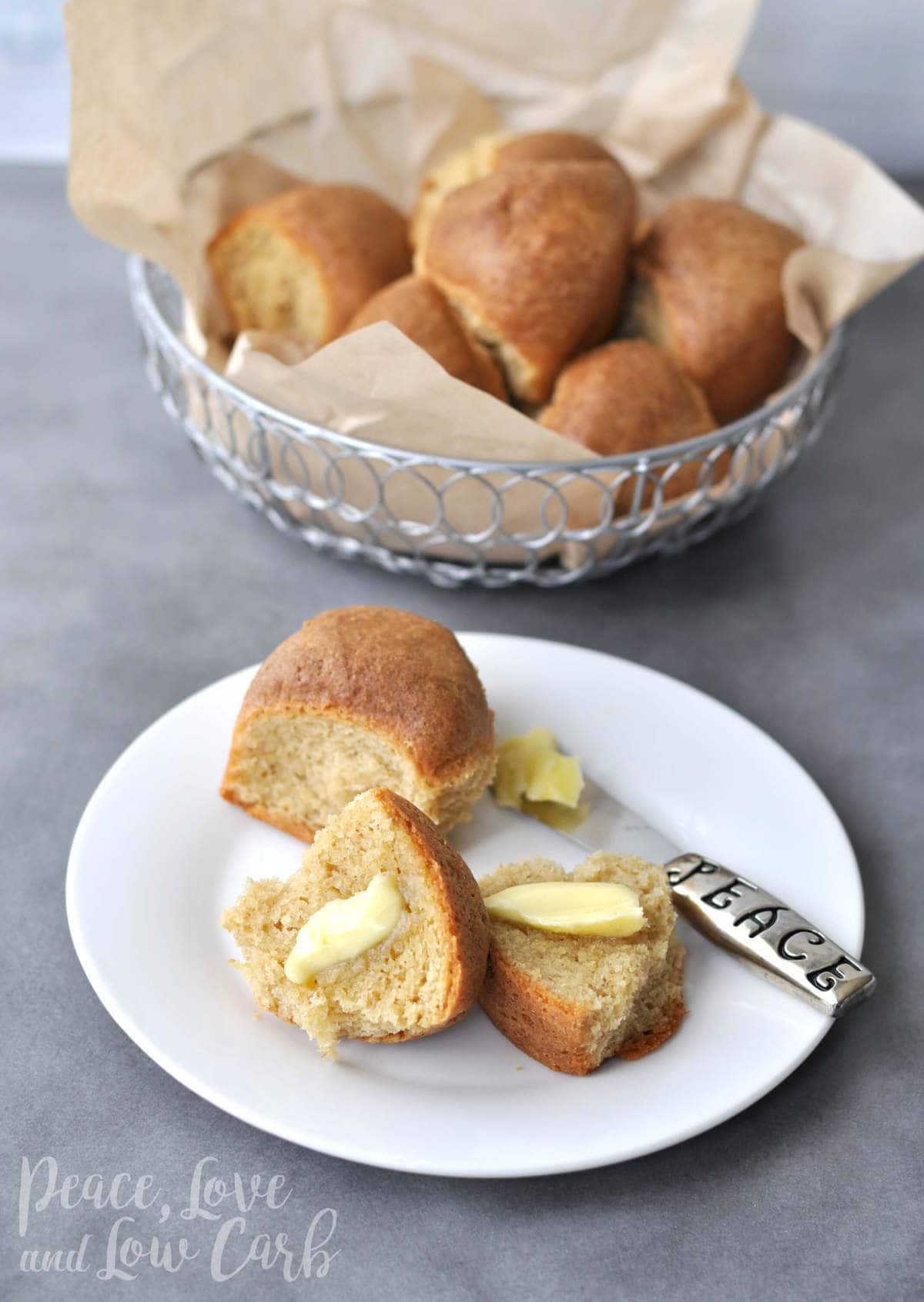 Low Carb Angel Biscuits
These biscuits... where do I even begin? Low carb bread products are always so hit and miss. They are often eggy or grainy in texture and they just never seem to replicate the real thing. WELL, these biscuits do. These Low Carb Angel Biscuits are so appropriately named. I'm pretty sure they were created by angels. They have an amazing texture; they're a lot like pull apart rolls and have a subtle sweetness that reminds me of cornbread.
We ate them warm with a big slather of salted grass-fed butter. They are also amazing with low carb sugar free raspberry preserves or to use to make a low carb biscuit breakfast sandwich. These Low Carb Angel Biscuits are only 1 net carb per biscuit. You can get them as a mix or you can buy them already fresh baked, how convenient is that?
Although these particular biscuits are not gluten free, they do have several gluten free options available. Like this Low Carb, Gluten Free White Bread Mix, or this Low Carb Gluten Free Breading Crusting Mix.
You can order some for yourself or read more bout them here.
Low Carb Condiments
I specifically asked LC Foods Company to send some of their condiments this month. Many of the store bought dips, dressings, sauces and condiments are packed full of sugar and unnecessary filler ingredients. As much as we would all love to be able to whip up our own sauces at a moments notice, many of us do not have the time and need a healthy pre-made option. It's nice to know they are out there when we need them.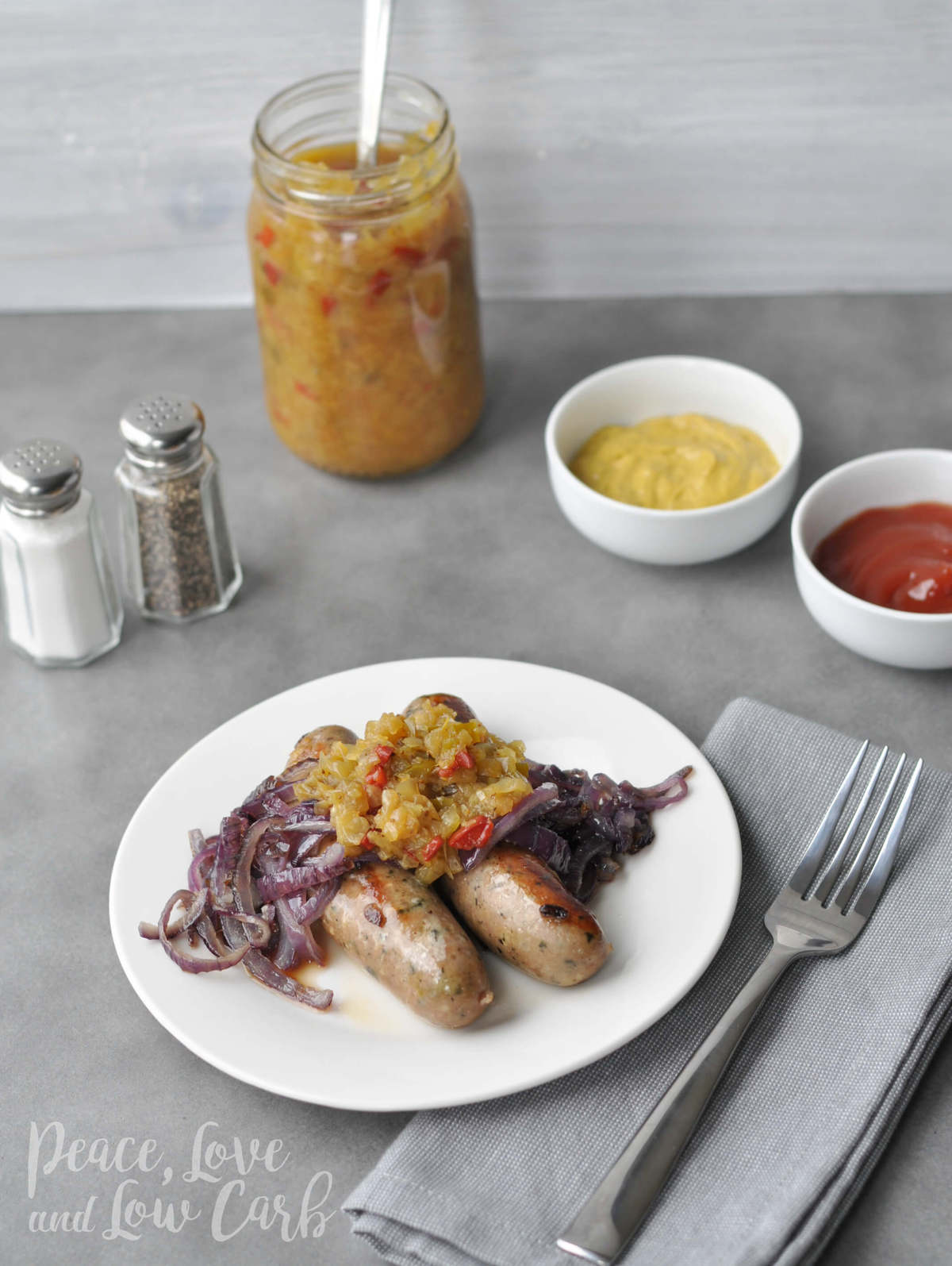 Hot and Spicy Chow Chow with Sausage
This Hot and Spicy Chow Chow Relish was awesome paired with some sweet caramelized onions. We ate them on top of chicken, feta sausages. Seriously SO GOOD! Excited to use it for all those summer cookouts I have in mind!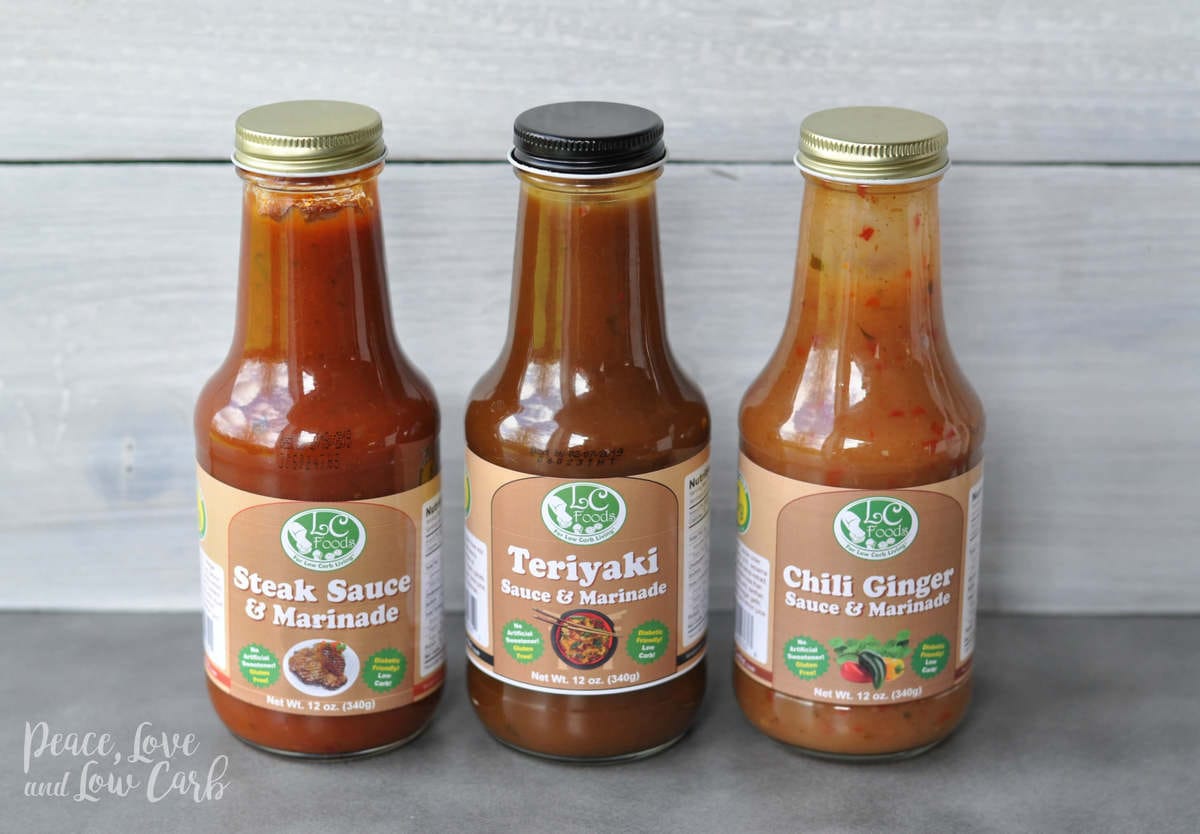 Ingredients in these low carb sauces
I was really impressed with all of the sauces. The Low Carb Steak Sauce and Marinade, the Low Carb Teriyaki Sauce and Marinade and the Low Carb Chili Ginger Sauce and Marinade.
They all have minimal ingredients, are low carb and gluten free, and don't contain anything strange, funky, or hard to pronounce. They are also really versatile: you can use them as a sauce, or as a marinade and even as salad dressing. Dinner really couldn't get any easier than throwing some chicken breasts and a jar of the low carb teriyaki sauce in a crock pot and just letting them do their thing. Easy and delicious!
Low Carb Steak Sauce and Marinade: Water, cider vinegar, tomato paste, gluten free soy sauce, onion, red wine, natural stevia extract, erythritol, olive oil, sea salt. Contains less than 2%: spices, citric acid, liquid smoke, bourbon, vanilla extract, cultured dextrose and xanthan gum.
Low Carb Teriyaki Sauce and Marinade: Water, gluten free soy sauce, red onion, natural stevia extract, erythritol, sesame oil. Contains less than 2%: marin spices, green onion, xanthan gum, lime juice, citric acid and cultured dextrose.
Low Carb Chili Ginger Sauce and Marinade: Water, apple cider vinegar, red jalapeno chili, sesame oil, tomato paste, natural stevia extract, erythritol, sea salt, contains less than 2%: spices, onion, citric acid, xanthan gum, chilies, red wine vinegar, garlic, orange juice, cilantro and lemon juice.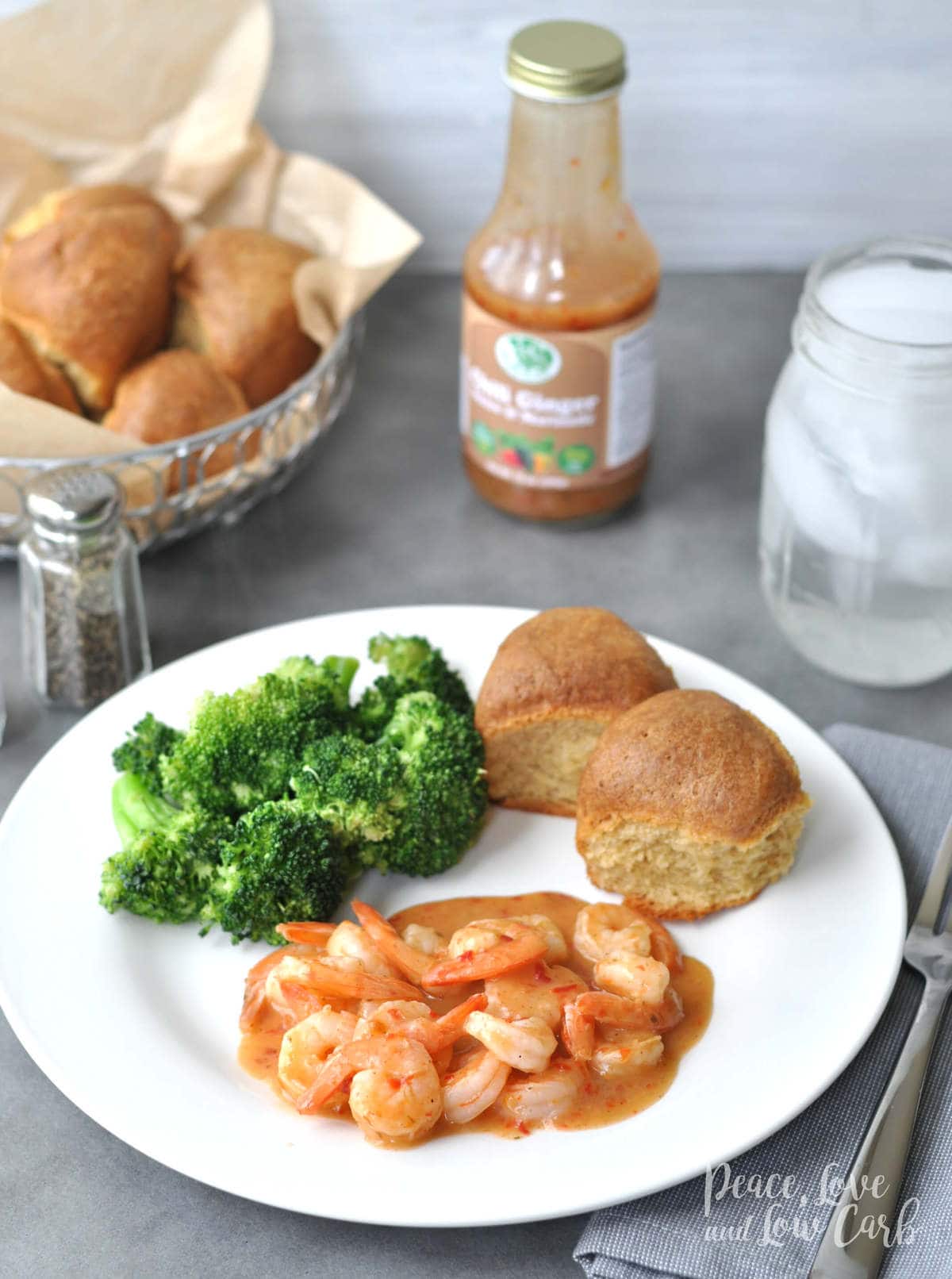 Chili Ginger Shrimp: a quick and easy keto meal with a kick
I decided to use the Low Carb Chili Ginger Sauce on shrimp. I sautéed the shrimp in the sauce and nothing else and it was amazing. Within just a few minutes, dinner was ready. It has just 1 net carb per serving and in addition to being low carb, it is also gluten free. I can't wait to use it again to make a big, hearty beef and vegetable stir fry. I also think it would make an amazing salad dressing. Think Asian chicken salad... YUM! Grab some here.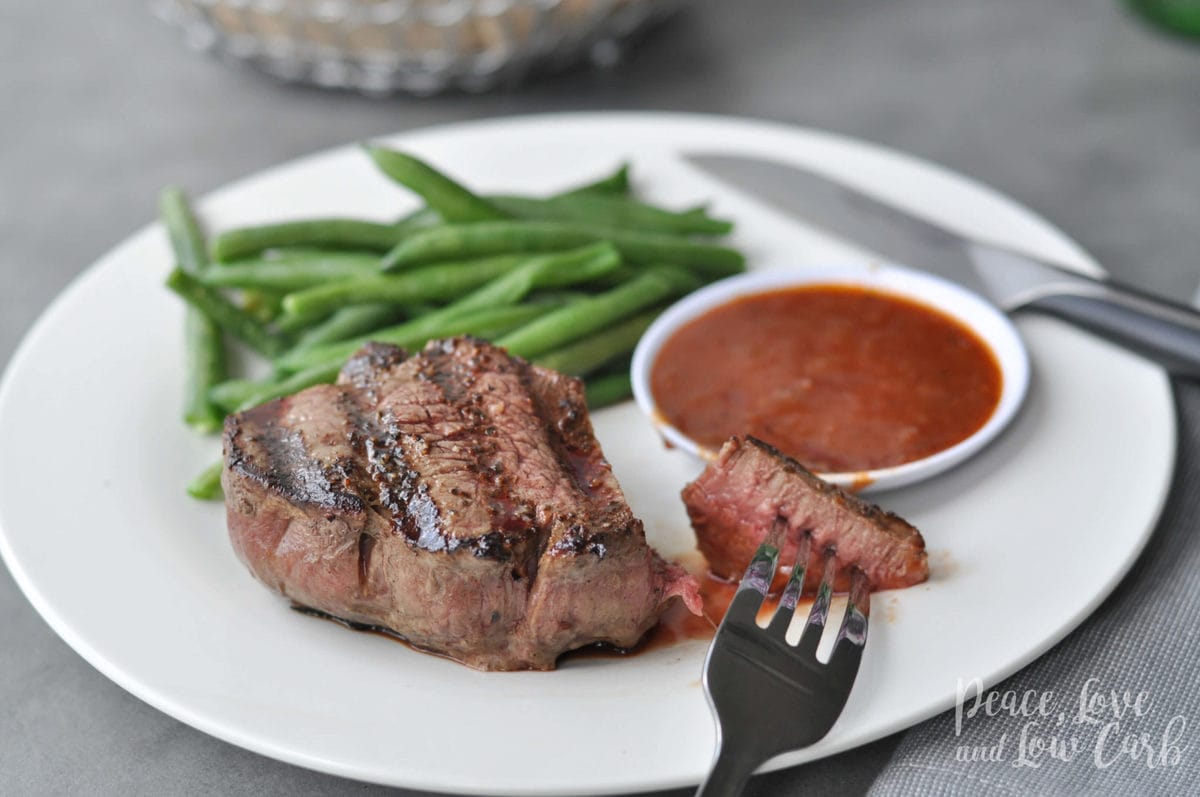 Low carb steak sauce
As a general rule, I have never been a steak sauce kind of girl. I think a perfectly cooked steak doesn't need anything else with it. Except for maybe some grass-fed butter on top. So when I made this beautiful grass-fed filet mignon, I put the sauce on the side. You know, just in case I didn't like it. Well I'm pleased to announce, that I would have been wrong. It is delicious. I kept going back for more dips. Next time I use it, I want to make kebabs on the grill. Marinate some nice big chunks of beef in this sauce overnight, and then skewer it with vegetables and grill it up. Just like the Low Carb Garlic Chili Sauce, it only has 1 net carb per serving, is gluten free and contains no added sugars or preservatives. A delicious, healthy alternative to the high carb, sugary steak sauces out there. Grab some here.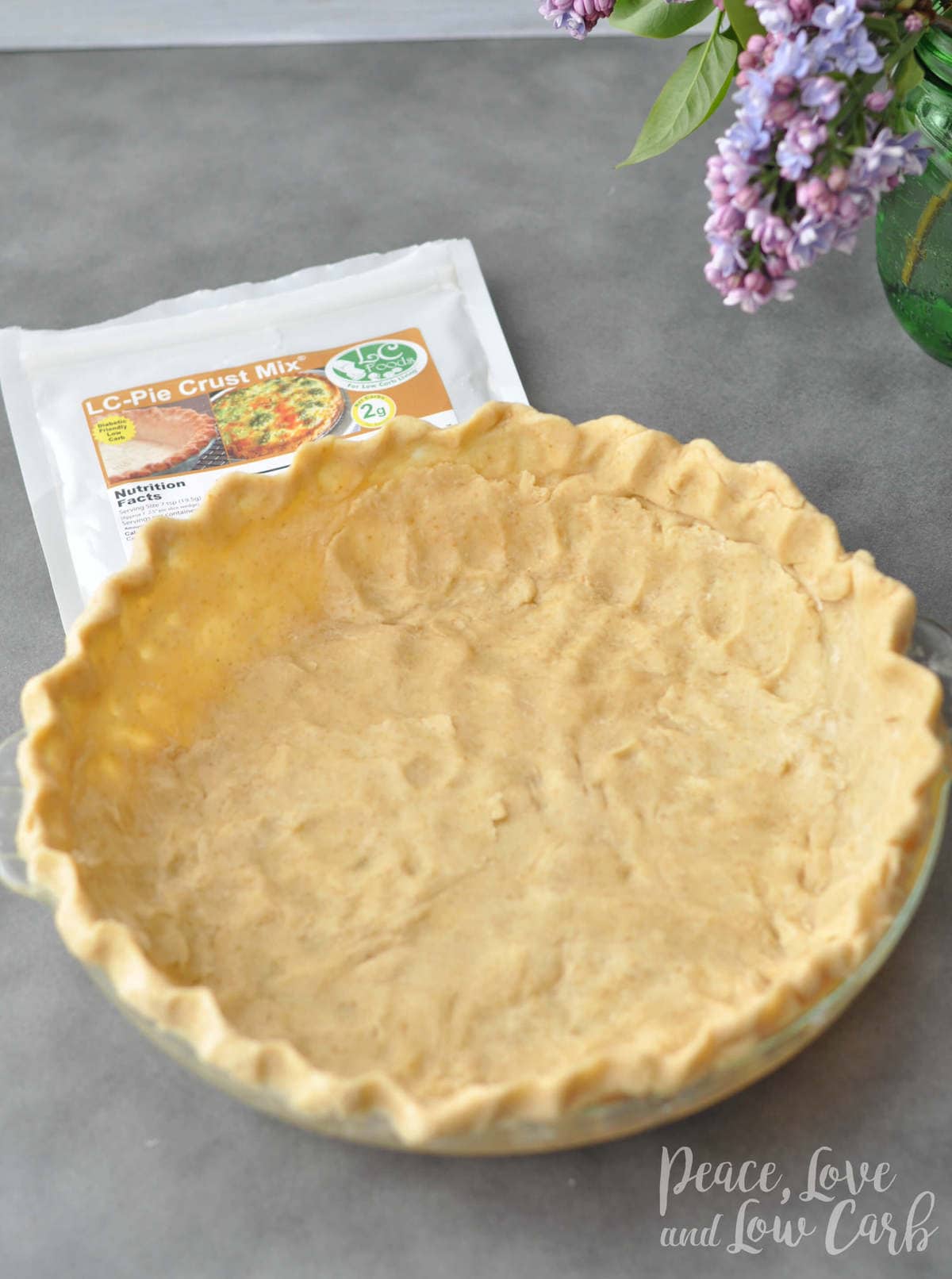 Low Carb Pie Crust
In addition to the Low Carb Angel Biscuits and all the delicious sauces and marinades, I also got to try their new pie crust. Many people would see a Low Carb Pie Crust and automatically think of a fruit filled pie, my mind always goes towards the savory, so I instantly thought quiche! Would you believe me if I told you that I have never made a pie crust before this? In fact, I don't even own a rolling pin. I used a really large cylindrical vase to roll out the dough. It was pretty amusing. It was quick and easy to make.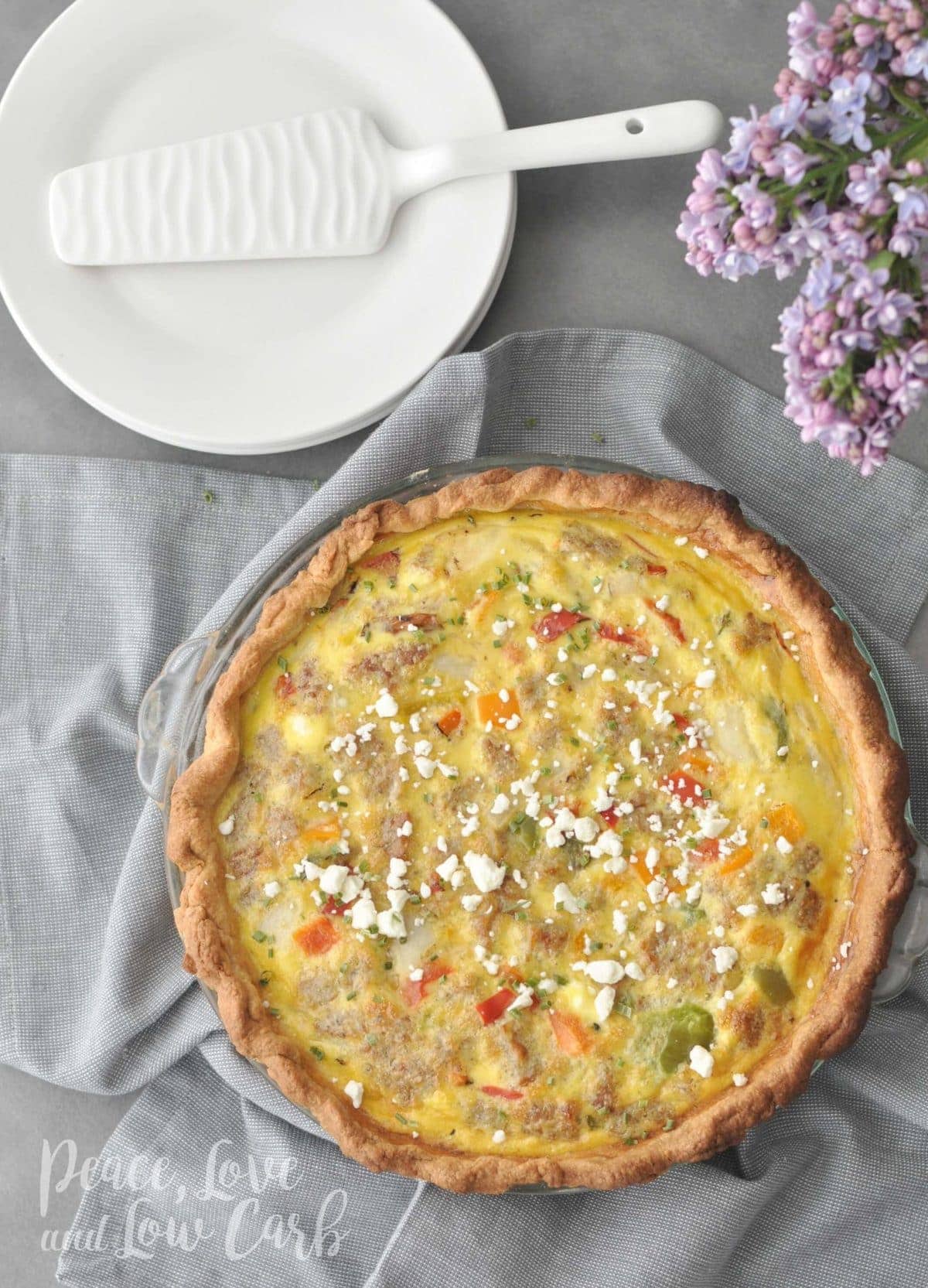 Low Carb Sausage and Vegetable Quiche
This Low Carb Pie Crust seriously did not disappoint. It was the perfect blend of crispy and flaky. The bottom of the crust even stayed crisp after adding the filling and baking it again. I had a serving of the quiche and then immediately had another one because I could not get enough of the crust. It really made me want to use it to make a chicken pot pie, it would be perfect for that.
I want to take the Low Carb Chicken Pot Pie recipe from my site and then use this as the crust. The mix is enough for two full crusts, so making a pit pie is a no brainer, because you have enough crust for the top too. Grab some here.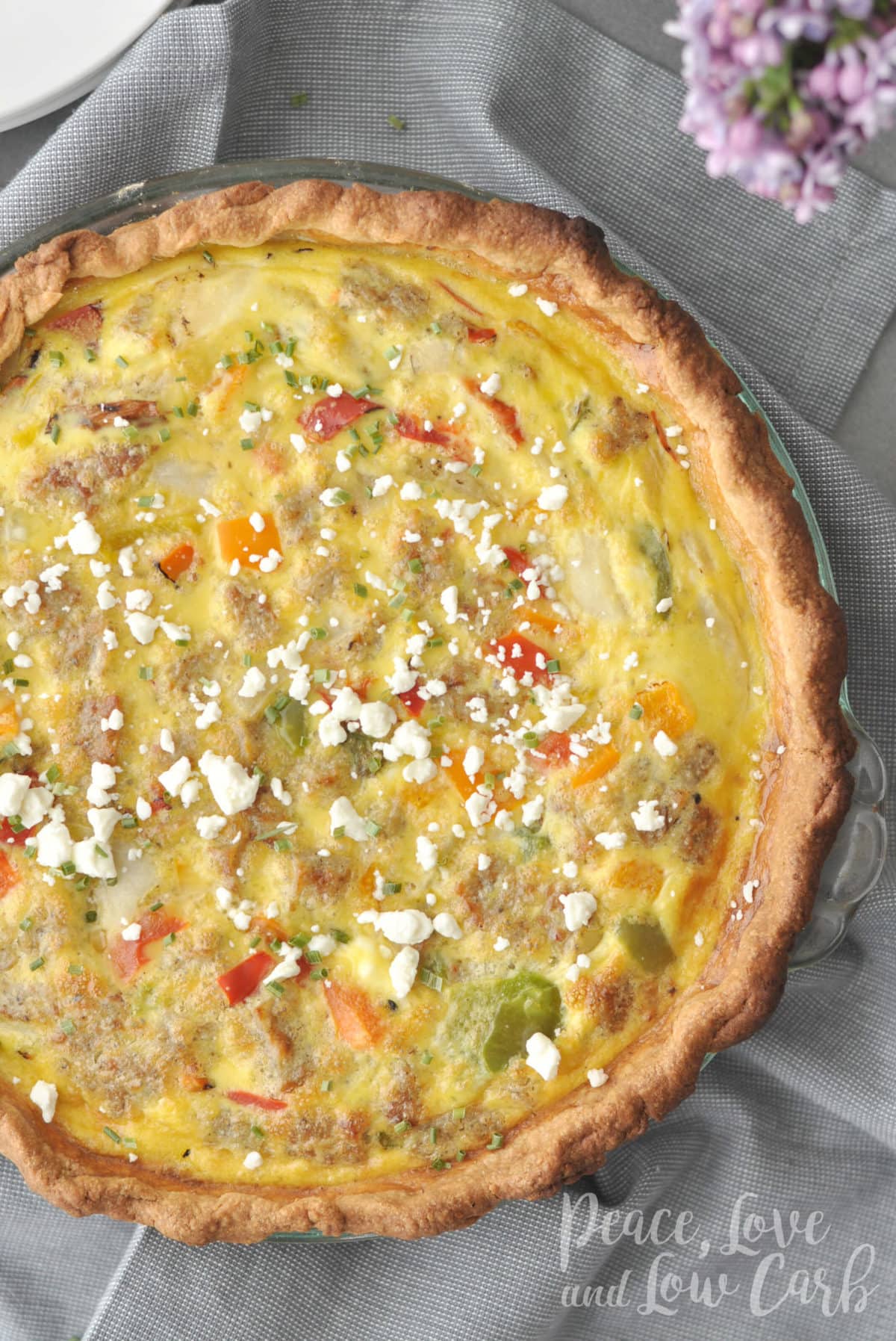 In addition to these low carb biscuit and keto quiche recipes, check out some of my favorite keto comfort food recipes:
Print
Low Carb Angel Biscuits and Sausage and Vegetable Quiche Recipe
Prep Time:

30 minutes

Cook Time:

45 minutes

Total Time:

1 hour 15 minutes

Yield: Makes

8

Servings

1

x
Scale
Ingredients
1

Low Carb Pie Crust (get it here)

8

large pastured eggs

8 oz

cooked breakfast sausage

½ cup

crumbled feta cheese, retain some to sprinkle on top

⅓ cup

heavy cream

1 cup

mixed bell peppers, diced

1

small onion, diced

2

cloves garlic, minced

1 tsp

sea salt

½ tsp

black pepper
Instructions
Prepare Low Carb Pie Crust as per the directions on the package.
Preheat oven to 375°
In a large mixing bowl, crack the eggs and fork whisk. Mix in the sausage, feta, heavy cream, bell peppers, onion, garlic, sea salt and black pepper.
Pour the mixture over the top of the prepared crust. Bake for 45 minutes or until the eggs are completely set.
Sprinkle the remaining feta cheese over the top before serving.
Nutrition
Serving Size:

⅛ of the quiche