Let's Get Checked – My personal experience with At Home Health Test Kits for Cortisol and Liver. Such a clear and concise process.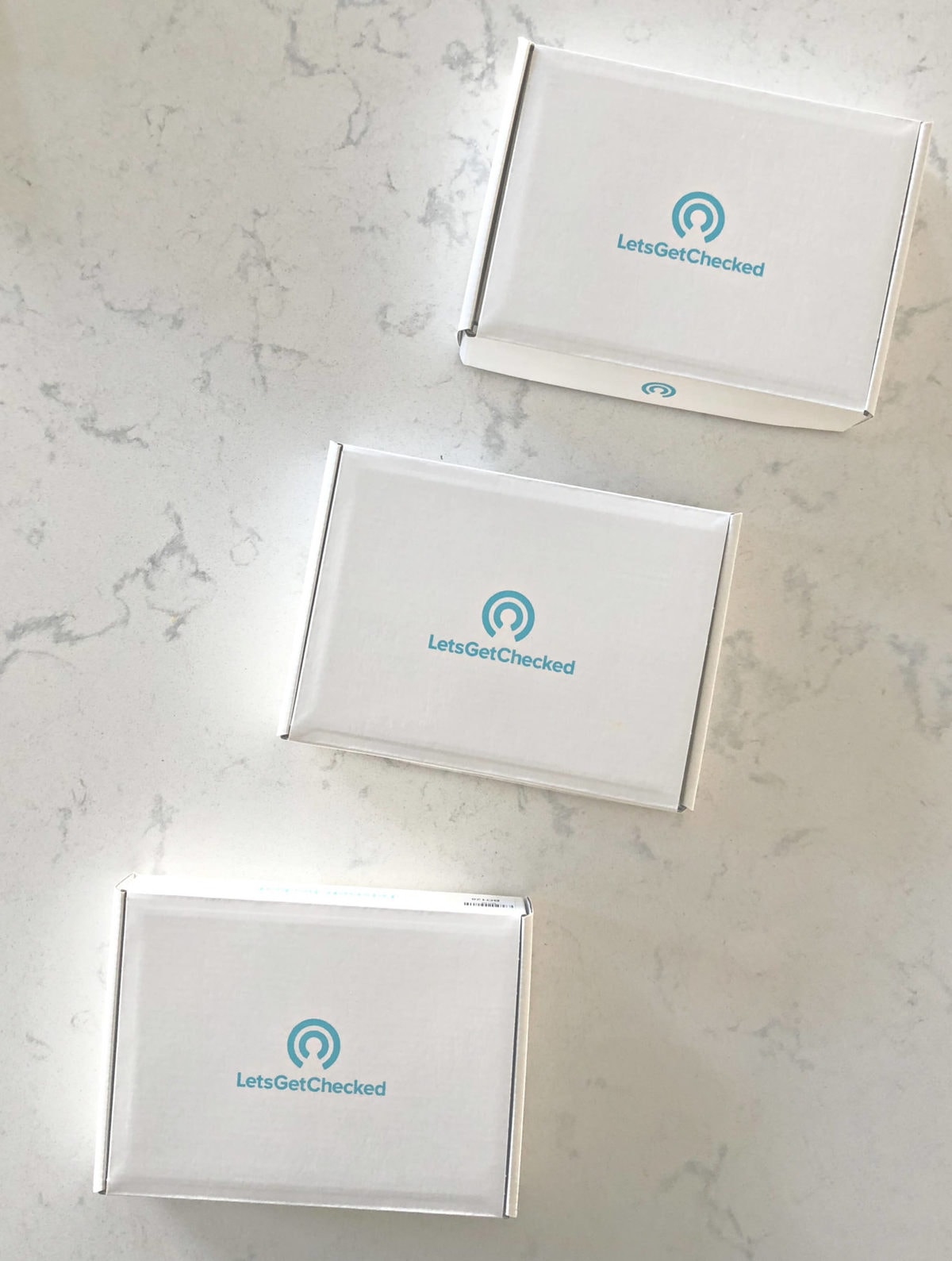 Home health testing round 2:
So as many of you may remember, I did a round of home health tests last September from Let'sGetChecked. If you haven't yet read my previous post, I really recommend starting there first.
The reason I took the initial testing was that I had some strange symptoms I was trying to nail down and I just felt generally unwell. I had also reached a point where I was feeling very fed up with my healthcare team and like they were no longer advocating for my overall health and wellness. Throwing pills at the problem is not an answer that I am willing to take anymore.
So which home wellness kits did I take last fall?
Thyroid Test
The results of my Thyroid Test showed that everything was in the normal ranges. This is conclusive with a testing that I had done recently through my doctor. It is important to note that in addition to your T3 and T4 levels, they are also testing your TSH, Free T4, Anti-Thyroid Peroxidase, Anti-Thyroglobulin. This gives you a much more accurate picture of your thyroid function. Often times, unless you really push for it, your doctor will only check T3 and T4 when ordering thyroid tests. (Get the Thyroid Test Here) To learn more about signs and symptoms you may need to test your thyroid levels, read At Home Thyroid Testing: The First Step to Repairing Your Thyroid
Lyme Disease Test
My Lyme disease test came back negative, suggesting that I do not now, nor have I ever had Lyme disease. I wasn't really too worried about this one, but I wanted to rule it out to be safe because Lyme diseases can prevent itself as so many different things and it one of the hardest things to nail down as a diagnosis. (Get the Lyme Disease Test Here) and read more about Lyme disease and why you might want to test for it – Is Lyme Diseases Contagious?
Liver Test 
I cover this in depth later as todays post is a follow-up to to the first round of testing.
But before I cover my results for this next round of tests, I want to back up a little bit and tell you more about Let'sGetChecked and what the process of taking home wellness kits is like.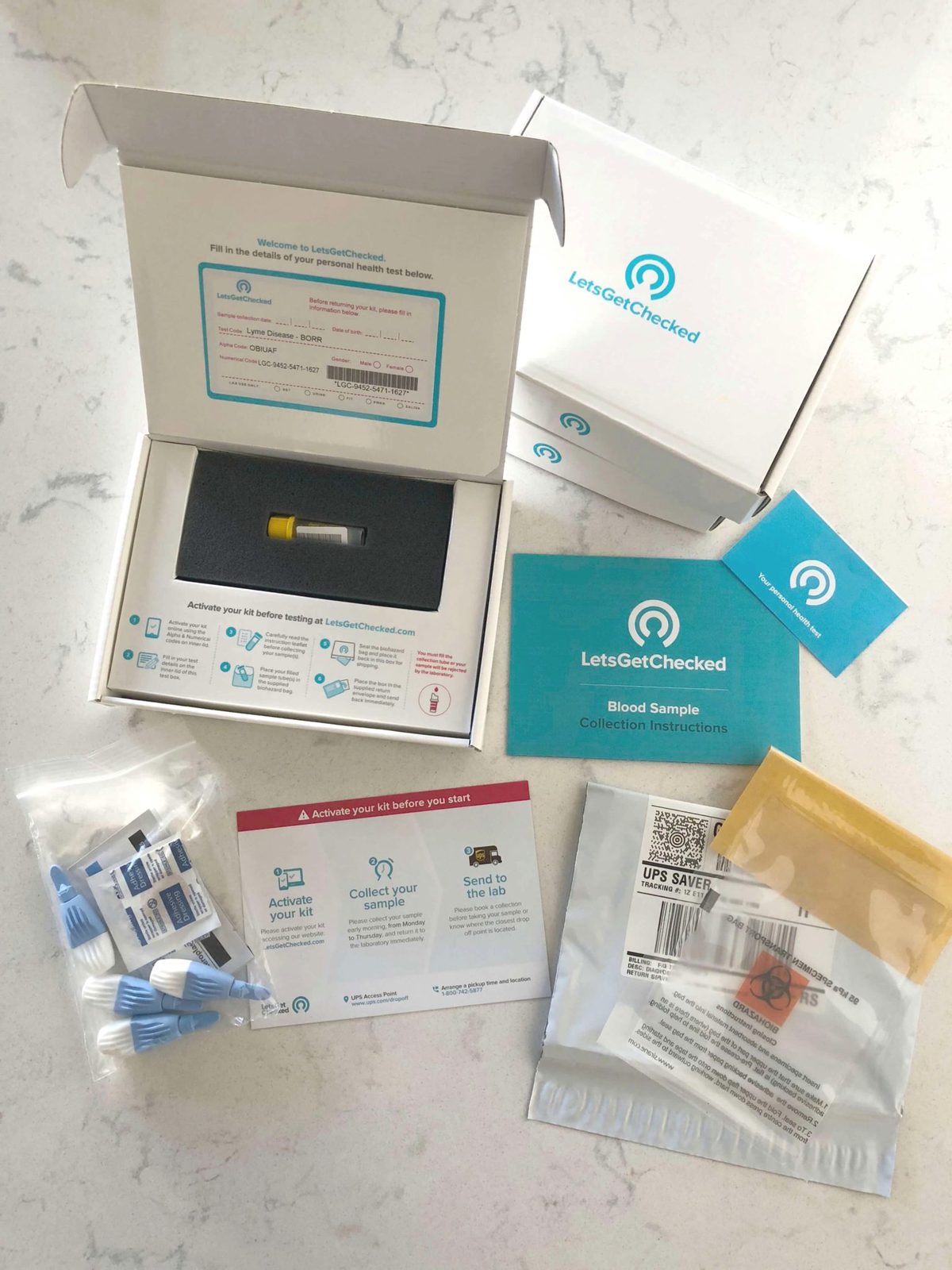 What is included in these at home health tests?
The process for testing couldn't be easier. Best of all, it takes place right in the comfort of your own home, and for quite a bit less than you would pay to have your doctor run the same tests. I should know, I've paid out of pocket for a lot of testing through my naturopath that my insurance wouldn't cover. Let me start by telling you what comes in the kit:
Instructions for activating your kit
Instructions how to conduct the test
Lancets
Bandaids, gauze and sterile wipes
Blood collection vial
Biohazard bag
Prepaid shipping envelope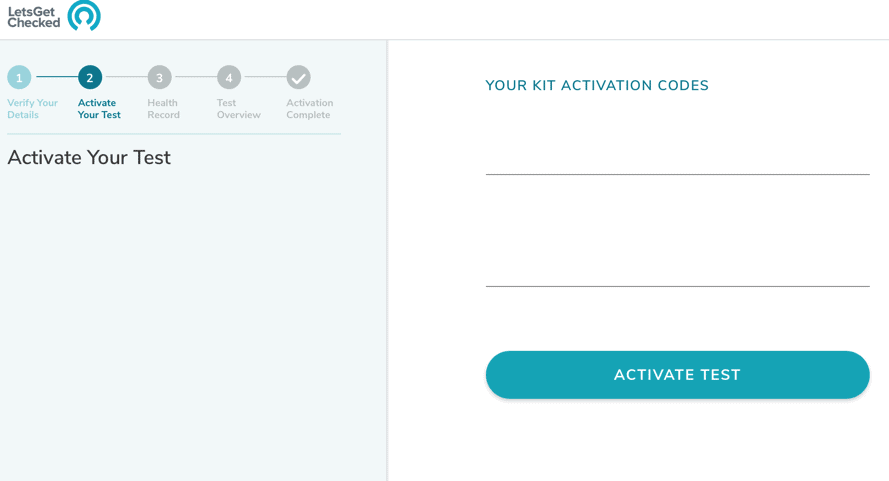 So how do these home wellness test kits work anyway?
Go online to activate your kit and read any additional instructions for your test – time of day it should be take, whether or not you should be fasted etc.

Once you have activated your kit, wash your hands with warm water to activate blood flow.

Clean your finger with the sterile wipe provided, then dry your finger with tissue.

Prick the side of your index or middle finger on your non-dominant hand with the lancet while your arm is pointed downwards above the vial.

Fill the provided vial to the line that is visible on the vial. Ensure that you reach this line for quick delivery of your results.
Seal your sample and put it in the biohazard bag, put the bag back in the box, put the box in the shipping envelope and send it off. BOOM! Done! Just like that. Then within 2 to 5 business days you will have your results sent directly to your inbox. 
Let'sGetChecked is offering 15% off to all Peace Love and Low Carb readers with the code

KYNDRA15

at checkout. Check out their full line of testing

HERE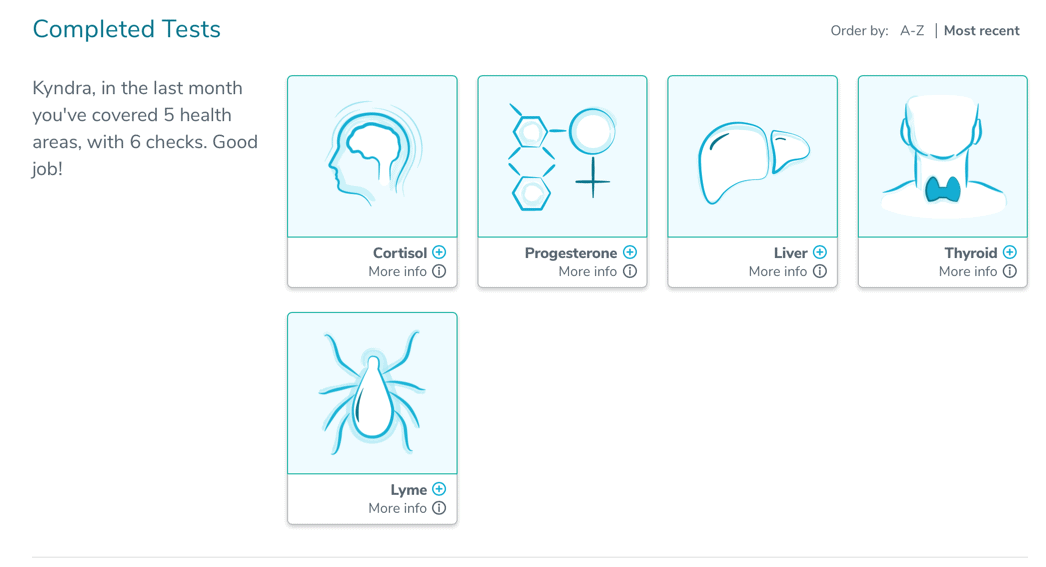 How do you get your results once you have mailed in your kit?
When your test results come back, you will receive a call from one of the nurses at Let'sGetChecked to review your test results with you line by line. They are so friendly and really take the time to make sure that you understand the results and to answer any questions that you may have. From there, you will receive an email letting you know that the results of your at home health test kits have arrived. You simply login to your dashboard on Let'sGetChecked to view your results. When you log in, it will show which test results are back, and it will also make recommendations for future testing. (Check out all of their at home wellness test kits here)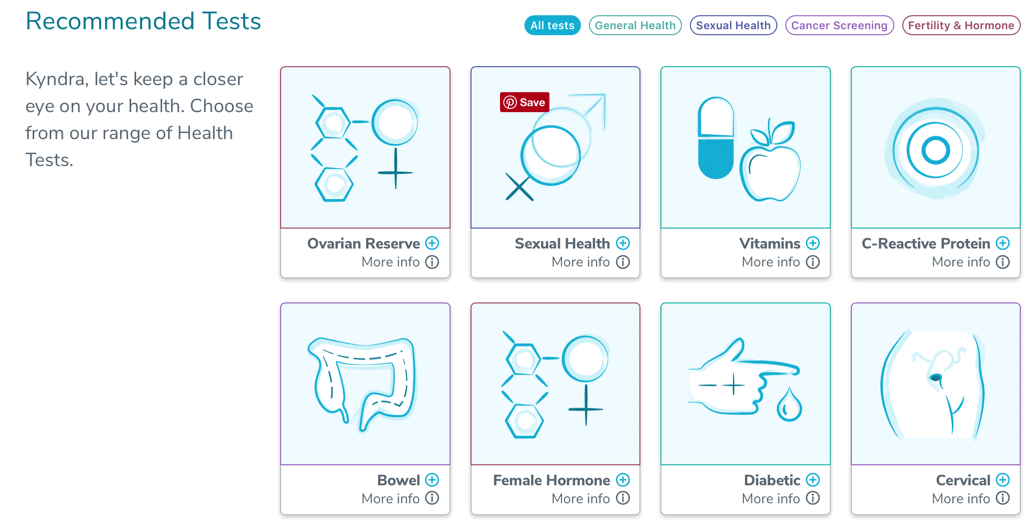 So what did the results of my at home wellness test kits show?
Cortisol Test Results
First, let's start with talking about what cortisol is and why you might want to test your levels. Cortisol is known as the stress hormone. At normal levels, it helps your body respond to stress, but in excess it can lead to weight gain, especially in the abdominal area. Elevated cortisol levels can also lower immune function, increase blood pressure, and impair learning and memory ability, among other things.
My test indicated that my cortisol levels were within the normal ranges. I was very happy to see this as the last time my cortisol was tested, it barely registered. While some of you might be thinking, "Oh that's great, it means you have healthy adrenals and live a stress free life", the truth is that sometimes a low level can be just as high, if not worse that high levels. Prolonged low cortisol levels are a sign of a more chronic problem. I recently took a 24 hour urine test for this as well and am awaiting results. I can't wait to see if they line up.
Prolonged periods of chronic stress have been an issue for me for quite some time and I have been working with my naturopath and a functional medicine doctor to better support my endocrine system and balance my hormones. More on that later…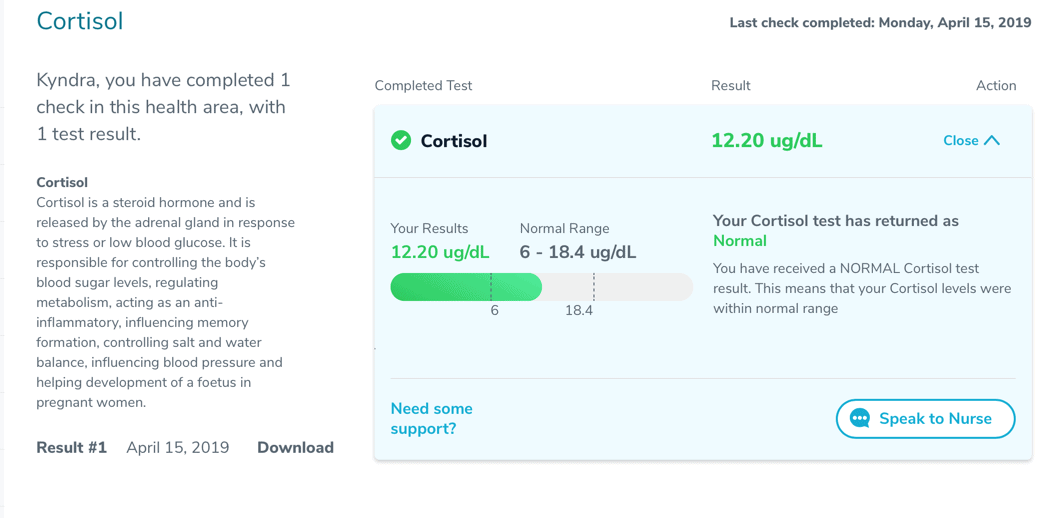 Liver Test Results 
Next up were my liver test results. This is the test that I was the most eager to get back. For my
testing back in September
, my liver test came back with really elevated ALT and Gamma GT levels.
Gamma GT is an enzyme that is always present in low levels, but when elevated levels are found, it is usually a sign of some sort of liver damage. It is also a strong indicator that your liver cells may be damaged due to inflammation. The testing is not specific and will not help in determining what type of liver damage you might have, but it does signal that there is a problem. These levels will be elevated with liver cancer, viral hepatitis, alcoholic liver disease, autoimmune liver disease, cirrhosis, etc. The normal ranges for Gamma GT levels fall between 6-42 IU/L. Mine came back at 76 IU/L, almost 2 times higher than the highest end of the normal range.
My ALT levels were also came back elevated on my September test. Normal rates of ALT are from 10 – 35 IU/L. In September, mine came back at 62 IU/L. Again, almost double the highest range of normal.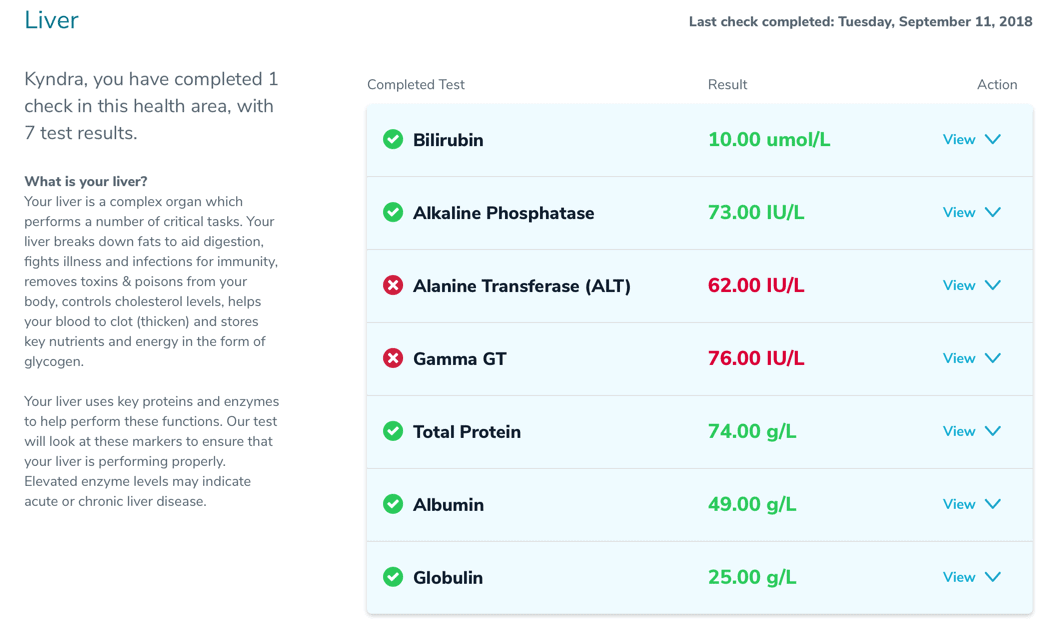 I was definitely worried that there was something much more serious going on here. After my tests came back high, I wasn't really sure what my next steps were. How did my levels become elevated in the first place? What could I be doing to bring the levels back into the normal ranges? Was that even possible? How do I know if I have permanent liver damage? So many questions. I'll be honest, I didn't jump on making the necessary changes right away. I just kind of sat with the information, reflected on it, and then packed it away.
Finally, after a few months of not doing anything about it, I decided that it was time to do something about it. I figured that the best place to start was with the facts I already head. Fact: alcohol is not good for your liver! Fact: environmental toxins aren't good for your liver! Then I ran through the things I knew that I could change immediately to help support my liver. I stopped drinking alcohol. I started taking herbal supplements shown to have a positive impact on liver health. I applied essential oils over my liver that are known to promote healthy liver function. I ate cleanly, focused on sleep, stayed hydrated etc.
After cutting out alcohol for 60 days and religiously taking supplements to support my liver, I wanted to retest to see if my liver values had normalized. I got another Let'sGetChecked Liver Test.
If you want to learn more about the effects of alcohol on your liver and overall health, you can visit their blog to learn more about The Effects of Alcohol on Your Health.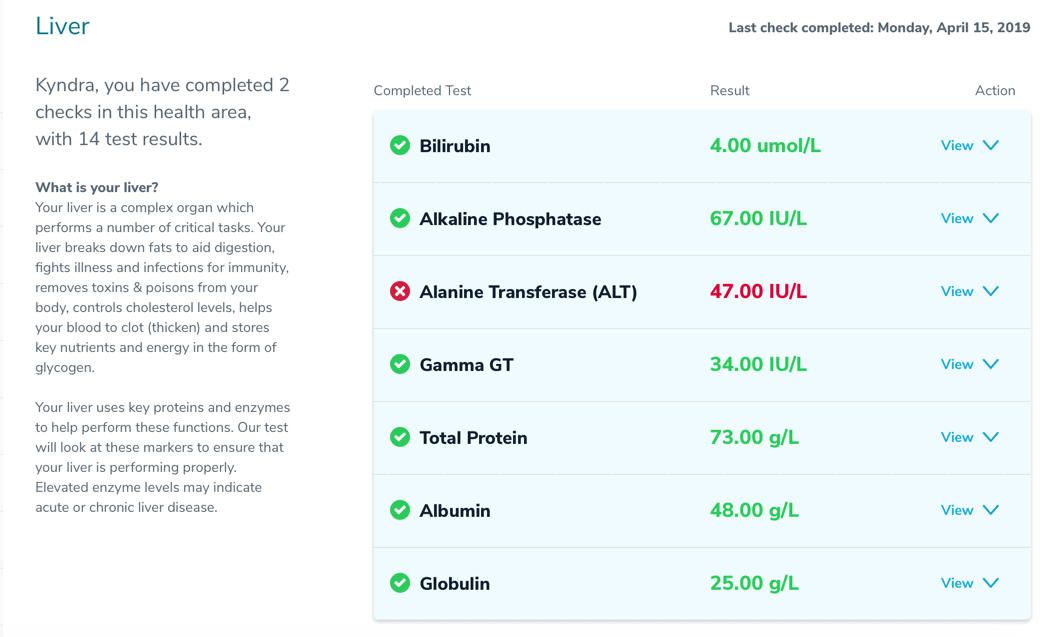 I got my test results back and was pleasantly surprised to see that my efforts have been paying off. My Gamma GT has gone down from 76 IU/L to 34 IU/L. It was reduced my more than half and returned into the normal ranges. My ALT went down from 62 IU/L to 47 IU/L. While there was movement in the right direction, my ALT levels are still elevated.
I talked these results over with my functional medicine doctor and she felt that things were moving in the right direction. She did not see the increased ALT as an issue at this time. She wants me to keep doing what I've been doing and we will retest again in a couple months to see if everything has returned to normal.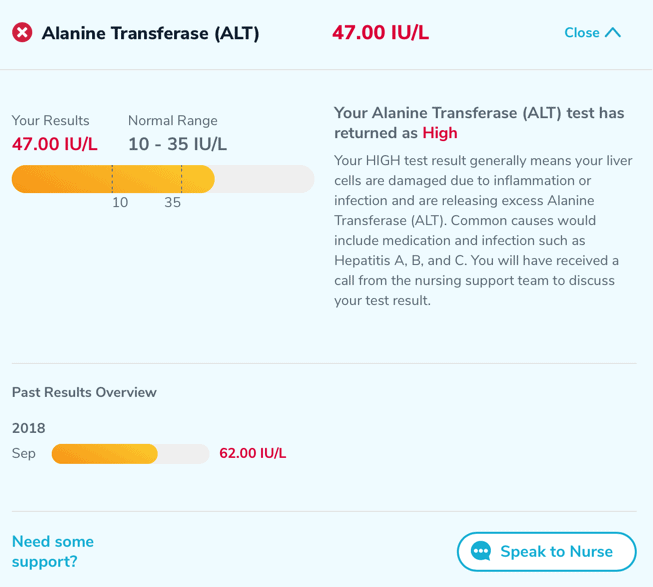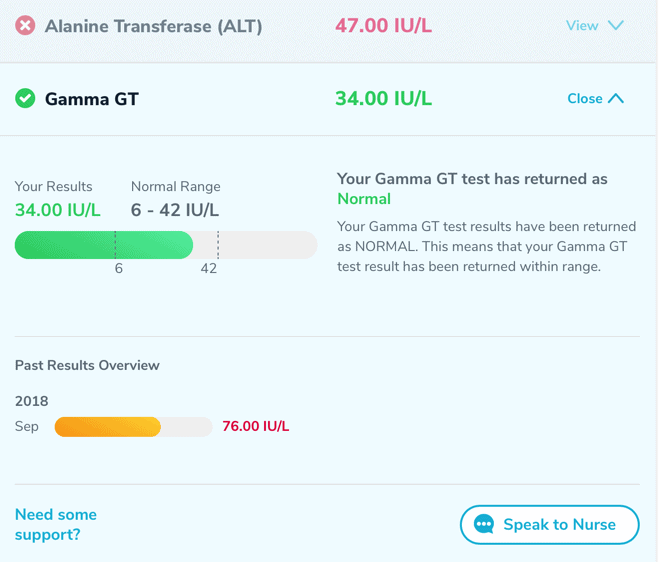 Once again, working with Let'sGetChecked was such a good experience from start to finish. From the test arriving to testing and awaiting results, to the nurses call and the recommendations in the dashboard – it's all just so simple.
Stay tuned for a part 3 in this series. I will keep you updated as I continue to work towards supporting my liver, and also bringing balance to my hormones. If you are interested in learning more about your own health and wellness without spending a fortune to do it, I can't recommend Let'sGetChecked at home health test kits enough. They are thorough, accurate, and easy to use. Best of all, they provide you with all the support you need to interpret your results and put together a plan to help correct any imbalances.
Let'sGetChecked is offering 15% off to all Peace Love and Low Carb readers with the code

KYNDRA15

at checkout. Check out their full line of testing

HERE