Skip the high carb, gluten filled tortillas and make your own keto taco shells with Crystal Farms Cheese Wraps
DISCLOSURE: ***Some links contained on this page are affiliate links and I may have received monetary compensation or other types of remunerations for any products purchased through these links. This is a sponsored post by Crystal Farms and Kroger, however, all thoughts and opinions are my own. If I give a positive review, it is because I feel the product deserves attention and recognition.***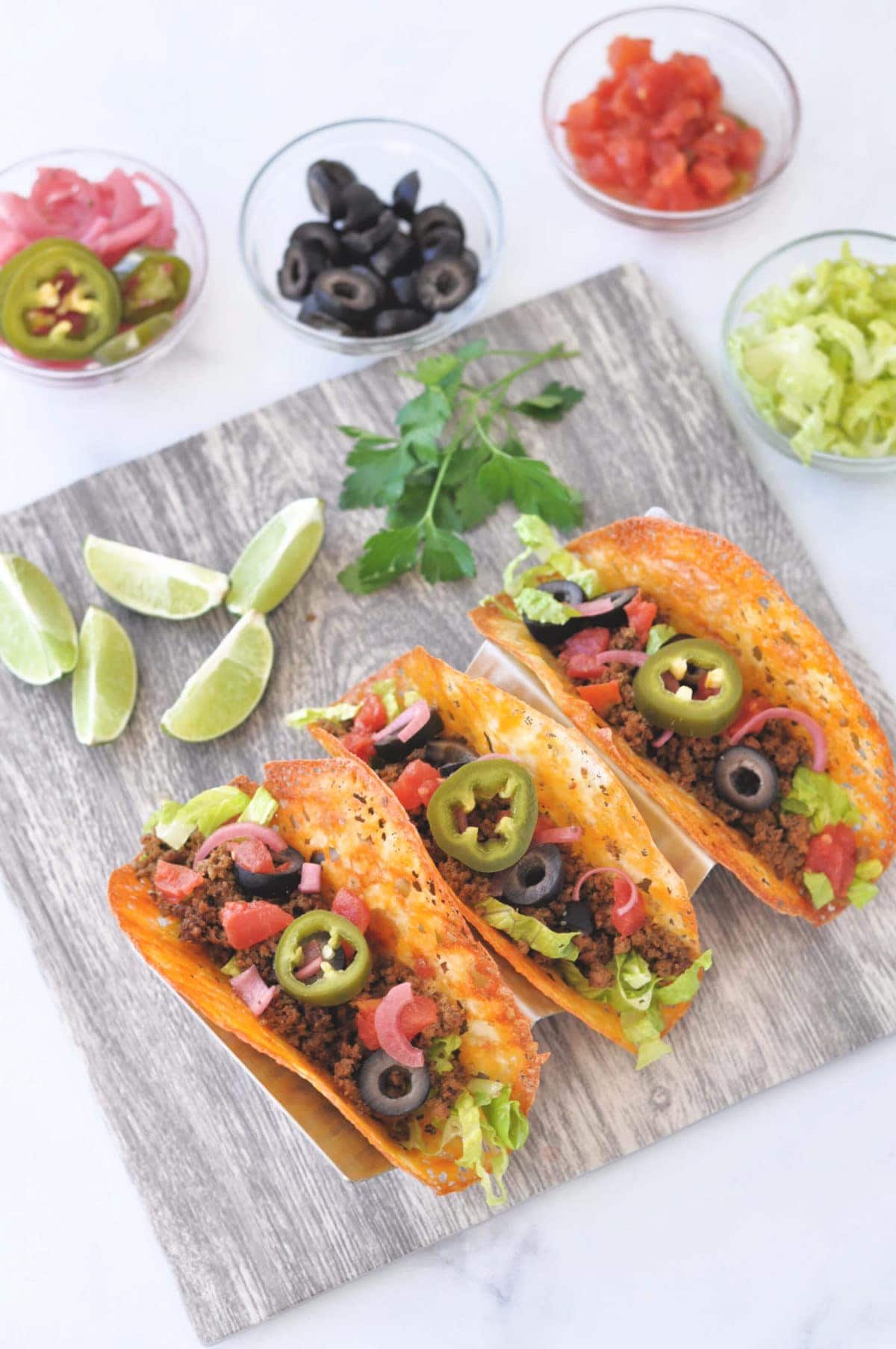 Move over tortillas, there's a new cheese in town:
Today I'm coming at you with some easy keto recipe ideas that you can throw together any night of the week -- it doesn't get much easier than this! All of these recipe ideas use a new keto product that I've been trying out: Crystal Farms Cheese Wraps. These wraps are different than any other keto friendly wraps on the market because they're made out of 100% cheese, that's it. No fillers or binders or junk. I get my cheese wraps at Kroger, but you can also find them at Mariano's, Fred Meyer, King Scooper's and Smith's. Check them out over on Crystal Farms website.
About Crystal Farms:
"Crystal Farms is made by cheese lovers for cheese lovers. Located in Lake Mills, Wisconsin (population 5,708) we're nestled in the heart of America's Dairyland. Here, at the home of Crystal Farms, cheese is more than a favorite food. It's a way of life. Which is why we put so much care into every slice, shred and block of cheese we put on your table. From starting with only the finest ingredients to carefully inspecting the finished product, we make sure our products are consistently satisfying. This commitment to quality has been a part of our culture from our humble beginnings to today."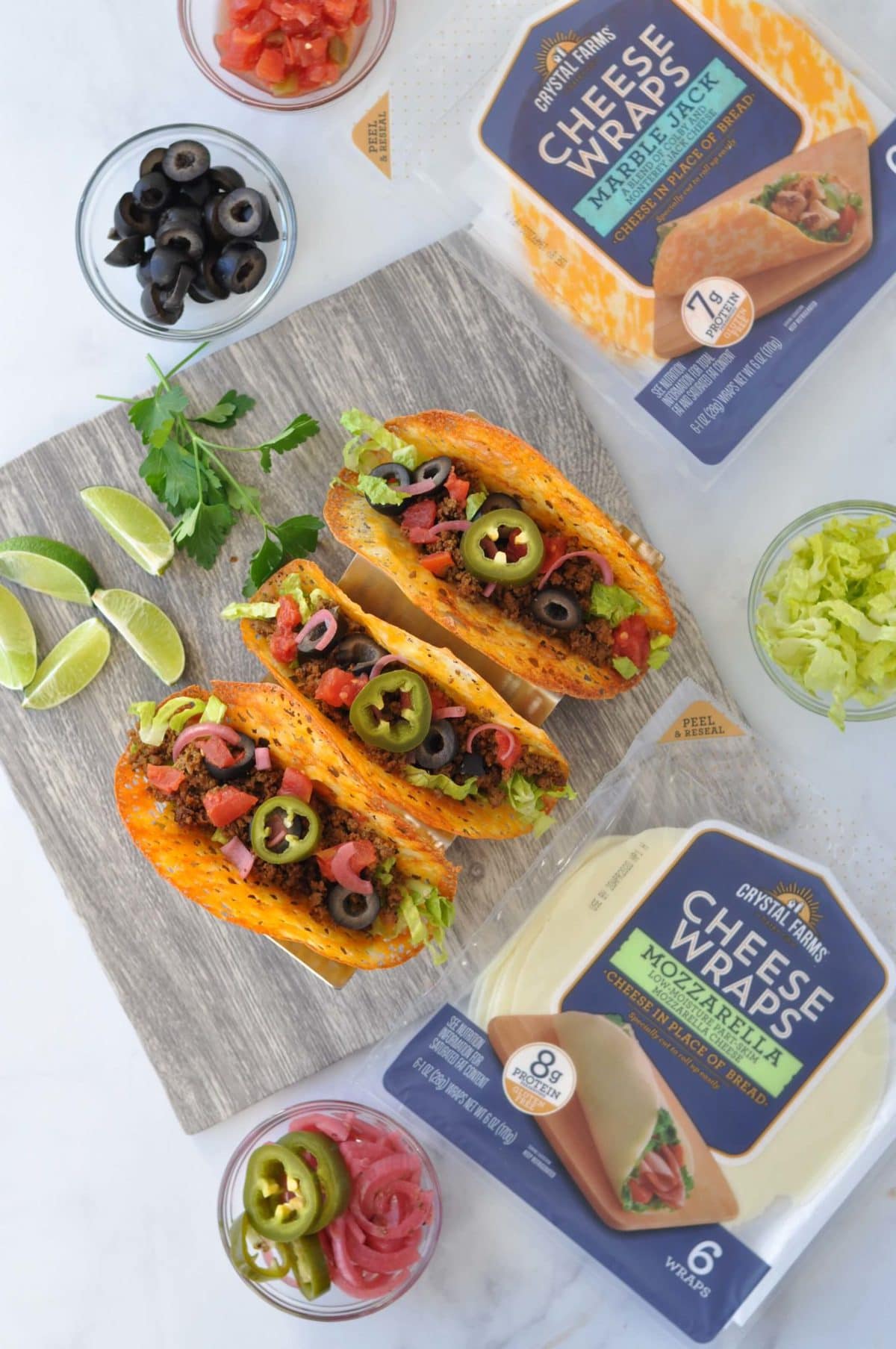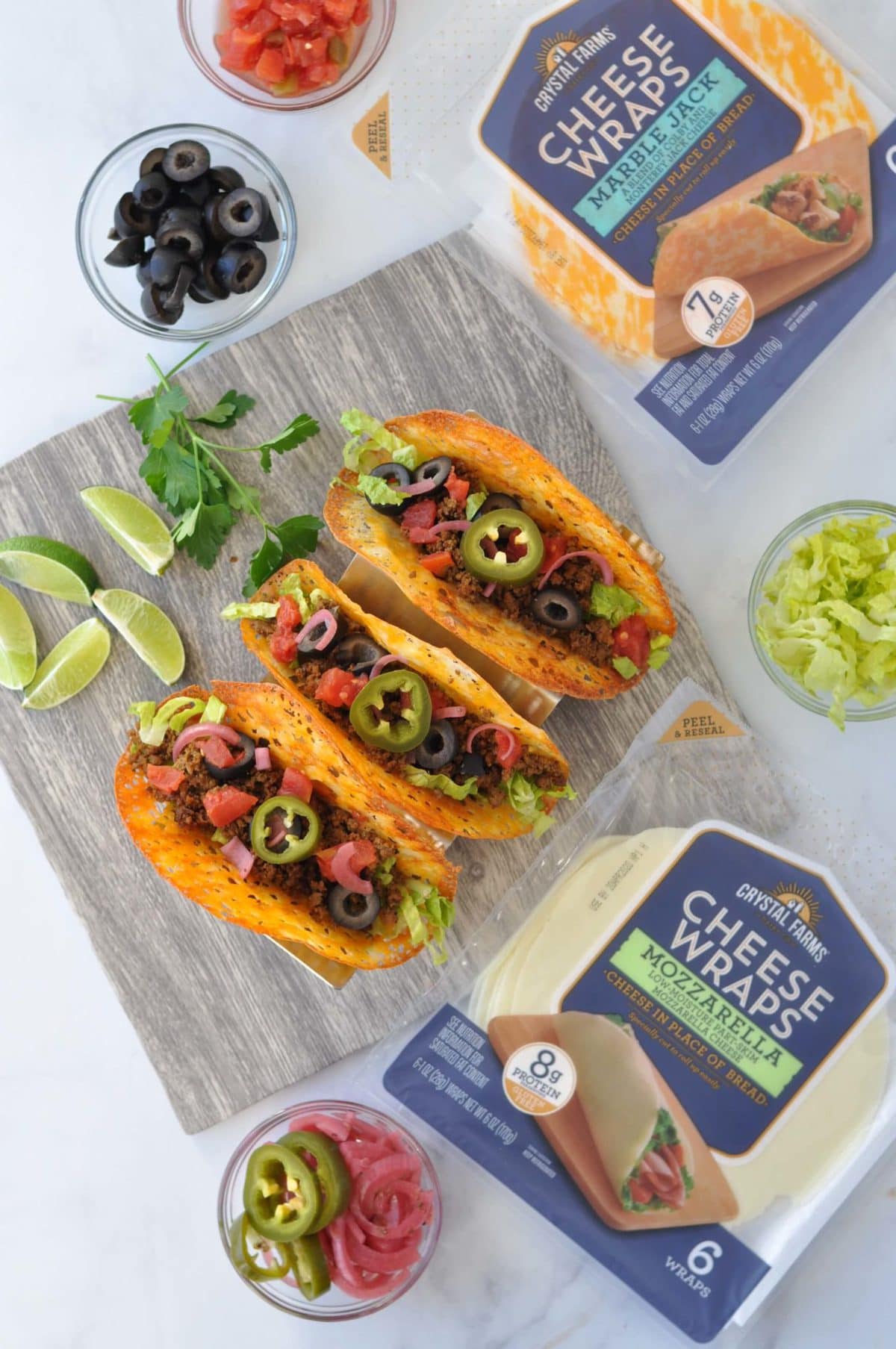 How to make crunchy keto taco shells:
I love tacos, and I especially love tacos when they're served with tortilla chips and salsa. Luckily, you can make both with these cheese wraps, just swap a carby corn torilla for a baked cheese wrap.
For this recipe, I like to use the Marble Jack Cheese Wraps from Crystal Farms for a bolder flavor, but you can also use the mozzarella variation. They are both delicious!
Line a rimmed baking sheet with parchment paper. Preheat the oven to 375°F.
Arrange the cheese wraps on the parchment paper and bake for 5-7 minutes or until the start to bubble and the edges start to brown.
Remove from the oven and let cool for 2 to 3 minutes. Use a paper towel to dab excess grease, if necessary.
While the cheese wraps are cooling, set up 2 glasses with a wooden spoon suspended on top. (see photo)
Drape a cheese shell across each wooden spoon and let cool and harden (about an hour)
LOAD IT UP with all your favorite taco toppings and enjoy!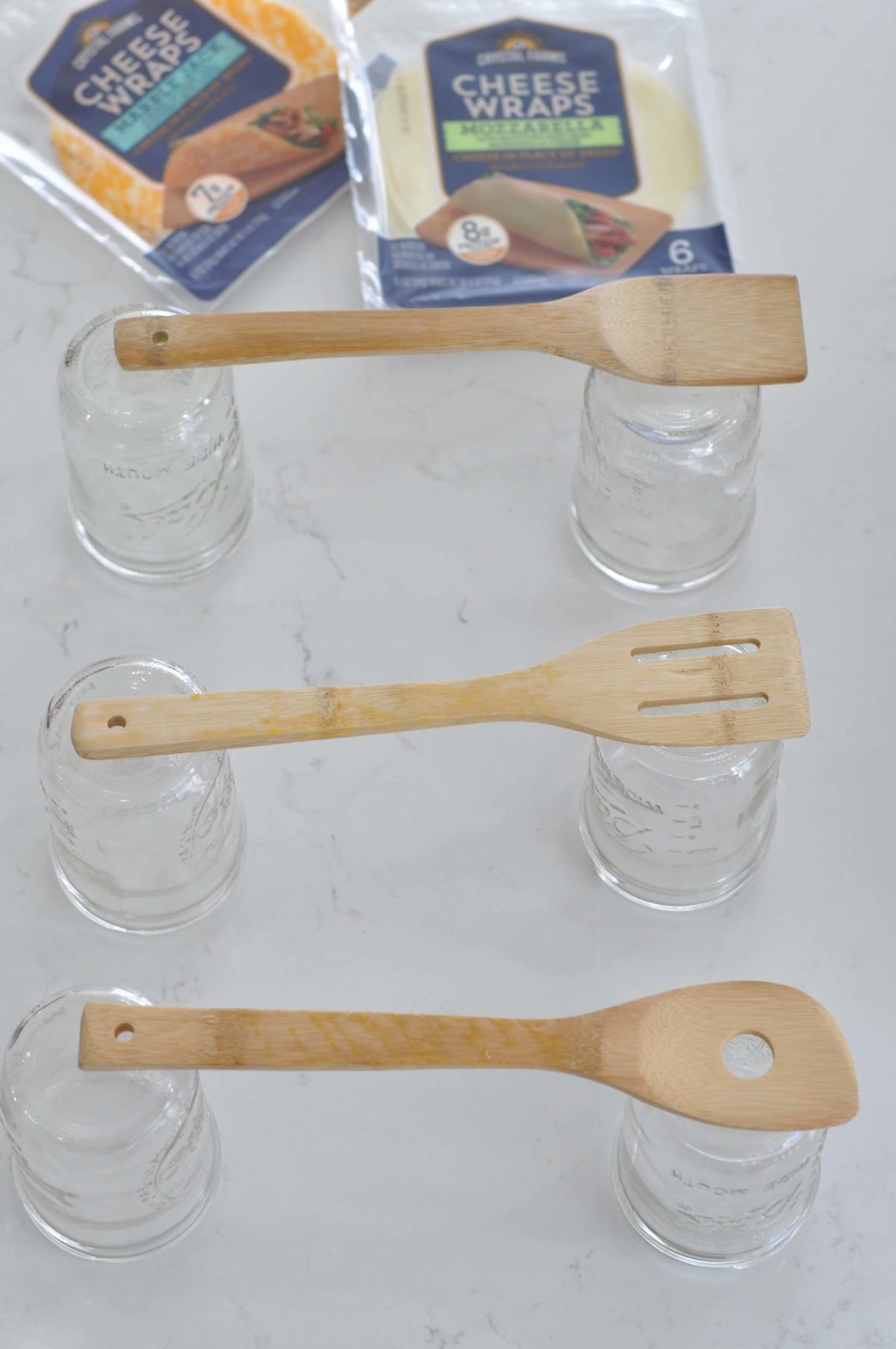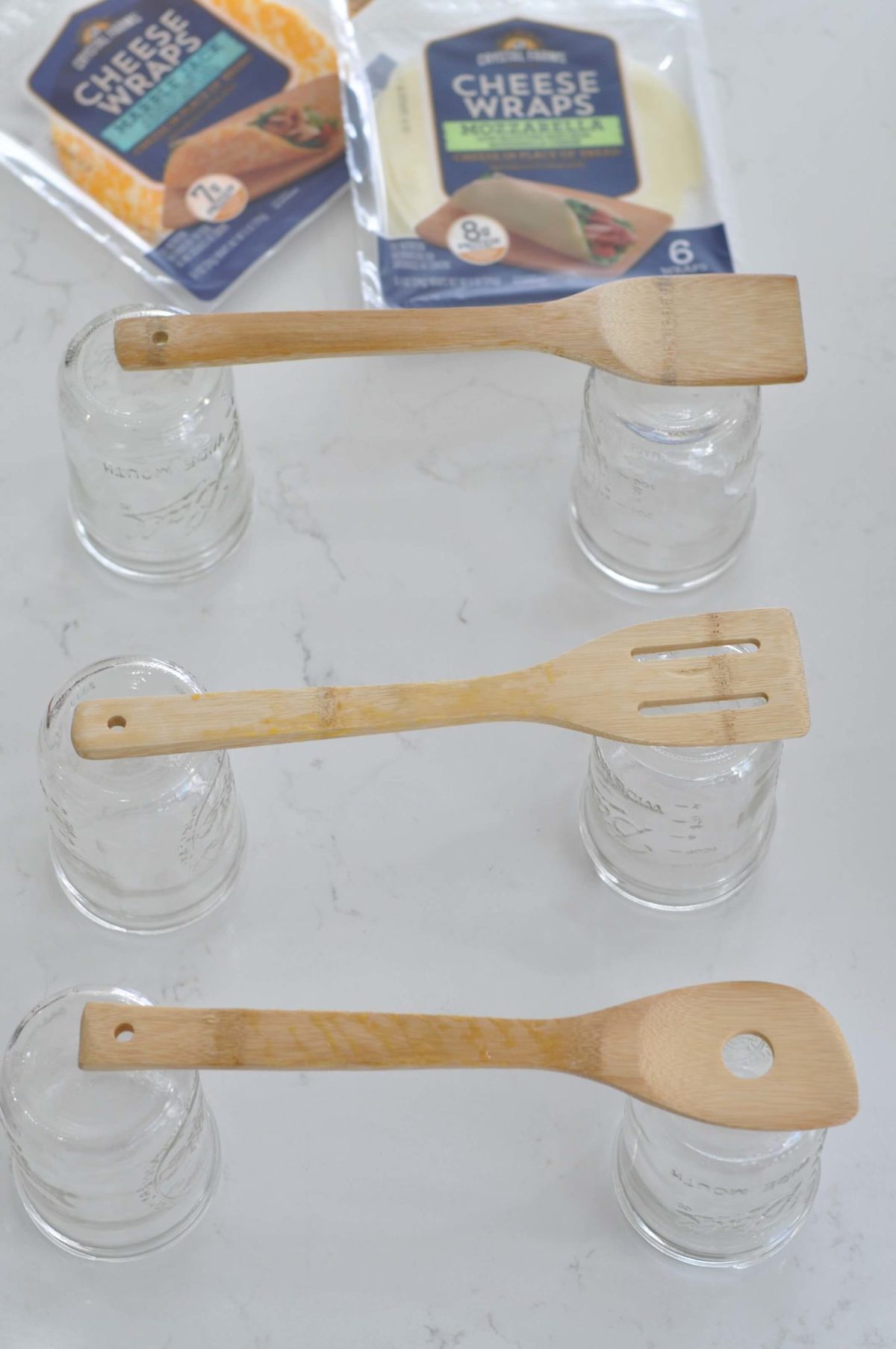 Need some taco inspiration? I recommend my Paleo Shredded Taco Pork or your favorite ground protein (beef, pork, chicken, turkey, a mix) flavored with my Low Carb Taco Seasoning. Top with lettuce, diced tomatoes, pickled red onions, pickled jalapeños, and a little bit of sour cream, and the best guacamole ever.
These Marble Jack Cheese Wraps are pretty versatile because you can add seasoning (like chili powder and cumin) or enjoy them plain, and shape them however you want!
Still hungry? Save room for more ideas on how to use these keto, gluten free cheese wraps.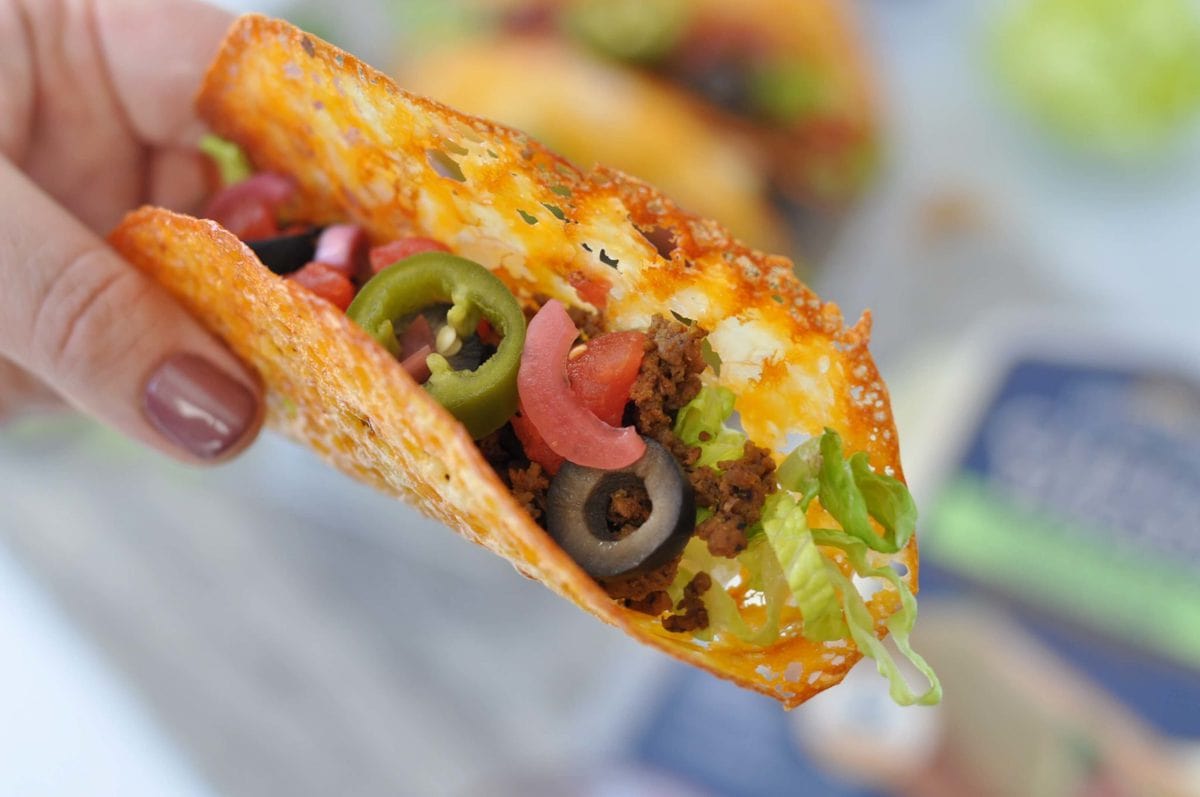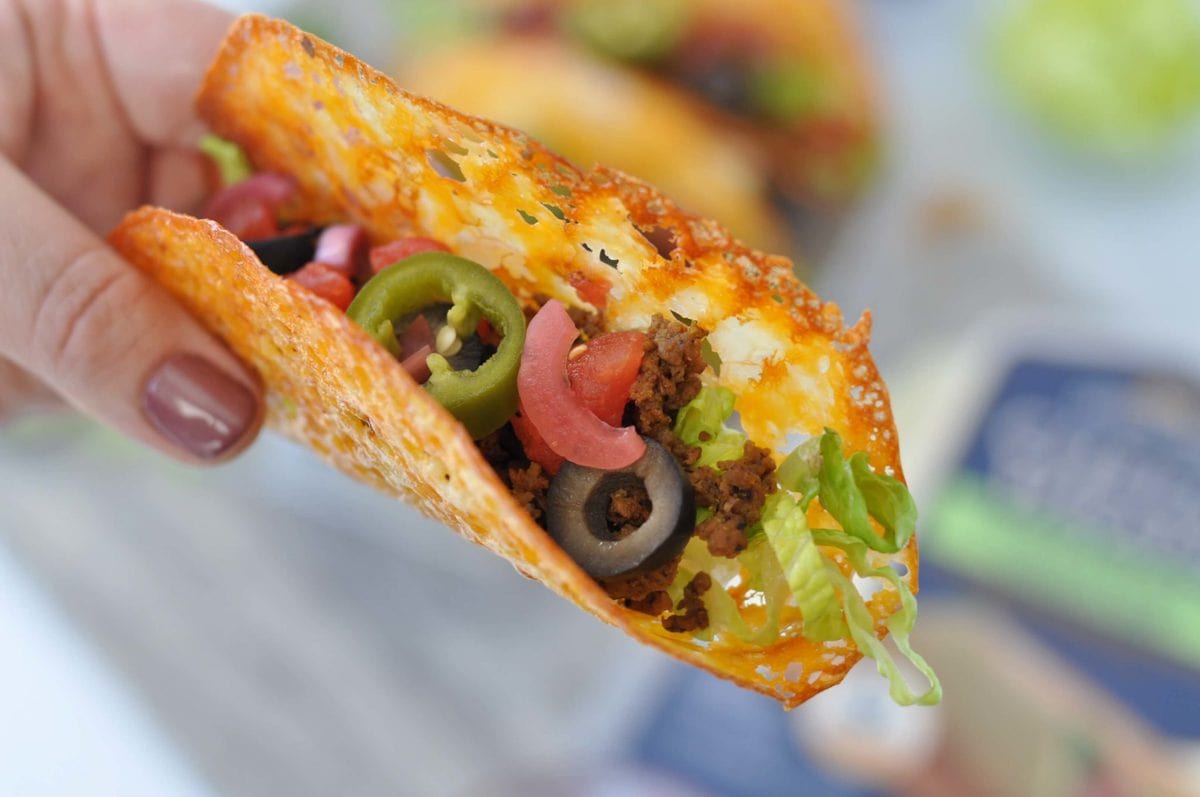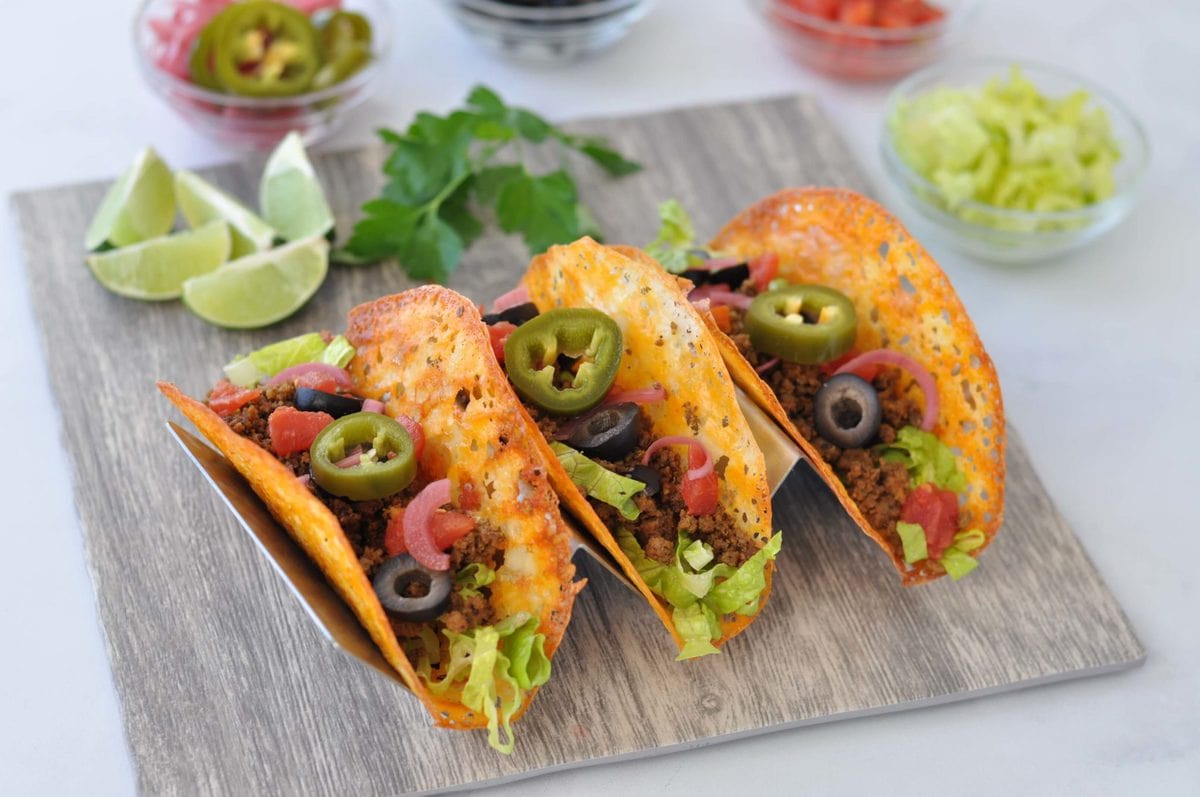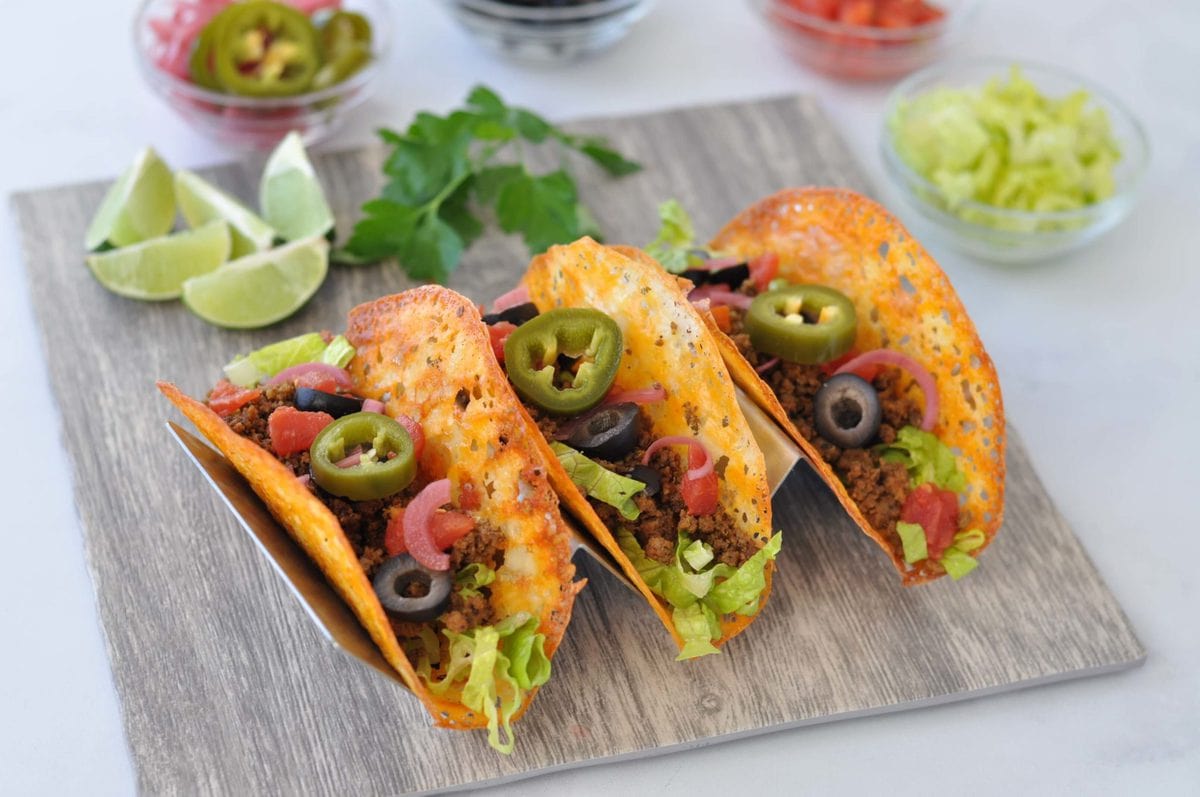 My second favorite way to use these Crystal Farms Cheese Wraps: Easy Cheesy Keto Pizza Wraps
I couldn't quite land on a name for these pizza wraps. Pizzadillas? Pizzaritos? Whatever you call them, they're delicious.
Add 2 Crystal Farms Mozzarella Cheese Wraps, overlapping, to a pan over medium heat. The cheese will start to get melty and bubbly, and then it will get crispy.
Once the cheese has started to bubble, add some Low Carb Pizza Sauce and any of your favorite pizza toppings.
As the bottom of the cheese starts to crisp up, use a rubber spatula to fold the sides up and over the toppings.
Serve with some extra pizza sauce on the side for dipping.
Some of my favorite pizza toppings:
Italian sausage
black olives
bell peppers
red onions
pepperoni
mushrooms
ham
MORE uses for these cheese wraps
You can use these Crystal Farms Cheese Wraps any way you'd use bread, or a bread-like product. After all, most bread is just the vehicle we use to get better tasting food from our plates to our mouths.
Here are some of my favorite ways to use these cheese wraps:
KETO SANDWICH: A low carb sandwich rollup: add a few slices of your favorite deli meat, plus a little mayo or mustard, maybe some lettuce and pickles (any of your favorite sandwich toppings) to the center of the cheese wrap and roll it up.
KETO NACHOS: Just slice a few cheese wraps into triangles and bake according to the directions above, then pile them on a plate and top with your favorite protein, sour cream, guac, and salsa.
KETO LASAGNA CASSEROLE: in a bread pan, add a 50/50 blend of cooked ground beef and ground pork, flavored with Italian seasoning, add a bit of my Three Cheese Garlic Marinara, then layer a Mozzarella Cheese Wrap and repeat the layering process. Everything will bake together and get super gooey and delicious, it's an easy keto lasagna casserole!
BREAKFAST BURRITOS: Using the pizza wrap idea above, load a Mozzarella Cheese Wrap or Marble Jack Cheese Wrap up with scrambled eggs, cooked bacon or sausage and your favorite veggies. Boom, breakfast burrito.
This is a sponsored conversation written by me on behalf of Crystal Farms. The opinions and text are all mine.