This keto charcuterie board has all your favorite low carb snack foods in one gorgeous presentation. Not to mention it has a suprise sweet element. - Keto Bars!
DISCLOSURE: ***Some links contained on this page are affiliate links and I may have received monetary compensation or other types of remunerations for any products purchased through these links. This is a sponsored post by Keto Bars, however, all thoughts and opinions are my own. If I give a positive review, it is because I feel the product deserves attention and recognition.***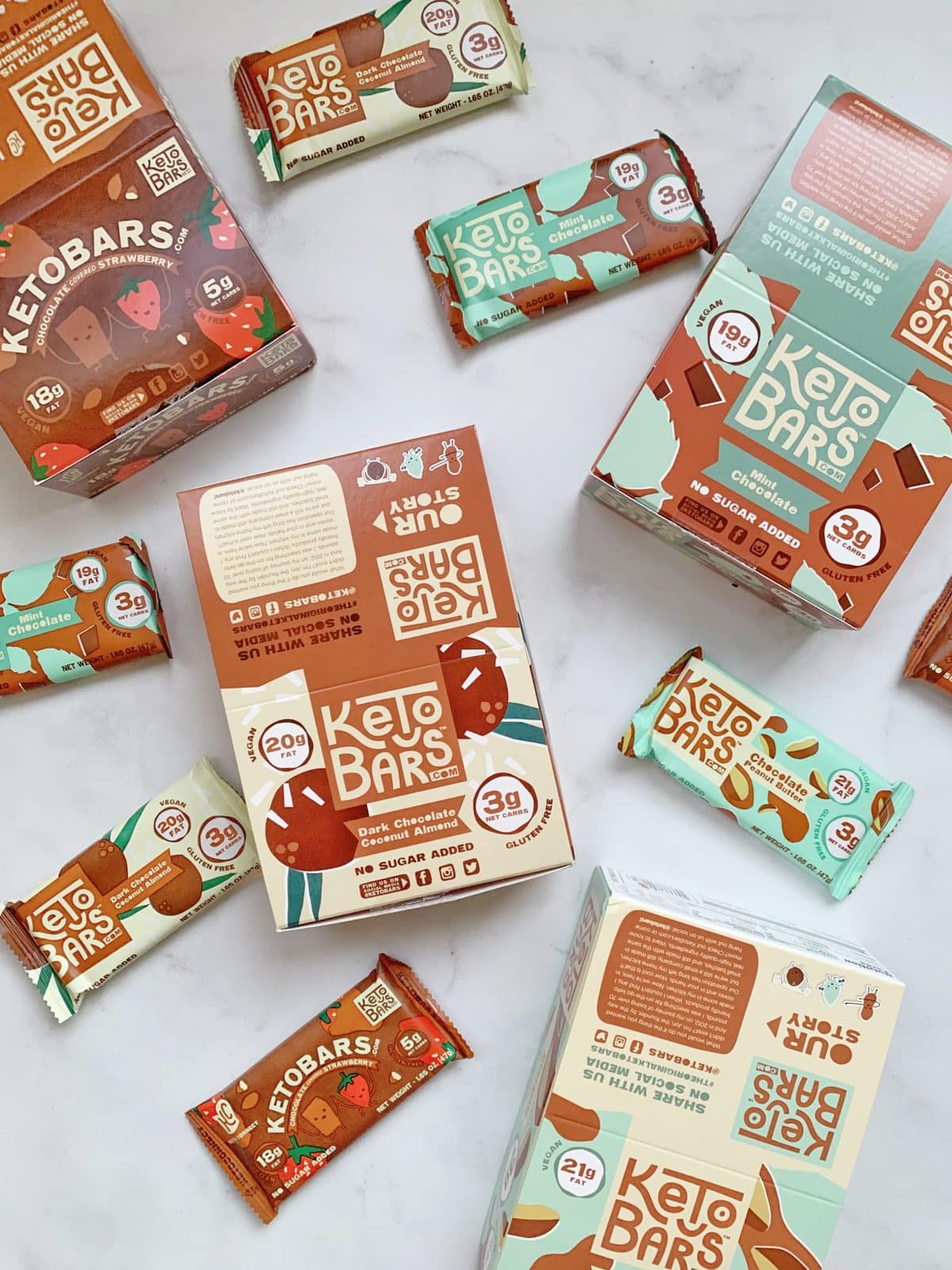 What are Keto Bars?
Keto Bars are homemade, portable, simple ingredient snack bars sweetened with erythritol and stevia. These low carb real food bars come in 4 different flavors, all with a chocolatey focus. The company started with the owner, Jon (not my Jon) making bars in his kitchen back in 2012. Jon's goal was to create a keto snack to fulfill a need within the community, and to stay true to his guiding principle: Honest by Design. No misleading claims or false promises about a miracle product, just honest ingredients made by honest people with honest intentions.
What I like about Keto Bars as a company is that as they've grown from a one man operation to a full production, they haven't lost that guiding principle. Keto Bars's mission: "To inspire a better keto community with the best taste, ingredients, and service." They don't believe in selling a product just to make money -- they want to inspire people within the community to look to inward for success on keto.
Part of staying successful on keto is finding healthy options that make you feel satisfied and satiated, even when you're on the go. These bars do both, especially if you find yourself with a sweet tooth that only chocolate can curb.
How are Keto Bars sweetened?
The first thing I look at before I try a new low carb product is the ingredient list. I typically avoid anything with gluten or high glycemic sweeteners. Even sweeteners without carbs can spike your blood sugar ... and if you've ever had too many sugar free chocolates, you may have experienced the digestive upset that comes from maltitol.
All Keto Bars are made with real food ingredients and sweetened with a combination of erythritol and stevia. Usually, I'm not a fan of stevia, but combining it with erythritol cuts the bitter aftertaste that can come with stevia. The stevia helps to cut back on the amount of erythritol needed so that you don't notice the cooling sensation that can come from erythritol sometimes.
The next thing I look at is the macros, and then I try the product to test the flavor. Not only did these Keto Bars pass my ingredient test with solid keto macros, they all taste DELICIOUS. My favorites are Chocolate Peanut Butter (because this is always a winning combo) and Mint Chocolate -- it reminds me of a healthy version of a Girl Scout Thin Mint Cookie.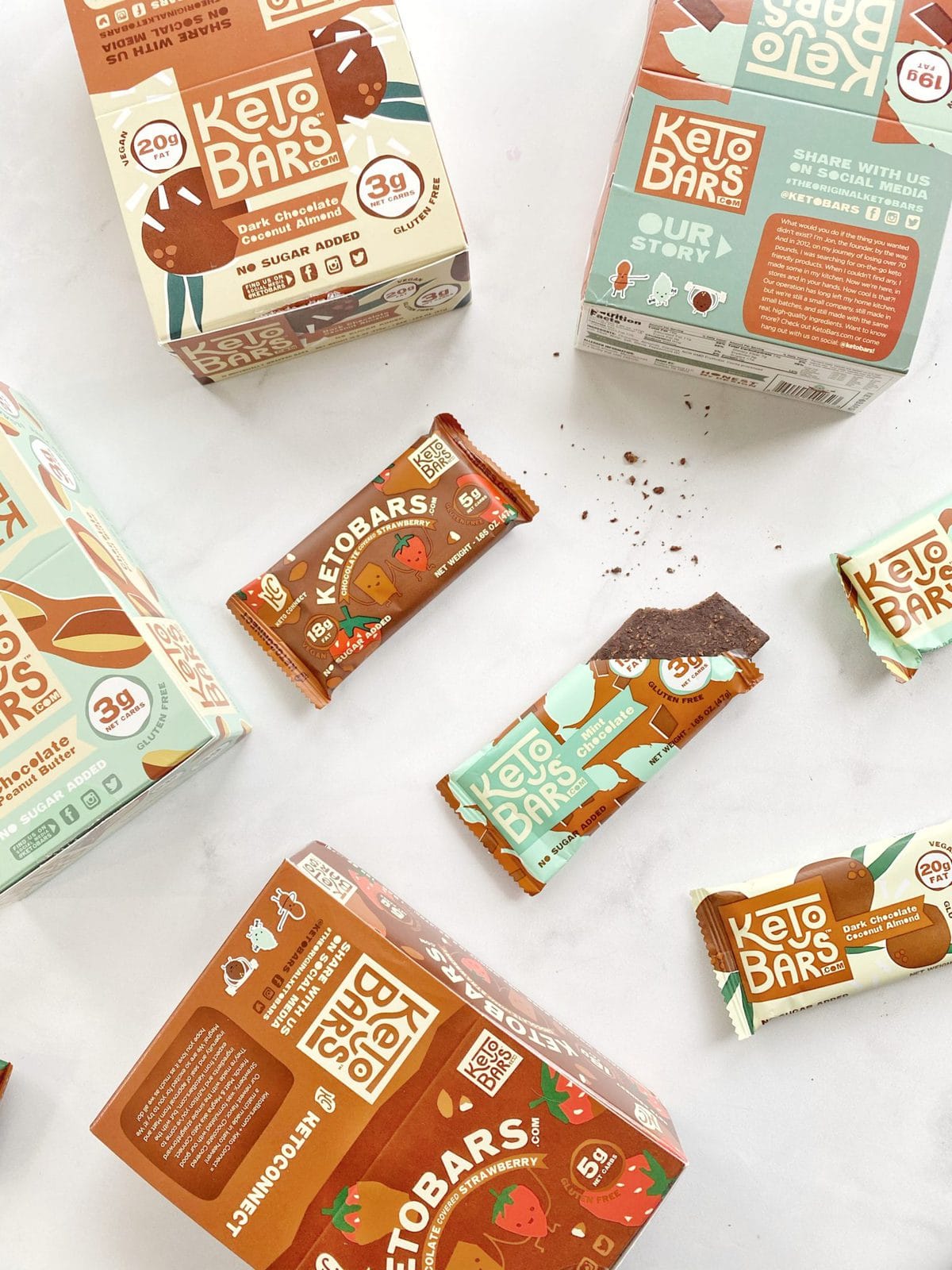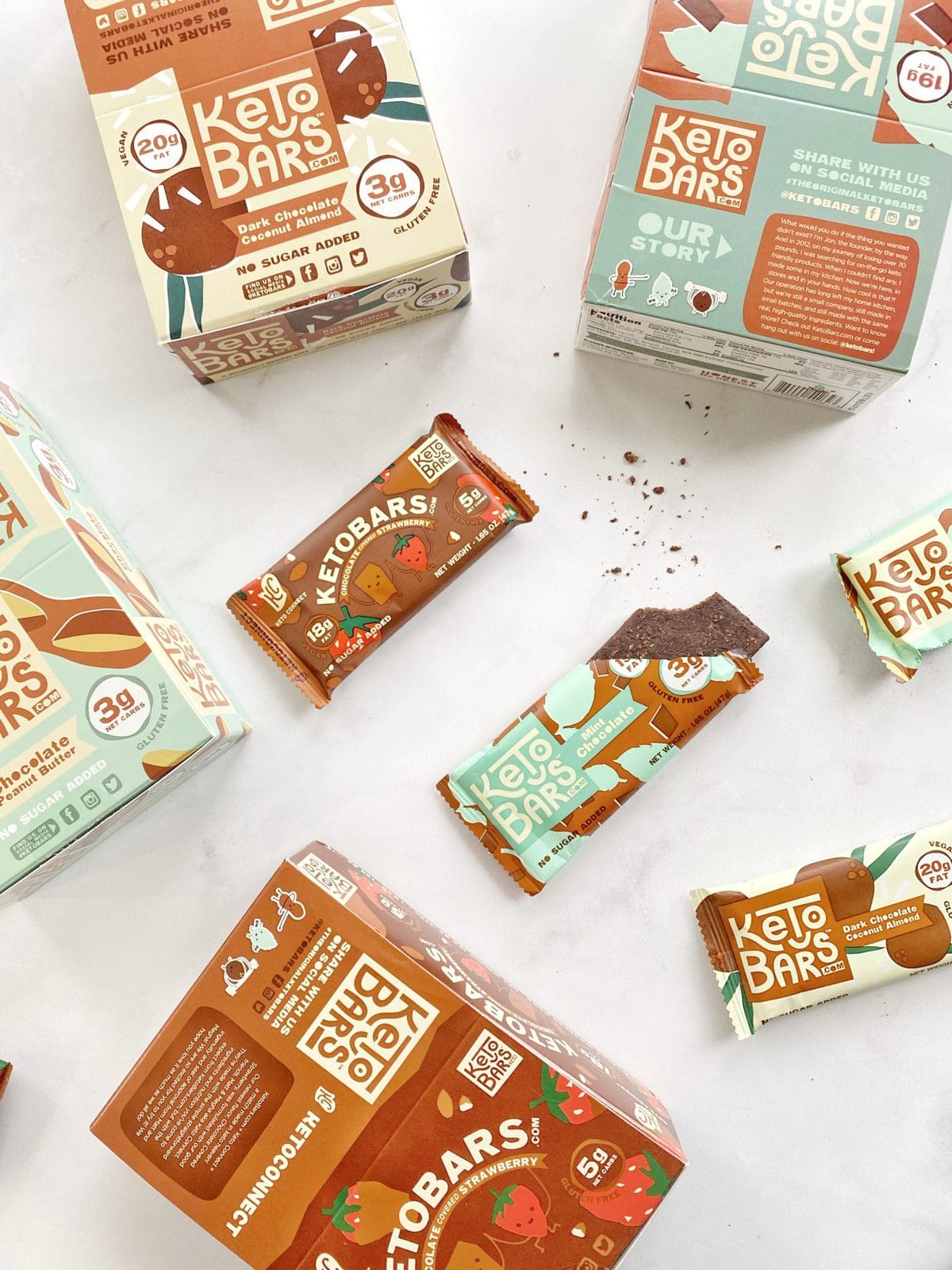 Keto Bar ingredients, flavors, and nutrition information
Here are the flavors and macros:
Chocolate Covered Strawberry: Chocolate, Almonds, Coconut, Strawberries, NON GMO Erythritol, Cocoa, Water, Organic Coconut Oil, Salt, Stevia, Natural Flavors. Macros: 220 Calories, 18g Fat, 5g Net Carbs, 5g Protein.
Mint Chocolate: Chocolate, Almonds, Coconut, Erythritol, Cocoa, Salt, Stevia, Peppermint. Macros: 220 Calories, 19g Fat, 3g Net Carbs, 6g Protein.
Dark Chocolate Coconut Almond: Chocolate, Almonds, Coconut, Cocoa processed with Alkali, NON-GMO Erythritol, Water, Coconut Oil, Salt, Stevia. Macros: 230 Calories, 20g Fat, 3g Net Carbs, 6g Protein.
Chocolate Peanut Butter: Peanut Butter, Chocolate, Coconut, Erythritol, Water, Salt, Stevia. Macros: 250 Calories, 21g Fat, 3g Net Carbs, 8g Protein.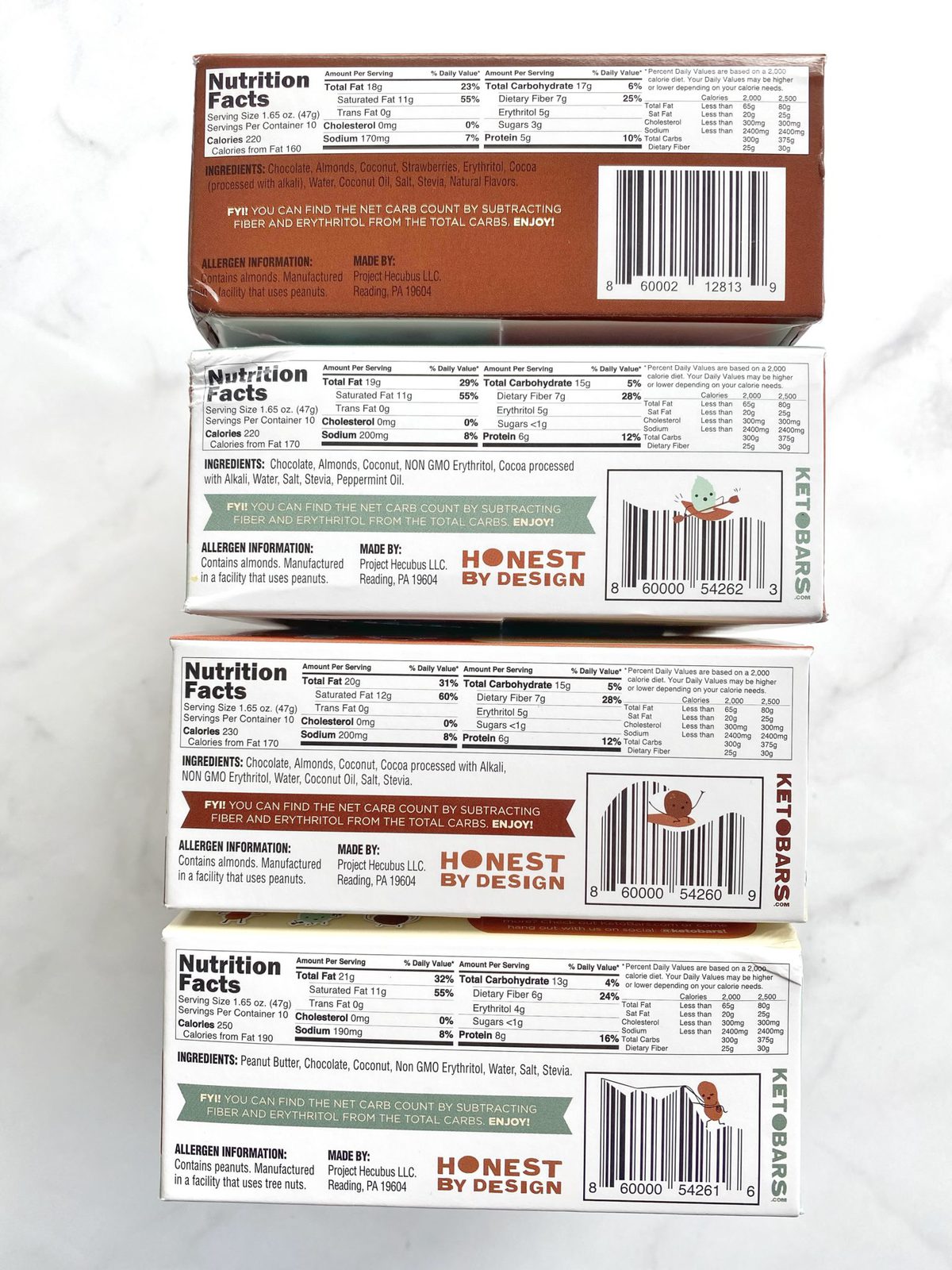 My review of Keto Bars -- are Keto Bars worth it?
Let me just start by saying that I have not been shy about saying that I don't really like most of the keto snack bars out there. As a person who is well established in the keto space and has spent nearly a decade blogging low carb recipes, I have been sent samples of just about every low carb and keto snack product ever made. Most of them never see the light of day on my social media accounts, because I simply do not like them and would never spend my own hard earned money on them. While I make it a point to not negatively bash companies that are just doing their best, I have been very open and honest about what I do and do not like. Taste is all a matter of personal preference, but I take the recommendations that I make to all of you very seriously.
All that being said, there are a lot of keto snack bars on the market now, and Keto Bars are one of the best. Like I said before, the team at Keto Bars is very honest about their products -- you don't NEED Keto Bars to be successful, but finding an easy keto snack to keep on hand is always a good strategy. Keto Bars are dairy free, gluten free, soy free, and vegan, and you can read all of the ingredients and know exactly how to pronounce everything.
I first tried Keto Bars back in 2018 and I totally thought I wasn't going to like them. You can watch my honest first-bite reaction in a keto product review that I did with Jon (my husband). Watch the video above to see our review. We try Keto Bars at 20:05. I was shocked at how much I liked the Mint Chocolate flavor, it tastes like a Thin Mint Girl Scout Cookie!
Now, I've tried all the flavors and my bottom line review is YES, Keto Bars are absolutely worth it. I could probably figure out how to hack the recipe and whip up a batch in my own kitchen, which is a good thing (again, real ingredients). But sometimes you just don't want to think about keeping snacks on hand, and I know that not everyone works from home with access to a kitchen throughout the day. These bars are perfect for throwing in your bag so that you have an emergency snack when you're out running errands and you get hangry. They're also really good for when you need a sweet treat immediately -- basically any snack emergency you could think of.
Want to try some for yourself? You code PLLC10 for 10% off at KetoBars.com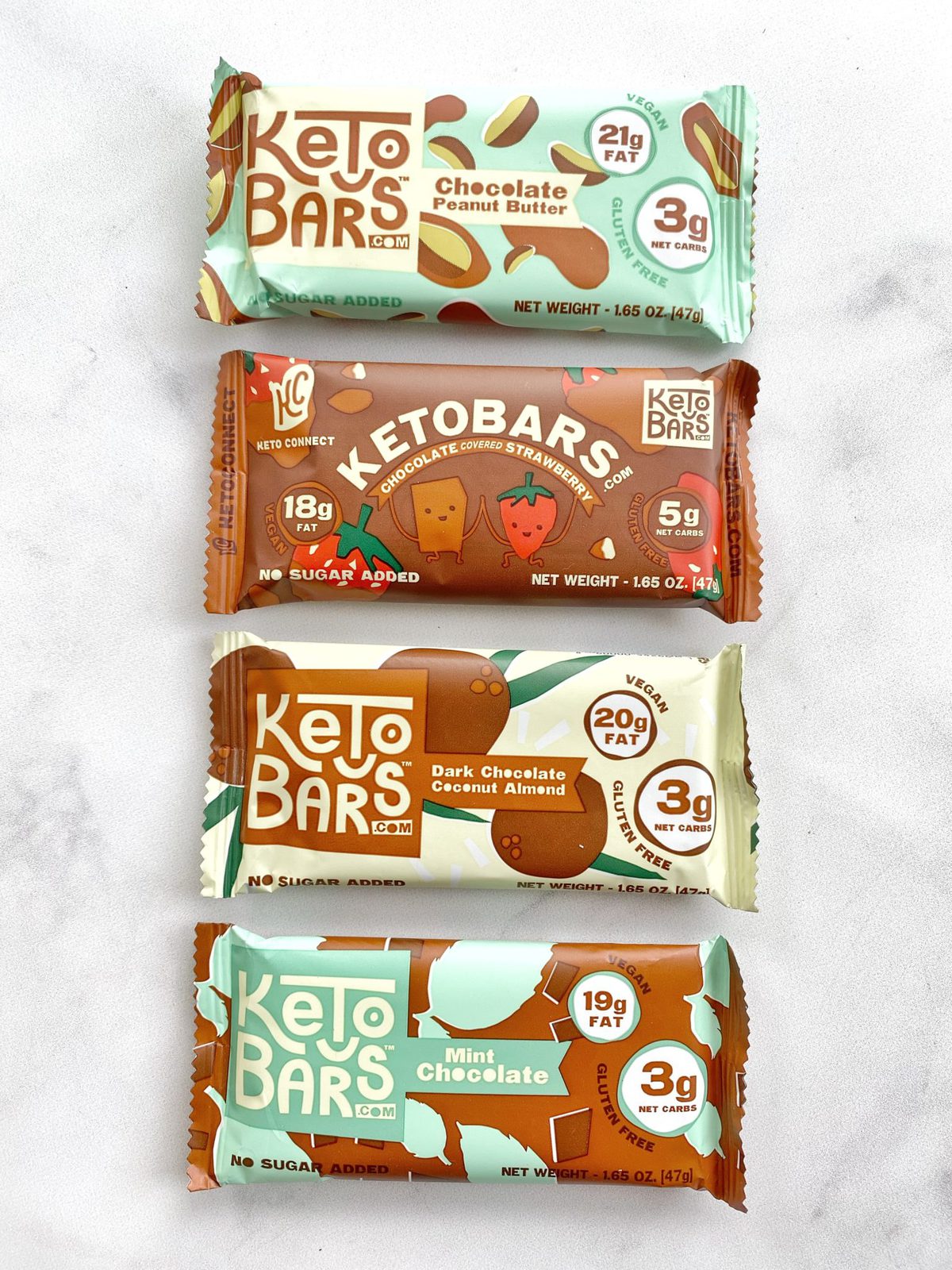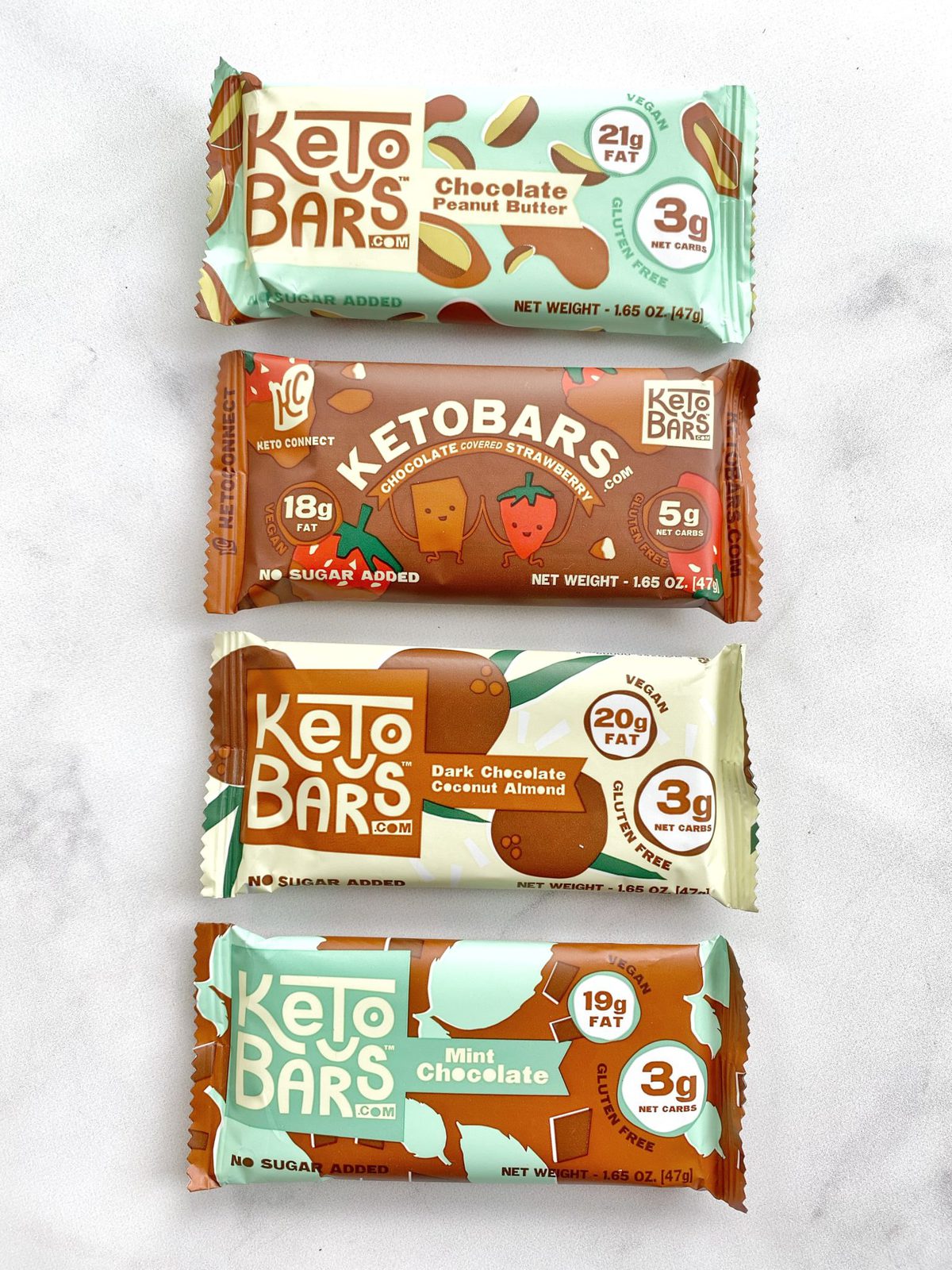 A Sweet and Savory Keto charcuterie Board
But if you've been hanging out with me here for any amount of time, then you know I couldn't just take a picture of the bars and say "Here you go!" I had to come up with a fun and creative way to showcase them. What better way than to add them as a sweet element to a keto charcuterie board? My favorite thing about charcuterie boards is that they are so visually stunning -- after all, we eat with our eyes first. Why not load up a board with all your favorite keto-friendly finger foods, pour some wine, and make some lasting memories with your loved ones. For more inspiration, check out my post How to Build an Epic Keto Charcuterie Board