[sg_popup id="9″][/sg_popup]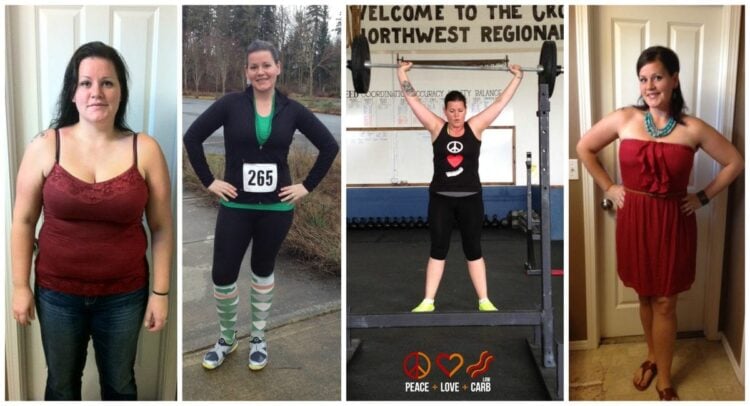 I'm a Healthy Living Blogger with a Secret… I got fat again. Let me just say that again… I'm a healthy living blogger with a secret… I got fat again.  As I type out those words, I am overcome with a multitude of emotions. I feel sad that I let myself slip so far. I feel empowered that I am about to undergo a massive change and get back to a life full of health and wellness. I feel like a weight has been lifted off my shoulders because my secret is out. I feel excited at the thought that this post may help someone going through the same thing. But mostly, I feel exposed and free to be my authentic self and share my story with others without fear, or insecurity. I am ready! I think people struggle with being candid and letting their secrets out because they feel like if they do, they are giving their power away. Life shouldn't be a power struggle. I will gladly give all of my "power" away if this post helps even one person.
The photos in the collage above are some of the highlights of my "last" weight loss journey. The picture on the left is me, weighing in at 250 lbs. I remember that day so clearly. It was Thanksgiving 2011. I decided that was going to be the day I changed my life. I took this picture in the morning, told myself I would enjoy one last feast with my family and that would be it… and it was. I started keeping my carbs low, and got creative in the kitchen and the pounds started coming off. I also decided to take up running and eventually CrossFit. I found a power within myself, mentally and physically that I never knew existed. CrossFit made me feel like I was home. Naysayers say Crossfit is a cult and that we all drank the juice. Fine, say that… I don't care. I don't even drink juice. To me, it was family. It was community. It was a sense of purpose and belonging… Until it wasn't!
Last May, I ended a two year relationship with a CrossFit affiliate, where the affection was purely one-sided, I slipped into a bit of a funk. I say "ended a relationship" because it truly felt like a bad break up. One that I am still trying to get over, even to this day. I felt discarded like a piece of garbage and like I had lost my community. It felt as if I had been evicted from my "home". I loved the way CrossFit made me feel mentally and physically. My mind and my body felt stronger than they ever had. I loved it so much in fact, that I got my CrossFit Level 1 Trainer Certification. I thought I could share that love and knowledge with others and start helping people not only with their nutrition, but with their fitness as well. There have been multiple blog posts and articles written about why you should or should not do CrossFit. There is some truth in all of them. In my opinion, it boils down to one very simple thing… choosing the right affiliate to join. I simply did not choose wisely. Then, even though I believe in voting with my dollars, I kept giving my hard earned money to a gym that really did not care for me or about me. I don't need to go any deeper into the story than that, but if you are or have ever been a CrossFitter, you can imagine how losing your CrossFit tribe would feel like a bad break up.
When it was all said and done, even though I knew the fundamentals, how to program my own workouts, had a fully outfitted garage gym and even have my CrossFit Level 1 certification, I just stopped. I stopped. Instead of training myself and pushing myself, I just shut down and channeled all of my energy, anger, sadness and betrayal into my business. Great for my business, not so great for my body. I let the end of that relationship take away the love I had for fitness. Somewhere deep inside me, they were so linked that I was unable to separate them.
I should never have let that derail me. In fact, the day that it all went down, I came home in tears, sat down on my couch and opened my Macbook. In my inbox was an email from PageStreet Publishing saying that they wanted to give me a book deal. That is the day The Primal Low Carb Kitchen was conceived. One door closed and a much larger door opened. I was beyond excited to walk through it. It gave me something to channel all of my time and energy into. Writing my book was a stressful, hectic and challenging process. I was also up against an extremely tight deadline… 3 months to create 85 new recipes, shoot and edit the photo for every recipe, and write the entire manuscript. That is not to say that it was not also incredibly rewarding. But, I went from lifting heavy 3-5 days per work (Between the gym and our home gym) to cooking and writing all day, some days for 12-15 hours at a time. I barely saw daylight, let alone our gym. The only time I saw a plyo box was if I was using it to stand on take overhead shots of food. The only plates I was lifting were the kind with food on them. I also sunk myself very heavily into my essential oil business. The distraction of writing my book and teaching others about the healing benefits of essential oils, made it easy to lock everything else away and not properly deal with it. Isn't that exactly how so many of us get overweight to begin with?
The weight came on slowly at first. A few pounds here. A few pounds there. Nothing a pair of yoga pants couldn't hide. P.S. If you work from home and pretty much live in yoga pants, it is a good idea to periodically try on your jeans just to make sure they still fit. It gets away from you faster than you know. One bad meal turned into one bad day, which spawned one bad weekend and before I knew it, I was eating more bad meals than I was good meals. All the while, I was still preaching the message of a low carb, primal lifestyle.
My book released on June 2nd of this year and by the time it was out, I had put on about 60 pounds in one years time. I started to feel like a fraud. I found myself wanting to hide. I wanted to be the girl behind the camera and not the one in photos. I no longer wanted to see friends that I hadn't seen in a while because I didn't want them to see how fat I had gotten. I was even skipping family functions. I forfeited all the money I paid to attend PaleoFx because I was too ashamed. I told people I wasn't going because I was too busy. There was some truth to that, but the biggest and truest reason was that I did not want to meet some of my most admired blogging peers for the first time in person, in the body that I was living in. How sad is that? It feels good to finally admit it. I also didn't schedule a book tour because I didn't want all of my readers to see that I was not who they all believed I was. When I think of the gravity of that, I'll admit that it saddens me. Writing The Primal Low Carb Kitchen is one of the biggest and proudest accomplishments of my life and I couldn't even allow myself to properly celebrate it.
The pressure to be perfect in the blogosphere is palpable. As bloggers, we alway try not to feed the trolls, but they are out there in droves, just waiting for the chance to make you feel bad about yourself.  Part of me waited this long to come clean because I wasn't sure if I was mentally strong enough to deal with the trolls and perfection police. As a complete side rant… It is incredibly sad to me that some of my paleo blogger friends have to use hashtags like #notpaleoperfectionists or #notpaleodontcare or #notpaleo. You know why they have to do that? Because of the trolls and the perfection police. It's a sad, sad world we live in when people make a hobby out of trolling the internet and making others feel bad about themselves. We are all real people. I'm a real person. If it makes you feel better to take shots at us, you have some serious self reflection to do.
This is me. This is my story. I am human. I got fat again. Well, I am ready to do something about it… Follow me on Instagram for updates outside of just my blog posts.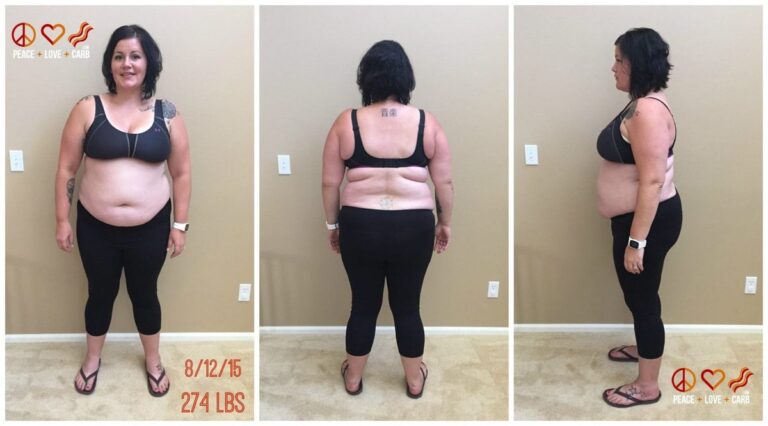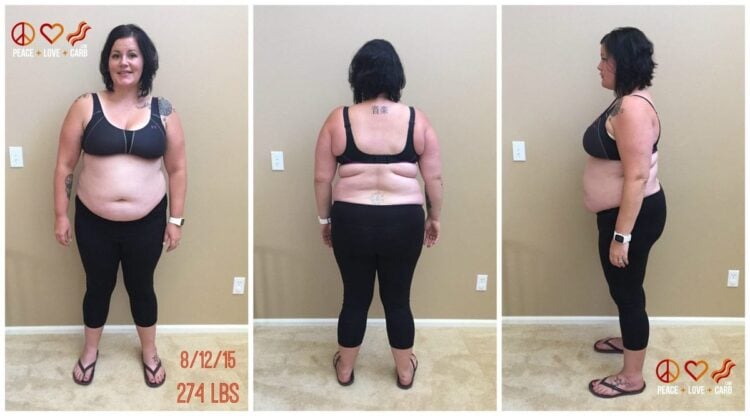 Starting Date: 8/12/15
Starting Weight: 274 lbs
Current Weight: 274 lbs
Pounds Lost: 0
Goal Weight: 174
Goal Date: August 27th 2016
Height: 5′ 9″
This post is full of reverse before and after photos. It is a series of afters and befores, as I start all over again. Today is my new DAY 1. My name is Kyndra. I am a healthy living blogger with a secret… I got fat again. In the photos above, taken this morning, I officially weigh 274 lbs. I'm not going to post a pale, frumpy and sad "before" picture. Why do people do that anyway? Isn't the day you shot that before picture, the day you decided to take your life back? That should be an incredibly powerful and happy day. Taking the first step towards a life of health and wellness should be a joyous and empowering moment. To everyone else out there just starting your journey or restarting it like I am, hold your head up high, because today is an amazing day. Some days will be easier than others. Some days will be incredibly hard. But each day you put behind you is a step forward into the future. You've got this. I've got this. We've got this!
You have to come to your closed doors before you get to your open doors… What if you knew you had to go through 32 closed doors before you got to your open door? Well, then you'd come to closed door number eight and you'd think, 'Great, I got another one out of the way'… Keep moving forward. – Joel Osteen
So here I am, starting over again. A new chapter in my life. The girl I used to be is still in there, that fiery athlete. I can feel her coming out already. Watch what happens when I unleash her. I am sharing this with all of you, not for your sympathy but to show you that I am a real person, with real life challenges and that derailments happen to the best of us. If you are reading this and are trying to find your way back, I hope this empowers you to do just that. Starting over is hard, I get it. Believe me, I do. But it is not too late to be the person you want to be. Start now. We can do it together. Being fat is hard… Trust me, I know all to well.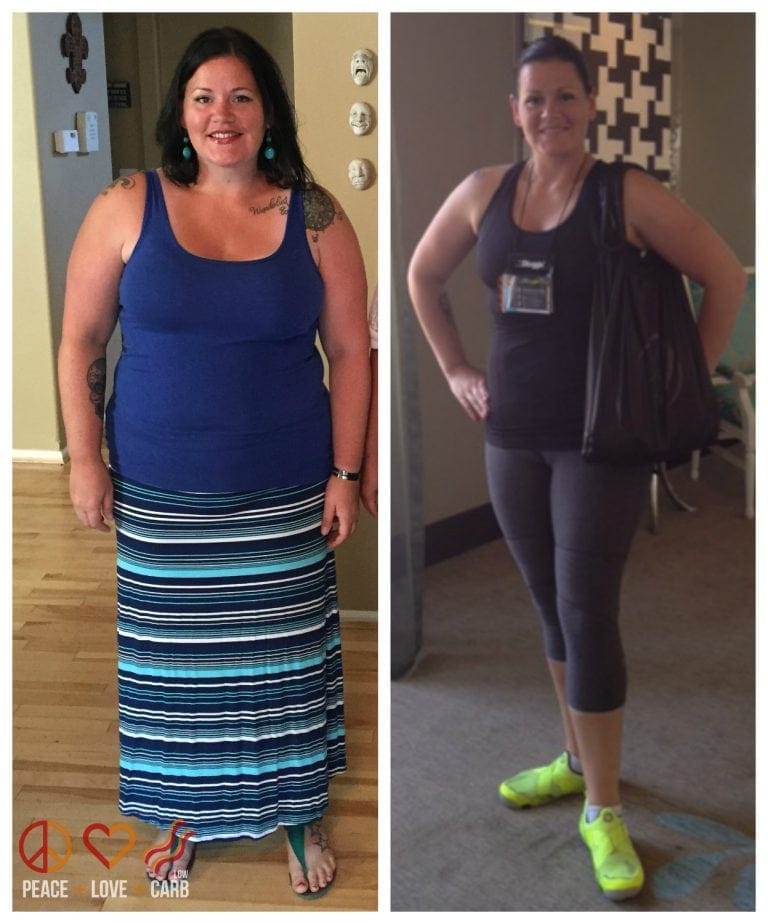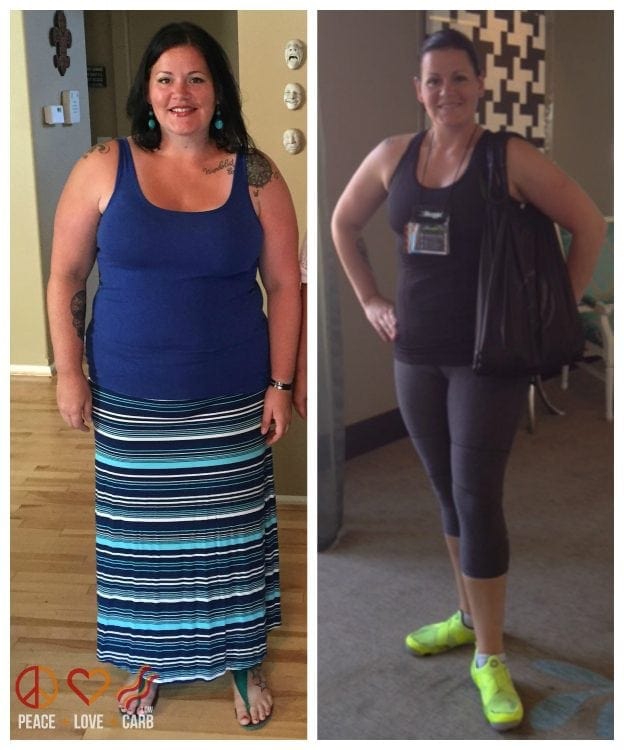 The picture on the left is me just a few weeks ago. The picture on a right is me the summer before last at a healthy living bloggers conference. I look at those pictures and I do not even see the same person.
You know what's hard about being fat? People don't see you. You take up all that space and yet no one sees you. It's almost like they are afraid to look… As if being fat is contagious and contracted by a glance or a friendly smile.
When I lost all my weight for what I thought was the last time, I remember asking one of my friends one day if I had something on my face. I asked why everyone was staring at me. Was I just being a paranoid weirdo? She said, "they are looking at you because you are so pretty."  She was being sweet, lighthearted and funny, but it was that very moment that I realized they weren't staring, I was just visible again. My thick stitched cloke of shame wasn't there. They were no longer  afraid of contracting "big giant fatty-itis" from me and it was now safe to look at me. I was no longer invisible.
Did society make me invisible in the first place, or did my shame? Was I the heavy girl with the slumped forward shoulders who stared at her feet and made herself invisible in a sea of beautiful people? Or was I there with bright eyes, my head held high and a large personality to match my even larger frame? I think I was both of those girls. Maybe I didn't want to be seen. It was easy to not be seen, just like it was probably easier for people to avert their eyes from me.
After I lost all my weight, being seen made me feel more naked and exposed than being fat ever did. What was I supposed to do with that healthy, "normal" sized body anyway? Well, I am going to get that body back and then I will tell you exactly what I do with it…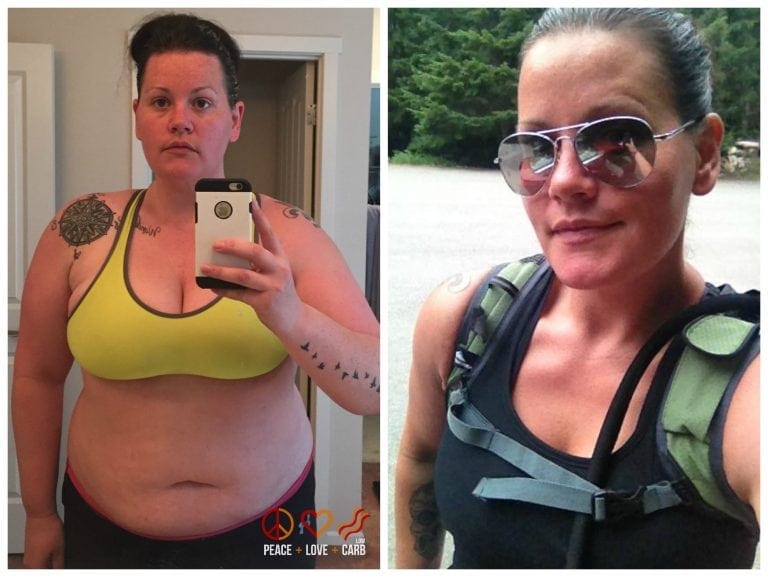 Today is the new first day of the rest of my life. That's a powerful thing.  I want to share in this new journey with all of you. So check back in monthly, weekly or even daily for your dose of motivation and inspiration as I chronicle my entire journey. I will be posting my weigh ins, meals and workouts, as well as weekly progress pictures. A new post will go up every Wednesday morning. You will be able to find them – Here. Also, feel free to join the Peace Love and Low Carb Friends group to join in my accountability.
Keeping a daily record will not only keep me accountable,  but it will give all of you a glimpse into the daily life of a person working towards profound change. Each day I will show you at least one of my meals and I'll tell you all about my workouts. You will also quickly see that I am an imperfect person. A happy, yet imperfect person. Trust me when I tell you, the sooner you can let go of the idea of perfect, the happier you will be. I hope that this new, upcoming series provides you with ideas, inspiration and a desire for bacon!
I now have a new secret… I am a healthy living blogger on a mission to lose 100lbs in one year. (by my birthday next year-  August 27th 2016.) We define our own destiny in this life. You are the only person that can change your story. This is my story and today is the day that I change it.
Destiny is no matter of chance. It is a matter of choice. It is not a thing to be waited for, it is a thing to be achieved.  – William Jennings Bryan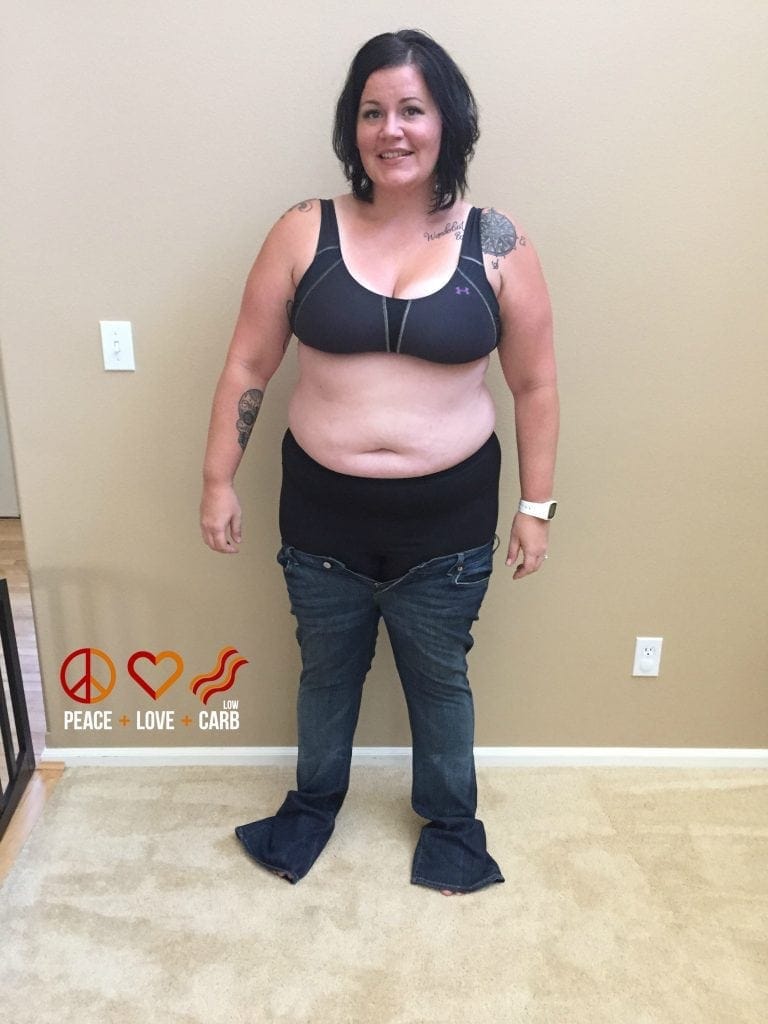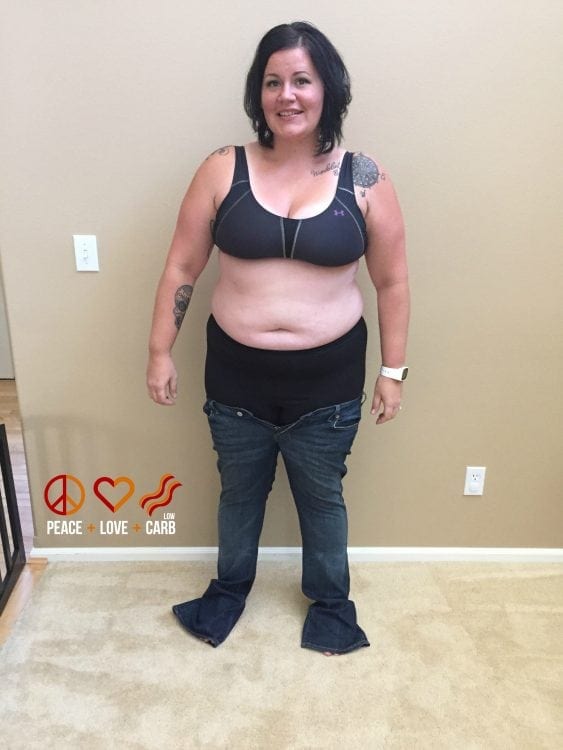 These are my goal jeans. They are a size 12 pair of Seven For All Mankind jeans that have been in my closet for a long time. I was able to wear these jeans for approximately one day, before I never wore them again. See you soon goal jeans!!
Follow along with me day by day, week by week, until I reach my goal. I am posting daily. Click on each week below for a daily log of my food, workouts, and weekly weigh-ins. Follow me on Instagram for updates outside of just my blog posts.