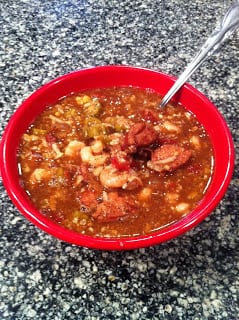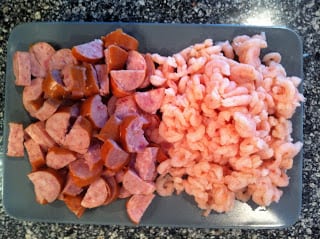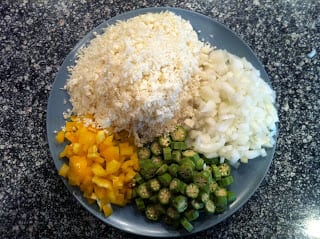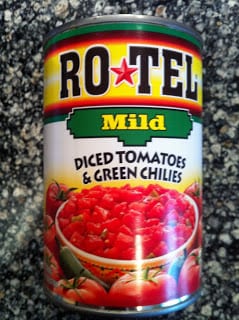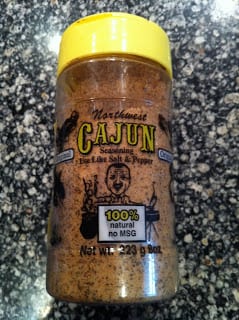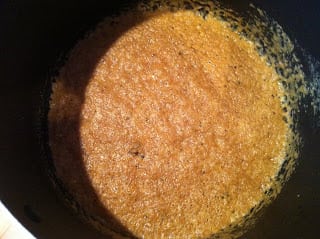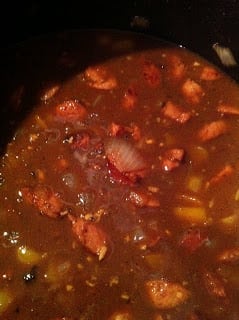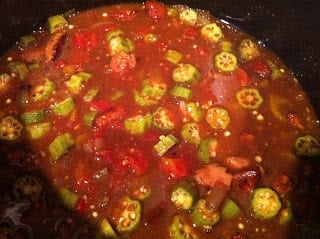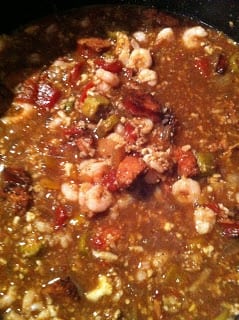 This is a very versatile recipe with lots of room for substitutions.  I was feeling a bit lazy yesterday and didn't want to run to the store, so I created it using all items I already had in the fridge and the pantry.  This was a new adventure for me and I'll be honest, I was not sure if it was going to turn out.  I have been to New Orleans for the last 7 years in a row and I know how good Cajun food should taste…  I was pleased to taste my finished product and feel like it measured up.  This recipe has a lot of steps involved and takes a long time to prepare.  BUT…  it is worth the wait and I promise that even your non LC'ing family members will ask for it again and again.  Be prepared for plenty of leftovers.  It is one of those dishes that tastes even better the next day.
Check out some of my other favorite low carb soups and stew recipes:

Sign up for updates to receive one week FREE of my low carb and gluten free meal plans:
Ingredients
2 Small Onions – Diced
2 Cups Fresh Okra – Sliced
1 Large Yellow Bell Pepper – Chopped
1/2 Medium Head of Cauliflower – Grated
5 Tbs Minced Garlic
1 lb. Smoked Sausage – Sliced
14 oz.  Bay Shrimp  (You can adjust this amount but that is the amount I had in the fridge)
5 Tbs Butter or Margarine
1/4 Cup Vegetable Oil
1/2 Cup Soy Flour (I used Bob's Red Mill)You can get it here – Bob's Red Mill Soy Flour
Cajun Seasoning and Garlic Salt (To Taste)
1/4 Cup Worcestershire sauce
1/2 Cup Liquid Au Jus Concentrate (I used Johnny's)
1 Packet Brown Gravy Mix
1 – 14 oz. Can of Rotel Tomatoes
(2 Tbs Peace and Love)
(You can use Bouillon cubes in place of the Au Jus and Brown Gravy mix – I would say 5 cubes or so… But the liquid Au Jus and gravy mix along with the cajun seasoning really added a beautifully rich consistency and flavor)
Directions
For the Roux –
In a large Dutch Oven – Heat vegetable oil over medium high heat.  Add the sliced sausage and cook until well browned.  Remove the sausage from the oil and set aside.  I did this using a slotted spoon allowing the oil to fall back into the pan.
Sprinkle the soy flour into the oil, and add 2 Tbs of the Butter – Stir constantly or it will quickly burn and stick to the pot.  Stir for about 6-10 minutes.  The roux will get progressively darker.  It should reach a nice dark nut brown color.  Pull pot off of the burner and allow the Roux to cool – Approx. 10 Minutes
After cooled, put the Roux on low heat, add remaining 3 Tbs. of Butter, let melt and stir in.  Add onion, garlic, and peppers and cook for 10 minutes
Add Worchestershire sauce, cajun seasoning, and garlic salt, stir frequently – Cook for 10 minutes
Add 4 cups of hot water. Au Jus, Gravy mix, and sausage.  Bring to a boil.  Reduce heat to low, cover, and simmer for 45 minutes.  (I tasted it several times through this 45 minute period and added more garlic salt and cajun seasoning to taste.)
Add okra, and Can of Rotel, and simmer for 50 minutes more
Add grated cauliflower, and bay shrimp and simmer for 10 more minutes.
Serve and enjoy!!
90 Carbs for entire batch
Makes about 10 generous servings – 9 Grams of carbs per serving
Peace, Love, and Cajun 
Peace and Love!