One of my all-time favorite treats! Chocolate Covered Low Carb Cheesecake Bites. Easy to make and always a crowd pleaser.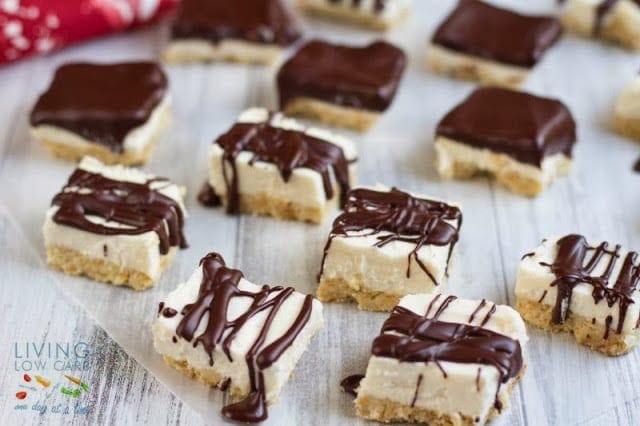 This recipe combines two things I love: Chocolate and low carb cheesecake. Does it get much better than that? Maybe only if there was some peanut butter in the mix. I love to take these low carb cheesecake bites to holiday parties. They are always a big hit!
The holidays can be a busy time full of parties, gatherings, and of course delicious food. Holiday cooking usually requires using your oven and scheduling to make sure everything gets cooked at the right time. That's why it's always nice to have a low carb no bake dessert recipe to share at holiday parties and get-togethers. These creamy bite sized low carb cheesecakes make the perfect no bake treat. Your friends and family will love them!
If you are a big low carb cheesecake fan like I am, check out some of my other favorite recipes. Like these Blueberry Mini Low Carb Cheesecakes, or this Pumpkin Spice Low Carb Cheesecake Mousse

Ingredients
For the crust:
1 cup almond flour
1/2 cup golden flax seed meal
3 Tbsp powdered sweetener
1/2 tsp cinnamon
6 Tbsp melted coconut oil
For the filling:
16 oz cream cheese, softened
1/2 cup coconut cream
3/4 cup powdered sweetener 
1 tsp vanilla
For the chocolate covering:
5 oz stevia sweetened chocolate
3 Tbsp butter
In a medium bowl, combine the almond flour, flax seed meal, sweetener, and cinnamon.  Add the coconut oil and stir to incorporate.  Press the crust into a 9″ x 9″ dish and refrigerate for 30 minutes.
In a large mixing bowl, beat the cream cheese, coconut cream, sweetener, and vanilla until smooth.  Top the crust with an even layer of the cheesecake mixture and freeze for 1 hr and 30 minutes.
Cut the cheesecake into 28 even rectangles and freeze the rectangles for 30 minutes.
Melt the chocolate and butter in a double boiler.
Dip the cheesecake into the chocolate (or drizzle each cheesecake bite with chocolate) and set on parchment paper. Refrigerate or freeze until the chocolate has set.
Makes 28 bites
Serving 2 bites
4.48 net carbs per serving
About the Author:
Karen stared her health journey back in January 2011 when she finally decided to make a lifestyle change and get healthy.  She started her blog in December of 2011 as a way to hold herself accountable for losing weight and keeping it off.  After about a year, she felt there was more she needed to do to truly heal her body.  She ended up cutting out grains in an effort to heal her digestive issues since the gut plays a powerful role in overall health.  Karen is also the author of Awaken: 30+ Egg-Free and Grain-Free Breakfasts which features delicious breakfast inspiration for those that do not tolerate eggs or are looking for something different. Her latest ebook is Squeaky Clean Paleo: 100+ Recipes to Beat Boredom and Ditch Cravings which is perfect for those looking to eat clean and get rid of sugar cravings.  Changing her diet and lifestyle has helped her discover a passion for cooking and sharing delicious recipes with others on the same kind of journey.  Stop by and visit her blog
https://lowcarboneday.com
or on
Facebook
,
Twitter
, or
Pinterest
.
***Please note that nutritional information listed on this page is an estimation based on the products I used. Ingredients and nutritional information can vary greatly between brands. Always be sure to read labels***
***Some links contained on this page are affiliate links and I may receive monetary compensation or other types of remunerations for any products purchased through these links***