This low carb granola will curb your craving for a nice crunch cereal. Best of all, it is low carb and gluten free too!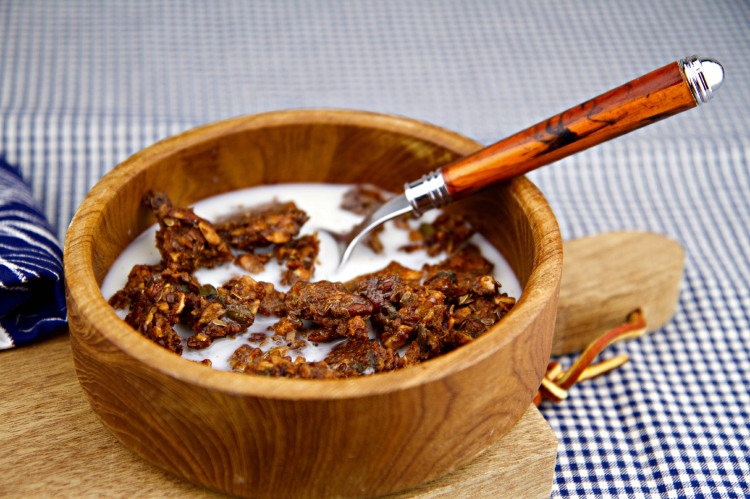 Missing breakfast cereal or granola?  Have no fear,  DJ Foodie has another amazing  guest post that will have you enjoying one of your old favorites again.
Print
Baked Spiced Granola
Calories – 765.77 Fat – 71.97 Protein – 20.29 Carbs – 52.23 Fiber – 12.24 Sugar Alcohols – 30.27 Net Carbs – 9.73
Prep Time:

5 minutes

Cook Time:

2 minutes

Total Time:

20 minutes

Yield:

4

Servings

1

x
Scale
Ingredients
1 cup

(99g) chopped pecans

1/2 cup

(60g) chopped walnuts

1/2 cup

(72.5g) slivered almonds

1/2 cup

(36g) flaked coconut, unsweeetened

1/2 cup

(56g) almond meal

1/4 cup

(57g) pepitas (pumpkin seeds)

1/4 cup

(32g) sunflower seeds

1/4 cup

(56g) melted butter

1/2 cup

(120g) sweetener

1 tsp

(7g) honey

1 tsp

(2g) cinnamon

1 tsp

(4g) vanilla

1/2 tsp

(1g) nutmeg

1/2 tsp

(2g) salt

1/4

(60g) cup water
Instructions
Preheat oven to 250 F (121 C).
In a large bowl, combine all the ingredients. Mix very well.
Place a piece of parchment paper on a baking tray and grease it. Spread the granola on the tray. Place a second piece of parchment on the granola. With a rolling pin, roll the granola, to compress it into a firm and even sheet of granola. Remove the top piece of parchment and discard.
Bake for about 60 to 90 minutes, or until golden, throughout. Remove from the oven and allow to fully cool. Break into pieces and enjoy!
A Bit About DJ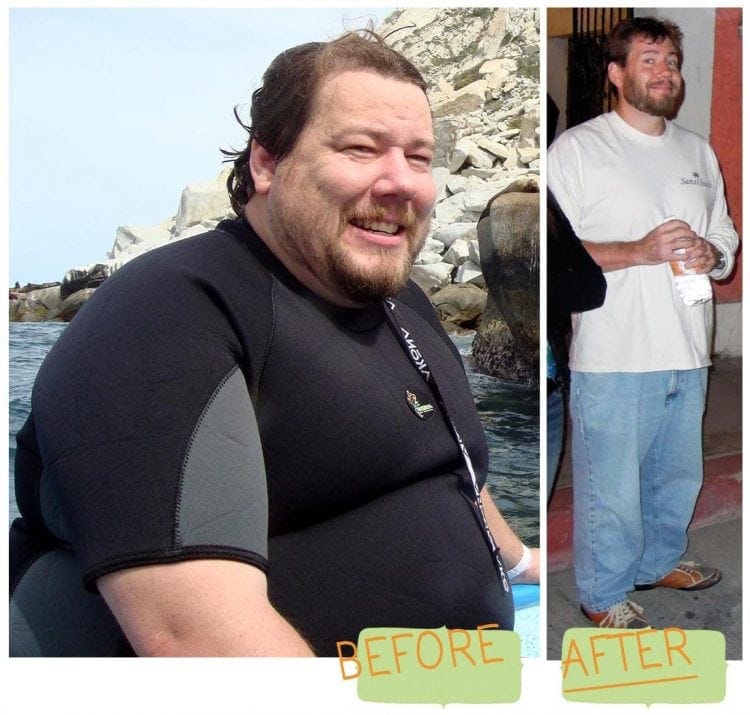 I'm a graduate of the Culinary Institute of America, in Hyde Park, NY. I have worked under some of the best chefs within the United States: in New York, San Francisco, Seattle, Los Angeles and Vail, CO. While I am extremely able to create food, I somehow missed the lesson on "eating" food. For me, it was anything, anywhere, at any time. In early 2010, I had ballooned to 352 lbs and was certain I'd developed diabetes. Life wasn't good. I read a book promoting a real food, mostly raw, mostly vegetarian diet, at a time I was willing to listen. This started a journey, which has taken me through a variety of eating styles.
Since then, I've lost a total of 142 lbs. I am still losing, but slowly. In the interim, I have gained more than I could have ever imagined.
In response to the ubiquitous question, "How'd you do that?!" … I have started a blog, located at DJFoodie.com. My blog is devoted entirely to that question. Near 400 recipes strong, with a new one added regularly, I share my adventures in the kitchen and my life in a lighthearted and humorous manner.
Today, I eat copious amounts of bacon, loads of meats, vegetables and a wide assortment of other ingredients. I focus on lower carb, but also focus a lot of interesting cooking techniques and creative flavor combinations. Regardless of your food preferences, there is a lot of quality information that can be applied to your own food preferences. Take what works … and leave the rest behind!