Hey there! Welcome to Week 2 of my new  "A Few of my Favorite Things" series. If you are just now joining me, be sure to go back and check out my top 10 for week 1. I have found no shortage of things I want to share with all of you. I had to force myself to narrow it down to the very best. In fact, I think I almost have next weeks list ready also. This might be my new favorite thing to blog about! Have no fear, I will still keep the recipes coming. If you missed last weeks post, you can click the photo below to be taken there.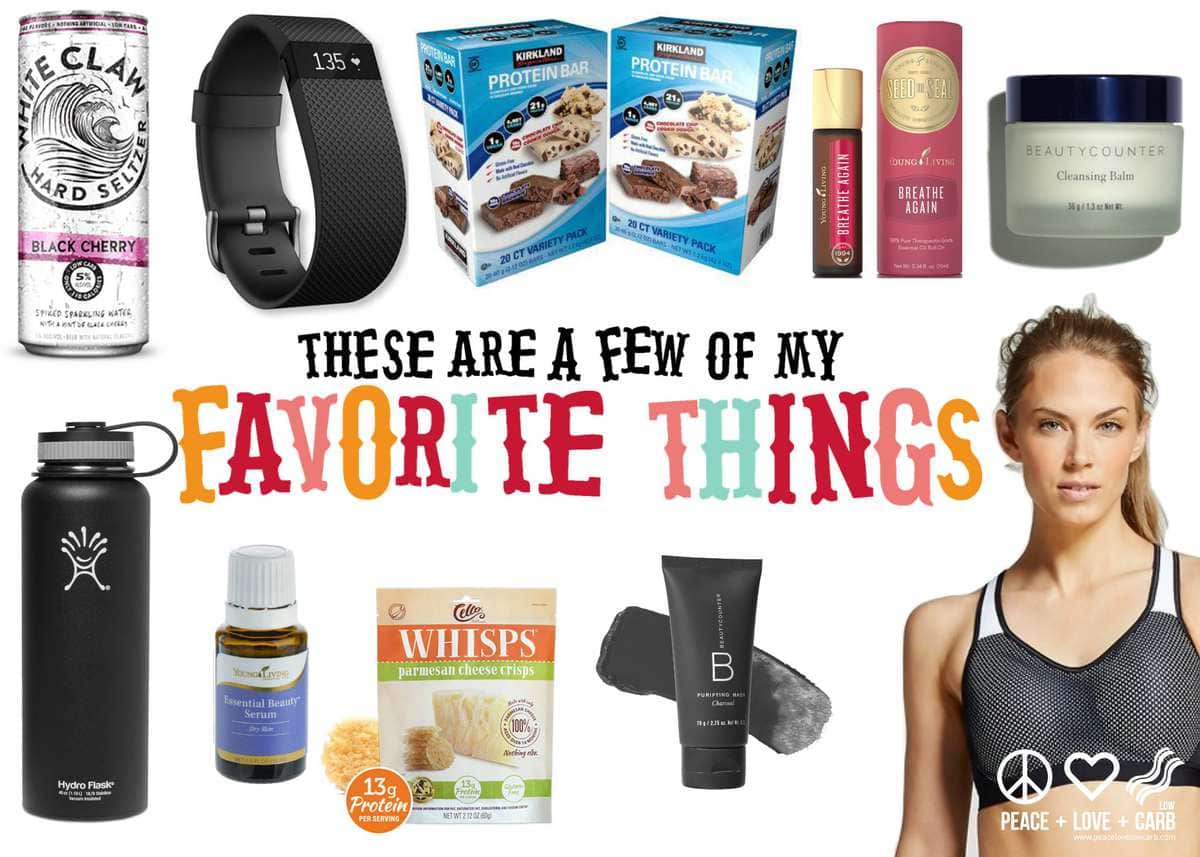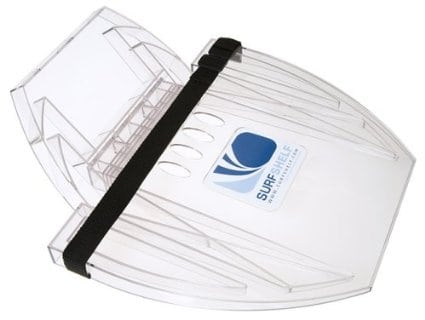 Surf Shelf Treadmill Desktop
Okay, so in last weeks post, I talked about how much I am loving my FitBit Charge HR, and how much it is keeping me moving. I am a competitive person. I don't like to lose. If that means something as simple as out-walking my friends, then bring it on. I've been taking walking to a whole new level these past few weeks. It has been soothing, cathartic and I've had some good "Me" time sprinkled in here and there as well. When I am working, I am doing a lot of sitting, hunched over the computer. This isn't good for my posture or for my body as a whole. I bought my Surf Shelf a few years ago, but admittedly, it sat there collecting dust for a while. Now, it gets used nearly every day. I take my laptop out to the garage, strap it onto my Surf Shelf and get extra steps in while I am walking. If I am working on a task that does not require a lot of focus, I even put something bingeworthy on Netflix. It is a great, inexpensive way to transform your treadmill into a workspace. I can't say enough great things about it. Such a simple concept with a practical use. You can get one – here.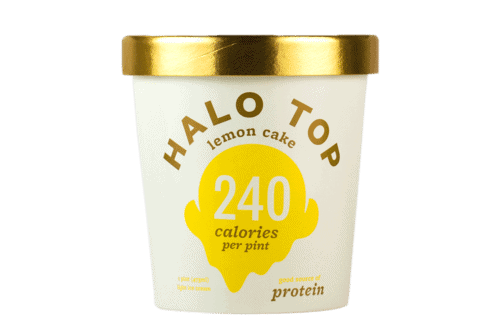 Halo Top Lemon Cake Ice Cream 
I was a late adopter to the Halo Top craze. Pictures of these beautiful little pints kept popping up all over my newsfeed. A lot of the time when I see a big hype about a new low carb product, it usually tends to disappoint. Maybe it is because the product is so built up by the time I try it or maybe it is because so many of the low carb products that hit the market are frankenfood, chemical shit storms. Either way, the hype about Halo Top is the real deal! We found it at our local grocery store. There was a bright and shiny display on an end cap freezer. A whole freezer dedicated to this majestic unicorn of a low carb ice cream. I thought that harp music was going to start playing when I opened the freezer and cherubs would fly out. That didn't happen, but the freezer door fogged up, and that is pretty much the same thing. We bought 3 different flavors – Lemon Cake (Because I a total freak for anything lemon flavored), Chocolate and Birthday Cake. Each one was better than the last. SO GOOD! They are all gluten free, they have no artificial sweeteners, low sugar, low carb, no synthetic growth hormones, and no funky ingredients. They completely sound too good to be true… but they aren't. Each one varies in carb count but range from 4-6 net carbs per serving. There are 4 servings in a pint. Now I know what you are thinking – "Who only eats 1/4 of a pint?" Surprisingly, I had no problem stopping there. BUT, let's just say that I wanted to eat the entire thing… I could easily work that into my day if I kept my other meals really low in carbs. Now that I found them, I keep seeing them at stores everywhere. You can look on their site here to see where you can find it close to you.
BEAUTY COUNTER Lengthening Mascara 
I feel like I should start this one by emphasizing how important my eyelashes are to me. Does that sound weird? Good! A well painted on coat of mascara or 10 is the quickest way for me to instantly feel more beautiful.  For years I got eyelash extensions. They just made me feel really pretty and like I didn't need any makeup at all. Instant confidence boost. BUT, they are really expensive and also really hard on my natural lashes. I could never keep them on more than a few months at a time before I just had to have them off and give my eyes a break. It took me a long time to settle on a mascara that I loved. It just so happened that it was a combination of 3 products that gave me the fullness and the length I wanted out of my natural lashes (after I came to terms with the fact that they would never be as long as my extensions, of course) I start with Urban Decay Subversion Lash Primer. Then I apply a couple of coats of Urban Decay Perversion Mascara. Lastly, I top it off with a coat of Smashbox X-Rated Mascara. I've been happy with the outcome and haven't been getting my lashes done. Well, in an attempt to continue cleaning up my act and switch over to a non-toxic skincare and beauty regimen, I decided to give the Beautycounter Lengthening Mascara a try.  If I'm being honest, I didn't really have high hopes for it. I have tried a ton of mascara brands and most of them fall flat on their promises. However, I was very pleasantly surprised. I managed to get the same volume and length out of the BC Lengthening Mascara as I was from the other 3 products I was combining. I was so jacked up about it, that I made an IG story about it. In my video I only had one lash done so that I could show a true comparison. You know what is even better? the Beautycounter mascara is half of the price of just one of the other products I was using. I could literally buy 5 or 6 tubes of it for the price of the Urban Decay and Smashbox products I have been using. Best of all, it is a non-toxic, safer choice. If I had any complaints about it at all, it would be that it is kind of hard to get off. Just soap and water didn't really do the trick. But when I used the Beautycounter Cleansing Balm that I talked about in Week 1, it came right off. Actually, this is probably better than soap and water anyway since it is nourishing and hydrating my eyes and the skin around my eyes, while simultaneously removing my makeup. Win/win! At any rate, I loved the mascara. It far exceeded my expectations. Since I can be kind of a makeup hoarder and don't like to run out of things, I already picked up two of them. If you want to read more about it, you can check it out here.


Ningxia Red – Antioxidant Drink
Ningxia Red is one of my daily favorites for a long time now. I have been drinking it daily for over 2 years. All you need is 2oz. per day to reap the benefits. I usually try to drink 2oz. in the am and another 2oz. in the pm, when I can remember that is. I am really picky about drinks. I don't really care for juices, sports drinks, energy drinks, soda or anything like that. I pretty much just stick to sparkling water, regular water, coffee, the occasional alcoholic beverage and Ningxia Red. So when I am trying a new drink for the first time, I am always expecting that I won't like it… because I rarely do. I didn't expect Ningxia Red to be any different. I love it when I am pleasantly surprised. Now it is part of my daily routine. Jon and the kids drink it too, as do the pups. (Well two of them anyway, the other 2 just sniff at it) I will let the facts speak for themselves on this one.
Here are a few great reasons you should drink NingXia Red:
The NingXia Wolfberry provides ample antioxidants to strengthen the immune system.
Antioxidants of this berry fight arteriosclerosis and atherosclerosis – aiding the circulatory system, including the heart.
The NingXia Wolfberry is powerful in helping the liver function properly. The liver is one of the most vital organs in the body – it's our cleansing machine.
Helps the eyes, and visual acuity. NingXia Wolfberry has the highest source of carotenoids in all known foods. Beta-carotene is best known as a nutrient for the retina.
Minerals & vitamins found in 

NingXia Red

 act as enzymes and co-factors in the digestion process.
Helps lower blood sugar and in many tests stabilizes blood sugar.
Strengthens the brains neuro-transmitters against pervasive free radical activity, thus fighting against various forms of memory loss.
Promotes a sense of well-being, and has had noticeable results in tests, which reduces stress and emotional distress. The tissues of the body (including the brain) are assisted in avoiding oxidative stress.
Has a B-vitamin complex essential to the body.
The NingXia Wolfberry is high in protein.
The NingXia Wolfberry, unlike most berries, contains natural Vitamin E – a restorative antioxidant.
A healthier, romantic life. The wolfberry increases overall health performance, including sexual responses.
Need I say more? Because I could! All of these benefits and it tastes good? I'm hooked. You can get some here.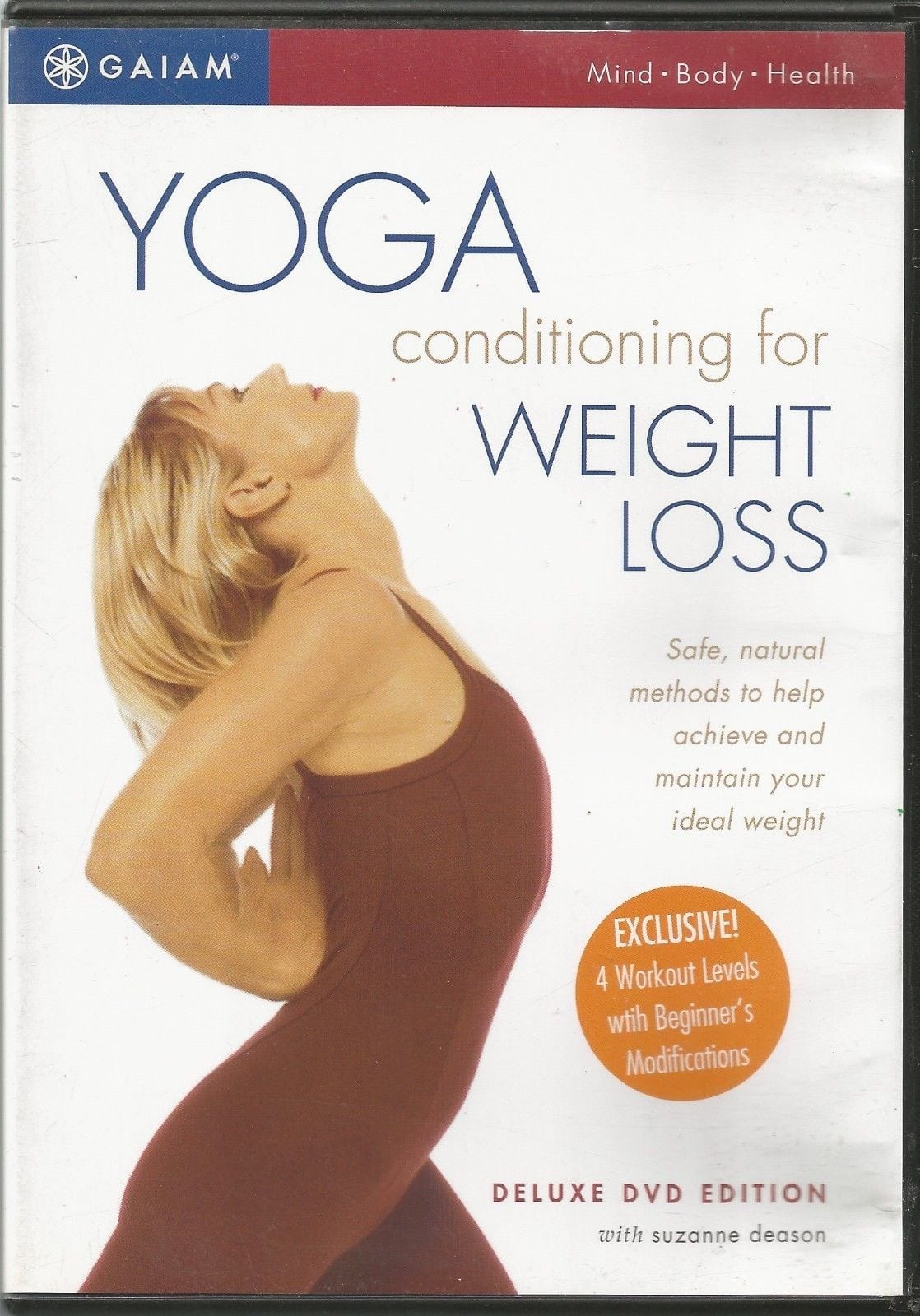 Yoga Conditioning For Weight Loss – Suzanne Deason
This yoga DVD brings back memories. I have been using this same DVD for more than 15 years. In fact, I have purchased it 3 times – once because I loaned it out and never got it back and the second time it was lost in a move. My friend Erin is a Yoga instructor. Long before she got certified and began teaching, we would do this DVD together. We even took a yoga class at our local community college. I have gone through a lot of workout DVDs in my day, but this one has withstood the test of time. I can easily get turned off my the cadence of the instructors speech, or by how they breathe etc. Especially when the workout is supposed to be soothing and relaxing. Once I hear something, I just can't unhear it and the whole DVD is ruined for me. Anyone else like that? Not only is Suzanne Deason an amazing instructor, but her voice is very calm and soothing. I have 6 or 7 of her other DVDs as well. Her Yoga Conditioning for Weight Loss is for all shapes, sizes and fitness levels. There are modifications for every pose. It really is for everyone! Check it out – here. Check out here other DVDs too while you are at it.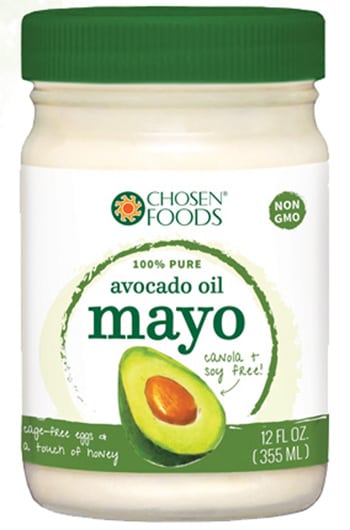 Chosen Foods Avocado Mayo
I don't have a big verbose review on this, except to say that IT IS FREAKING DELICIOUS! I love mayo. Like, I disgustingly love mayo. In an embarrassing fashion. In my pre low carb days I was the girl that said "A little more… ummm…  Just a little more please…. Maybe just a tad bit more." to the pimply prepubescent kid behind the Subway sneeze guard. BUT have you ever looked at the ingredient list on a jar of mayo. There are some crazy ingredients listed. It takes a chemical engineering degree just to figure out how they needed all that stuff to make mayonnaise. Chosen Foods Avocado Oil Mayo is a paleo friendly, clean version of mayo. It just tastes cleaner, if that makes sense. I also love how a good mayonnaise can add a creaminess to a dish and still keep it dairy free. Such a versatile condiment. I think I am done talking about it. I may need to take the next few minutes to pen a love letter to my beloved mayo. 🙂  Check it out for yourself – here.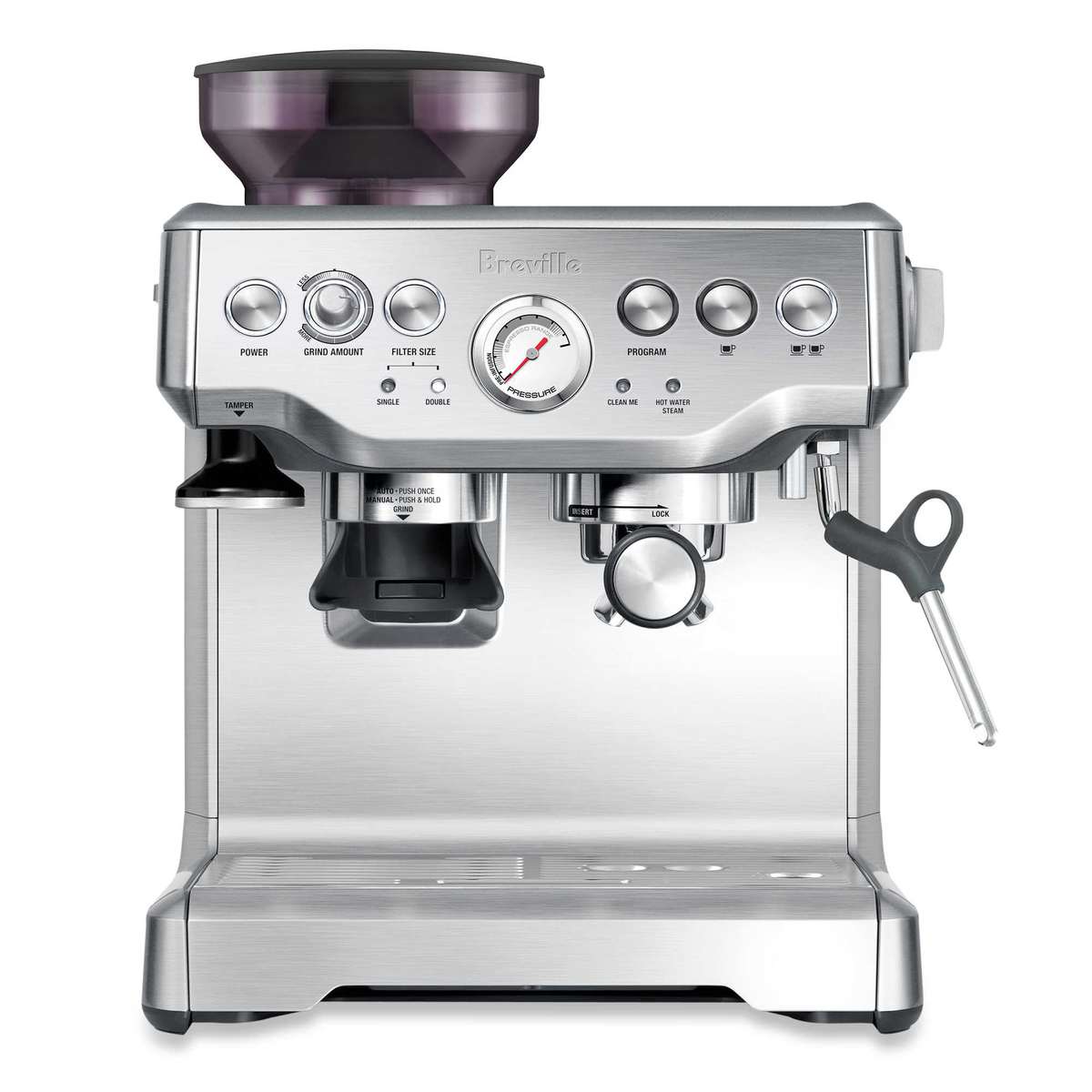 Breville® The Barista Express™ BES870XL Espresso Machine in Stainless Steel 
Okay, this one has blown my mind. I lusted after espresso machines for a really long time. My love of coffee knows no bounds and pretty much warrants having a second job to support it. When we put an offer in on our new home, we decided to buy this Breville espresso machine as a housewarming gift to ourselves. I read a lot of reviews and really did my research while trying to settle on a quality consumer grade machine. While pricey upfront, it has already paid for itself in two short months by eliminating our trips to Starbucks. WORTH.EVERY.PENNY! It makes a nice even pour every time. I am even able to keep my drinks low carb by using coconut or almond milk. Check it out – here.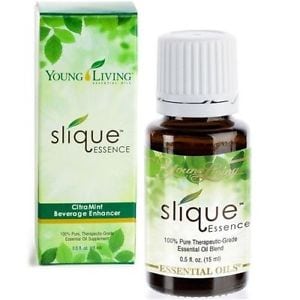 Slique Essence Essential Oil Blend
Slique Essence is an essential oil blend that is a combination of grapefruit, tangerine, lemon, spearmint, and ocotea plus stevia extract. It is unique blend that naturally supports healthy weight-management goals when combined with diet and physical activity. These ingredients work together to activate olfactory receptors and may help suppress appetite and hunger between or during meals. It is effective and I like the taste of it. I don't typically enjoy the taste of stevia but it is very subtle and just adds a tiny hint of sweetness. I add a couple of drops to my sparkling water throughout the day to keep the cravings at bay and to cut down on needless snacking. It has been an amazing tool as I navigate my way through this weight loss journey. You can get it – here.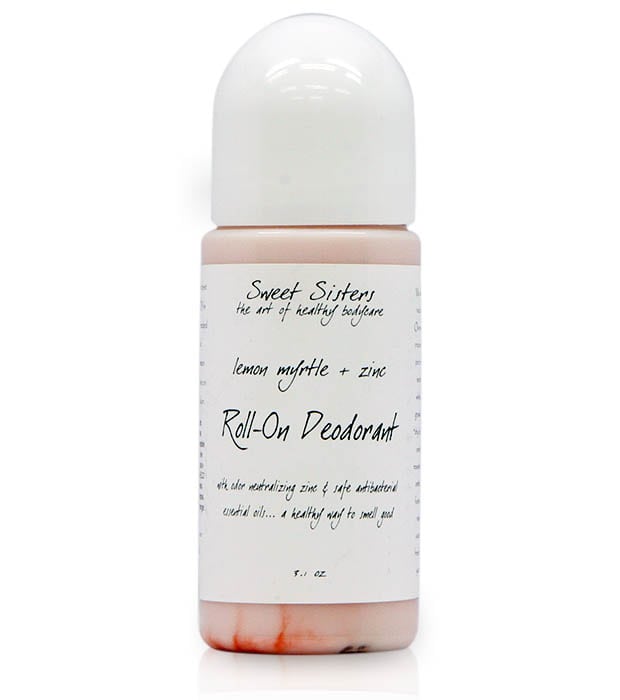 Sweet Sisters Lemon Myrtle Zinc Roll-On Deodorant 
If you read my Week 3 weight loss post, then you probably heard all about my trip to Orcas Island. One of the days we were there it rained all day. We took that as an opportunity to hit up all the boutiques and take in all the gems from local artists and businesses. Let's just say that the rain was not good for my wallet. One of the things I purchased was this all natural, non toxic deodorant. If you have been following my site over the last couple of years, then you have no doubt noticed that I am doing everything I can to clean up my act and switch to a chemical free, non-toxic lifestyle. I frequently make my own essential oil infused deodorant, but am always open to trying new, natural alternatives to commercial products. Lemon Myrtle is one of my favorite scents in the world, so this deodorant immediately caught my eye. I bought a bottle knowing full well that I might never be able to find it again, and also knowing that it might not work for me. Well, both of those things turned out to be false. It works amazing, smells terrific and I was able to find a place to buy it online. I am loving it! Best of all, it stand up to my workouts and keeps me smelling fresh. Grab a bottle – here.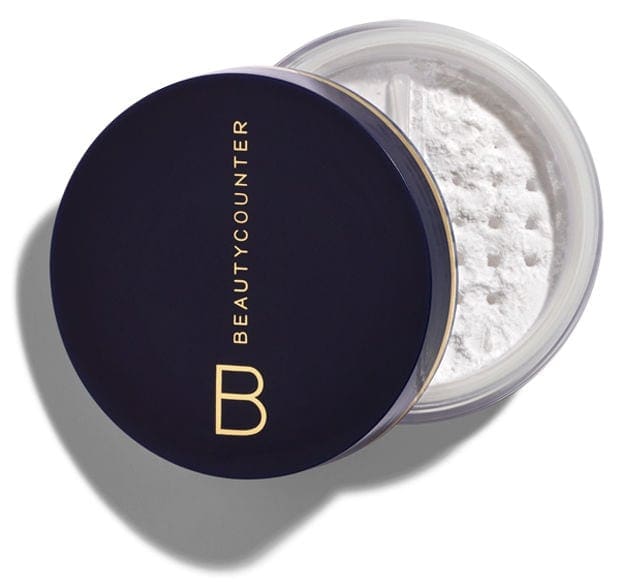 Beautycounter Mattify Skin Finishing Powder
I am fairly new to the whole Beautycounter craze. I silently watched for many months before jumping on board. Their mission to bring safer skincare into the hands of everyone is something to behold. They are definitely a purpose driven company, built on integrity. I can't stress enough how important this is to me. I am a firm believer in voting with my dollars. That being said… Once I decided to jump in, I did so with both feet. I was intrigued by the Mattify Skin Finishing Powder even though I have not worn foundation or face makeup of any kind in more than ten years. (I only wear eye makeup). I don't like my face to look like I am about to bake a loaf of bread on my skin. That means doughy in case you were wondering. I also hate it when someone hugs me and their face is left on my shoulder. Clothes aren't cheap! I ordered it and honestly wondered if it would die a slow death in my product graveyard. I can be kind of a makeup hoarder. I am IN LOVE with it. It makes my skin so even and soft, without giving it a white, caked on powdery look. If you were to ask Jon what the #1 question I ask him while out in public is, he would say "Do I look shiny?" If we were asked that question on a couples game show, we would nail it!! I seriously ask him all the time. I usually follow it up with something like " Are you sure?" or "Are you just being nice"? Girls are so neurotic! This past Saturday we were out and about all day. I applied this before we left the house and never had to reapply it. My face stayed fresh and radiant looking. No greasy shininess. You have no idea what a win this is in my book. Of course there is the extra added benefit of it being an all natural product. Folks, I have drank the Beautycounter juice. If safer skincare is wrong, then I don't want to be right. Grab some – here.
CLICK

HERE

TO PIN