If you are just starting to follow along on my new and improved weight loss journey, I recommend starting with these posts from last year first so you can see how it all began (any text that is highlighted orange is a clickable link) – Coming Clean Post     Week 1     Week 2     Week 3     Week 5     Week 6.  Also, make sure you are following along on Instagram, as a lot of the day to day stuff will take place there.
CLICK HERE TO GO BACK TO WEEK 6…
Starting Date: 8/29/16
Starting Weight: 281 lbs
Current Weight: 261 lbs
Pounds Lost: 20
Goal Weight: 180
Goal Date: 8/27/17
Height: 5′ 9″
Down 7 pounds in the last 2 weeks for a 7 week total of 20 pounds. My food hasn't been perfect by any means. I've had more off days that I care to admit to, but I am still trending in the right direction and that makes me happy. Progress over perfection, right? I'm finding my keys to long term success. I am forging my own path and doing what works for me. I am by no means justifying the poor food choices that slip in here and there. I am just saying that if I kept doing what I am doing right now forever, living an 80/20 lifestyle, then I would be content with where I am in the long run. My all or nothing approach in the past certainly didn't lead to lasting success. This time I am going for sustainable, steady progress.
I really didn't feel like documenting things this week. Sometimes I like just going about my day and doing my thing. BUT, I know that if I let the accountability and documentation slip, that bad habits will inevitable creep back in little by little. That is what happened last time. I need to keep documenting my journey to stay accountable for my choices and help make these new habits stick. Plus, I know that many of you are counting on me for motivation and inspiration and I want to help as many people as possible through sharing my story.
Last week was a great week. I just felt really good. I got my workouts in. I ate well. I felt good in my clothes and things just felt light. In my workout book there is a spot to rate your sleep, nutrition, mood etc. I was just looking back at last week and every day I circled "good" for my mood. I'd say it was a GOOD week. 🙂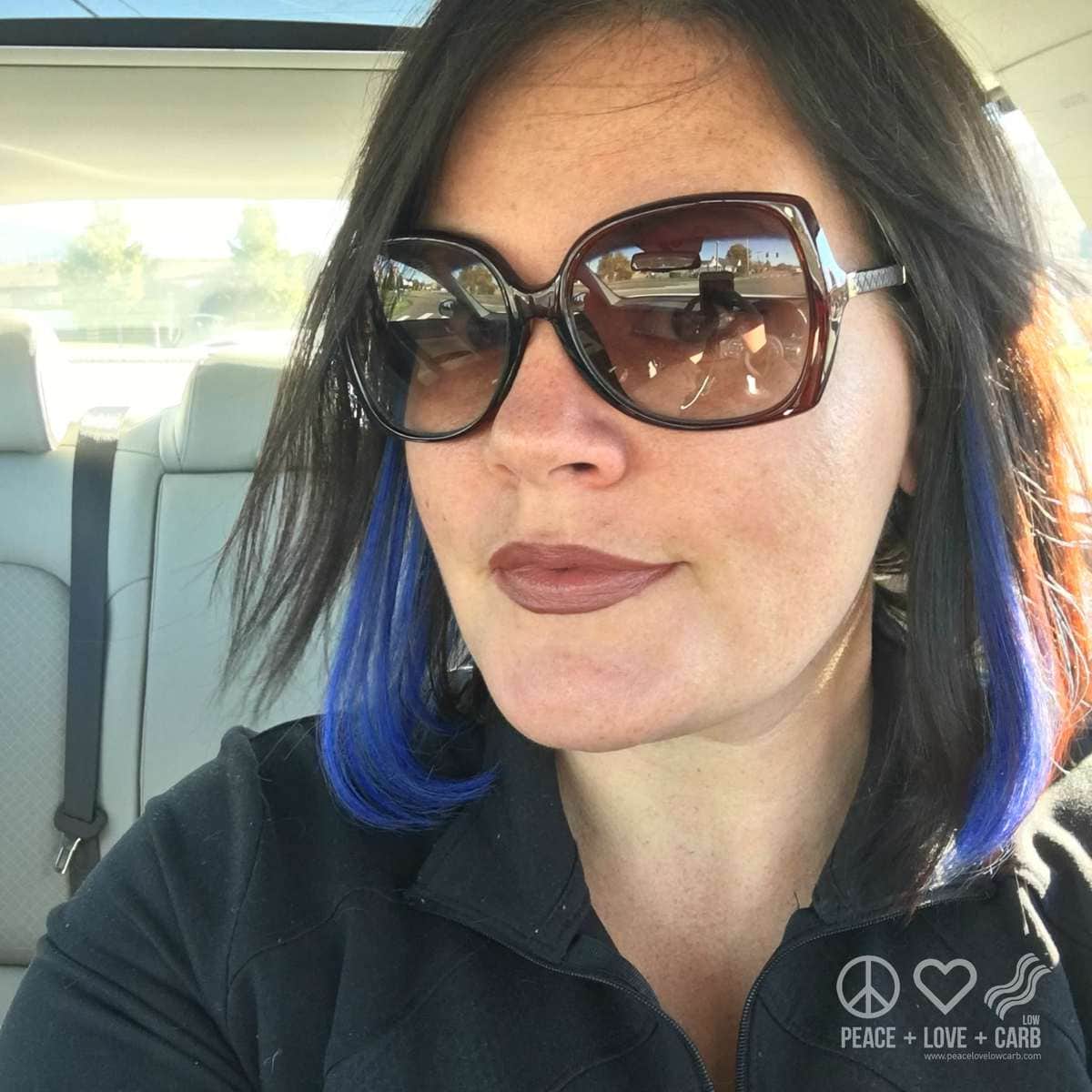 Sooooo, this happened! I say that like it was random, but it has been a long time coming. This was my first session of three or 4. There is a lot of symbolism and meaning packed into these colors. I will share the meaning behind it all once it is finished.

MONDAY 10/17/16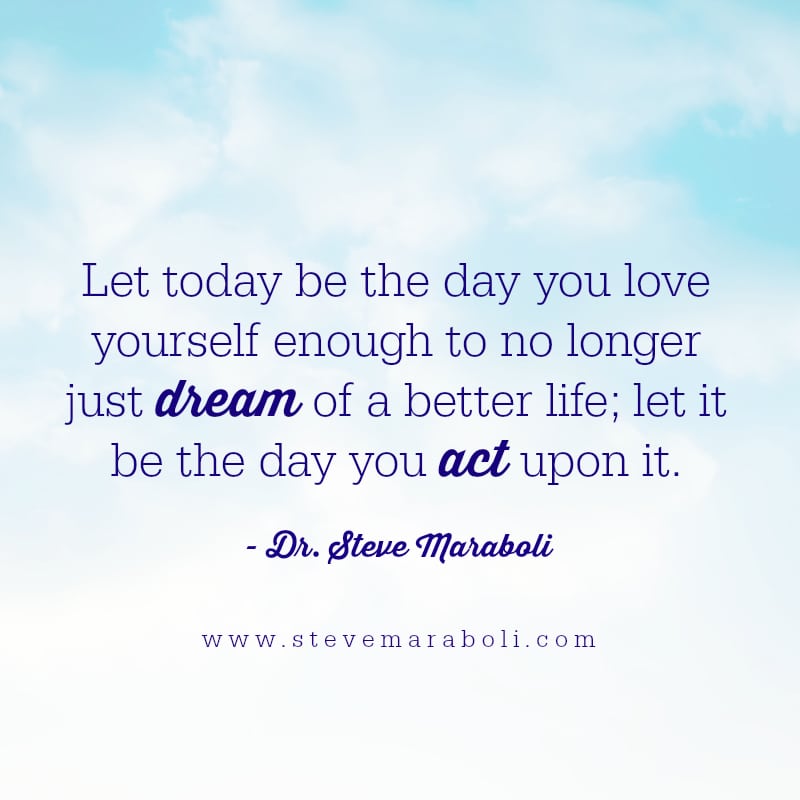 Daily Gratitude: 
Today I am thankful for my friend Hayley. She loves with her whole heart, more than anyone I know. She shows up for those she loves and always does her best to let people know that they are important to her. She is the kind of friend you can reconnect with after a long time apart and it is as if no time has passed.
Daily Reflection:
Since the start of this journey I keep thinking about what it means to be authentic. The word authenticity gets thrown around a lot, without any real meaning or thought behind it. What does it mean to live an authentic life? What does it mean to be authentically, unapologetically YOU? For me personally, I have landed myself in ruts where I was living the lives and dreams of others. The lines were blurred and I thought I was living my own dreams. I don't think that makes me disingenuous or inauthentic, but it definitely gives me pause. I see now all the times that I censored myself or put myself in a box. Doing so robbed me of my authenticity and those innate characteristics that make me uniquely qualified to fill my own shoes. Without even realizing it, I was keeping up with the Joneses. I don't even know the Joneses. Why was I trying to keep up with them? It is so easy to compare yourself to others and end up adapting and modifying your behaviors, beliefs, goals and ultimately your path in life. I see now all the ways that this contributed to my unhappiness, which contributed to holding onto the extra weight. I've talked A LOT in my previous posts about the mental side of the weight loss game. This is just one more piece of it. I finally feel like I am seeing things clearly and living my authentic truth. Recognizing this space and continuing to stay here will be an every day process. I think it takes work and constant growth to unapologetically be yourself without fear, shame, guilt, or societal pressure. Here's to putting in that work!
Eat All The Foods:
This has been my go-to breakfast over the last couple of days. Sausage, pastured eggs cooked in grass-fed butter and fresh mozzarella. YUM!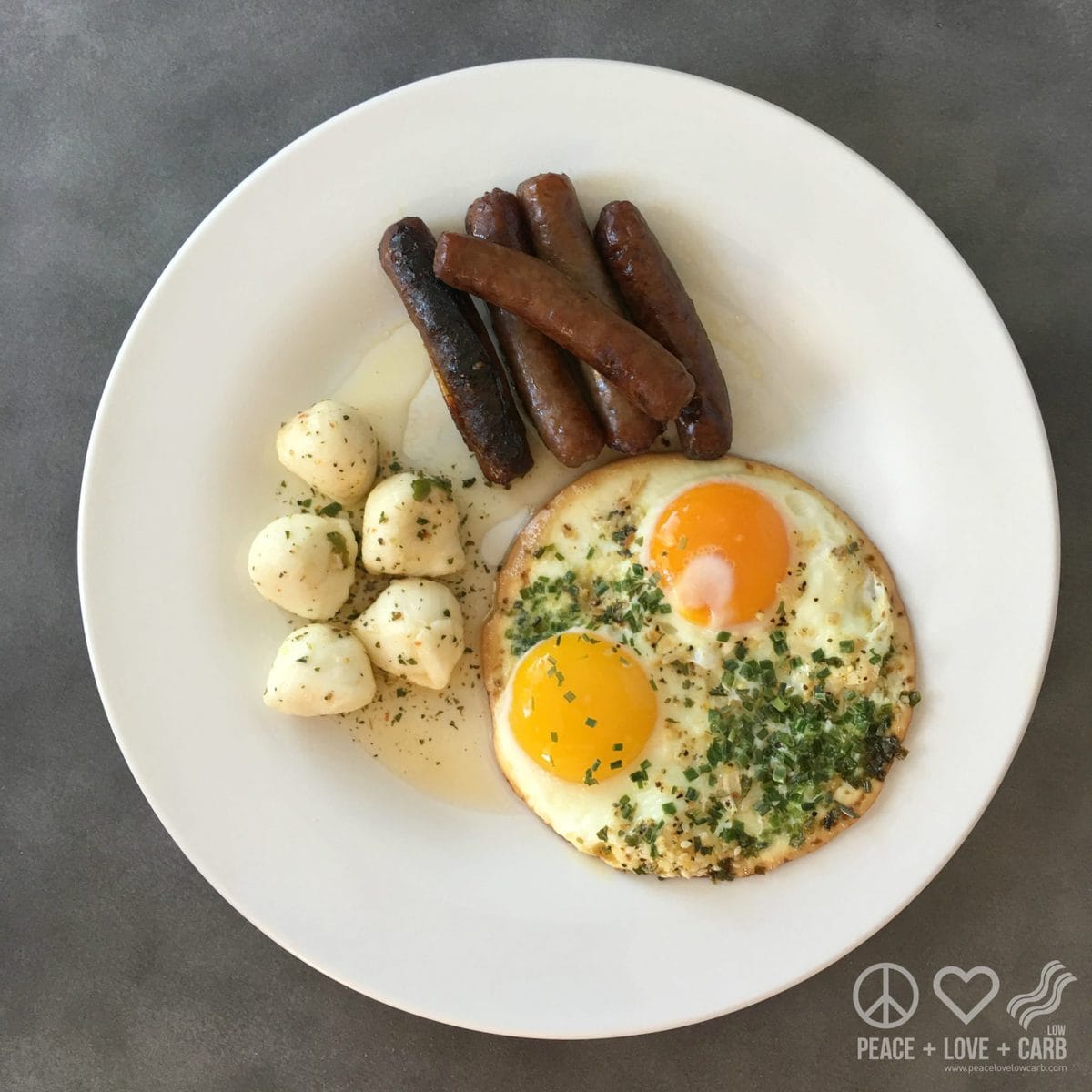 We have been eating a lot of leftovers the last week or so. I have been back in the kitchen working on some delicious new recipes. I can't wait to share them all with you. Of the new recipes I have been working on, this Chicken Cordon Bleu Lasagna is probably my favorite. It was a big hit with Jon and the kids too.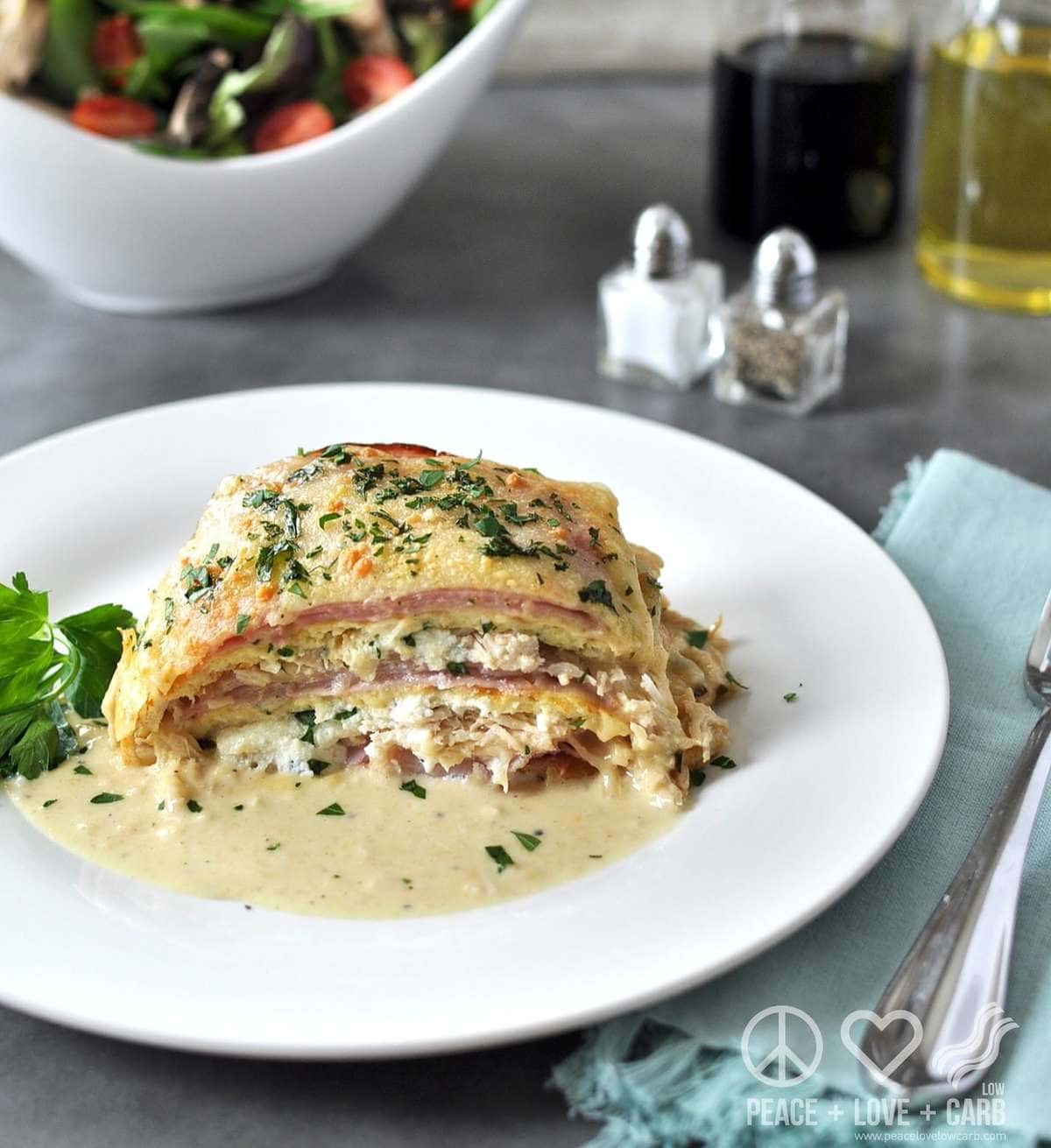 One of our favorite quick and easy things to eat is ground meat (beef or turkey) with vegetables, garlic, tomato paste and a little dijon mustard. It might sound like an odd combination, but trust me, it is DELISH!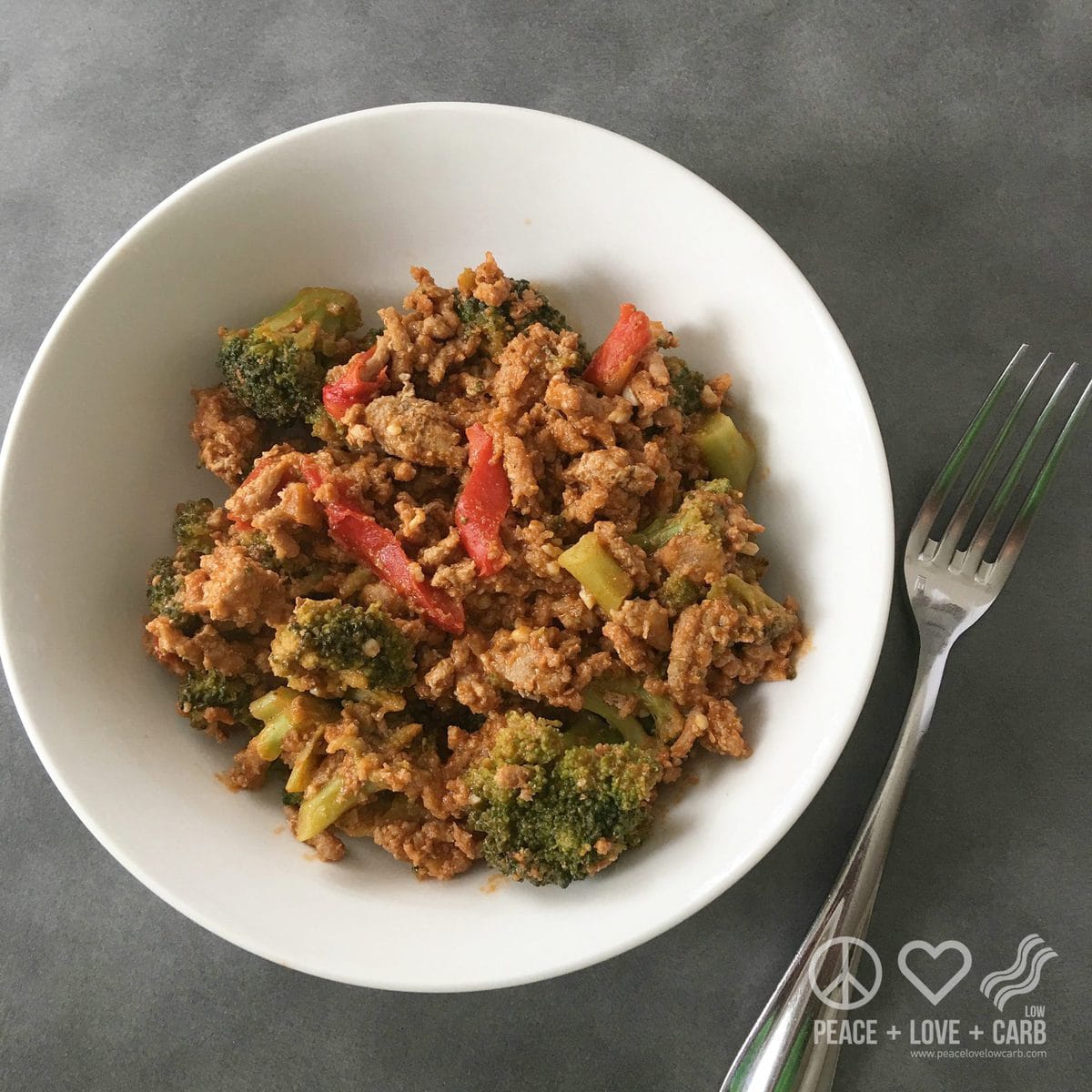 Staying Active:
Today was a great workout. I love our new gym more and more each time I set foot in there. It is everything I wish my first Crossfit gym would have been. Finding a place that feels like home makes all the difference in the world. I am definitely finding my fitness mojo again. I wake up excited to go to the gym. It has become my favorite part of the day. I love being able to workout with Jon also. It feels good to have him by my side. We are always better together. Finding our way back to fit together is no exception. #goteamholley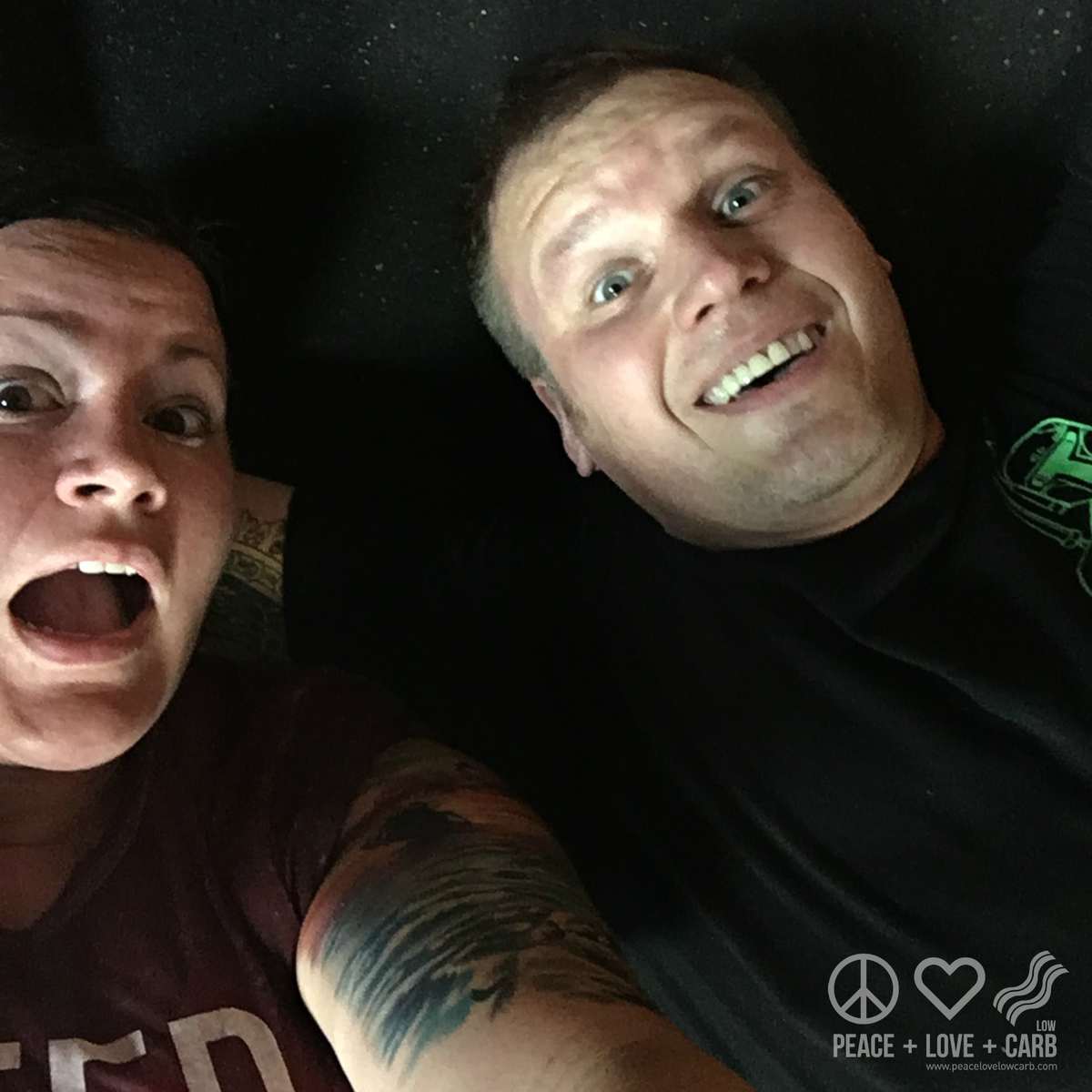 Today was a sweaty one! Well for me, they all are. Actually, I feel like I have been sweating more than ever before. Like an embarrassingly, not normal type of sweating. I have been upping the amount of essential oils I use for hormonal support to see if it helps. However, if I am going to get sweaty anywhere, I definitely want it to be the gym.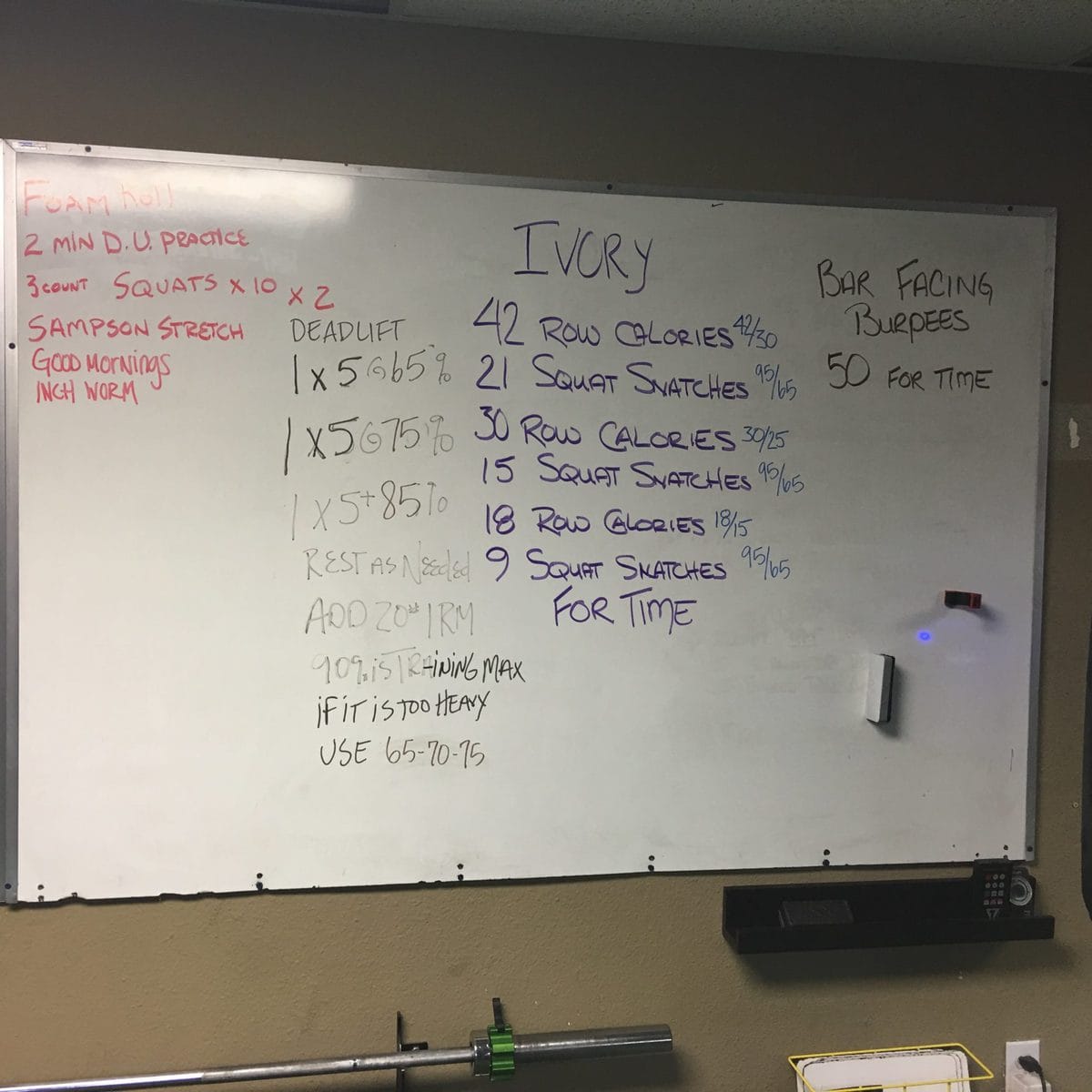 I felt really good today. I like setting my intentions for the week and starting my Mondays off at the gym. G.I Joe says that "Knowing is half the battle". I say that starting Monday off with the right tone is half the battle. The week is all downhill from there. We are starting week 1 of a Wendler powerlifting series. Today was deadlifts. I am loving seeing where I am now versus where I was two years ago when we left our old gym. Surprisingly, my lifts are not that far off from where they were. I love surprising myself. It keeps me going and makes me want to work even harder.
Wendler Deadlift – add 20lbs to 1RM – 90% training max.
1×5 @ 65% – 1×5 @ 75% – 1×5 @ 85% 160/185/210

Followed by a rowing and squat snatch workout. I was worried about how my form would be on my squat snatch since it has been so long since I have done them. It felt like riding a bike. I surprised myself. I felt like my form was actually better on this move than it ever has been. It felt good to show up and do work!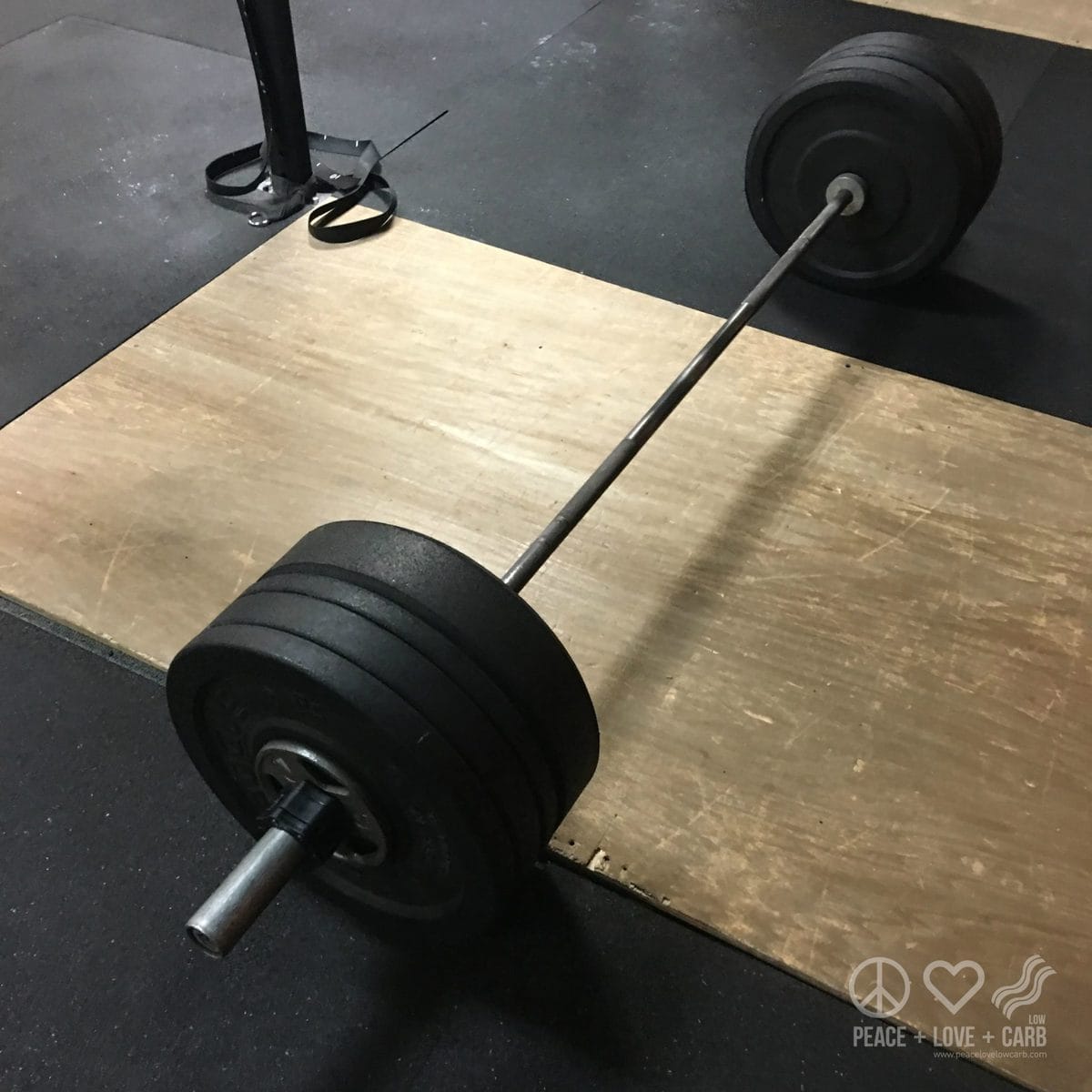 TUESDAY 10/18/16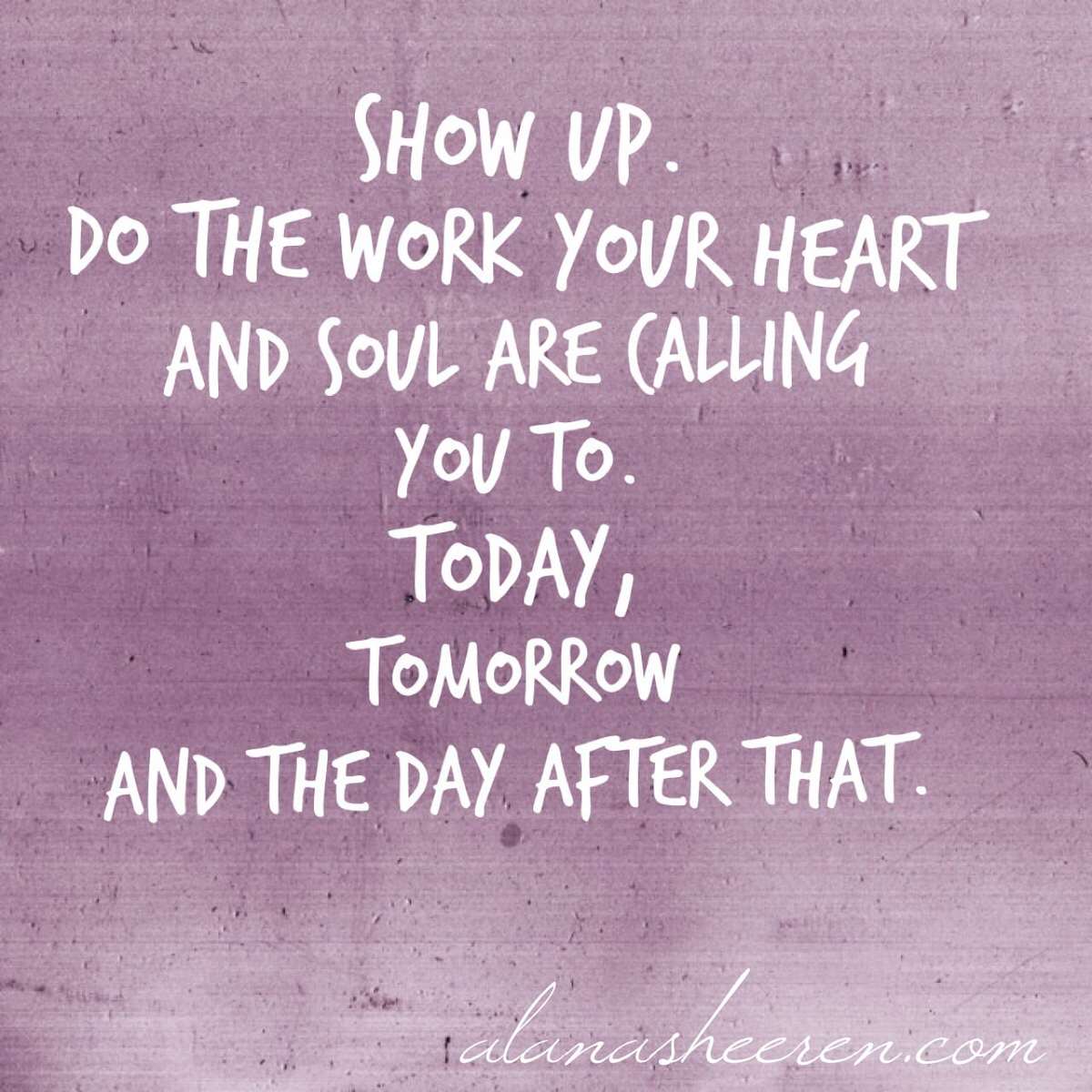 Daily Quote:
"Continuous effort – not strength or intelligence – is the key to unlocking our potential. – Winston Churchill
Self Care Check-In:
Self care isn't always about beauty and pampering, but it was today. I have been so focused on hitting the gym, that I was feeling a little less than girly. My hair had more grays peeking through than I have ever allowed before. My nails looked wretched. My skin was begging for some hydration. It was definitely time to spend some time pampering this body.  It's important to me to not let these things slip.
Eat All The Foods:
I love repurposing leftovers. I took the leftover meat and veggie dish, added some eggs and sausage to it and called it breakfast.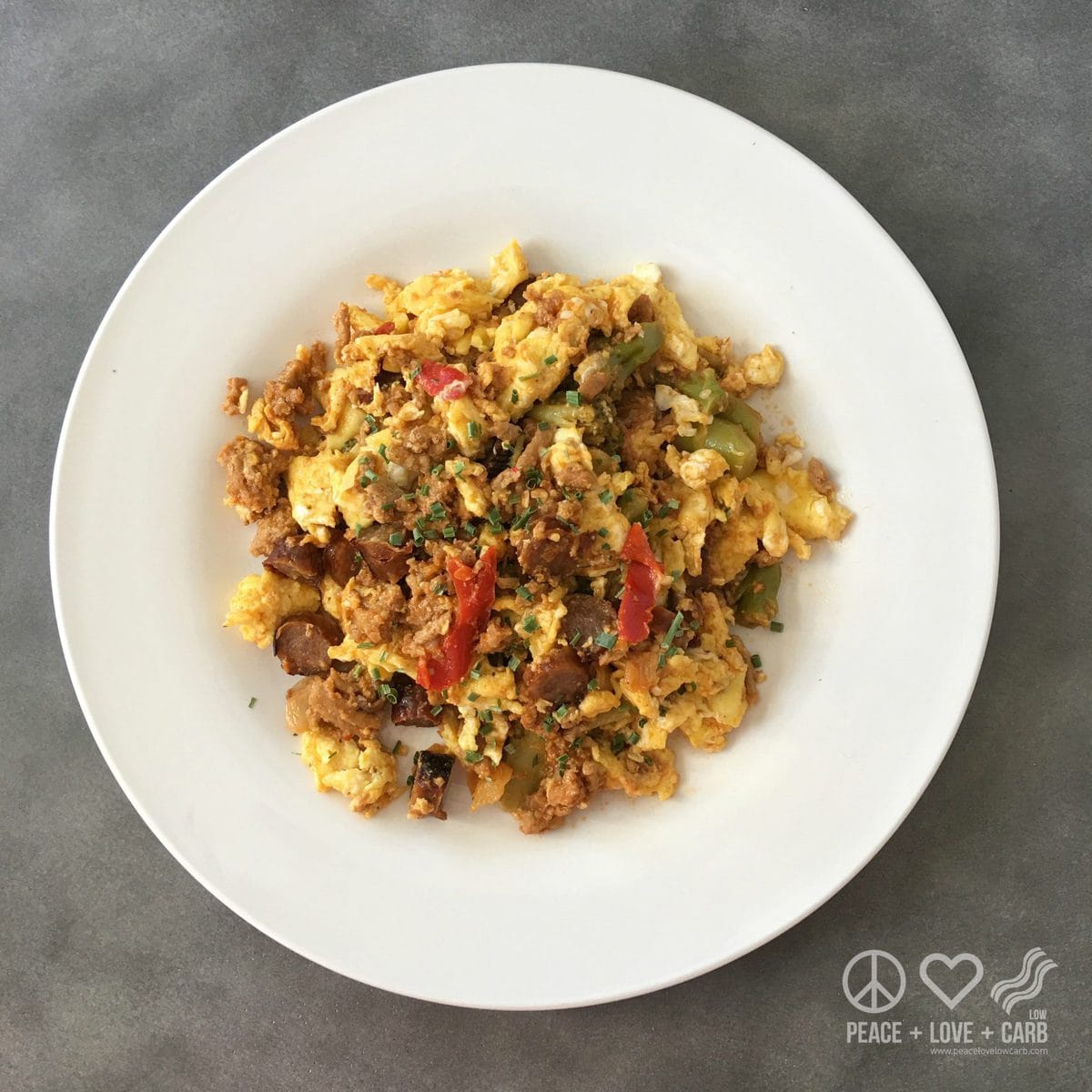 Dinner was paying homage to one of our favorite dishes at a local restaurant. I was working on my own version of it today for a new recipe. I love the way it turned out and there is enough to eat for the next several days. Win!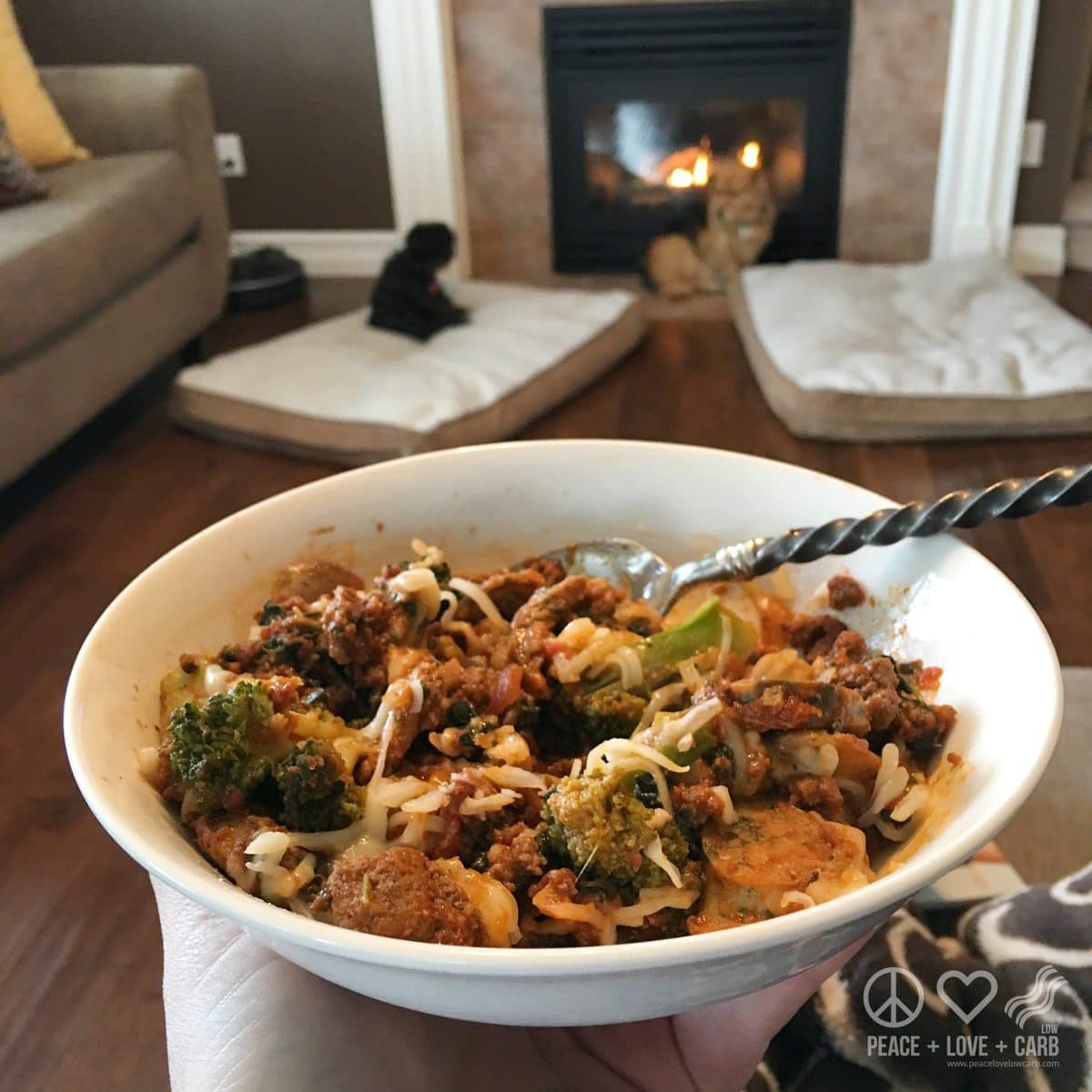 Staying Active:
At the gym this morning we worked on thrusters – 5 sets of 5, building up to a 5 rep max. I got up to 90 pounds. My form could have been better, but it felt good to go through it. Thrusters give me flashbacks of the workout I did the weekend I got my Level 1. It was a burpee/thruster workout and I thought I was going to die. Everyone was watching me and cheering me on and I felt like I was working out in quick sand. It was awful. Todays thrusters were not nearly as traumatic. 🙂
Later in the day I took my bestie for a quick bike ride to get the mail and take in all the beautiful fall colors. This is my favorite time of year in Washington. It passes all too soon.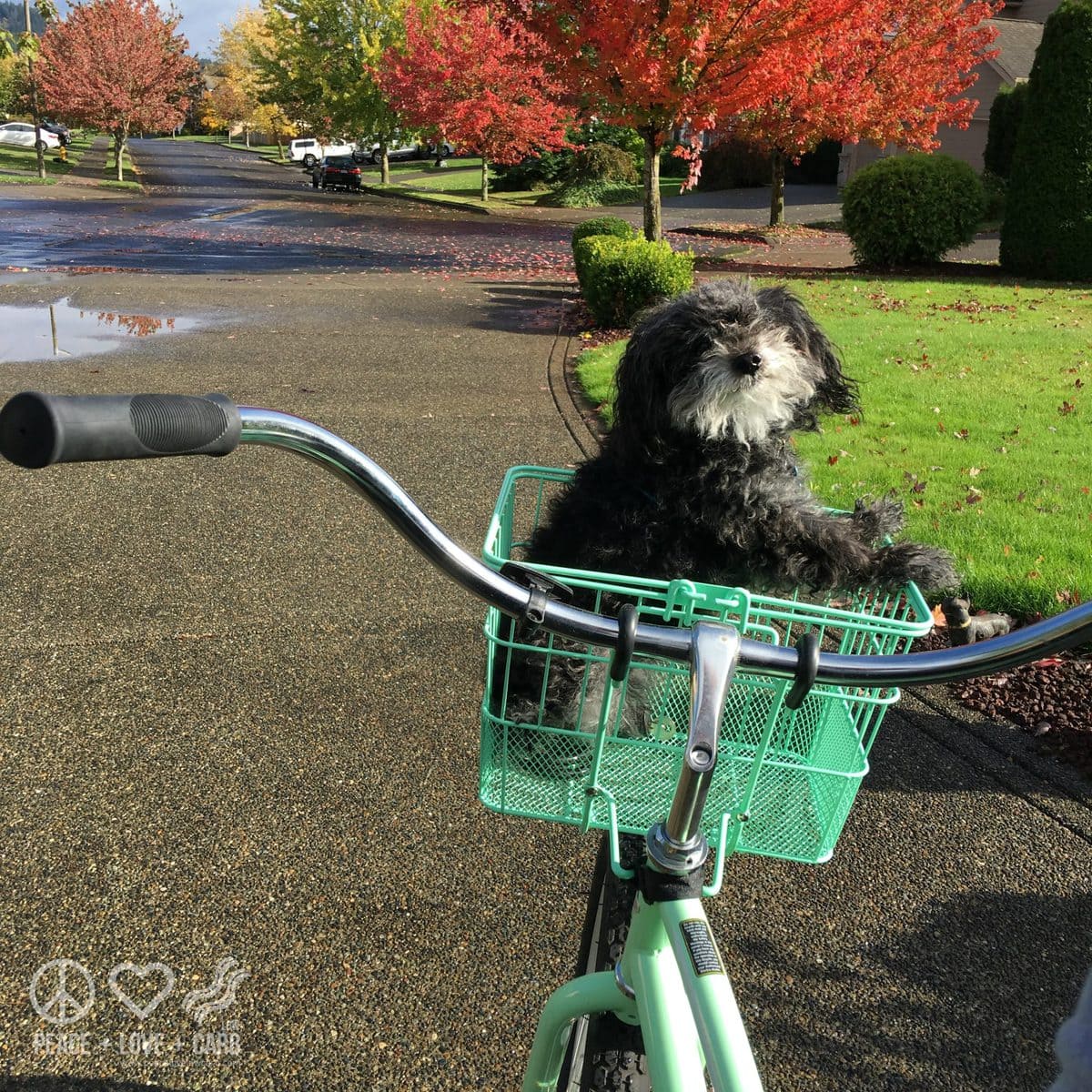 THURSDAY 10/20/16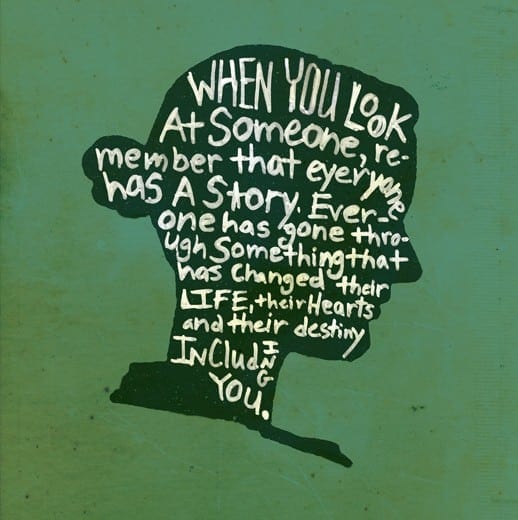 Today is not my typical entry. But today was not a typical day!
Have you ever had one of those moments that just takes your breath away? … and I'm not talking about the good way. Not the kind of loss of breath you experience when you realize that you might have just met the love of your life. It's the kind of lost breath that takes the wind out of your sails and makes you feel like you just fell through a trap door. That happened to me today. Honestly, I think I am still processing it. It is the sort of thing that has everything to do with my excess weight and nothing to do with my excess weight all at the same time. Some deep rooted emotional baggage that lives in the dark parts just beneath the surface of my rough exterior. The demon that lays in wait, hoping to feed on my insecurities and catapult the dark parts above ground at a moments notice.
We all have our stories… and this is a small part of mine.
Let me set the scene for you. Today was a big, important day. A vibrantly energetic and exciting day. (More news on why later) The kind of day that gives you a natural buzz. A buzz that can only be rivaled by copious amounts of dark roast coffee. I was vibrating with joy the moment my feet hit the floor. You see, I've been in a pretty good place lately. Feeling motivated. Staying positive. Making strides. Chasing my passions with a fervor I had only imagined before. I woke up excited to hit the gym  and then tackle the rest of the day from there. My workout was good. Not my best, but it was good and it felt damn good! After the gym I was rushing home to get showered (even though I was sweaty enough to look like I just showered), cleaned up, grab a cup of hot coffee and get ready for an important conference call. (More news on the call later). I got all settled into our big cozy chair with my laptop, a pen and paper and a cup of coffee in my favorite Yoda mug. I had about 15 minutes until my call and I was killing time and nervous jitters by watching a cooking video that one of my blogger buddies posted. 5 minutes until the call. 4 minutes until the call. 3 minutes until the call. 2… and then it happened. An alert on my screen as I was picking up my phone to hop on my call. It was a Facebook friend request. I saw the name… and then… TRAP DOOR! I felt light headed, my face got warm and flushed and my heart was trying to beat its way right out of my chest and onto my phone. I didn't have time to process what my eyes were seeing because it was call time. I swallowed my emotions, right along with that last swig of coffee and dialed… (Sorry for the cryptic talk of this magical call, but I promise to tell you about it when I can. For now, just know that some exciting things are on the horizon.
After about an hour on the phone, I finally hung up and had time to process what had happened only a mere hour earlier. That friend request was from my biological father… the emotional baggage that lives in the dark parts. I have shared a lot of myself on this blog, but I am about to share a story that not a lot of people know. The story of how I came to be here and the story of how I am a girl without a father. The story that defines me as much as it doesn't. The story that I could have led guide me down a path of self-destruction and social deviance or taken me down a path of self empowerment, breaking the cycles of the past generations. Thankfully the fork in my road took me down the latter path. It doesn't take an expert in the field of psychology to know that this is also the story of my weight problem and how emotional baggage became decades of physical baggage.
I'm gonna go deep here and start from the beginning. Late in the summer of 1978 a little girl would be born and given a name that everyone would spell and pronounce incorrectly for the remainder of her life (haha. I couldn't resist :). I had a happy childhood. We didn't have a lot, but we had just enough. My parents did their best to make sure that I had a happy childhood, knew I was loved and for the most part, did not go without. I didn't have all the fancy clothes and toys that my friends had, but from a pretty early age, I already knew that none of that mattered and I didn't need it. My parents were not perfect, but they definitely tried to be the best parents they knew how to be at the time. As a parent now myself, I realize that you wing it through this whole thing simply trying not to fuck up your kids and to do moderately better than your own parents did. If this trend continues, then at some point generations down the line, there will only be perfect parents, right? If only!
I was a happy child. I was a happy teenager… for the first few years of my fumbling prepubescent years anyway. I was a daddy's girl through and through. I worshiped him. I would follow him around and wanted to be a part of everything that he was doing. He knew all my secrets before my friends did. He was my best friend. My mom used to tell me that when I was a baby and I would be in a crying fit that he was the only one that could sooth me. He would walk the floors with me and I would stop crying in his arms. She said it was infuriating that after that many hours of labor, I only wanted to be with him. Not a lot changed from birth to the teenagers years. That father daughter bond only grew stronger.
I'll never forget the day my entire world as I knew it came crashing down around me. I still remember it clear as day 23 years later. I was 15 years old. My parents told me that they had something they needed to talk to me about. They sat me down and they told me that my father wasn't my father. That the man before me was not the man that contributed to my being on this earth. I knew that he was not my older sister Pamela's father, but nothing ever clued me in to the fact that he might also not be my father. Their logic was sound. They told me that if they had told me sooner, I wouldn't have understood and that if they had waited any longer to tell me, I would only have resented them more. Even at 15 years old I remember questioning if it really even mattered. After all, the father in front of me was the only father that I had ever known. He raised me as his own. I instantly wished they hadn't told me. I wanted to go back a few minutes and keep living my life as I knew it. Unfortunately, there was no going back.
They asked if I wanted to meet him. They also let me know that I had another sister. A younger sister, Leanna. A younger sister by only 8 months. Let that one sink in. A sister that had known about me her whole life and desperately wanted to be sisters. I also found out that there were more siblings. To this day, I still don't have an exact count. The first 15 years of my life, I only had one sister. For the rest of my life after, I had two sisters, not related to one another at all. Imagine the relationship issues that caused. I met my sperm donor for dinner and a formal meeting. I remember that he brought me roses and told me that he had loved me my whole life. He told me that he used to park and watch me play. I remember nervously looking down at my hands, afraid that I might shatter into a million pieces if I looked up. I remember that I really loved the croutons at the restaurant we were at, but that I was too nervous to eat. I knew that he was really tall and that he had a lot of tattoos. That is pretty much all I knew about him by the time we left. I never saw him again.
I spent what felt like that entire summer getting to know my new sister. We were instantly connected in a way I couldn't describe. Our lives had run pretty parallel without ever knowing each other. We looked quite a bit alike. We liked most of the same things and we even had the same mannerisms. It was exciting, scary and emotional all at the same time. At only 15, I couldn't have predicted all the emotions that would come from this new relationship and the 15 years of secrecy that went along with it.  I couldn't have predicted the new emotions that would continue to unearth themselves even today in my late 30's. It is such a mixed bag of feelings. In some ways I dodged a lot of bullets. In other ways I simply feel robbed. Leanna and I should have been allowed to grow up together. We should have been able to know each other. I didn't know she existed and she knew that I was out there but that she couldn't see or know me. We could have really helped one another. Her childhood was not great. That is putting it mildly. It was one of great turmoil, upheaval and abuse. But that is her story to tell, not mine. Our biological father cheated on both of our mothers. There is a good chance that we were conceived in the same bed. My mother left. Her mother married him and they had a second child. A boy. My brother. Another sibling that I would never know. What transpired over the next 15 years was a secret life of lower-middle class for me and a life filled with absent, drug and alcohol addicted parents for her. So as much as he was never my father, he was never really much of a father to her either. See, I dodged a bullet. Or did I? What if I could have made her childhood better simply by us being together? What if we could have undone some of the mistakes of our late teens and early 20's if we had been able to influence one another growing up. What if we both had a better sense of self worth? What if? I'd like to say that we made up for lost time and have never been separated since… But that would be a lie. There are some large gaps of time in our relationship between 15 and now. That is a story for another time. Let's just say that there is a lot of emotional baggage that comes along with finding out that one of the people that brought you into this world never gave a crap about you. That they never contributed anything to your life except for half of your DNA. It spills over into everything. It certainly spilled over the waistline in my pants. It has been a dark cloud over every relationship in my life. I am programmed to subconsciously believe that everyone leaves. I've gotten better, but some wounds just have really deep roots. Leanna and I are very close now. So close in fact that I think she may be the only person on this earth that really knows me. To my core. She knows me, because she is me. The older we get, the more alike we become. We  uncover and process all the things that have contributed to the people we are today. There is a lot there, but we continue to work through it together. Iron sharpens iron. Together we are stronger than our story.
This is my beautiful sister and I earlier this year on a weekend get away together.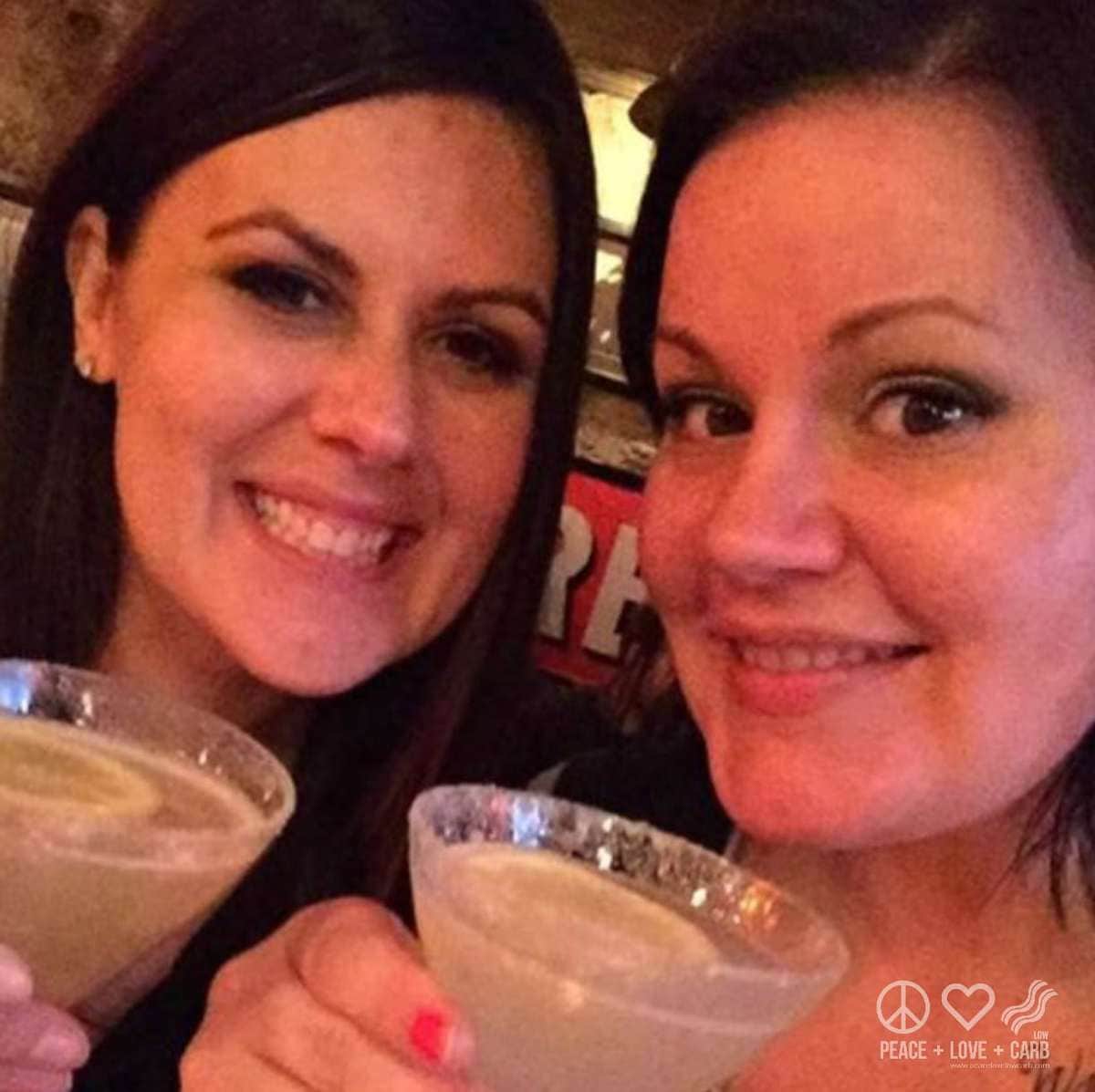 These are pictures we sent each other one random, silly night. Crazy how much we look alike here huh? The older we get, the more we look alike. The more we are alike.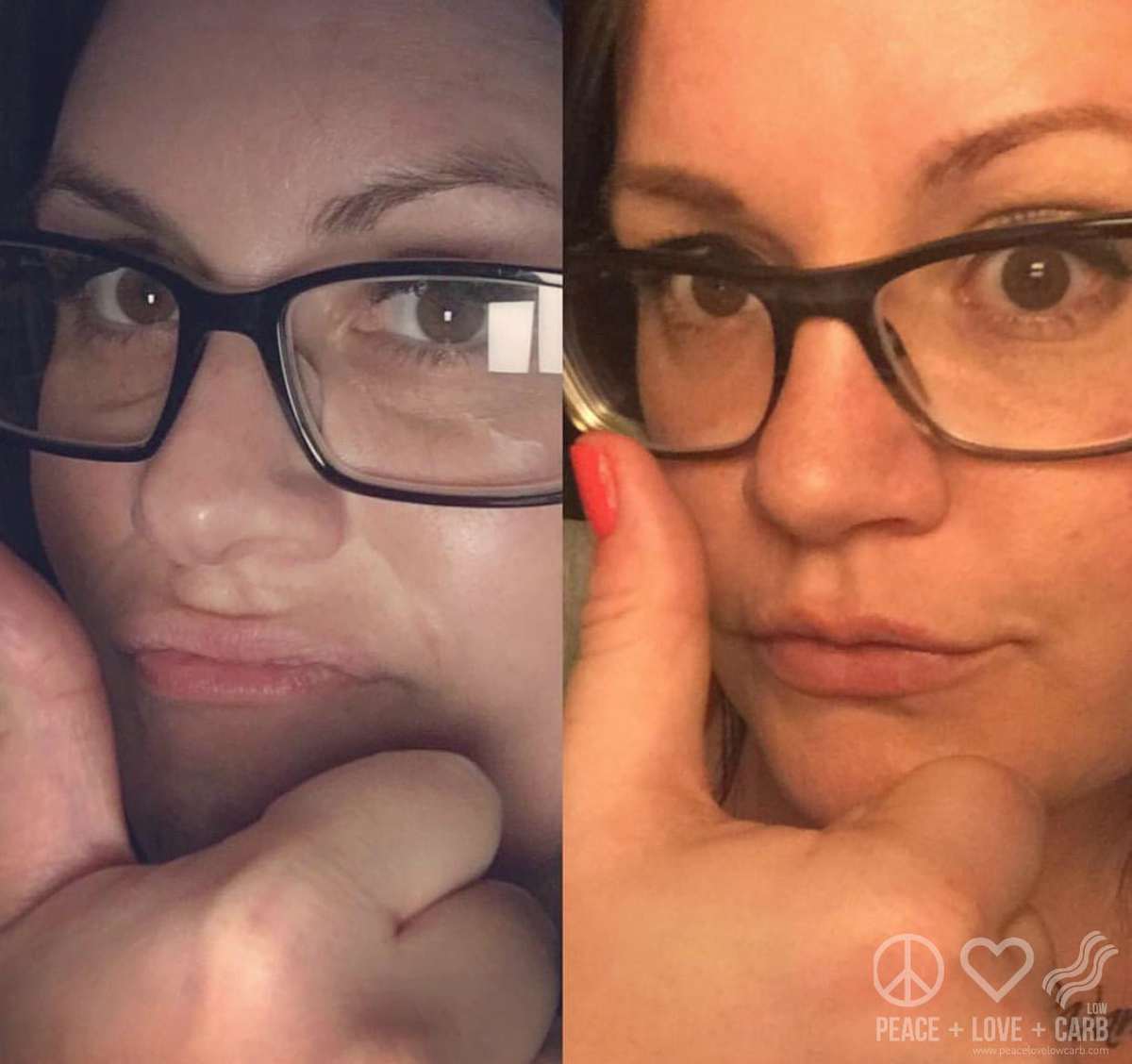 If you are still reading this, you might be wondering what happened to the father that raised me. You know, my best friend? Well, he left too. He cheated on my mom. He was cheating with a woman who was also married with children. They decided to leave their spouses for one another. Only he left his family. She did not. He filed for divorce from my mother and then things just went downhill from there. He used me as a pawn in his sick game with his lawyers. Whoever I chose to live with in the divorce got our family home so that I could stay in the home I grew up in. Imagine that burden. A 16 year old child choosing between her parents and knowing that a house was on the line. I chose to live with my father. I was just closer to him. Like I said, a daddy's girl through and through. I was just young enough and disillusioned enough to believe that things wouldn't actually change that much. I would get to live with my dad and stay in my home and I would still see my mom whenever I wanted. I could not have been more wrong. He began staying with his new girlfriend. It was just here and there and first and then he just stopped coming home. I was 16 years old with a house all to myself. I started throwing parties and falling in with the wrong crowd. I was drinking a lot, experimenting with drugs and just being generally unwise in my choices. I had no parental supervision. I was doing whatever I wanted. I didn't know it at the time, but he never paid the mortgage again after he "won" me and the house. The house foreclosed. I moved in with my mom and he moved in with his new family. Over the next couple of years I only saw him here and there. I kept trying to connect and he just kept blowing me off. This man. The one that raised me. The one that knew all my secrets. The one that I chose. He was just done with me. He was still my dad in my eyes, but I was no longer his little girl. I was just the daughter of his ex-wife. After the divorce, I didn't only lose him, I lost his entire family. My aunts and uncles, my cousins, my grandparents. They always knew that I wasn't his child. After they were divorced, they wanted nothing else to do with me. 16 years of birthdays, Thanksgivings, Christmases and they just wrote me off. A child. At my great grandmothers funeral, my sister Pamela and I attempted to hug our grandma (The father that raised me – his mom) She put her hand up to stop us from moving forward and said "I have nothing else to say to you" I never saw any of them ever again. On my 18th birthday I called my dad to see if I could spend the day with him. He asked me what I wanted. I was confused by his question because all I wanted was to see with him. I asked him what he meant. He said "Well you must want something. Why are you calling me?" I had never asked him for anything. Unless love was too much to ask for. I joked and said " What do you mean, what do I want? I could be out buying cigarettes and lottery tickets, but instead I want to see you." What happened next lives in my "What if?" archives with so many other questions. Being an 18 year old kid, I said "Fine, I'll never call you again." We hung up and I assumed that it was just another father / daughter teenage spat. I never heard from him again. This past August was the 20 year anniversary of that day. I'm to a point where I don't think about it much, but some days still cut like a knife. For some reason my 38th birthday was one of those days.
Some people get rejected by one father. I was rejected by two. That can really fuck up your sense of self-worth. If I think about it too much, it makes me feel unloveable and disposable. One father that planted his drug addicted, mentally ill seed all over town and one that raised me and then decided I just wasn't worth it. Two fathers and yet I still didn't have one to walk me down the aisle. No one that knew my life story and watched me grow up and flourish. No one to hand me off to the man that would be the most profound man for the second act of my life. I am wise enough to know that it is them that truly missed out. But knowing that to be definitively true doesn't take the hurt away.
I turned out fine. In spite of everything I just wrote. Perhaps even because of it. Would you believe me if I told you that what I gave you want only the cliff notes version? There is so much more to tell. Maybe some day I will write a book about my life and not a book about recipes.
So yeah, getting that friend request from my biological father less than two minutes before a really important call kind of shook me to my core. He doesn't get to know me. He doesn't get to see the woman that I have become. It is not his right. He gave up that right the moment he chose not to be my father. He lost any say the moment he chose drugs, alcohol and infidelity over the precious lives of multiple children. As if 38 years later I would just accept a friend request on FB. It is almost more insulting than it is hurtful. I searched his face for any glimpse of myself. A dimple. A look. One single feature that told me that is where I came from. I couldn't find one. Maybe it was hidden there under all the years of abuse he has put his body through. Who knows? I can tell you one thing for sure… Beyond that lingering glance at his online photo, I am not searching for anything else. I get to write the next chapter of my own book. He is not a character in that book. He can continue to live in the dark parts just beneath the surface of my rough exterior.
I am proud that I am not an emotional eater. I took some time to process it. I talked with Leanna for about an hour and a half. I cleaned up. I wrote about it. The end. Tomorrow is a new day. Tomorrow I will wake up proud of the woman I am and keep moving forward.

FRIDAY 10/21/16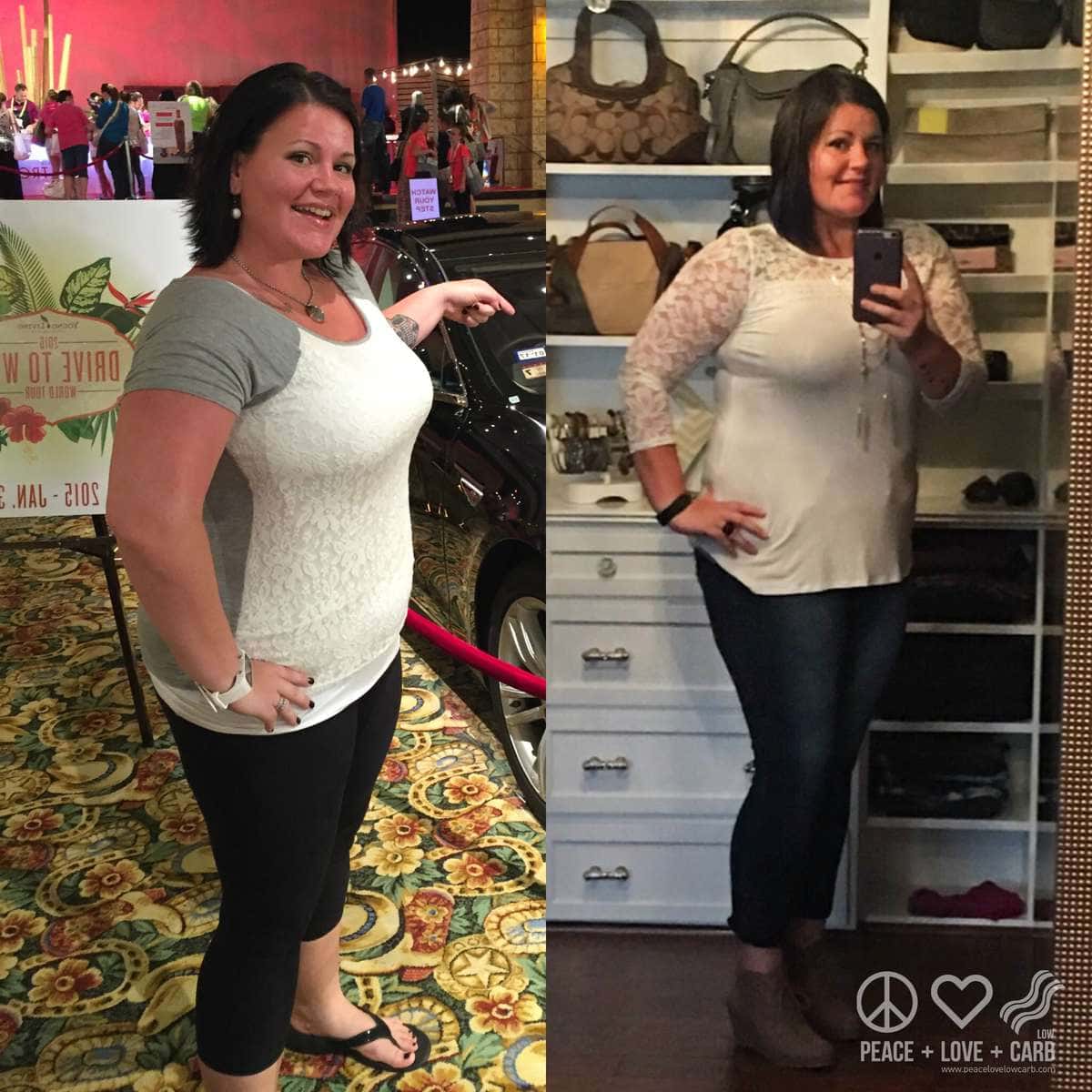 Daily Quote: 
"At the end of the day, it's important to know what really matters most in life…your sanity, your health, your family, and the ability to start anew." – Les Brown
Daily Reflection:
I was looking at some "before" and "during" pictures. I'm realizing that I don't have a lot of pictures of myself at my heaviest because I deleted or untagged myself from any photo that I thought made me look fat. As I go through this weight loss journey, I have promised myself that I will not delete anymore pictures so that I can have a record of how far I've come. I'm only on the beginning stages of this massive weight loss, but I feel better every day. Side by side pictures like the one above help me on the days when I feel like I haven't progressed as much as I would like.
Self Care Check-In:
With the thrusters, deadlifts, squat snatches and rowing we did this week, I am feeling muscles in my body that I haven't felt for a while. While it feels good, I am also sore. Cool Azul, Breathe Again and Deep Relief have been my best friends this week. They live inside my gym bag. I would never want to be without them. The Cool Azul and Deep Relief to help with my sore muscles and the Breathe Again to help keep my sinuses clear and help me breathe deeper.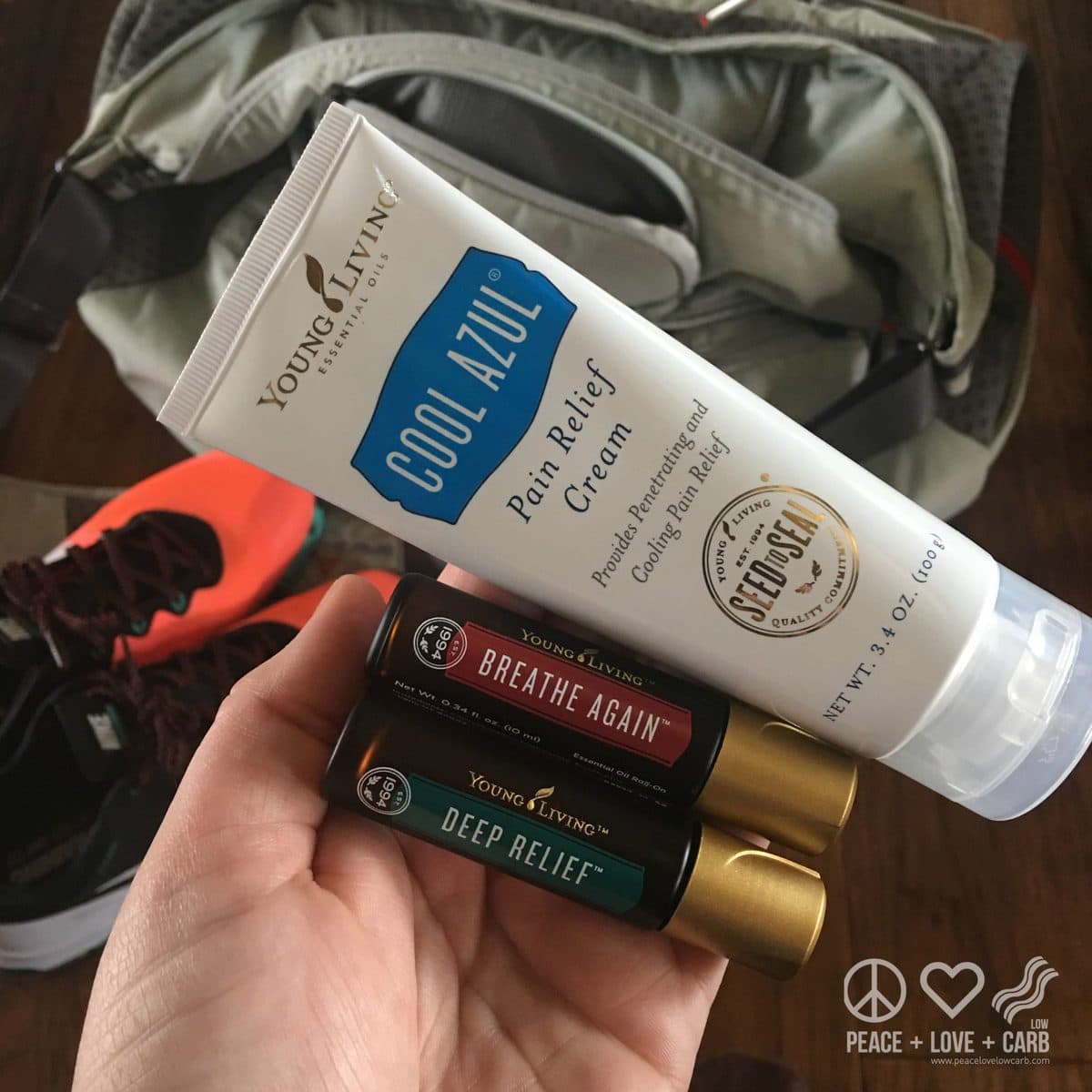 Today I was the opposite of active. I was laying on a tattoo table most of the day. I got another portion of my sleeve done today. I have a lot of tattoos now, but for some reason this one was the most painful. I think it was because of the inside of my elbow. Getting that area tattooed is no joke.


SATURDAY 10/22/16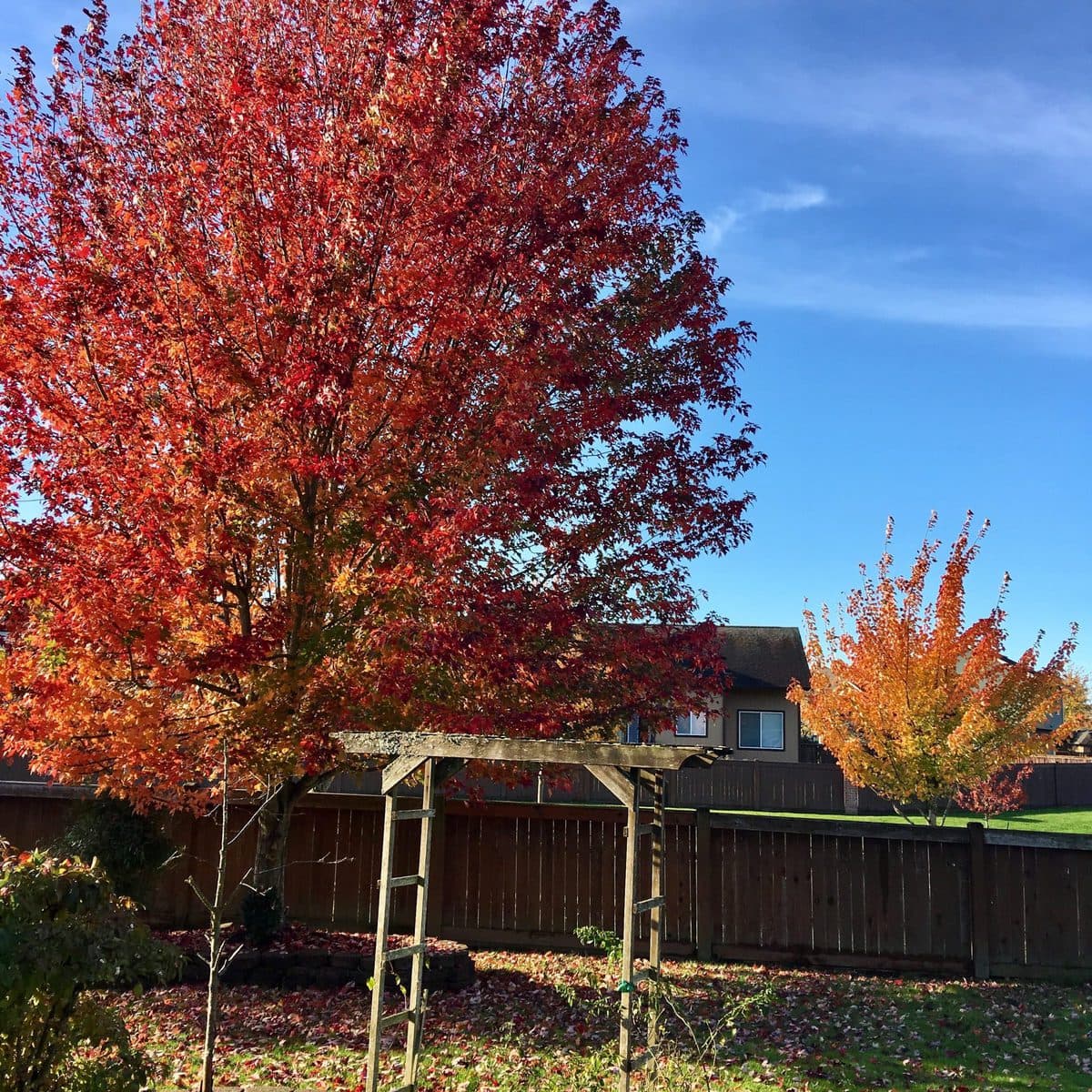 Such beautiful fall colors today. I just wanted to share them all with you. Gorgeous blue skies. I love fall in Washington.
Daily Gratitude: 
Today I am just thankful that I am okay. I got into a fender bender and it could have been a lot worse. This is definitely not my favorite week. It's just a car and I am not hurt. That is all that matters. I was a little shaken up afterwards and all I could think about was the fact that we drive around megaton killing machines on wheels and just hope that everyone is paying attention at the same time.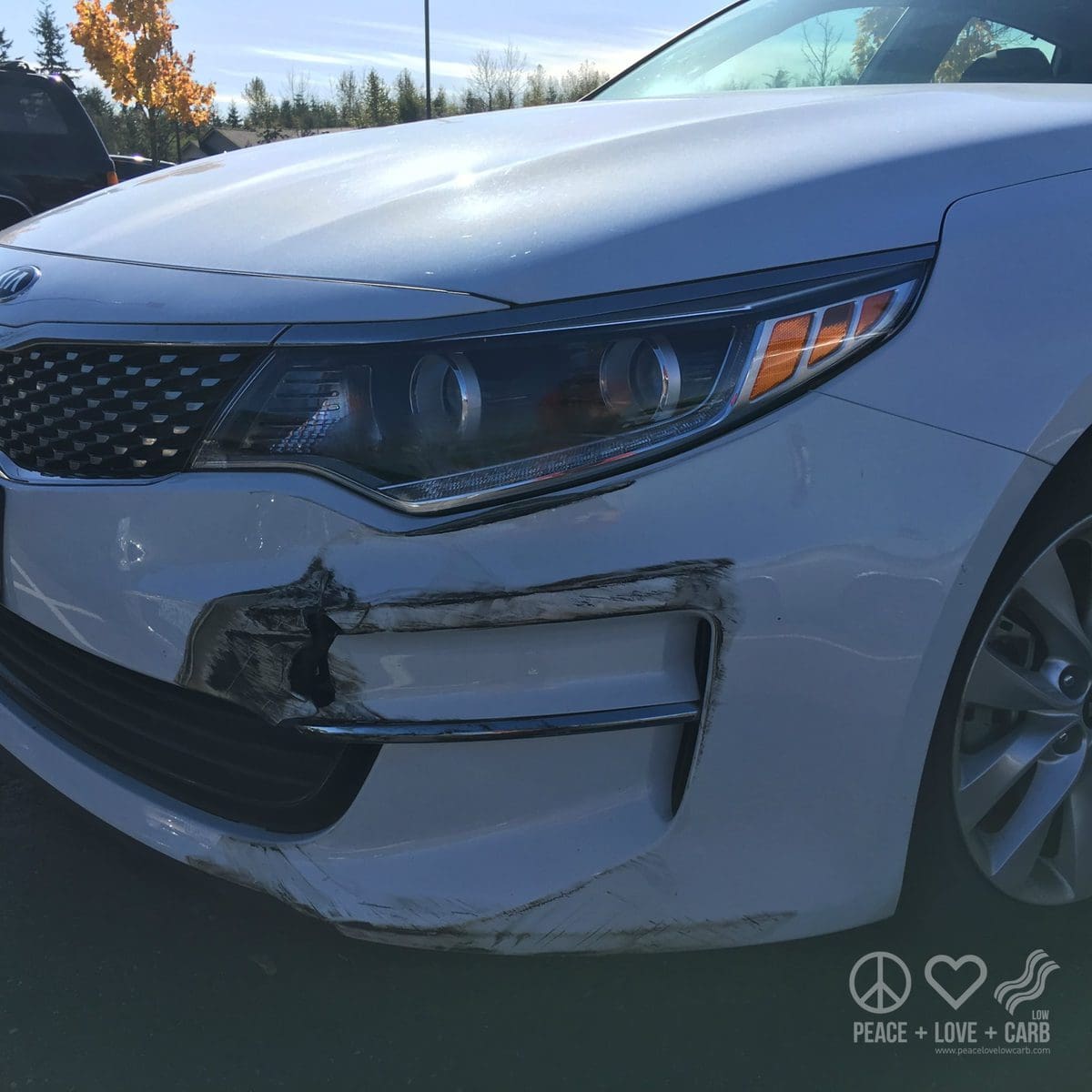 Self Care Check-In:
Today i just relaxed, prioritized my week for next week and binge watched all my recorded shows for the week. After my little fender bender, I didn't feel like doing anything else, so I just vegged out at home. Besides, my arm is pretty sore from yesterday.
Eat All The Foods:
There has been a lot of cabbage in the house this week. I accidentally ordered too much on our grocery order and now I have just been working on a lot of new cabbage recipes. There will be some delicious new cabbage recipes coming to the site soon. Like this one – Oven Roasted Cabbage Wedges with Dijon Bacon Vinaigrette