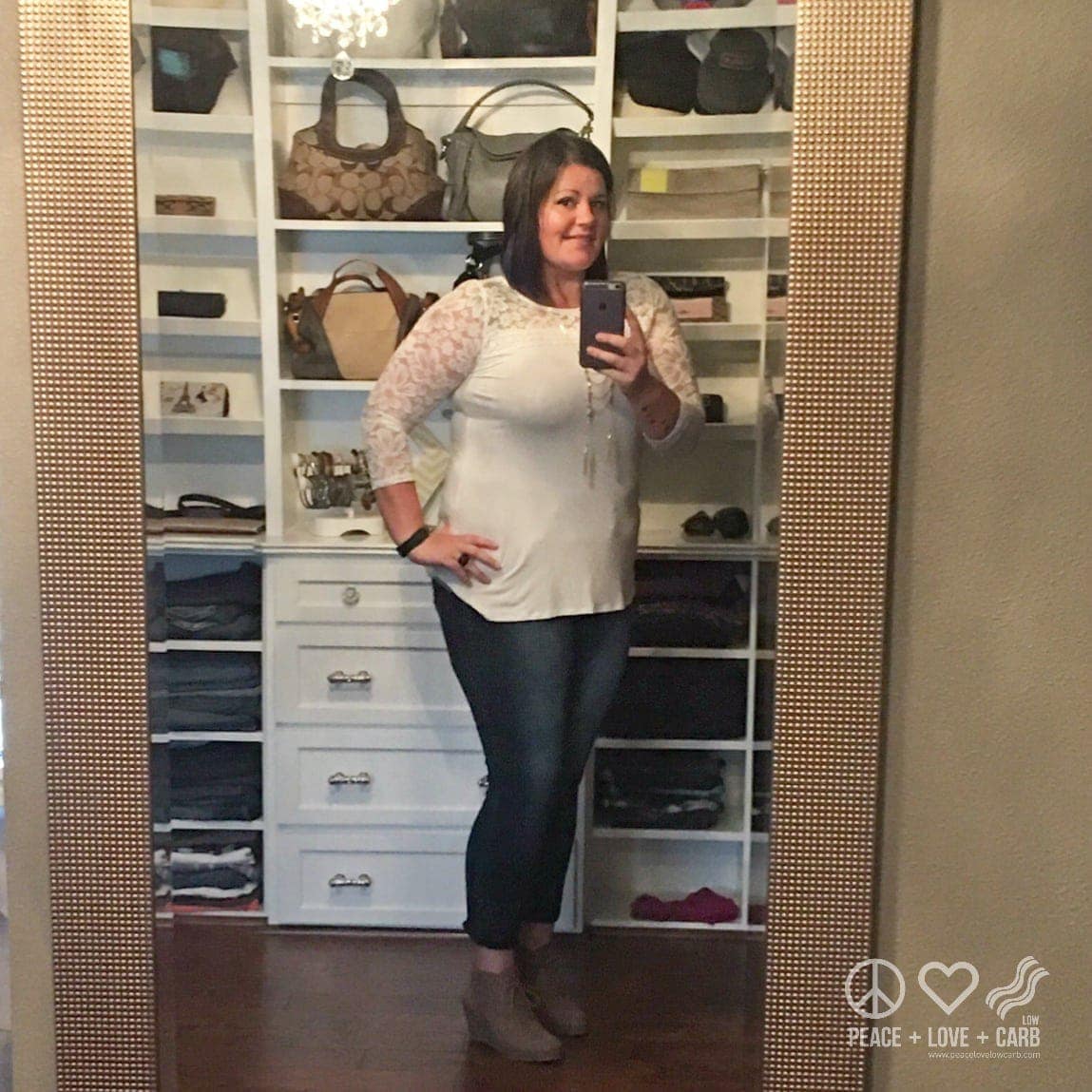 As I go through this weight loss journey, I am finding it incredibly important to stop and rejoice in the small successes and those all too often fleeting moments where I just feel beautiful in my body just as it is. I may be down 15 pounds on the scale so far, but in this particular moment it might as well be 100 pounds. I feel pretty, confident and vibrant. I think it's important to stop and revel in that for a moment. All too often we focus on how bad we feel and how much we want to change. What if we instead made it a point to celebrate the small victories and congratulate ourselves. What if we spoke as kindly to ourselves as we did to those we loved? How different would our mindset be? As I was getting dressed today I was thinking about beauty as a whole. What society says beauty is. How the media defines beauty standards. And how we apply that brainwashing into our opinions of ourself. You know what I think true beauty is? Confidence! Confidence at any shape and size. It just radiates out of you and infects those around you. I have zero doubt that the days I look the best are also the days where I feel the most confident. You stand taller, smile bigger and radiate joy. Here's to capturing confidence and loving every minute of this journey!
If you are just starting to follow along on my new and improved weight loss journey, I recommend starting with these posts from last year first so you can see how it all began (any text that is highlighted orange is a clickable link) – Coming Clean Post     Week 1     Week 2     Week 3     Week 4     Week 5     Week 7   Week 8     Weeks 9-12    Week 13   Week 14    Week 16     Week 17   Also, make sure you are following along on Instagram, as a lot of the day to day stuff will take place there.
CLICK HERE TO GO BACK TO WEEK 3…
Starting Date: 8/29/16
Starting Weight: 281 lbs
Current Weight: 266 lbs
Pounds Lost: 15
Goal Weight: 180
Goal Date: 8/27/17
Height: 5′ 9″
I am down 15 pounds so far and feeling good. Ready to tackle the rest of it and just get it off once and for all. I will post new progress pictures next week for the start of October. I have decided to only do progress pictures the first week of each new month. I'm just hoping to keep the documenting portion of this journey as manageable as possible.

MONDAY 9/26/16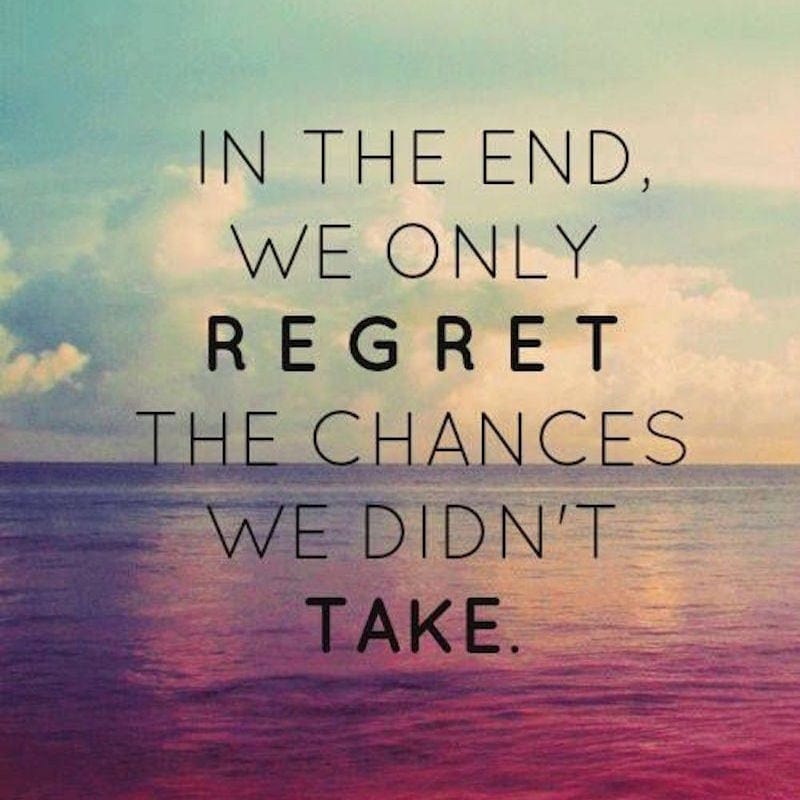 (Source)
Daily Gratitude: 
I am incredibly grateful for the human body and its ability to adapt and adjust. This is my first #facetofaceFriday photo. They are taken less than one month apart. I'm down 15 pounds and it looks like it might all be in my face. 🙂  It is amazing to me what can happen in the body with just a few shorts weeks of clean eating and movement. Seeing these subtle, but positive changes really motivate me to keep going.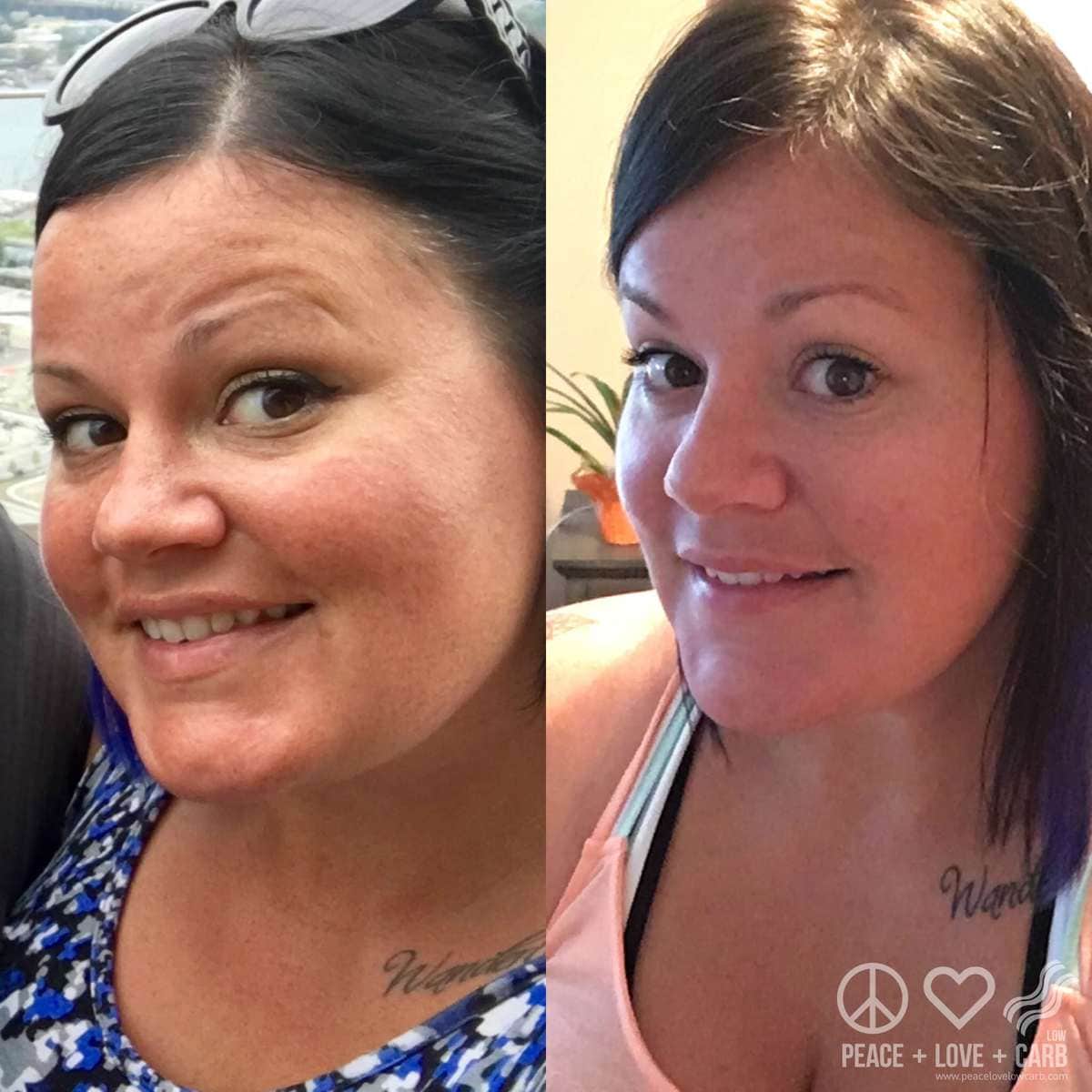 I have news! Jon and I joined a new Crossfit gym. If you read my "I'm a Healthy Living Blogger with a Secret…" post from last year, then you already know that this was not an easy decision for me. I left our old Crossfit gym two years ago feeling sad, broken and betrayed. Right after that is when the weight started coming back on. It is no coincidence in timing. It has been a long road to emotional recovery from this ordeal. BUT, I am ready to jump back in with both feet. After all, In the end, we only regret the chances we didn't take. Here is an except of my post from last year…
Last May, I ended a two year relationship with a CrossFit affiliate, where the affection was purely one-sided, I slipped into a bit of a funk. I say "ended a relationship" because it truly felt like a bad break up. One that I am still trying to get over, even to this day. I felt discarded like a piece of garbage and like I had lost my community. It felt as if I had been evicted from my "home". I loved the way CrossFit made me feel mentally and physically. My mind and my body felt stronger than they ever had. I loved it so much in fact, that I got my CrossFit Level 1 Trainer Certification. I thought I could share that love and knowledge with others and start helping people not only with their nutrition, but with their fitness as well. There have been multiple blog posts and articles written about why you should or should not do CrossFit. There is some truth in all of them. In my opinion, it boils down to one very simple thing… choosing the right affiliate to join. I simply did not choose wisely. Then, even though I believe in voting with my dollars, I kept giving my hard earned money to a gym that really did not care for me or about me. I don't need to go any deeper into the story than that, but if you are or have ever been a CrossFitter, you can imagine how losing your CrossFit tribe would feel like a bad break up. Continue reading…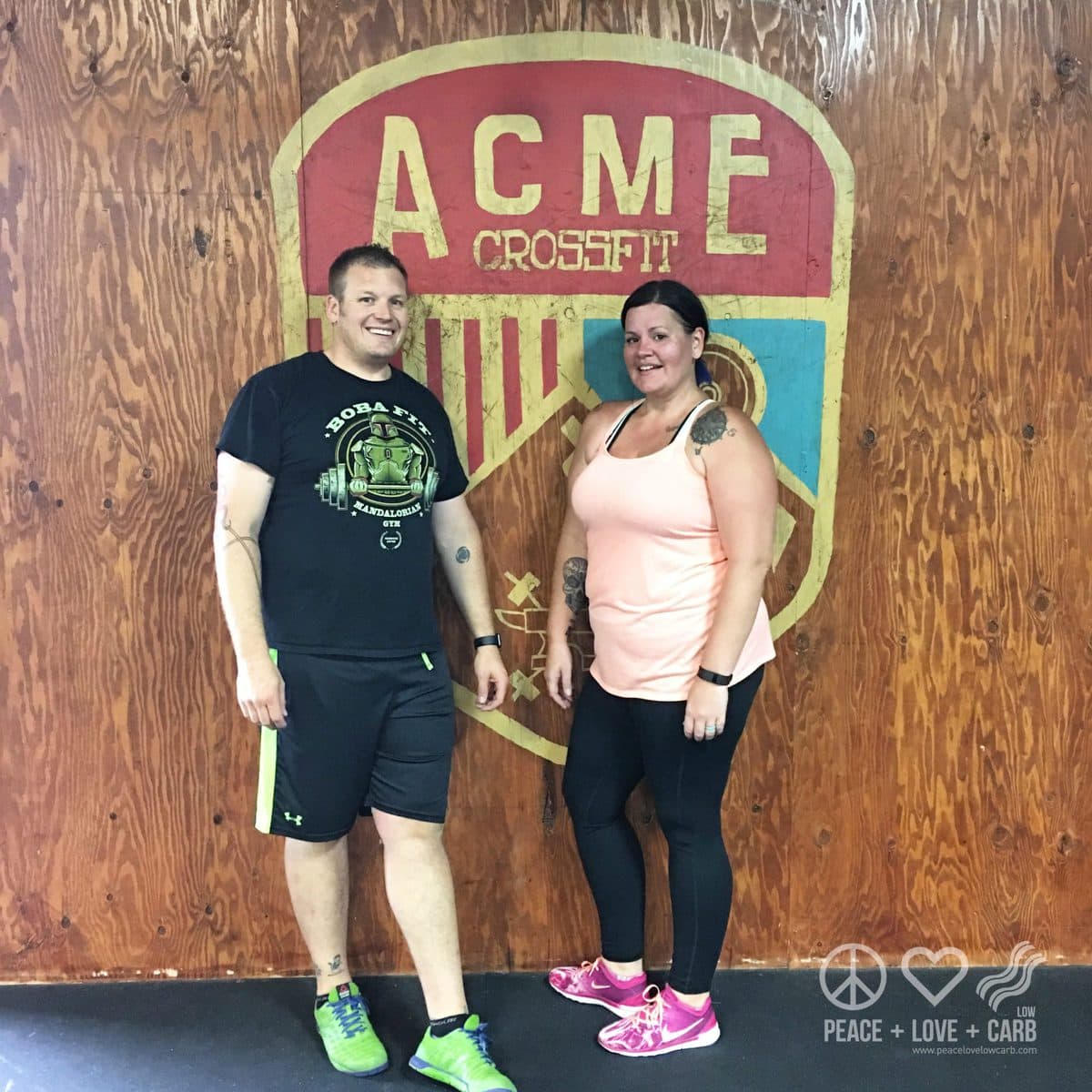 Eat All The Foods:
I get hooked on some of my favorite dishes and I just eat them over and over. Apparently I don't always need a ton of variety. I have pretty much been living off of my Dill Chicken Salad recipe over the last couple of weeks. The trend this week has been my Caesar Salad Deviled Eggs. I can't get enough. Get the recipe here.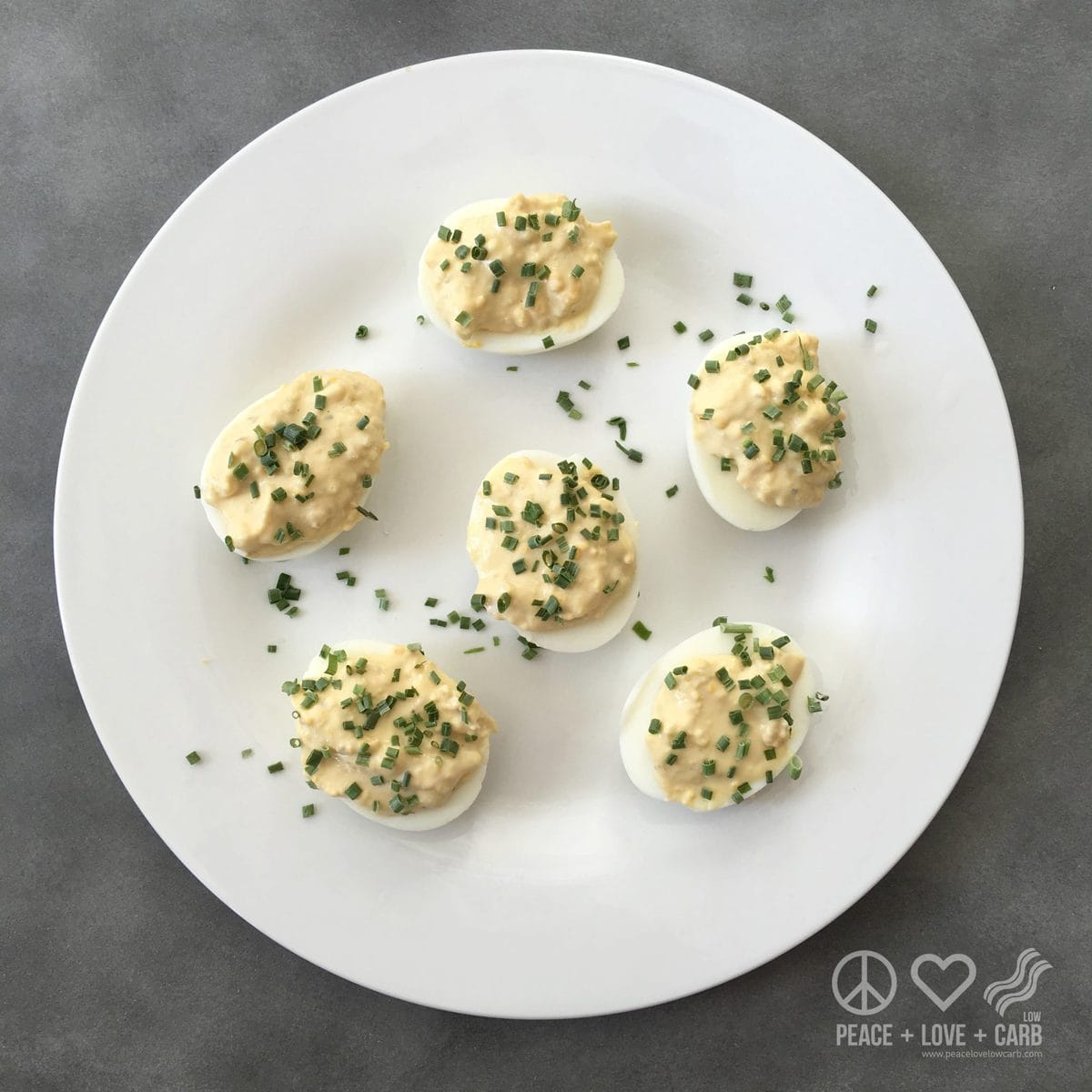 My first couple of days back felt humbling, sweaty, empowering, exhausting, fun, challenging – all in one! I am sore all over, but in the best way possible. Finding my way back will take a lot of hard work and dedication, but I am ready and willing to put in the work. Our first day back was actually last Friday. I felt so excited and empowered after I left. The whole day just felt lighter, happier and easier to manage. Exercise truly is the best medicine. I am beyond excited to reach all of my old PR's and hit some new ones. I have a great feeling about Acme! I think Jon and I may have just found our new tribe!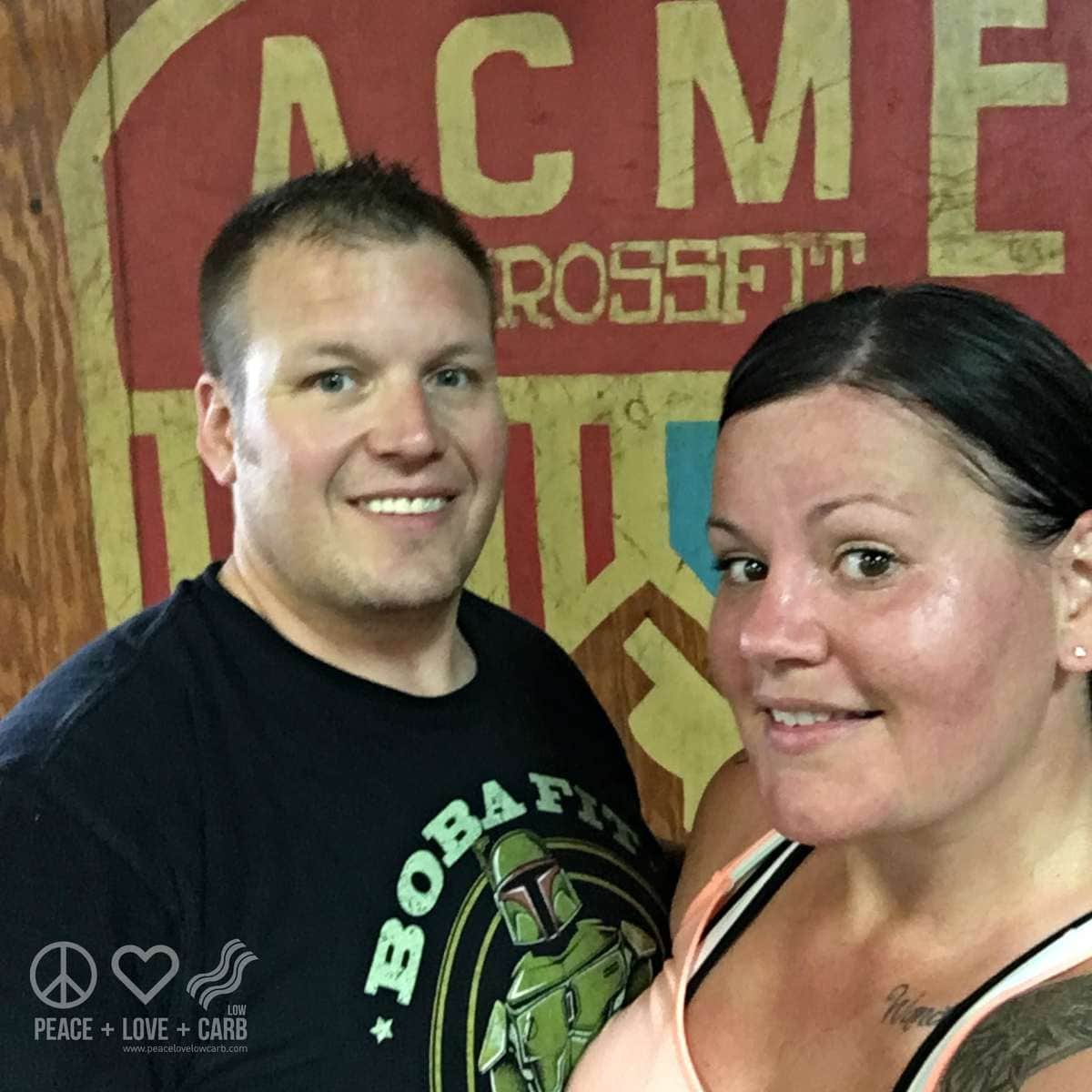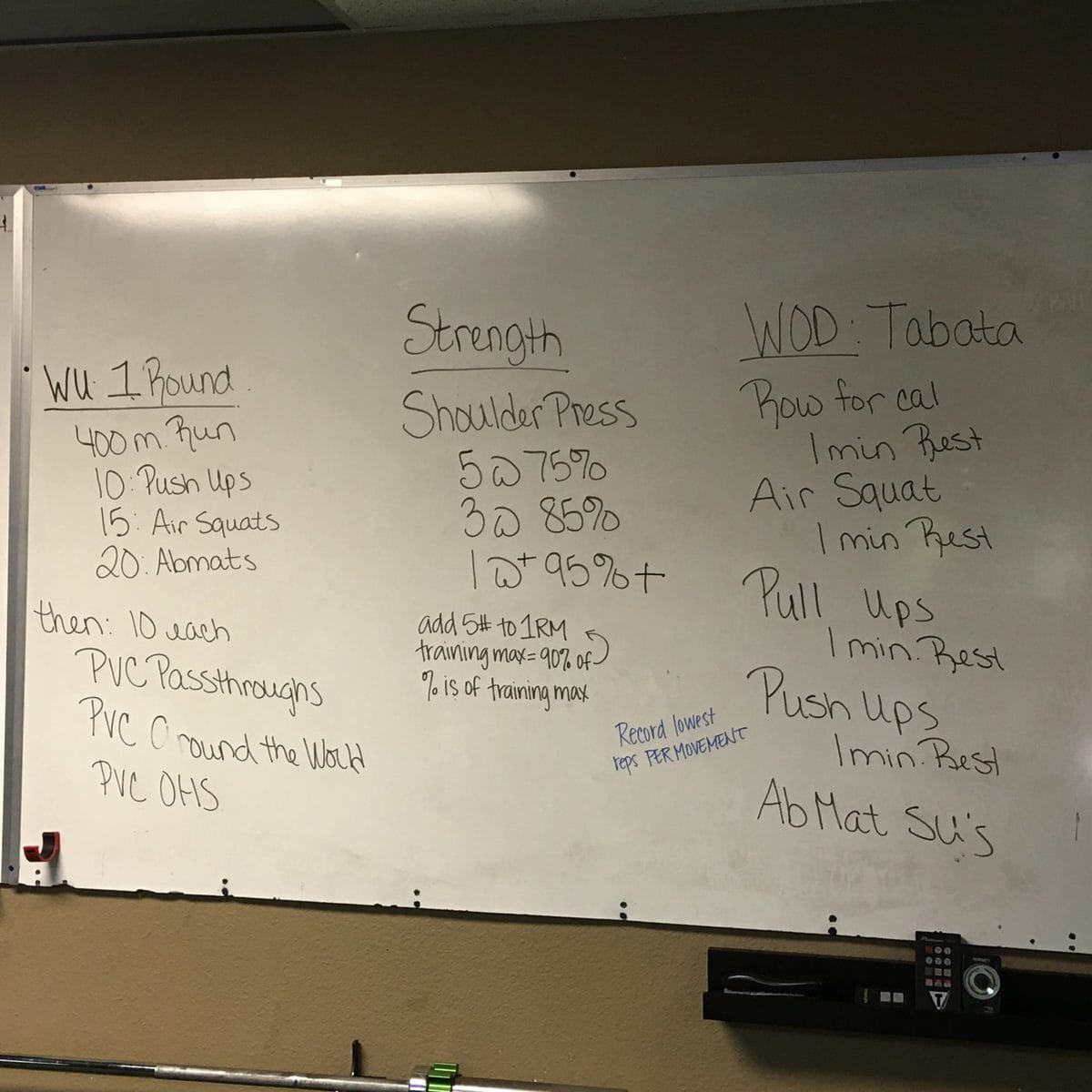 TUESDAY 9/27/16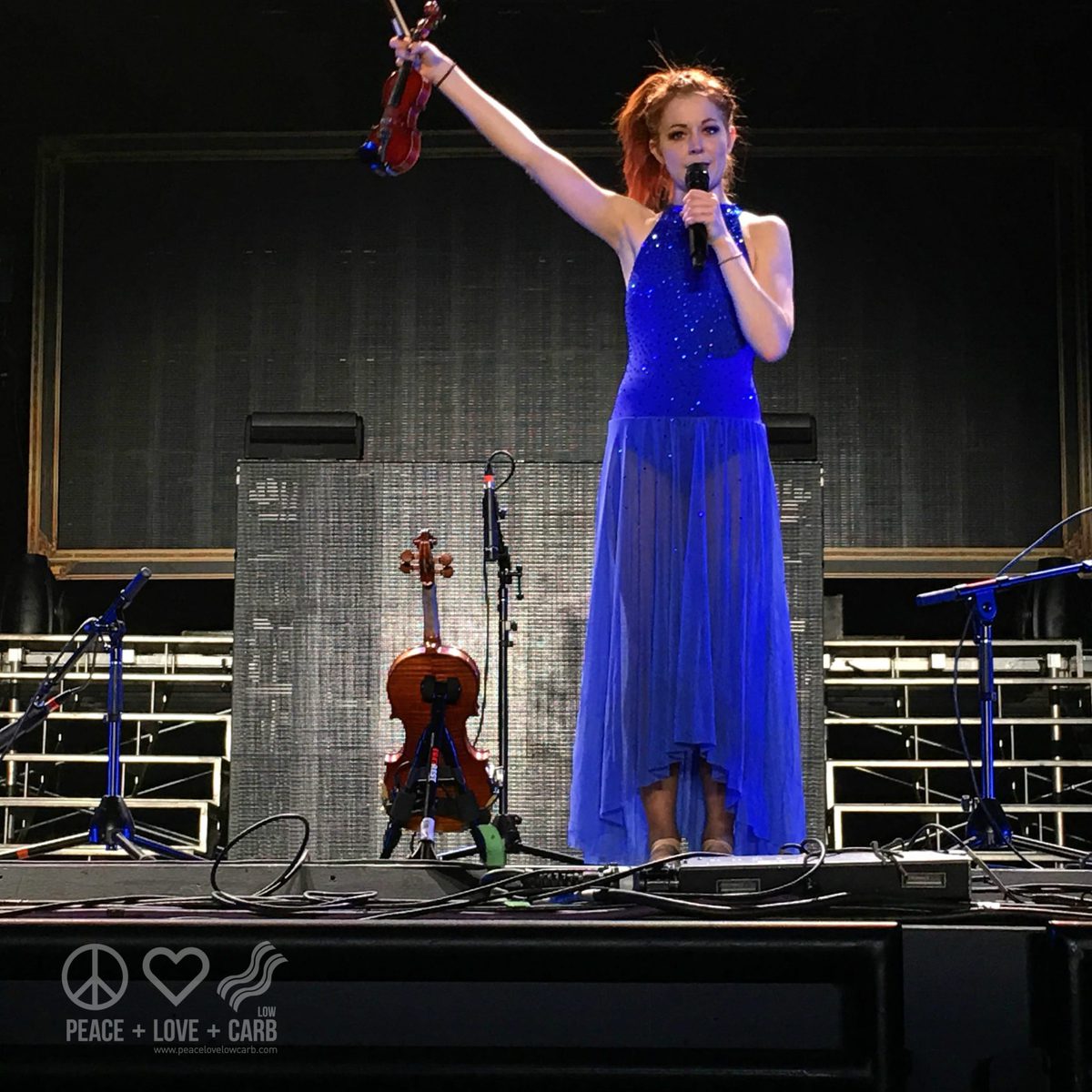 Daily Quote: 
"It is not the critic who counts; not the man who points out how the strong man stumbles, or where the doer of deeds could have done them better. The credit belongs to the man who is actually in the arena, whose face is marred by dust and sweat and blood; who strives valiantly; who errs, who comes short again and again, because there is no effort without error and shortcoming; but who does actually strive to do the deeds; who knows great enthusiasms, the great devotions; who spends himself in a worthy cause; who at the best knows in the end the triumph of high achievement, and who at the worst, if he fails, at least fails while daring greatly, so that his place shall never be with those cold and timid souls who neither know victory nor defeat." – Theodore Roosevelt
Daily Reflection:
"The credit belongs to the man in the arena…" I am in the arena. I am fighting the good fight. I fall short over and over again, but I always get back up and keep fighting. When I think of the criticism I face on a daily basis and all of the people that tell me that "I can't" or "I won't", or that criticize, shame, blame, or troll me, it only makes me want it that much more. I am nothing if not a fighter. To all of those people I say – Your hate, makes me great! In an age fueled by social media, we have become less social than ever before. Suddenly anyone with an internet connection is an expert in all fields. This so called connection that we all have is truly in a state of disconnect. Living my life out in the open on the internet for all to see leaves me exposed and targeted. I am strong enough to take it, but I can't help but think about all the people that aren't. All the people that are being bullied and have no one to defend them. It makes me sad. I think as a society we really need to take a long hard, introspective look at ourselves. I'm not sure when criticism replaced kindness, or when everyones digital gardens became overrun with nameless, faceless internet weeds, but I think we need to step back, reconnect and start throwing kindness around like confetti. My challenge to you today as you go about your daily routine, is to partake in one small random act of kindness. Even if it is something as simple as lingering to hold a door and say hello with a smile. You never know when the smallest of gestures might save someones day. In fact, I challenge each of you to do this daily. Nothing changes unless we change!
Self Care Check-In:
 For months, Jon and I have had a date day/night planned for today. We have both reallllly been looking forward to it. We have a busy spring and summer and are looking forward to easing into a more relaxing fall and winter. Date night was sort of the kick off to that relaxing change.
I am obsessed with Lindsey Stirling. Her music moves me to tears – happy and sad. I have been waiting for her to come to Seattle and I jumped on the chance to purchase tickets as soon as I heard she would be in my part of the world. This was my birthday present to myself this year. Front row center! I have been counting down like children count down to Santa.
She was absolutely amazing. Like mindblowingly, tear inducing, explode from sheer joy, AMAZING! As soon as we left the concert I was on her site trying to find another spot on her tour to see her again.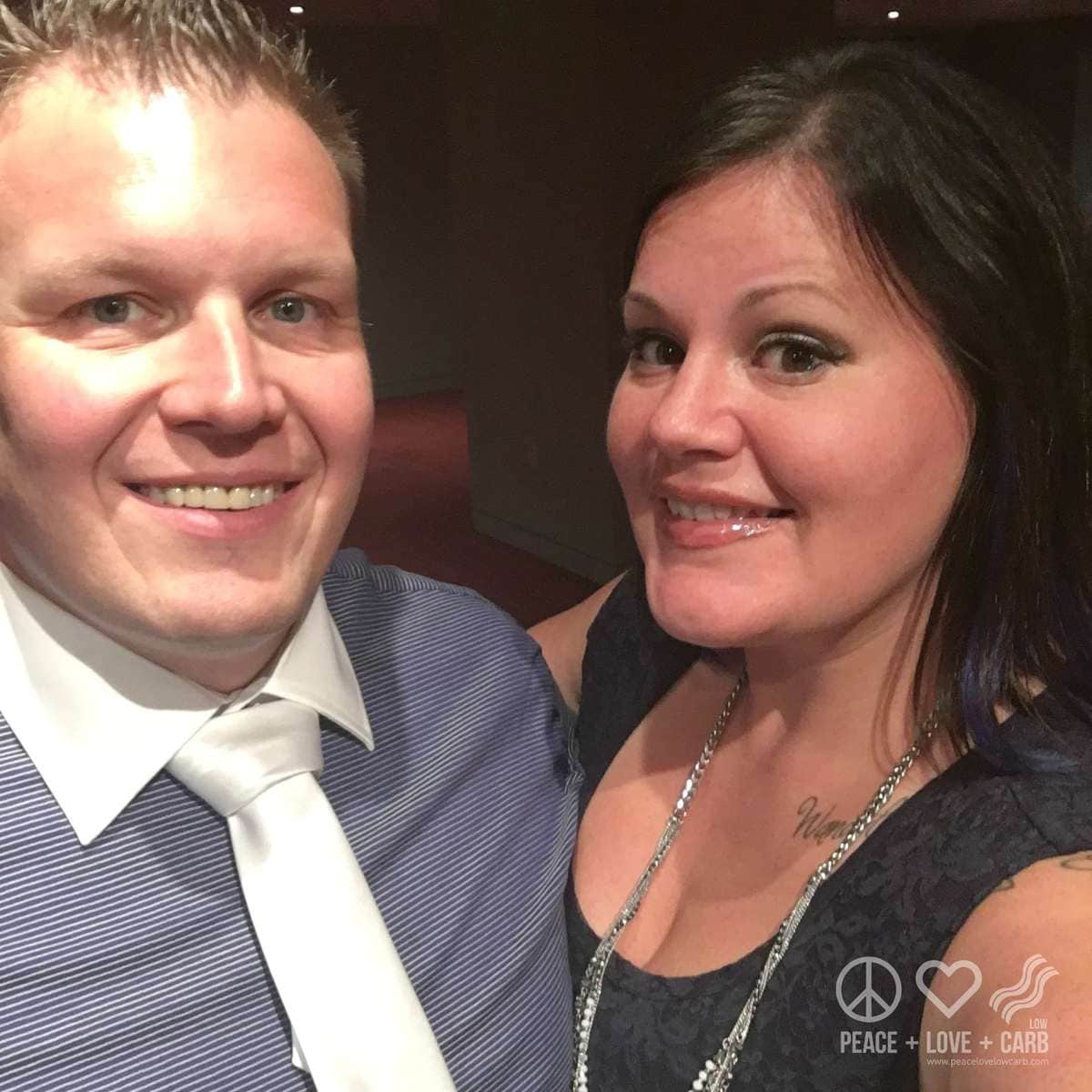 Jon planned a special daytime surprise activity for us. Imagine my surprise when we pulled up to the air strip and my surprise was a helicopter tour over Seattle. This was not our first time on a helicopter. Last year we had an amazing helicopter tour over Monaco. Nonetheless, my heart starting doing flips when I saw where we were going today. Once we got in, that all nervous energy vanished and was replaced with excitement and gratitude. Jon is pretty amazing at planning secret adventures!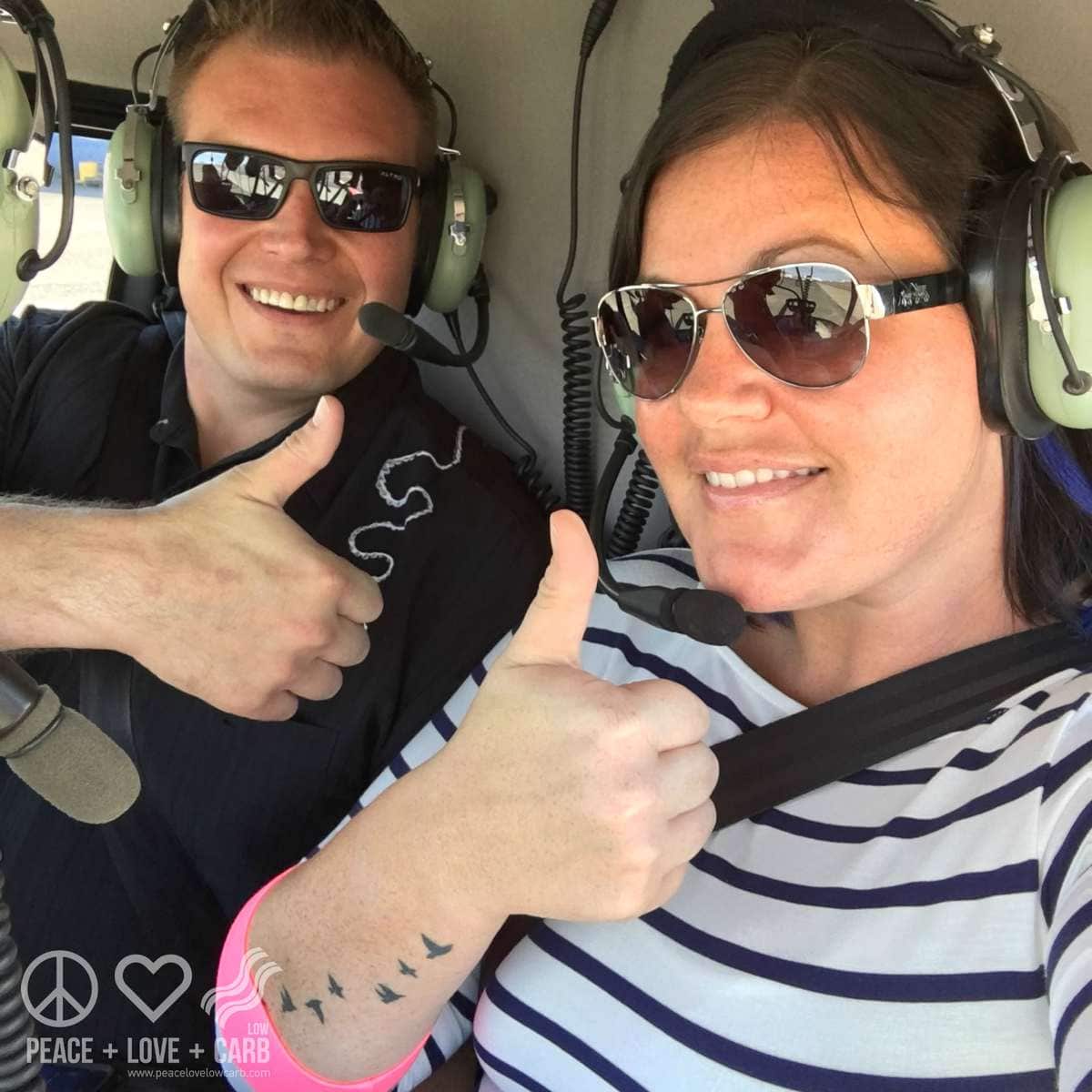 We are both born and raised here, but the tour was just as exciting as it would have been if we were tourists. Look at that shot of the Space Needle. The weather was absolutely perfect for an aerial tour of our amazing city.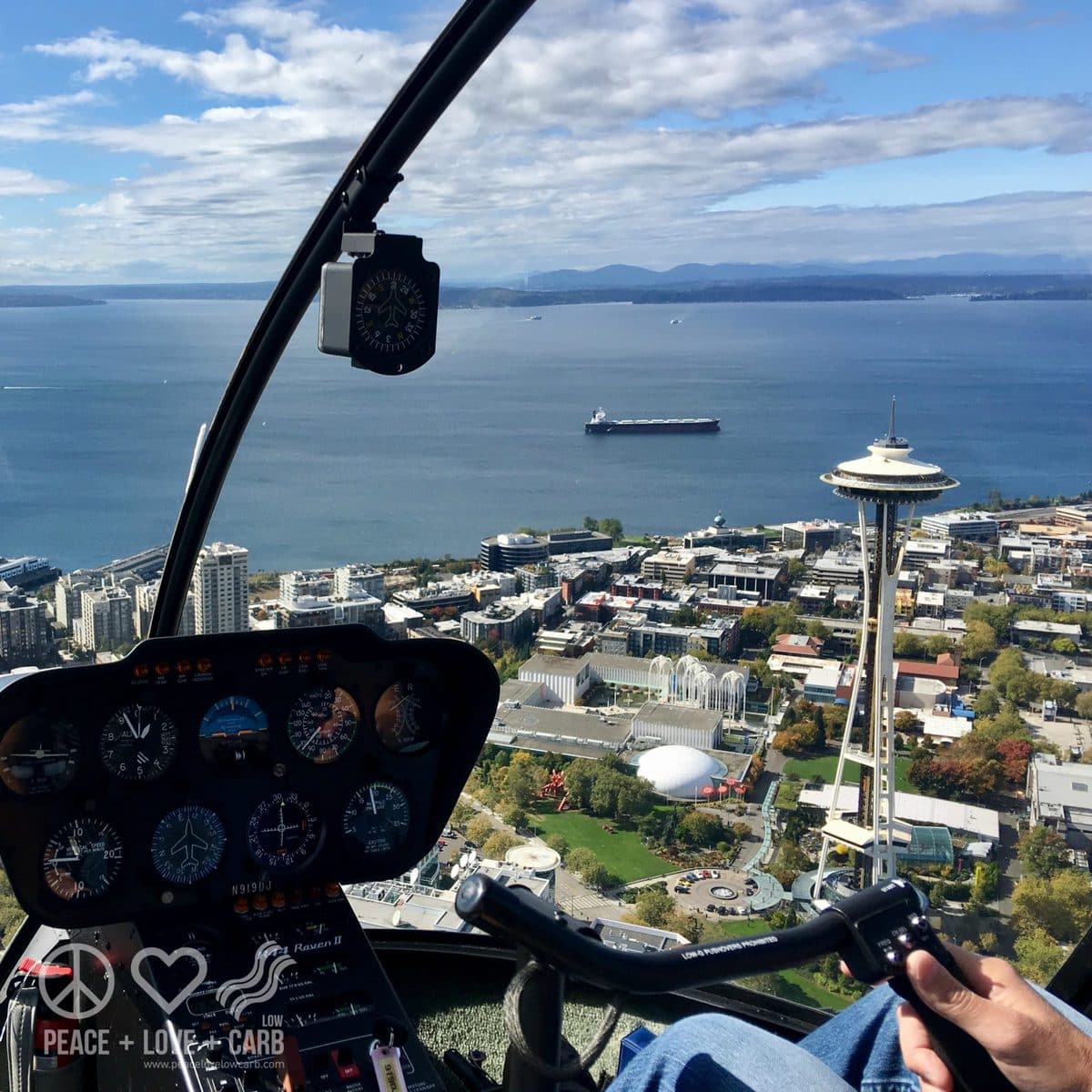 It was a little windier out over the water, but it was a walk in the park compared to flying in a Cessna to island hop in Hawaii. I'll take a helicopter over a Cessna any day of the week.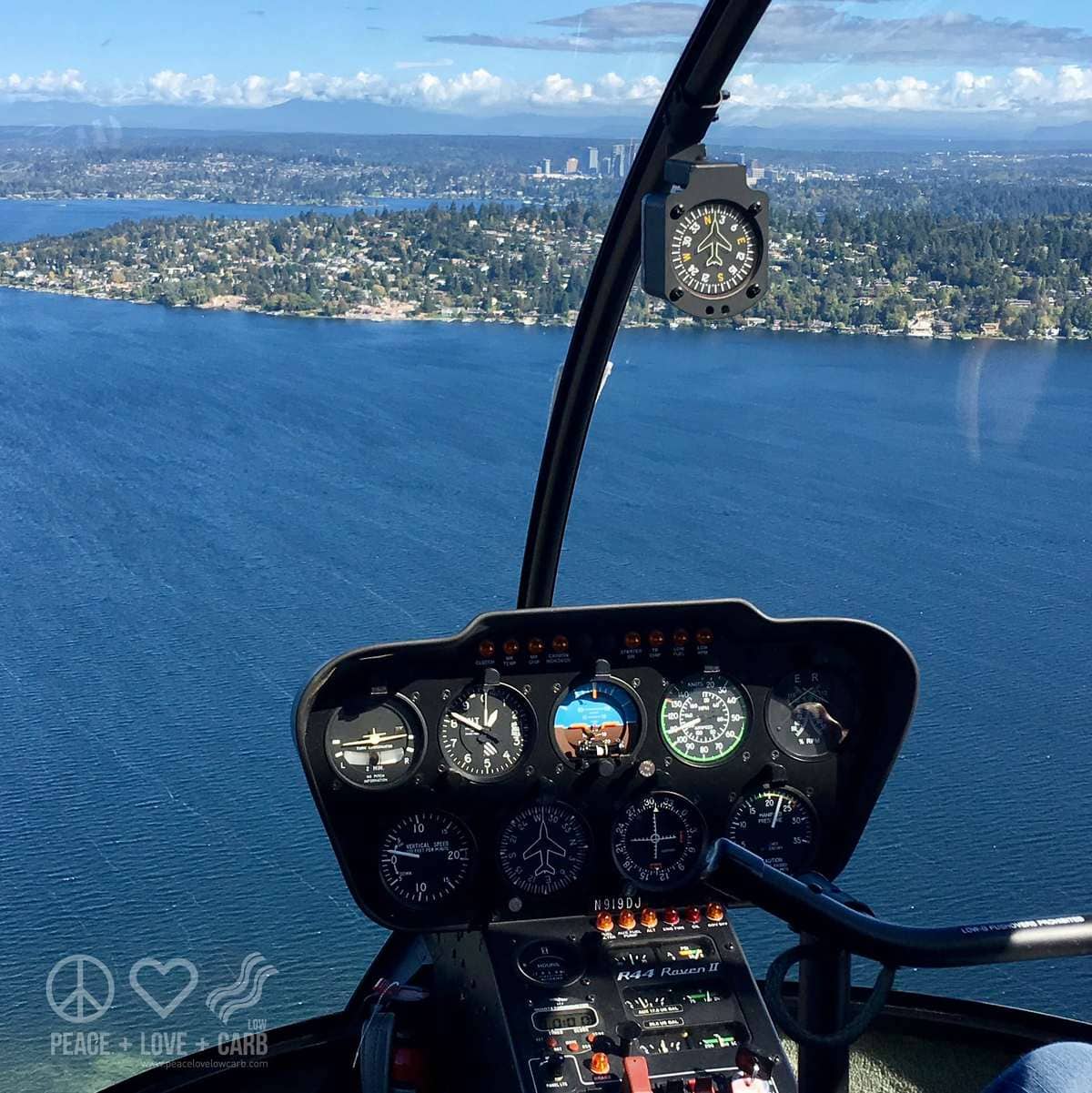 Eat All The Foods:
To be quite honest, today was not a great food day. I mean, the food tasted great, but it was definitely not low carb. I let date day get the best of me. However, I have no regrets. Tomorrow is brand new day. I am human and I am perfectly imperfect. It wouldn't be fair to myself or to any of you reading this if I only checked in on the good days. My goal is and always has been to paint an accurate picture of my weight loss journey and to show you that it is definitely not linear. You don't suddenly change every bad habit over night. That being said, I am consistently making more good choices than bad, and that is showing mentally and physically.
Staying Active:
Todays activity came in the form of conscious choices. We could have driven everywhere we went, but we chose to leave the car parked and walk everywhere. We even walked a mile each way, to and from the show in dress attire. Small choices add up over time.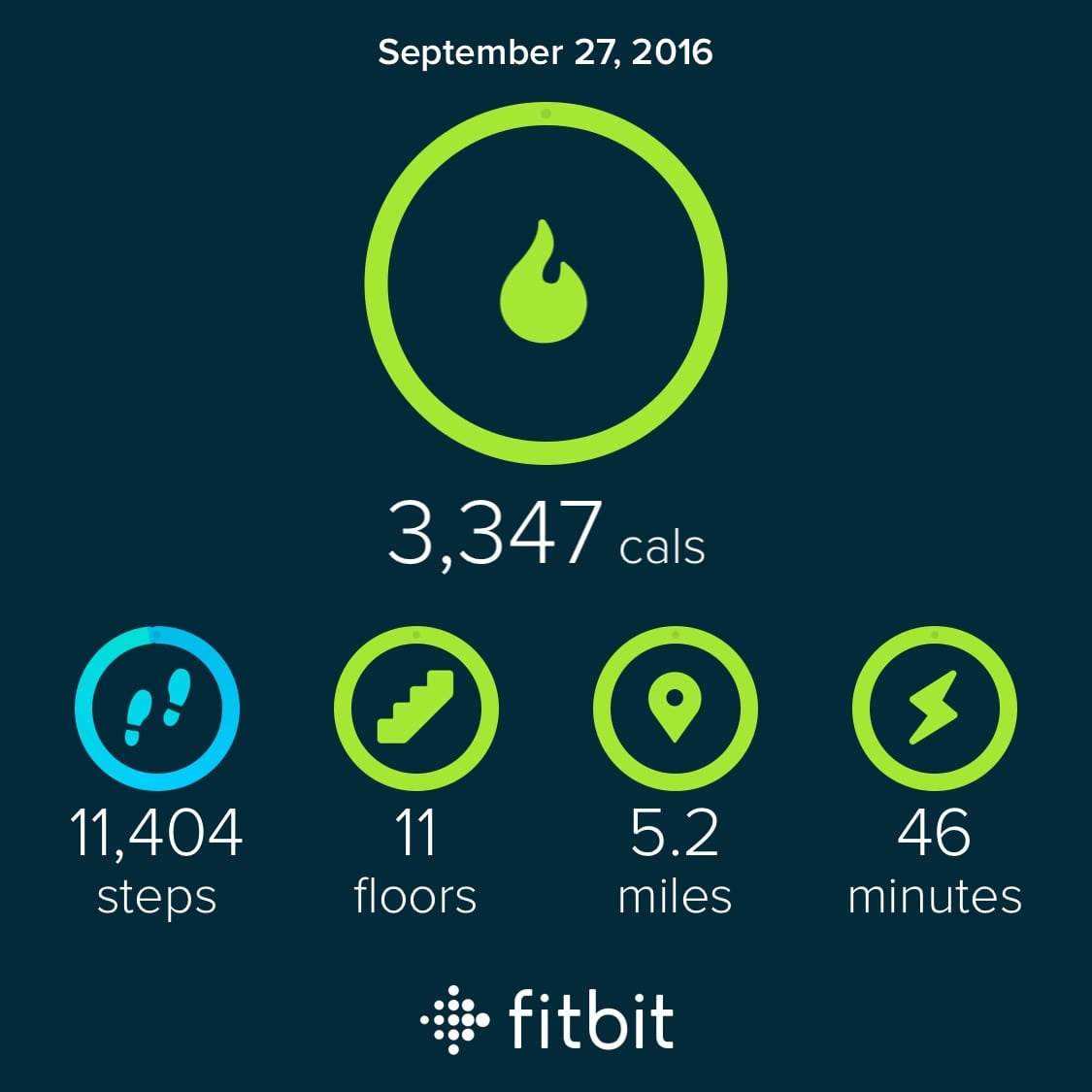 THURSDAY 9/29/16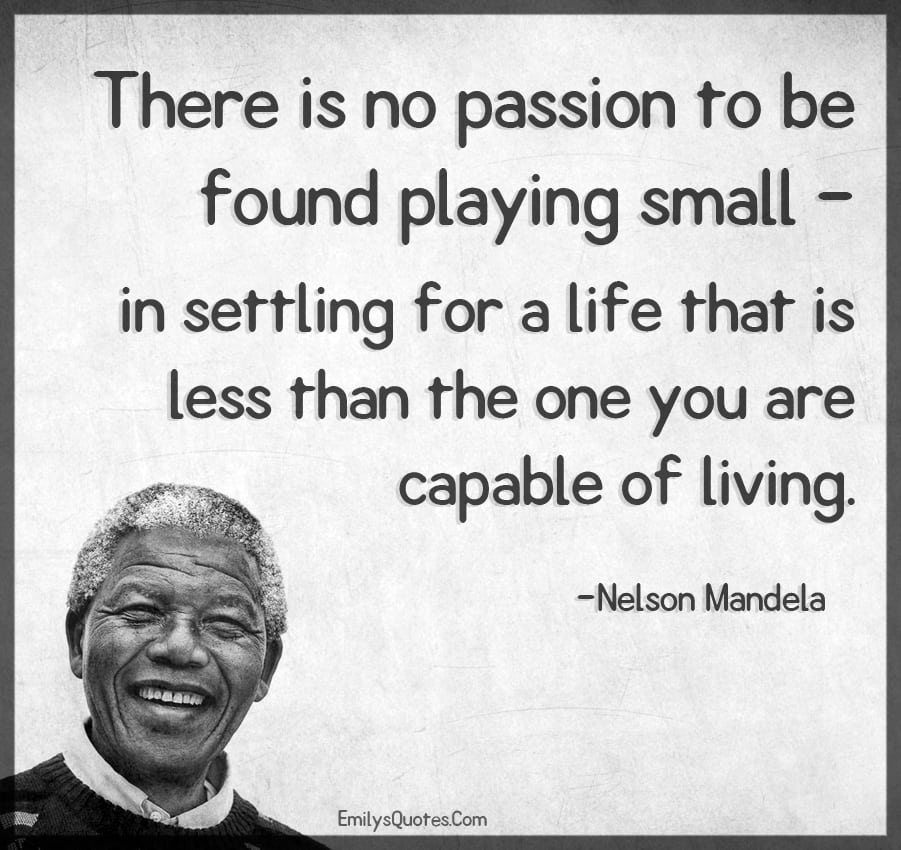 I am so thankful for those moments when I look around and think to myself  "This sure is the life, isn't it." Ever since we bought our new home, I wake up with a new kind of joy in my heart each morning. It is a joy based on contentment and being happy with what I have. I have spent so much of my life reaching for the next thing on the horizon that I rarely took the time to enjoy what was right in front of me. I love where my life is right now. I'm not reaching. I'm just enjoying life one day at a time. So this is what it feels like to be content? A girl could get used to this!
Daily Reflection:
I keep thinking about what it means to play small and all the times I have done it throughout my life. Dismissing what I truly wanted in life, in order to maintain the illusion of security, societal definitions of success, acceptance by others, etc. I put myself in a box. In hindsight I see that playing small was a sign of bigger issues – operating from a place of fear, insecurity, and coming from a scarcity mindset. Playing big has me operating from a place of passion, staying grounded, and keeping an abundance mindset.
Success isn't crossing some sort of imaginary finish line. It is daring greatly in even the smallest moments. It lives quietly in the achievements, great and small that occur in day to day life. It isn't about money. It isn't what defines you. It can't be measured or quantified in a one size fits all model. Success is courage. Success is perseverance. Success is something only you can define for yourself.
Don't play small. Don't put yourself in a box. Don't let other people put you in a box. Don't believe the hype from your inner critic. If you constantly shelf your passions and desires, you are doing a disservice not only to yourself, but to those around you that can benefit from you letting your light shine. Don't let fear defeat you. Don't let criticism crush you. Don't you want to play big?
Self Care Check-In:
I have been slathering up with these two lovelies this week. The Cool Azul Sports Gel is aloe based and has an awesome hot / cold sensation. It feels amazing on sore muscles. I like that is also helps cool me down after a workout. I've even been mixing some with my moisturizer and rubbing it all over my body after a nice long shower. It does amazing things for post workout recovery. If you have ever used BioFreeze, think of that but in a natural version. The Cool Azul Pain Relief Cream is awesome for those workouts that leave you feeling like you aged 20 years over night. You know, that first step out of bed that feels like you are all of a sudden 80 years old. I have a bottle of each of these in my gym bag and in our bathroom. LIFE SAVERS!!!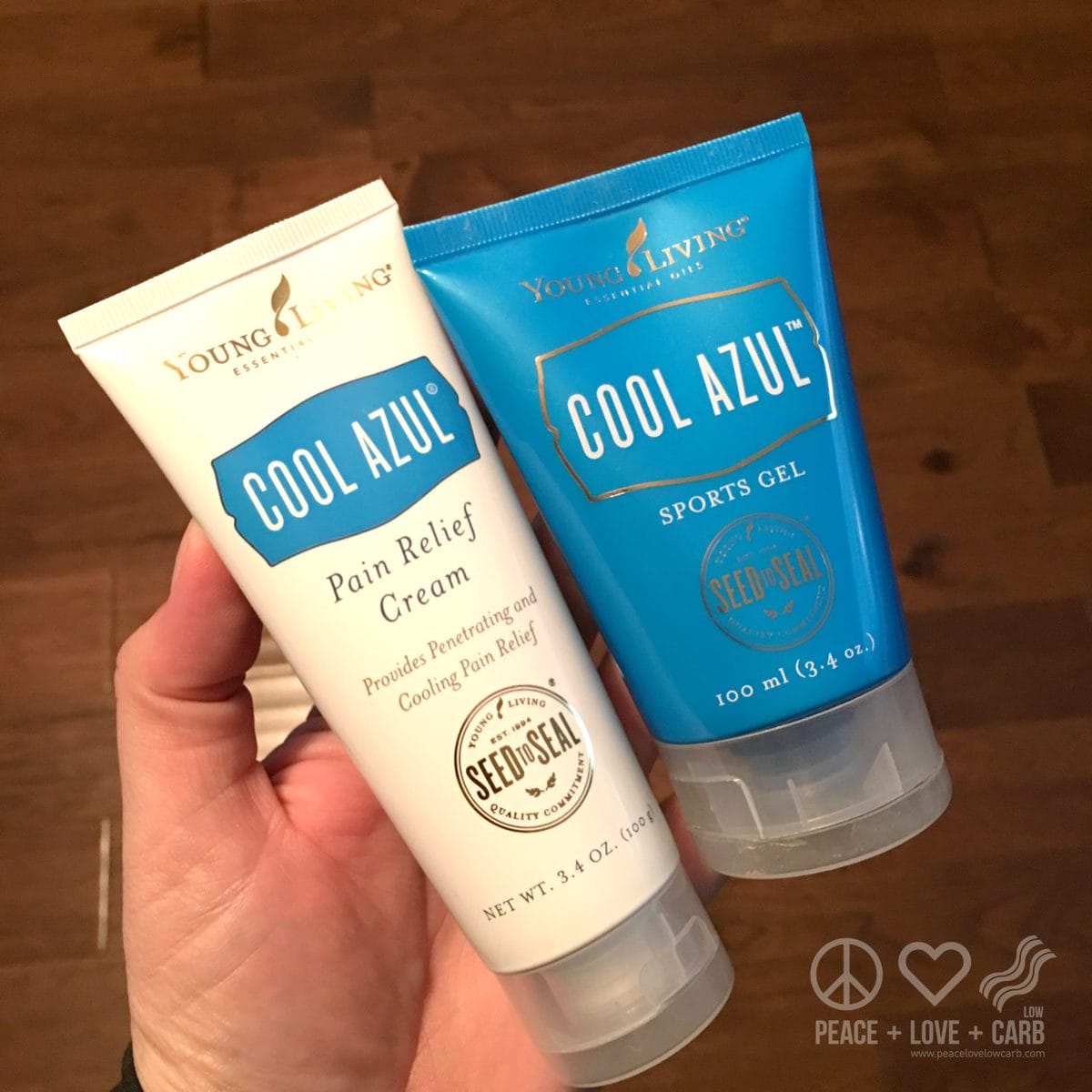 Eat All The Foods:
I love having my butter coffee in the mornings. This morning it had espresso roast coffee, grass-fed butter, coconut oil, almond cashew milk, grass-fed collagen and some sugar free vanilla syrup. I threw it all in the blender until it was nice and frothy. I am not much of a breakfast person. Don't get me wrong… I LOVE BREAKFAST FOODS! I just typically eat them in the afternoon. I guess you could say that I am sort of an intermittent faster. I never set out to be this way, it is just what my body prefers. I don't typically eat between 7-8 pm and 12 pm the next day. Most of my eating takes place in the other 7-8 hour window of time. I eat when I am hungry and listen to the signals my body provides me. I don't believe in forcing yourself to eat a series of small meals throughout the day, whether you are hungry or not. I have yet to see definitive proof that eating 5-6 small meals a day has any actual bearing on weight loss.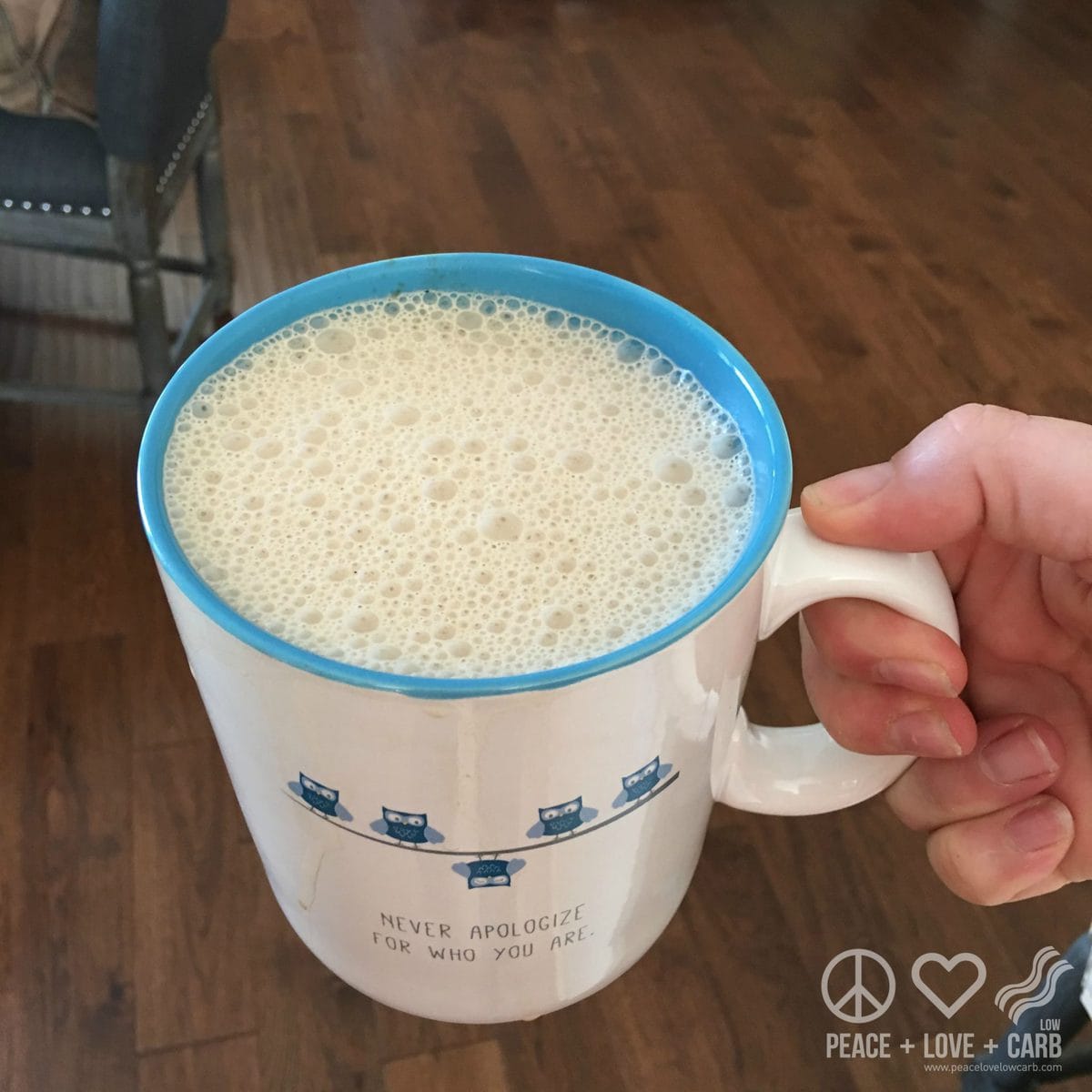 Crab, crab and more crab. If I could have an endless supply of fresh crab legs, I would be a really happy girl. Jon and I like to hit up the casino buffet on seafood night and just go crazy with the crab. I am actually quite proud of us! With all the temptations that a buffet has to offer, we just go there, eat our crab and leave. I actually had a couple of plates of crab legs and then when everyone else was headed to the dessert bar, I hit up the salad bar. We definitely eat our moneys worth. I already want to go again.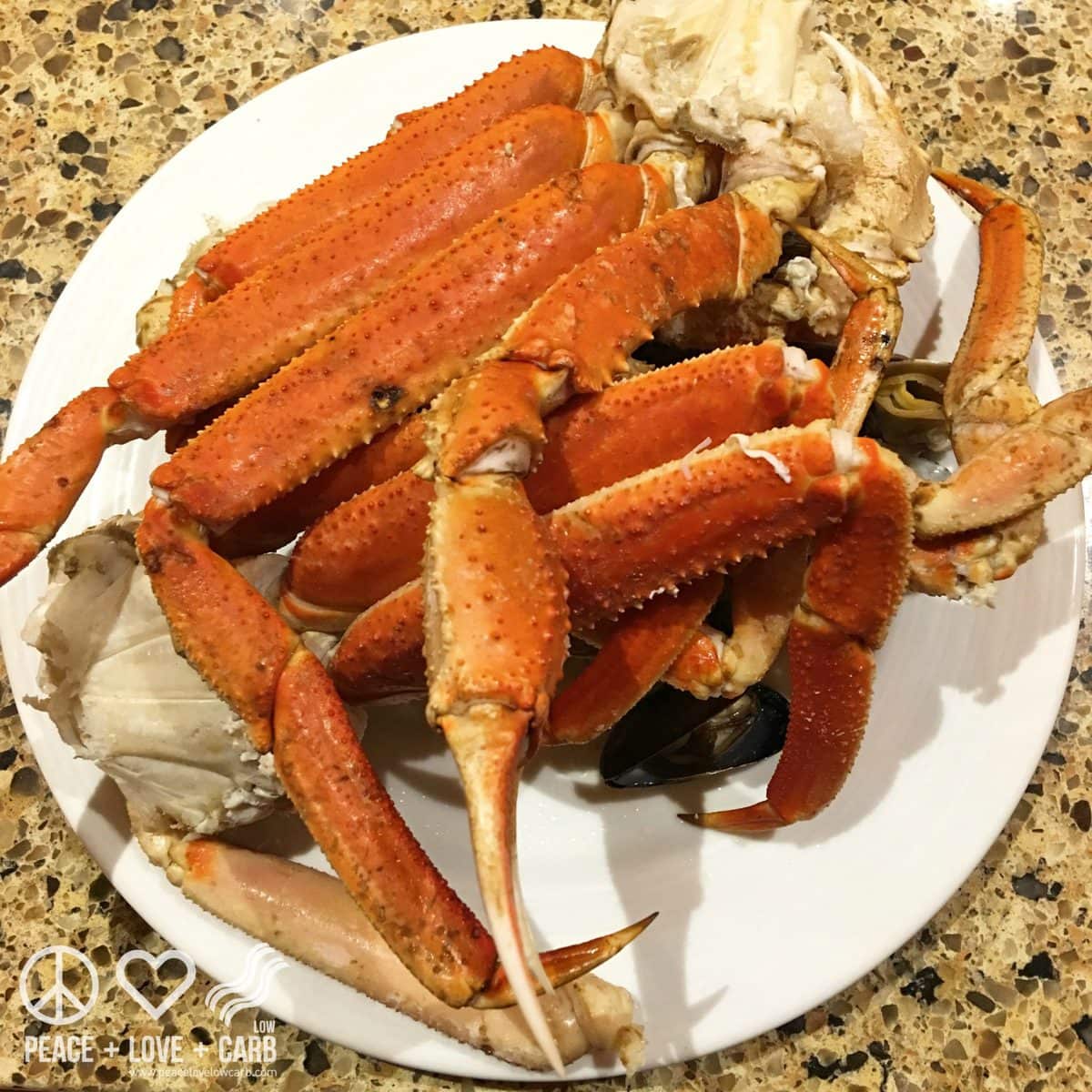 My body was in desperate need of some yoga today. Of course, I did my favorite yoga DVD, the one I just talked about in my "A Few of my Favorite Things…" post this week. 45 minutes of glorious relaxation. My mind was calm and I was very in the moment. A lot of times I have trouble staying present and my mind wanders. That was definitely not the case tonight. I did the whole thing with my eyes closed and focused only on my breathing and the movement of my body. I felt ease in the poses and achieved some nice, deep stretches. It was exactly what I needed. Getting back into Crossfit has me feeling every muscle in my body again. All the muscles that haven't been activated in far too long. Its the good kind of sore, if that makes sense. The kind of sore that signifies hard work, not injury. Yoga will definitely help speed up my recovery time between workouts as I find my way back to fit.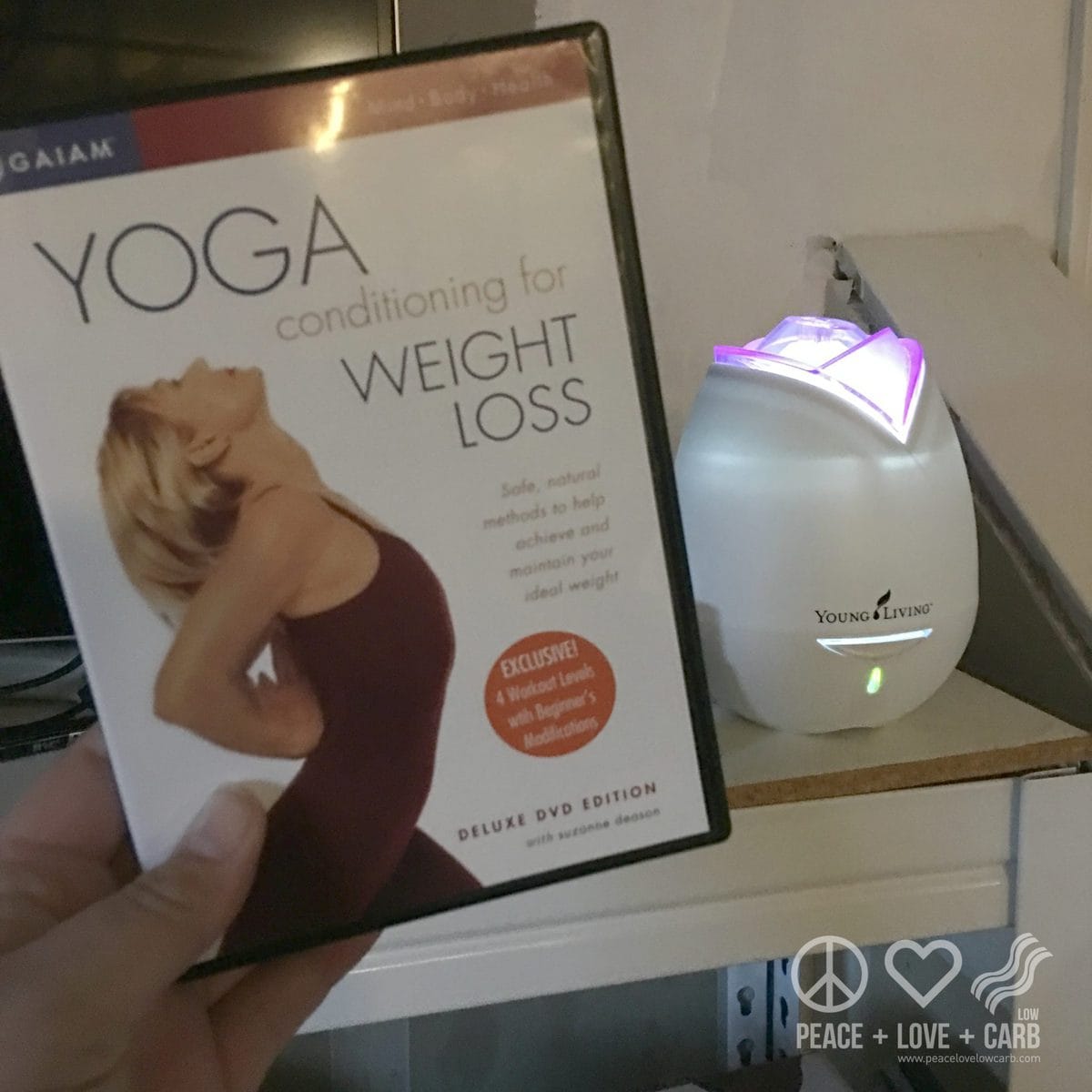 I think part of the reason I was able to achieve such a relaxed state and stay present and in the moment was because of the combo I chose to diffuse during my yoga session.
Believe
– (A blend of Idaho Balsam Fir, Coriander, Bergamot, 
Frankincense
, Idaho Blue Spruce, Ylang ylang and Geranium). Restores feeling of hope and helps to release the unlimited potential inside us. It also helps to encourage feelings of courage, faith and strength. It promotes relaxation and calming, while bringing about a sense of clarity and focus.
Frankincense is great for meditation and calming the mind. It is known to deepen your spiritual awareness. It is considered the "holy anointing oil" in the Middle East and has been used in religious ceremonies for thousands of years. "Used to treat every conceivable ill known to man,"
You can learn more about essential oils and how I use them to support my wellness in my FB Group.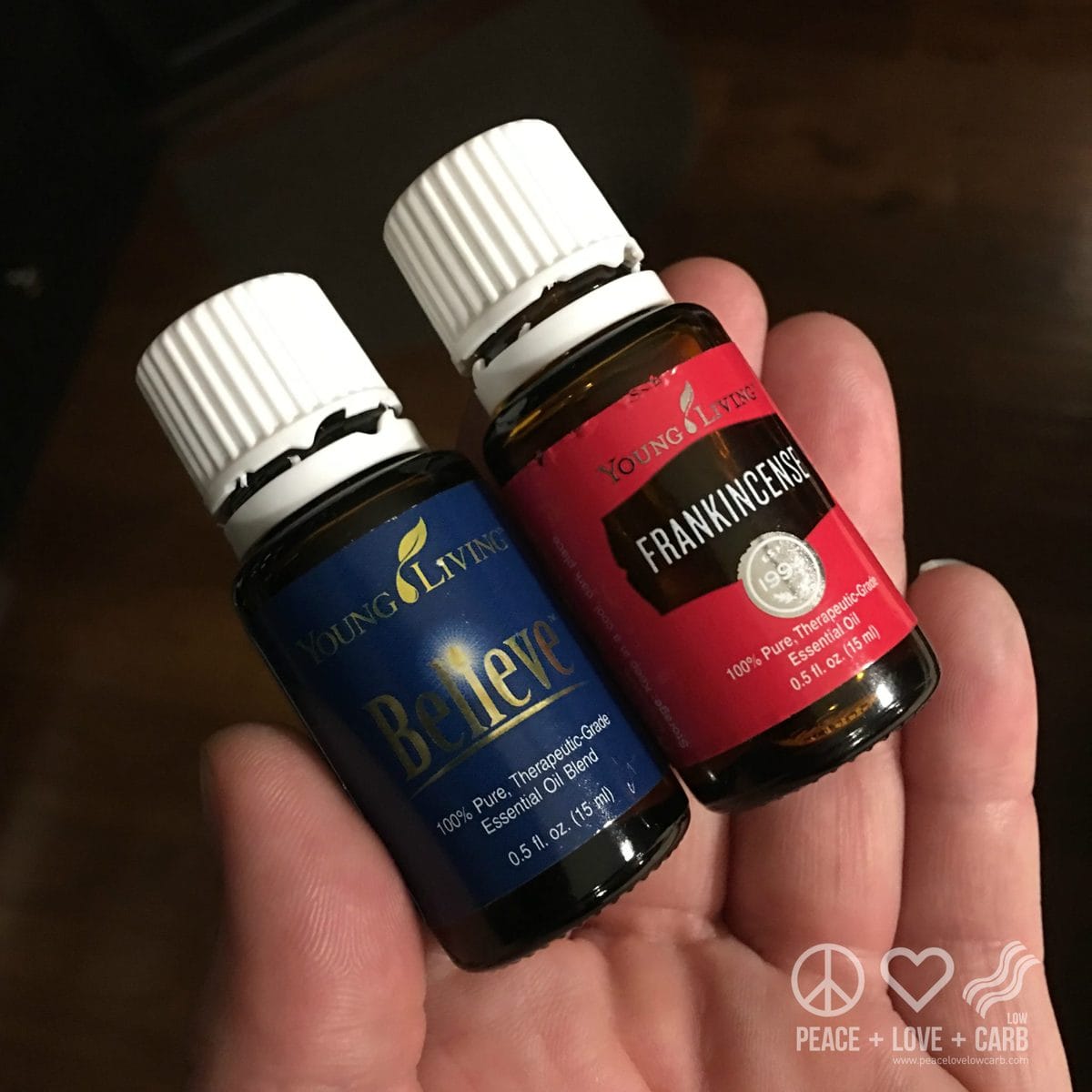 WEEKEND 9/30 – 10/2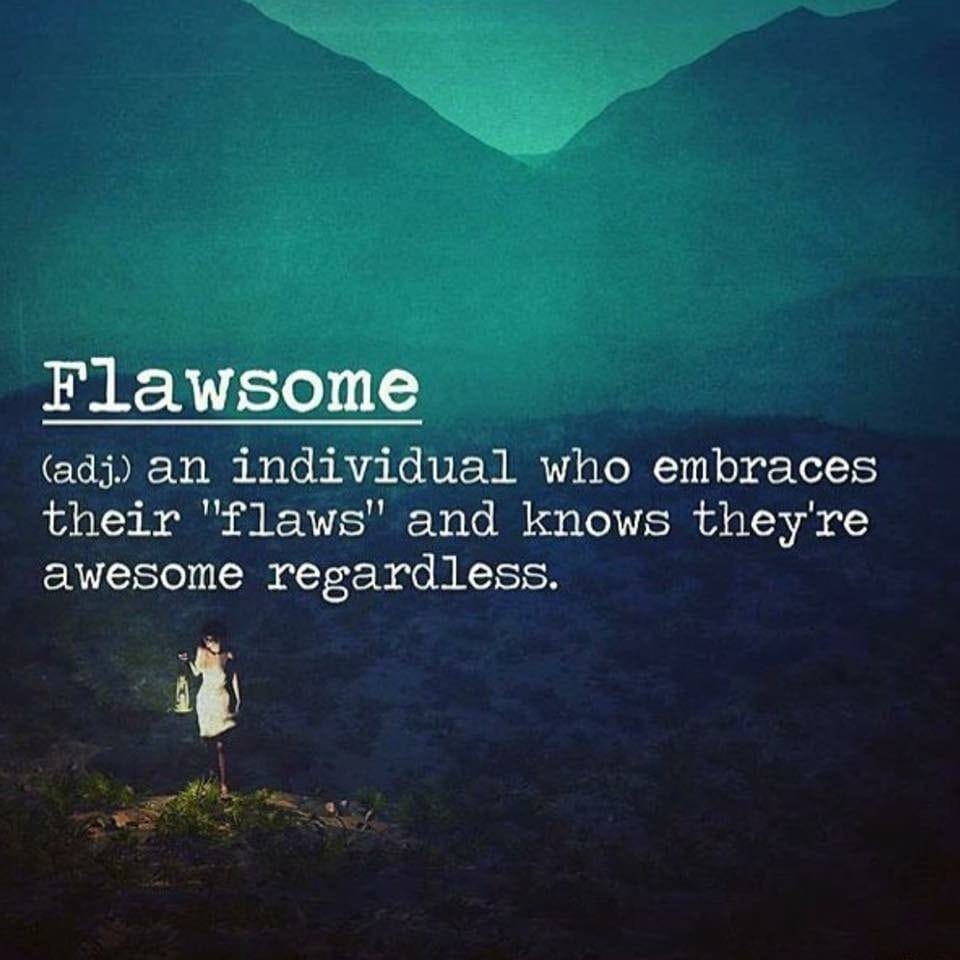 Daily Reflection:
And embrace my flaws, I did!… Friday night Jon and I went to a costume party to support an amazing cause. It was to support uncompensated care at Childrens Hospital. It was great to have a night out with good people and to give freely or our time and resources. It was also a huge milestone for me. I am not a costume girl. I never dress up for Halloween. I never go to costume parties. It is not my thing, nor has it ever been. Anyone with a weight problem can probably attest to this… Costumes will always make you feel even fatter than you already do. When you are overweight, you feel like a costume would just be begging everyone to look at you. I remember years ago buying a Renaissance maiden costume. I just knew that this was going to be the costume that would finally make me feel comfortable. I put it on and I instantly felt like a fat milk maid. There was no fair maiden in sight. Did they replace my costume with a moo moo? There was no way I was going to wear that costume to a party and stand next to the sexy cats, naughty nurses, wonder woman, and all the other scantily clad bodies you find at costume parties. No Way! Put myself out on display and have people wondering why the fat girl even bothered? No thanks! Of course, I did realize that I was likely the only one that would be thinking that way. But that was still enough for me to swear off costumes forever. To tell you the truth, I only went to this event because I wanted to show my support for a life long friend and her family. Leading up to it, all I could think about were those very same fears and insecurities. I didn't want to stand out. Especially not while I am pretty close to being the heaviest I have ever been. At this point, I was pretty much begging to be back to the size I was in my fat milk maid days. But in the name of a good cause, I dressed up, cast aside my doubt and actually left the house feeling pretty good about myself. I got lots of compliments on my lady Krueger outfit and not once did I feel like anyone was silently judging me. I can't even call this a small win, because it felt more like a huge victory. I ended the night saying to Jon "Maybe we are costume people after all!" It was a great feeling.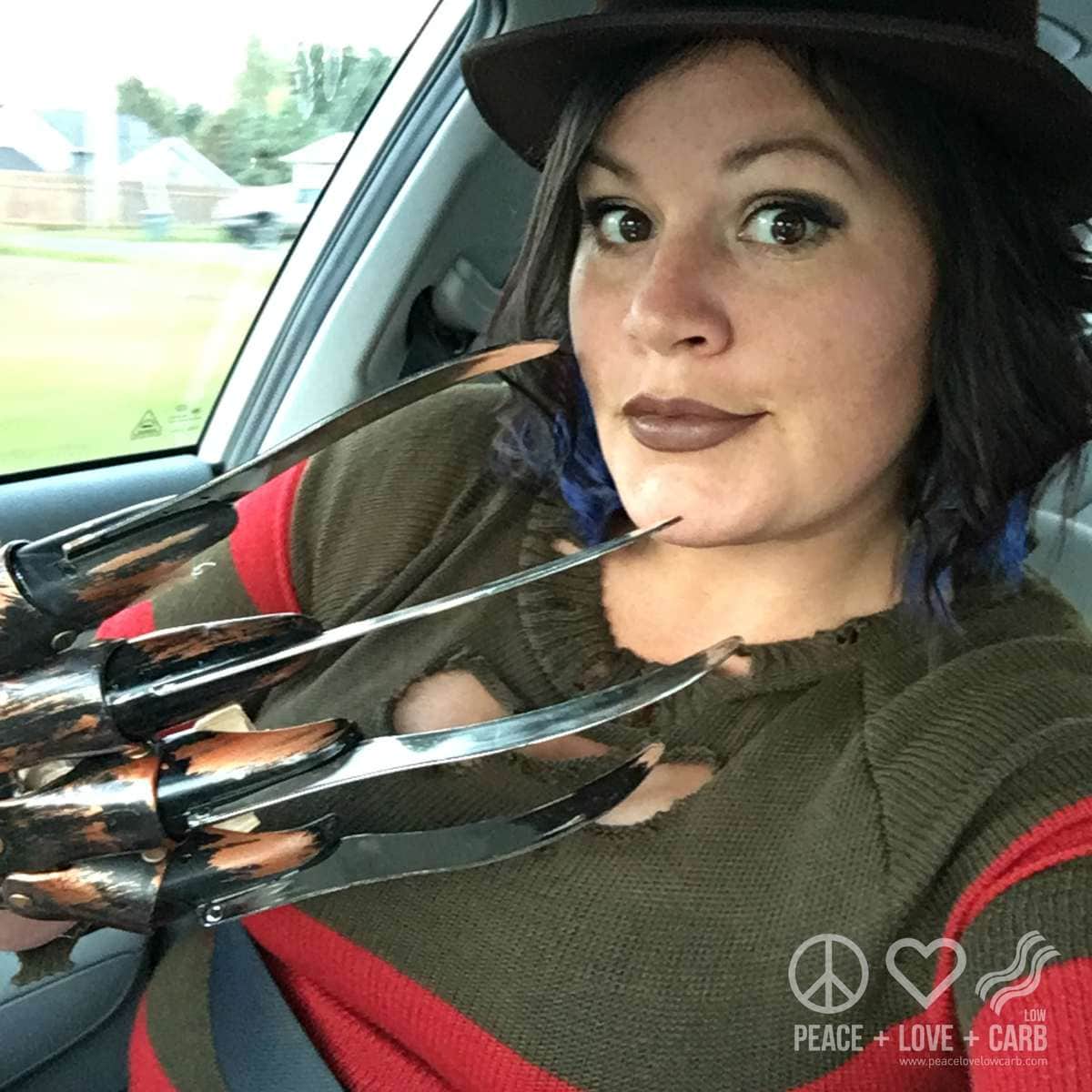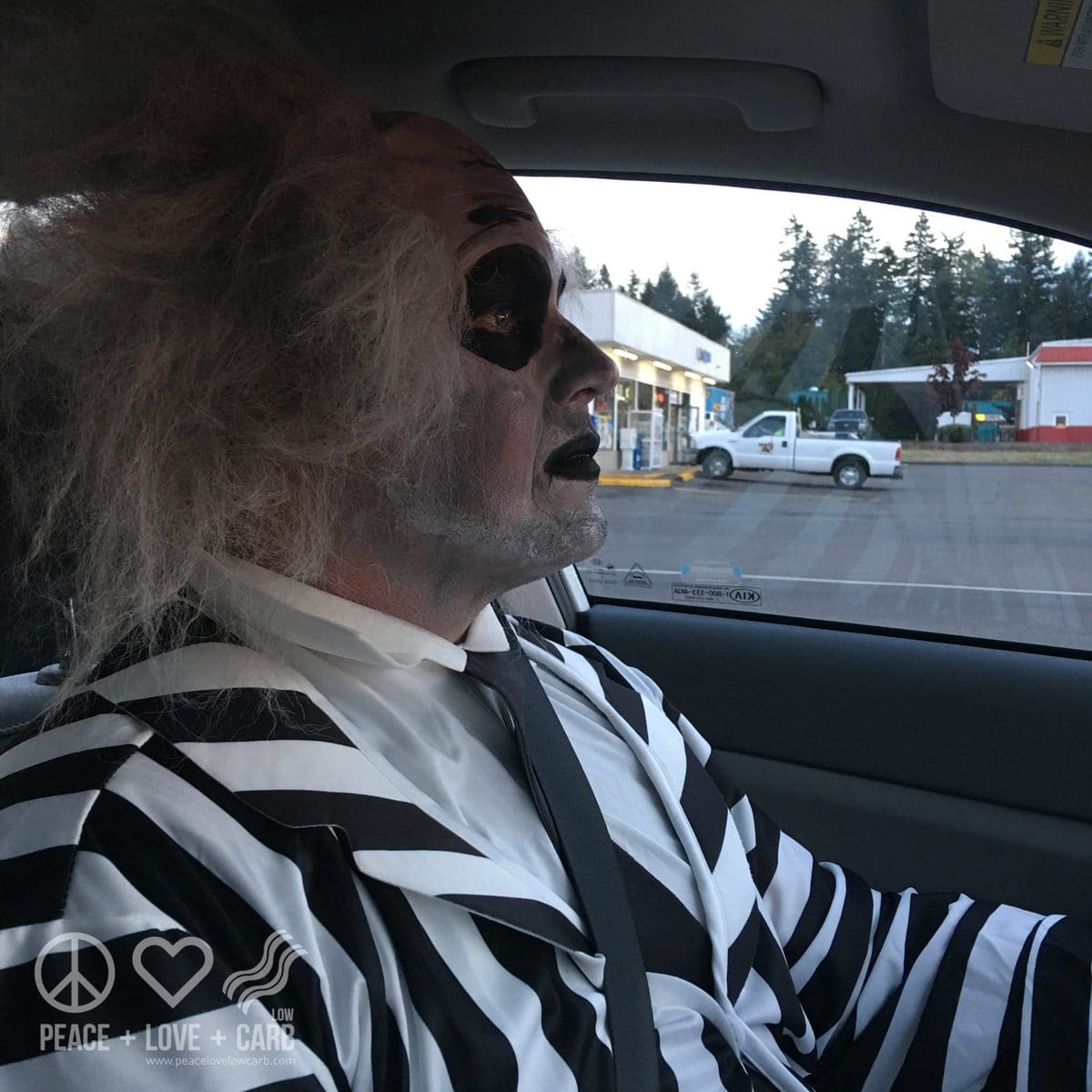 Self Care Check-In:
Saturday night we all did Purifying Charcoal Masks. Families that do facials together, stay together. We couldn't get the boy child to join us. He said it was weird and that he wanted no part of it. We all commented on how amazing our skin felt afterward. Soft and toned without feeling dry or tight. Just soft, smooth and really clean. I shouldn't have shared! Now they are going to want to use it all the time. 🙂 I have really been working on cleaning up my skincare and beauty regimen. I already know myself well enough to know that I will not grow old gracefully. Anything natural that I can do to help keep me looking youthful, I am all over it. As it is, I am already a freak about year round sunscreen. If you have met me in real life, then you have likely heard me exclaim, "I don't want to get old lady chest" as I am slathering myself in sunscreen, even on overcast days. I will take healthy, radiant skin, over a tan any day! My only wish is that I would have come to this realization in my 20's and that I would have found a chemical free sunscreen solution sooner.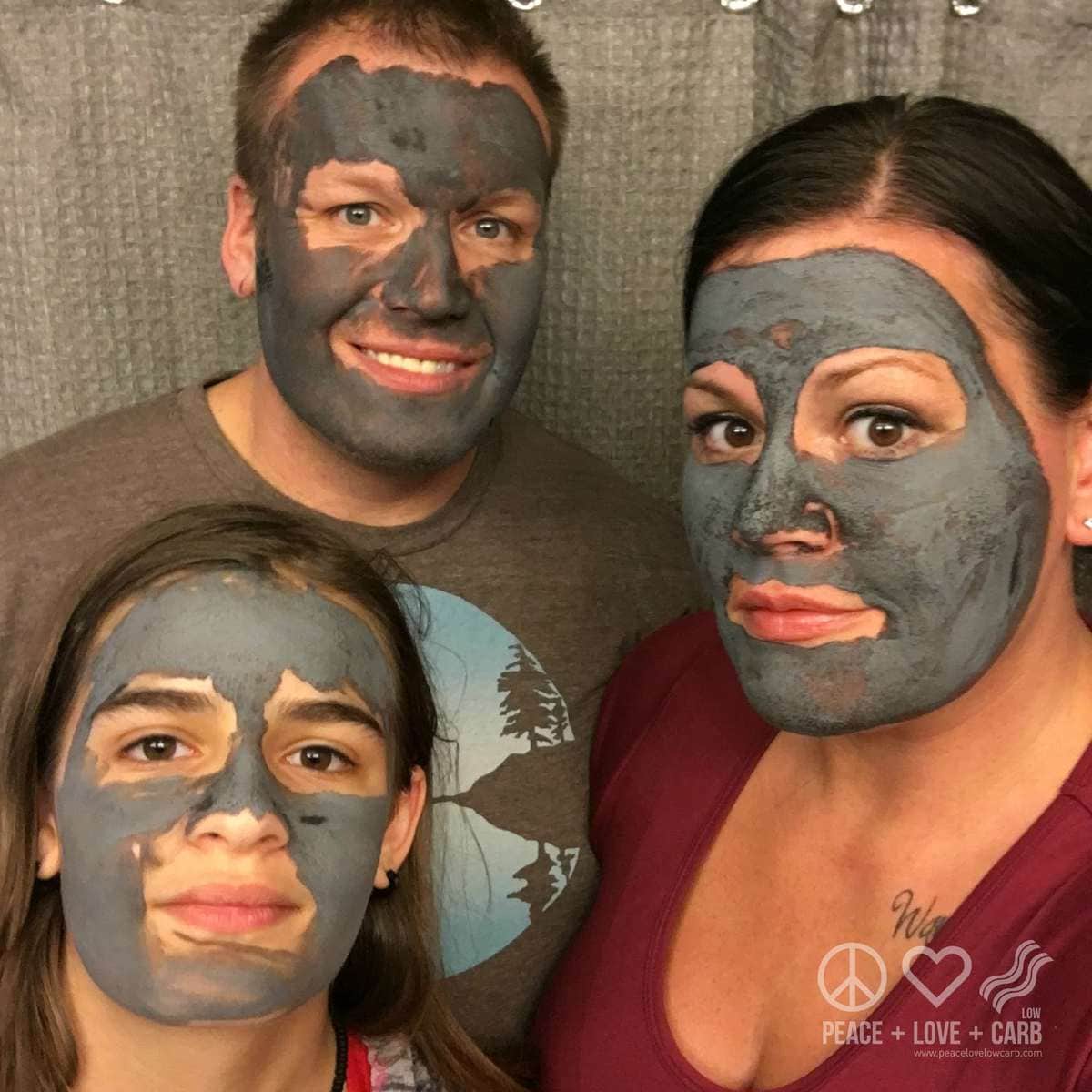 Eat All The Foods:
To be quite honest with you, this weekend was all over the map with food. I know I will pay for it on the scale on Monday. I am off my game this week. I have been all over the place. My poor food choices have also impacted my mood. I feel crabby, blah, unmotivated and frankly, a little bummed out. It is still so amazing to me just how much food and lifestyle choices can have such a profound effect on the rest of your life. I figure there is no point in posting photographs of the bad foods and putting us all into a state of temptation, so here are a few pics from some of  the low carb meals. Tomorrow is a new day and a new opportunity to get it right! I am ready to slay next week.
Sunday was amazing. We lounged around watching football. Jon made us an awesome low carb breakfast. An omelette with ham, sausage, onion, olives, white cheddar cheese, topped with hollandaise, served with a big hunk of polska kielbasa.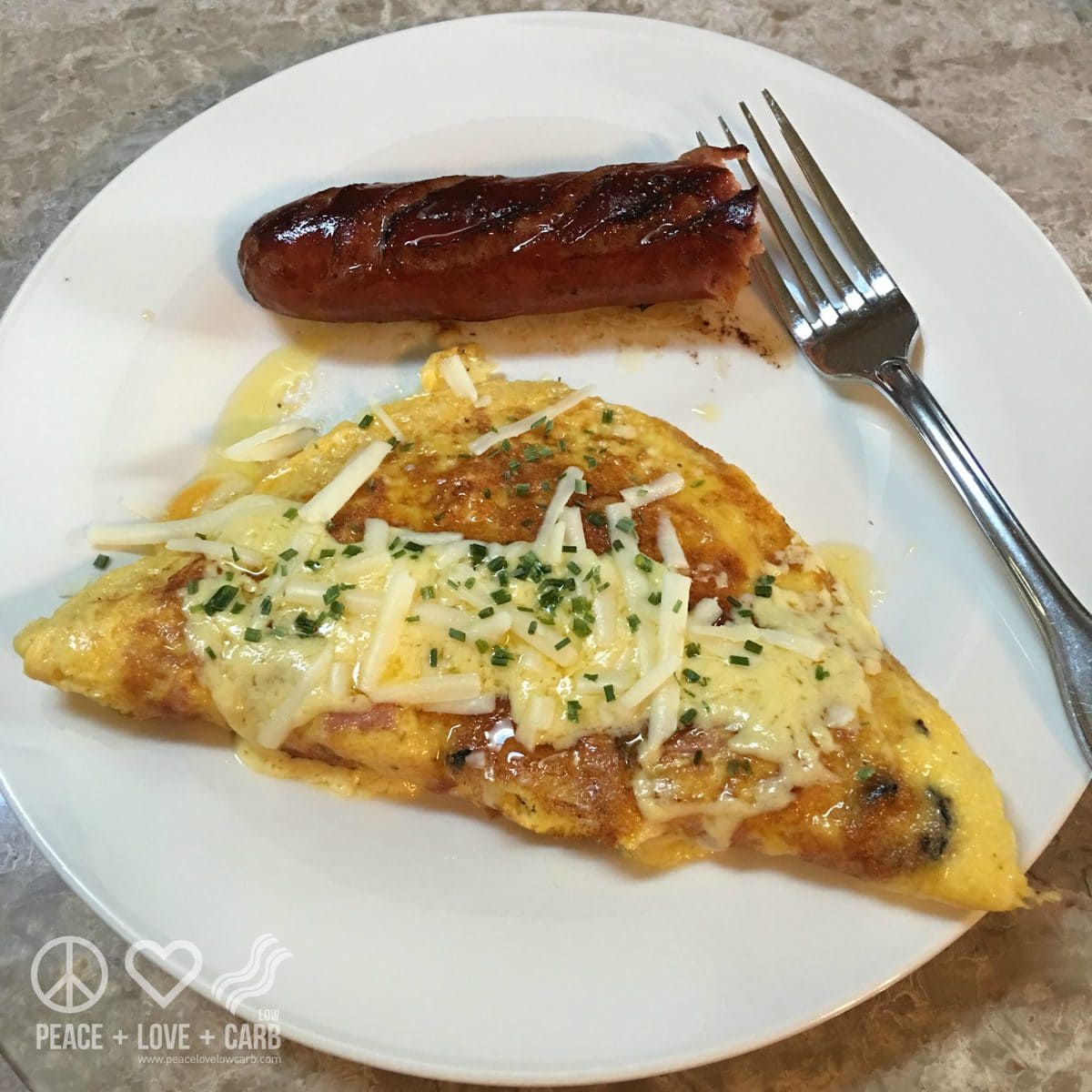 I'm still completely hooked on my Dill Chicken Salad recipe. I'm sure you can tell from the thousand or so times I have mentioned it. It is just so quick and easy to whip up a batch.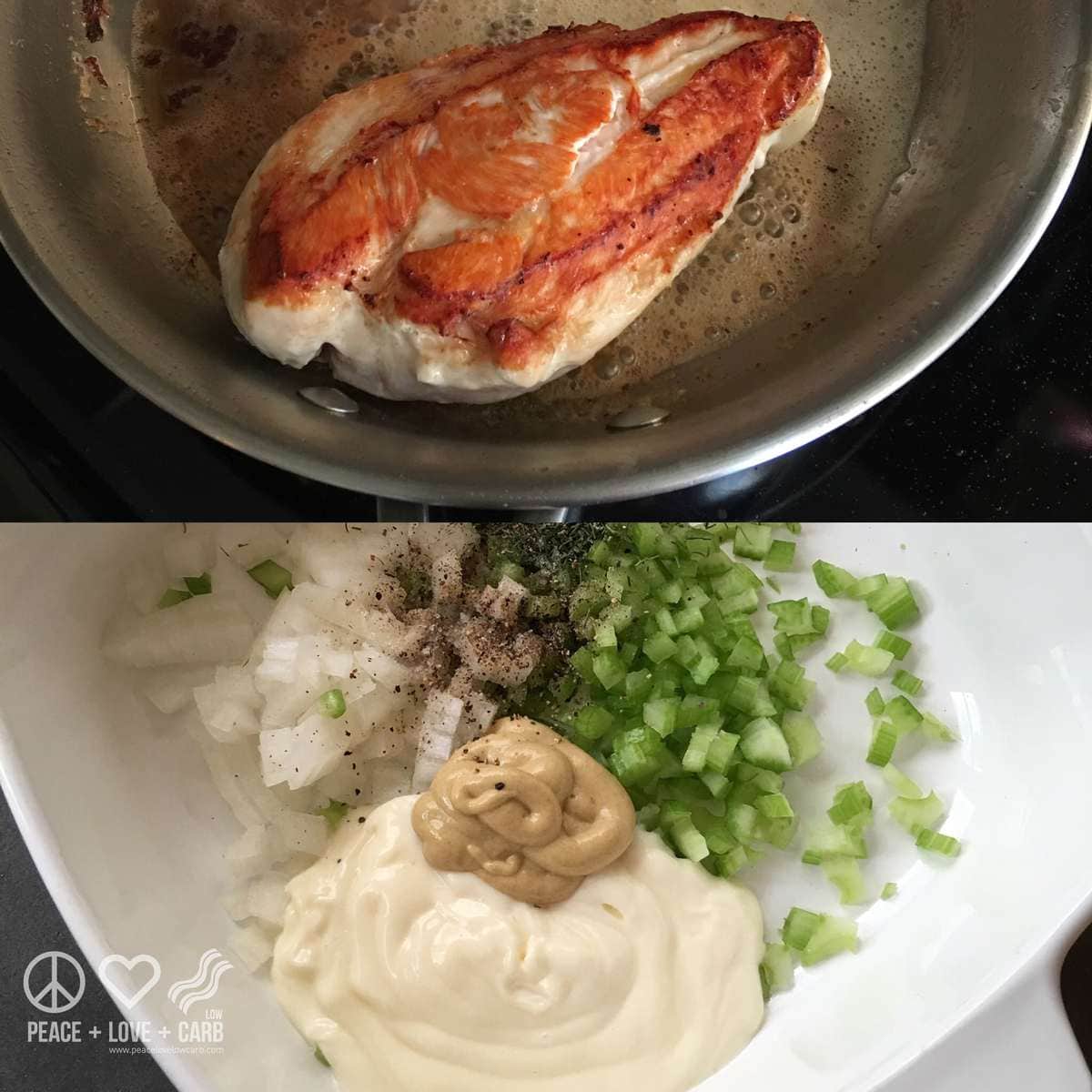 My vast love of lemon continues. Have you tried Halo Top yet? Ummmmmm! Yum! You can read more about my thoughts on it in my "A Few of My Favorite Things…" post. I don't have issues with keeping to the portion control part of sweet treats. My food cravings have alway been savory in nature. Set me next to a table of desserts and I will be just fine. Post me up next to one single bowl of Doritos and it will rule my thoughts like it is actually calling out to me. Keeping a clean pantry at home is more important for me now than it over was.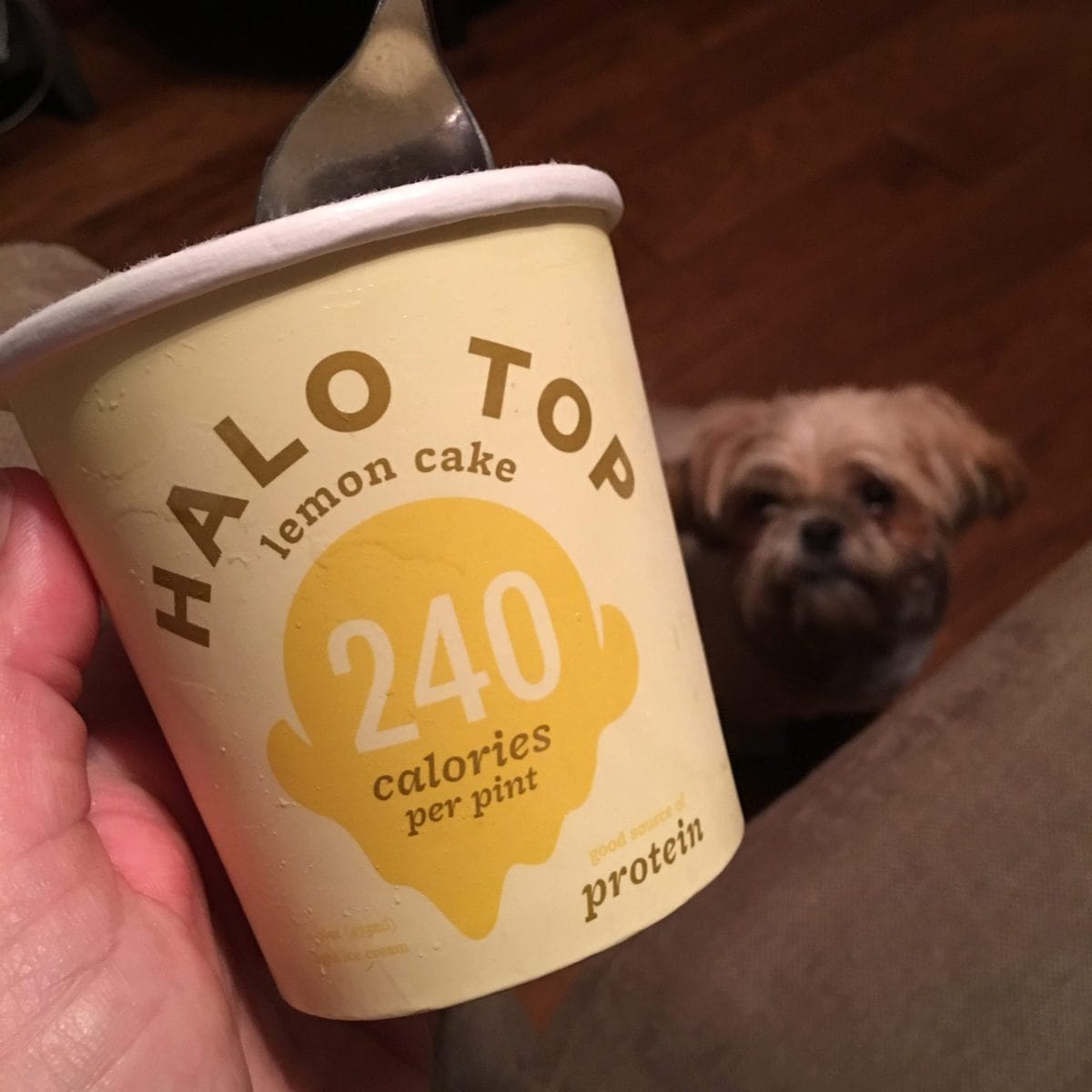 Friday was an awesome day in the gym. I am loving it there more and more every time we go. Jon and I typically go at the 9am timeframe, which is technically open gym. But we go to do the workout. Today everyone else in the gym was working on other things and it was just Jon and I doing the workout together. #GoTeamHolley. It was hard. We muscled our way through it and finished just 15 seconds apart. I felt like I was walking through mud. It seemed like I was going so slow. My inclination would have been to strip some of the weight off the bar and work faster. Instead, I kept with the weight my coach suggested. It took longer, but I felt so accomplished at the end. The funny part about it was that this was easily the weight I would have done with workout at 2 years ago when I was still doing Crossfit. I probably just would have done it a little faster back then. I am loving finding my way back to strong. I feel safe, comfortable and supported at our new gym. Everyone is there simply working on being a better version of themselves. There is no competition, no pettiness, no nastiness, only positivity, support and a strong sense of community. I can go there and just be myself. Finding that kind of comfort while doing something they preys on your deepest insecurities is no easy feat. I just feel happy when I am there. Dare I say it is my new happy place?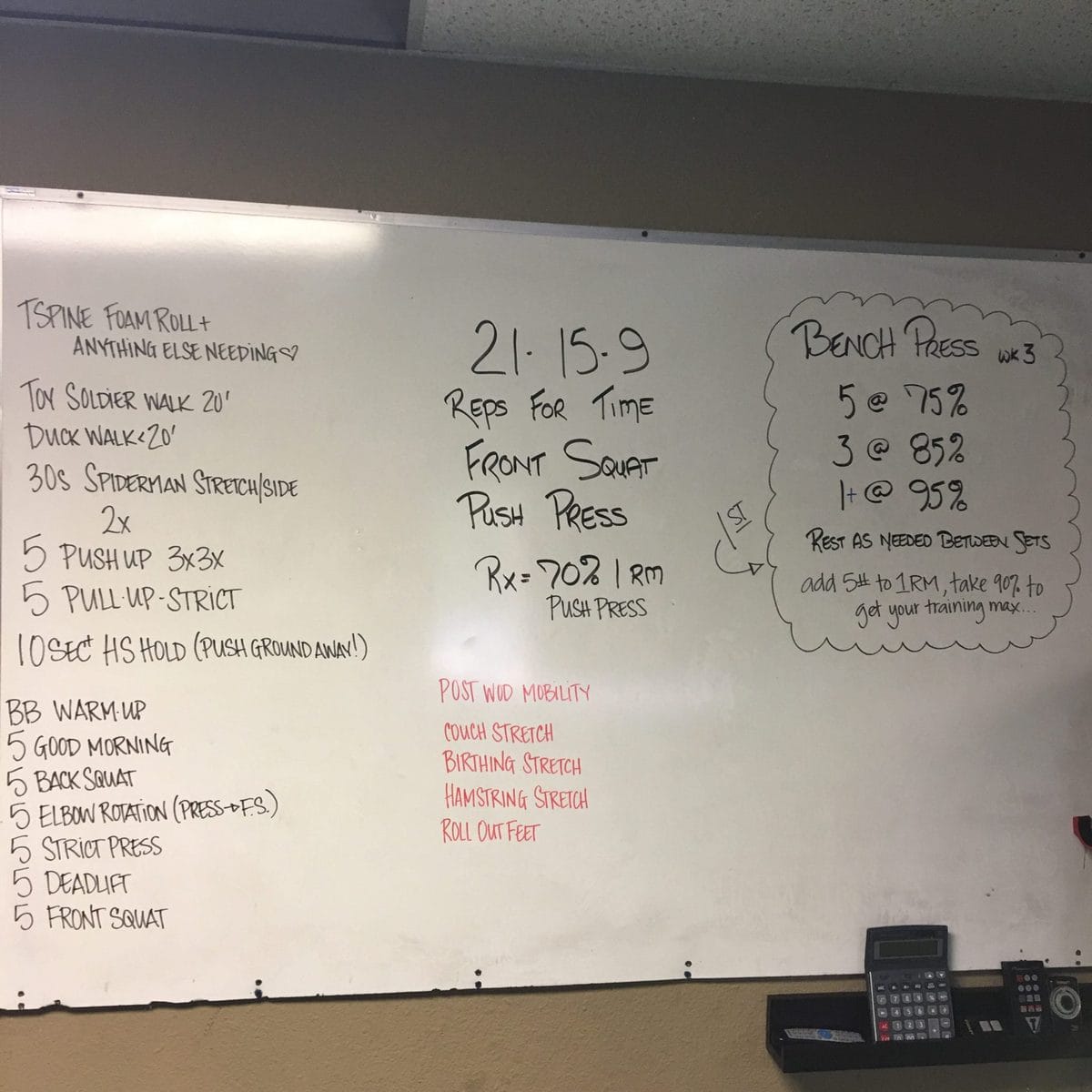 Here's to a better week, next week – mentally, physically, spiritually. I was not disillusioned enough to think that every week of this journey would be perfect, but it doesn't make the bad weeks sting any less. Onward and upward. I'm ready to show Week 6 who is boss.