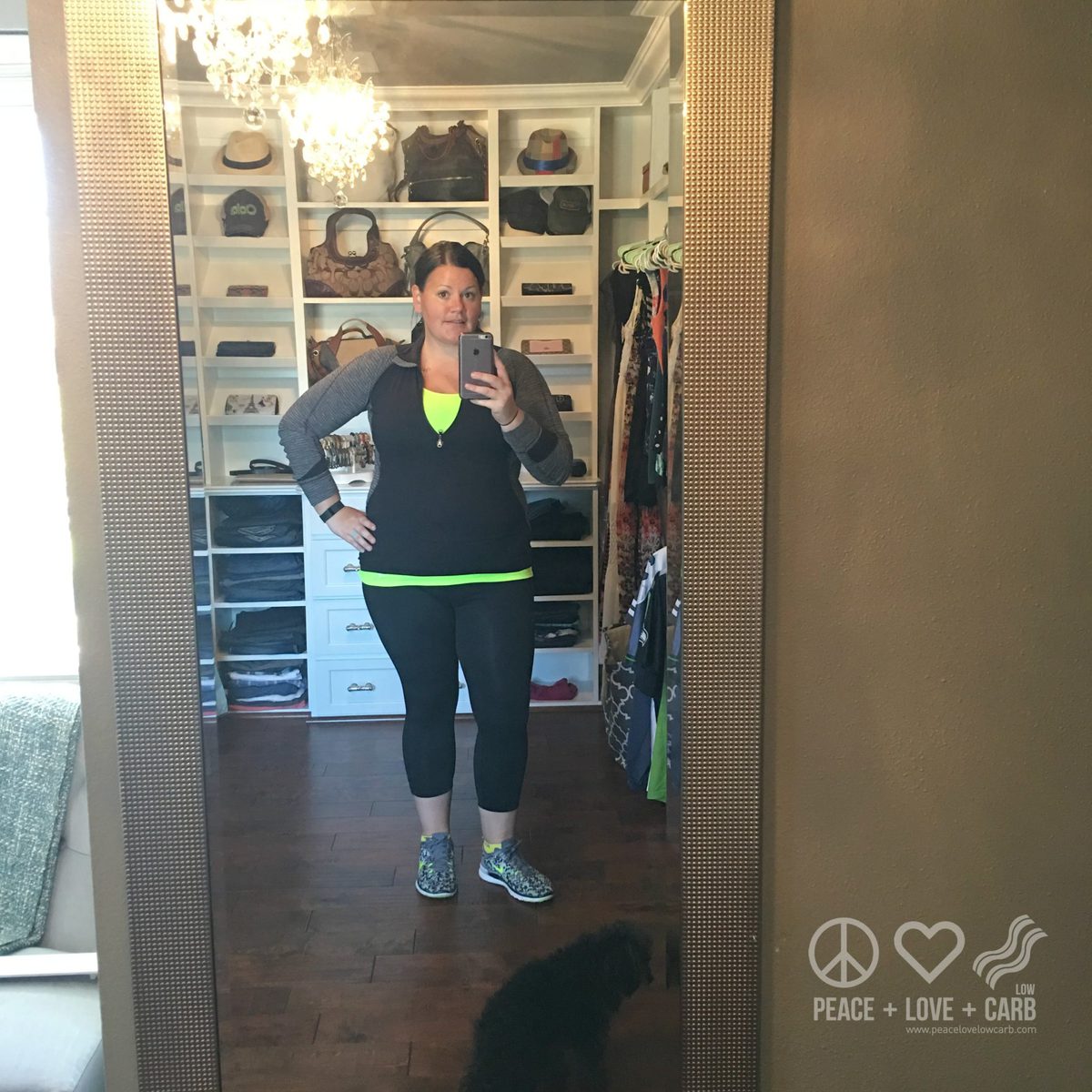 If you are just starting to follow along on my new and improved weight loss journey, I recommend starting with these posts from last year first so you can see how it all began (any text that is highlighted orange is a clickable link) – Coming Clean Post     Week 1     Week 2     Week 3     Week 4     Week 5     Week 7   Week 8     Weeks 9-12    Week 13   Week 14    Week 16     Week 17   Also, make sure you are following along on Instagram, as a lot of the day to day stuff will take place there.
CLICK HERE TO GO BACK TO WEEK 2…
Starting Date: 8/29/16
Starting Weight: 281 lbs
Current Weight: 269.5 lbs
Pounds Lost: 11.5
Goal Weight: 180
Goal Date: 8/27/17
Height: 5′ 9″
I lost one pound over the past week, bringing my two week total to 11.5 pounds. Notice that I did not say "only one pound"? A loss is a loss in my book and I am heading in the right direction. I am not surprised though, as my period came on Sunday night. I knew that the scale was not really going to tip in my favor. I am committed to this process and to making lasting change this time around. As I said in Week 1, I am not going to do progress pictures every week this time around. I will weigh in each week and take new progress pictures every 2-3 weeks. I want to make success as easy as possible. For me, that means putting as little pressure on myself as possible. I can't be so rigid about documenting every last thing or I will burn myself out FAST! Last week I had trouble finding the words to sum up how I was feeling each day. That NEVER happens. I always have words. I think I was just too busy spending quality time with myself and with those that I love. I was too busy living life to document it all. Thankfully I still snapped a lot of pictures, so last week turned into more of a photo diary. Last year when I was going through this process, I would have let that make me feel really guilty and like I wasn't living up to my promise of "perfection". Isn't that the strangest thing? Feeling guilty over not documenting my journey and having something to say every day? Guilt creeps into the strangest places, at the most inopportune times. Letting go of guilt and setting myself free is one of my main priorities right now. I have joked in the past that I should be Catholic with all the guilt I carry around. Here's to changing that!

MONDAY 9/12/16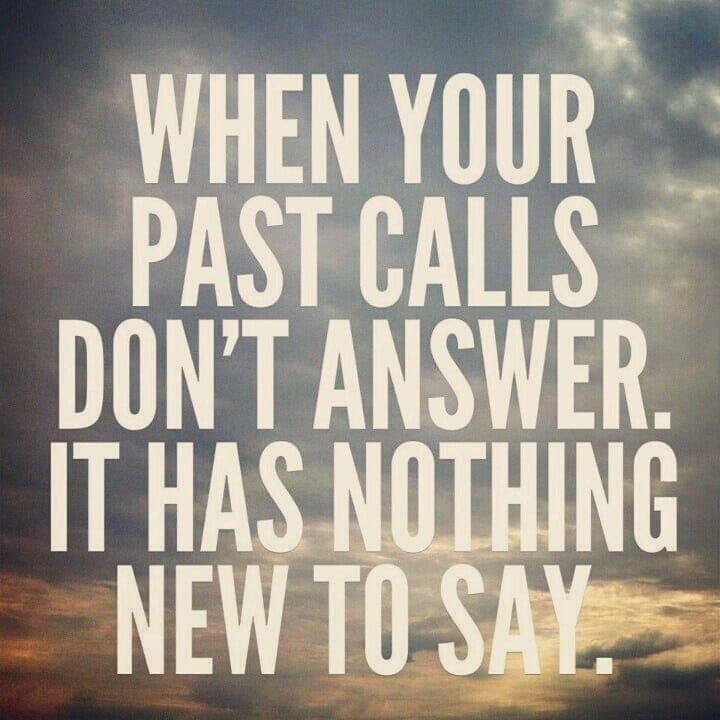 (Source)
Daily Gratitude: 
Today I am thankful for friends with non-conventional schedules that are able to get together for longs walks at random on weekdays. I never mind walking alone, but it is always fun to have a friend along.
Daily Reflection:
I've been thinking a lot about realistic expectations. I am seeing a disturbing trend in the Peace Love and Low Carb Friends Group where people are saying things like "I only lost 5 pounds last week" or "I've only lost 3 pounds in 2 days" I used to type out a comment to each one, congratulating them on their success and reminding them not to be so hard on themselves. But lets be realistic and put these numbers into perspective shall we? 5 pounds a week would amount to 260 pounds lost in a year. 260!! I cringe when I hear people say that they only lost 2 pounds in a week. You know what? That is healthy, realistic, and achievable weight loss. Slow and steady gives your body the best chances of rebounding after a big loss. 2 pounds a week would still be 104 pounds lost in a year. A year goes by in the blink of an eye. Seriously! I am sitting here typing this post one year later after starting all over with my "I'm a healthy living blogger with a secret…" post. A whole year went by. If I had stuck with it and maintained 2 pounds a week, I wouldn't be sitting here typing this post right now. 2 pounds a week is amazing. YOU are amazing. Stop doubting yourself.
Self Care Check-In:
With it being my super awesome lady time of the month, I needed a little extra emotional support today. The closer I creep up on 40, the more my cycle messes with my emotions. I can always tell when my period is coming because I am less grounded, quicker to fly off the handle, more prone to making mountains out of mole hills and can get a little bit of "Chicken Little Syndrome". A quick glance at the calendar and it all makes sense. Then I just remind myself not to trust my emotions for the next few days. I have really learned to help keep all of that at bay by adding in a little extra emotional support in the form of essential oils during this super fun time of the month. You can learn more about the ways I have used essential oils to support me emotionally in my Facebook Group – Here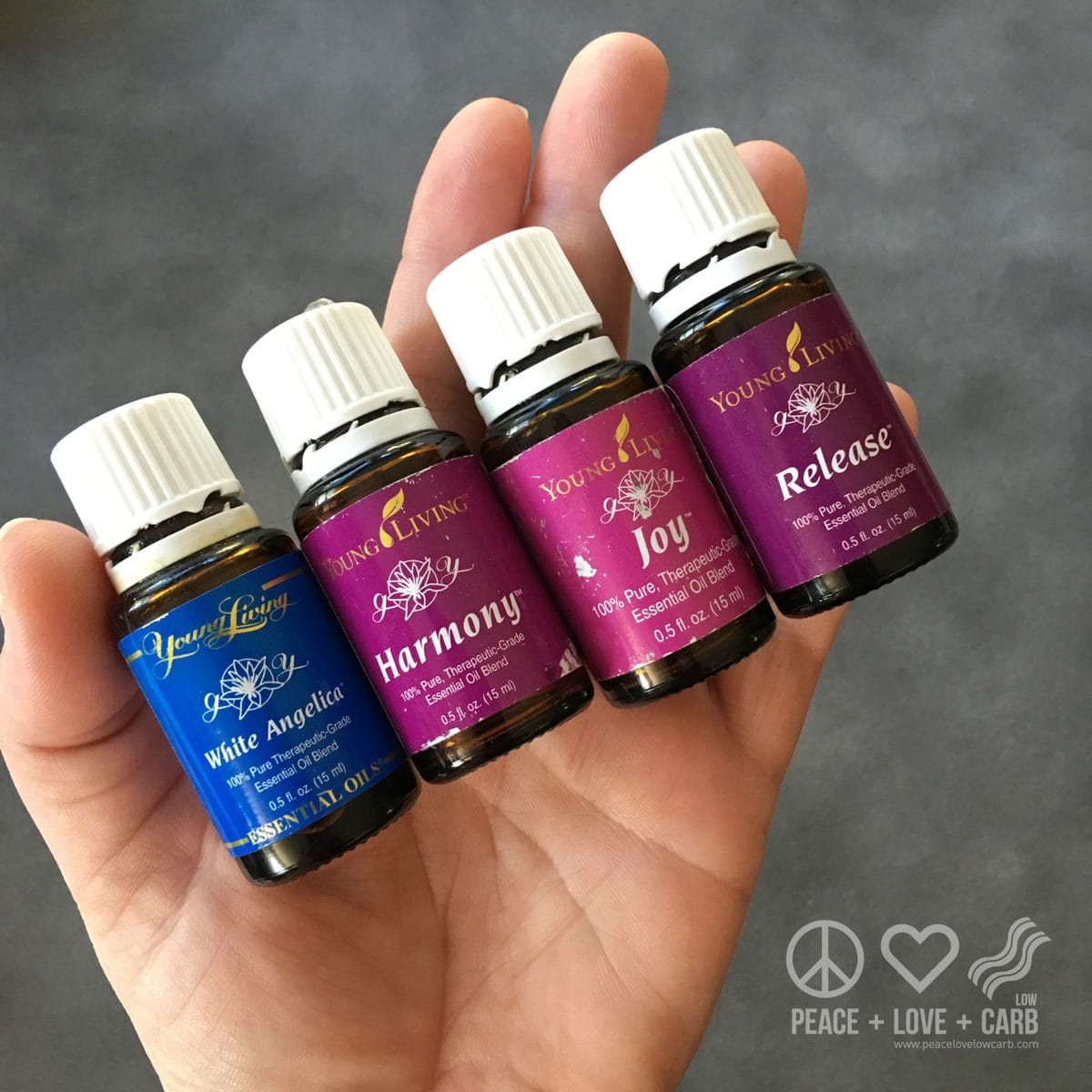 White Angelica – Increases and stengthens the aura around the body to bring a renewed sense of strength and protection, creating a feeling of wholeness in the realm of one's own spirituality. Its frequency neutralizes negative energy and gives a feeling of security. It is calming and helps to balance emotions and get rid of negative feelings and emotion. It also provides a feeling of comfort and safety.
Harmony – This blend promotes physical and emotional healing by creating a harmonic balance for the energy centers of the body. It brings us into harmony with all things, people, and cycles of life. It is beneficial in reducing stress, amplifying well being, and dissipating feelings of discord. It is also uplifting and elevating to the mind, creating a positive attitude.
Joy – This blend is a terrific emotional oil. It helps to lift the spirits and is great for a mood boost. It produces an uplifting, freeing feeling. I typically start each day with a drop over my heart.
Release – I like to call this the "Let it Go" blend. It helps to release anger and emotional distress to create a feeling of well being. It helps open the sub-conscious mind through pineal stimulation to release deep-seated trauma. It is one of the most powerful of the emotionally supporting essential oil blends. In most cases I will apply this at night time as it has been known to make me crease I process through emotions.
Eat All The Foods:
This is my current breakfast obsession. Bacon, pastured eggs and broccoli with cheese sauce. Pretty sure I could eat it all day, every day! YUM! I make a quick cheese sauce simply by adding whatever cheeses I have on hand to a little heavy cream, adding garlic, sea salt and black pepper and heating it in a sauce pan.
As a snack for the last couple of days I have been having roasted almonds with salami and white cheddar. The almonds give that nice crunch that a cracker would provide. It is really satisfying.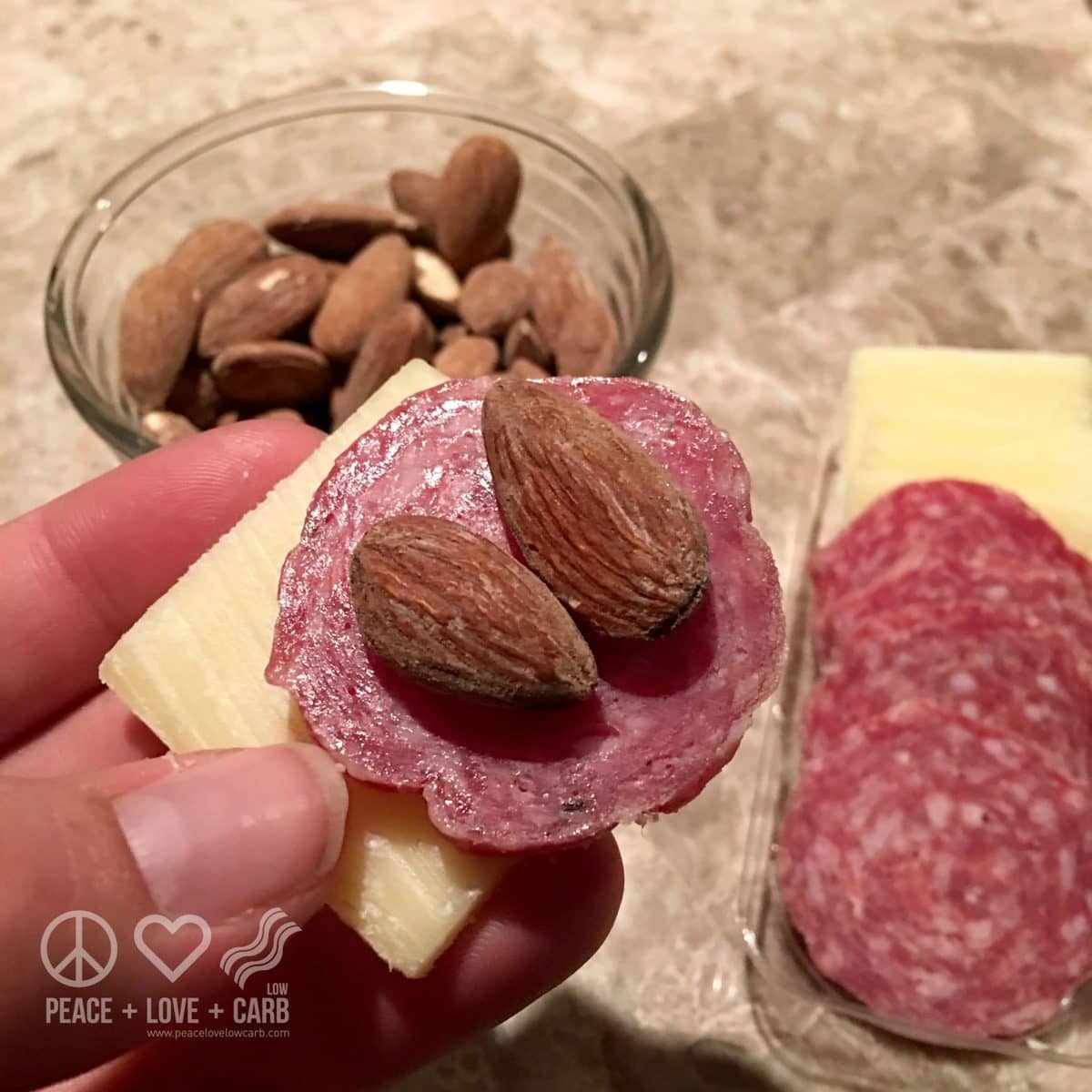 Staying Active:
I started my morning off with a nice long walk with my friend Hayley. Starting my day with movement really helps me set a positive tone for the entire day. Walking with a friend is just icing on the low carb, gluten free cake.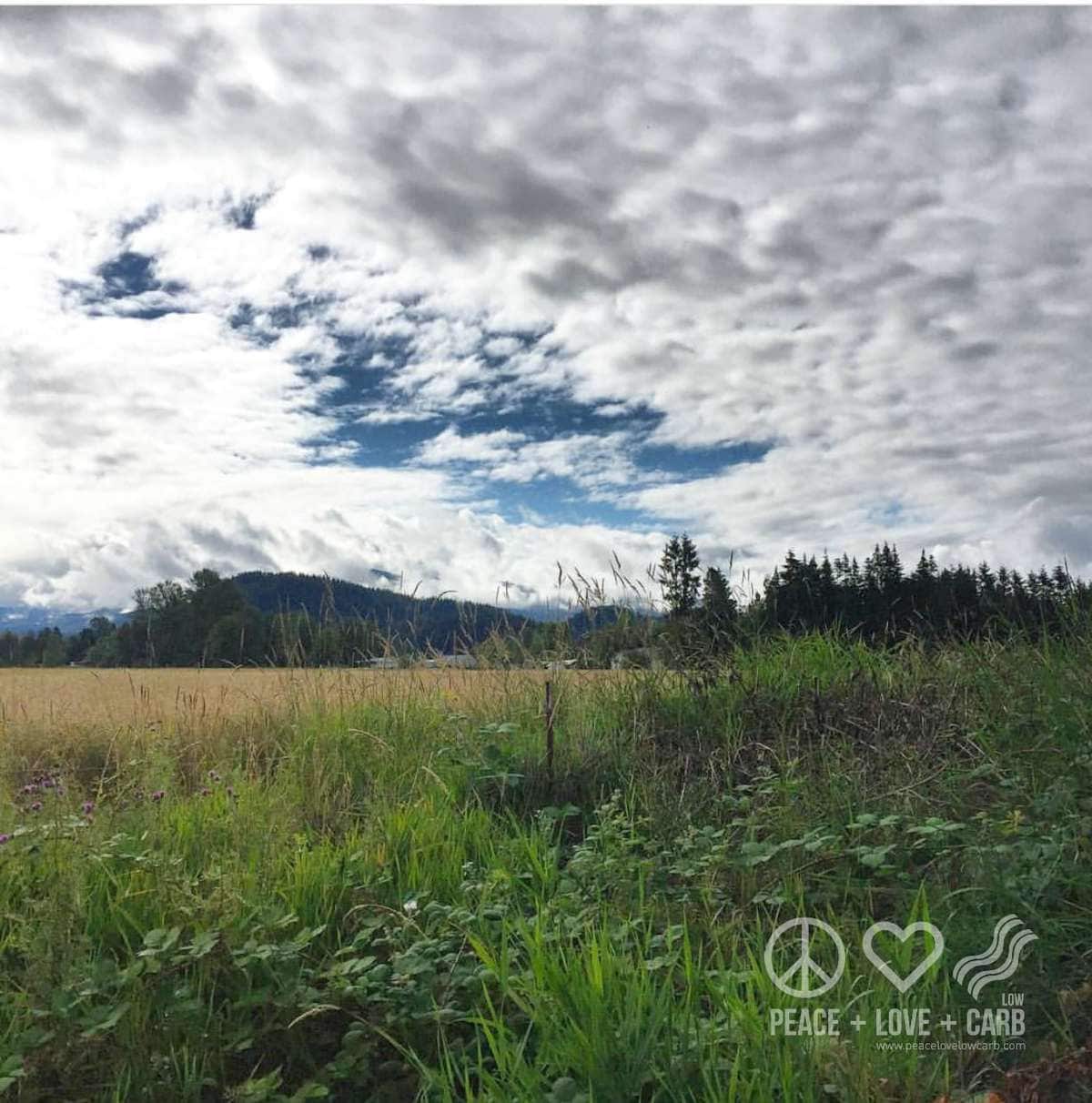 If you were following along last year, then you know that Jon bought me an awesome Electra Cruiser bike for my birthday. Well he finally got one as well. We went on a 6 or 7 mile bike ride on a trail we love that is close to our home. So much fun! I love that we can find so many healthy things to do while spending quality time together.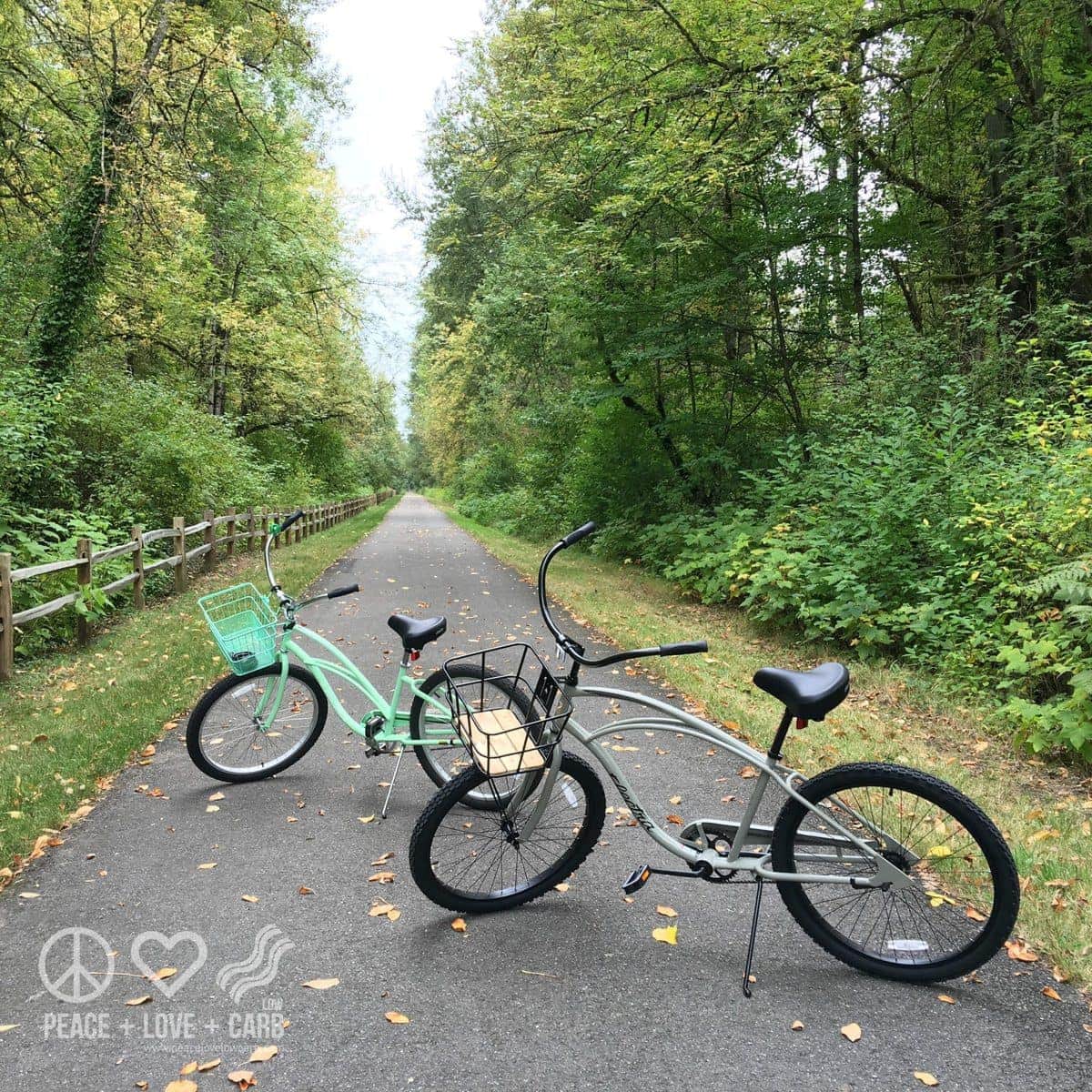 Lots of activity today! I'm kind of addicted to the FitBit challenges. It took me a long time to buy one because I just thought the novelty would wear off really quickly and that it would be a waste of money. I was wrong. It is definitely fueling my competitive side and getting me moving a lot more. I don't like to lose! This is the model that I have.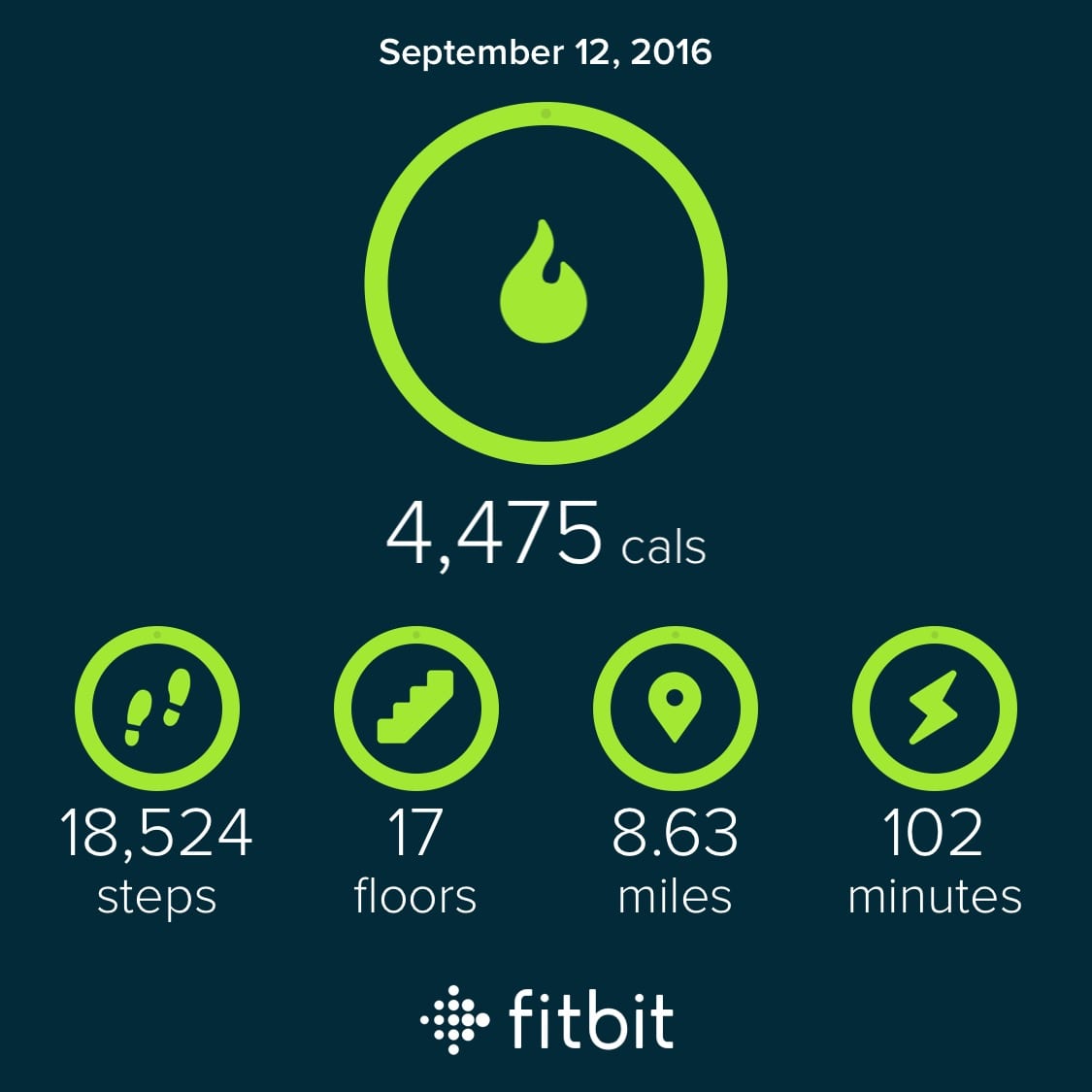 TUESDAY 9/13/16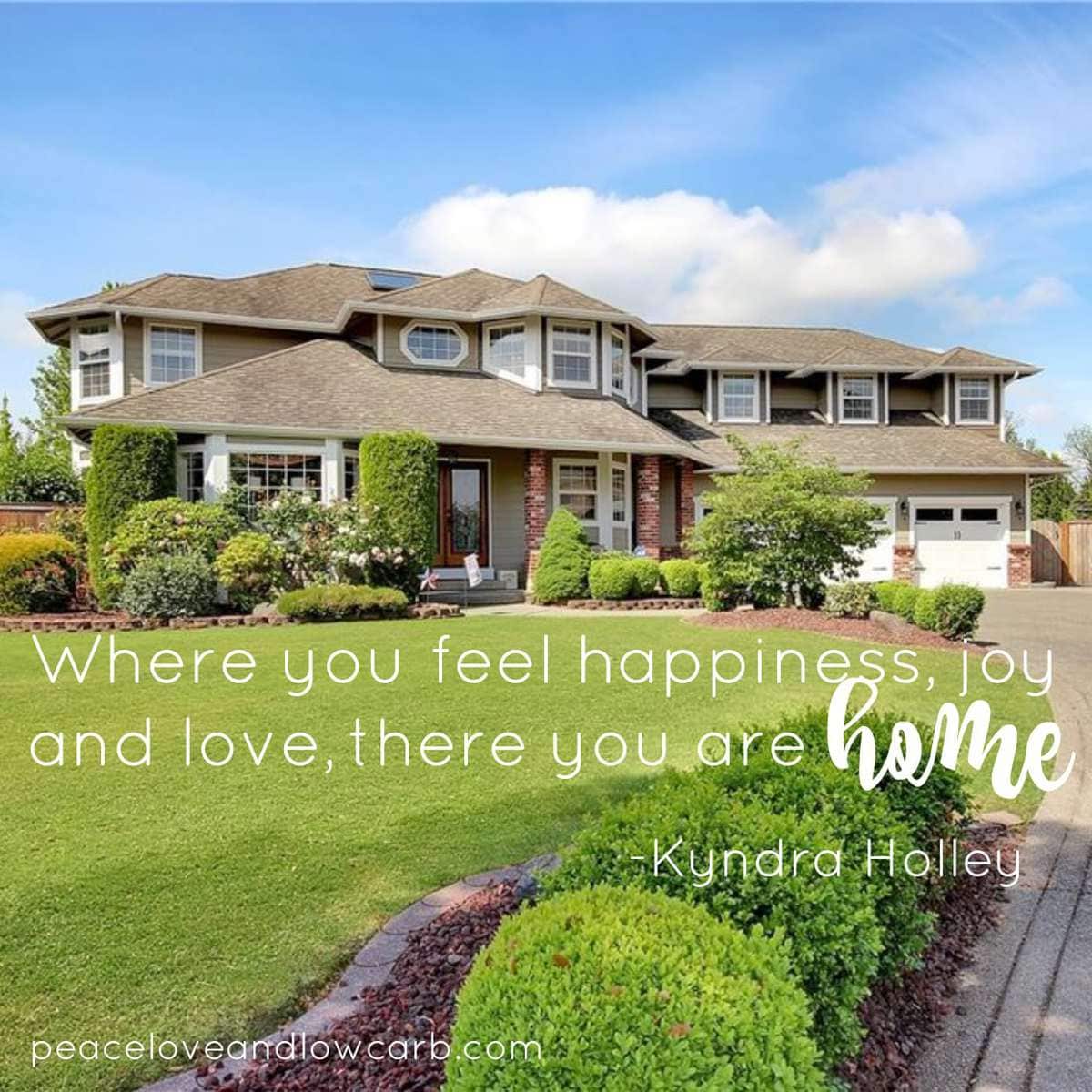 Daily Quote: 
"It's a helluva start, being able to recognize what makes you happy." – Lucille Ball
Daily Reflection:
I still can't get over how content I feel in our new home. (That's our home in the picture above.) I love just being here. I feel a calm wash over me the second I cross through the threshold. I feel settled, joyful and at peace. My home has officially become my happy place. It is truly a home. Everywhere we lived before this was "just a house". This feels so different for all of us. I see glimpses of the differences in my family every day. I know Jon, the kids and the pups can feel it too. We all have such a sense of pride of ownership. The kids are even keeping their rooms cleaner. The dogs however, still have toys strewn about the house. Jon and I were on a walk the other day and I told him that I finally felt so content that I never wanted to leave this stage in our lives.  I like where we are in our marriage. We aren't perfect but we have a lot of love. I love the age the kids are at. The are funny, smart and independent. I love our new community. We have an amazing close knit group of friends that I wouldn't trade for anything in the world. Life is good! More reason to work on myself, get in great shape and continue enjoying all that this beautiful life has to offer. Sometimes you don't realize how out of order your life is until things start falling into order.
Self Care Check-In:
I have really been focusing on getting better quality sleep, sleeping longer and getting into bed earlier. I've done a pretty good job this week. My FitBit tracks my sleep patterns and I can look back and see when I was restless and how many times I woke up. It's pretty eye opening to see. The blue spikes are times when I was restless and the pink spikes are times that I actually woke up. I've only been waking up 1-2 times per night. I would love to sleep straight through the night without waking up at all. Time to play around with some different sleepy time diffusing combinations. I used to feel lazy when I would sleep for more than 5 or 6 hours. Boy, did I have it all wrong! Now I sleep as much or as little as my body tells me to. It makes all the difference in my energy levels throughout the day.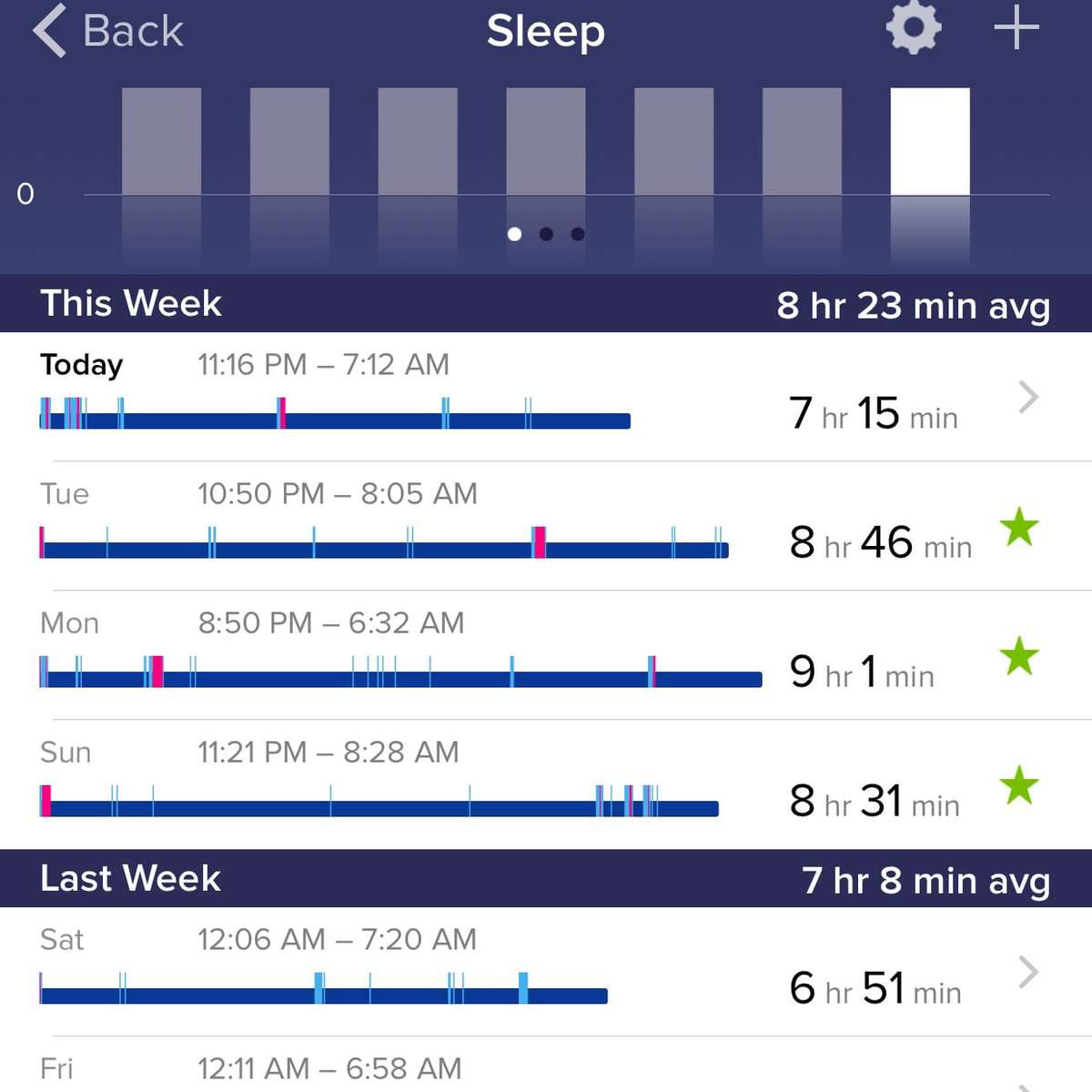 Eat All The Foods:
It's not always fancy around here. Tonight for dinner I ate leftover taco meat with cheese and olives mixed in. A fridge full of healthy foods and that was all that sounded good. Added bonus of not having to cook anything. I was eating my fancy meal while sitting on my bed, surrounded by pups, watching an episode of Bones. In that moment it was perfection. There was no where I'd rather be and nothing I would rather be eating.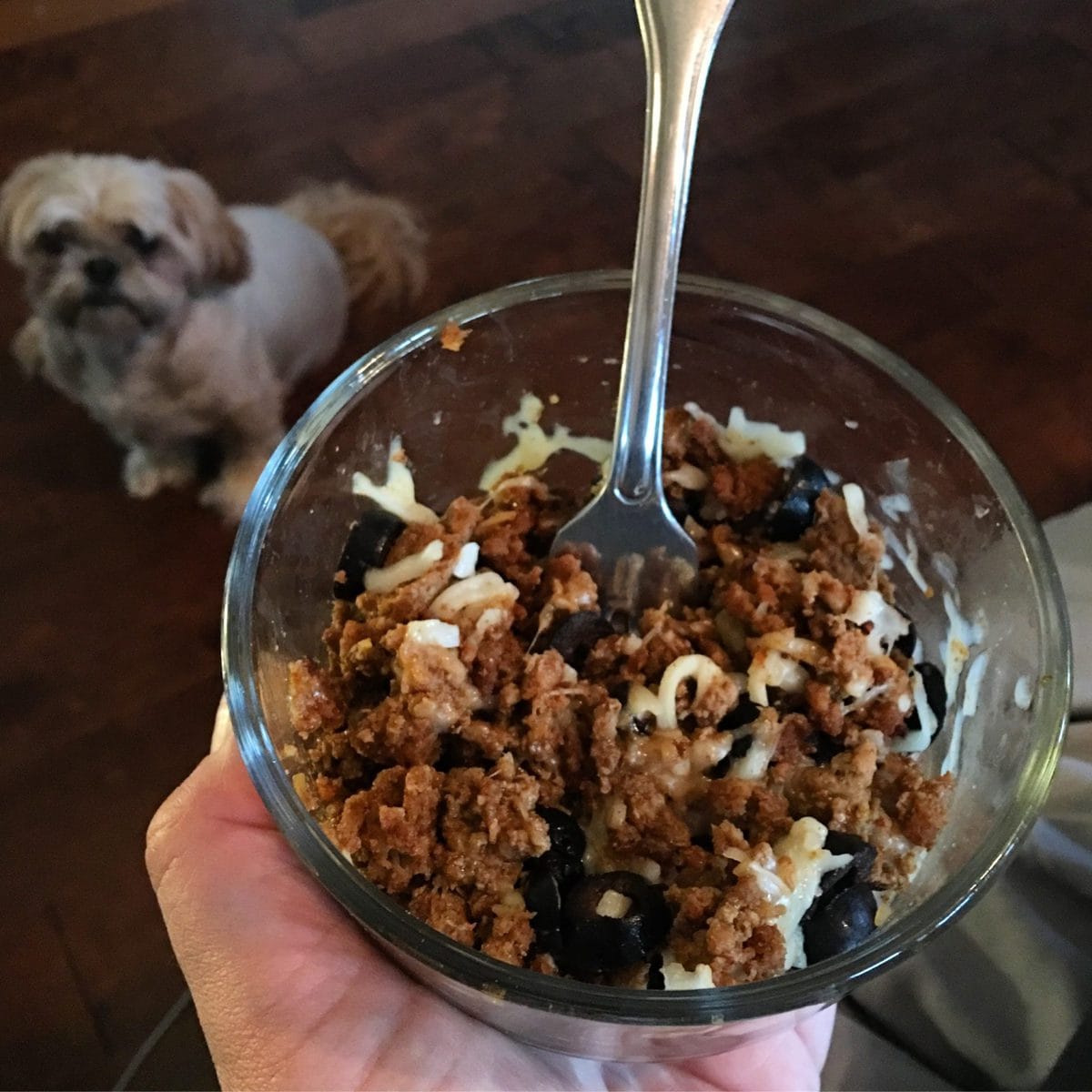 I'm pretty sure that I am going to turn into a cheese curd. I am obsessed. I could eat them all day, every day. I seriously just took a break from writing this to snack on some. It's a good thing that Jon loves me, because I am pretty sure that I always smell like garlic and herbs. Definitely not a romance inducing aroma.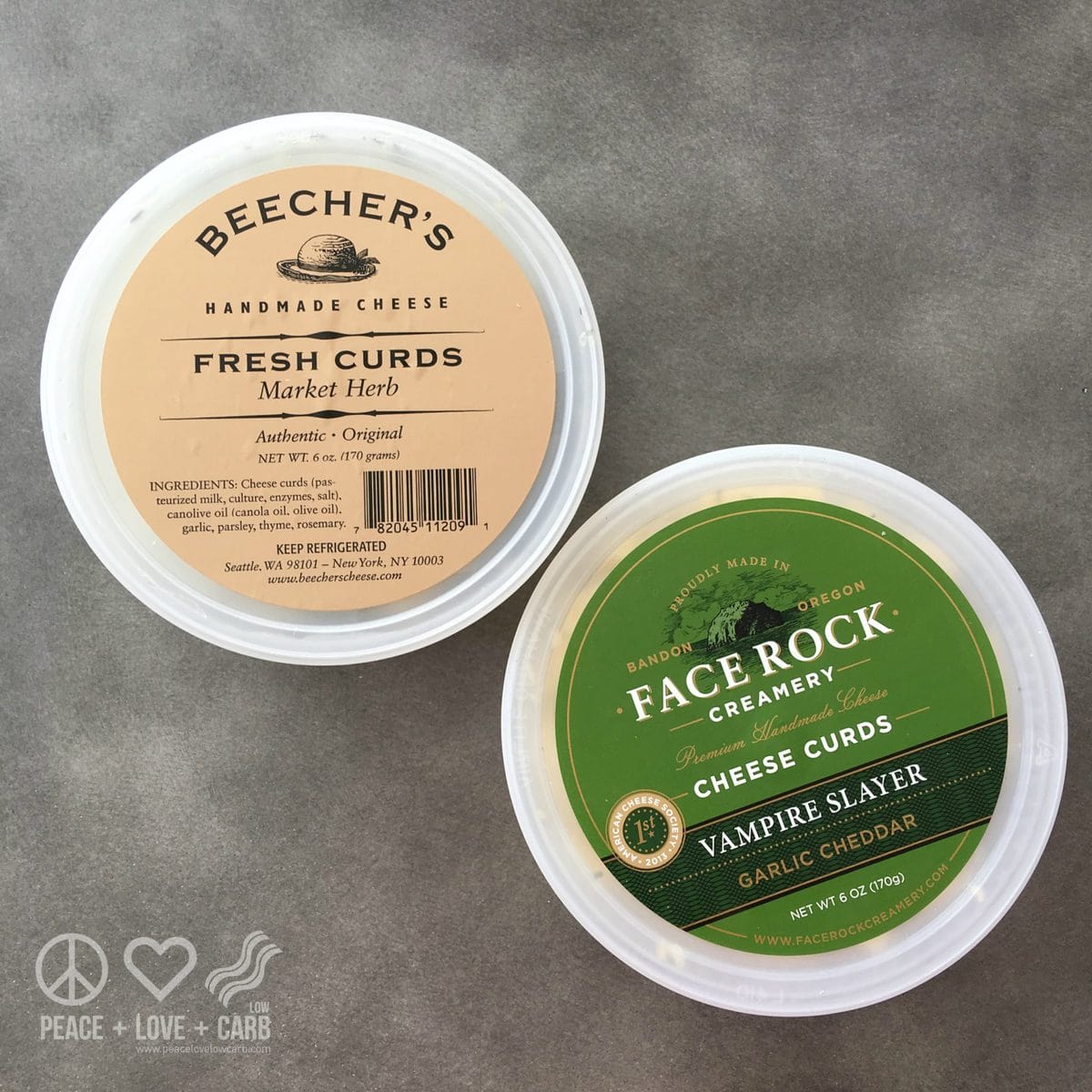 Staying Active:
Today was a crazy active day. I walked almost 16 miles. I went for a long walk with a friend in the morning and then when I got home, I didn't feel like working so I just walked some more… and more… and more. I have been trying to find the desire to start lifting again. It will come back when it is supposed to. Lately all I want to do is walk, ride my bike and do yoga. This time around I am just doing whatever feels right at the time. I am focusing more on just keeping my body moving, rather than sticking to one program or another. I'm living in the moment and doing whatever feels right at the time.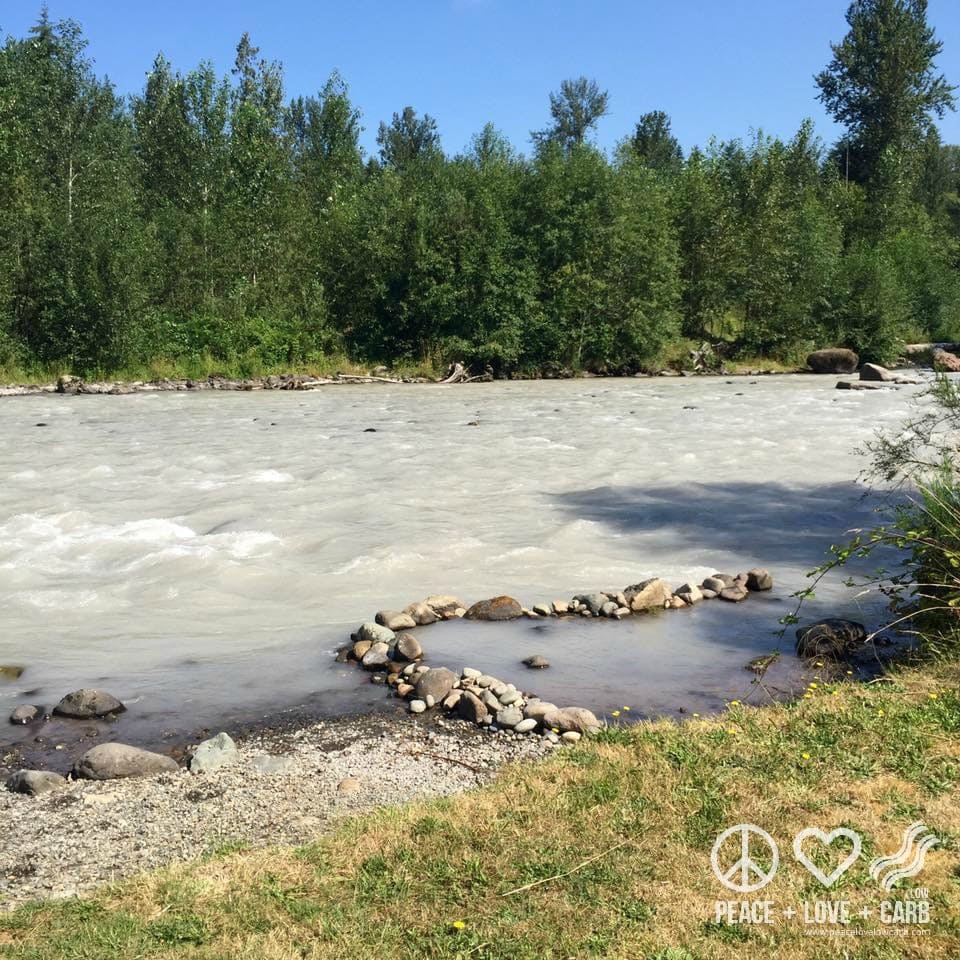 I love, love, love where we live. It is such a pedestrian friendly area, with trails everywhere. I can walk out my front door and in less than 10 minutes be at the river. This is one of my favorite things about the PNW. Water everywhere.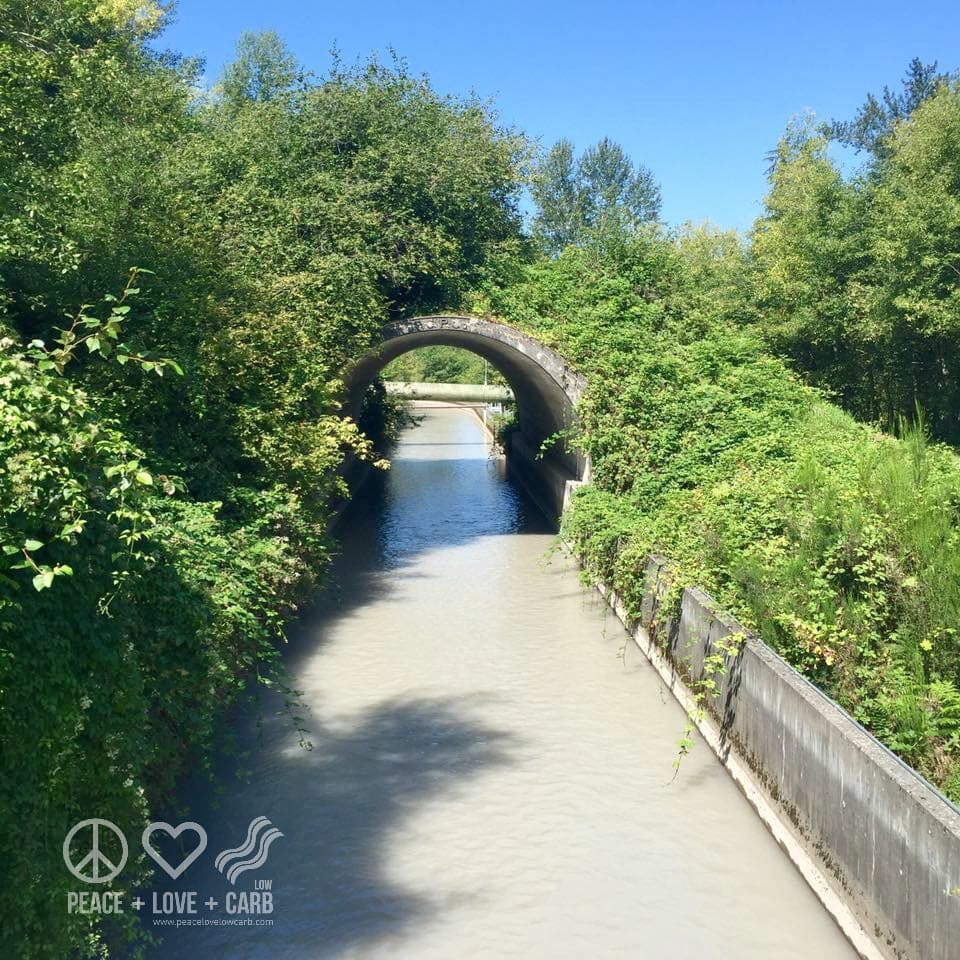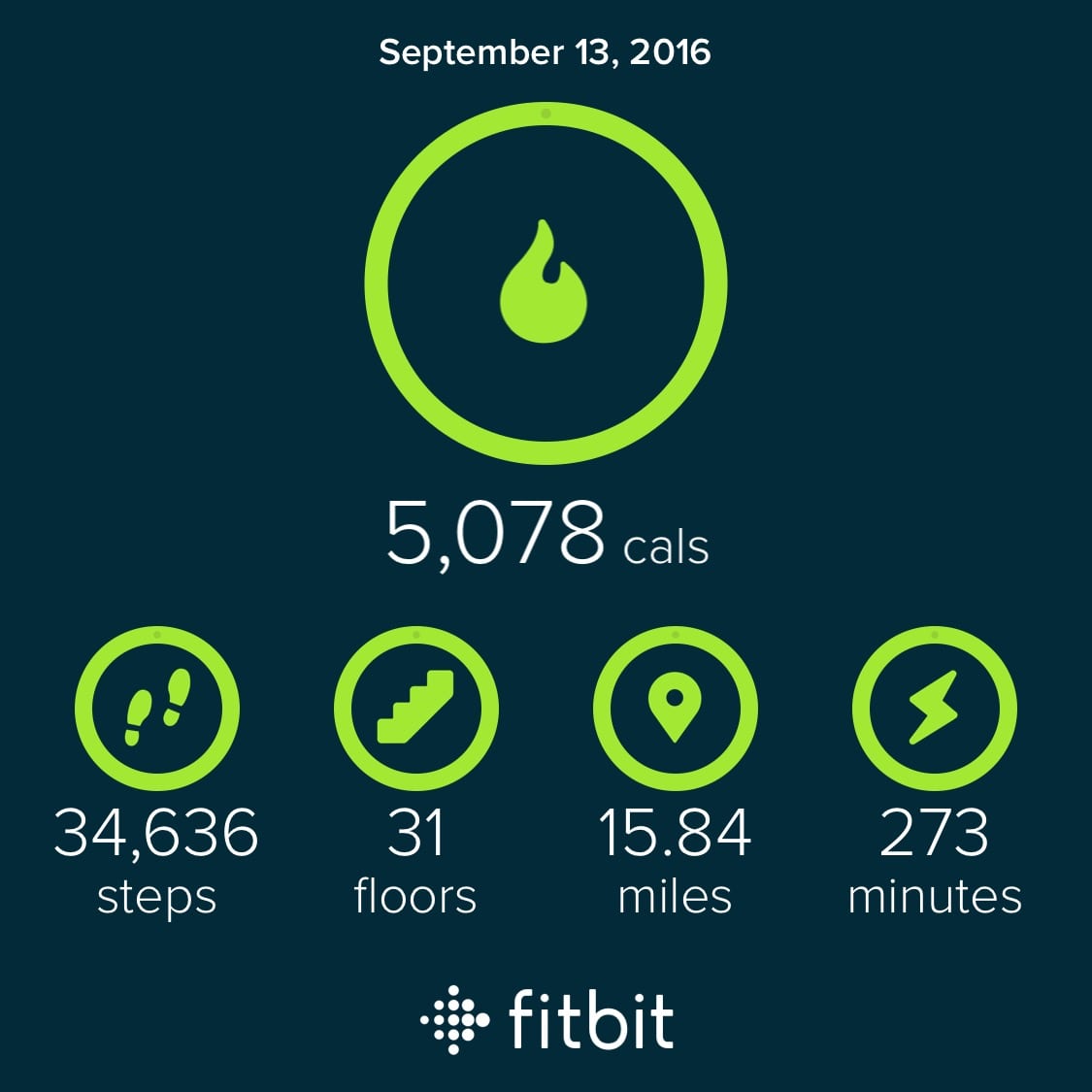 TUESDAY 9/13/16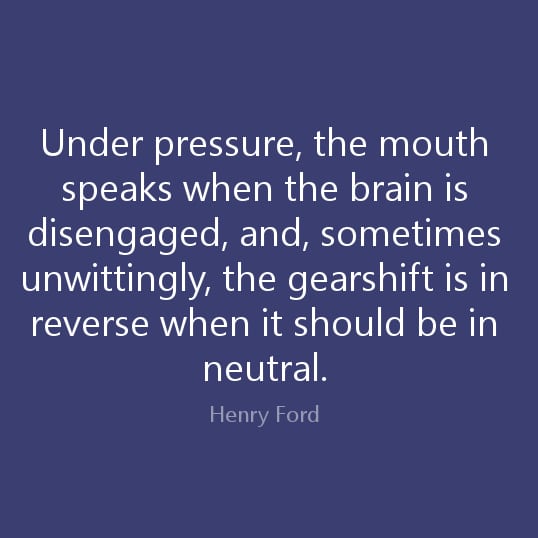 "Daily Gratitude: 
Today I am incredibly grateful for this amazing Evergreen State of mine. Washington state truly gives you the best of both worlds. Season wise, it feels like two different states, divided by beautiful mountain ranges. East of the mountains gets hot, hot summers and lots of snow in the winter. Here on the west side of the state, things stay pretty mild. We rarely, if ever see snow and our summers have been crazy beautiful over the last few years. P.S. It does not rain nearly as much in Seattle as people think it does. It's a lie we tell people to keep them away. 😉
Daily Reflection:
I keep thinking about pressure. Healthy pressure. Unhealthy pressure. Just pressure and how it takes its toll on your mental state, your attitude, your well-being and your life. In network marketing the phrase "Pressure creates Diamonds" is thrown around like confetti. You will see a lot of glitzy, blingy graphics telling you that if you want it bad enough, you will do anything to have it. To me, the metaphor is flawed. No human could withstand the amount of pressure it takes to create a diamond. Now I know that they are not literally suggesting that kind of pressure, but I'm sure you see where I am going with this. There is a healthy amount of pressure – the kind that motivates you and propels you forward. Then there is the kind of pressure that leaves you cracking and broken. There is intrinsic pressure and there is intense pressure from outside sources. You will see both all throughout life and business. You will see a lot of both in network marketing, depending upon who you get into business with. I love network marketing. I love my Young Living business. I think that network marketing is the only business model that truly makes sense. People sharing with people, building relationships and everyone can make it to the top. How many people can hold the highest ranking position in a non-network marketing business structure? Only one! In network marketing you work as little or as much as you want and your income is entirely up to you. In a non-network marketing business structure, no matter how hard you work, you have your set salary, and any bonuses and raises and you are likely confined to a set schedule and limited number of days off. I'm rambling a little bit here, but stay with me. I promise to bring it all back around… So at a standard 9-5 job there may be some daily stressors, pressure from your boss and you may even hate your job. BUT you know that you clock in at 9, you clock out at 5, and you know exactly what you will get paid for going through the monotony. Owning your own business/es, you have the pressure of constantly having to perform. Sink or swim. EVERY DAY! Sink or swim. It is not for the faint of heart. You get out exactly what you put it. Here is where the pressure comes in… There is another common network marketing quote that is thrown around a lot as well – "Entrepreneurship is living a few years of your life like most people won't, so that you can spend the rest of your life like most people can't" It has been regurgiatated by so many people at this point that I am not even sure who to credit it to. To some degree I agree with this. When I think back to 2011 when I quit my management position to turn my hobby blog into a career, people thought I was insane. That is the "Entrepreneurship is living a few years of your life like most people won't" part of the quote. It wasn't easy. At times the pressure was almost too much to bare. There were a lot of tears, insecurities, hardships and just plain shitty days. But I forged my own path and figured out how to let my passion lead me. Here I am on the other side of that and I am living in the "so that you can spend the rest of your life like most people can't" part. However, I think that last part sounds condescending. Like nana nana boo boo. I can play all day and you have to go to work. You know what a lot of bloggers and professional network marketers have in common? They only show the highlight reels of their lives. Only the perfect plates of food, the healthy choices, the perfect family dynamic, the growing business that affords world travel and looks like it is never work. It's all a load of bull. I've made a lot of mistakes in my blogging and network marketing businesses, but I have ALWAYS been candid and laid it all out there. In fact, I was one of those people that was taking part in the "Glorification of busy" as if all the hours I was working and ignoring my health and wellness was some sort of trophy. Like "Yay, look at me! I'm successful, making boat loads of cash and I'm fat, sick and nearly dead" In what universe is that a badge of honor? I look back in hindsight and I am horrified. Horrified that my health ever  took a backseat to working. Disgusted that I didn't make time for the non-work related things that I loved. (I specify non-work because I truly, truly love what I do.) Sad that I didn't put more care and concern into my personal relationships outside of business. After all, those are the people that love ME. Not love me for what I can do for them or love me for how fast I can grow my business, which in turns grows theirs. Real love. The kind of love that wasn't dependent on how hard or how much I worked. Somewhere along the way, I let the pressure from faulty mentors, so called gurus and society take hold of me and dictate how I ran my businesses. I stopped doing the very things that made me successful in the first place. The things that made it exciting to get up in the morning and work. I began living someone else's vision of success. I began operating under a set of rules that I did not set for myself. If I wanted that, I would go back to working for someone else. I let relationships full of rules and contingencies dictate my life and business. There was so much pressure building up. Pressure to be perfect. Pressure to perform. Pressure to conform. Pressure to work more than my physical and mental well-being allowed. One day I just cracked. I cracked from the pressure. I cracked from the one sided relationships. I cracked from petty drama swirling around me, I cracked from glorifying busy. I cracked from letting the wrong people into my life. I cracked from giving too much of myself away. I cracked from losing sight of ME. I spent a few months wandering lost and just going through the motions. The one good thing about all the hard work and hustle was that I worked myself into a position where I don't have to work so hard anymore. I can reap some of the benefits of that hard work and make myself a priority. Over those few months I slowly learned to shed the cloak of pressure I was wearing. I felt FREE. I turned a corner. I purged the negativity. The pressure was gone and I was finally giving myself permission to go back to doing things my own way. To go back to doing business how I once did. Free from the rules and pressure of others. The way things always should have been. To see what I had lost sight of. Once I was able to release the pressure, I found clarity and I was able to start this journey over with a clear mind and a light heart. My businesses began flourishing again. My joy returned. I am learning that for me, intense outside pressure makes me sad and sick. It makes me put even more pressure on myself. I have to continuously operate in a fashion that stays true to my passion and purpose. Not the purpose of others. In some situations, the amount of pressure we feel is beyond our control. Certain circumstances can make us powerless to release it. In my case, I was just too "in it" to see it. Letting go and shedding the pressure has lifted a huge weight from my shoulders. Literal weight. By controlling my surroundings, setting boundaries and learning what I will and will not accept from others, the pounds are coming off again. My questions for you are … Is there unnecessary pressure being placed on you? Are you placing unnecessary pressure on yourself? Is it from an outside source? Is it in your power to change it?  Is the pressure impeding your happiness? For me, the answer to all of these was yes. That was how I knew it was time to make some BIG changes. I hope that you can see a take away in all of this and that I don't sound like a rambling fool.
When it stops making you happy and the pressure is so great that you can't stand it – Success is not the key to happiness. Happiness is the key to success. If you love what you are doing, you will be successful. — Albert Schweitzer, (Theologian, Organist, Philosopher)
Self Care Check-In:
I am loving the added accountability from the Peace Love and Low Carb Friends Diet Bet. Diet Bet #7 is well under way and as a group we have already lost 730 pounds. This brings the total of all 7 Diet Bets we have done as a group to 4968.5 pounds. YES, you read that right! Nearly 5000 pounds. The Peace Love and Low Carb Friends Diet Bet #8 will be underway in just a few weeks. I would love to have you join us. You can get signed up – Here
Eat All The Foods:
I hit up Trader Joes today and snagged quite the healthy haul. I am going away for an extended weekend with a friend and I wanted to be prepared to stay on track with my healthy habits while we are gone. Lots of great low carb snack options. I also prepped a bunch of salad toppings to keep up with my #saladaday challenge in September. No excuses to not stay on plan when I have packed more than enough healthy options to get me through the weekend.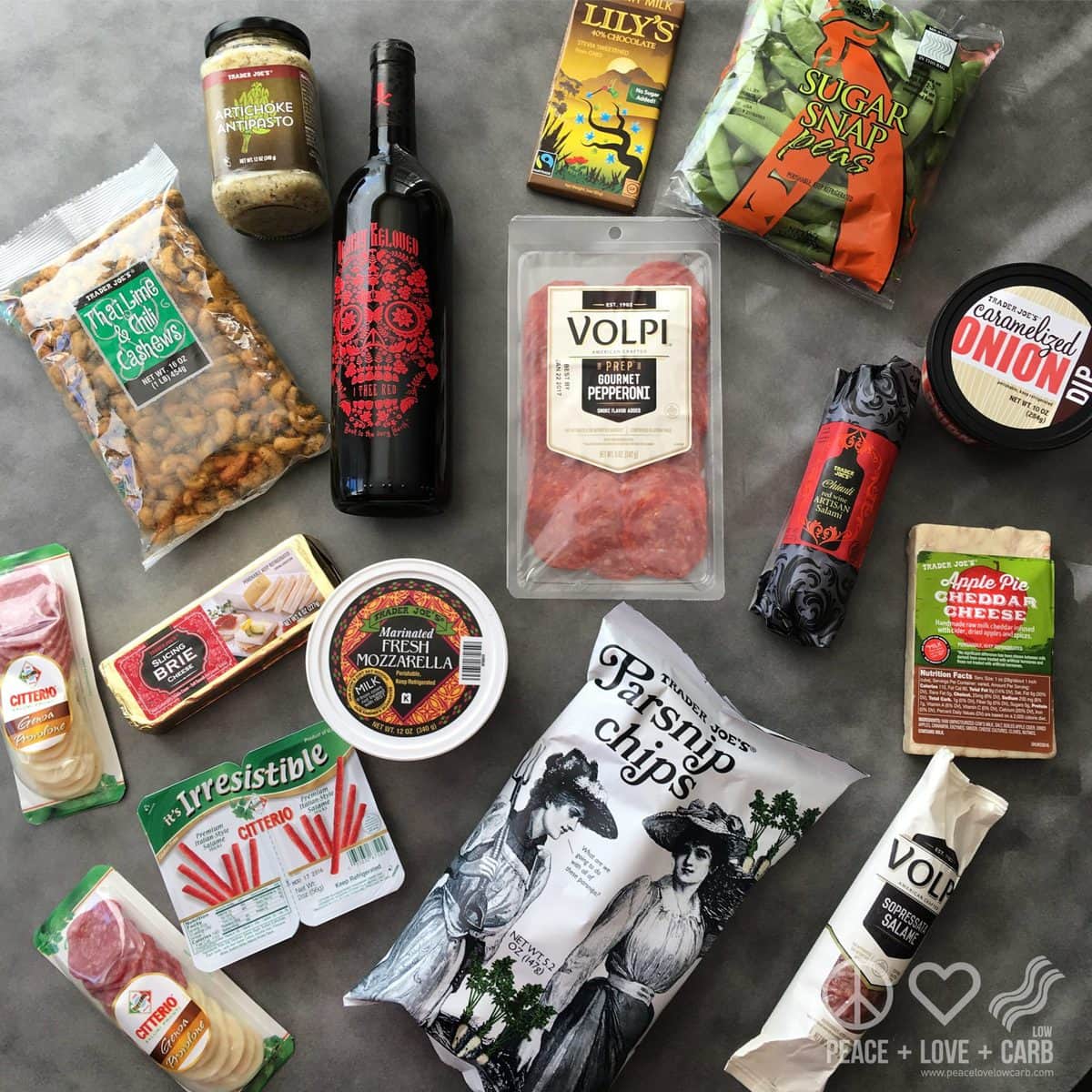 After a beautiful walk this morning, we popped in for lunch at Applebees. Their menu makes it easy to have a low carb meal without having to ask for a million substitutions. I started off with their Green Goddess wedge salad and followed it up with a grilled sirloin, topped with cream sauce and cajun shrimp, served with broccoli and garlic green beans. It took them 3 tries to get my steak cooked right, but overall it was still a good meal on the go.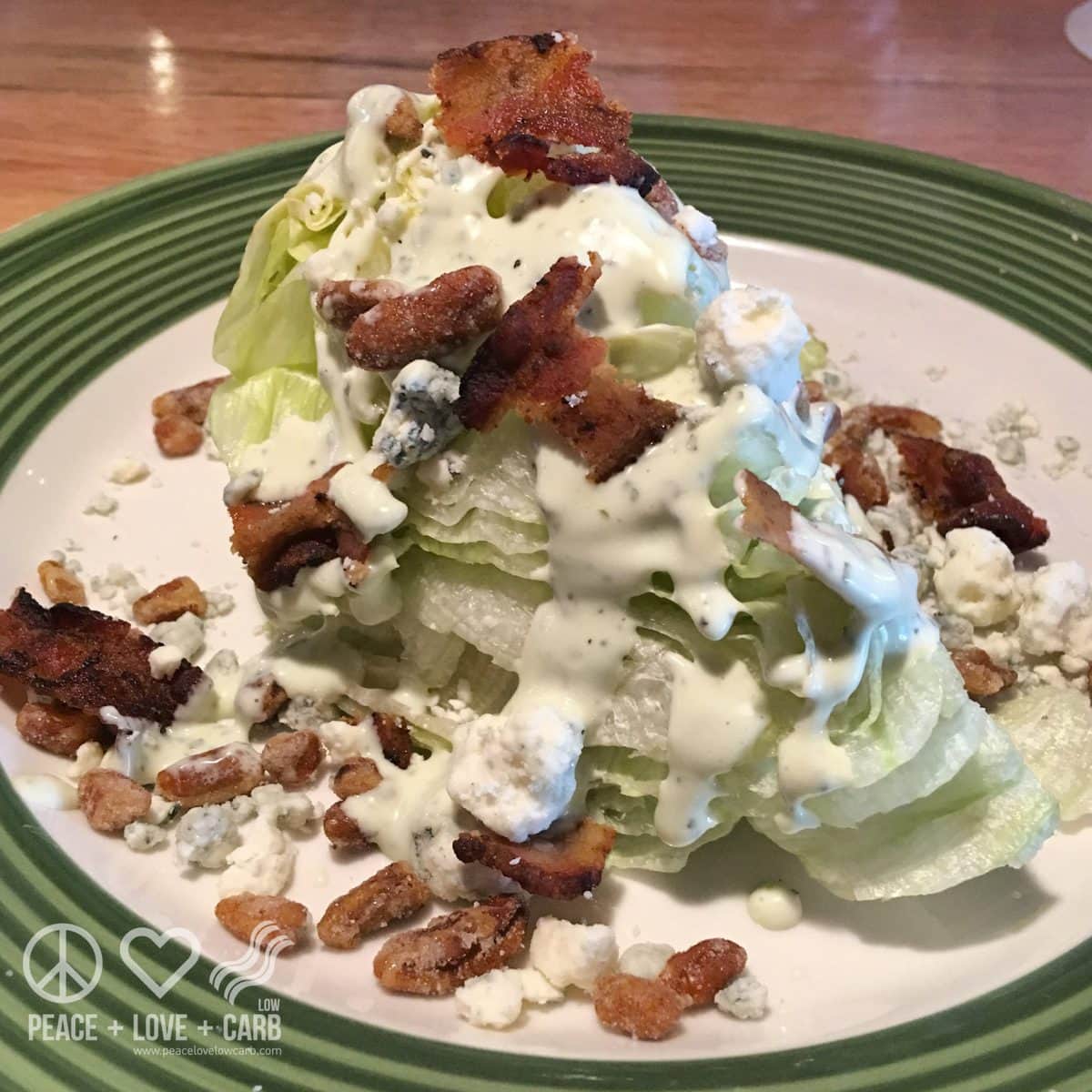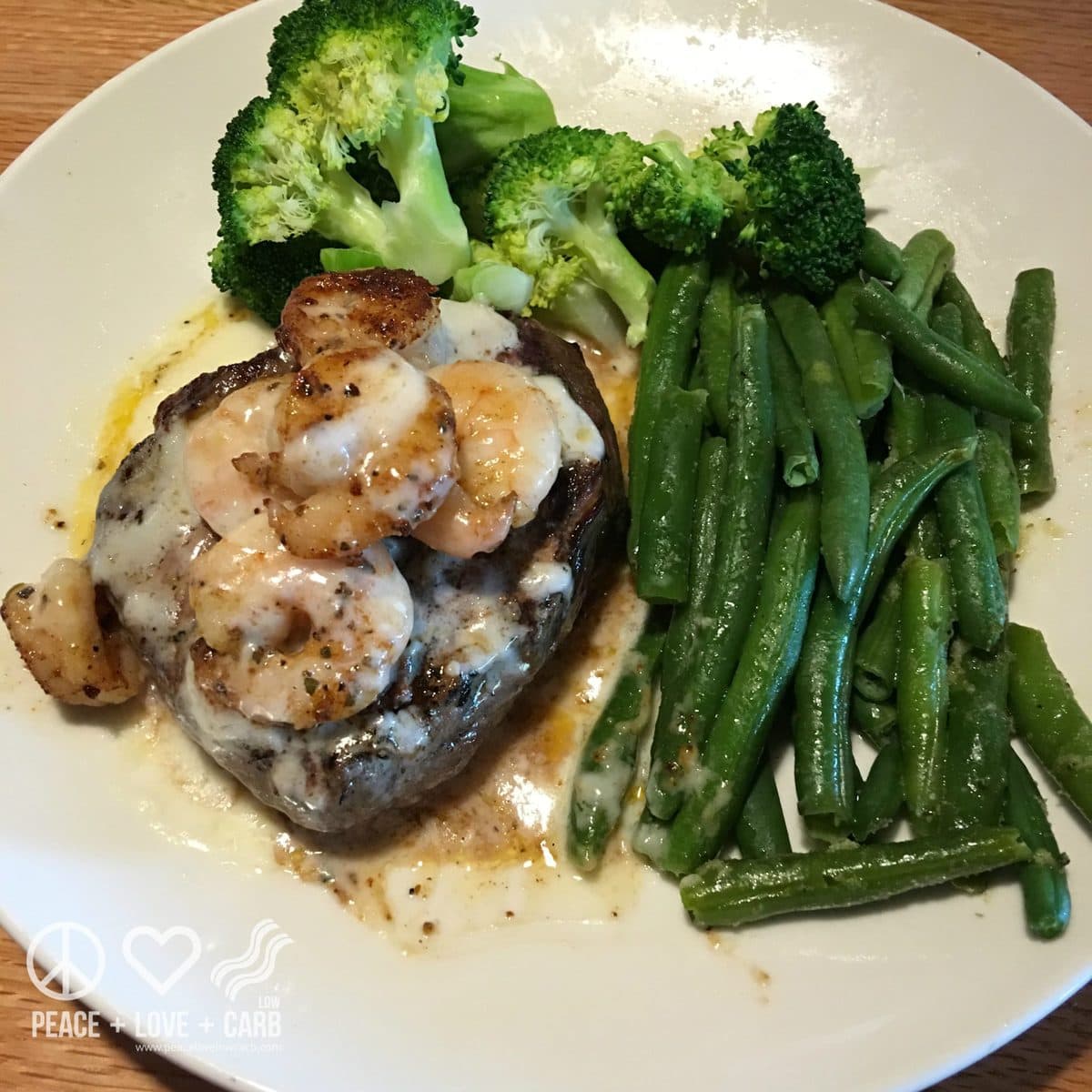 Staying Active:
I love sharing my world with you and showing you things through my lens. Today my friend Crystal and I went for a walk at Chambers Bay. It is stunningly beautiful there. If you walk the entire thing, it is close to 4 miles with some pretty big hills along the way.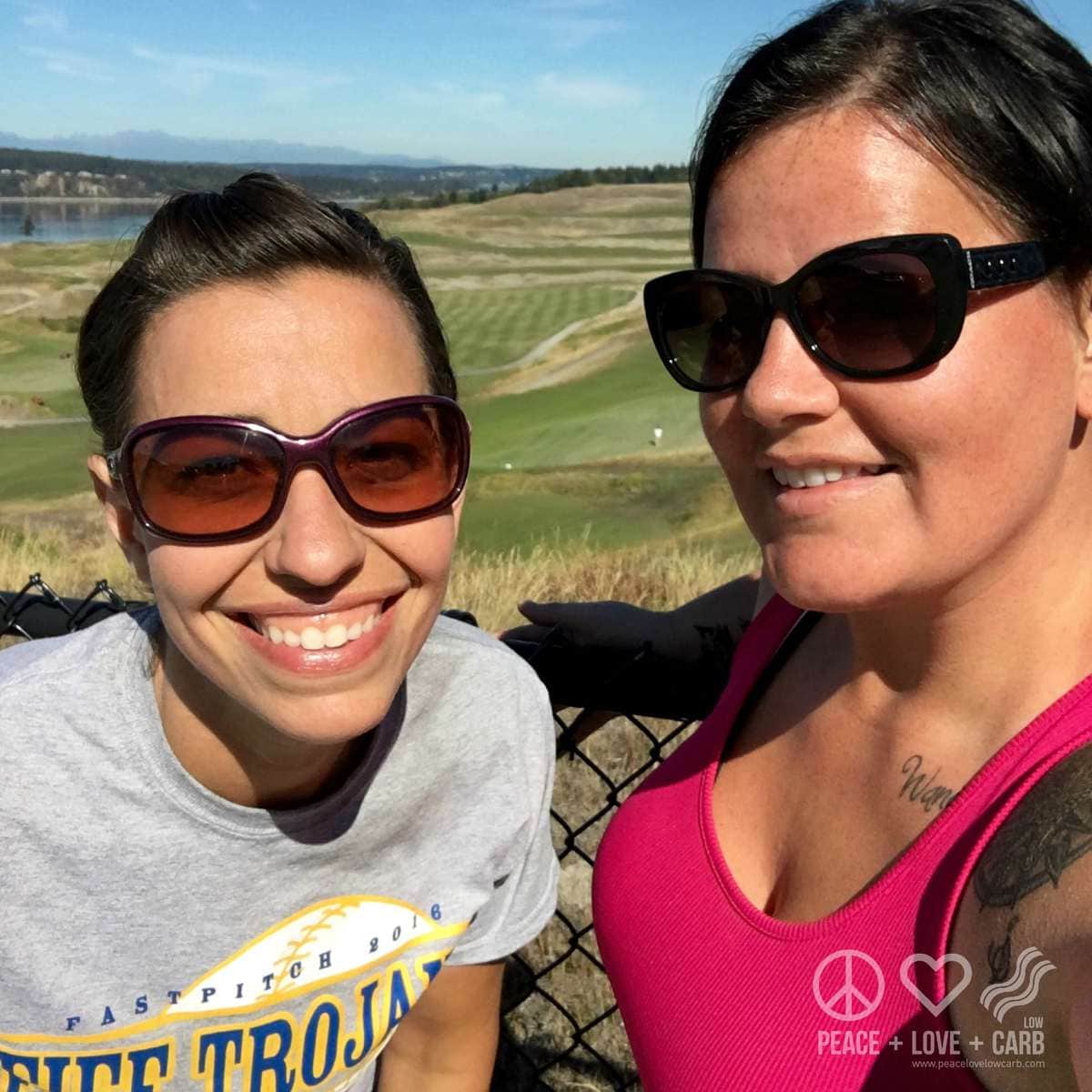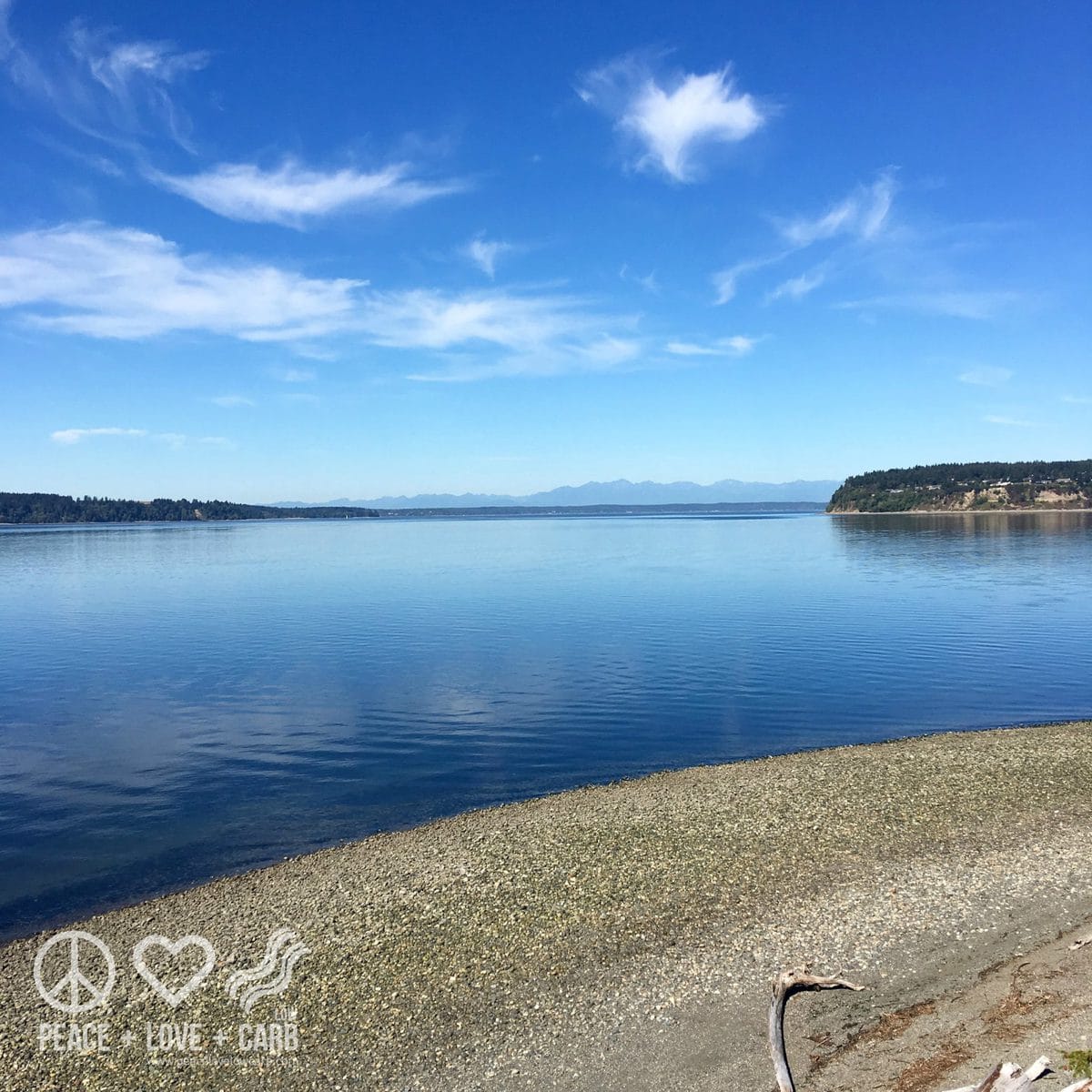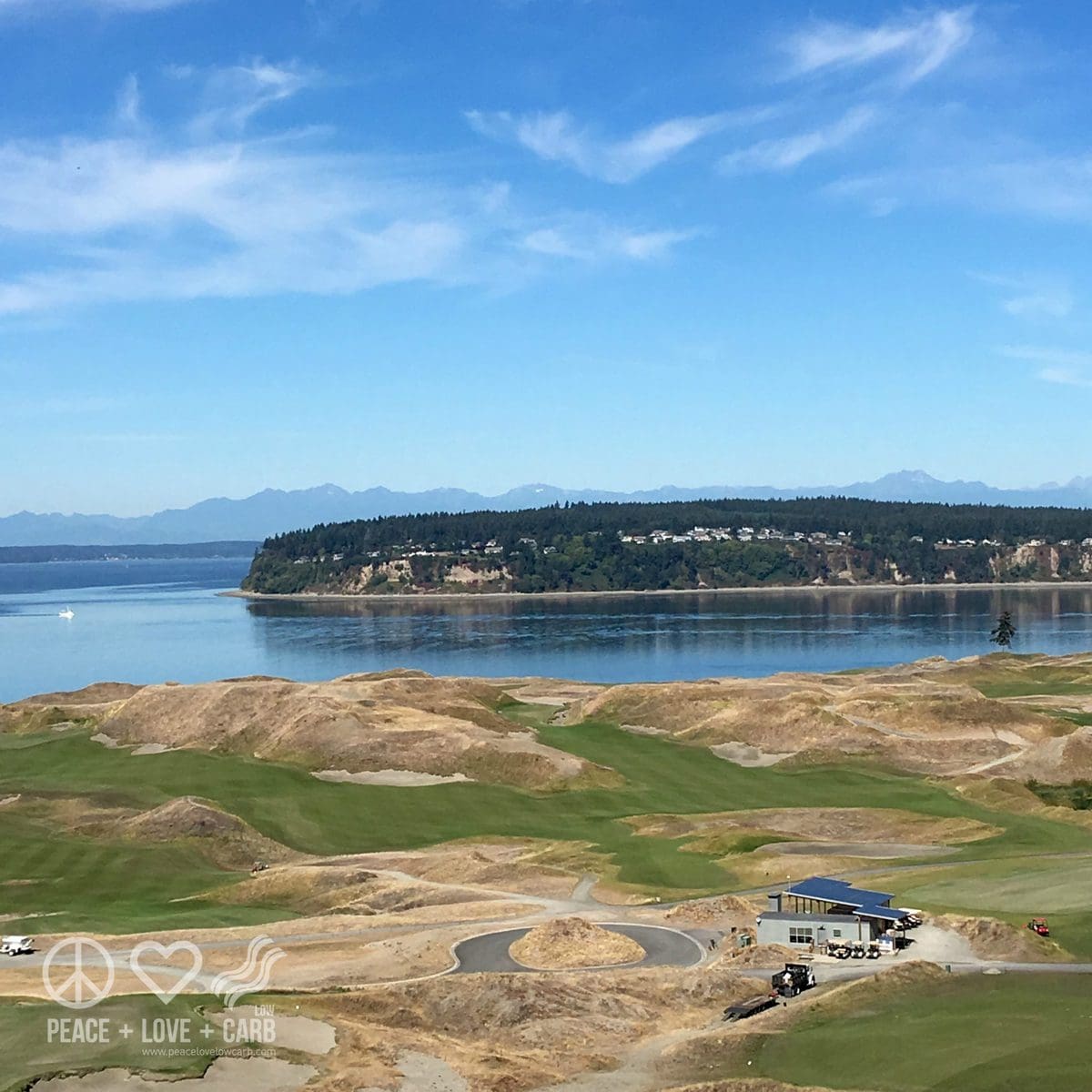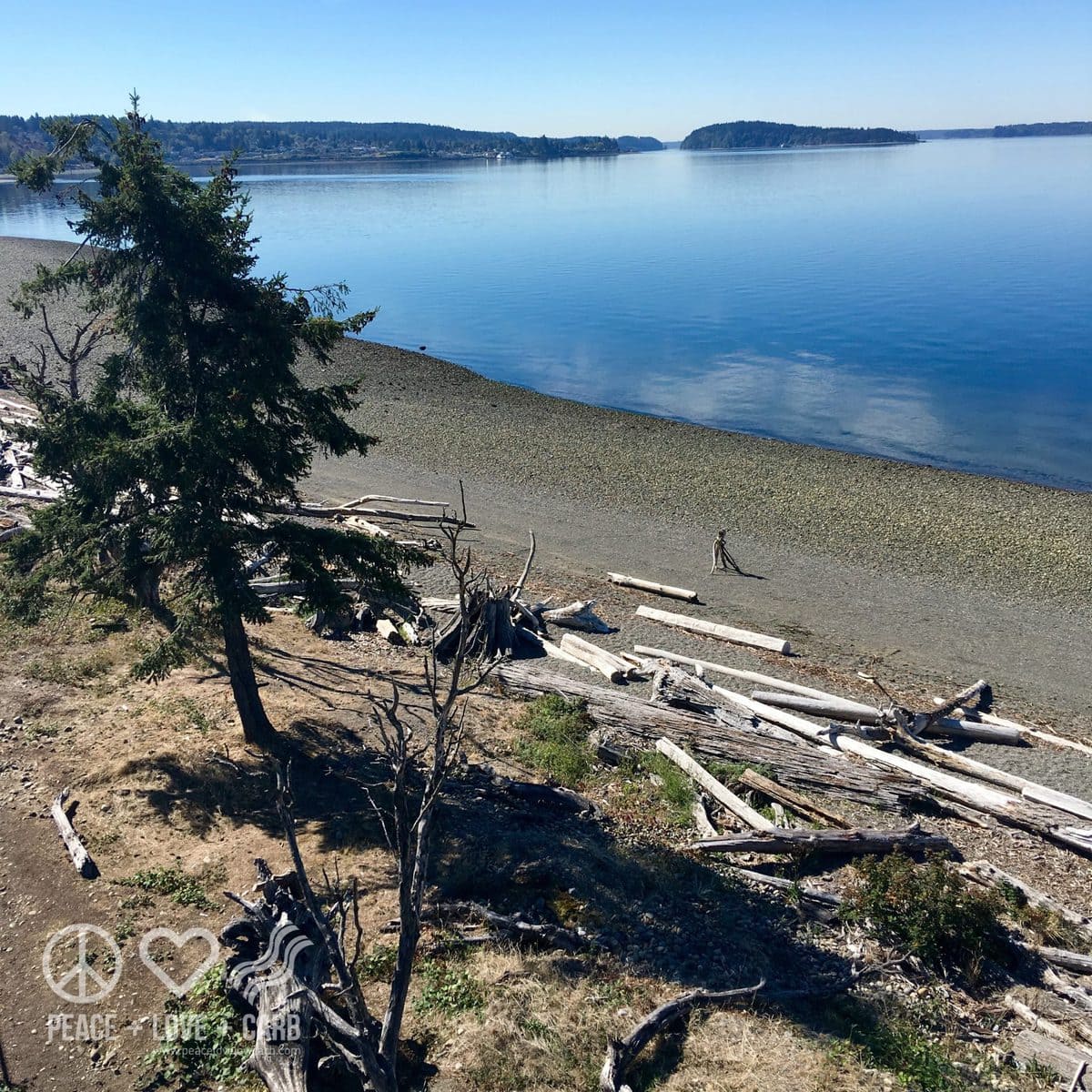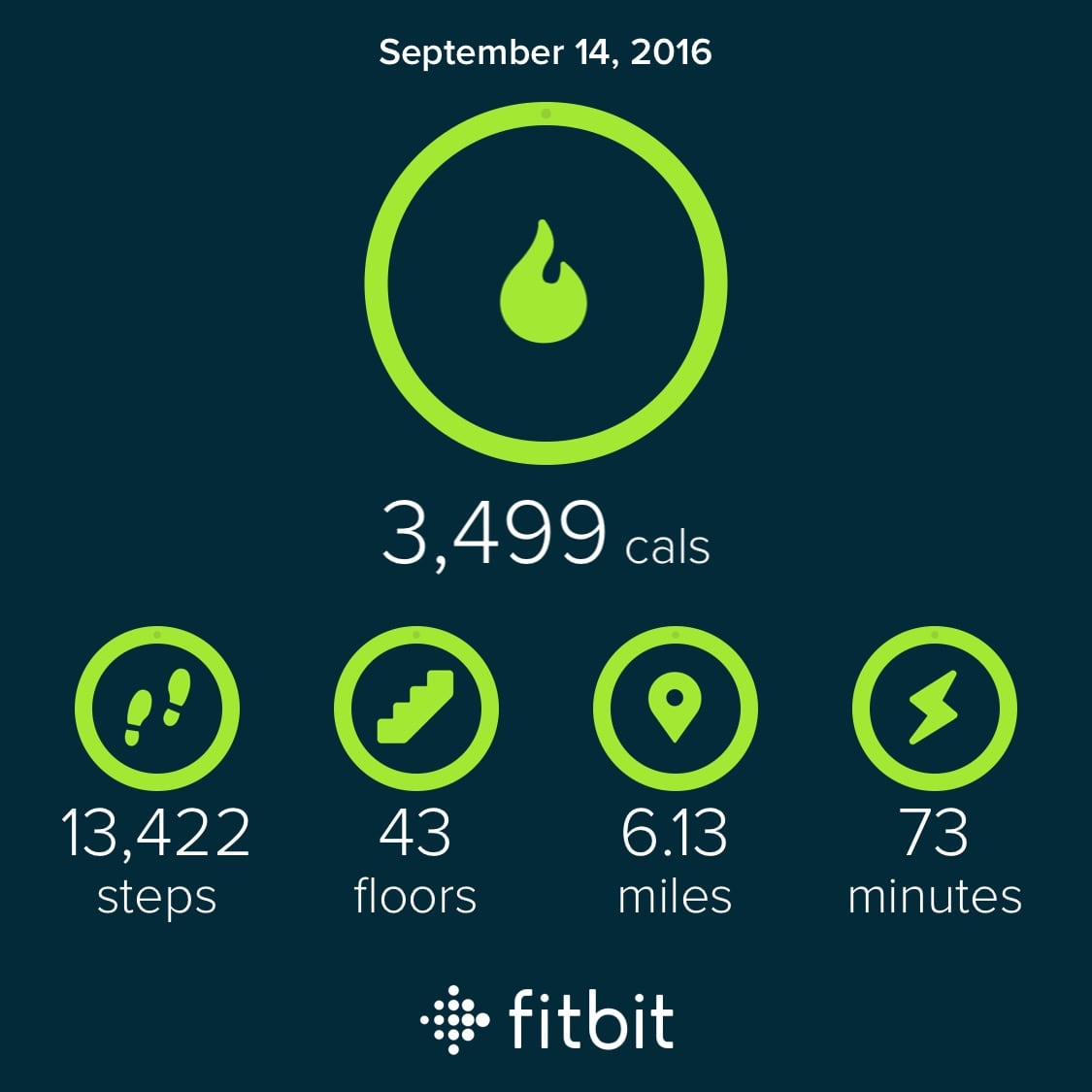 FRIDAY 9/16/16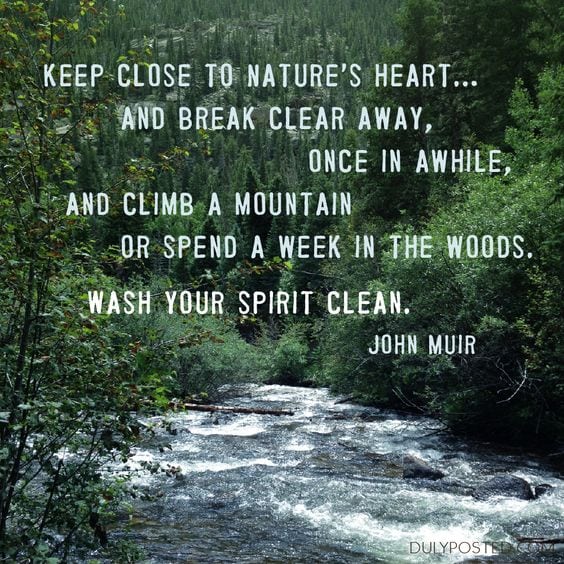 Daily Gratitude:
Today I am thankful for those friends that just make your life better simply by being in it.
Self Care Check-In:
This whole weekend is going to be all about self care. I am taking off for an extended girls weekend with one of my favorite humans. We are heading to Orcas Island for some hiking, adventuring, shopping, wine tasting, and girl time. We packed lots of healthy eats and drinks are are ready for some good, clean fun! This is us in line for the ferry. You know, because ferry line selfies are a necessity!
If you want to see more pictures from our weekend, feel free to check out My Instagram.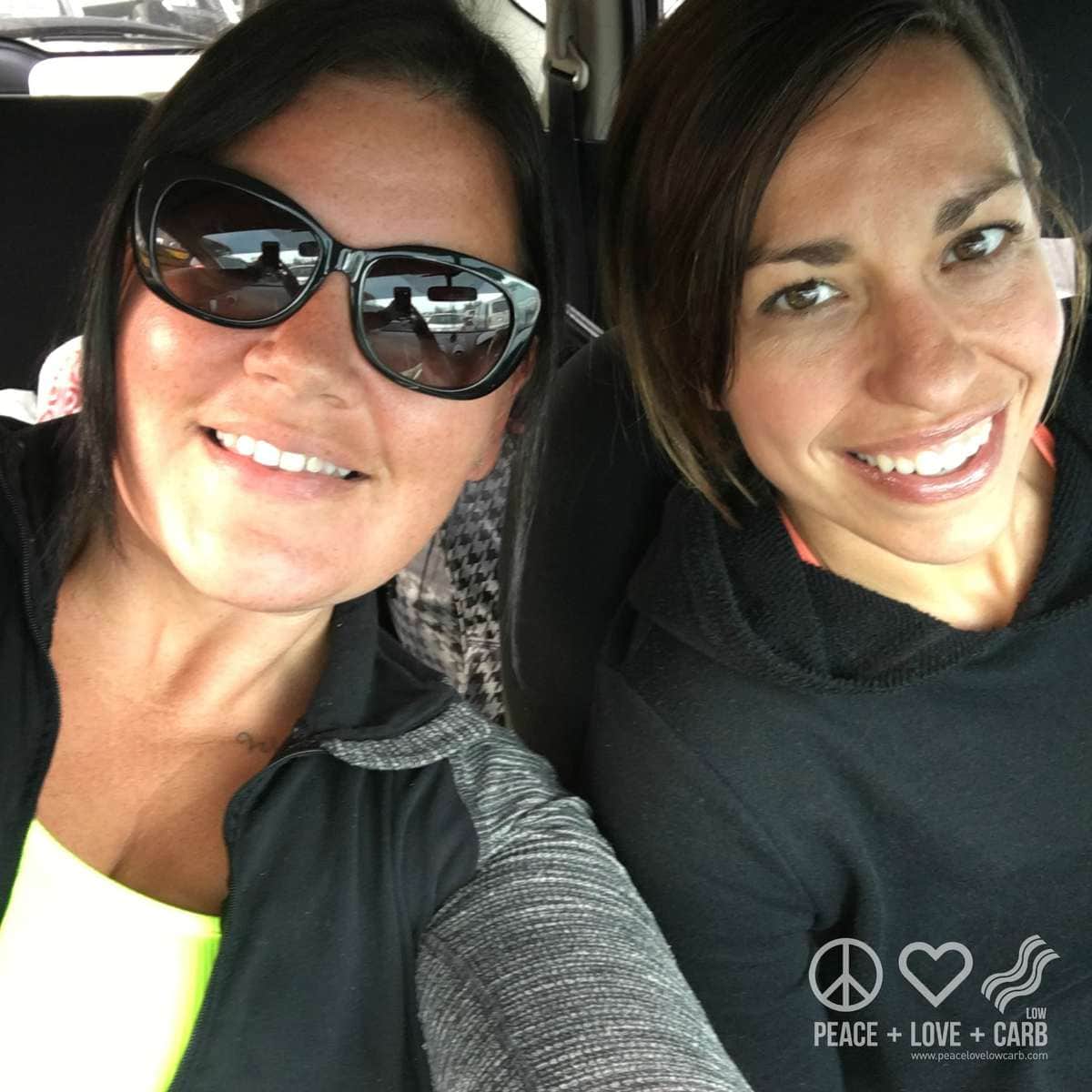 Beautiful views on the ferry ride over. I tried to get Crystal to go to the front of the boat and do "I'm the King of the World" with me, but she wasn't going for it.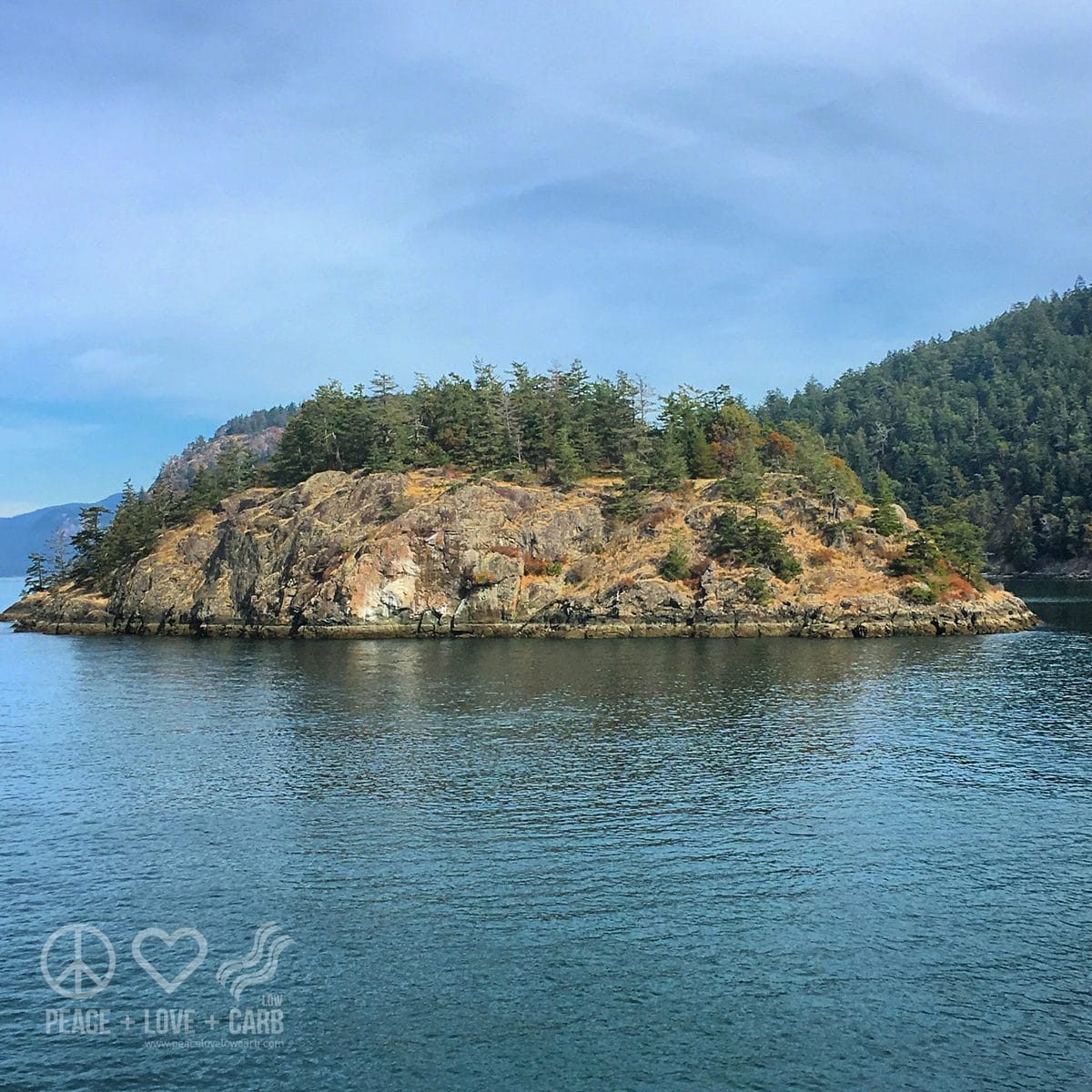 After we got on the island, we went straight to the top of Mt. Constitution to catch the amazing views.
I felt that a jumping picture was in order. It matched my mood at the time. Happy, free, excited for life! Not to mention… look at that view! It was pretty hazy today, but still an incredible sight to see. This is my first time visiting Orcas Island. Crystal has been countless times all throughout childhood and adulthood. It holds a very special place in her heart. I am so happy that she wanted to share that with me.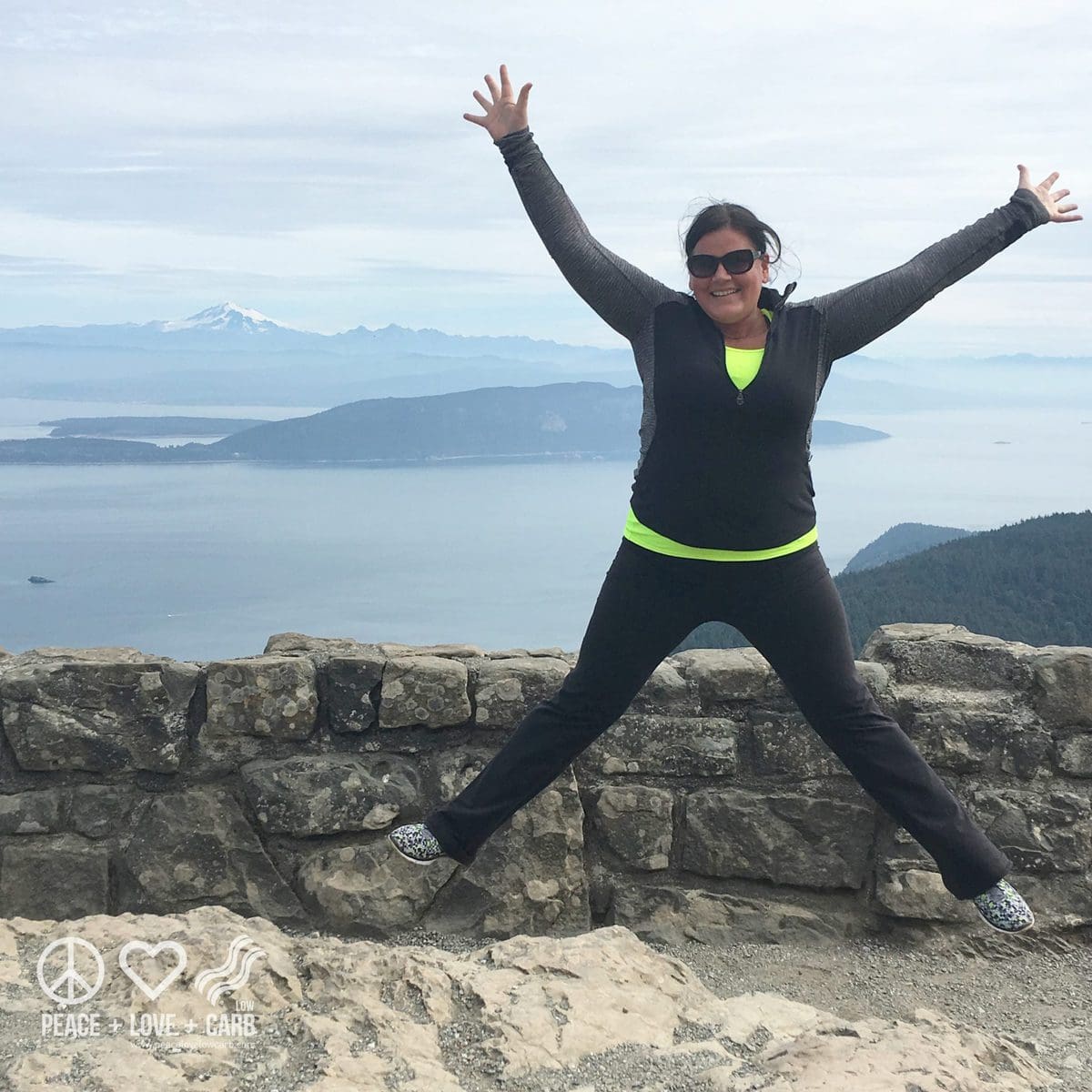 Eat All The Foods:
I forgot to take pictures of any of my actual food today, but we kept it all low carb. We packed lots of healthy finds from Trader Joes and I prepped up a bunch of salad fixings. Not shown in the photo – chicken, bacon, hard boiled eggs, cheese. YUM! It's actually pretty easy to eat healthy on the go if you are willing to put in a little bit of work and if you really want it.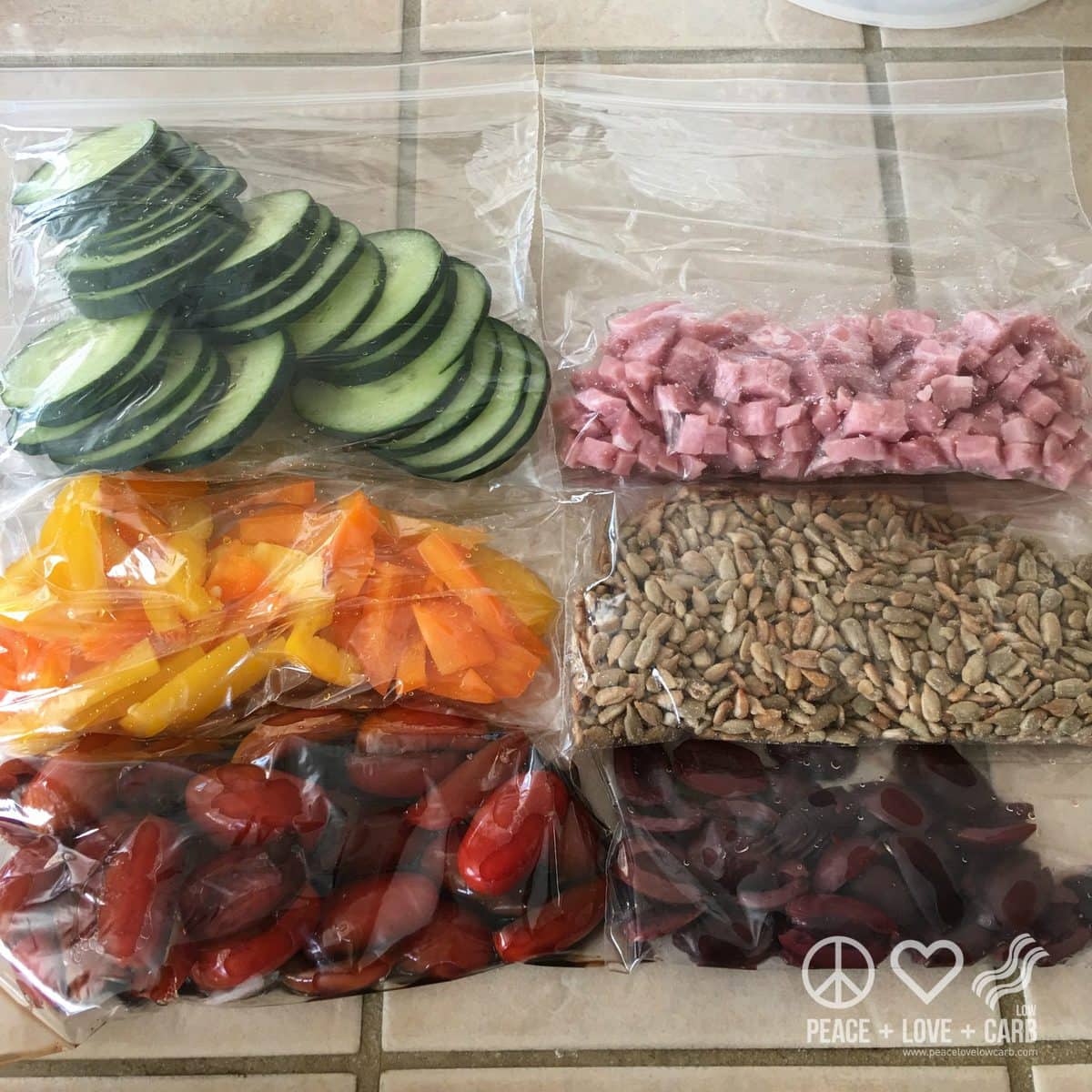 We packed along some White Claw. It is a low carb hard seltzer drink. It is only 4 grams of carbs and has all natural ingredients. It was pretty darn good. I'm a fan!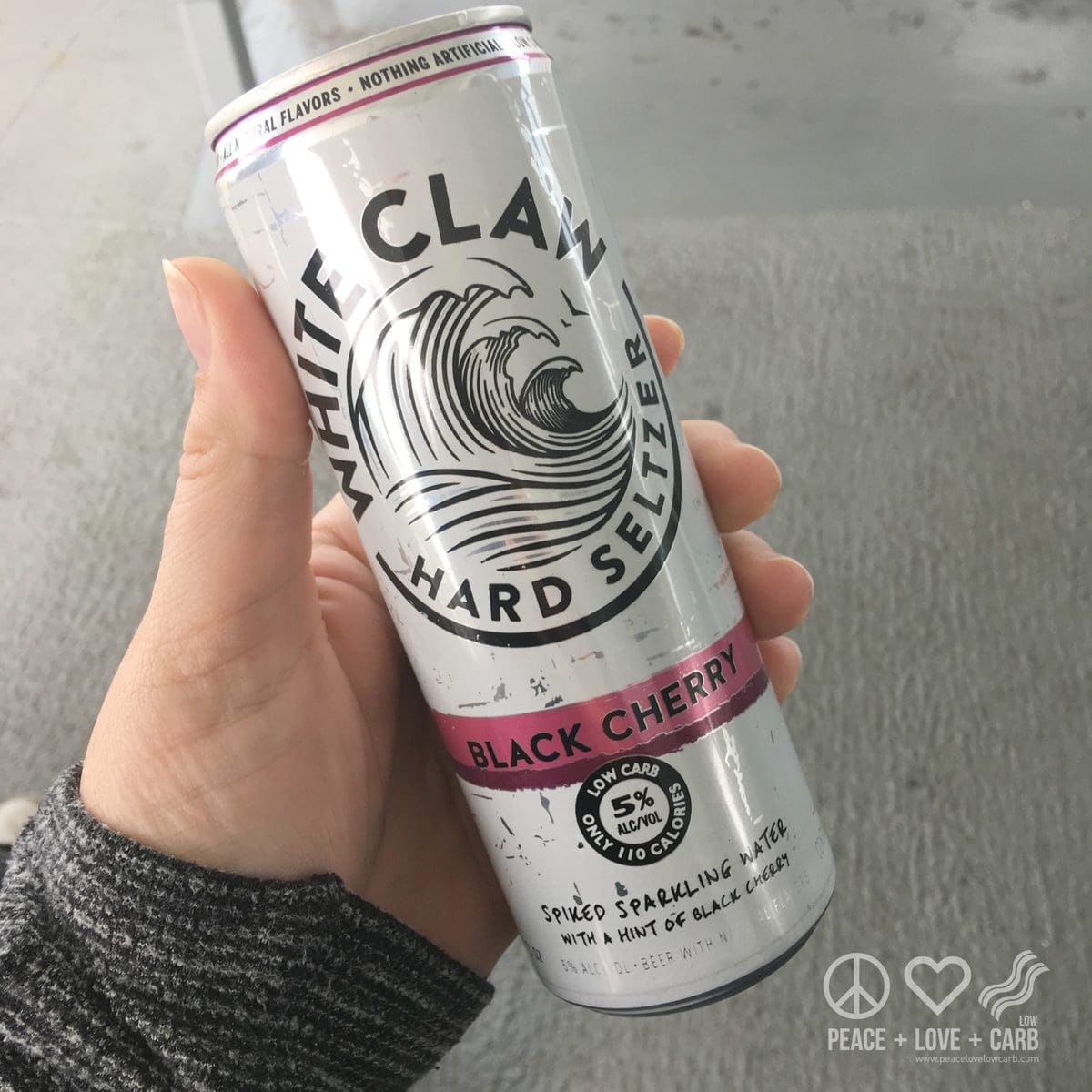 Staying Active:
Before heading to check in to our room, we did a short hike that took us along a few different waterfalls. Being out in nature, surrounded by such beauty is one of my favorite things in the world. It reminds me just how little I actually need to feel happy and content. It is people and experiences that matter, not things.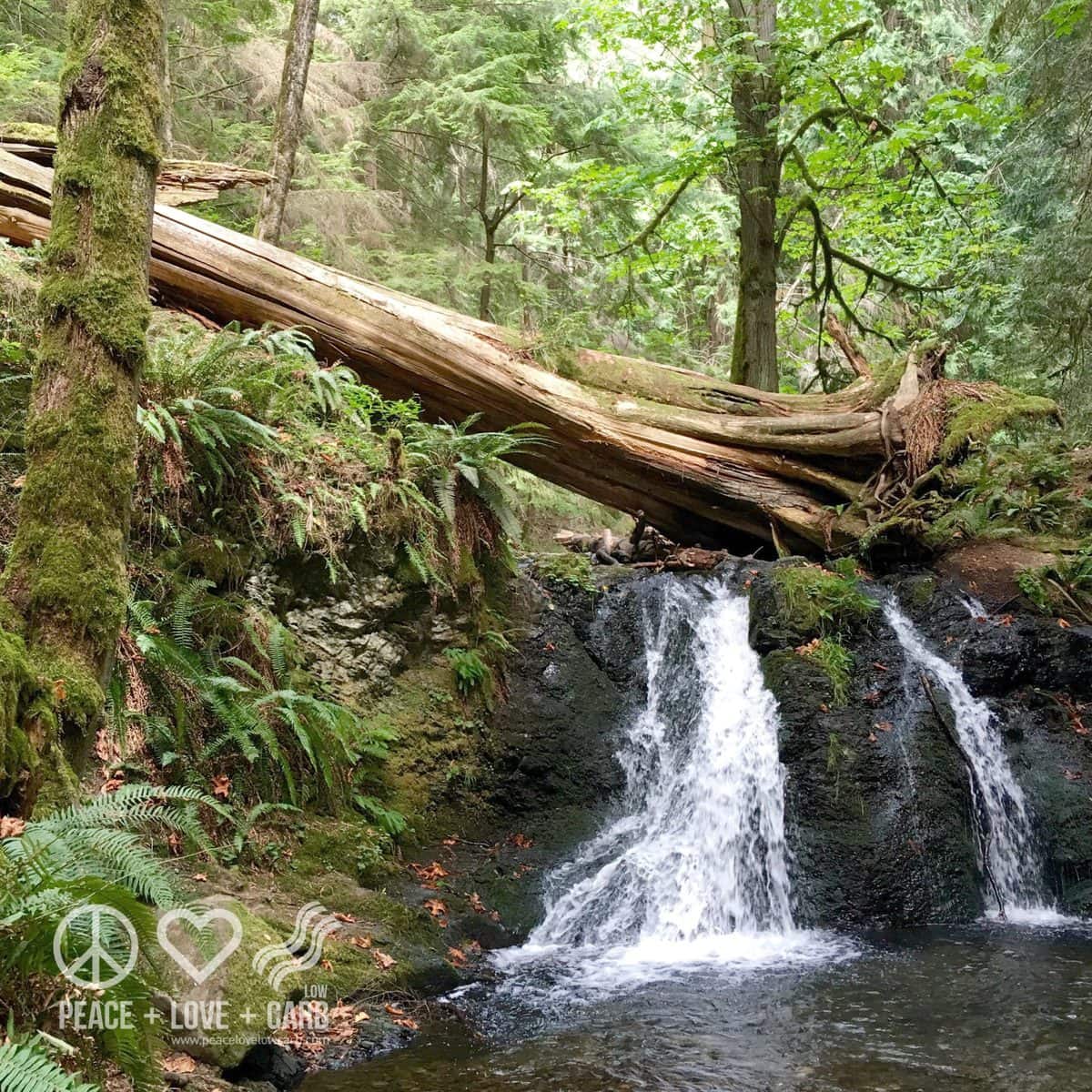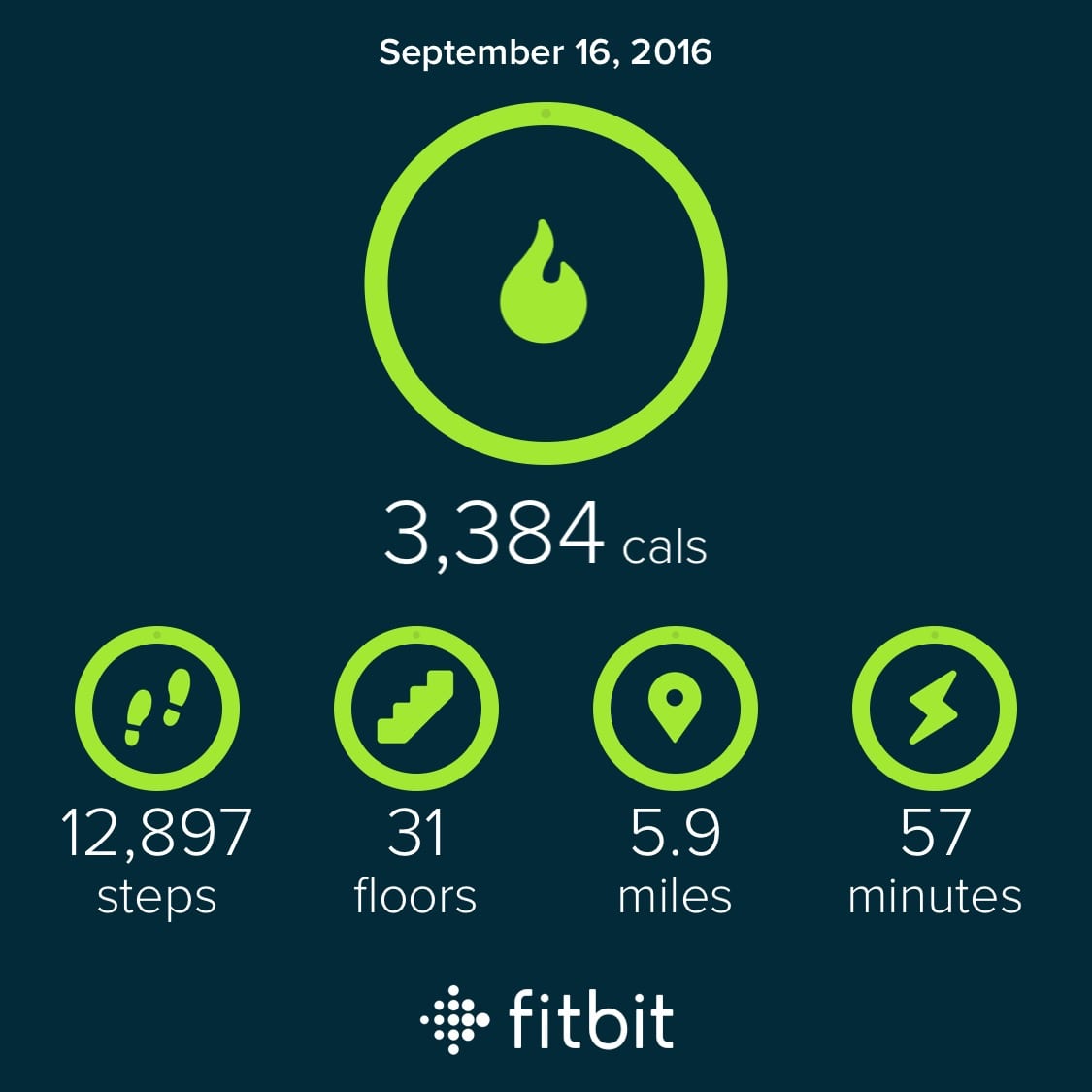 SATURDAY 9/17/16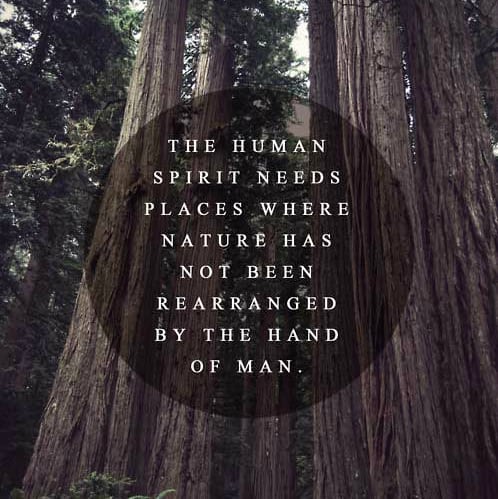 Daily Adventure:
Today was a raining, grey day on the island. We walked around town, did some shopping and even went wine tasting. We were hoping to be able to get in a hike each day that we were here, but weather did not allow for it today. Nonetheless, we had a great day just walking around and exploring.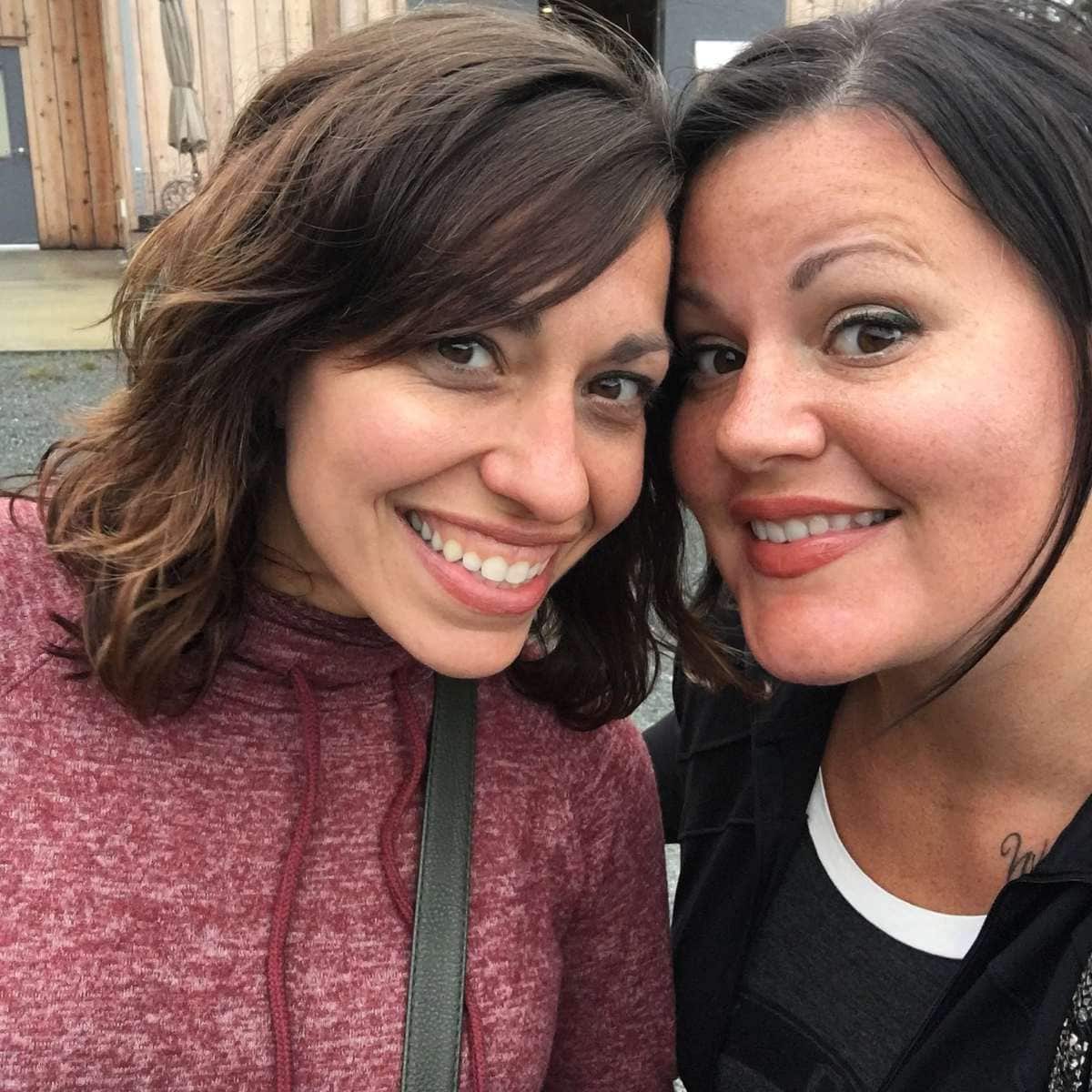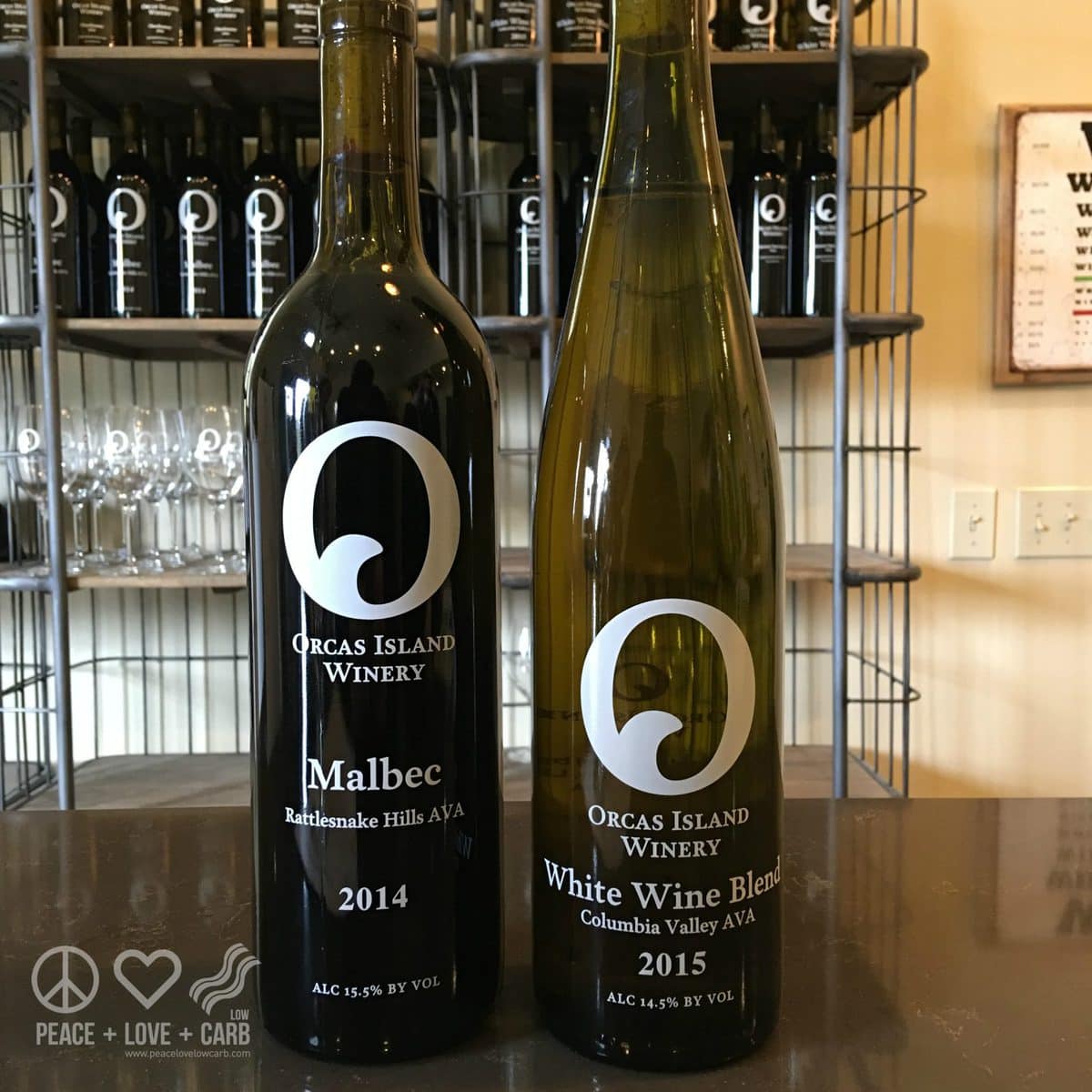 Self Care Check-In:
This morning, in addition to my normal essential oil routine, I had to throw some Breathe Again into the mix. Whenever I travel, I always wake up congested in a new place. It never fails. I think there was also some dampness in the place we are staying. It has sort of a musty smell and I have been sneezing a lot. A quick roll across the back of my neck, under my nose and on my chest does the trick. It has me breathing clearly and deeper within a matter of minutes. So thankful to have this oil in my natural arsenal. Breathe Again aids in healthy lung function, clears up congestion and relaxes airways, makes breathing easier. Learn more here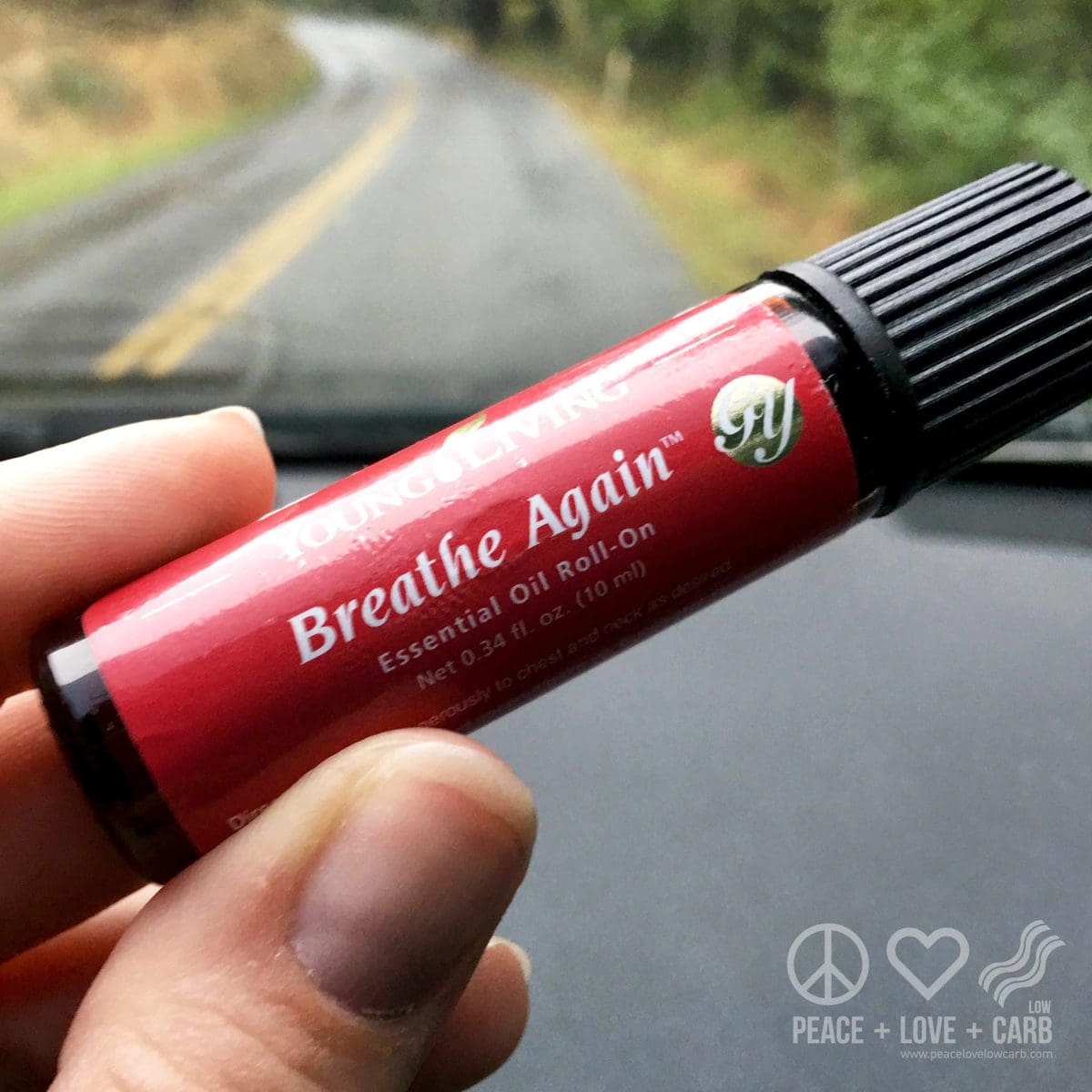 This evening we called it a night early and came back to the room to have some wine and do facials. I have been really wanting to try this charcoal mask for a while now. I was excited when I saw that Beauty Counter was doing a limited time partnership with Target and that I could get my hands on some of their products to try out. We stopped at Target on our way to the ferry terminal and this was one of the things I picked up. I have to say that my face has NEVER felt smoother or more even than the moment I washed this mask off. I honestly wasn't expecting that. I have done countless girls night facials and never felt a difference. I guess I sort of thought this one would be the same. But it definitely wasn't. Putting it on and sitting while it hardened was good for a lot of laughs too. It is funny how much time we spend thinking about what goes into our bodies, while many neglect what goes onto their body. The skin is the largest organ in the body. It is also the biggest indicator of our lifestyle choices. Shouldn't we be doing everything we can to take better care of it?
From the Beauty Counter site – "A mineral-rich mix of kaolin clay and charcoal, Purifying Charcoal Mask works to gently exfoliate, draw out impurities, and soothe. The formula helps improve skin's overall condition by refining the appearance of pores and increasing elasticity. Offers a purifying treatment for congested skin and a 10-minute spa-grade facial. For the deepest clean, prep skin with Charcoal Cleansing Bar."
Check it out for yourself – here. I also bought the Charcoal Cleansing Bar (Which I haven't tried yet), the Cleansing Balm (used it before the mask – loved it), Nourishing Rosewater Mist (tried a spritz but haven't given it it's day in court yet) and the Nourishing Face Oil (haven't used it yet). I will keep you posted on my thoughts about these. I love being able to provide natural solutions to everyday products. I'm sure I've made that abundantly clear with all my talk about essential oils over the last couple years as well.
Check it out along with 9 other things I really digging on right now in my new weekly "A Few of My Favorite Things…" series.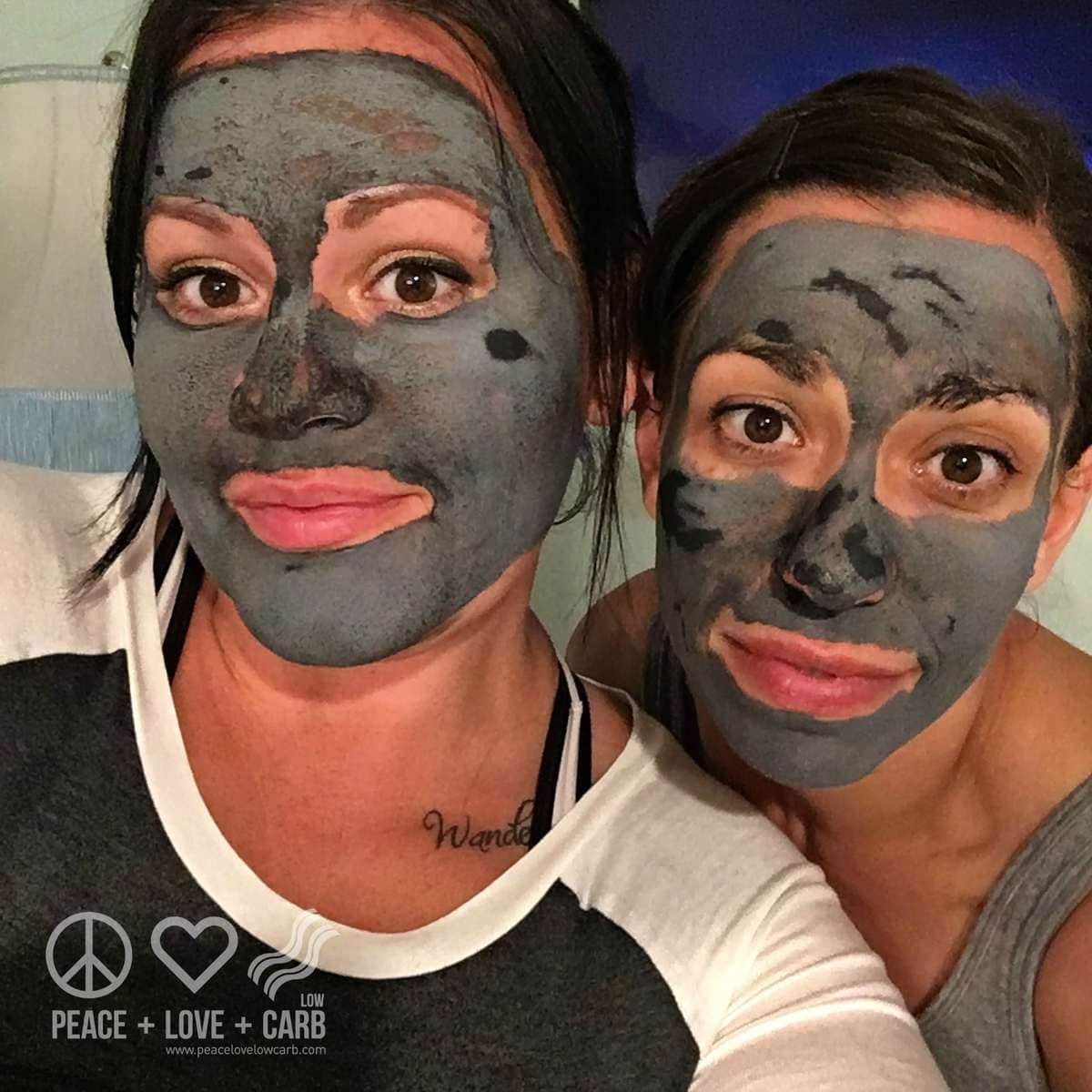 Eat All The Foods:
We went out to a small local cafe for breakfast. While the breakfast wasn't the most amazing thing I have ever eaten, it was filling and on plan. I ordered the Mediterranean Baked Eggs with Crispy Peppered Bacon. I didn't realize it but the breakfast also came with a heaping mound of crispy home fried breakfast potatoes. I quickly scooped them off my plate to remove the temptation. I'm not sure if you know this about me or not, but potatoes is every form are my all time, favorite food. Dinner was a lot more indulgent and definitely not on plan. I'm not beating myself up for it. I'm not even upset about it. This is real life. Breakfast tomorrow will be right back on track.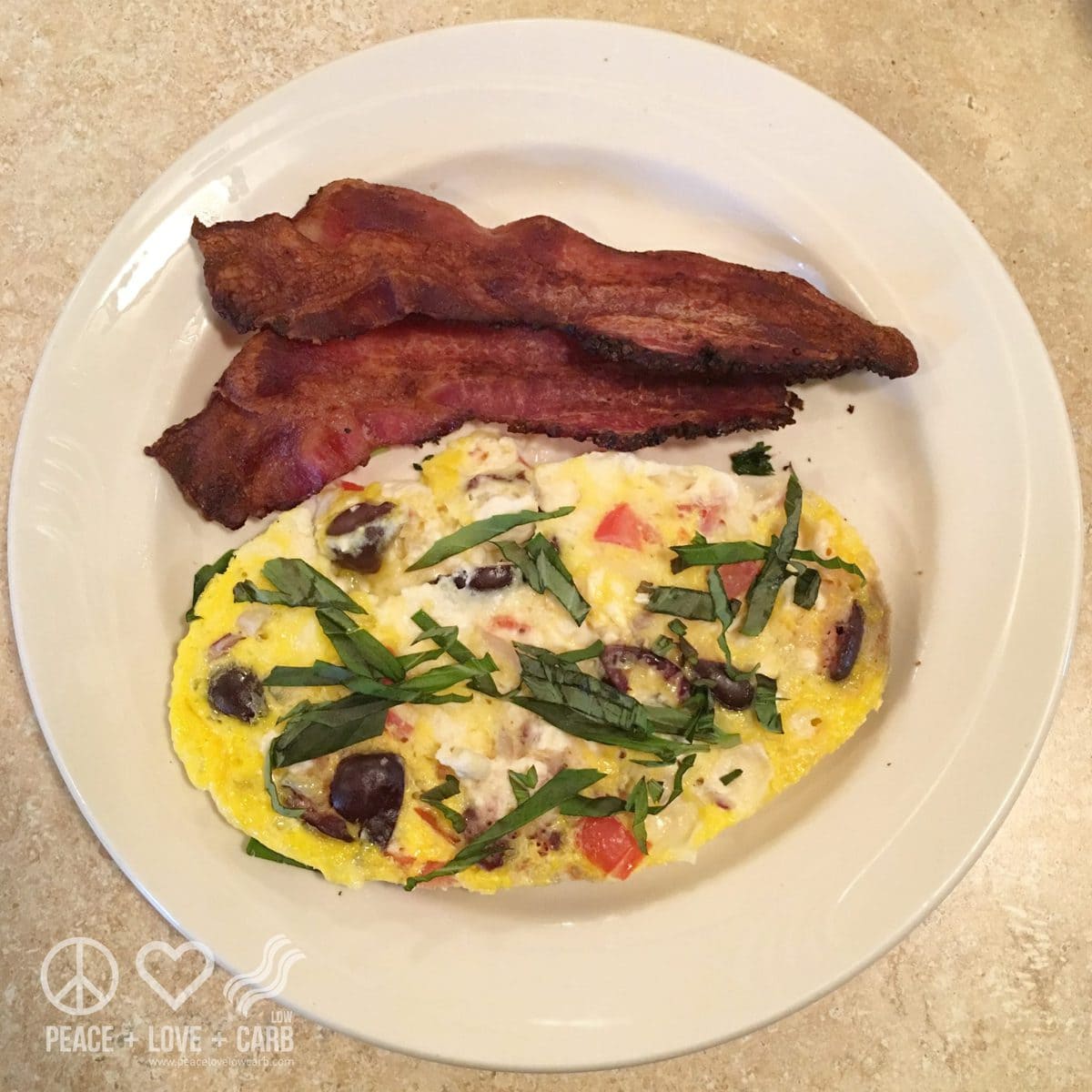 I picked up some great local goods from the farmers market that I am excited to try. Can't wait to try out the Resiling and Basil Vinaigrette. I also picked up a 2lb bag of espresso roast for those almond milk lattes I am loving so much these days.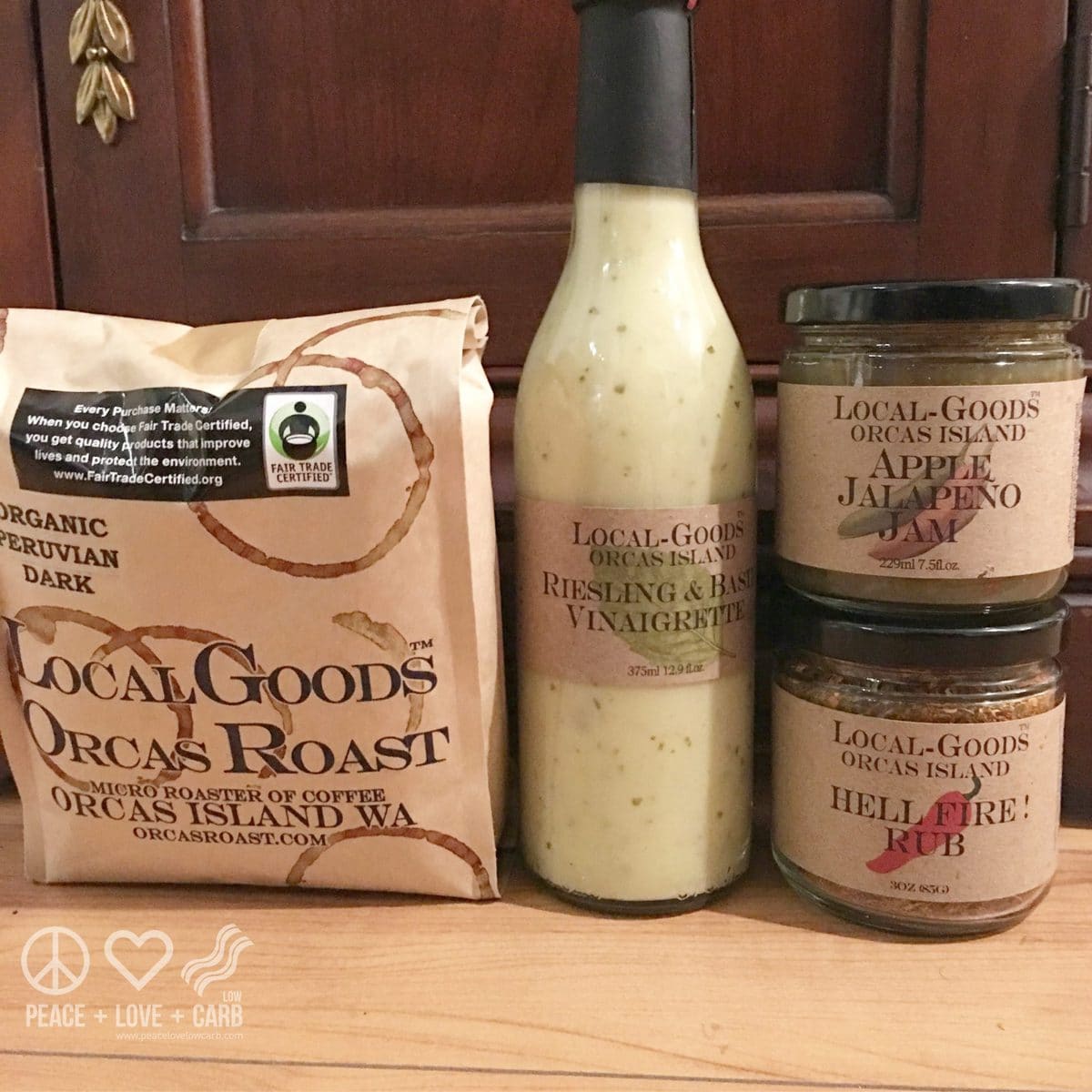 Staying Active:
Today was the first day since restarting that I did not meet, exceed or CRUSH all four of my daily goals in my FitBit. I'd say that means I'm doing pretty damn good!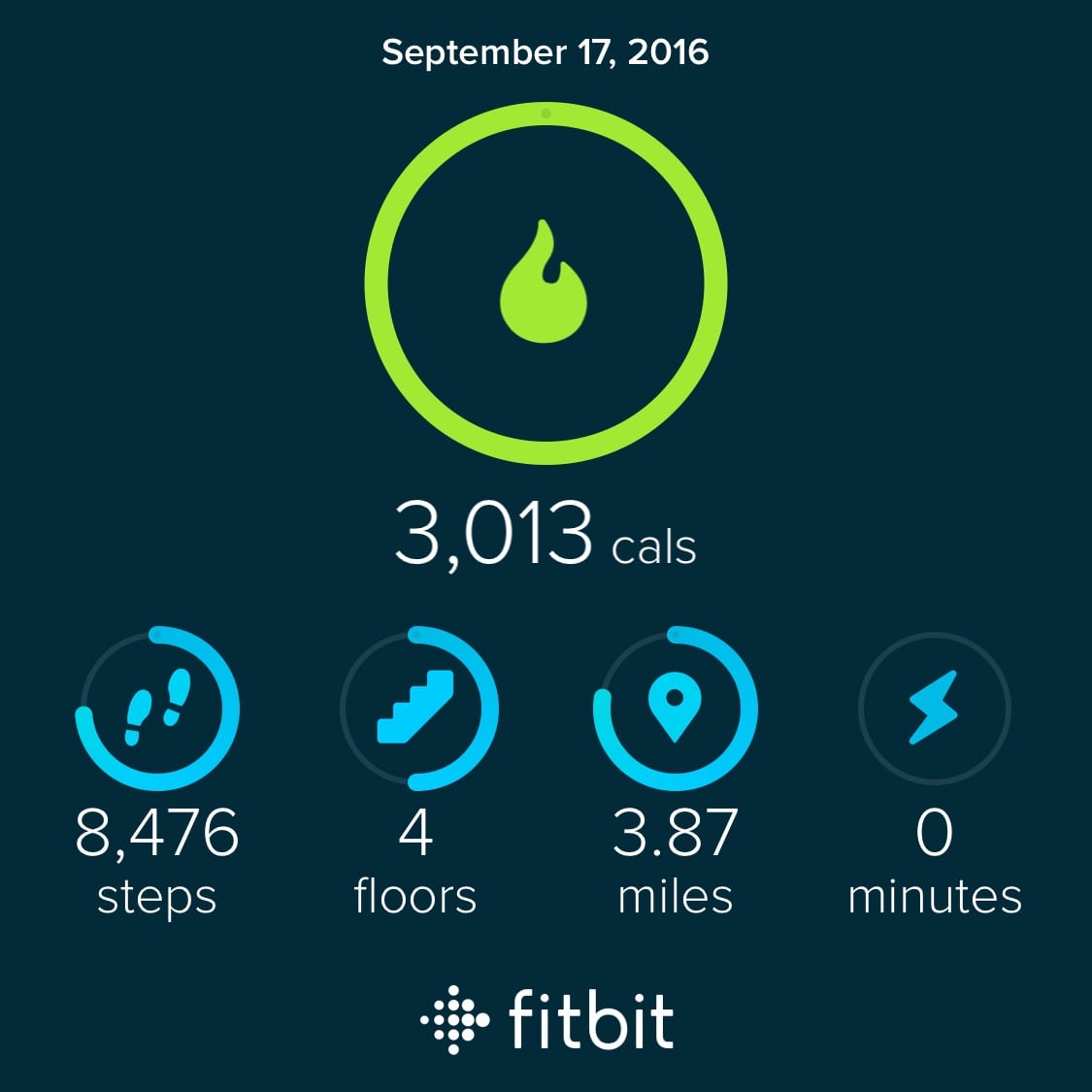 SUNDAY 9/18/16
Daily Gratitude: 
Today I am incredibly grateful for the change in weather. Leading up to this trip it looked as though we might encounter rain every day that we were here. Today the sun was out in all it's glory. It was a cool, crisp and clear day! PERFECT hiking weather! This was the view from the top of Turtleback Mountain.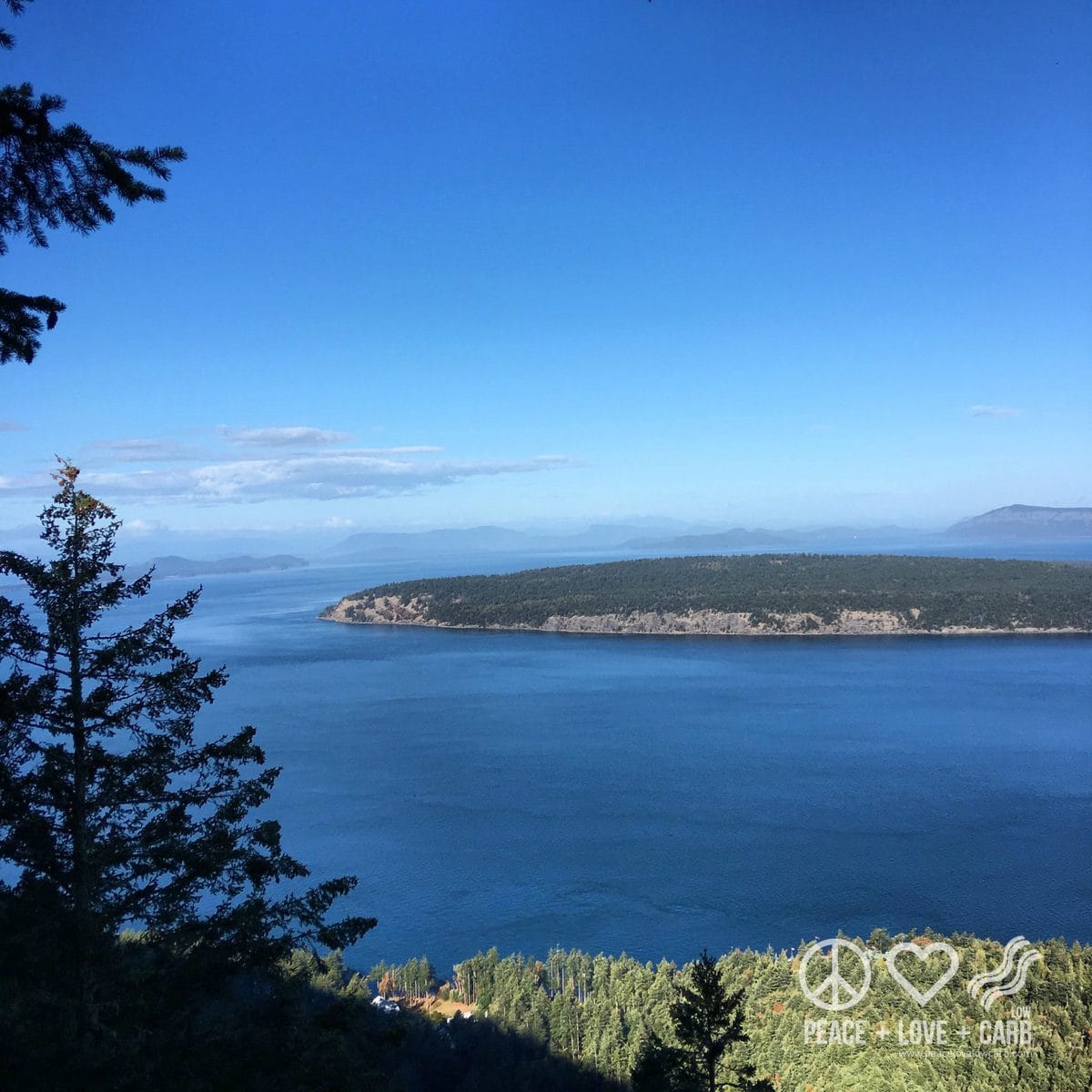 Daily Reflection:
Ugh! I wasn't going to post this picture. I wasn't going to show it to anyone until I could put it side by side with a picture of me on that very bench looking fit and trim. I told myself it would be okay to just tuck it away and hide. When I looked at it, I had nothing nice to say about myself. My head was swarming with self-deprecating thoughts and insecurities. I just finished huffing and puffing my way up a hike that would have been easy for me in the past. I was face to face with reality of what I have done to my body. Instead of congratulating myself for making it to the top of the mountain, I was feeling sorry for myself about how much I let my fitness slip. I looked at the picture and almost cried at how full my face looked, the lack of tone in my arms, the size of my thighs etc. I should have looked at that picture and thought "Now there is a women with a fierce determination to do better, to be better" That is what I am choosing to see now. That is also why I decided to post this picture. I set out on this journey of documentation to be raw and real. To help others know that they are not alone. Hiding this picture wouldn't accomplish any of that. If you are feeling ashamed and alone, just know that I see you. The real you. The side you don't show others. I see you because I am you. Until you are ready to let your true light shine, free from the chains of societal pressure and the opinions of others,  I will try my best to shine bright enough for both of us. You are not alone in your struggles. Neither am I.
Eat All The Foods:
For lunch we went to Buck Bay Shellfish Farm and ate fresh boiled crabs. I am pretty sure I could have eaten 5 of them. Fresh crab is one of my all-time favorite foods.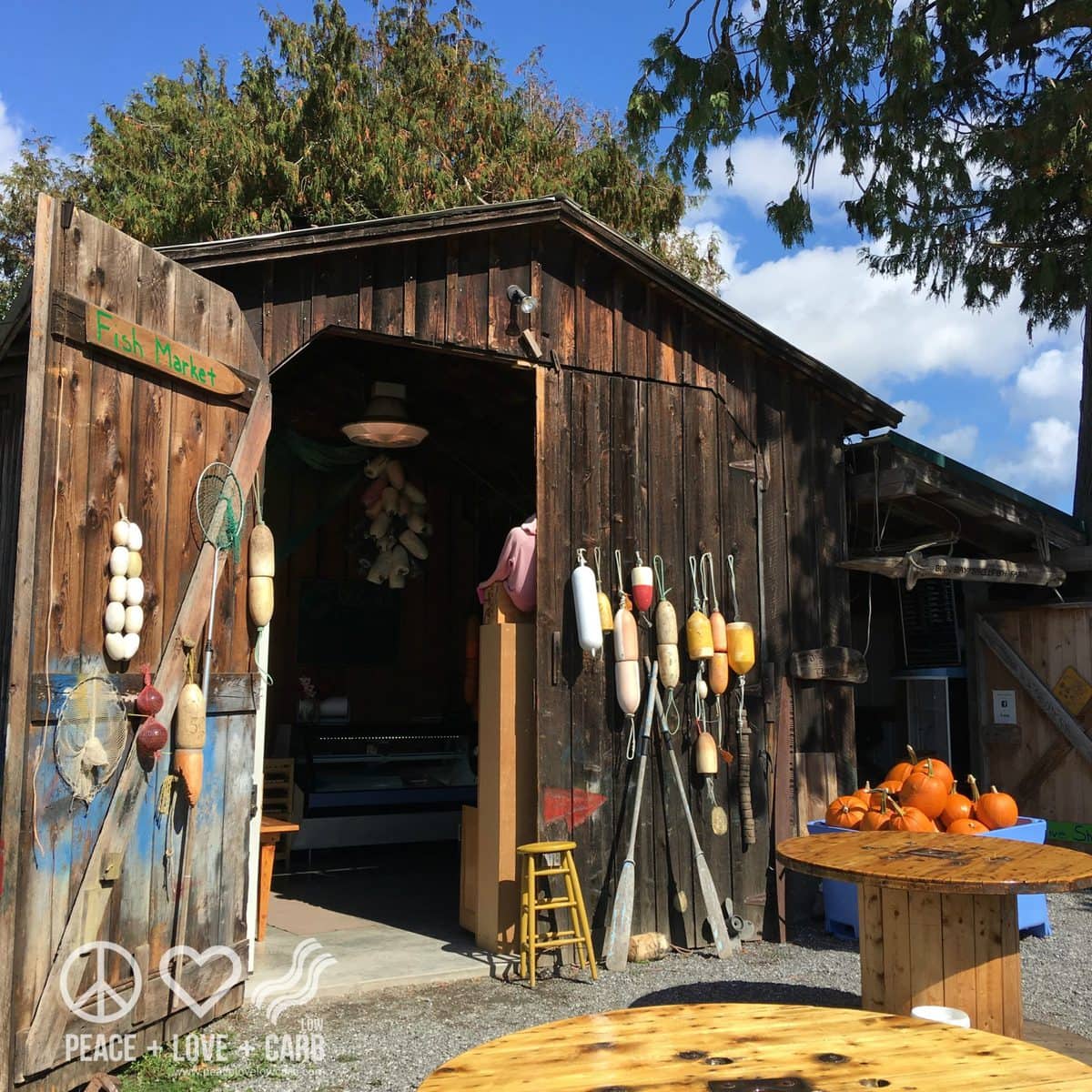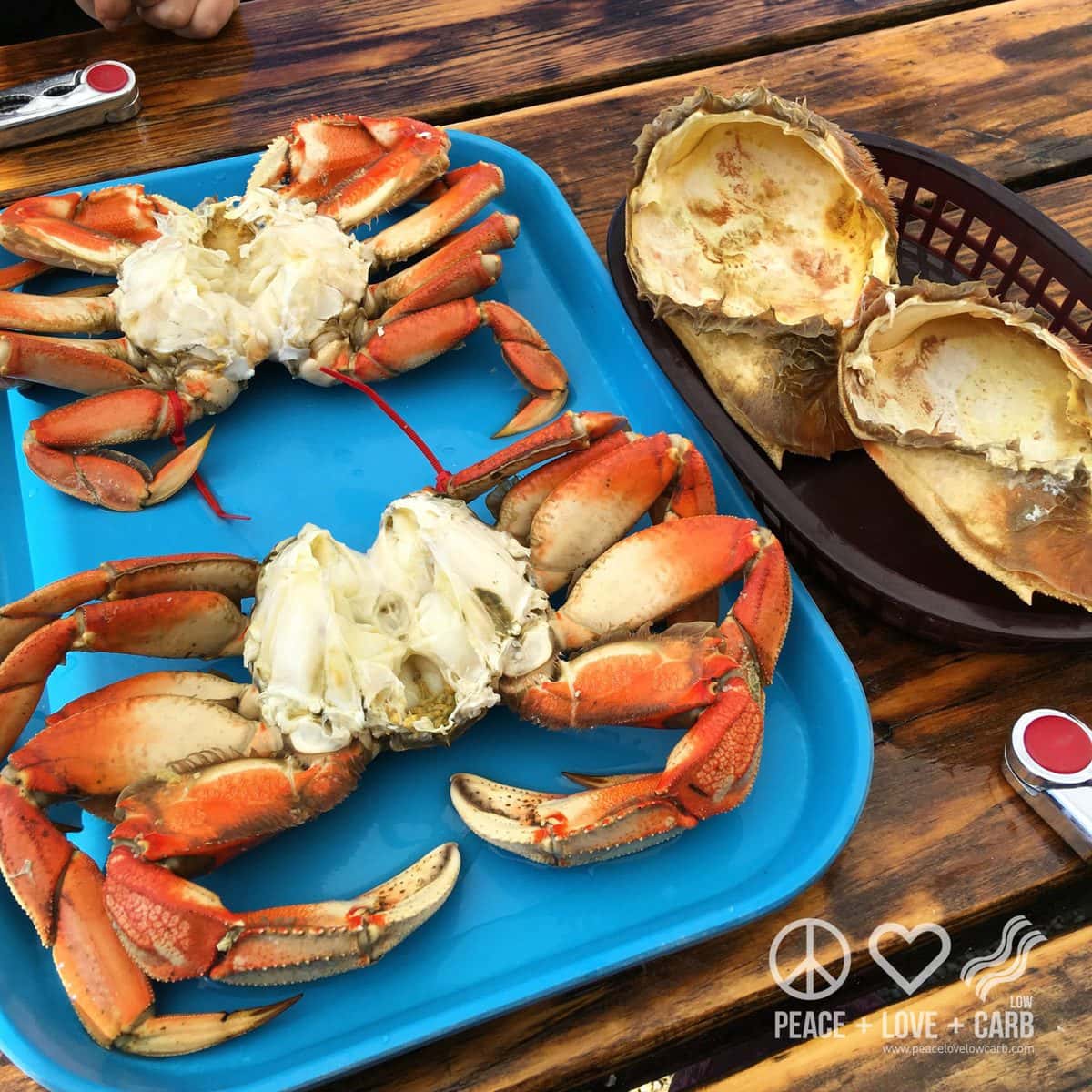 Staying Active:
Here is another beautiful shot from our morning hike. The falls colors are already settling in on the island. I'll admit that this hike felt a lot harder for me than it should have and harder than it once would have. It was humbling and it bummed me out at the same time. Getting out in nature and taking in the beautiful scenery, while also getting a workout is one of the greatest feelings in the world. It was a painful reminder of how far I have to go and just how far I let myself go. I was huffing and puffing all the way up to the top. But you know what? I didn't stop! I went all the way to the top. I didn't let it beat me. I kept going and next time I will blaze right up that mountain.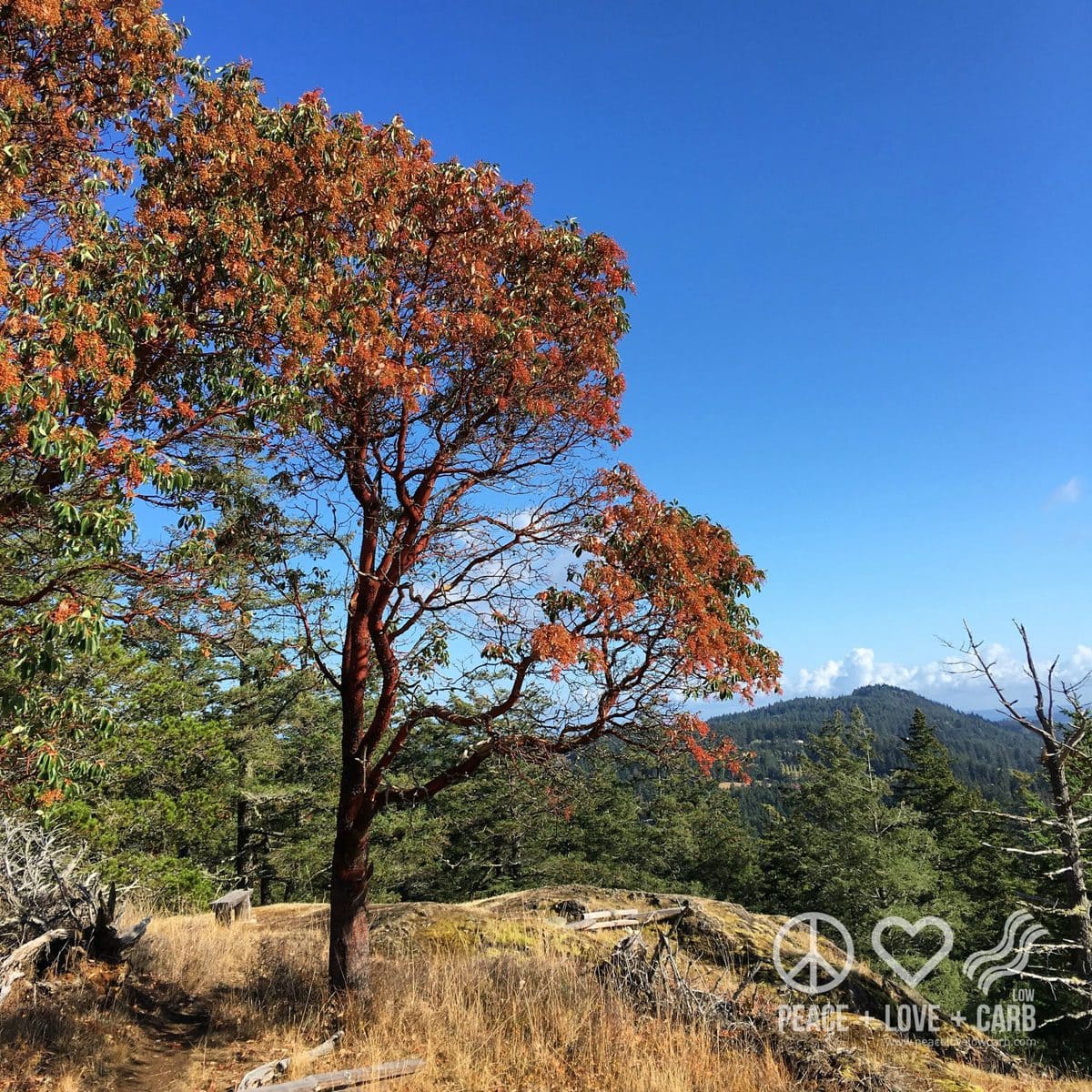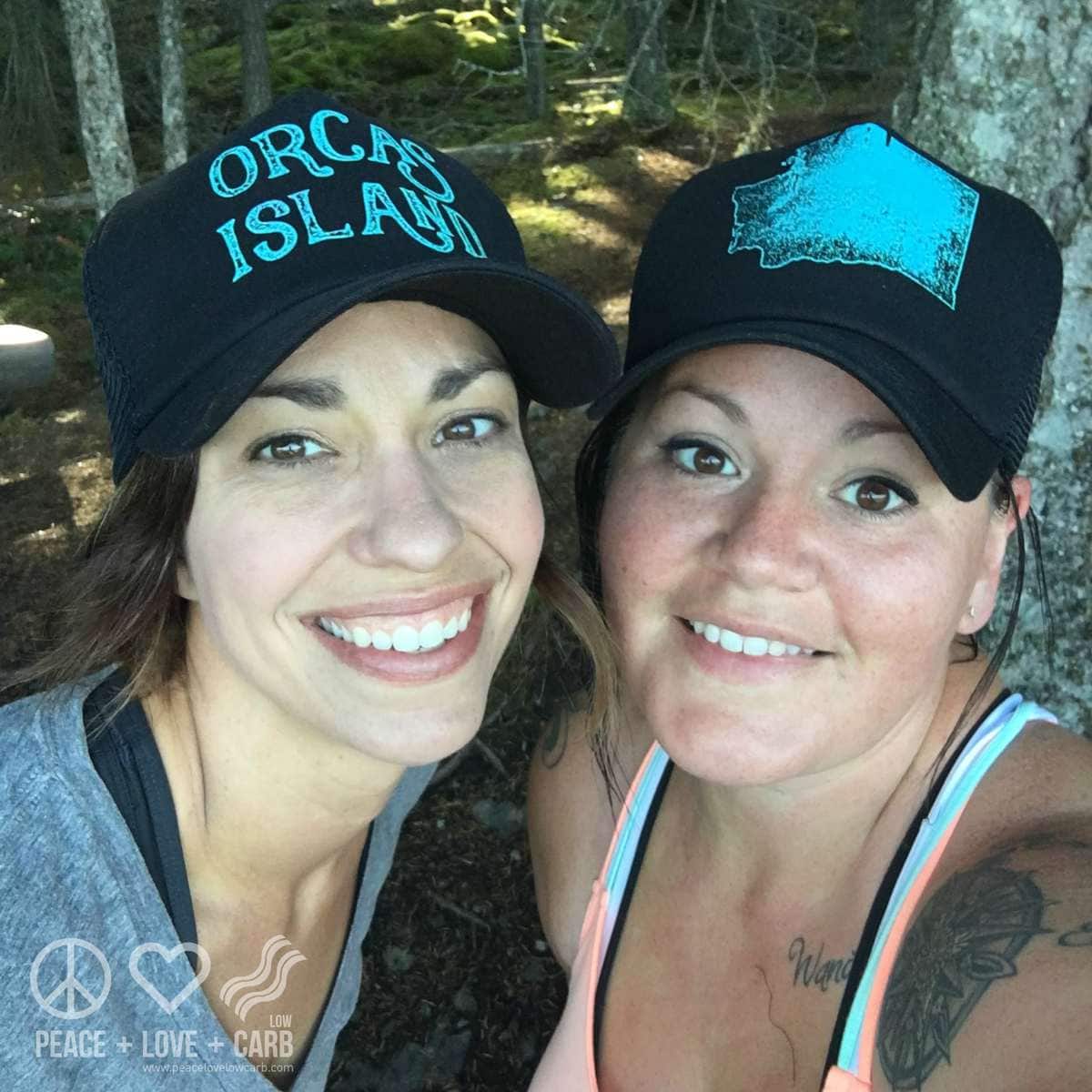 Week 3 is a wrap. I am taking week 4 off from documenting and I will be back for Week 5 with a weigh in and new progress pictures. Have an awesome week. Stay strong. WE CAN DO IT!!