If you are just starting to follow along on my new and improved weight loss journey, I recommend starting with these posts from last year first so you can see how it all began (any text that is highlighted orange is a clickable link) – Coming Clean Post     Week 1     Week 2     Week 3     Week 4     Week 5     Week 7   Week 8     Weeks 9-12    Week 13   Week 14    Week 16     Week 17   Also, make sure you are following along on Instagram, as a lot of the day to day stuff will take place there.
CLICK HERE TO GO BACK TO WEEK 1…
Starting Date: 8/29/16
Starting Weight: 281 lbs
Current Weight: 270.5 lbs
Pounds Lost: 10.5
Goal Weight: 180
Goal Date: 8/27/17
Height: 5′ 9″
Last week was a BIG week. I lost 10.5 pounds in Week 1. I was over the moon when I stepped on the scale. It is so rewarding to see all of my hard work pay off in such a big way. By no means do I expect losses this big each week. I realize that this first week has everything to do with getting back on track with my healthy eating, shedding excess water weight, reducing inflammation in the body, losing some of the puffiness of my wheat belly, and the cleansing protocol that I have been doing. As I set up my tripod to take my progress pictures for the week, I was overwhelmed with the weight of just how vulnerable I am being. How far I am putting myself out there. How much I am opening up my life to complete strangers. It is a scary and exciting feeling all wrapped into one. I probably took about 10 photos just trying to get my pants in the right place. Last year when I posted my progress pictures after my first week a man commented on my post on the Peace Love and Low Carb Facebook page saying that I was a fraud, I was still fat and I just tucked my fat rolls into my pants to deceive people. I immediately went and took a new photo with the waist band of my pants pulled down to an almost inappropriate level. To this he told me that I was just using photoshop to get rid of my fat gut. His words, not mine. This comment was what prompted my "Don't Feed The Trolls" video. Even though I made is past his comment and kept going, it is obviously still with me. As I took my photos this morning I was more concerned with getting the waist band of my yoga pants in just the right place so that no one could troll me, than I was about celebrating the awesome week that I just had. After I made the side by side photo, my eyes just darted back and forth, back and forth between the photos, analyzing and looking for any areas that I might face unnecessary scrutiny or unkind words. Again I looked at the waist band. Why couldn't I get it in the exact right spot? Then I saw it… I saw that in the before photo, my stomach is so bloated and puffy that it is actually forcing the waist band down in the front. Then my eyes went back to this weeks picture and I realized that with the puffiness gone, my waist band was free to just sit where it is supposed to. I felt sad that I even let a troll from last year  creep into my mind as I was taking my new photos. That I let him steal my joy. That I let his words cause me to act preemptively to defend myself. I decided right them and there to let go of it and celebrate in my victories. I own my thoughts. I own my joy. Today turned out to be a pretty amazing day!  I'm just hoping my story helps other people break through their shame barriers and love all of themselves.  I just want people to feel less alone in their struggles.

MONDAY 9/5/16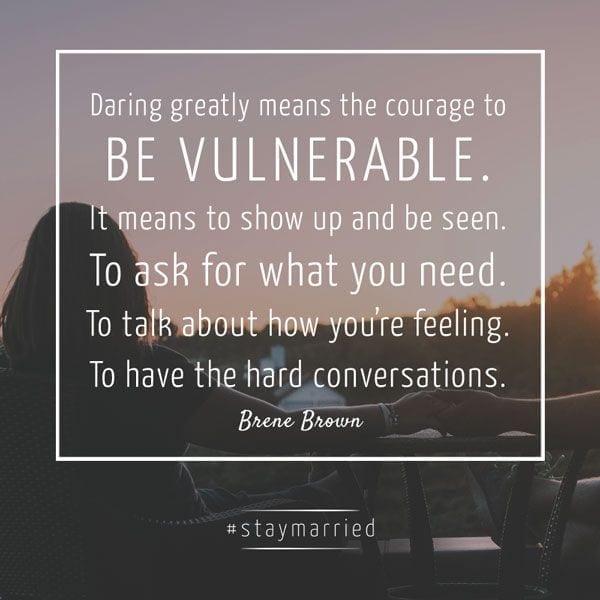 (source)
Daily Gratitude: 
Today I am grateful for nature and all the serenity that it has to offer. Hiking is such a big part of our lives and it was really missing from our summer this year. Life was so chaotic and busy that we never made it out until today. The more accurate and honest account would be that we never made it a priority before today to get out and hike. The new and improved me does not postpone joy for work. Plain and simple. It is a non-negotiable. The new and improved me does not follow false business prophets or take on so-called mentors that suggest that I am nothing unless I hustle. Rest is the new hustle. Joy is the new hustle. Quality time with the people I love is the new hustle. Connection is the new hustle. Today I am also grateful for the way I am now defining hustle and not letting hustle define me.
Daily Reflection:
A couple years ago I listened to a Brene' Brown interview on the Tim Ferris Show Podcast. Since then I have listened to it at least 10 times.  She talks a lot about shame and vulnerability. She did a fantastic TED Talk on the topic of Vulnerability. Check it out – here. Here are some of my favorite take aways from her TED Talk.
The original definition of courage is to tell who you are with your whole heart
Have the courage to be imperfect. You can't practice compassion with other people if you can't treat yourself kindly.
Let go of who you think you should be to become who you are.
People who have a strong sense of love and belonging feel worthy of love and belonging.
One thing that keeps us out of connection is our fear that we are not worthy of connection.
Fully embrace vulnerability. What makes you vulnerable, makes you beautiful.
You can't selectively numb emotions.
We need to allow ourselves be seen, to love with our whole hearts even though there are no guarantees, to practice gratitude and joy in moments of terror, and to believe that we are enough.
Powerful stuff, right! I certainly think so. What if we all just lived without fear of shame, blame, judgment and heart ache and just agreed to live unapologetically, vulnerably and true to ones self? That is what I am trying to work towards. I am a work in progress.
I highly recommend checking out some of her books. If you are looking for a mindset shift or to break free of the self limiting beliefs, shame, and insecurities that you may be feeling, her books will definitely help. Daring Greatly, The Gifts of Imperfection, Rising Strong, I Thought It Was Just Me,
Self Care Check-In:
I am still continuing with the cleanse protocol that I detailed last week, including Comfortone, ICP, Detoxzyme, ParaFree. I really do believe it helped with the large loss on the scale this week. The second step in my cleansing protocol with be a kidney cleanse. I will detail that one for you as well as I do it. You can check out last weeks post for the full details of my cleanse.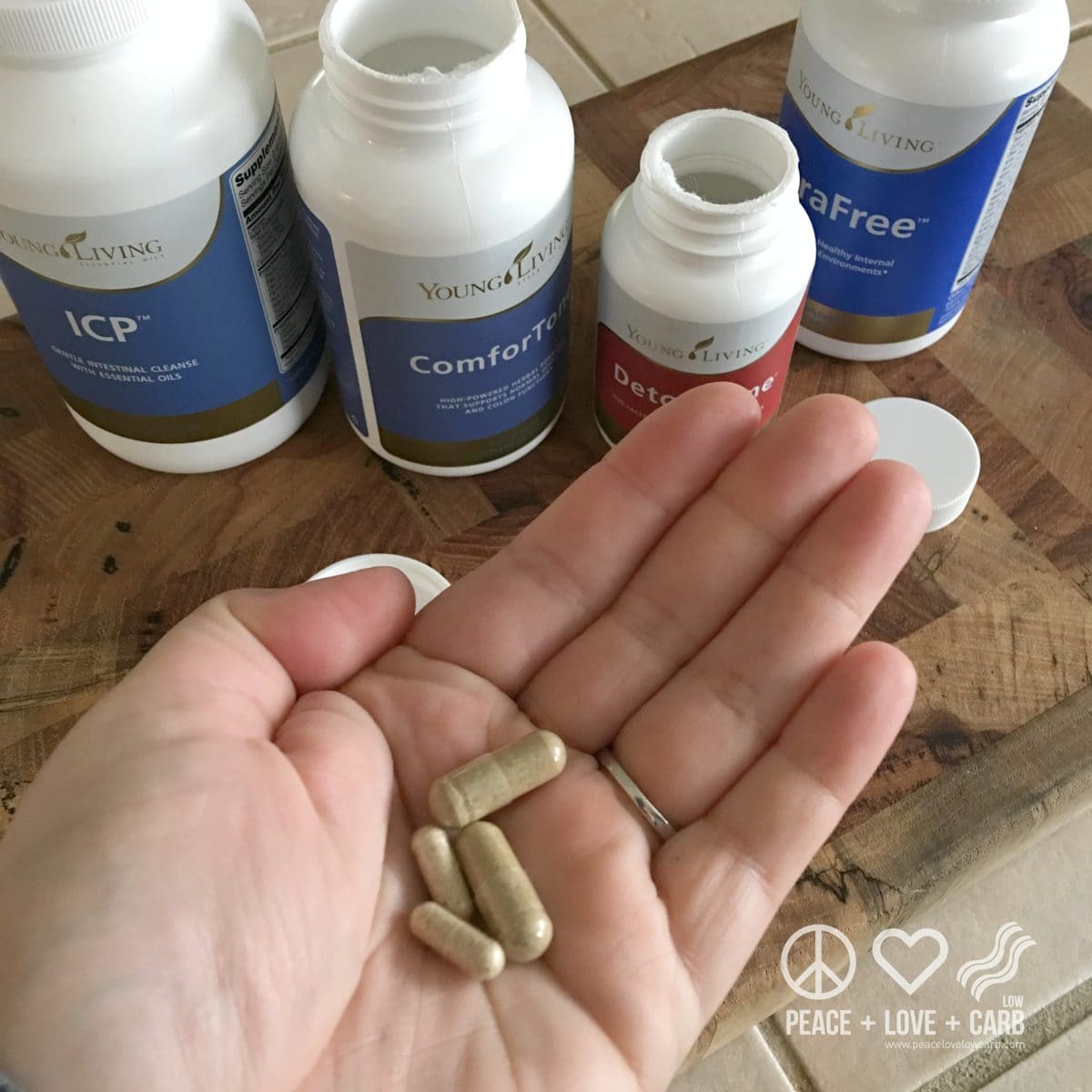 Eat All The Foods:
Can I just tell you that I am obsessed with this espresso machine. We bought it as a house warming gift to ourselves. It has already paid for itself with the money we have saved by not stopping for coffee everyday. Once you get the grind amount and grind size right, it makes the perfect espresso every time. This morning I had a sugar-free salted caramel almond milk latte. It was only 4 grams of carbs. The Skinny Syrups brand isn't my favorite as it is sweetened with Sucralose. I prefer products that are sweetened with erythritol. (Which is what I thought I was buying when I got this one). Monin is the brand that sweetens their sugar free syrups with erythritol. You can find different flavors here.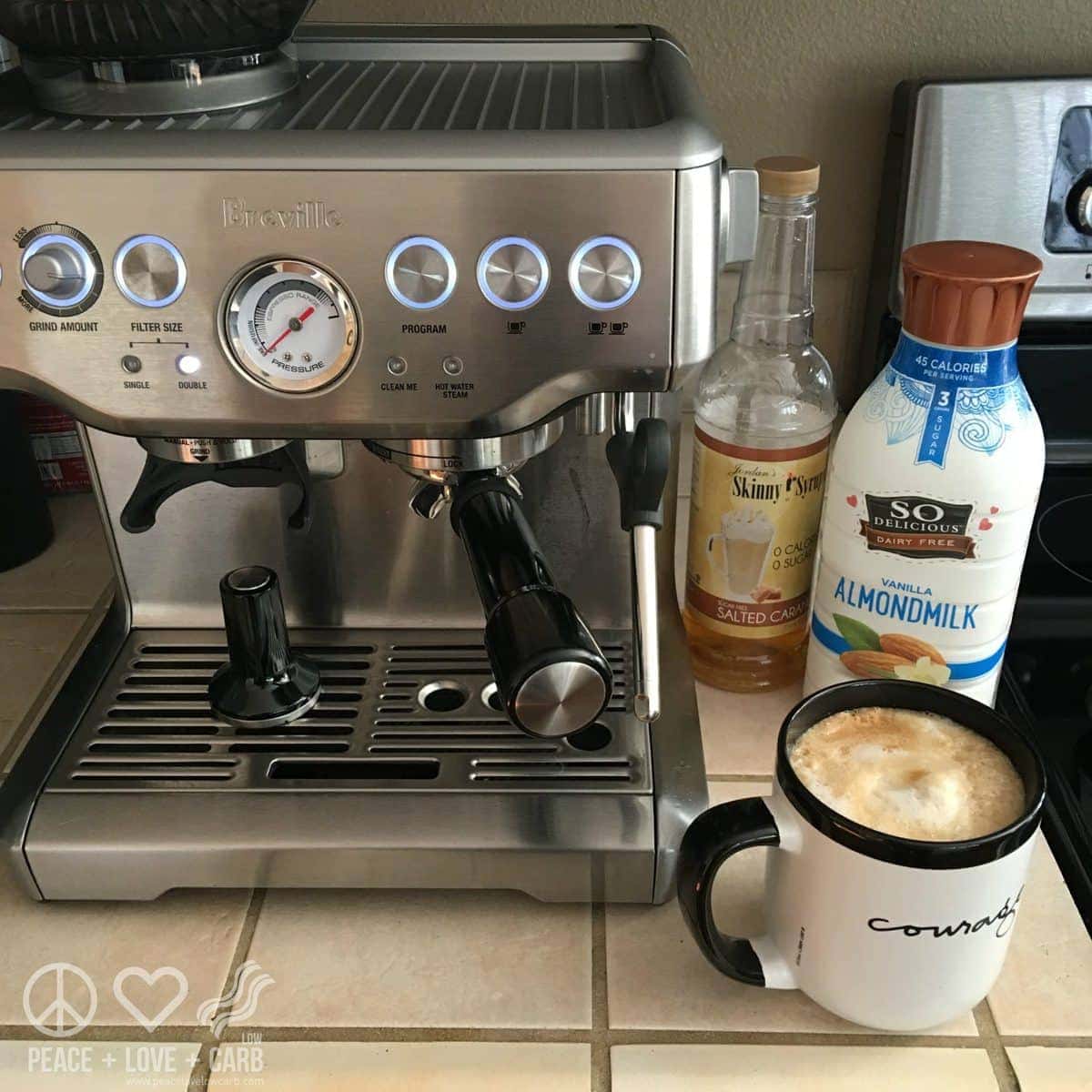 Taco Tuesday came a day early with breakfast today. I repurposed the leftovers from my taco salad the other day to make taco scrambled eggs. YUM! This ended up being more than enough food and I have breakfast for tomorrow now too.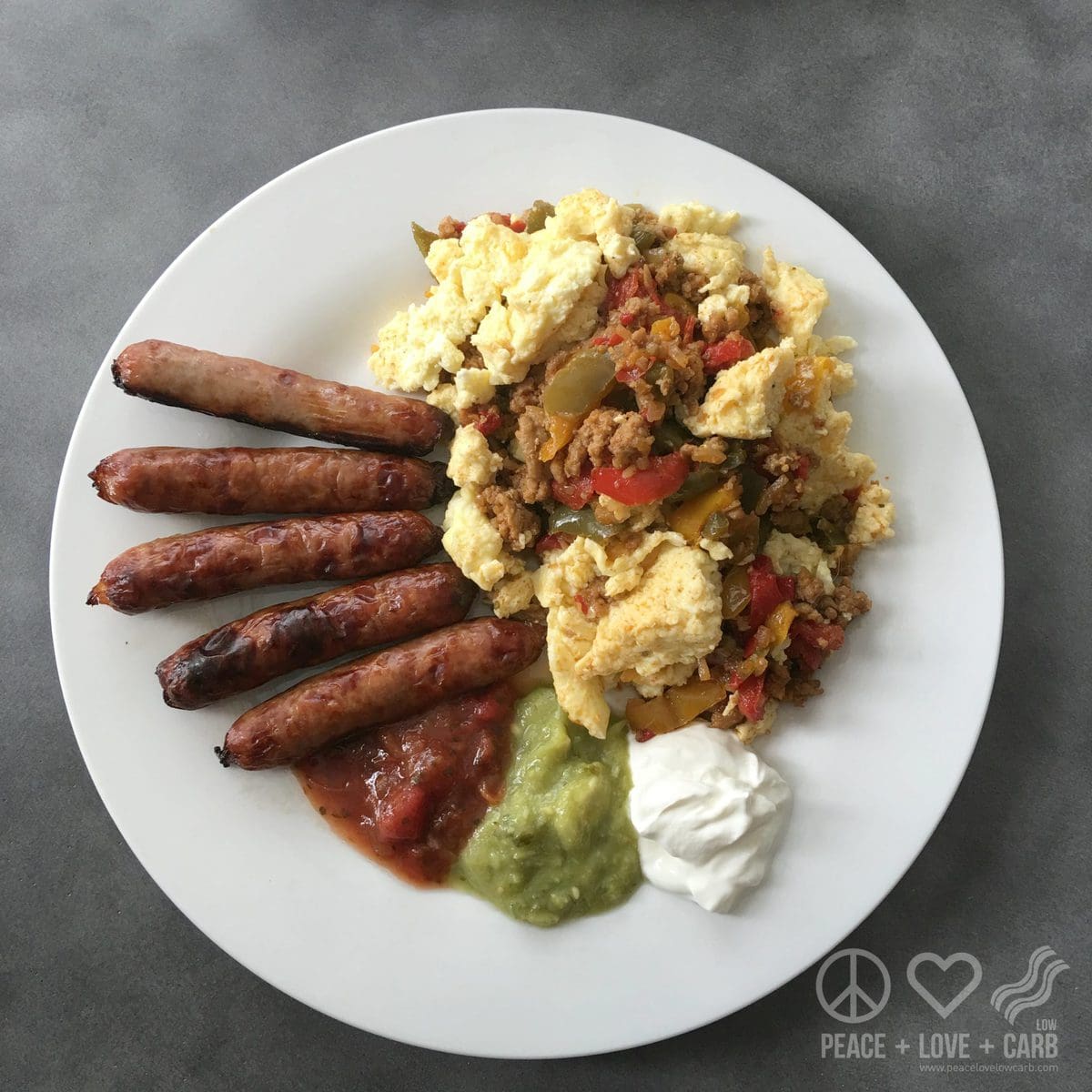 In keeping up with my #saladaday challenge in the Peace Love and Low Carb Friends Group, I have been prepping up my own salad bar fixings. That way I can just open the fridge and throw whatever sounds good at the moment on my salad. Having all the ingredients prepped and ready to go helps keep me on track and helps keep me from getting bored. Jon has been having a salad each day too. I think I will just continue this long after the challenge for the month of September ends. I am digging having a big, hearty salad each day. You can get the glass prep containers I use here.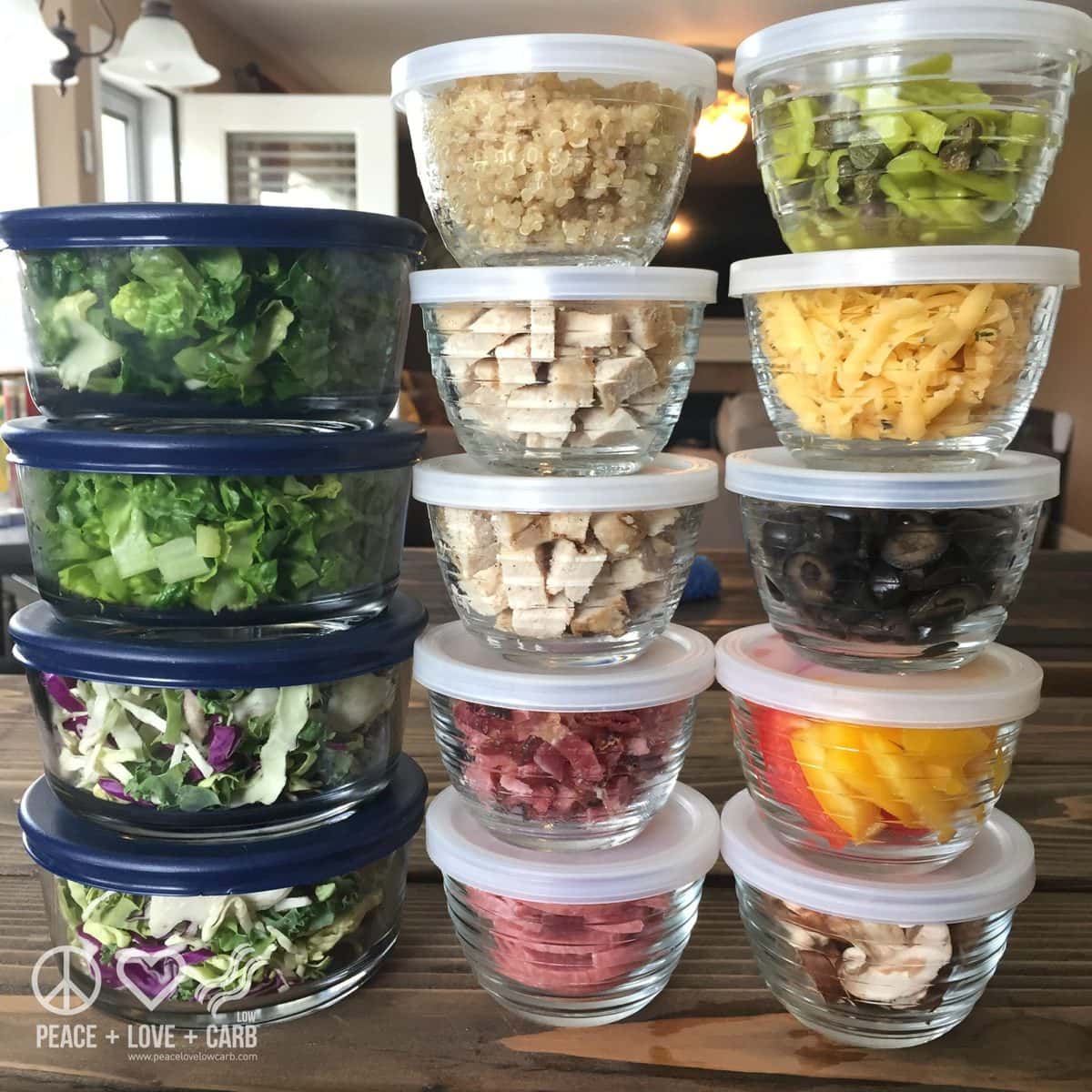 Did you know that grapefruit essential oil has the ability to pull petrochemicals from our fatty tissues, which actually reduces the size of the fat cell?Pretty cool huh?  I drink it every day in my water and I also take 10 drops in a capsule every night before bed.  If you are interested in learning more little healthy tidbits like this about essential oils, feel free to join my group on Facebook, or even right here on my site.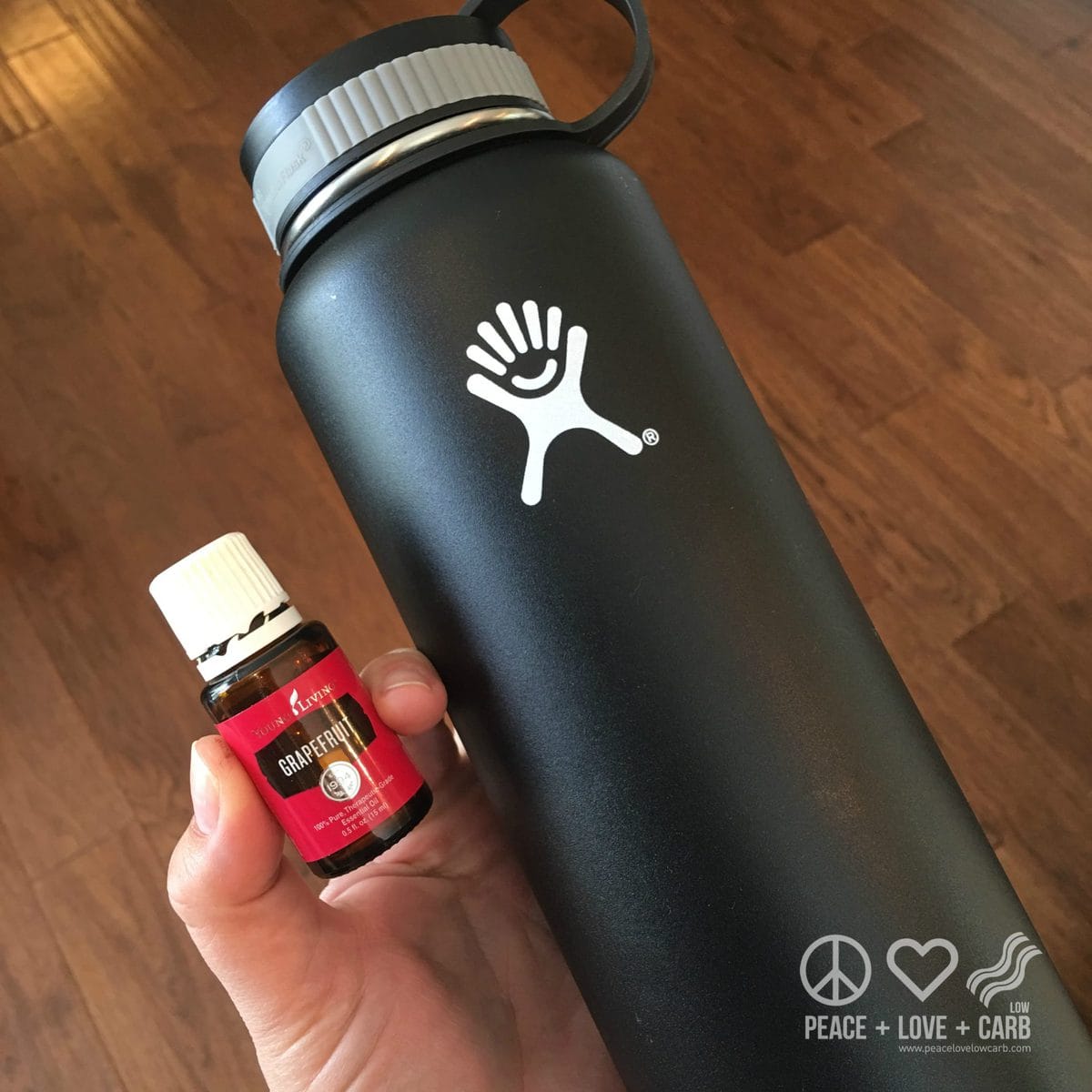 Staying Active:
Jon and I decided that we were taking the day off today and having a healthy date day. We got outdoors and explored the trails around the Green River Gorge area. Hiking is one of my all time favorite things to do. It makes me feel content and at peace. It's also one hell of a good workout. It was an awesome day full of quality time, fun and fitness. Love!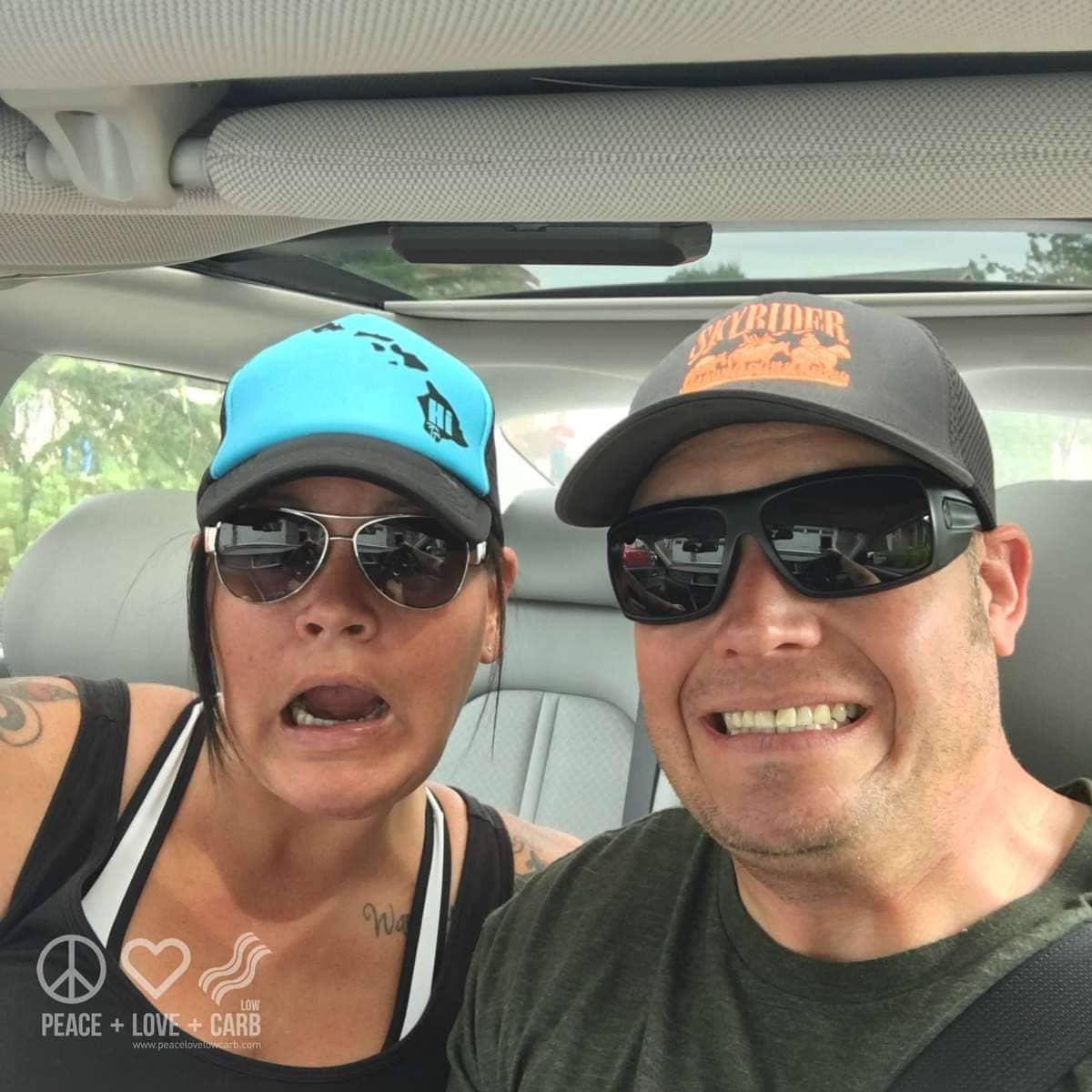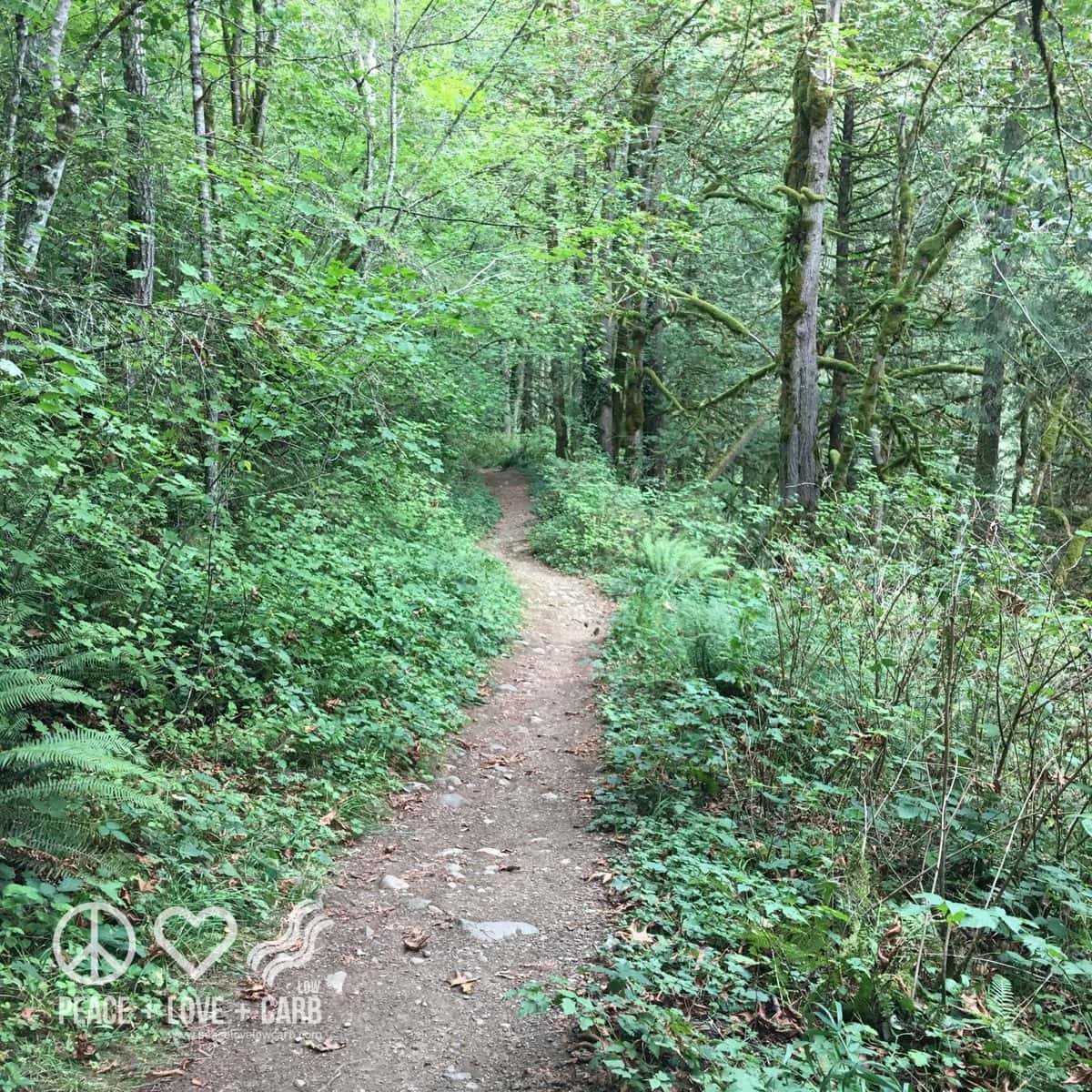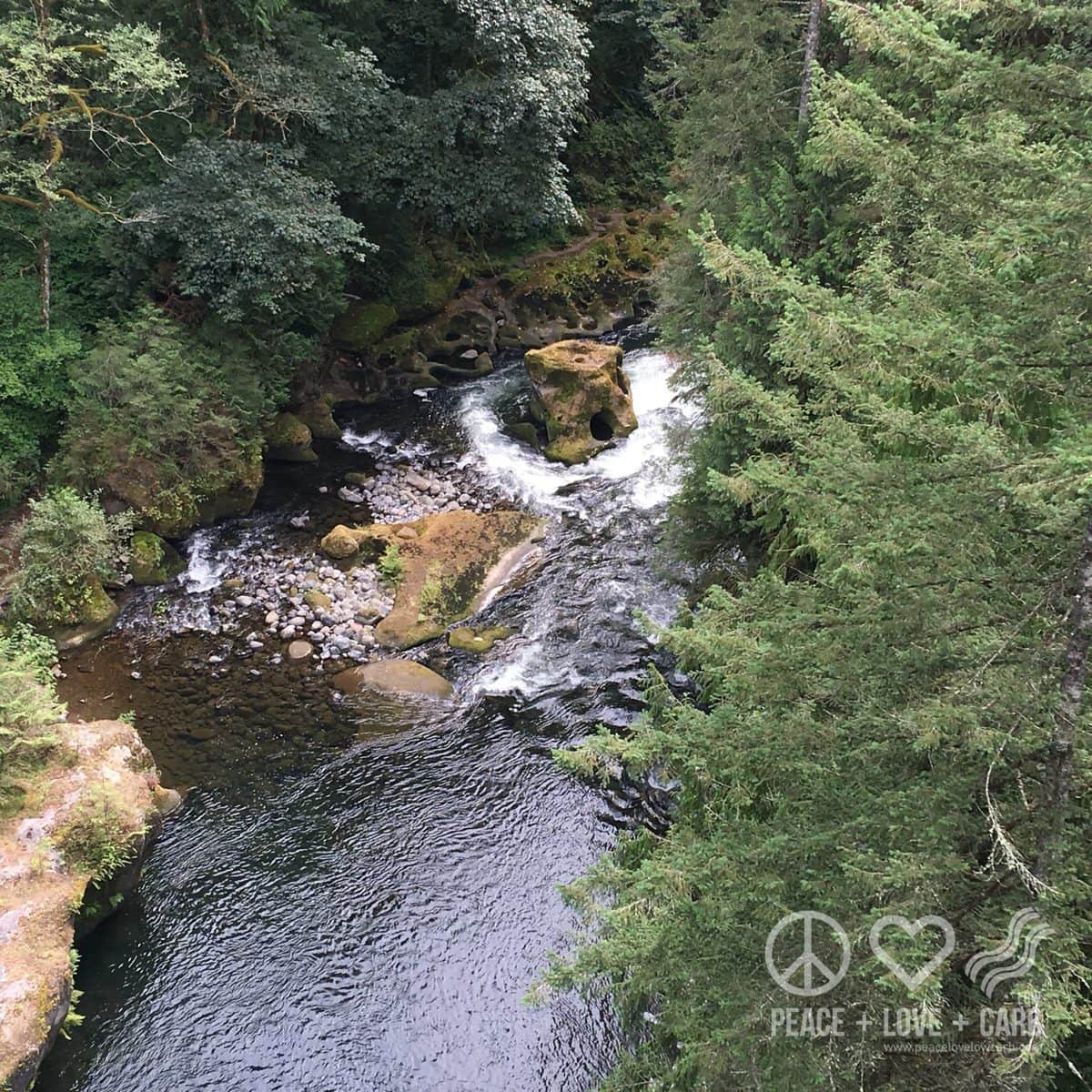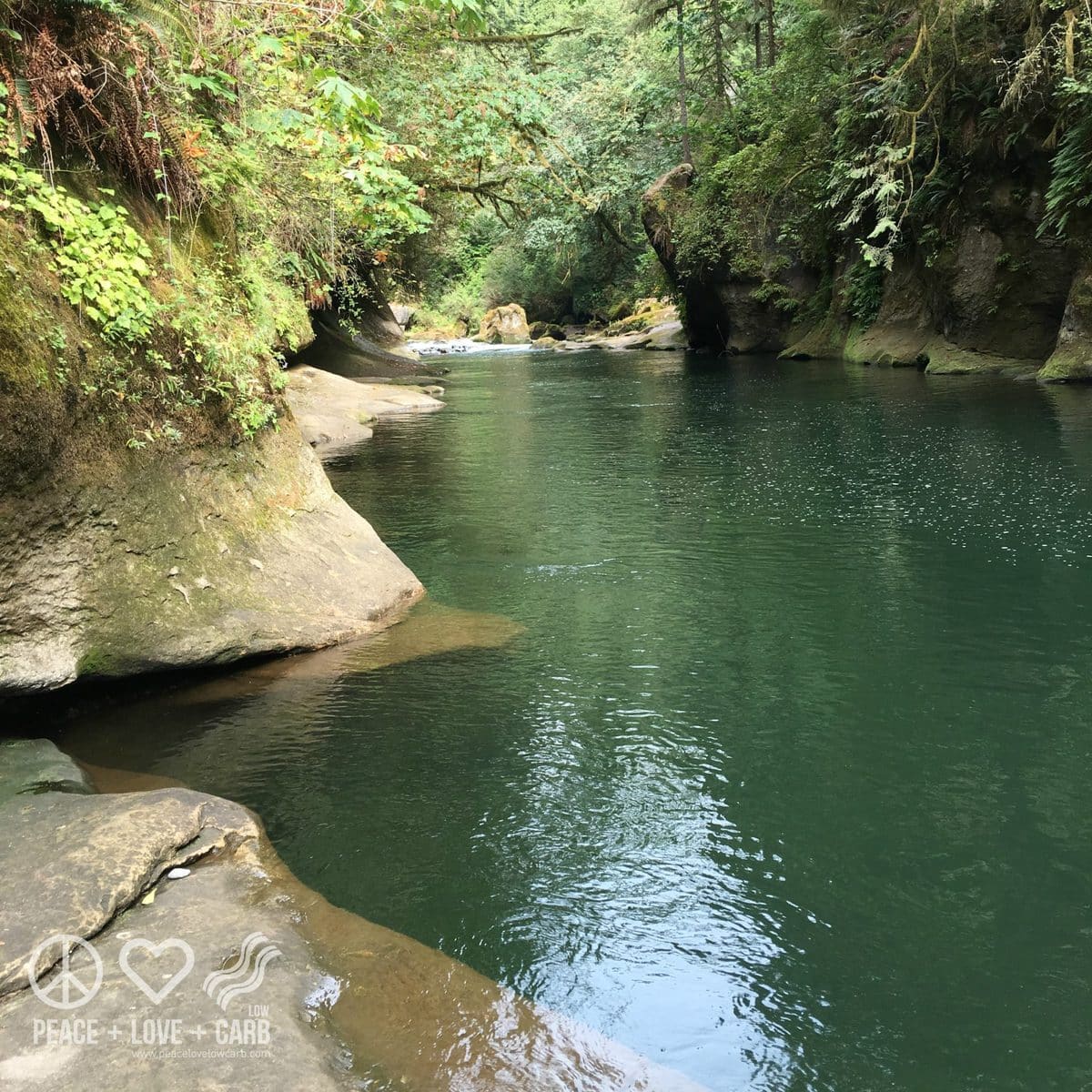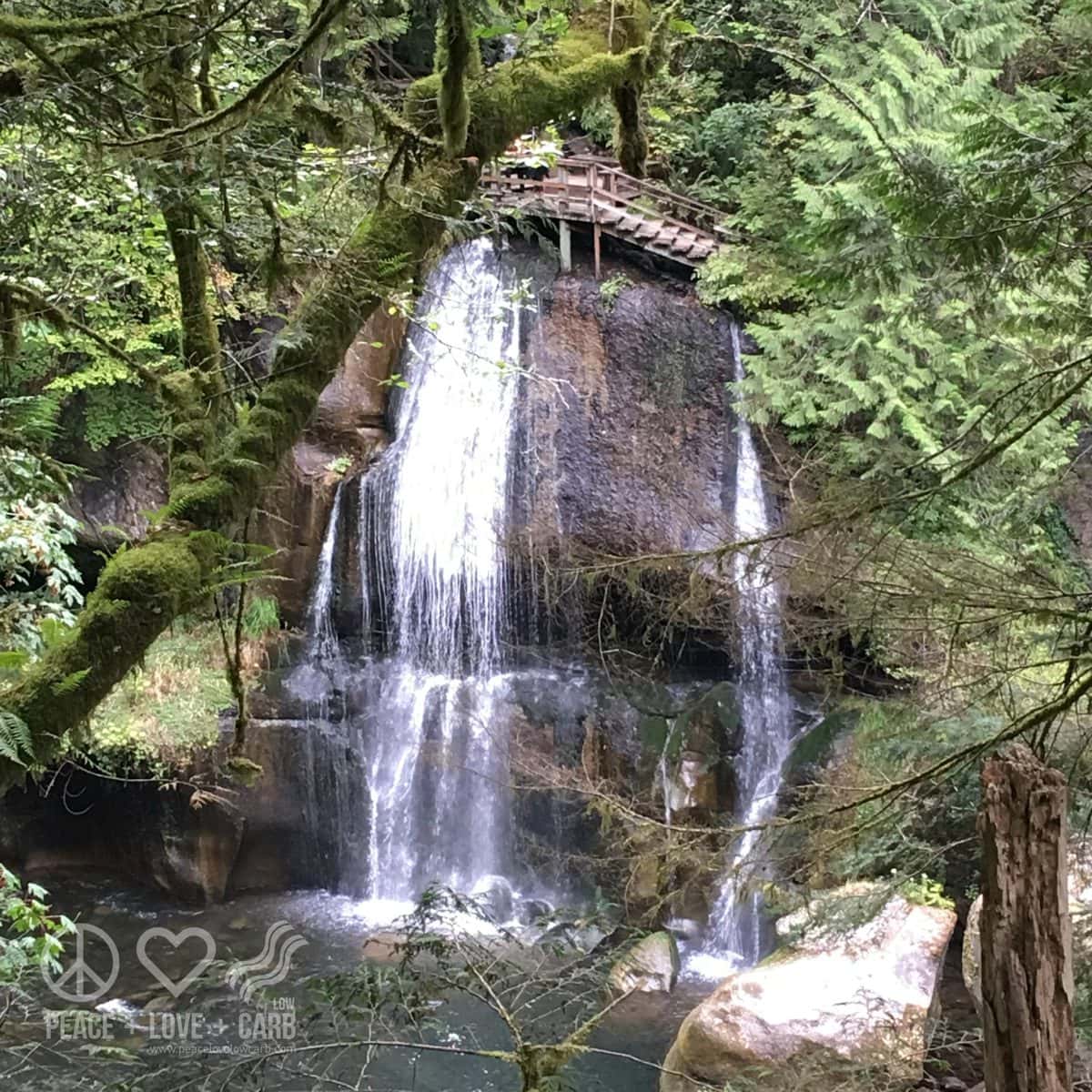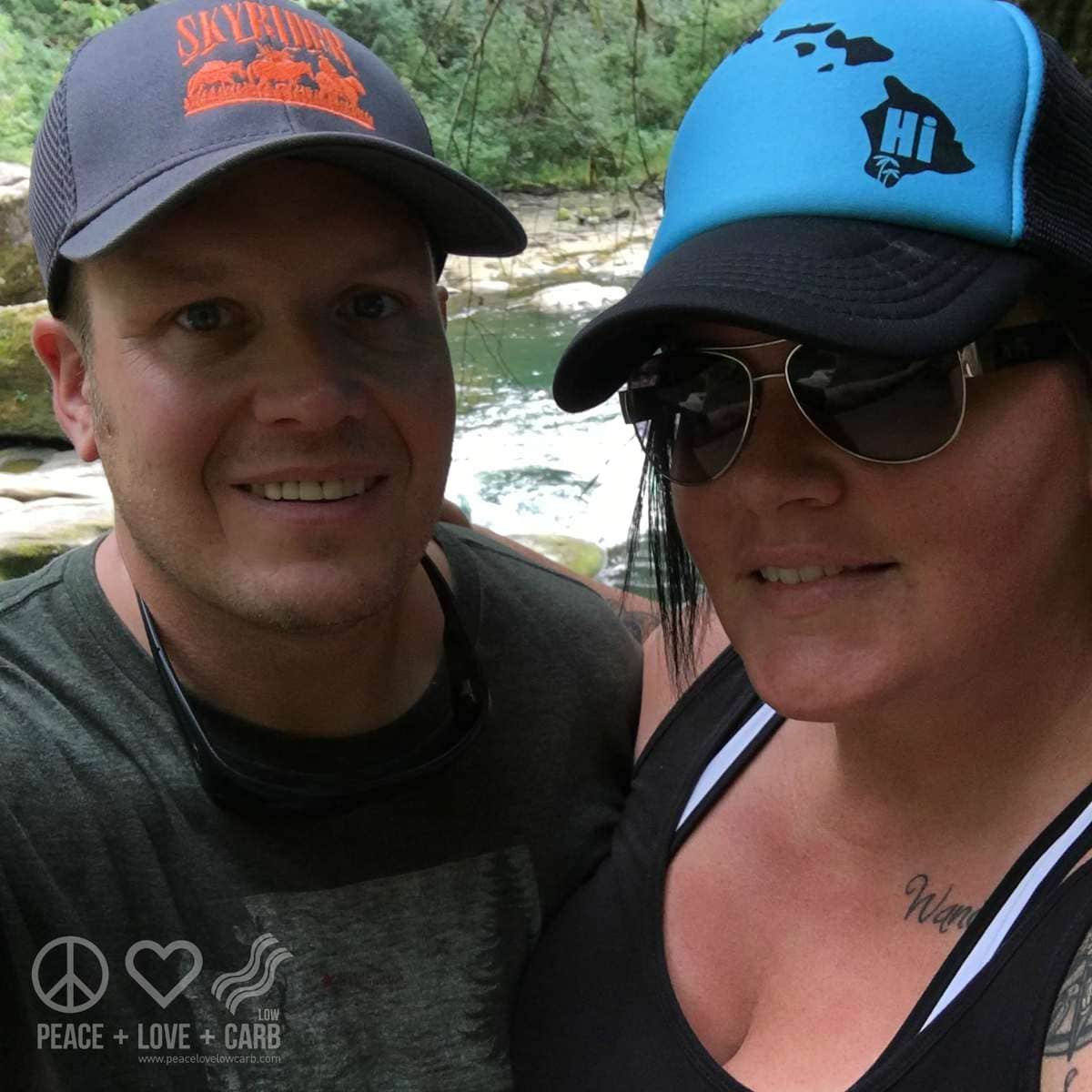 TUESDAY 9/6/16
Not much to report today. In fact, I wasn't going to do an entry today at all as it was just a very chill, relaxing and uneventful day. Nothing much to report physically or emotionally. BUT, I did want to at least check in with my food for the day.
Eat All The Foods:
Since we moved I have been getting this awesome chicken salad from the deli at our local grocery store. I feel guilty every time I get it because I know that I could make a better tasting, cleaner ingredient version in a heartbeat. Well today I finally did that. Dill Chicken Salad. So much better than the store deli. I will have the recipe up soon.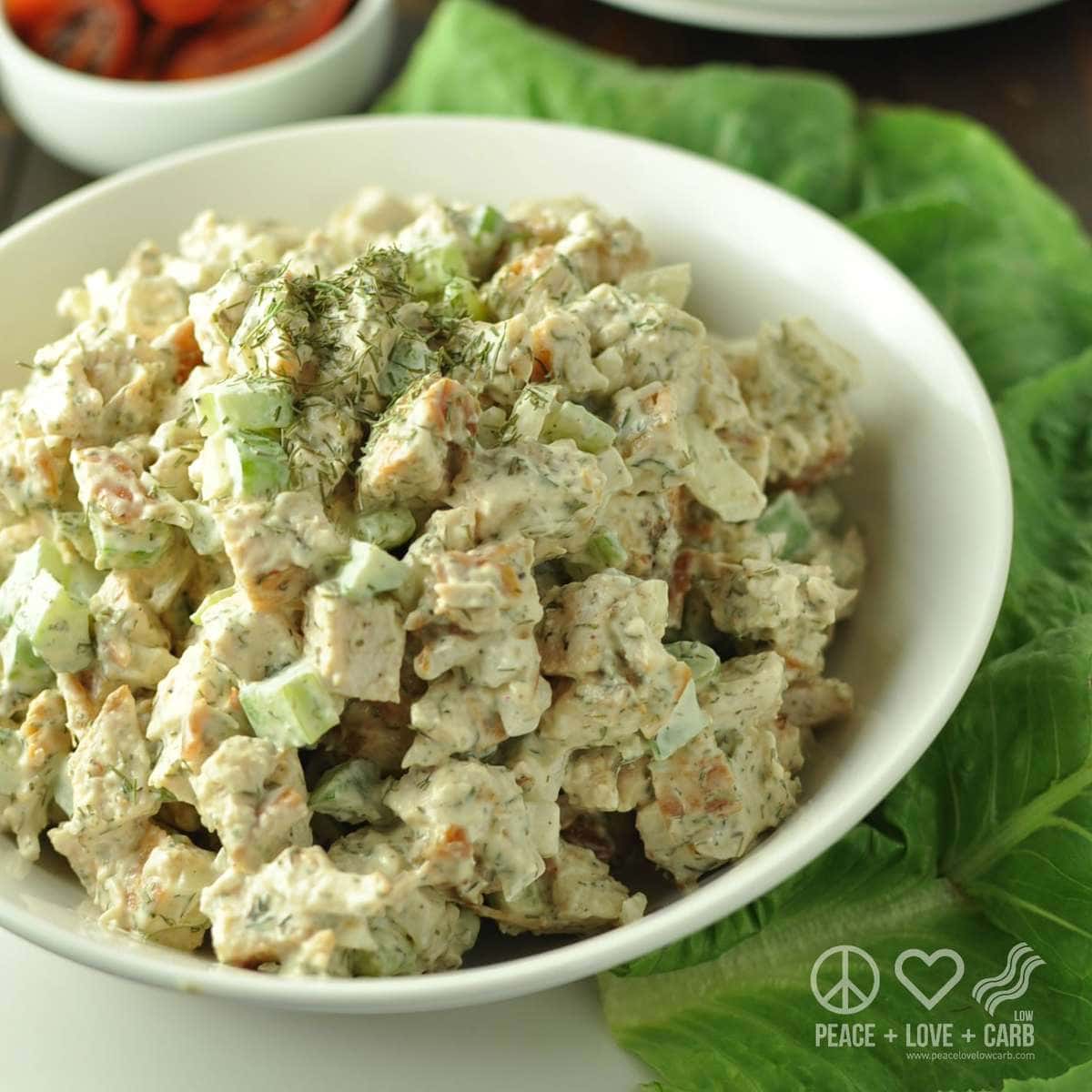 Lunch was a nice big, colorful salad. Keeping up with my #saladaday challenge and loving it. These big salads keep me full for so long!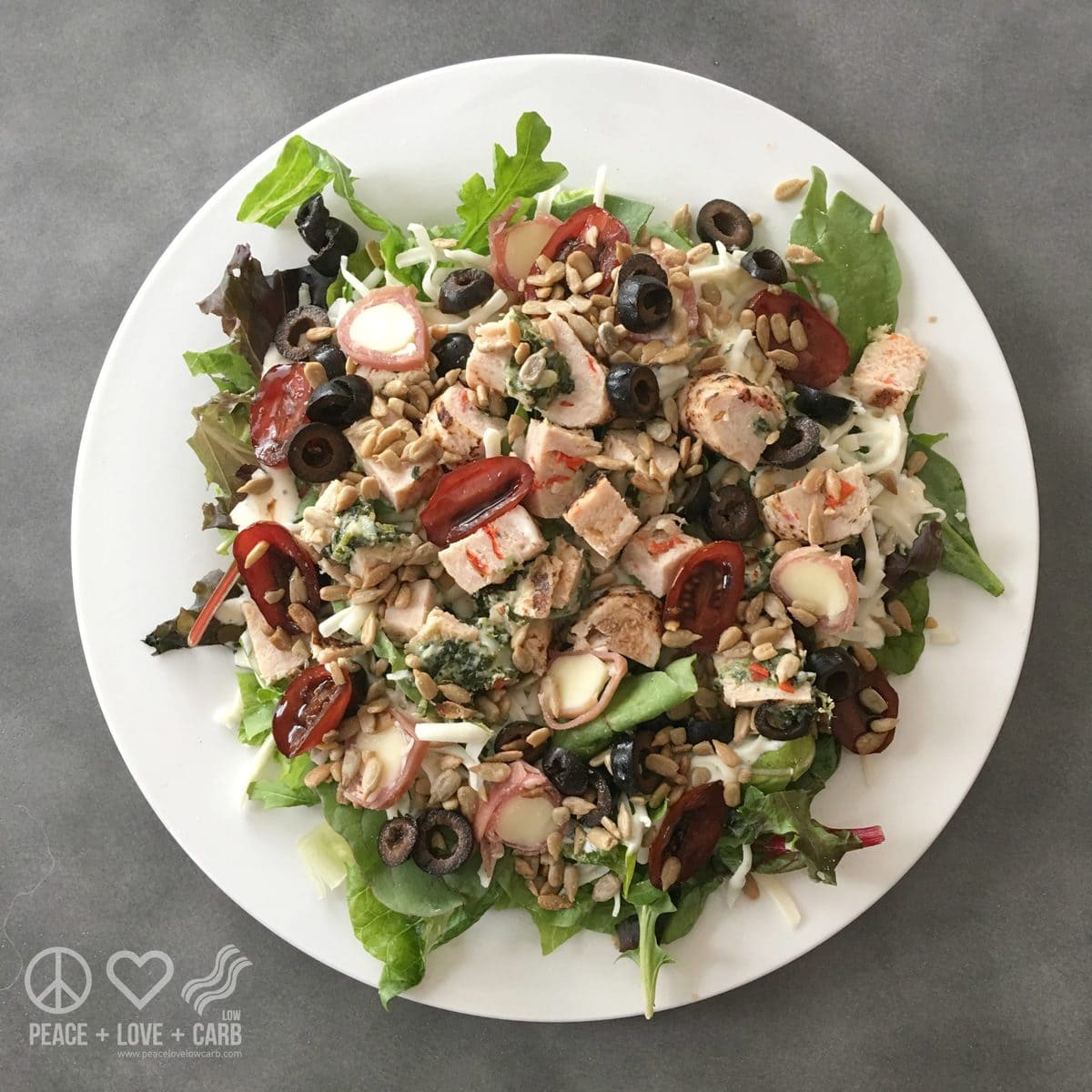 Dinner was super simple, but flavorful. Pan-seared chicken breast with balsamic glaze and oven roasted broccoli. I was already cooking the chicken for the chicken salad recipe, so I figured that I should just make an extra one for a quick and easy dinner.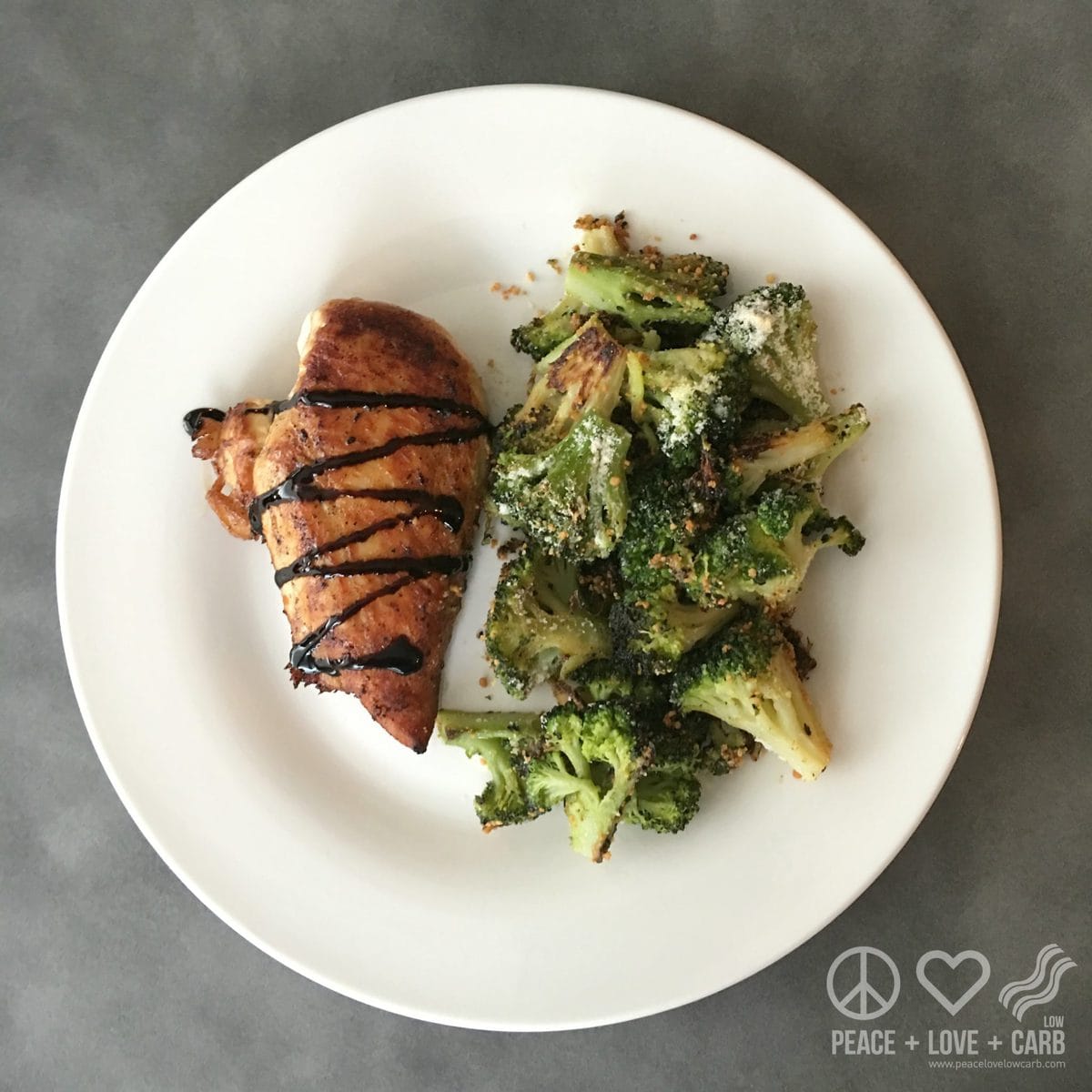 WEDNESDAY 9/7/16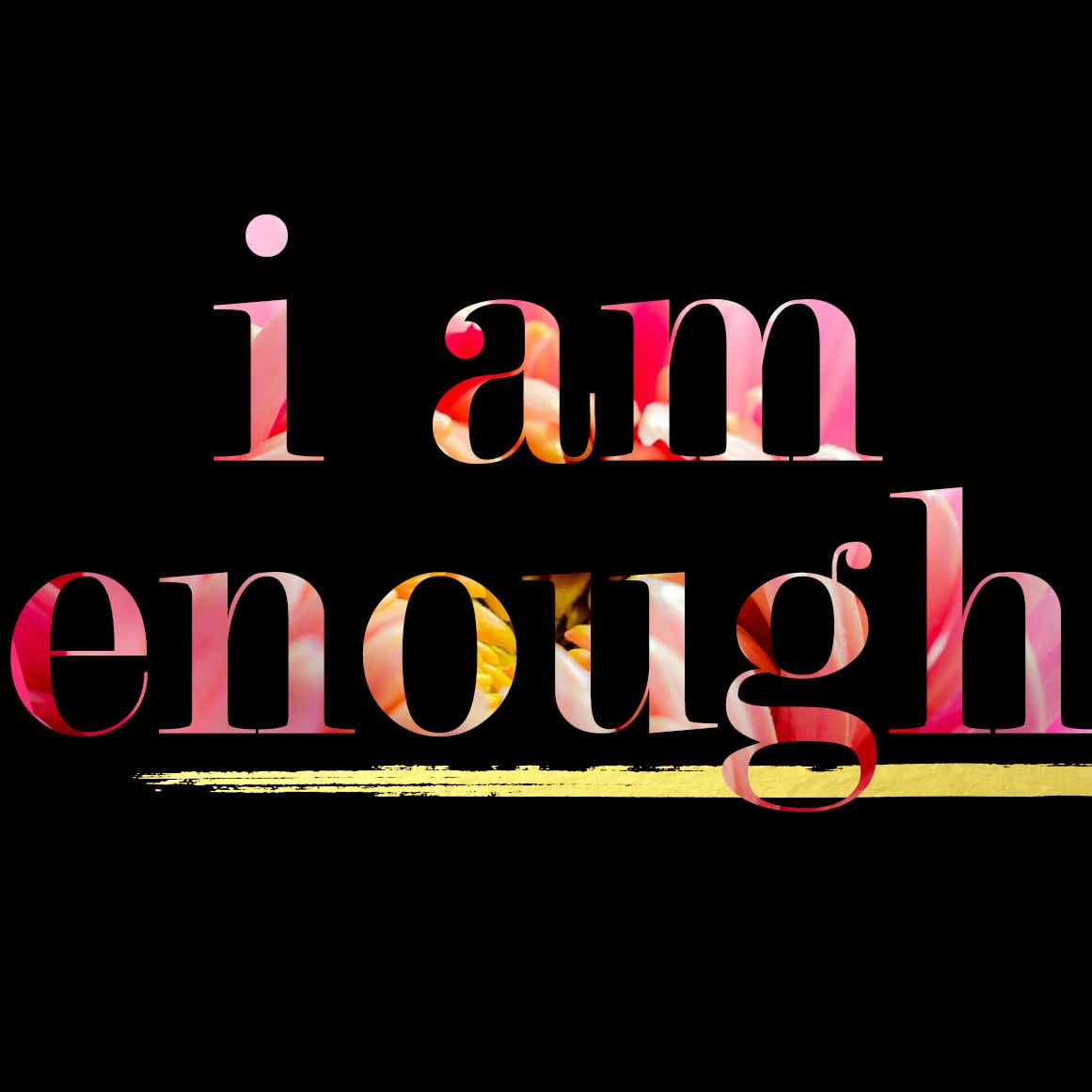 (Source)
Quote of the Day: 
"You will find that it is necessary to let things go; simply for the reason that they are heavy. So let them go, let go of them. I tie no weights to my ankles." – C. JoyBell C.
Daily Reflection:
What are you telling yourself about yourself? This was on my mind all day today. Are you telling yourself that you can't? That you won't? That you aren't good enough? That you are too old? That it is too late? I think we often lose sight of just how important the way we speak to ourselves is. If you are constantly telling yourself that you are fat, ugly, unloveable, too old, incapable etc. what kind of vibe do you think you are putting out into the world? What if every day you just woke up and told yourself "I am enough" Nothing more, nothing less. Just "I AM ENOUGH" Give yourself permission to just BE! Love yourself exactly as you are at each step of your journey! Trust me, I am working on this right along with you.
Self Care Check-In:
I have been really mindful of eliminating triggers, not putting myself in the face of temptation and continually working to recreate healthy habits. Part of recreating healthy habits is keeping cravings at bay and not giving in to temptation. I have a couple of tricks up my sleeve as far as cravings are concerned… Whenever I have the craving for something sweet, I eat a piece of sharp cheddar cheese instead and the craving instantly goes away. However, most of my cravings tend to be more on the savory side. I also have an arsenal of essential oils to help me when cravings strike. 3 in particular!
What do these 3 essential oils all have in common? They all help to curb cravings and suppress a raging appetite naturally.
A normal appetite for sustenance is what we want. A raging appetite for sweets and treats is what a lot of us end up with. This has everything to do with the fact that bad food makes you crave more back food. It is a vicious cycle. Sugar and carbs are the devil.
These are 3 oils that I am using to help me keep the cravings at bay and also to stop any needless, mindless snacking.
How do they work?
SLIQUE ESSENCE – I drink 1-2 drops in sparkling water throughout the day.
It is a combination of grapefruit, tangerine, lemon, spearmint, and ocotea plus stevia extract into a unique blend that naturally supports healthy weight-management goals when combined with diet and physical activity.
These ingredients work together to activate olfactory receptors and may help suppress appetite and hunger between or during meals.
THIEVES – 1 drop on the tip of the tongue does the trick. Cravings gone. Did you know it also helps with smoking cessation when used this way? Not to mention, that Thieves is great for overall immunity.
PEPPERMINT – There are 100s of studies on the effectiveness of peppermint as an appetite suppressant. 1 drop of peppermint on the tip of the tongue will do the trick. For me, inhaling it straight from the bottle works too. The second a craving comes on, I am inhaling peppermint like crazy.
I know that many of you reading this are using essential oils to help support you in your health and wellness. I hope these tips help. If you aren't yet using essential oils and would like to learn more, feel free to join my essential oil group on Facebook. You can join HERE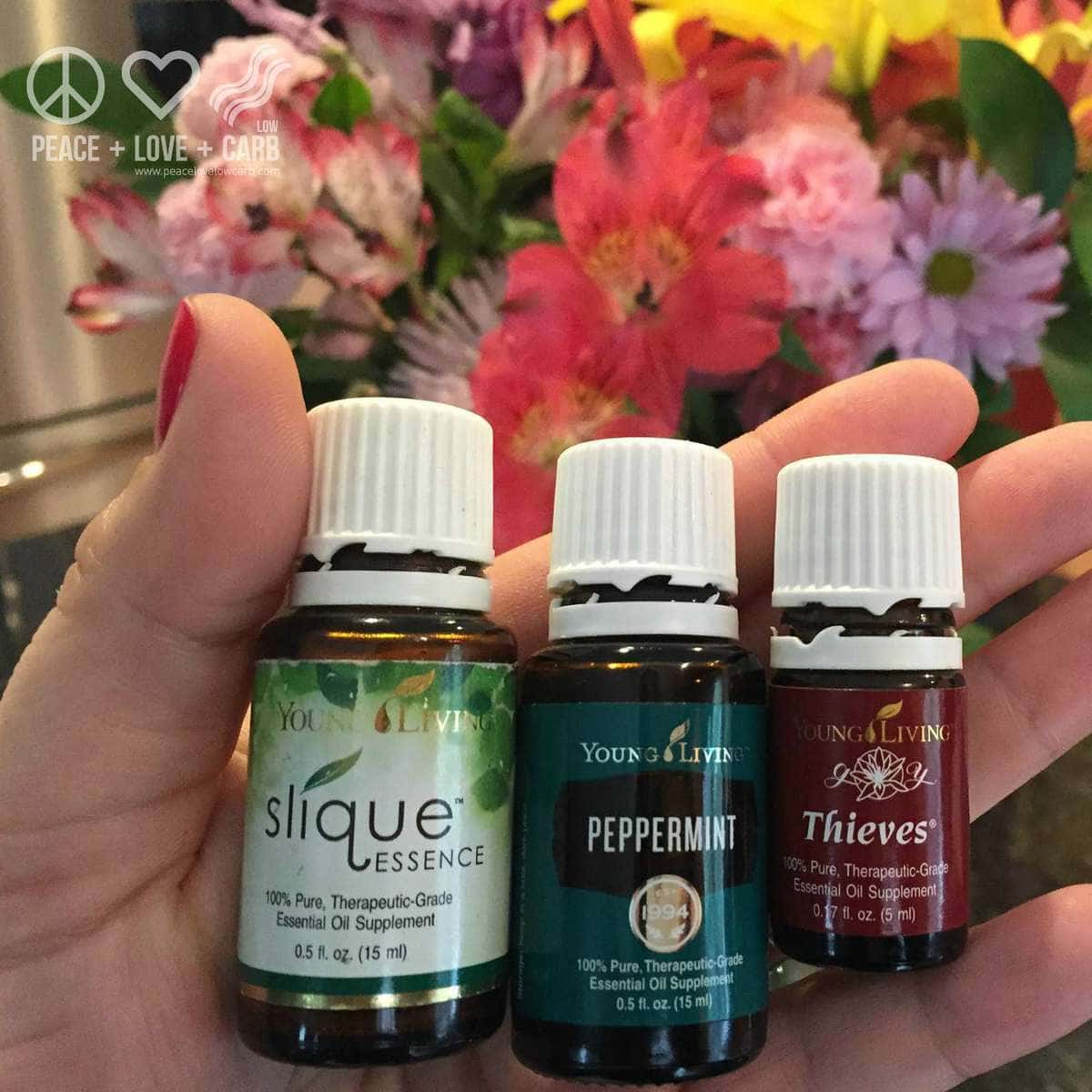 Eat All The Foods:
Drink an almond milk latte this morning I will! You see what I did there? I would talk like Yoda all day, every day if I didn't think the people around me wouldn't eventually punch me in the face. I am loving this morning indulgence. We will see if it loves me back on the scale on Monday! Did I mention I am in LOVE with this espresso machine. We debated for a long time whether or not to buy one and finally did. Best decision ever! No more overpriced Starbucks. They made my order wrong 80% of the time anyway.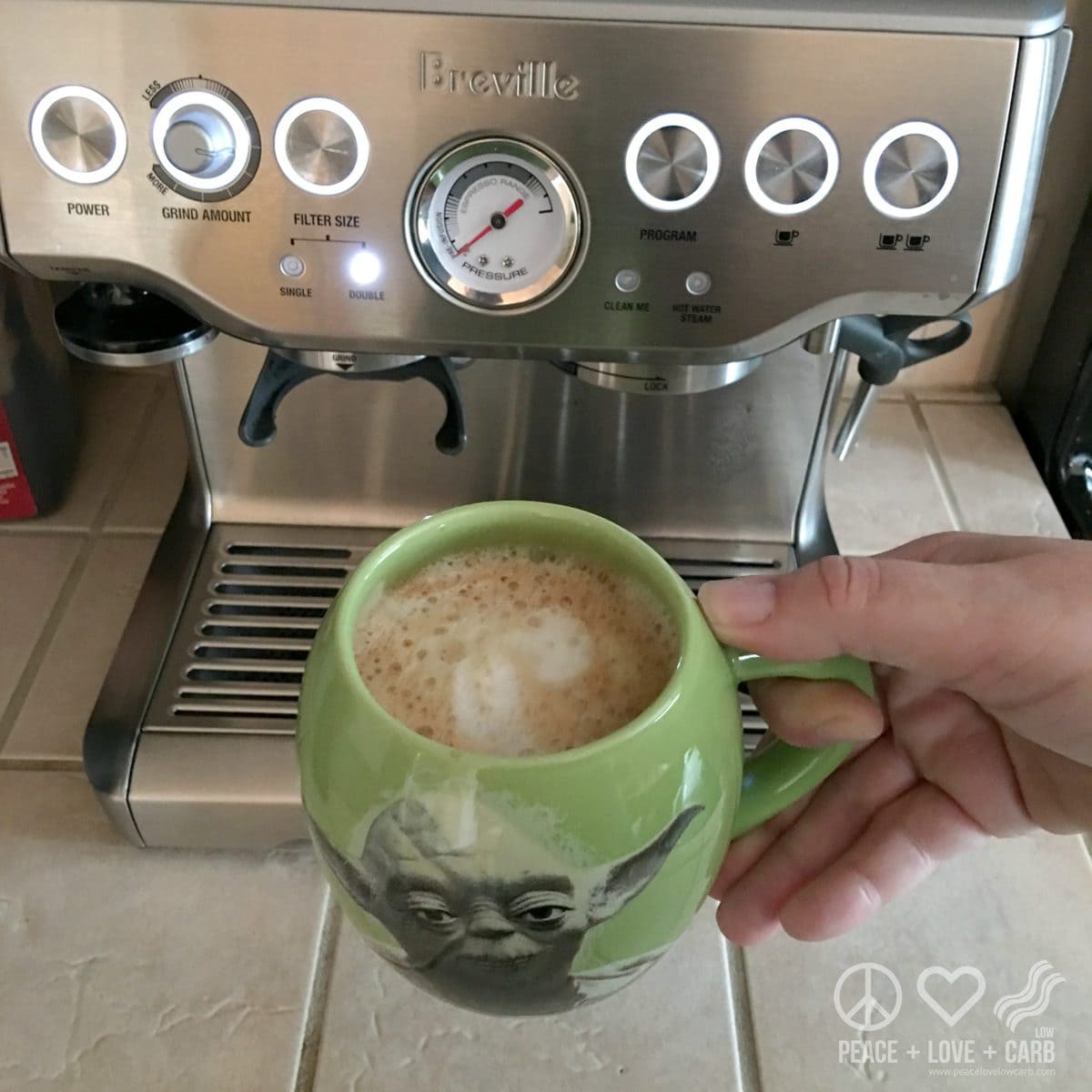 For breakfast I had a slice of the Peanut Butter Berry Breakfast Loaf that I made (Recipe coming soon) It was so, so delicious with some salted grass-fed butter slathered on top. I don't mean to tease you. I promise I will get the recipe up soon. Maybe soon-ish is a safer promise.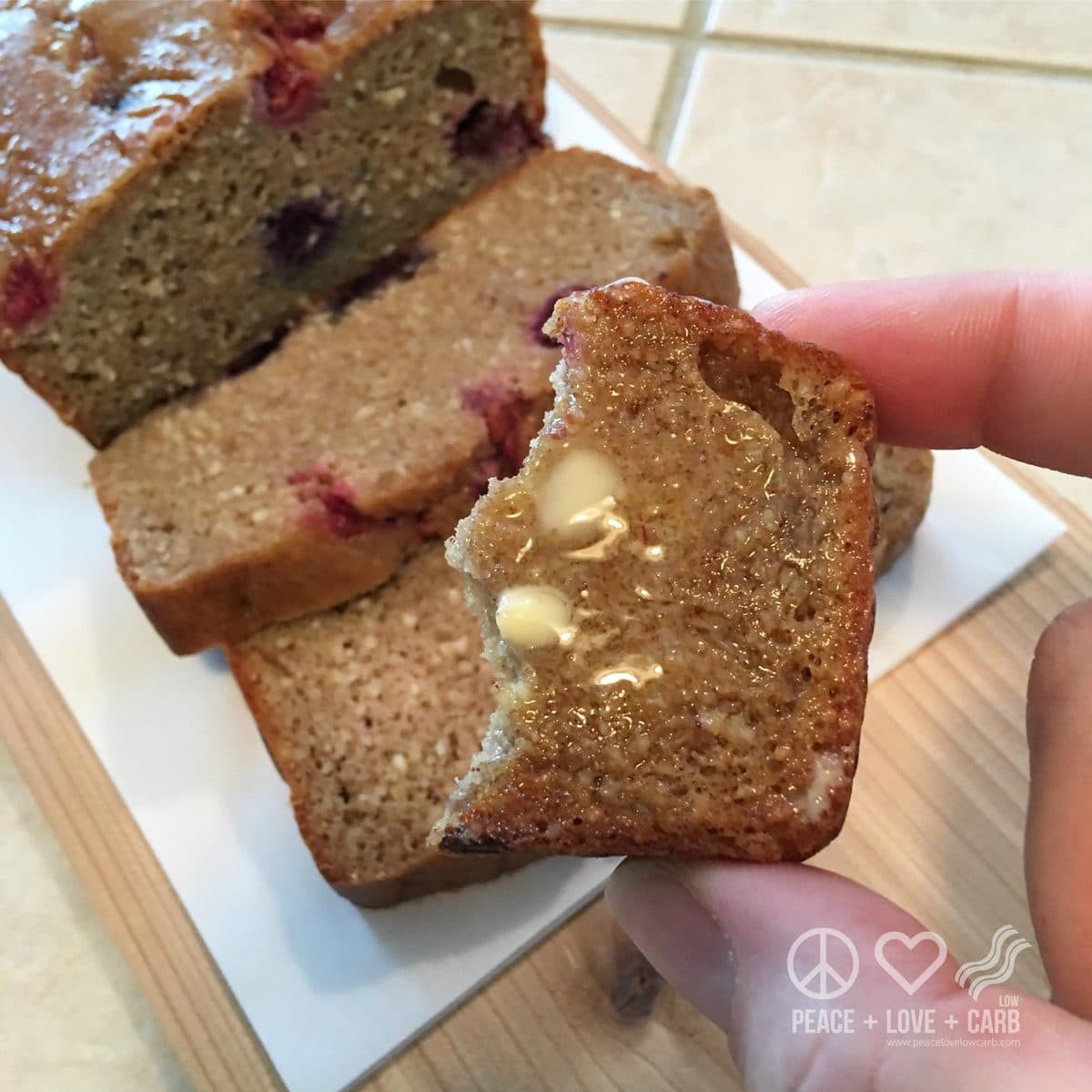 Salad, salad, salad! The main star on my plate today was Dill chicken salad. I think I am officially going to turn into it soon. I can't get enough. Still loving my daily salads too!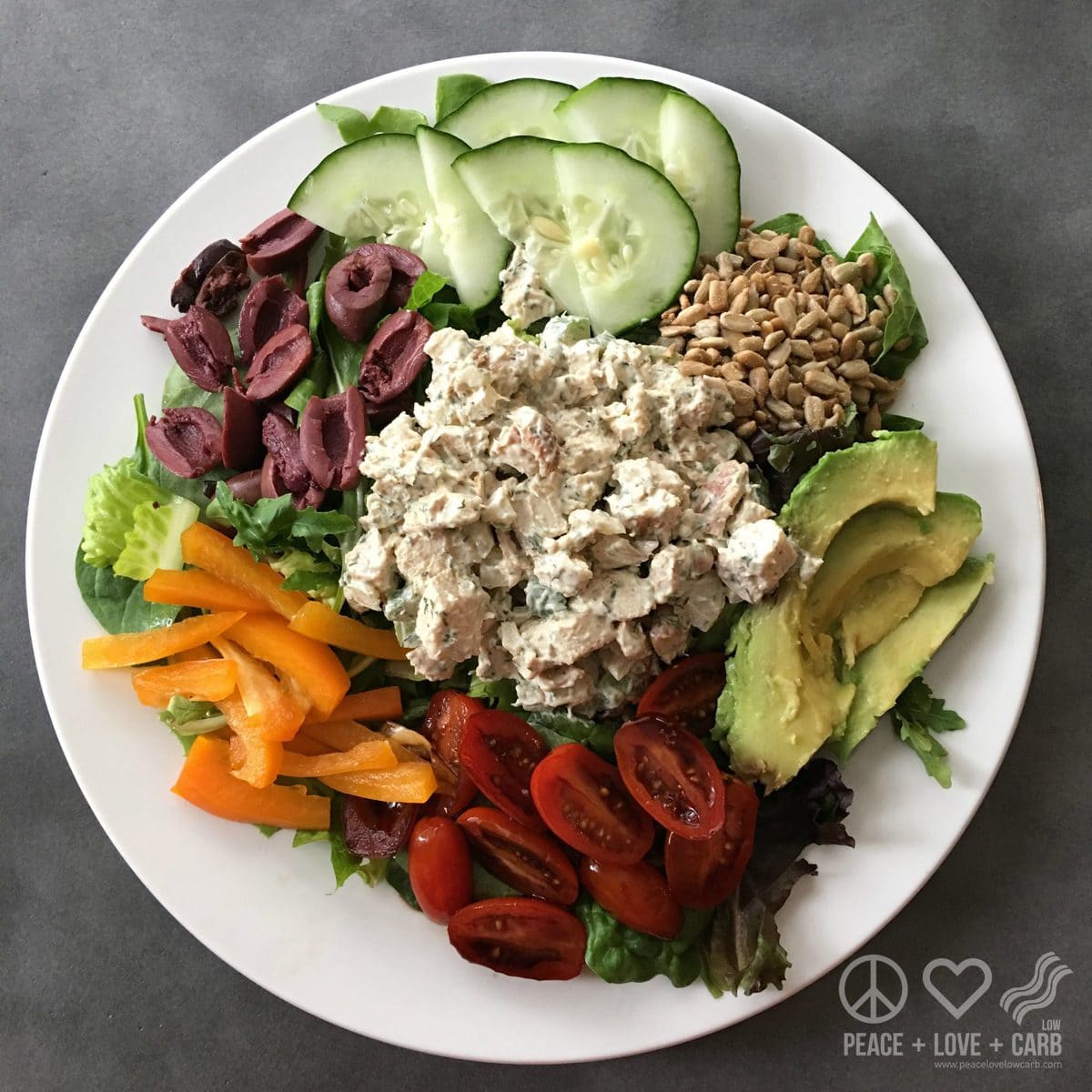 Got a nice long walk in today. I think my daily walk is hands down the best part of each day. It gives me time to think. Time to focus. Time to process. Time to just be! I also got quite the arm workout in. I definitely felt the pump afterwards. Gotta work on these arms of mine!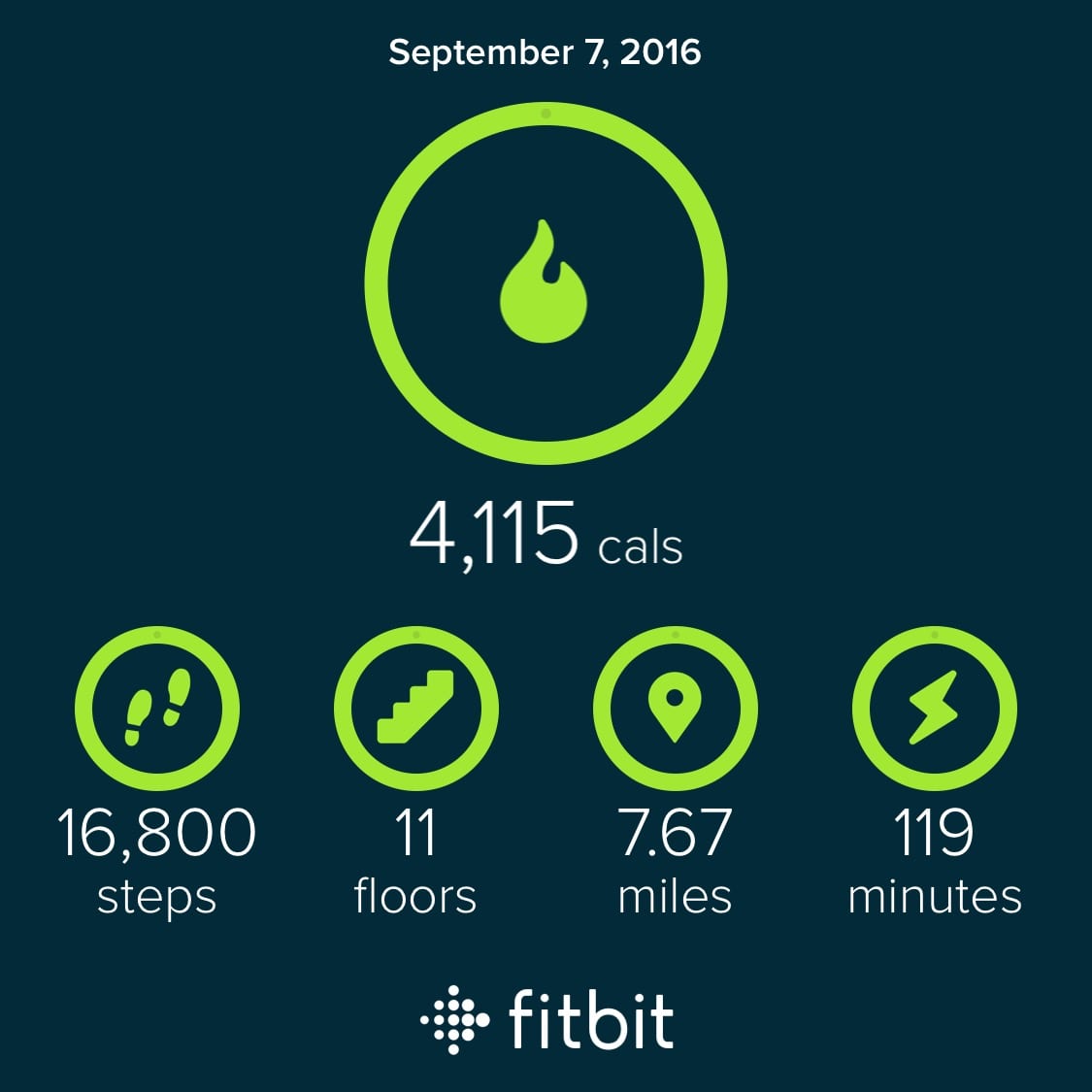 FRIDAY 9/9/16 
Daily Gratitude: 
Today I am thankful for the opportunity to share my story with all of you. I am not feeling very verbose today, but I do have a heart full of gratitude. Todays entry is more of a photo journal.
Eat All The Foods:
Breakfast was 2 pastured eggs cooked in grass-fed butter, sausage and avocado. Delicious fats! The only thing missing was some sharp white cheddar cheese.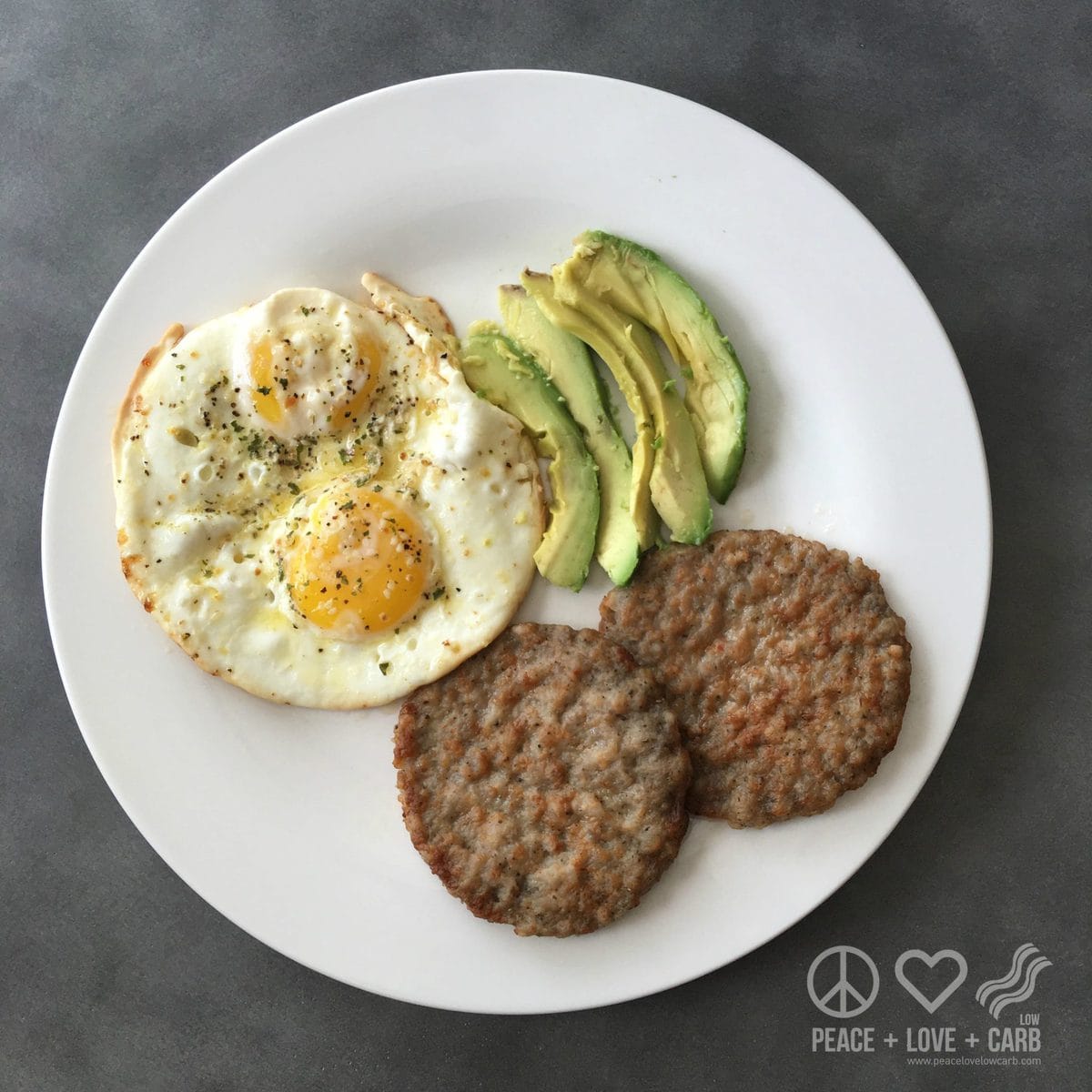 For lunch I had a nice big salad with mixed greens, balsamic tomatoes, olives, chicken, bacon, mozzarella cheese, sunflower seeds and
Whisps Cheese Crisps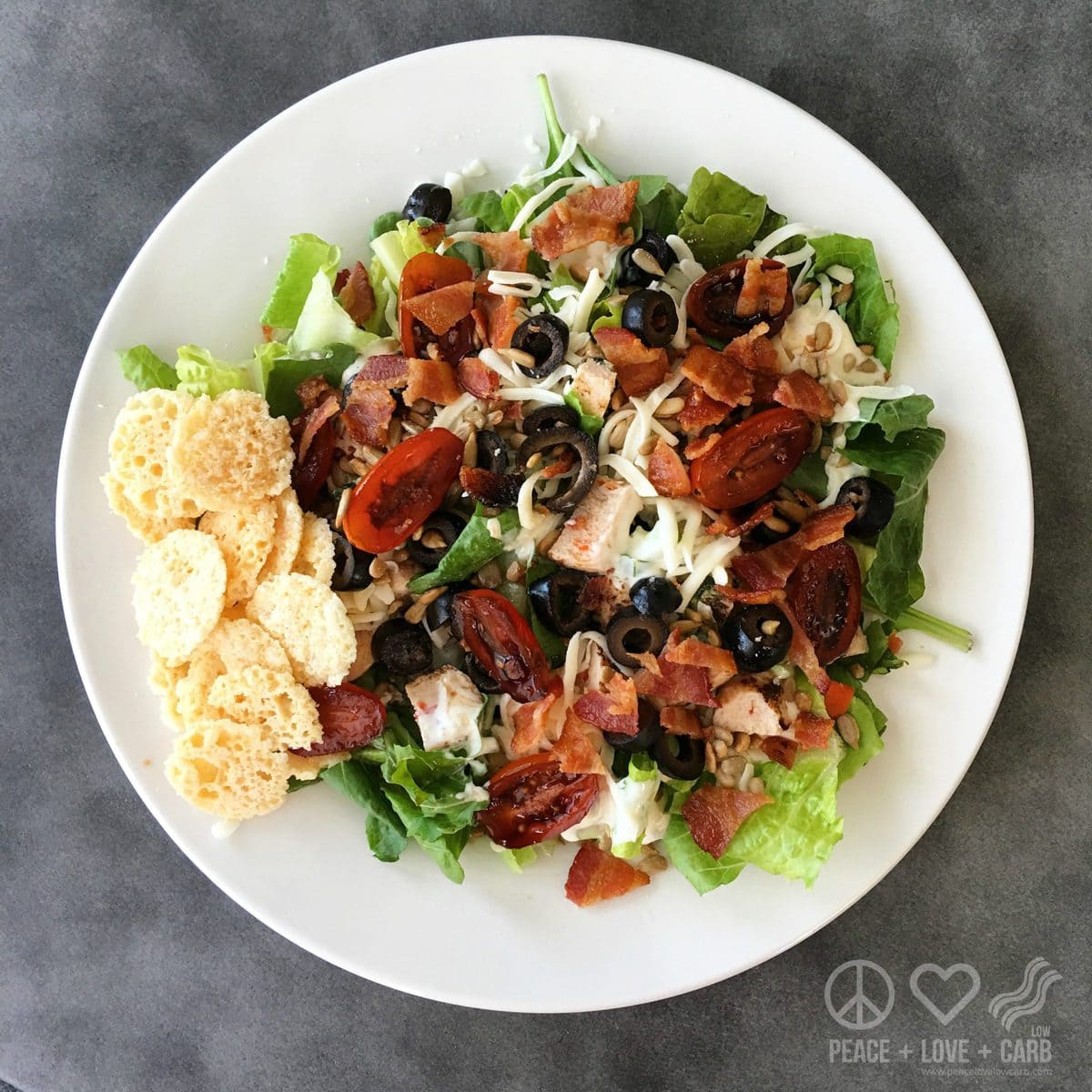 Dinner was beef in gravy, on top of garlic cumin cauliflower rice, served with roasted broccoli and cauliflower.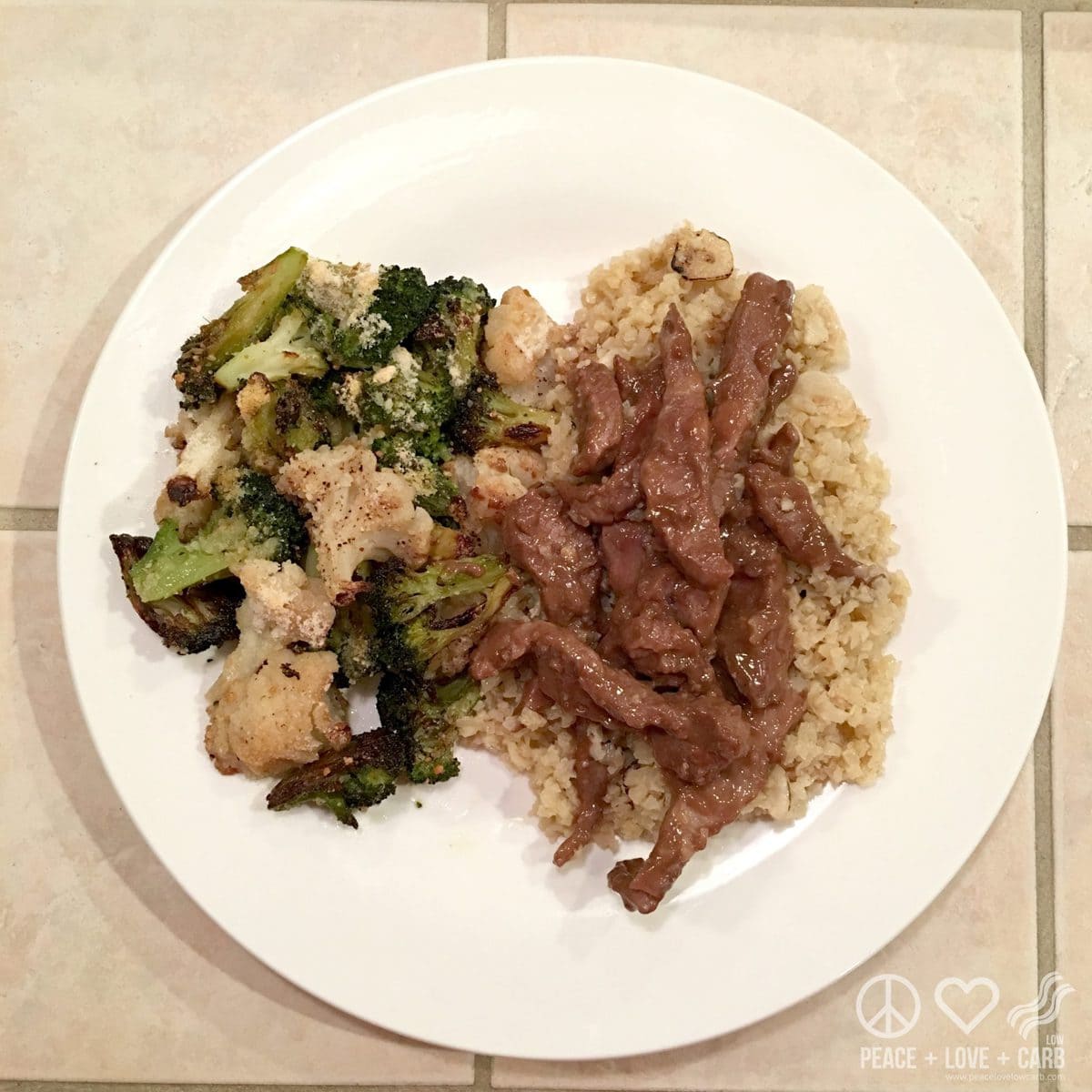 I finished the night off with 2 glasses of cabernet.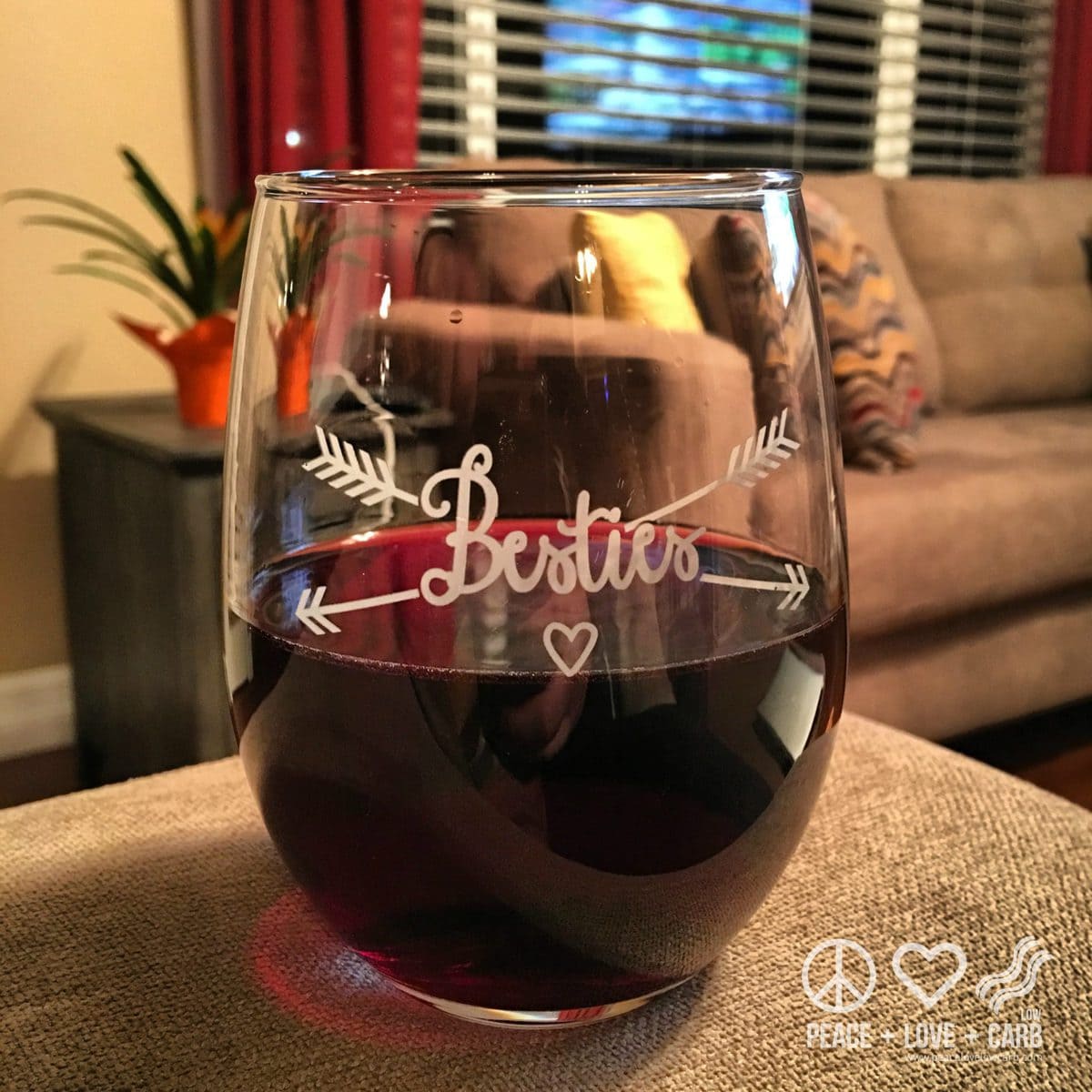 Staying Active:
We had contractors at our house the last two days, for 12 hours each day, laying hardwood floors. I couldn't leave the house to walk and I couldn't work out in the garage because they were using it to cut the wood. I decided to make good use of the time and get some movement in, in the form of yard work. I managed to get over 11,000 steps in just from mowing and weeding.
The pups were super helpful. After I finished with the yard work I just sat in the back yard and soaked up some sun with my favorite four-legged friends.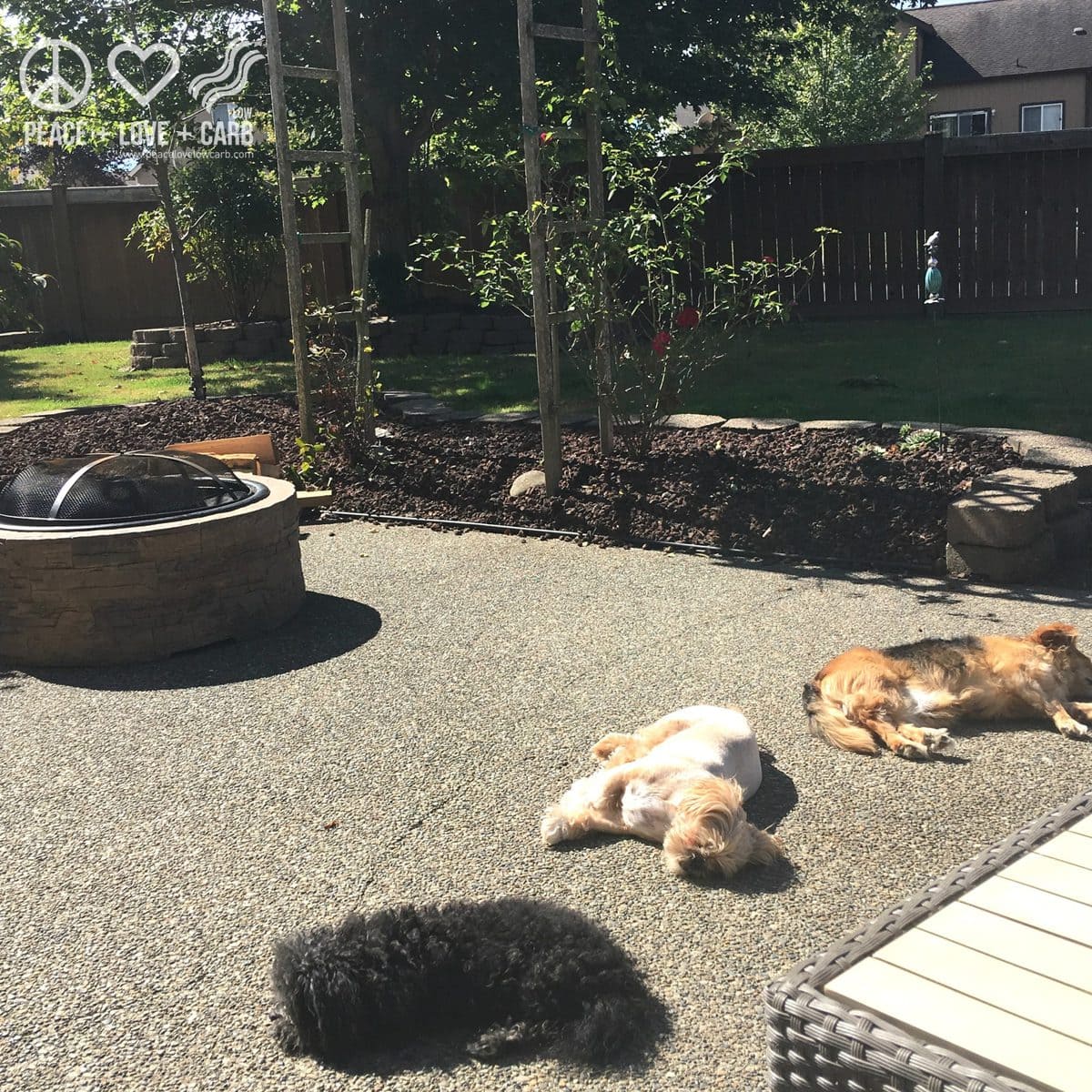 SATURDAY 9/10/16
 Another short one today. I'm feeling busy enjoying life! 🙂
Eat All The Foods:
This is the only food picture that I remembered to take today. I'm pretty much obsessed with the wings at one of our favorite restaurants by our house. Somehow they manage to get them super crispy and still keep it gluten free. YUM!!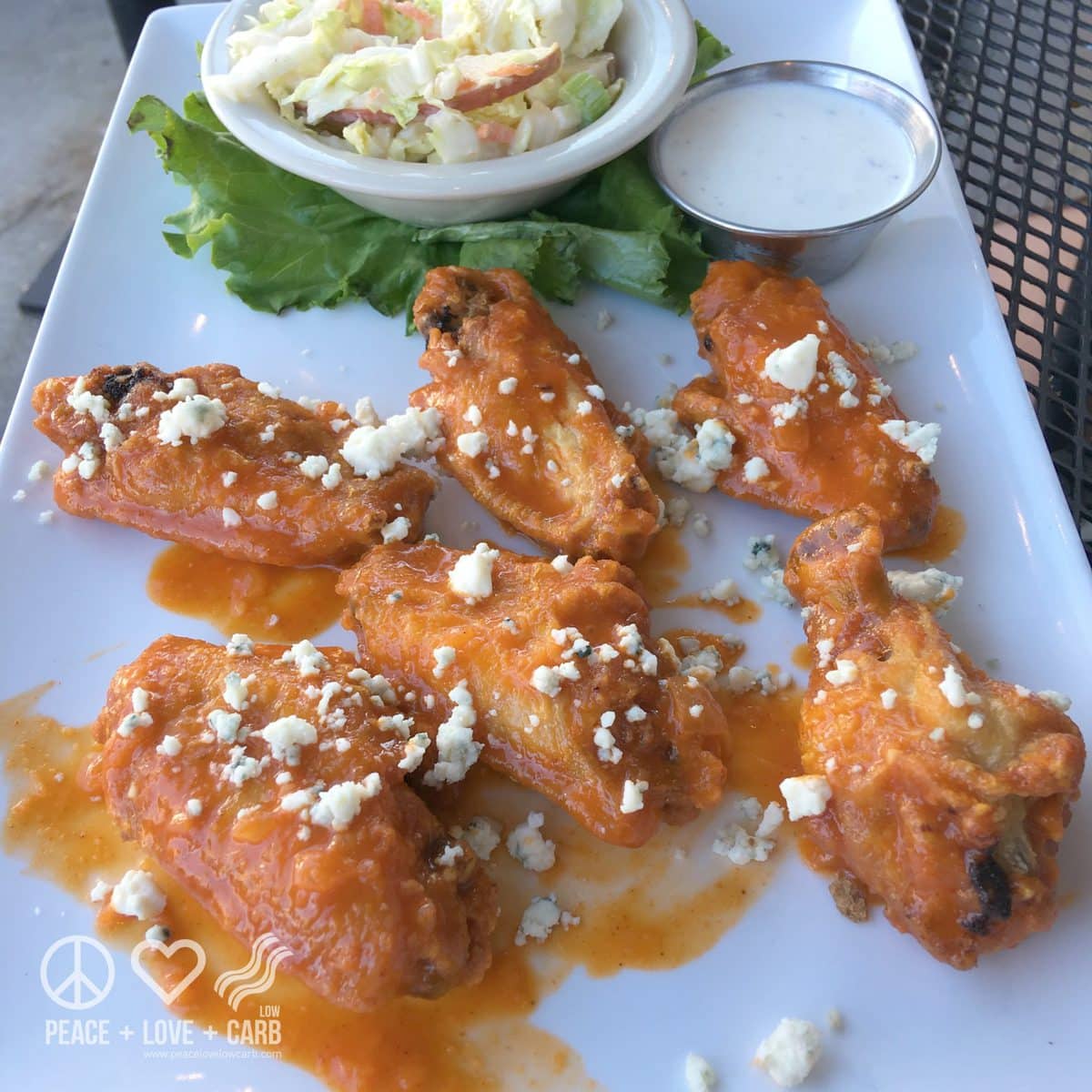 I blew my step goal out of the water today! I try to shoot for a minimum of 10,000 steps per day. Today I almost tripled that. It started off with a nice, long walk in the morning, followed by about 3 hours of cleaning and organizing the garage after that. Then I ended the day with another walk. By the end of the day, I had walked almost 13 miles.