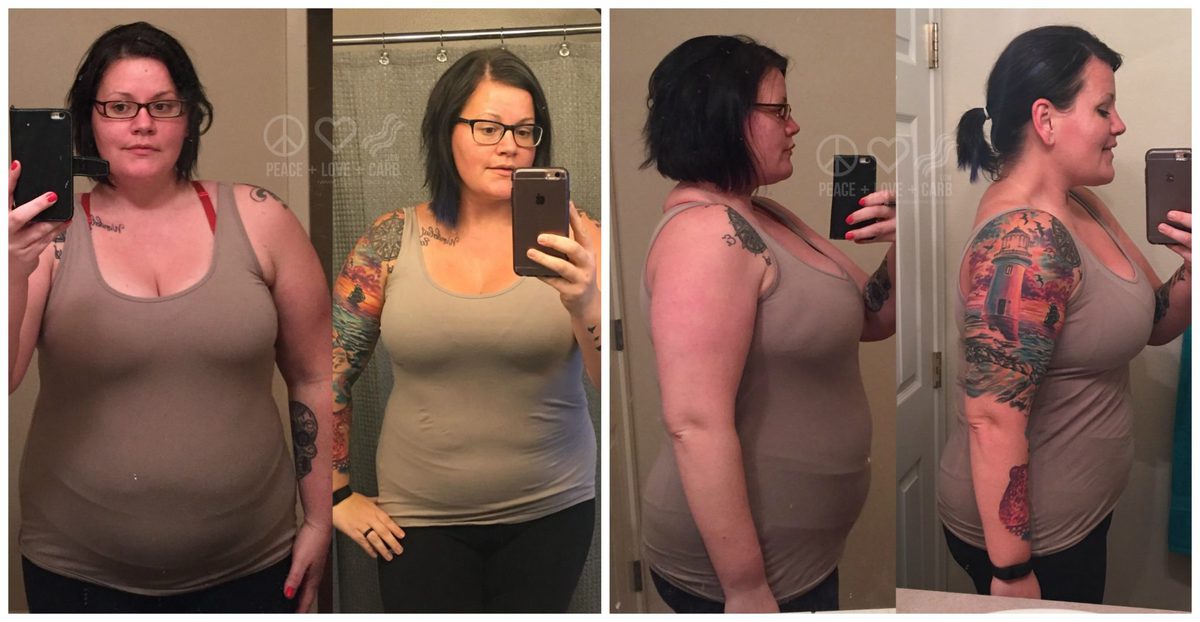 If you are just starting to follow along on my new and improved weight loss journey, I recommend starting with these posts from last year first so you can see how it all began (any text that is highlighted orange is a clickable link) – Coming Clean Post     Week 1     Week 2     Week 3     Week 5     Week 6     Week 8.     Also, make sure you are following along on Instagram, as a lot of the day to day stuff will take place there.
CLICK HERE TO GO BACK TO WEEK 8…
Starting Date: 8/29/16
Starting Weight: 281 lbs
Current Weight: 257 lbs
Pounds Lost: 24 ?? (Ditching the scale for a "No Weigh November" It is hard!! But I am excited to see the scale on 12/1
Goal Weight: 180
Goal Date: 8/27/17
Height: 5′ 9″
NEWS:
Hey all, I am changing up the way I do things just a bit. I am going to be doing one post monthly. I will check in here and there, showing you my food, fitness, progress pictures and just day to day life. Keeping up with daily posting is unrealistic at this time. However, you can keep up with all the day to day stuff I used to post here on My PLLC Instagram, My Personal Instagram and in the Peace Love and Low Carb Friends Group.
---
Hey friends! I'm back. It was a quick two weeks away from journaling. I'm amazed at how fast time is flying by. I lost an additional 4 pounds over the last two weeks, bringing my 10 week total to 24 pounds. I'm already a quarter of the way done in just 10 weeks. Even though my progress is only averaging 2.4 pounds a week, if I kept up this pace, I could still get to my goal 2 months ahead of schedule. See!! Don't rush the process! I am so much more patient this time around. As badly as I want to get this excess weight off, I am not putting the pressure on myself to do it at an expedited pace. Even if I was only losing 1 pound per week, I would still be happy at the forward progress. If I'm truly honest, I haven't been very strict this time around. There have been weeks where I ate like crap for 3 days in a row. Then there are two solid weeks in a row where I eat perfectly. It has been up and down, but the overall trend is heading in the right direction. This is life. This is sustainable long term. It's likely a glimpse at my forever life. I don't think I will ever be the type of person that just never eats regular pizza again. Or that vows to never drink beer. It's not realistic and if I made those proclamations, I would just be setting myself up for failure and a potential shame spiral when I did have that pizza or beer. My plan is to continue making more good choices than bad, while also focusing on my fitness. That way, when I get to my goal weight, I will already be living the lifestyle I plan to live forever… One of balance and conscious decisions. Not a lifestyle of constant withholding, cheat days and shame. I don't even really believe in the concept of cheat days. What am I cheating on? A diet? I don't use that word. I am not on a diet. I am on a lifestyle change. Do you cheat on a lifestyle? See how silly that sounds? Now don't get me wrong, by no means am I justifying entire days where I eat like crap. I am just done with the days of guilt, shame and self-loathing. It is a much better headspace to live in. If I have an off day, I simply vow to do better the next day and the next day and the day after that… and so forth and so on. More good choices than bad. Balance.
I keep looking at the photos above and smiling as I am reminded that the scale does not tell the whole story. There is a 24 pound difference between those photos. Same outfit, different me. Please don't even let the scale define you. It really is just a number. That number can't tell you how many pant sizes you have gone down. It can't tell you how many inches you have lost. Most importantly, it can't tell you how beautiful you are, or that you are loved beyond measure at any size. I urge you… no, I beg you to take back your control over the scale. Take the batteries out of it. Stash it in the back of your closet. Have someone else hide it for you. But please, whatever you do, do not let it define you! Do you need a little help reprogramming your relationship with the scale? What if we do it together? How about a "No Weigh November" Say "No Way" and "No Weigh" to that scale for the entire rest of the month. How amazing do you think we will all feel when we step on that scale on December 1st? I'm guessing that some won't even feel the need to. Who's in? Are you with me!! I'm running off to stash mine away right now!
---
MONDAY 11/7/16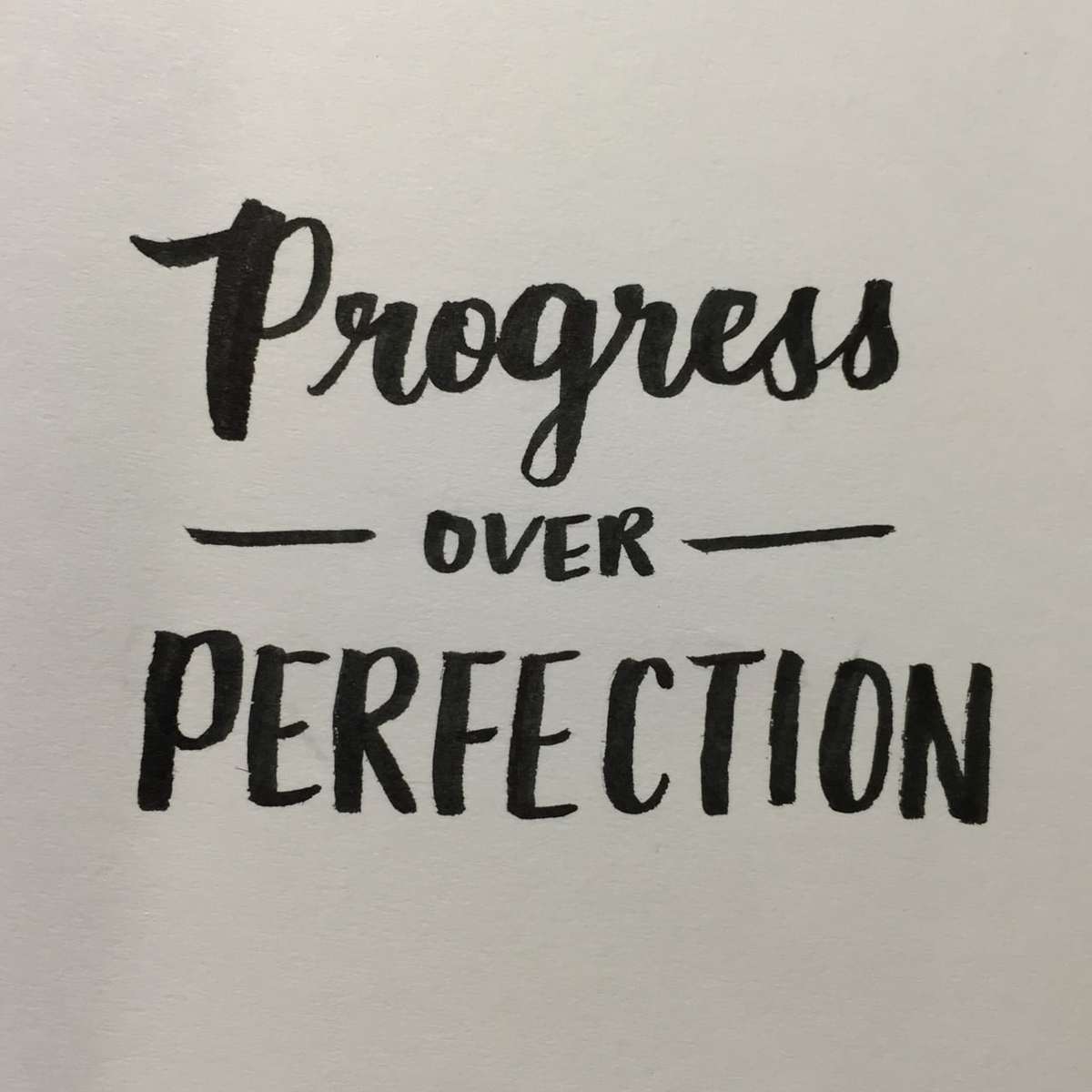 Daily Gratitude: 
Today I am grateful for my gym. I finally feel like I have a fitness home again. I'm feeling settled in, getting back into the swing of things and feeling stronger every day. It's not a secret how hurt my husband and I were by the affiliate owners at our last gym. It took a long time for us to bounce back and to want to come back to Crossfit. While we are both more reserved and cautious this time around, I know that we are both really happy to be back at it.
Daily Reflection:
I am taking so, so many photos this time around. I quickly realized that I didn't have a lot of before pictures to use prior to starting this weight loss journey because I deleted every photo that I thought was unflattering or made me look fat. I was left with all perfectly posed selfies and group pictures that only show me from the shoulders up. I want to have an abundance of pictures to look back on to remind me of where I was and all the reasons I don't want to go back there. Also, I think it is important to see the progress and congratulate even the smallest of changes along the way. P.S I'm pretty sure this workout tank was created specifically for me – Peace, Love and Sweat!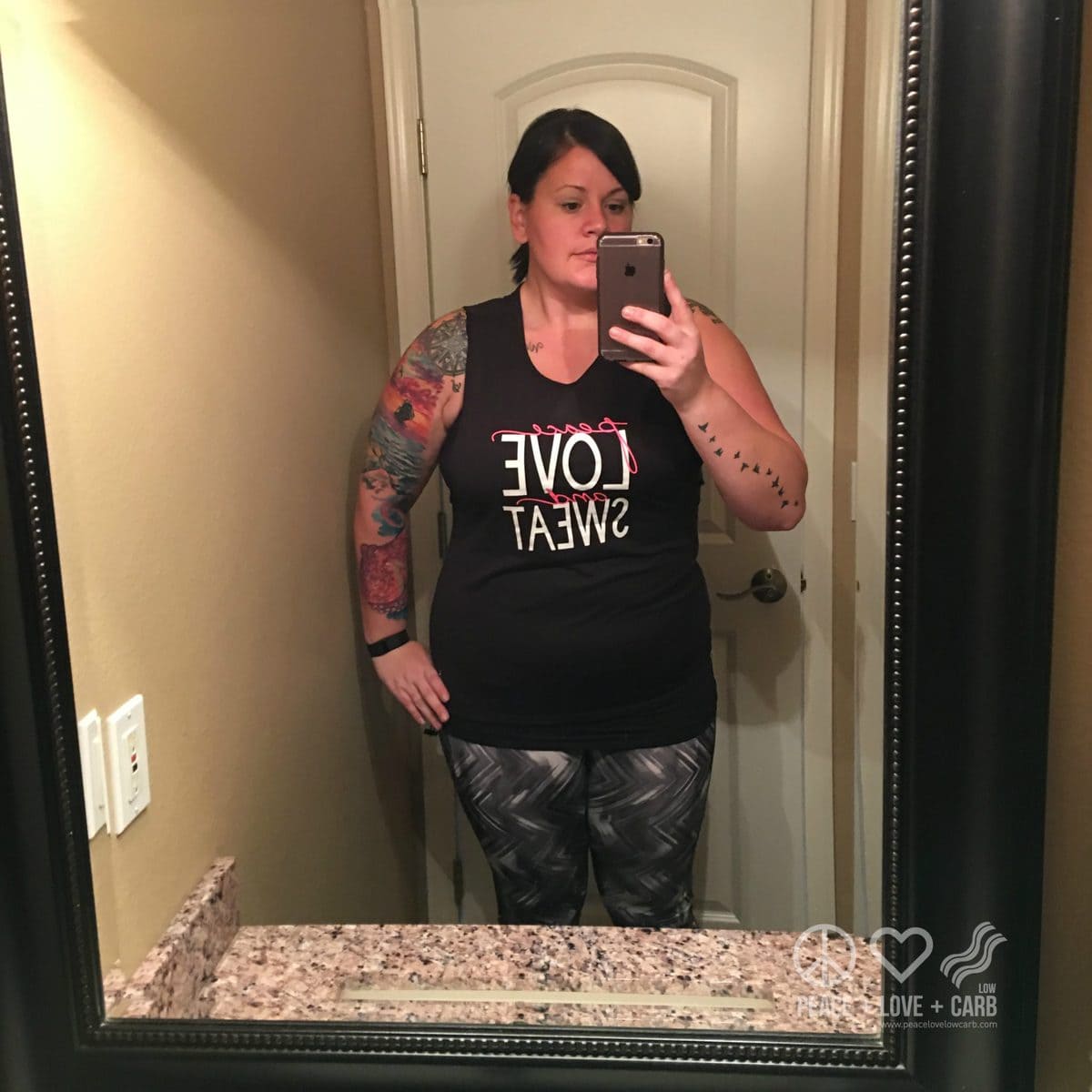 Daily Diffusing:
Today I diffused 4 drops each of Aroma Life and Australian Blue. Such an amazing combination.
AROMA LIFE – improves cardiovascular, lymphatic, and circulatory systems; lowers high blood pressure; and reduces stress.v
AUSTRALIAN BLUE… (A blend of Blue Cypress, Ylang Ylang, Cedarwood, Blue Tansy, and White Fir)
This blend is used to uplift and inspire the mind and heart. Its aromatic influence uplifts and inspires while simultaneously grounds and stabilizes. It helps to promotes relaxation and balances male and female energies. It also restores confidence and equilibrium. Australian Blue is also well known for its skincare properties – specifically moisturizing and soothing properties. It tones up the respiratory system and increases efficiency of lungs. It also helps remove cough and phlegm accumulated in the respiratory tracts and lungs as well as opens up congestion, making breathing easier when suffering from cough and cold.
Learn more about these oils in my FB group here.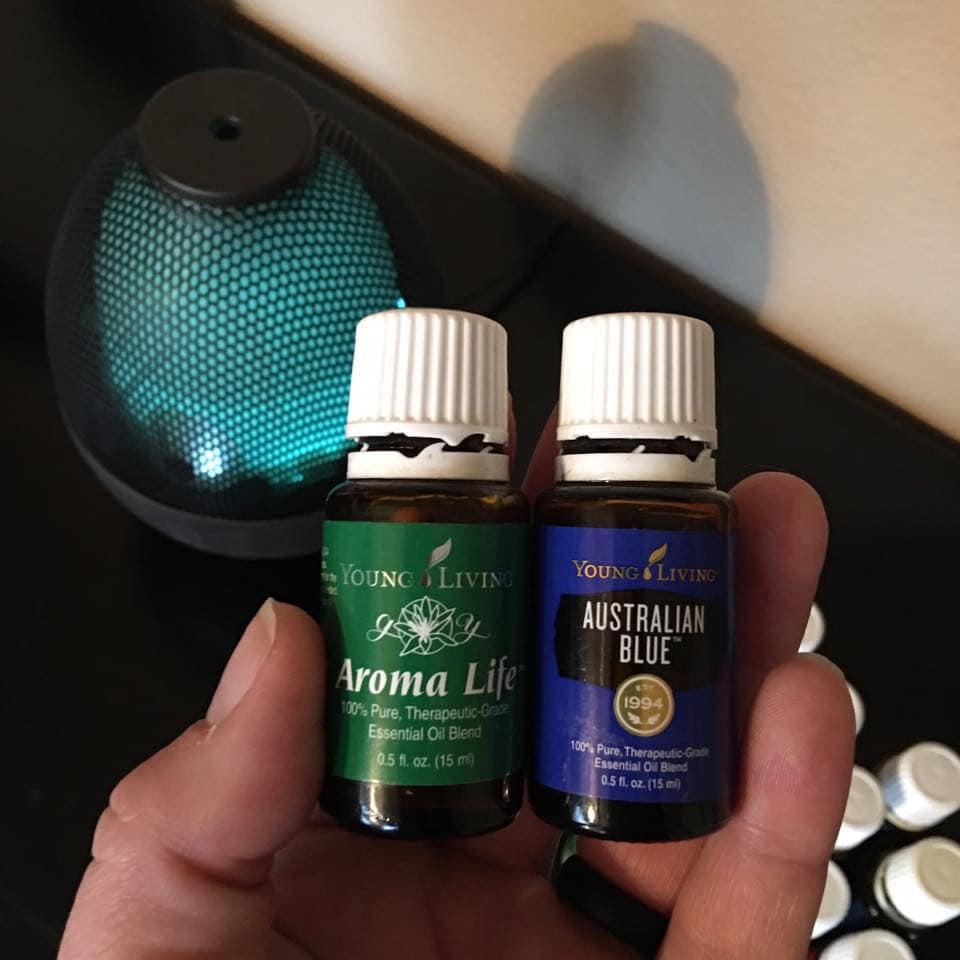 Pizza eggs!! My current obsession. I have eaten these the last 5 days in a row. So simple and such a great way to mix up boring eggs. They are super easy to make. And since I kept getting asked, I even put a recipe for them up on my site. You can check out the recipe here.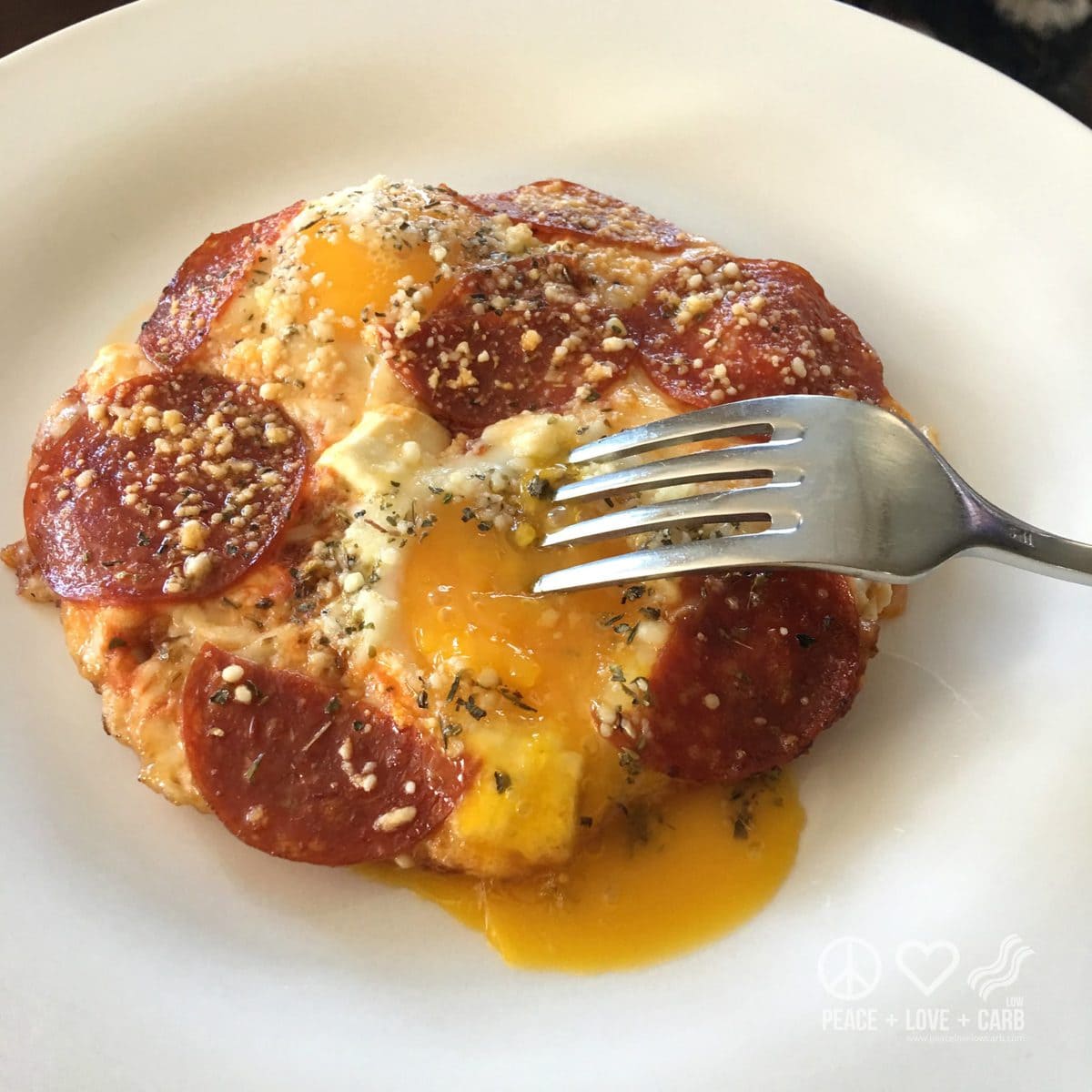 Dinner tonight was Lemon Thyme Pork Steaks with broccoli and a salad. I was testing out a new recipe. Love at first bite! It should be up on the site soon. Disregard the pale, lifeless broccoli. It was an underwhelming frozen bag of florets.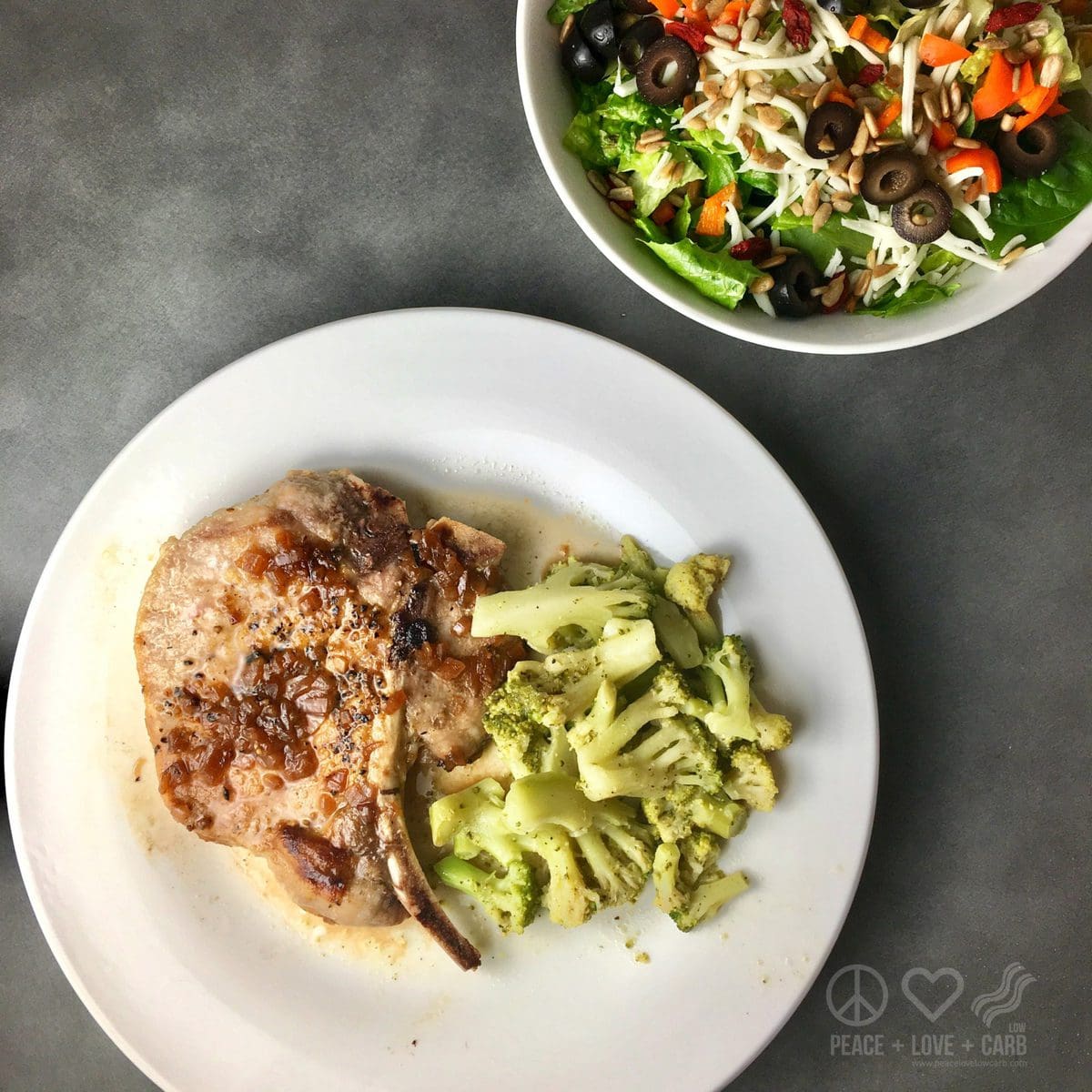 Our gym is doing a month long rowing for calories challenge against another local gym. Af first I wasn't going to participate. I just wanted to focus on staying in the rhythm and habit of getting my workouts it. But alas, I am a sucker for a good competition. It drives me. So, I decided to join. I figured since I was joining 7 days late, that I would row 100 calories for each day of the month. I rowed 12,516 meters and 700 calories in 1 hour and 31 seconds. I was a sweaty mess! My legs felt like jello and like they didn't even belong to my body. I didn't have time for a proper cool down because I headed straight into yoga. You could say that yoga was in fact the cool down, but I'm not even sure that my heart rate had returned to normal by the end of it. It was a great way to start the week. I never like to miss a Monday workout because I feel like it sets the tone for the entire week.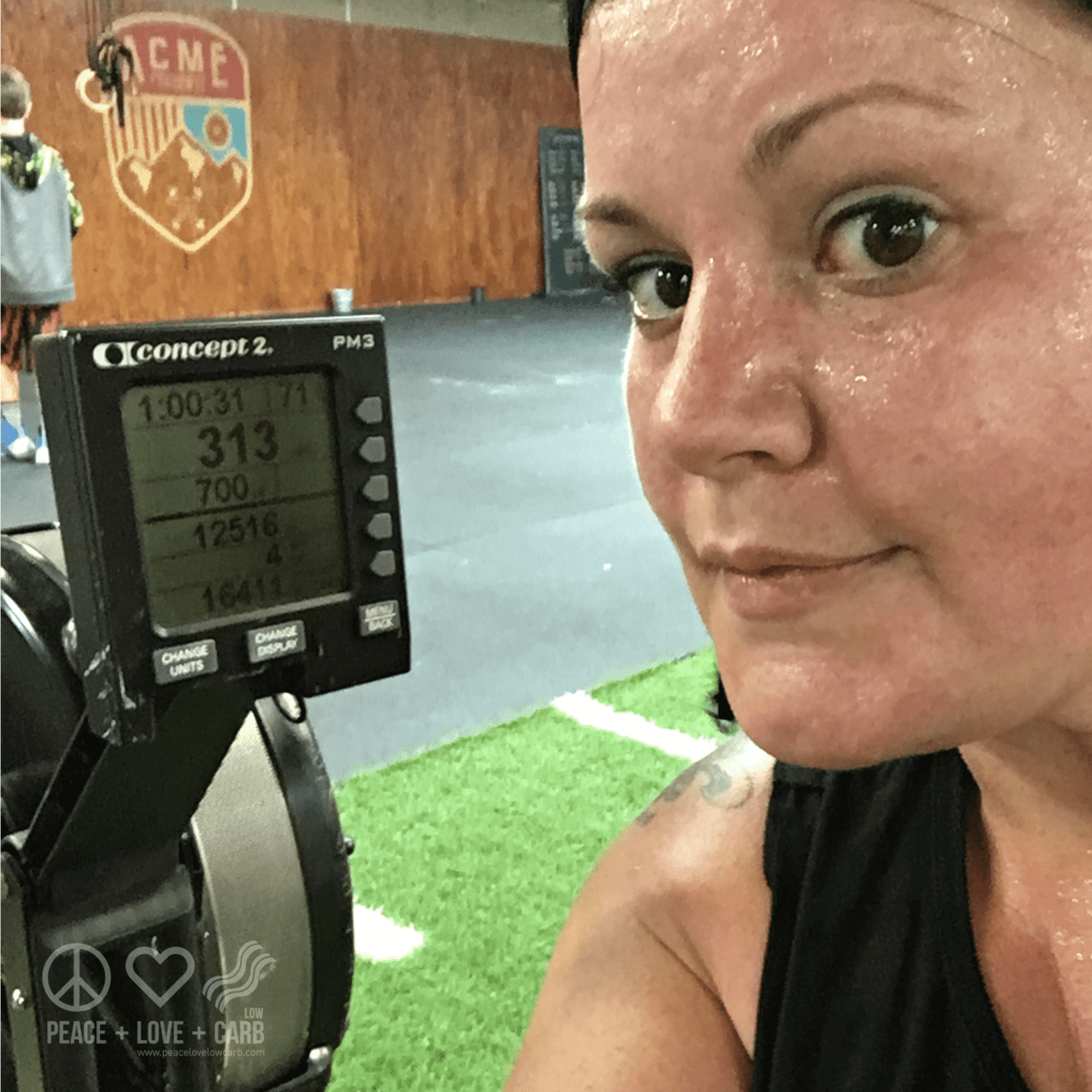 ---
TUESDAY 11/8/16
Daily Gratitude: 
Today I thankful for the fact that I have a choice and for the fact that I have a voice. While I may not agree with the outcome of this years presidential election, I am thankful that I at least have the great honor and privilege of voting for what I believed in. I take my civic responsibility very seriously.
Daily Reflection:
I'm sad for the state of our union right now. Like many Americans, I glued myself to the television tonight and watched the madness unfold. With this, came A LOT of wine. Too much wine. Jon was at work and I just sat with the pups watching Trump win state after state. Wine. More Wine! I am not here to get overly political or debate views. I respect that everyone has their own views, beliefs and ideologies. Isn't that one of the most amazing things about our great nation? We get the freedom to exercise and express those views. We get a say in a world where so many people don't. I think we really take that for granted. I made the mistake of posting something mildly political that hinted at my own personal views on my Peace Love and Low Carb Page and I was put through the ringer. I didn't say anything negative. I didn't bash the beliefs of others. In fact, I was just quoting a CNN statistic. People called me awful names. They told me to leave the country. The told me they were unfollowing me. They told me to stick to what I was good at – cooking. Comment after comment, filled with hatred. After about the 100th comment, I just couldn't take it any more and I took the post down. In hindsight, that page probably wasn't the bet place to voice it. But as someone who respects the opinions and views of others, I did not expect the backlash of hatred that I received. Our county has a lot of healing to do. Republican or democrat, it starts with us. Spreading hate takes us backwards and will never unify this country. I'm sad for the state of our union right now.
Daily Diffusing:
What a fitting diffusing combination for the shocking events of the evening. I diffused 4 drops each of Surrender and Release.
RELEASE – (A blend of Ylang Ylang, Lavandin, Geranium, Sandalwood, Blue Tansy) This is a helpful blend to release anger and memory trauma from the liver in order to create emotional well being. It helps open the sub-conscious mind through pineal stimulation to release deep-seated trauma. It is one of the most powerful of the emotionally supporting essential oil blends.
SURRENDER – (a blend of Lavender, Roman Chamomile, German Chamomile, Angelica, Mountain Savory, Lemon and Spruce) is an inviting oil that helps one surrender aggression and a controlling attitude. Stress and tension are released quickly when we surrender willfulness. Some days you just have to surrender. It can be hard to accept the things that are beyond our control. Feeling out of control can lead to a lot of negative emotions. Those negative emotions can also manifest physically in the form of aches and pains. Do you have something in your life that you need to just Surrender to? I think we all do.
Learn more about oils here.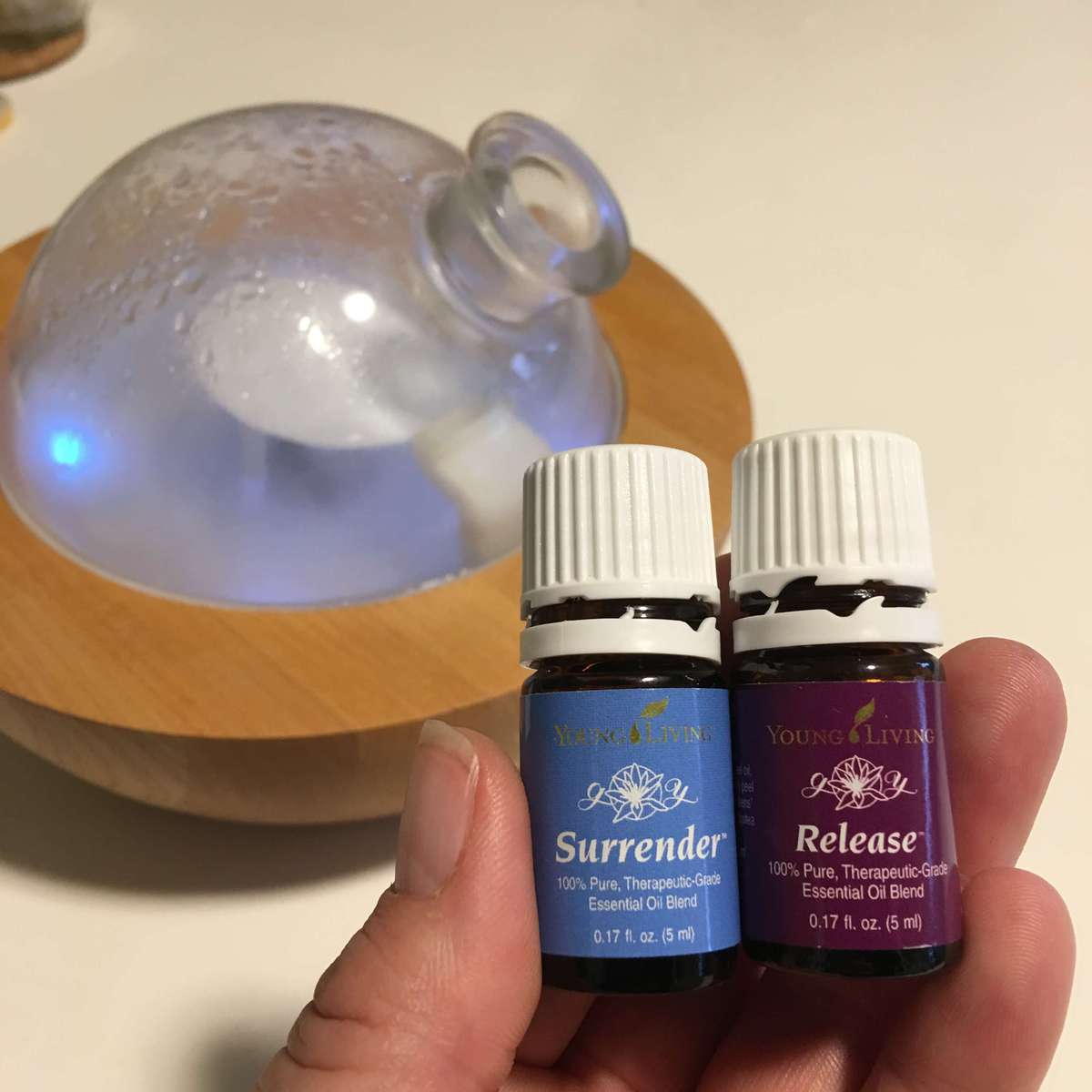 Eat All The Foods:
Taco bowls!! Need I say more? I could probably eat some variation of this every day, forever. This was romaine lettuce, topped taco seasoned grass-fed beef, mozzarella cheese, crushed tomatoes, salsa verde, olives, jalapeños, sour cream and chives. Double YUM!.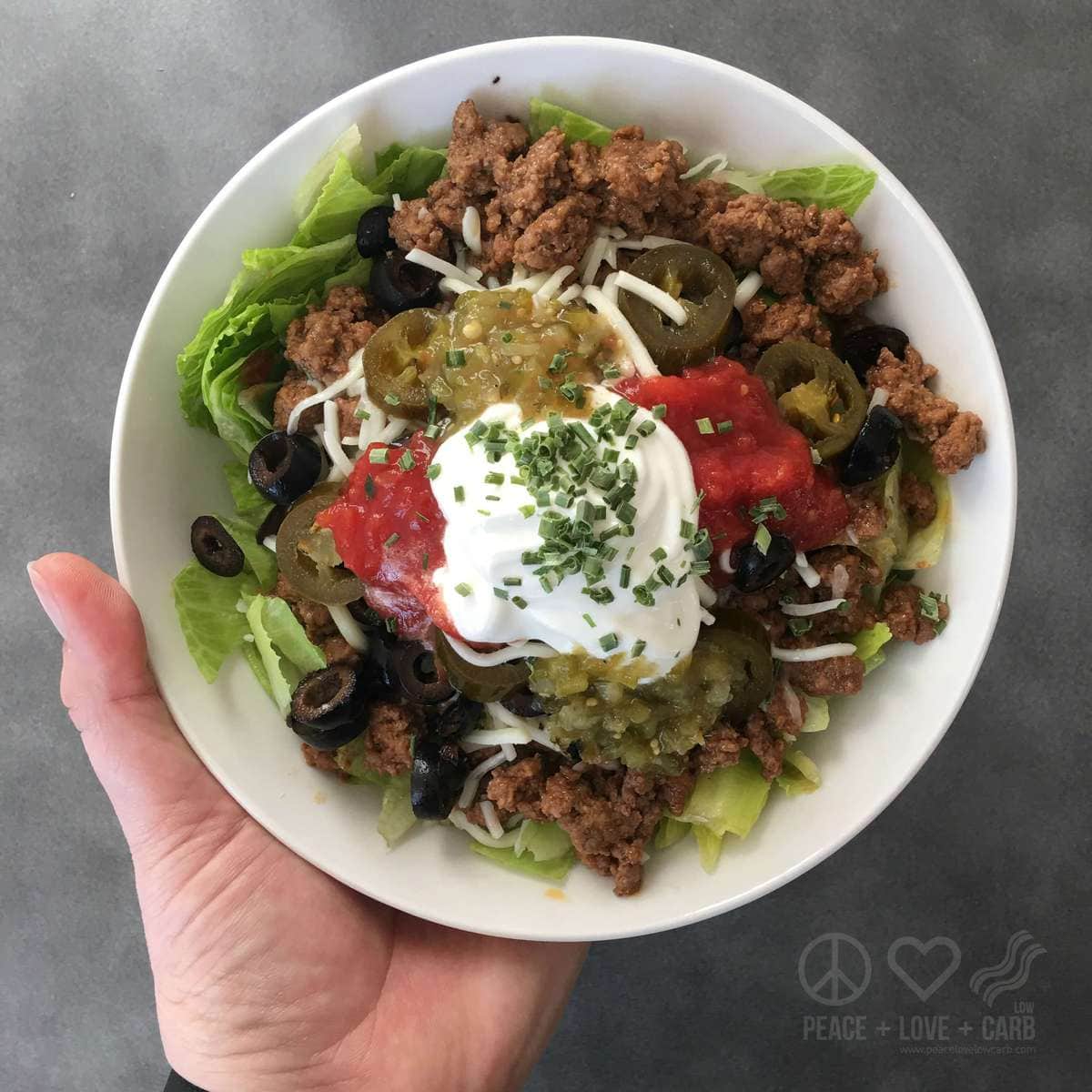 What goes better with taco bowls on taco Tuesday that cheese chips and guacamole? Nothing, I tell you! Nothing! The cheese chips are really easy to make. Just slice the cheese, line it on parchment paper and bake 350° for 10-12 minutes or until they are perfectly crisped up. Different cheeses cook differently. Just keep an eye on them because they go from perfect to burned very quickly.
Staying Active:
Since we took part in early mail in voting, we got to spent election morning on a beautiful fall bike ride. We have been having unusually warm November weather in the PNW these past couple weeks. I plan to take advantage of every second of it. With views this beautiful we definitely opted to be outside instead of going to the gym today.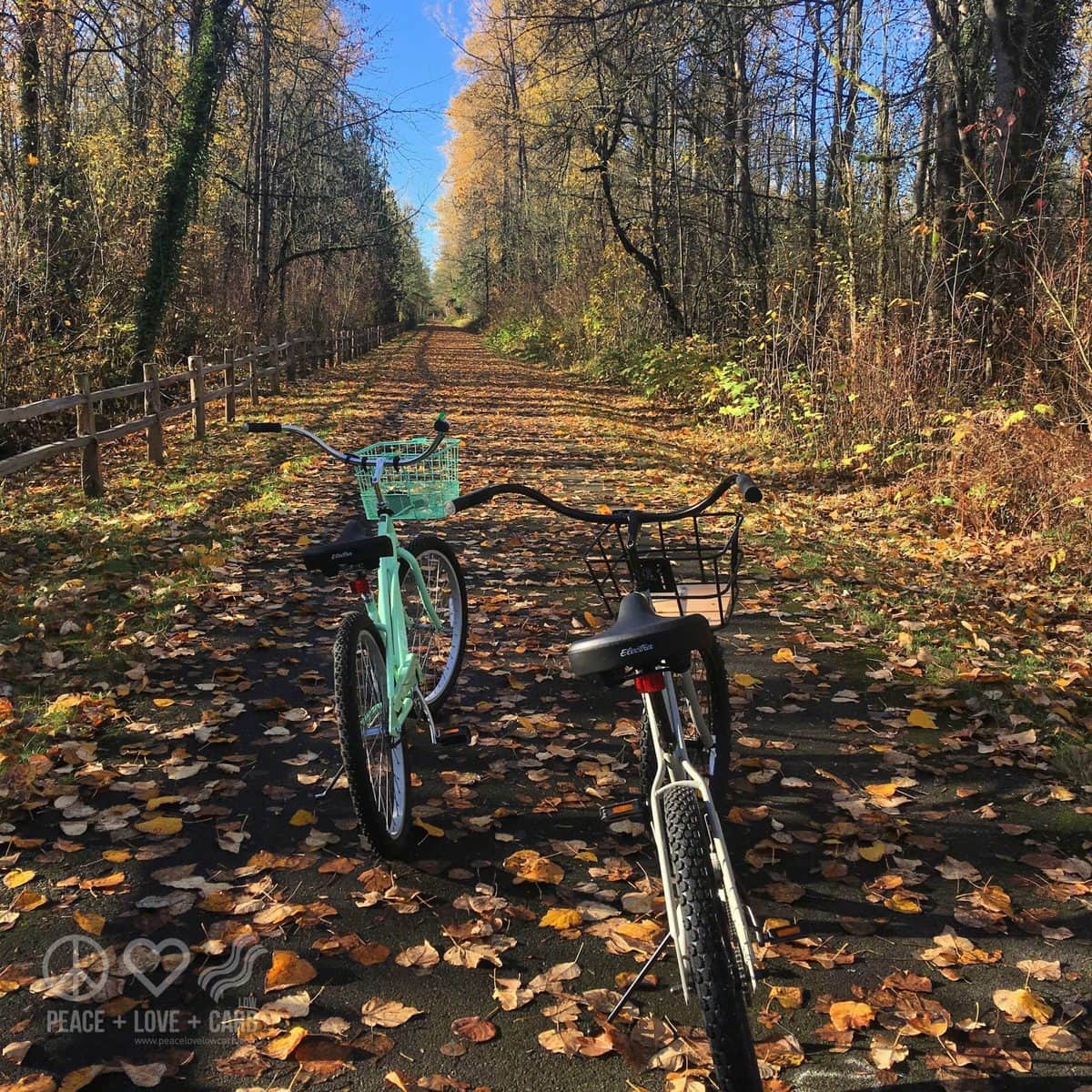 I AM STILL GOING STRONG – FOR UPDATES, FEEL FREE TO CHECK OUT MY INSTAGRAM. FOLLOW ME HERE and check out the Peace Love and Low Carb Friends Group for more accountability and updates.